Lately, it's been difficult for me to travel. Work has been hectic. So planning a long trip to somewhere far away was out of the question. However, I've been able to run off for a weekend trip every month. But it's been awhile since I traveled by myself. 4 months to be precise. And during this time, I realized how important it is for me and how much I missed it.
Traveling alone is an experience poles apart from traveling with friends. When you're by yourself, all you have are your thoughts to accompany you. You do whatever you feel like without compromising. You alone are responsible for whatever happens.
Considering the changing the weather, I knew snow might have started melting at a lot of places. I decided to go to Dalhousie because I was sure that there was snow. I wanted to make this trip the cheapest one I've ever been on, so, I didn't even book the train ticket and thought of buying general compartment ticket after reaching the station. However, I reached the railway station seconds before the train was scheduled to leave. So, I boarded the train to Pathankot at 10:40 PM without buying a ticket.
Train Journey
While on the train, I found myself sitting opposite to a peculiar personality, a man in his 40s who talked funny. It wasn't until about an hour into the journey I realized that he was drunk. He talked about anything and everything. From telling me about the scariest railway station on that route, where people threw stones on the train to how much he loved his son. He told me that he never carries a phone because he has somehow gotten it stolen again and again. Since I didn't have a ticket, I asked the man if there is a way to get it. He willingly offered to call his son who was waiting for him on a further station (using my phone) and ask him to buy a ticket for me. We sat together for 3 hours during which he called his son multiple times to ensure he gets a ticket for me. Finally, at around 2 AM, when we reached Jind, his son handed over the ticket to me and it was a great relief (I won't lie, I'm really scared of traveling without a ticket).
I tried sleeping but couldn't because the seats were too uncomfortable. Finally, by around 4 AM, a lot of the passengers had deboarded and the luggage area was cleared up. I was so sleepy by that point that I decided to whip out my sleeping bag and set it up in the luggage area and sleep.
At around 9:30 AM, I woke up and to my surprise, the train wasn't moving. And there was no one around. Just me sleeping in my sleeping bag. For all I know the train would've started its journey back to Delhi and I'd be on it. If that would have happened, this blogpost wouldn't have existed.
Journey to Dalhousie
After reaching Pathankot, I had food that I was carrying with myself and then, I boarded a bus to Banikhet which was about 9 km from Dalhousie. Banikhet is where the routes to Dalhousie & Khajjiar split. I had been to both the places in August of 2015.
I reached Banikhet at around 1 PM. The locals there told me that the direct route to Khajjiar was closed because of heavy snow on the route. Although there was another route to Khajjiar but, it would've taken too long. So I chose to go to Dalhousie and then decide the next destination. So, I started walking towards Dalhousie and hoped to get a bus ride or lift from people traveling on the route. On my way, I met 2 guys heading to Dalhousie too. As we started talking, I came to know that they were on the same train and bus as me and were now on their way to Dalhousie too. Not only that, one of them (Hemant) went to work about a few hundred meters away from my office. Small world it is.
After about a kilometer of walking, we caught a bus to Dalhousie. At around 3 PM, upon reaching there I saw that the snow in Dalhousie had almost melted away and I was disappointed. I confirmed with the locals that it had recently snowed in Lakkadmandi. Now I had a new destination.
Journey to LakkadMandi
I had lunch near Dalhousie main market and decide to hike to Lakkadmandi, which was around 9 KMs away. The locals showed me a shorter route where I could basically climb a steeper climb and avoid the zig-zagging roads and I took it without hesitation. I barely crossed paths with anyone on my way up and I could see why. The slope was fairly steep and within minutes I was out of breath. And one thing the locals didn't warn me about was this route was heavily populated by "langur" monkeys. They always came across in groups and it was a bit disarming since I was completely alone with not a soul to be seen. I knew if I stayed quiet and went my way they wouldn't bother me. I would pass one group of monkeys only to have another waiting for me. This happened about 4-5 times. I was really really scared. Given that I was carrying a bag which weighed over 10 kilos, running wasn't even an option. God only knows, how I crossed those few kilometers.
Finally, I joined the normal route to Lakkadmandi and was much more relaxed. I was excited after seeing snow covered mountains. Then, out of no where I heard someone calling my name. I turned around to see my cousin in a car with his wife. I was hundreds of kilometers away from home. It was so bizarre, bumping into them here. He asked me to accompany them back to Dalhousie but I was adamant to complete my journey. We parted ways on the promise that if the weather would permit we would go to Khajjiar the next morning.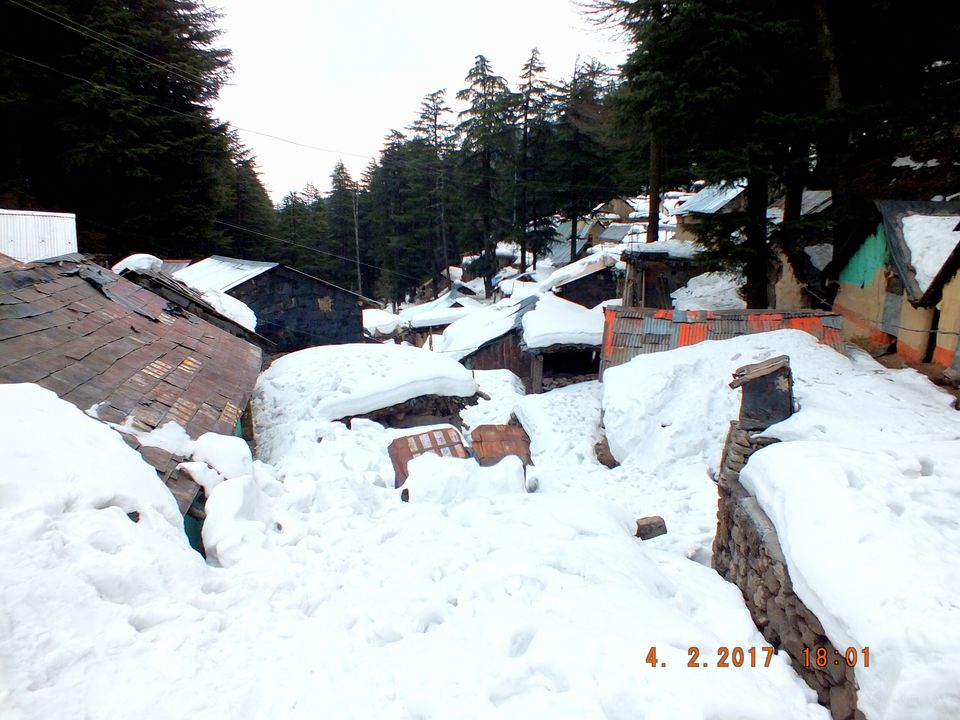 There was snow accumulated on both sides of the road, and it only kept increasing. I was able to see snow covered mountains, they looked beautiful and made me excited about reaching Lakkadmandi. On the route, I met a lot of people from Haryana, Punjab and Delhi. Seeing me carry a camera, one group of people asked me to click their pictures.
There were shortcuts on the route, which had snow all over, made me feel like I was trekking, though only for a few mins.
Lakkadmandi
I walked, climbed, hiked and finally, reached Lakkadmandi at around 5:30 PM. How beautiful that place look with snow all around. As soon as I reached there, I started searching for some place to put my tent. As I conveyed this idea to one of the locals, I was soon met with reality. I found out that bears were frequent visitors of this place at night. The nearby jungle was home to many bears and it was all but common for them to steal food from the shops in that area. So naturally, the locals didn't stray out at night. And I had no intention of encountering a bear as well.
However, there was this one local shop owner (Manoj) with whom I had started talking to while looking for a place to spend the night. And during this while, he asked a lot about me, where I was from, why I was traveling alone, why I wasn't willing to spend a mere Rs 600 for a comfortable room. I guess he really understood where I was coming from and he finally asked me to stay with them in the Forest Guest House room. Obviously, I didn't say no.
After spending an hour or two roaming in that area, talking to people there, I went to Manoj's restaurant (1st floor of his shop). There I met Manoj's brother (Anil), his uncle and two siblings. Uncle was the chef at the restaurant and Anil and Manoj took care of the whole business. Both siblings were still in school but would help out occasionally in the family business.
While the rest were wrapping up for the day, Anil and I started talking and soon our small talk turned into a conversation about life that lasted for 2 hours. He told me about the time it had snowed heavily in Lakkadmandi and he was trapped alone in his shop for over a month. This happened in February of 2008, and he recalled he had a Nokia 1110 phone back then (the one with the inbuilt torch) that lasted him about a week till the battery ran out. Since he was in the middle of a snowstorm, his days were spent absolutely without electricity. He spent that time in the same clothes. His shop wasn't as well built back then. It was all but a small hut 8 years ago. Another 2 months later, his father passed away. He remembered making the decision of turning their small shop into a real business with his brother. Thinking about those hard times and telling me about his journey, he finally seemed happy and content with life.
Listening to him describe his ups and downs made me realize that unexpected moments like these were a huge part of why I travel. These people who have experienced the real hardships in life develop a perspective I frankly rarely find in people back home. And to listen about people braving through the bad things life throws at them makes trips like these worth it.
By the time food was ready, I got to know that they were going to serve me chicken and rice for dinner. I was full to the point that I was literally about to burst. I remember they said you better eat like it's your own home because when we come to your house we are not going to hold back.
After dinner, we decided to go to the room to sleep. While walking towards the room, seeing the rain outside, I felt funny because about 4 hours ago I was worried about the rain and sleeping in a tent and now I was going to sleep in a heated room (yes, they had a heater in there). When everyone was there in the room, we again started talking and this time we talked about everything under the sun - discussing the effects of demonetization to kind of work I did in office. I also showed them the pictures of the trips I had all over India. As soon as we were all set to sleep, we heard the sound of a hailstorm. It went on all night.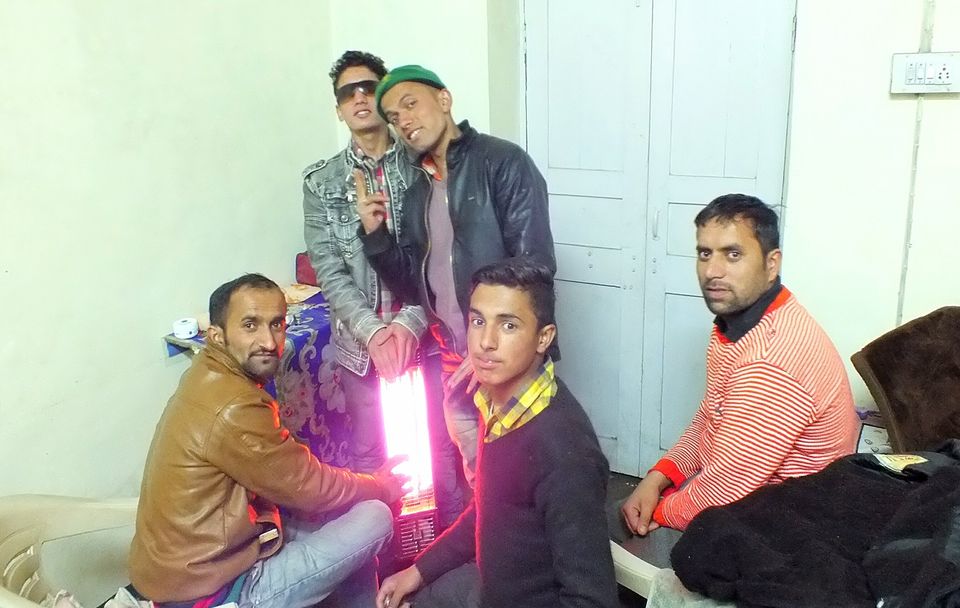 When we all woke up and it was time for me to leave, so I packed my bags and went to Anil bhaiya to pay for the food and for putting a roof over my head for the night. Having no idea of how much to pay, I gave Anil bhaiya Rs. 500, however, he didn't accept anything. I even tried giving the money to Manoj bhaiya, he too didn't take it. I was expecting this to happen given the great time we had the night before.
Back to Dalhousie
I now had to find my way down to Dalhousie as I had promised my cousin to meet him there. Anil bhaiya suggested that I could leave with the truck that brings up water every morning to Lakkadmandi. So I did. I reached Dalhousie quite earlier than my brother asked me to come. It was raining, so our plan to go to Khajjiar was screwed. I had breakfast near the main market.
After that, for next one hour, I was just sitting there thinking about life. I felt so satisfied thinking about such unexpected moments of happiness, struggle and wisdom that I gain every time I travel alone. I meet people, who are able to understand the things I say; whom, I'm able to understand. Within a day, we become friends. These are the people, who respect other people much more than money. They are less educated than us but trust me, they know how to lead a better and happier life. It's interesting to see, how, within a day, you could fall in love with your life. I could never have imagined that there would be a trip which would give me so many great memories. At that point of time, I realized how important it is for me to travel alone; to spend days walking on roads unknown and meeting people, who value family more than anything. I owe them happiness.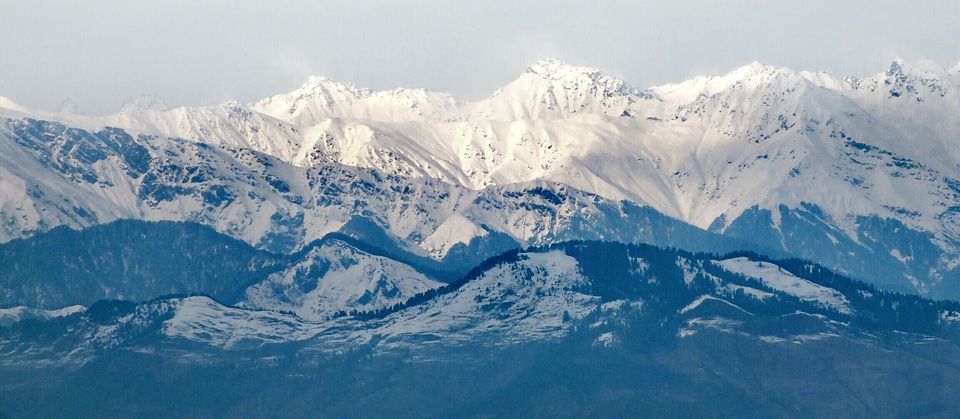 I set out to make this trip my cheapest one. And was successful. The total cost of my trip was literally below Rs. 350. I did my preparation but ultimately it came down to my luck. Be it running into my brother or running into people with the biggest hearts who were willing to do the nicest things for a complete stranger.