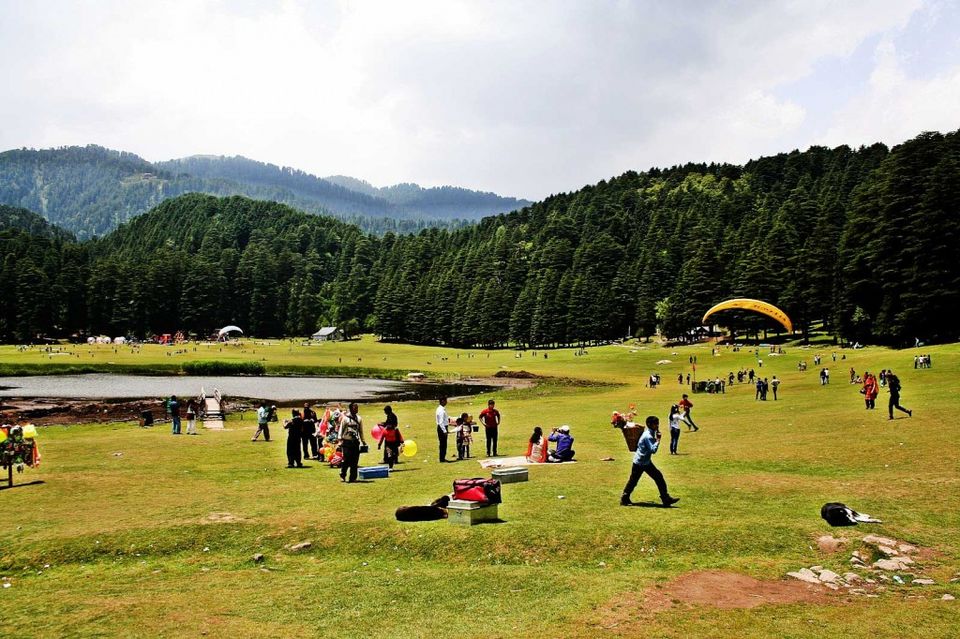 Last year in November, we got in touch with TourDas.com for a trip to Kajjiar. The God sent tour company helped us plan the tour. They took care of everything from planning of trip, hotel booking, the sightseeing spots, and a package that fit into our budget.
We started from Chandigarh to Pathankot. Upon reaching Pathankot, we stayed in the guesthouse booked by TourDas. It was a beautiful place to be. Since it was evening, we were served with tea and snacks. We took a stroll around and clicked pictures.
At night we had dinner in the guesthouse and had a nice sleep.
Day- 01
We woke at around 6.00 a.m. in the morning. A casual stroll amidst the natural beauty of the place was the first thing on our mind. After walking for around a kilometer and a half, we saw a group of small boys carrying bunches of wild flowers. They all were very cute. It was an amazing sight to see the kids waking up early in the morning to pick flowers from the hills nearby. They were not scared of the hills, animals, and risks involved.
We visited the nearby shop to buy some bottled juice and local snacks. The shopkeeper was a middle aged man. His 4 year old son was cute. We clicked some pictures with the kid and promised to send the pictures soon. The man was really happy to hear this and gave us his address of correspondence. He also told that although a beautiful place for tourists, the locals suffer due to lack of medical facility. One has to trek through the risky route to consult a doctor.
After having a small chat with the shopkeeper, we returned to hotel and had a warm bath. The staff served us breakfast. It was delicious. We had a choice of sandwiches, eggs and potato curry with deep fried puris. We chose to indulge in deep fried stuff. After all, we were on a vacation. No place for dieting!
After breakfast, we were taken to Dalhousie. It was an amazing place with natural beauty in abundance. Our sightseeing route included the following places:
St. Andrew's Church at Balun – This is a soul soothing picturesque place to be.
Subhash Baoli – It is an enchanting spot bordered by majestic trees.
We stopped over for lunch and went for shopping. Tibetan handicrafts and shawls were some of the things we had invested in.
In the evening, we stayed at a beautiful cottage in Dalhousie.
Day-2
On the second day of our trip, we started exploring nearby spots. According to itinerary, we reached "Panchpula", an exquisite spot just 3 kms. from G.P.O. While driving to Panchpula, we had a short stop by at Satdhara springs. These are known to contain some medicinal properties. It took around twenty minutes to reach Panchpula. The place is referred to as the major source of water supply to Dalhousie.
The most interesting thing about this place is an erected elegant monument. This is precisely where many streams meet together at one point. We were informed about the hiking trails. However, none of us were interested in adventure sports. In case, you plan to indulge in the sport, it is crucial to be well equipped for the same.
I liked everything about this place. From mesmerising pines to nostalgic deodhars, postcard pretty oaks, eye catching mountain flowers, and soul soothing breezes, I liked everything about the place. It is certainly a perfect place to be for all those looking forward to enjoy a break from the maddening city life rush. It was as if we had discovered a new little beautiful world for us.
It was now time to visit Khajjiar, the most cherished destinations of all. So we moved Khajjiar. It was a 30 minutes drive. Although the road was narrow, we didn't face any problem with a trained and a friendly driver by our sde. Upon reaching lakkadmandi, we paid a visit to the popular wildlife sanctuary. The driver informed us about narrow roads and blockages. So we walked on the beautiful track bordered by picturesque natural beauty. The hilltop is capped with dark and thick forest. This is also the reason it is referred to as Kalatop (black cap).
This place is not be missed in any case. Once here, you will enjoy a lot especially if you plan to go on feet. My hubby was really happy to be at this place. He shot a lot of pictures. Some unique species of birds such as Monal and Pheasants among others frequent here very regularly. We were also told that leopards and black bear are commonly found here. But we couldn't see any.
TourDas.com had arranged for a night's stay at the Forest Guest house. It was a beautiful experience. We enjoyed the night views thoroughly.
Day 03
After an awesome stay at the forest house, we resumed our journey towards Khajjiar. What should I say about this place? It is simply impossible to describe the beauty of this place in words. All I would like to mention here is that it is the most exotic and scenic sites. A paradise on earth, it is rightly referred to as the mini-Switzerland of India.
What I saw was this unique saucer shaped lush meadow exquisitely bordered by Devadar Trees. It has an exquisite lake right in the centre and a floating island. Apart from being mesmerised by the unparalleled beauty of this place, we indulged in some exciting activities such as horseback riding. Strolling around the scenic site was something we could not stop doing. Two hours spent here are definitely one of the best moments of my life.
In the evening, we made our way to Chandigarh. www.tourdas.com had arranged everything very well. The entire tour was well organized. What else should I say, it was one of the best moments of our life. All thanks to TourDas. Let's plan another trip to an exotic destination together!