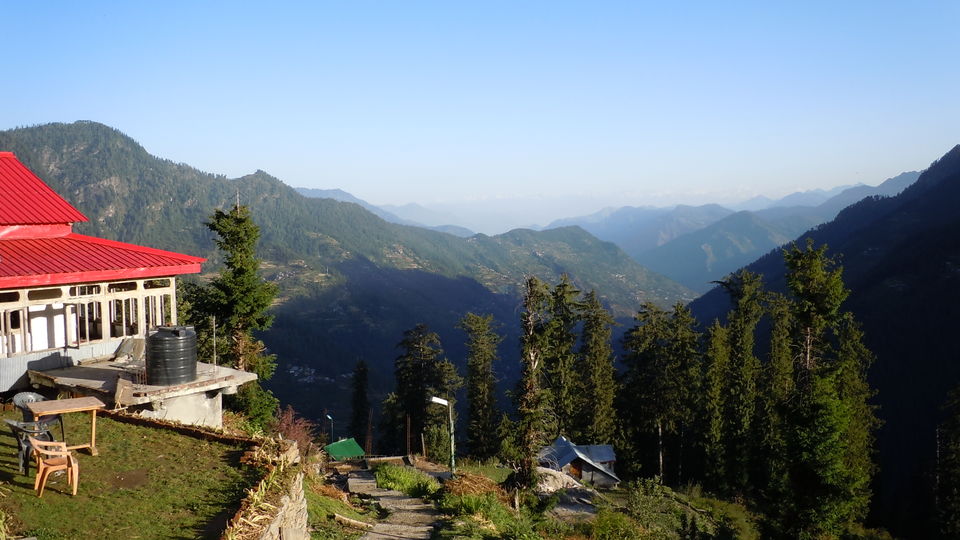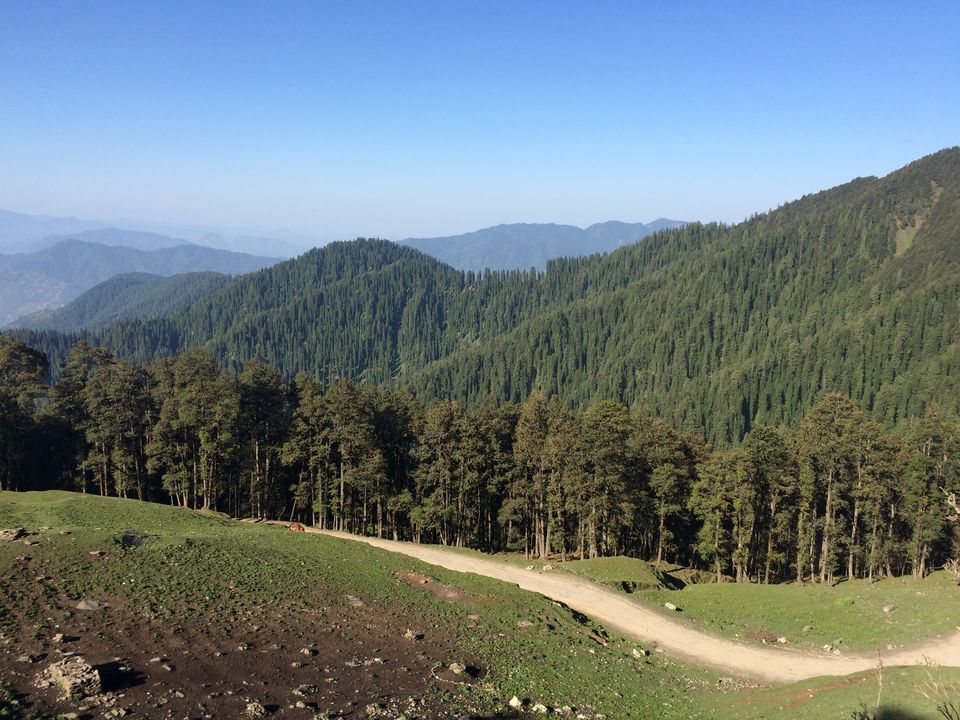 So it was June and time for a short summer vacation of 4 days. I wished to add a new destination in Himachal Pradesh to my itienerary and as my parents were going along I wanted it to be comfortable. I was heading to Manali and so the search for places around Manali began 2-3 days in advance - this time I zeroed in for Sojha, Jalori Pass as the place to be.
I was so mesmerized by the positive feedback about the nature and calm of the place that I didn't want to miss this one but reading about the last 2 hours drive leading to Sojha was confusing whether to go there with family or not? Most of the people online had termed it as one of the most challenging but scenic roads to drive on- so my mind stuck to the thought. It might be scenic for co-passengers but for the person driving it must be road which will will hold the priority :) At last the day came and we hit the road at 5:30 am, Shoja being 390Kms from my hometown near Ludhiana, Punjab.
It was june and I tried to book rooms in advance but as expected all the popular hotels were booked.At Sojha Raja guest house is famous over internet but that was full & i got the contact no. Of Satyam Homestay cottages & luckily i got a 3 room cottage.I paid them in advance so skipping Sojha due to road was not going to be the case now :))
We skipped the normal route of Bilaspur,Sundernagar & took the Una-Nerchownk route as it was more favoured one over web by our ghumakad people & rightly so, it was such a breather to drive on- car easily managed to run at 70-80kmph in hills.It was just 15-20kms drive which was narrow from Jahu before ner chownk. We reached Aut tunnel around 2 Pm & i called Mr.Padam Singh(Owner of Satyam cottages), Must praise this person as he was concerned enough for his guests & he arranged a driver for us who was waiting for us at Banjar bus stand,which is some 20-25 kms from Aut tunnel.I have driven across remote areas of Himachal earlier too but keeping in view what i had read online i decided to take his offer. In an hour we reached Banjar, the road upto Banjar was simple and accompanied by Tirthan river.The driver joined us and i got time to give rest to my legs & enjoy the nature, the road beyond banjar to Jibhi was in great condition-newly laid sorts but after Jibhi from where sojha is 7 Kms the rough road started.
The drive also became steep & the driver was pulling the car up in 1st gear only but still it was not so haunting as the blogs over web alarmed.I was thinking people who drive regular can manage this easily but with care. The altitude gained with each blind turn & a couple of times we came across points where we were left with no room to give pass to vehicles coming from other side. Strange how do they manage to drive passenger buses on this route.But the nature around was already giving the WOW factor, so calm & so quiet & we all were enjoying every bit of it. The weather also started to get a lil cold after Jibhi. So here we were at Sojha at 4 pm- we crossed Raja Guest house on the main road itself b4 entering into Sojha & reached the main spot of Sojha which had 3 shops. Few women from village were busy peeling local Garlic sitting there.
We were recieved by our Cottage caretaker who told Mr.Padam Singh was away to Shimla for work & i was more impressed that he still was in regular touch with us right from Aut to Sojha to know if we were fine. We checked into the cottage which was just few steps down the road & we were alloted the upper part of the cottage which had 3 spacious rooms-2 of them having attached bathrooms,which were very clean too. The rooms dont have a balcony but u can enjoy amazing views from the area outside rooms which is a kind of small lobby equipped with comfortable chairs & sofas to sit back & Relax. After freshing up & having tea, me & my sis went to have a round around the village & checked out other staying options available just for knowledge sake. We saw Banjara Retreat site there but it was far from the main road,down the hill and we felt it must not be worth the money they charge for. Local people were working with their cattle around the village which hostiles around 150 people. The houses were made of wood & we could smell the wood all around in the fresh and cold air.It hardly took 15 mins to take a round of the village and we came back to the cottage. Later in the evening we enjoyed some snacks(Pakoras & Egg bhurji) with drinks before dinner& had a tight sleep.In the morning i got up early at 6:00 am & went to jalori pass with my sister.Jalori pass is 5 kms from Sojha & the road is in the same condition as from Jibhi-Sojha but not that steep. It took us 25 mins to reach Jalori Pass (3135Mt) The views were amazing & there is a Temple there. The meadows around the temple are worth a walk & good for landscape photography.The Dhauladhar Range mountains capped with snow can be seen on clear summer days & add to the beauty of Jalori Pass. One has the option of going beyond Jalori Pass to see Fort & A lake which are 3 & 5 kms in distance from there. We came back to Sojha around 9am & had breakfast before heading to Manali. My parents enjoyed the calmness of Sojha & were happy that i found a good destination to visit. After Sojha we travelled to Manali & Kasol but Sojha was the best part of our trip as we managed to unwind ourselves in its peaceful surroundings there only.Will like to plan some adventure trip next time in Sojha area while i am traveling solo or with friends & explore the treks in Great Himalayan National Park which is quite near to this area.I drove back to Aut easily from Sojha & again joined the Manali highway with all the crowd :)
Few things to keep in Mind on Sojha trip:
*Fill ur fuel tank before reaching Aut tunnel.*If u plan to stay at Satyam Cottages book a room in upper cottage only, the rooms on ground floor doesnt have valley views.(Contact No.+91-9418347022)*Always drive in 1st gear both going up & coming down the hill and use minimum brakes to avoid brake failure.*Take ur liquor stock before crossing Aut/Banjar u will repent later :))
Frequent searches leading to this page:-
soja village himachal, chandigarh to jalori pass, soja village himachal pradesh