It is just after the heatwave started in plains of northern India & the traveller inside me wanted to head to the coolest destination & with no specific plans just a group plans a random journey and head towards MANALI...It's MAY and manali is very cold..but the yet mind is waiting for some "thoda jyada' and decides to plan for Rohtang.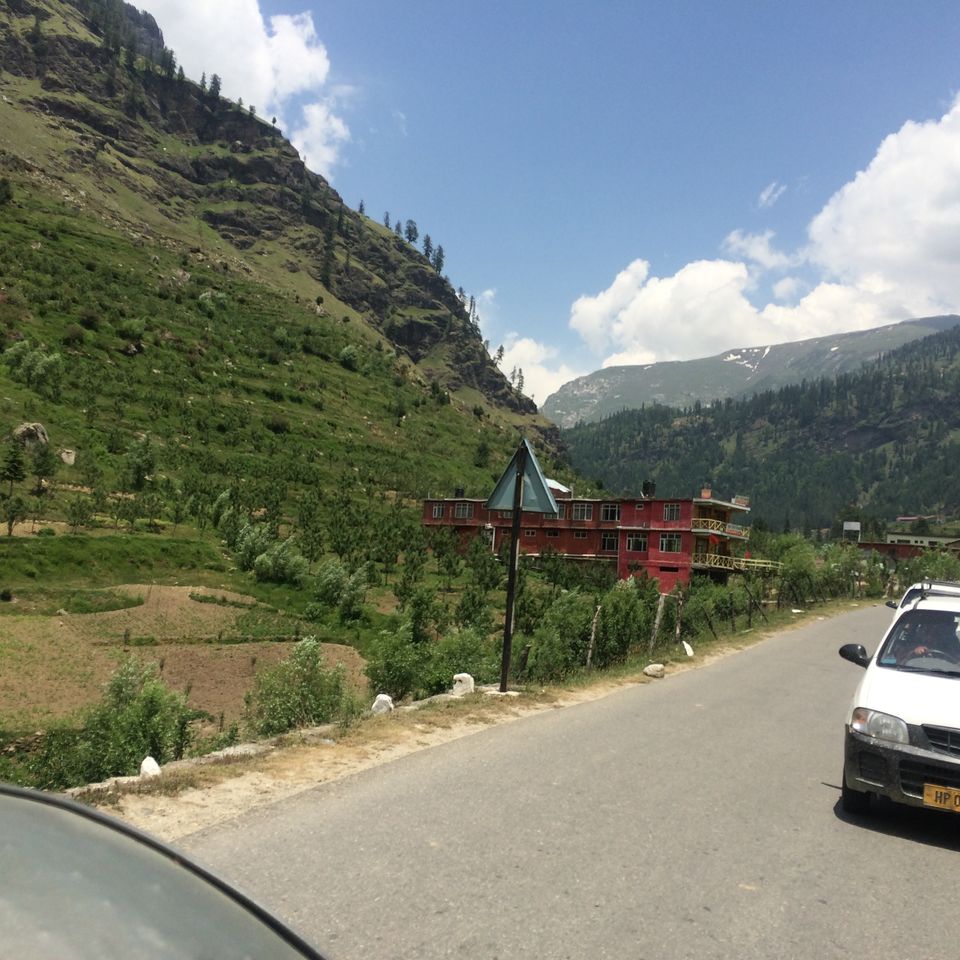 Admist of some rumours that Rohtang is closed or we will not get the permit at this short notice...There is this saviour-Our hotel owner..who generously offers us to take us to Rohtang pass & also arrange for the permit as well..wow,now that was something we'd been looking for :)HAPPY faces all again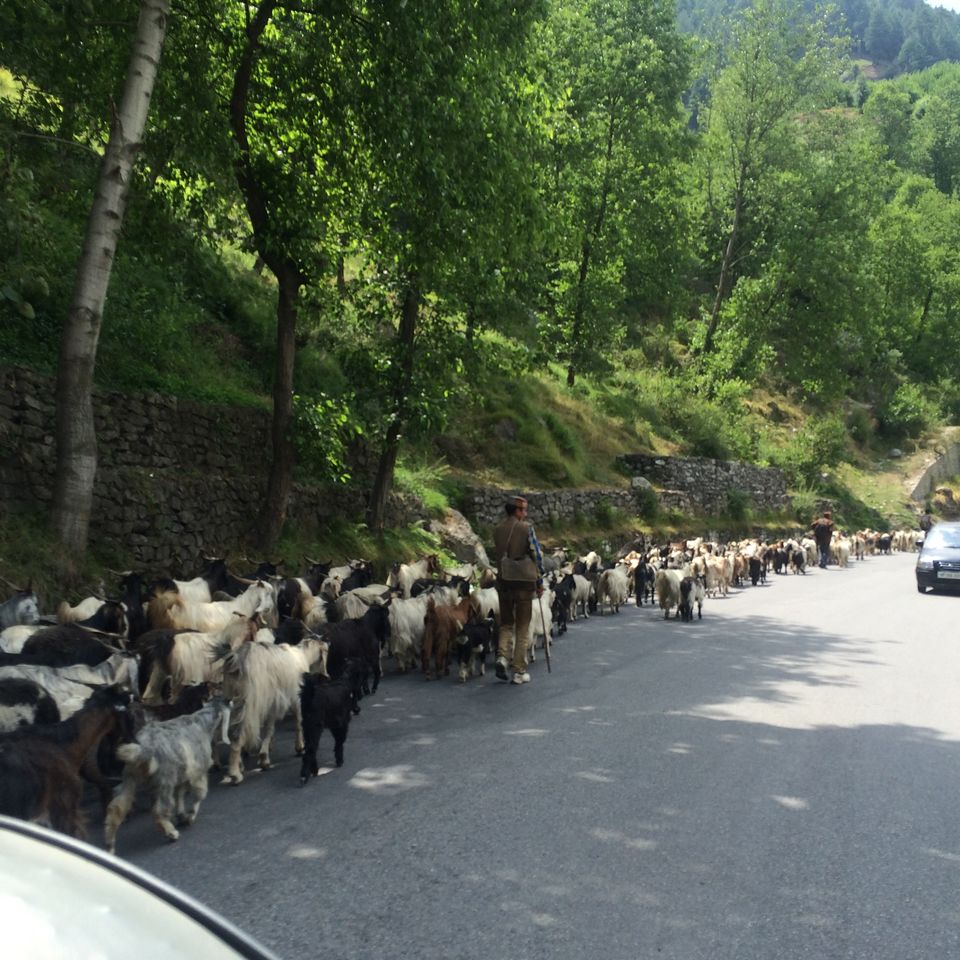 We wait for a day anxiously for our permit and vehicle enjoying in the apple orchards as this is just the time tiny apples are beautifully tuck up on the branches by the nature..the sound of the river just flowing across the bridge is adding life to everything around.
The next morning as we were asked to get up early & leave by 4am in order to avoid traffic midway..but as Indian mind goes along "wahan kya he traffic hoga"15000ft per"
And now we are late :( it's 5am...we jump into our open jeep and start our journey to the SNOWYCASTLE.
It was a few days in Manali and mind was just rushing for snow..and as we cross the bridge there is this huge herd of sheep and goats the FIRST TRAFFIC " we wait for around 20mins to clear the road and went further listening to the stories of the places around(by the way our driver was the owner himself as he was pleased to accompany us to this trip).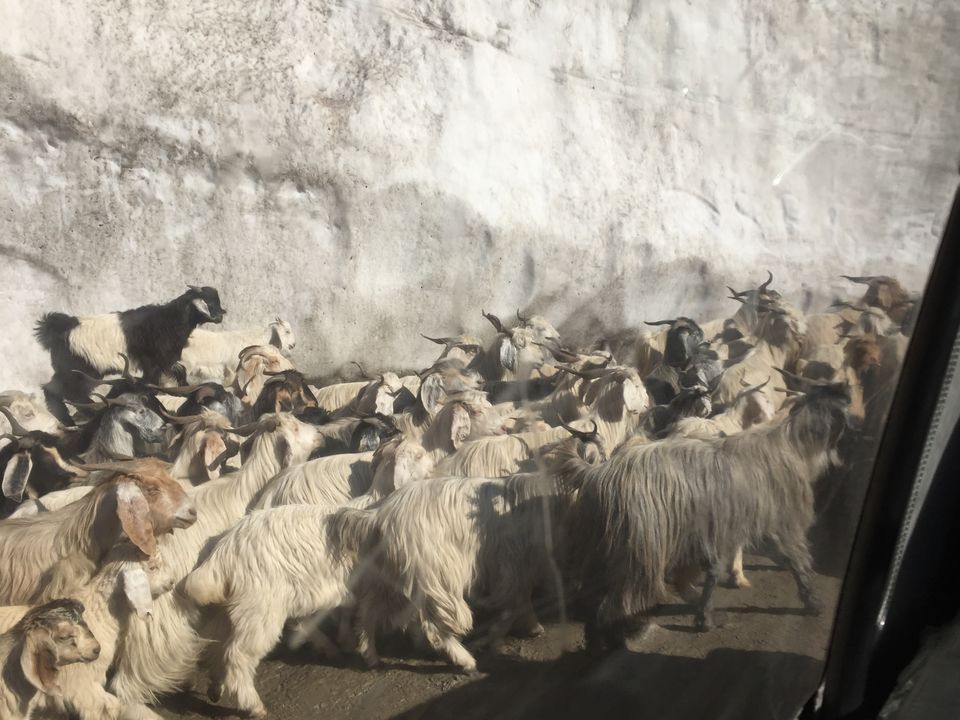 Soon the jeep started climbing up and up..we felt the heights looking at the curved roads below..herds of goats and sheep blocking us every now and then..these herders were basically going up in the mountains some even upto rohtang and ahead to graze their cattle and they come back in winters when grass is no greener on any side..they do the rearing of sheep..sell wool and milk products of sheep in exchange of money.
An hour after we stopped at a shop hut and were asked to get woolen suits (full length like a babyjumpsuit) as it will be freezing up there..we got the boots as well to play in snow..there are always some MACHO men in a group jinhe thand nahi lagti..unka kya hua ye baad mei"
We went up and up & the town of manali was far behind..the trucks following looked ant sized now and we could imagine the height we were on.The nature is so so beautiful..then I realized..It's splendid..marvellous..Feeling the heights of mountains suddenly jaw dropped to my mouth when I saw the edge of our jeep tyres were on the edge of the road...ewww that was really scary as the road was really narrow for allowing only two vehicles to and fro but our driver wanted to overtake other slower ones..we asked him to go slow..&to this slow vehicle movement that obviously saved our heart caught us in a traffic jam of atleast one hour..and no movement :(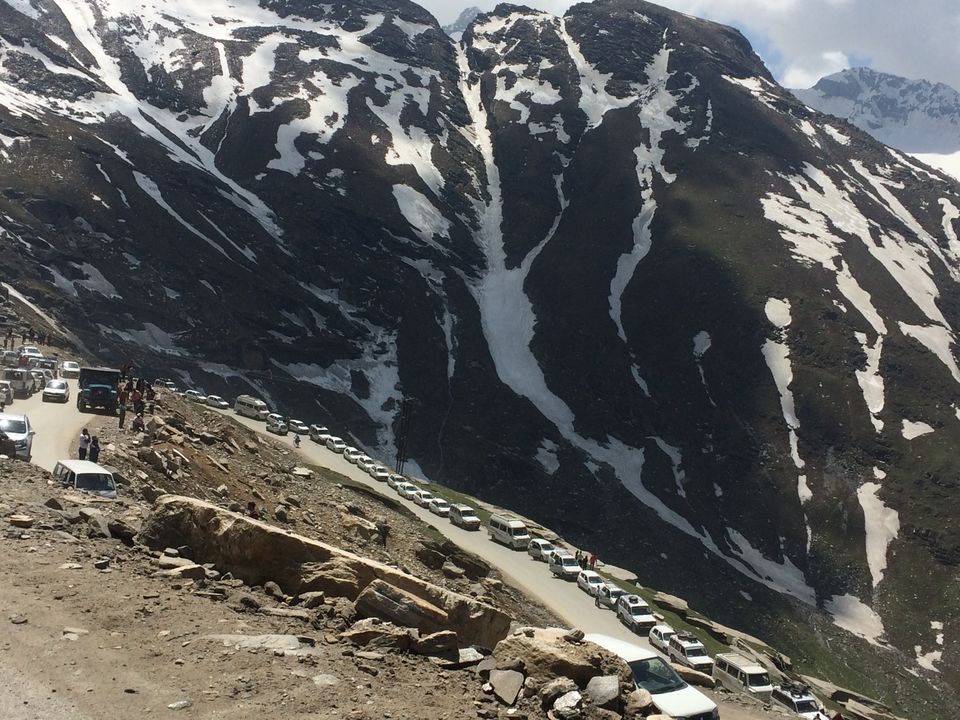 some of us got down and took the pictures of the latecomers vehicles in the traffic jam belt and praised our early arriving..who knows we must have been taunted by the ones ahead of us ;)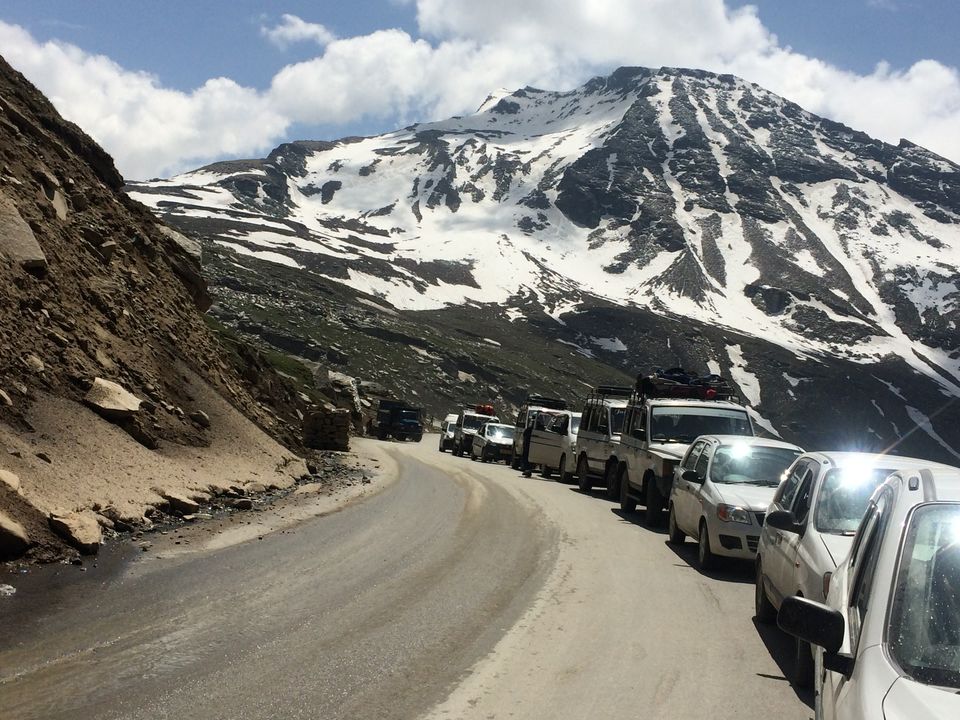 Guys the road is being repaired all through the summers by the road development authority there but still..unpredictable rains and weather cause a lot of damage that is beyond human abilities to meet but salute to the workers who work in such conditions also for our safety..one very important tip for all those who want to come to rohtang : DON'T go on your own or selfdrive your vehicle..take the expert drivers from manali only they will take you in their vehicle..so you and your car will be safe in both cases. Roads are not meant for rash driving.
DON'T OVERTAKE AND PUT YOUR AND OTHER'S LIFE IN DANGER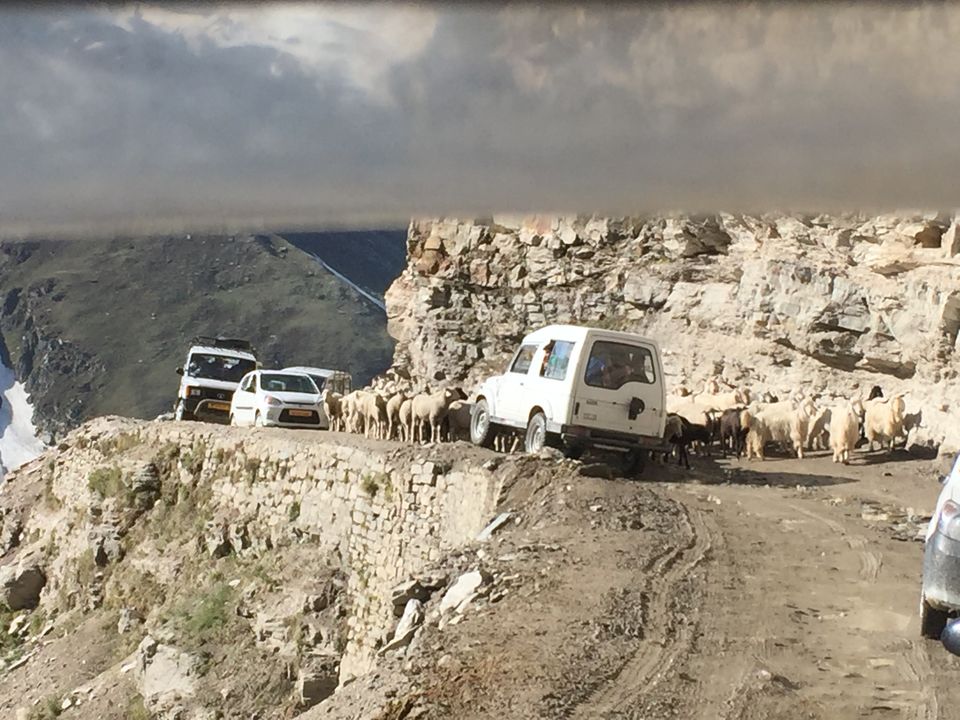 After the traffic relaxed and started moving we headed to this magnificent views...the snow capped mountains...the blue skies..the cleanest and purest form of fresh air that our lungs could not believe exists :)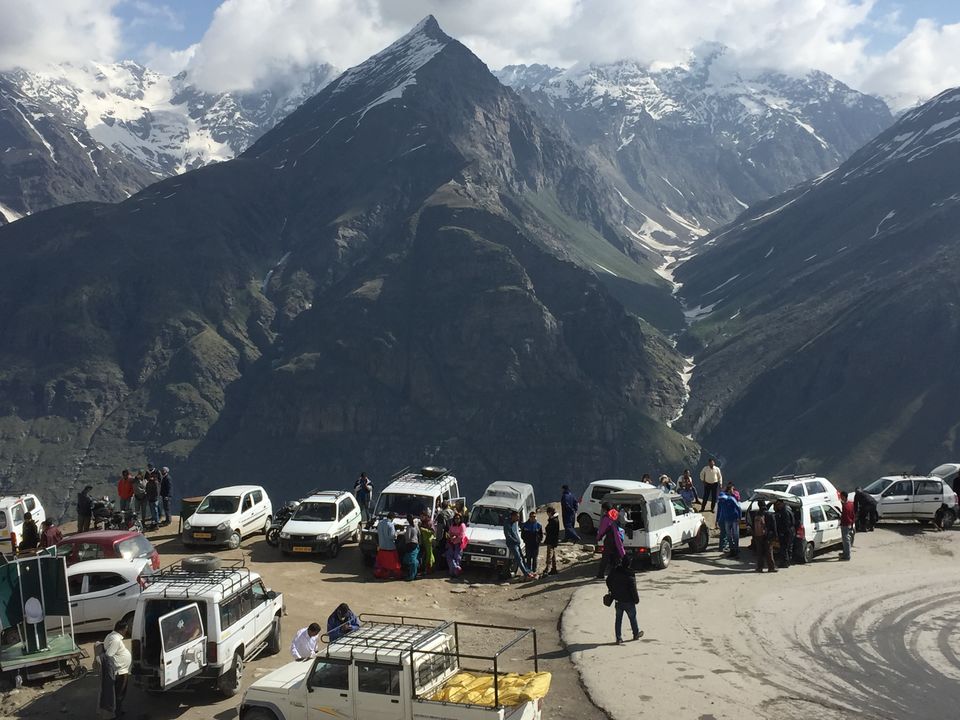 Soon the snowy boundary wall started on both sides of road and felt as if we were heading to some snowy kingdom..(JAB WE MET song-ye ishq) was shot here only...now then I realized this was on my bucket list since the movie release to sit in a open jeep and sing" ye ishq haye" So bucket list checked...and enjoyed to the fullest standing on the open jeep ..waving my arms wide open and feeling the coldest breeze on cheeks..Soon I felt I might get a frost bite and sat down.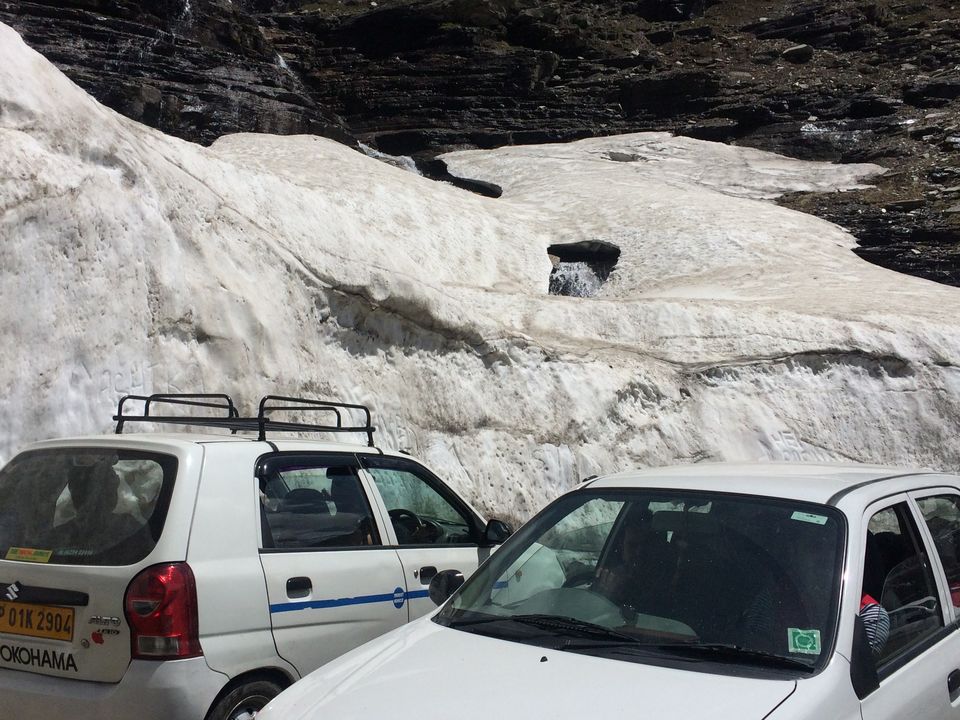 Singing and kinna dancing we reached the Rohtang pass...driver parked our vehicles..MACHO MEN in the group immediately put on the woollens as were eagerly waiting for the jeep to stop..I ran up to snow mountain and jumped in the snow like a baby...PLAYED AND PLAYED ..never knew snow was so missing part of my life..didn't knew was so much in love with the snowy place...It was snow all around..everywhere..till the horizon could see only white mountains..some melting their snow to allow grass to grow some rigid enough as they didn't find it was right time to give up the snow blanket..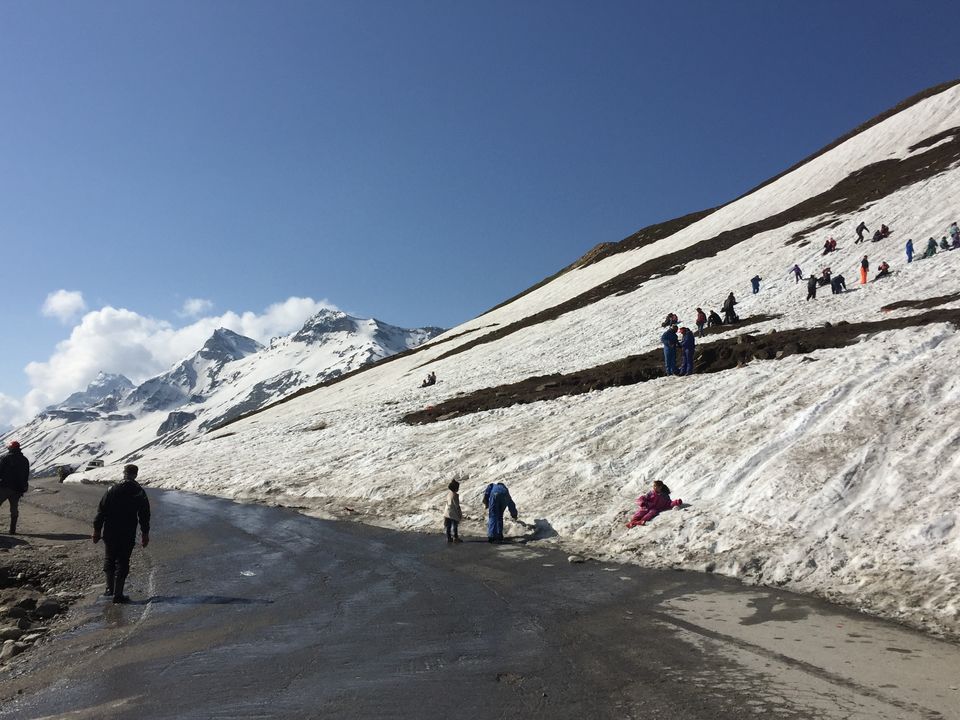 people of all age groups were there..children..families..Everyone creating a memory of their lifetime...our boots were so deep in the snow everystep we took to move forward and I realized how many layers of snow this mountain must be wearing...I was tired after a climb on a hill kind of thing..I sat there tired..looking around the tall mountains..standing so tough..felt on the top of the world..then started digginf the snow and after a few layers..took a handful of it and tasted it..(although one should not do this)but I could'nt control...It tasted just like the one gets assembled in our old refrigerators..haha that was my memorable moment...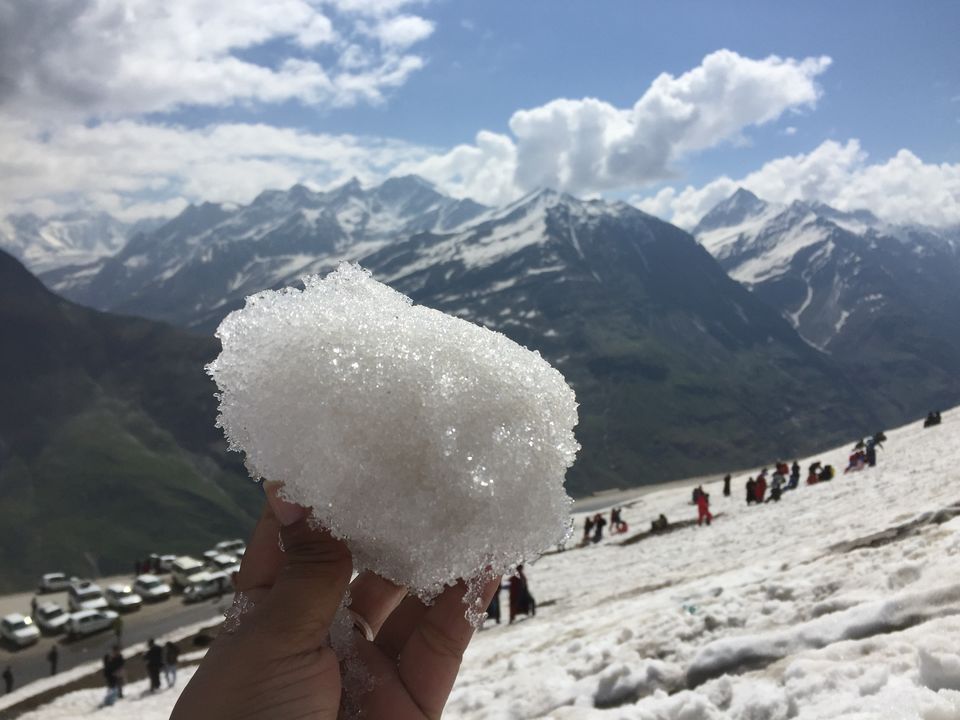 We glided..we slided..we rolled..we did everything what one can do in snow...of course made a snow man..got selfies clicked...also there was a sheperd selling tea made of sheep's milk..We enjoyed that also in the freezing weather..it felt amazing.
On our way back to manali we halted here and took some snacks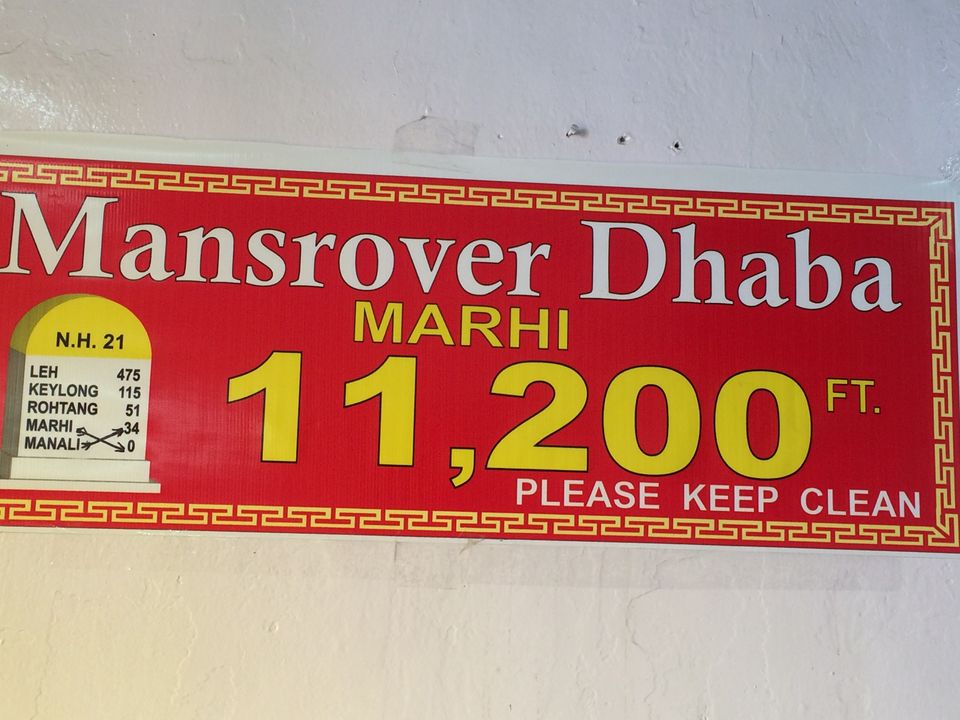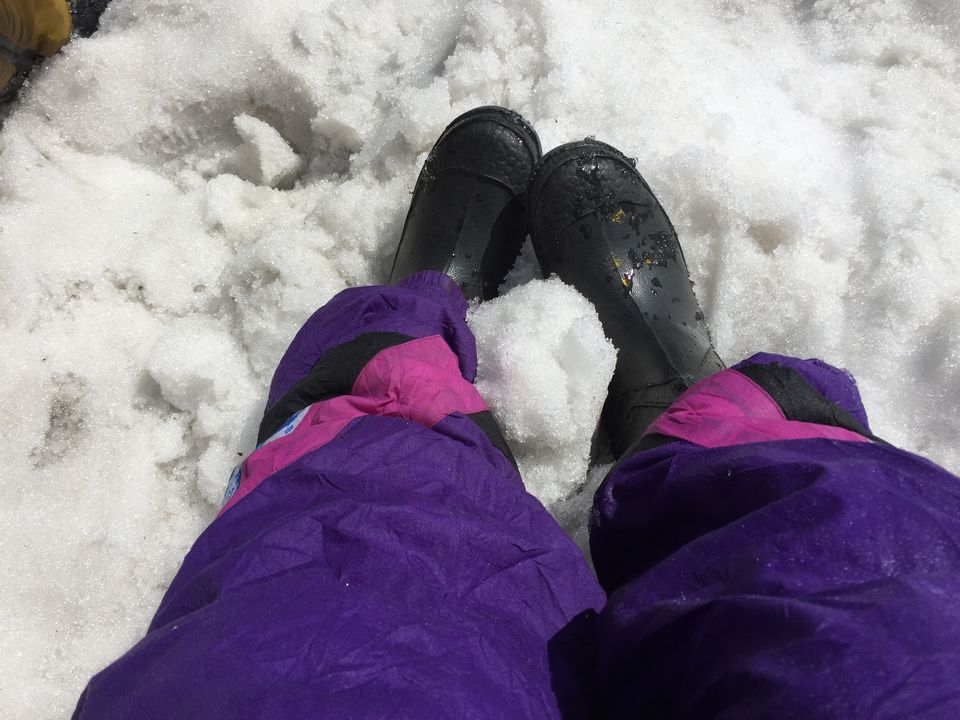 & we came back with memories of the blind curves...twisting curves and journey of WORLD'S TOUGHEST MOTOR ABLE ROADS