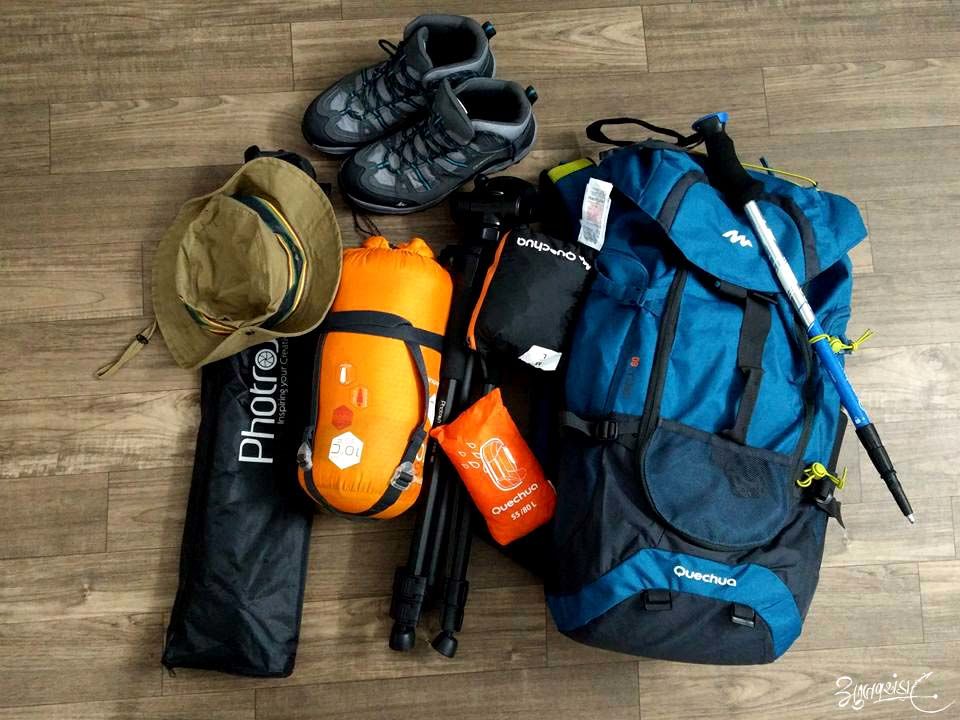 Solo Backpack Trip - a dream I don't remember when and how grew up so big, and a dream that turned into reality that I will never forget! I wanted to travel without preparation or any thoughts. I just wanted to follow my heart; wanted to experience thrill, adventure, joy, loneliness, all at the same time. Who knew it could happen to me just like that. These photographs are from my 15 days of journey, starting from New Delhi to Spiti Valley. I have tried to capture every bit of my experience. Hope you enjoy as much as I did.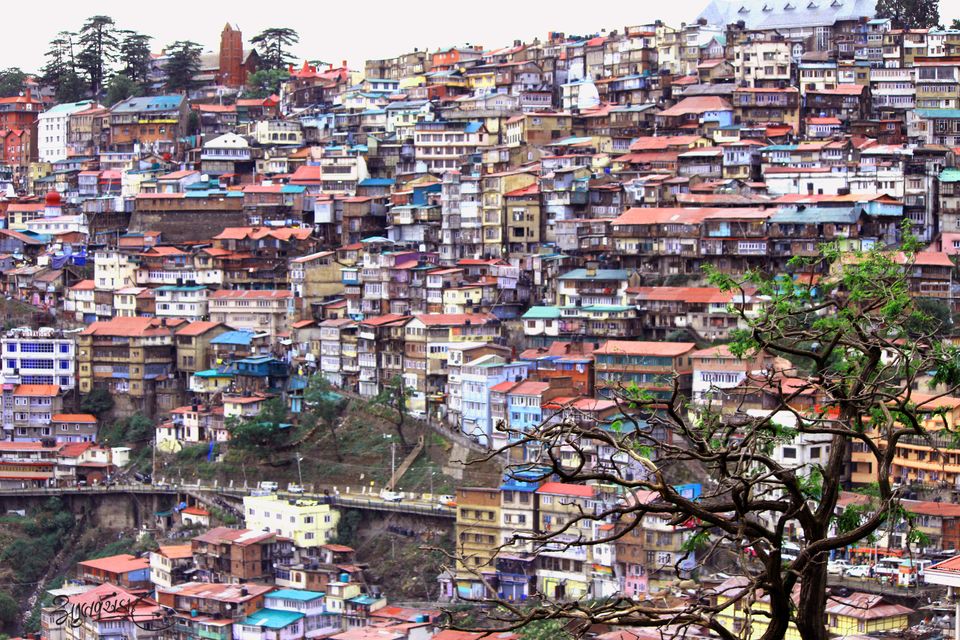 I started at 10 PM from Delhi by a Volvo bus and reached Shimla early morning. The minute I arrived, I had to begin with finding a place where I could keep my bag. I took this picture at 7 in the morning telling myself - 'A room under Rs. 300 in this city is going to be tough :)' (Yes! You do need to think when you are on a low budget). However, since I had to, I almost knocked the door of every small hotel and dharmshala, making me finally reach a room at 400 bucks, which had a 5.9 feet bed, no bathroom, no balcony, no window. Just the bed! BUt what's important is is a city with amazing views, lovely people, colourful homes and undoubtedly, the Queen of Hills - Shimla!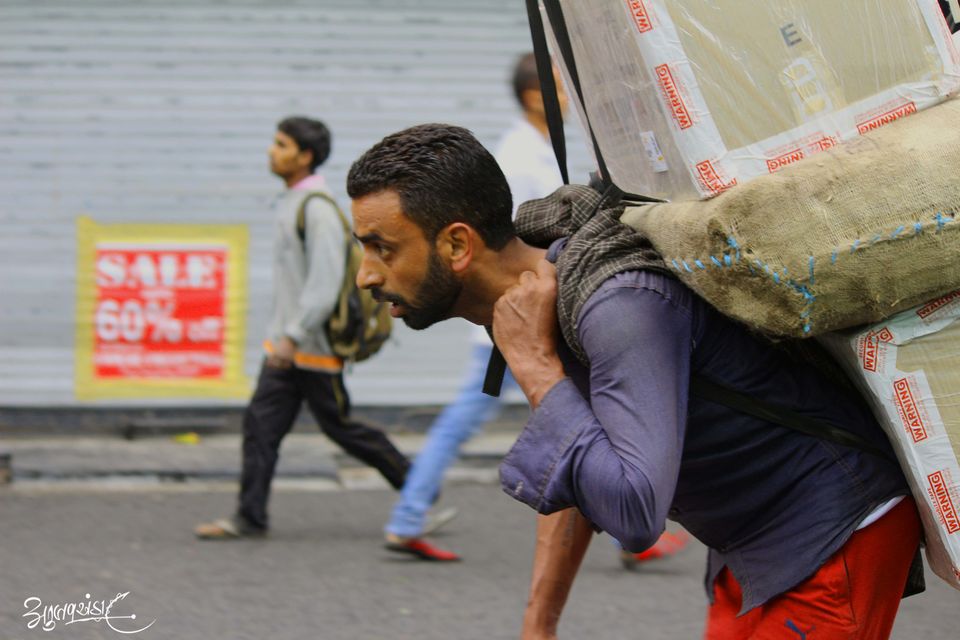 The first thing I did in the afternoon was to hit the Mall Road - the busiest road of Shimla to capture the street life. I was amazed with the diversity of people. The road was packed with tourists & locals, alike. This picture is about the true meaning of life. Shimla is known for its steepest roads and someone carrying heavy loads to make a living is worth appreciation! Happy with the clicks, I moved on to catch a breath.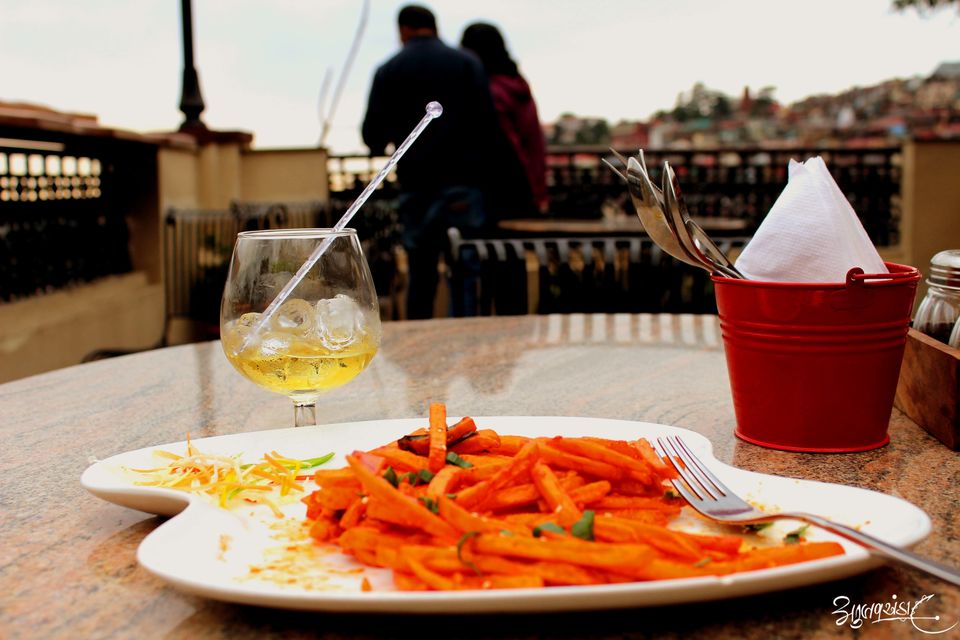 After 4 hours of street photography, there is nothing like good food, a good drink at a great location :) . One must visit the beautiful "Cafe Simla Times" on the Mall Road. They have impressive variety, good portions with an amazing 360 degree jaw dropping view of the valley. Do not miss it on your next visit to Shimla.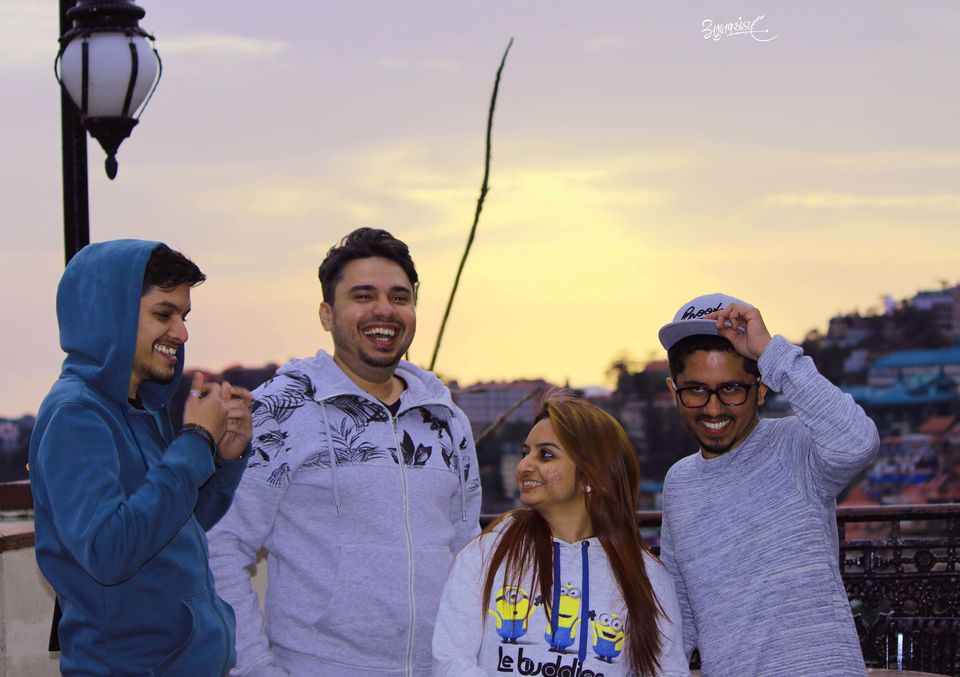 I have met some wonderful people in my journey, and these guys were the first. I went down the memory lane with them and missed the college time when life was all about happiness, freedom and innocence. Cheers to them!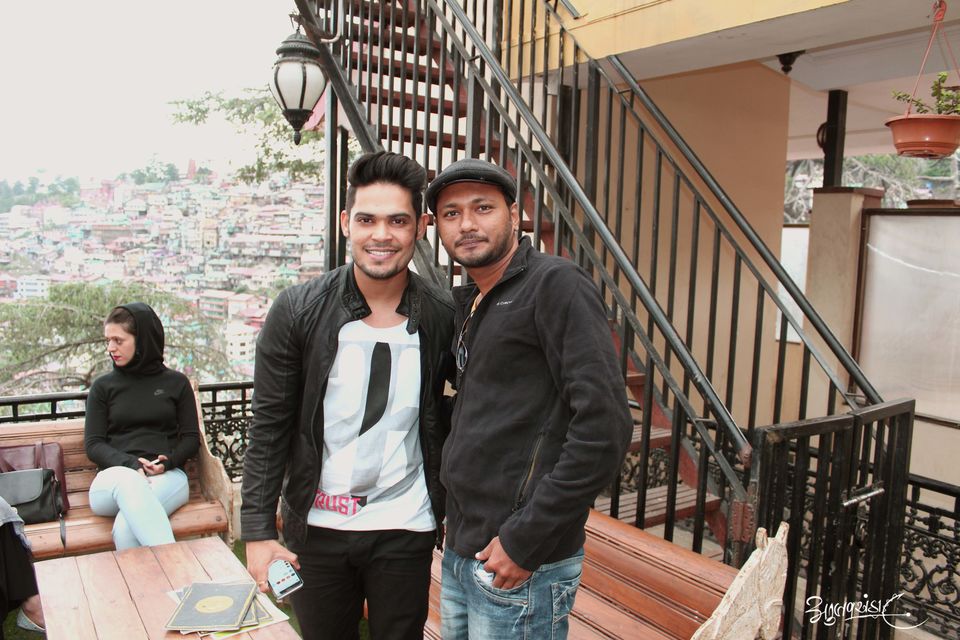 Got double lucky when I met DID Season 2 Champ Kunwar Amarjeet Singh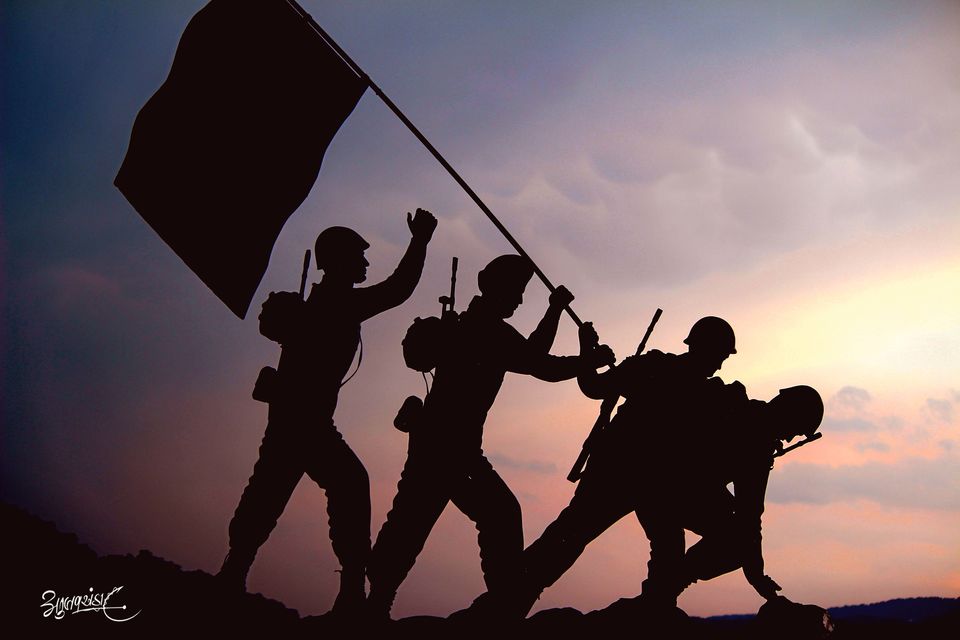 I want to dedicate this photograph (Heroic Indian Army Memorial - soldiers raising National Flag) to BRO team. A Big Salute to the Border Road Organisation (BRO) for creating an amazing road network in the Himalayas, especially Spiti Valley. Hindustan - Tibet Highway is considered as the most dangerous roads in the world and only because of BRO's hard work, millions of travellers like me can connect to the Middle land.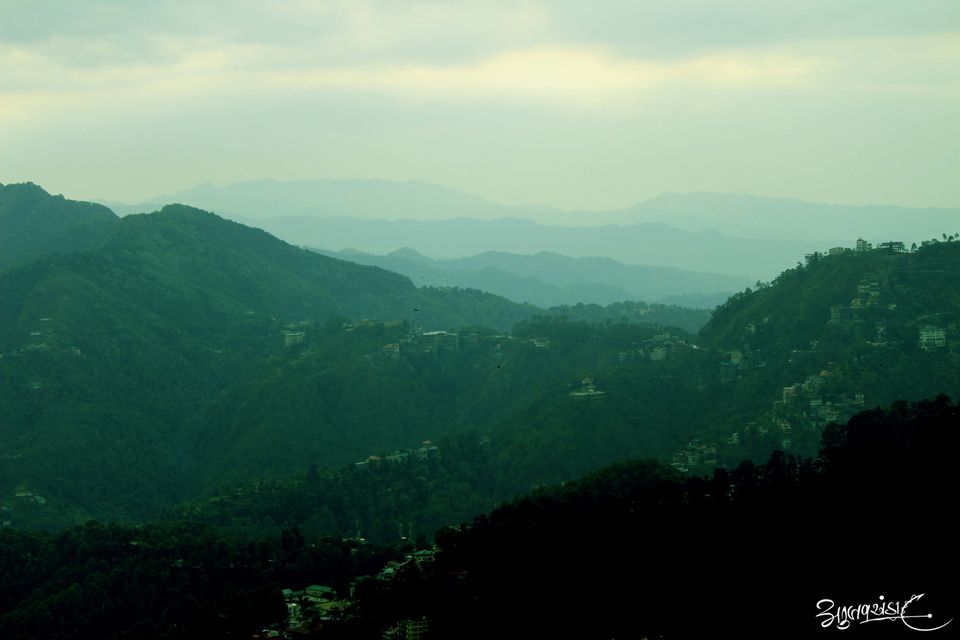 After a lazy and fun evening, I started to walk on Shimla hill side in search and hope of a clear Sunset. Shimla stretches nearly 9.2 kilometers. It is built on top of a total of seven different hills, Inverarm Hill, Observatory Hill, Prospect Hill, Summer Hill, Bantony Hill, Elysium Hill and Jakhoo Hill. The highest point in Shimla is the Jakhoo hill and that's how the city looks from there.
Just in time to capture the edge of Sunset!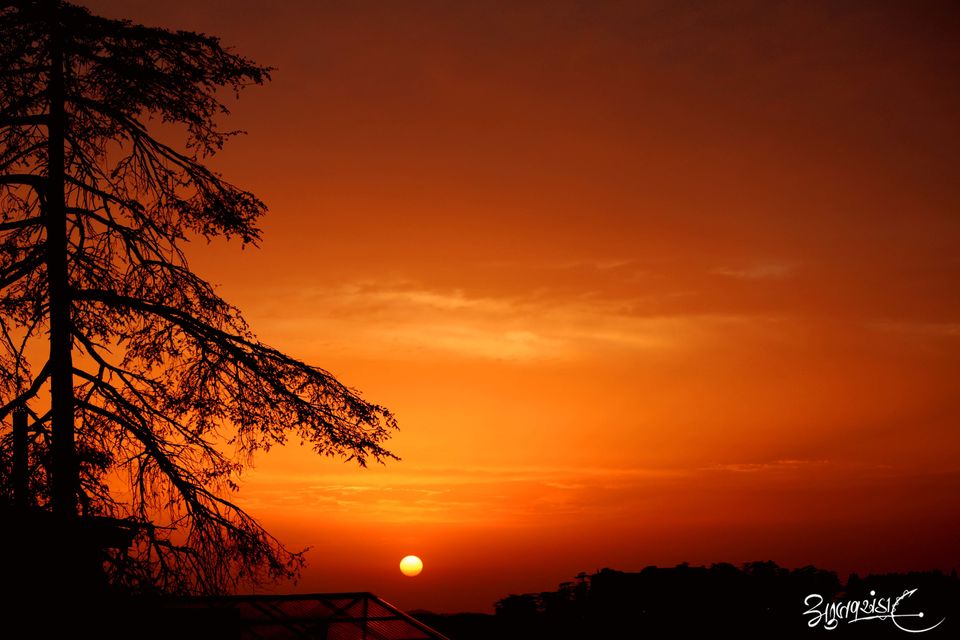 And that moment did come, which I was long waiting for. The Shimla Sunset. Words are not enough to describe this. In fact even the photograph hasn't done justice to the beauty that my eyes witnessed. Among the topmost in the list of the most beautiful sights in my life, Shimla Sunset comes back to me everytime I close my eyes!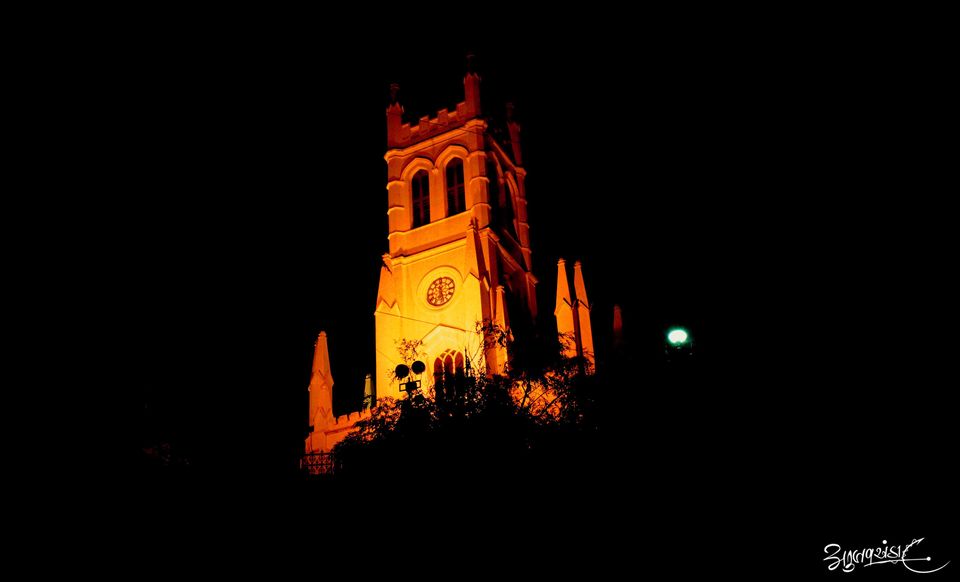 The Ridge Road and its beautiful Christ Church. Constructed around 1857, it is North India's second oldest Church.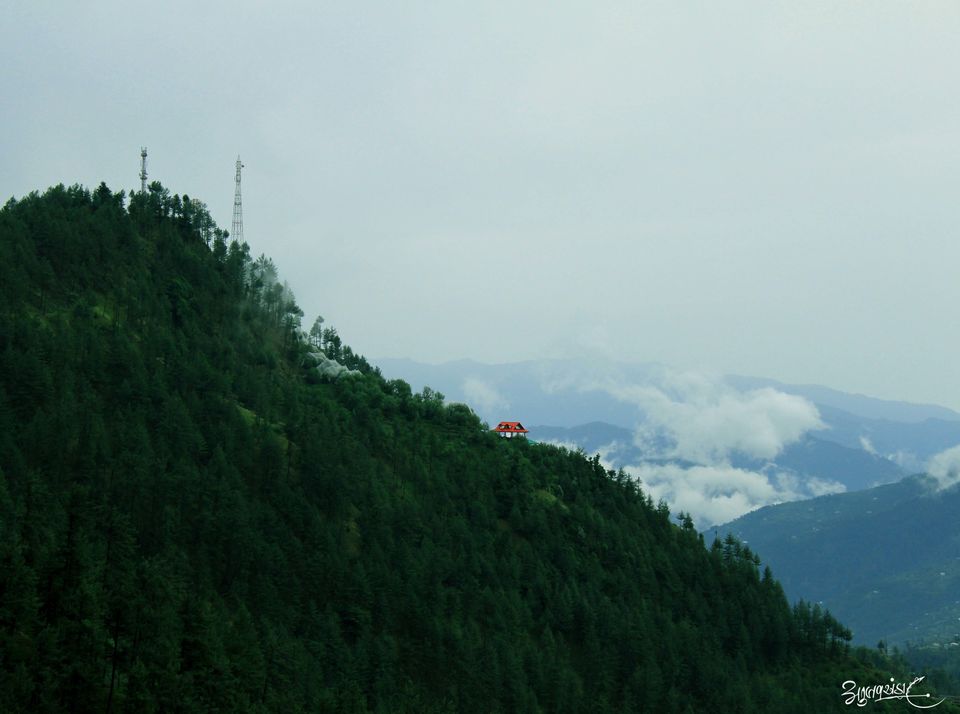 One single home among the clouds that come and kiss this hilltop every single day! Woo wouldn't wish to spend his entire life here! I would love to.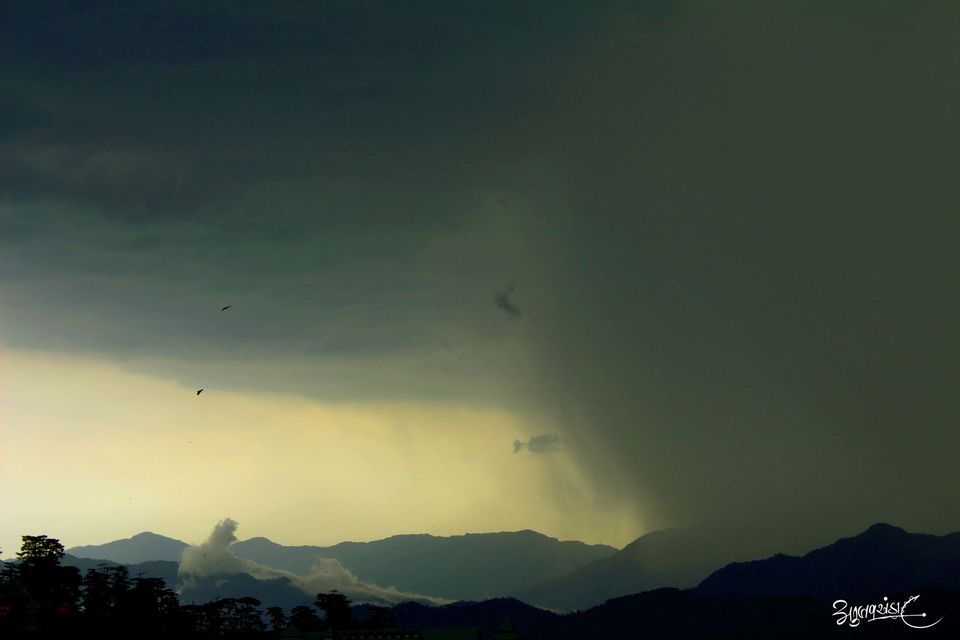 The best or probably the worst thing about Shimla is its weather. It can change at any time. Within minutes, it starts raining, sometimes it gets windy, and it is admirable when clouds start playing with the mountains.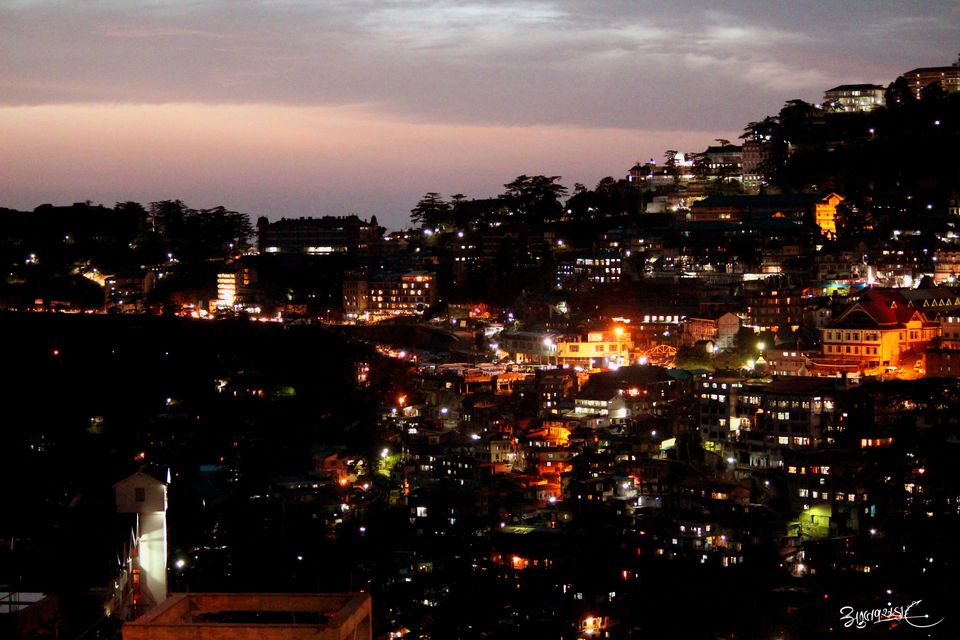 After an amazing day, just when I was going to fit into my 5.9 feet bed, this view took my breath away. How can you not fall in love with this place!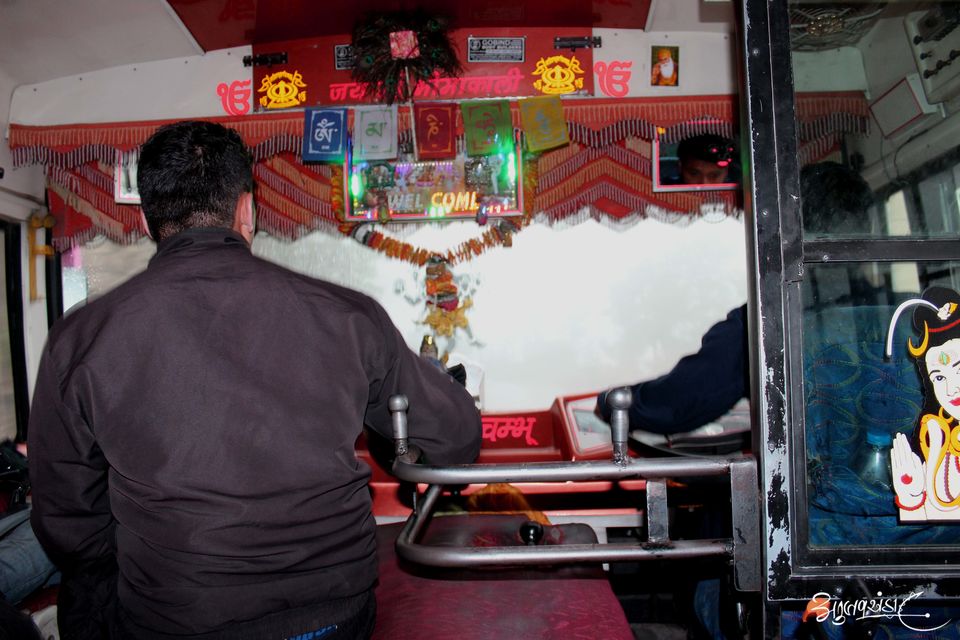 So, my next day started at 4 AM as I had to catch a Bus at 6.30 AM. Theis is the only Bus from Shimla to Sangala which arrives from only God knows where :) . It was raining heavily in the morning when I started my walk from Hotel to Lakkad Bazar Bus stand which was hardly half an hour away. I reached the bus stand and got to know that the ride has been cancelled because of the rain. I was asked to wait and catch the next bus which goes till Rampur and then find another transport for Sangala. Anyway! Let the journey begin.
My Bag found a special seat (Pylon of my shoulders). Leave the crushed plastic water bottle alone - I lost my Sipper on the first day itself! Going to trek without Sipper? Who the hell cares. As long as you have one bottle that you can keep refilling! Tip - Always drink local tap water if you are on a long journey. It acclimatizes your body and system to the local weather conditions.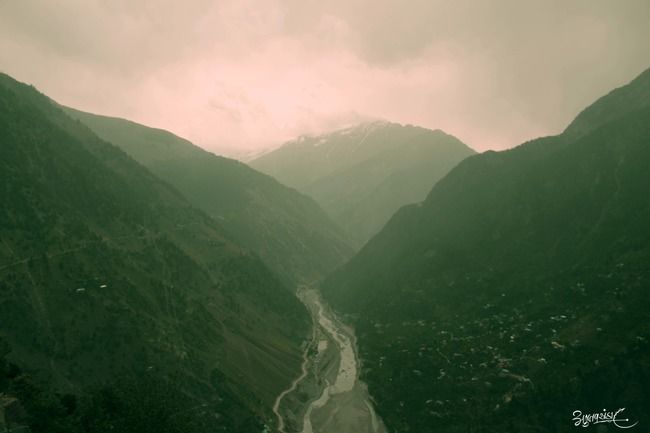 Local bus journey that introduces you to views like this is better that a lone car ride!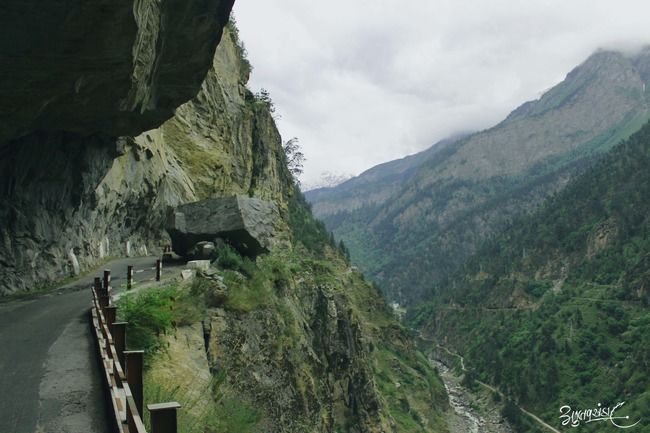 The initial roads to the start of a journey towards Spiti Valley. Shimla to Sangala is about 225 kms and is made of 2 major valleys - Kinnaur Valley and Sangla Valley.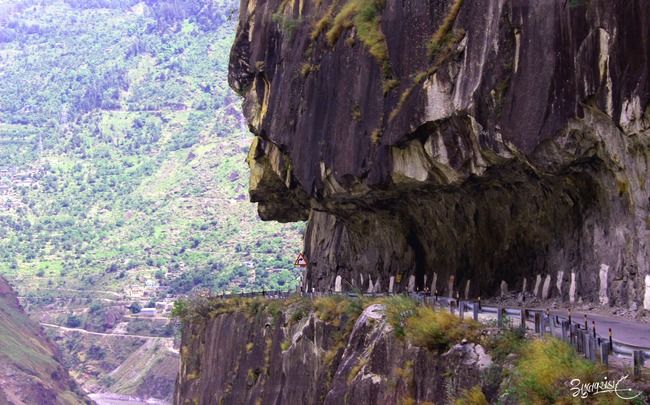 Kinnaur & Sangla Valley road is among the deadliest roads in the world. I tried to capture the deadly truth!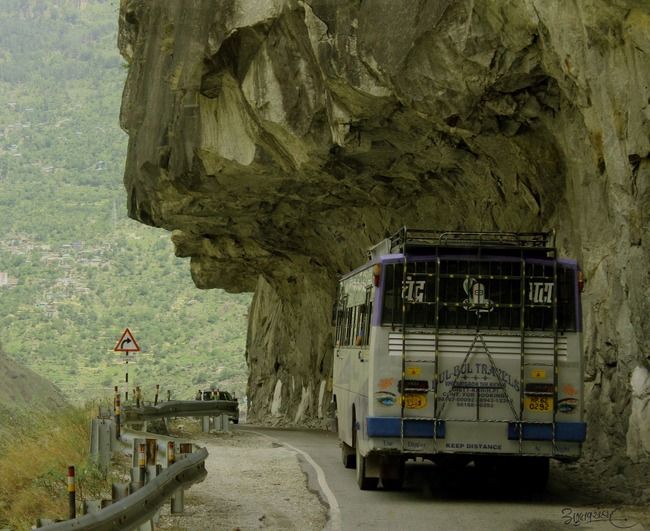 These are a few of the untouched places in Himachal Pradesh which people must go to, to enjoy raw, pure nature. This is only the beginning of an incredible journey. Stay tuned for what happened next on my Solo Backpack trip to Spiti Valley :) See you at the next Destination - Sangla!