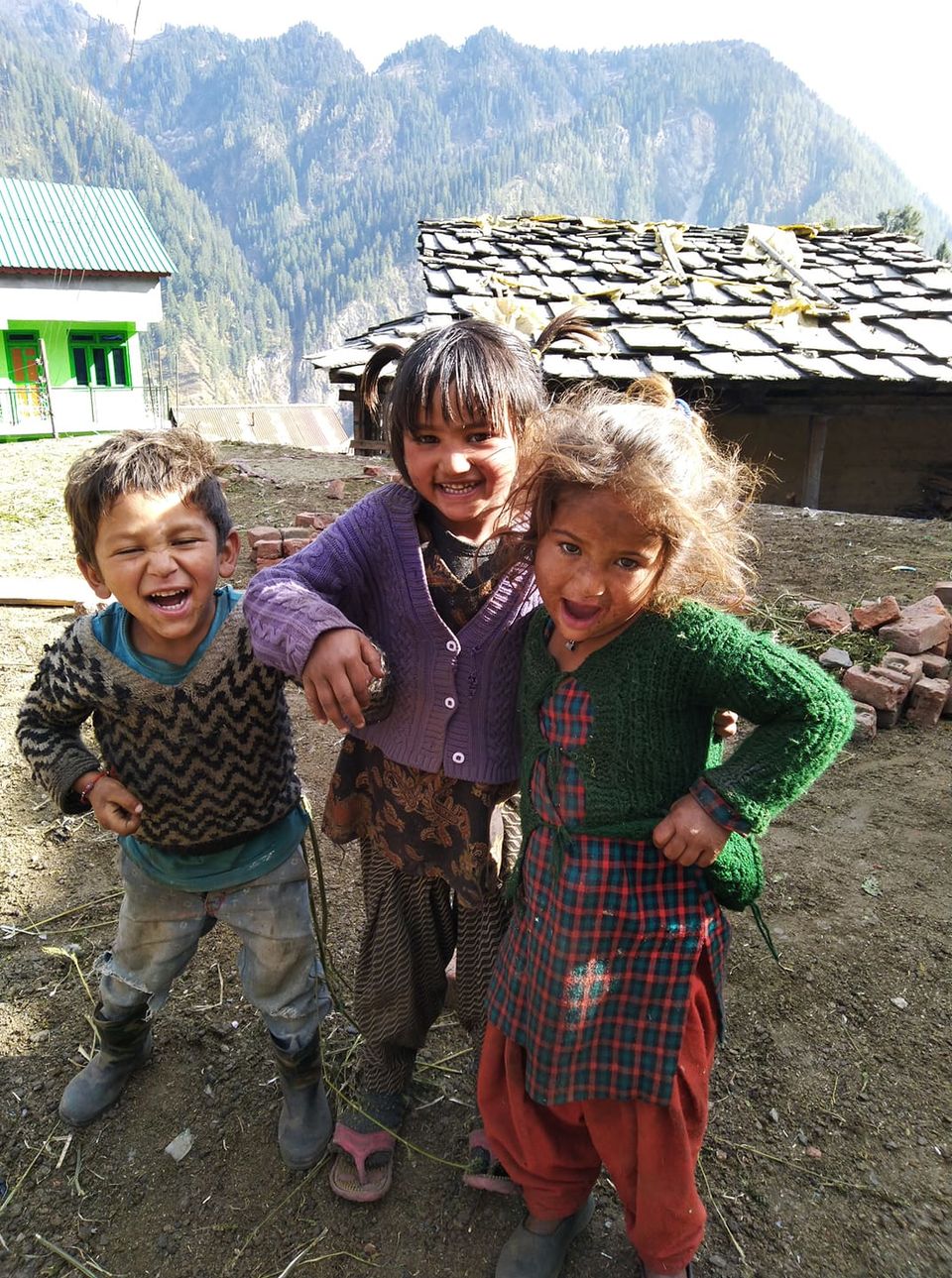 You never really travel alone. The world is full of friends waiting to get to know you! - Unknown traveler.
How true it is? Throughout my complete 12 day solo trip, I never felt alone. It's always nice to be around like-minded people who shares the same interest as you. Unplanned trips are always best. I had always wanted to go to Golden temple, Amristar. So, I just booked flight tickets from Bangalore to Amristar and from Delhi to get back. Just had some few places in my mind. Nothing else. I want to keep myself flexible without worrying about anything.
Day 1 - ManiKaran (expense Rs 300):
I thought of taking the HRTC bus to Bhuntar or Kullu from Amristar Bus stand. But God got other plans for got a Bus to Manikaran directly. The bus started around 5 PM and reached around 6AM next day. It was treat for my eyes to see the bluish Parvati river from Kasol to Manikaran. I got down from the bus and started inquiring locals with broken Hindi I know about staying option in Gurudwara But everybody said that I won't get the accommodation since I'm solo. I got river facing room for just Rs 300 rupees. That's my whole day expense. I unpacked everything and started walking towards the place where I can take hot-spring water bath. The water was so hot to get inside the pond. I had to use a mug to take a bath on the side. Then, roamed around for some time and headed towards to have breakfast. Then, served food in Langar for a couple of hours and finished my lunch and returned back to my room. I will just go back again to Himachal just to have food. Roamed around in the evening and inquired about bus to Kheerganga starting point to locals, had my dinner again in Langar itself and returned back.
Day 2 & 3 - Kheerganga Rs 1500:
I took bus to Barshaini, which is 12 KM from Manikaran. Arrived sharply at 7:45 and started from Manikaran at 8:00 AM. It took one hour for the bus to reach Barshaini. Had my breakfast at a local cafe in Barshaini and started walking towards starting point of the trek. It's an another one km walk. There are two routes to reach Kheerganga. First one is through Nikethan Village and another one is the jungle route with full of hilly terrain with waterfalls and many small streams. The first route is easier compared to the jungle route because you pass through the village and so there are few pit shop options. I took the jungle route and returned back in village route the next day. I was the only trekker in the complete stretch because it was a weekday and just before the season starts. Even though the route is marked, I got lost a couple of times and managed to get back on track again. I got stuck with hundreds of goats on short trail for more than 30 minutes. I had to return back a few meters to find a place where I can let them pass me. It took me almost 4-5 hours to reach the top. Got tent for rent 600 Rs per day and took rest for some time. Then, Went to the hot spring water pond and took one nice bath for more than an hour.
I felt very cold, even with thermals, T-shirt, winter shirt and two thick blankets inside the tent. Temperature even drops to -5 degrees at night. So, I suggest you to prepare yourself accordingly. Took bath again in the morning and started back around 11 AM from the top and reached Barshaini around 4PM.
Day 4-5 - Tosh & Kutla Rs 1700:
Once I reached Barshaini, I bid adieu to friends I met while coming down from the top. And, I shared the cab to Tosh with two female travelers from Mumbai. They booked a room at Pink Floyd for Rs 1000 for a day. It was very costly for budget I planned. So, I started looking for alternatives nearby. Luckily I got a room at Hotel Blue Diamond for just Rs 500 per day. I personally feel Hotel Blue Diamond is better than Hotel Pink Floyd hotel in terms of value for money as well as a view from the Room. Took some rest for some time and went to have a chat with people I met and we chatted for few hours and went to sleep. I inquired the guy who managing the hotel where all I can visit nearby. He asked me to go to waterfalls nearby within one km hike. I started walking towards waterfalls around 3PM and I met an female traveler who happens to visit the same waterfalls. Both of us started walking towards the waterfall. We reached the waterfall within few minutes of hiking and had Ginger lemon honey tea nearby water stream which you can see in the below images. It is a very unique experience which everyone should do during a trip to Tosh.
We saw a board to Kutla village and decided to go there, thinking it will just take a few minutes away. It is little longer than we expected though. But I must be regretting my whole life if I had decided to return back to Tosh. We reached the top of the village around 4:30 PM and We saw a beautiful wood &en house, colorful guest house, water stream flows through complete village, dedicated place for horses to run. It was literally Heaven on Earth. Started to get down around 5 PM and reached Tosh around 7 PM.
Day 6 & 7 - Kasol & Malana (Rs 2300)
Nothing beats sleeping near the River and listening to relaxing sound of the river during sleeping. Don't agree with me? Just camp nearby riverside in Kasol. You will also agree afterwards. I negotiated for Rs 300 per day. Me and friends whom I met in Tosh decided to go to from Kasol. They returned back from the Kheerganga next day and we hired a cab to Malana. Since, there has been a landslide on the way to Malana. We had to hop two cabs to reach Malana village. It was another 3 KM hike from the entrance of the Village. Others were already very tired because of Kheerganga previous two days. So, they decided to give it a pass this time. Back to Solo again :) Reached top within 45 minutes. I saw complete trash thrown in the complete stretch till the top. I was really disappointed with how travelers destroyed the beauty of the valley. Outsiders are not allowed to touch anyone or any holy places like temples. It is how it is and people who travel there has to follow it. But everyone in the village is photogenic people from kids to old people. Roamed around for some time and returned back to the entrance.
Must try: German bakery cakes, Momos at Sunshine restaurant, Evergreen restaurant, Local shopping.
Day 8, 9 & 10 - Manali & Solang Valley: Rs 3000)
Once I reached Kasol from Malana, I planned to spend the next three days in Manali. I started around 4PM in the evening and reached Barshaini around 5 PM and spend some time with and got a bus to Manali at 7PM. I started to look for stay option online just when I about to enter New Manali. Luckily, I found one dormitory called Orchards House-The Hidden Tribe for just RS 270 which located just 2 KM away from main bus stand. Reached dormitory around 10PM and talked to the manager where to go next day and slept off. Next day, started walking towards the main road to catch a bus or auto to Vashist Temple and Jogini falls. Since road towards the temple was good. Walked complete 6KM by foot in no time. There is a place for hot spring bath one like in Manikaran. Started hike to Jogini falls which is another 2KM from the temple. There was literally no one on the complete trail till the top. The path was fully covered with pine trees and you can hear the sound of water stream from far away. Who doesn't like to love to watch gigantic waterfalls without no people around. Completely out of the world experience. Once I returned back to main bus stand, I booked tickets to Rohtang Pass at 9:00 AM the next day for about RS 600 and returned back to the dormitory and slept off. When I woke up the next day, It was raining slightly. Started walking towards the bus stand thinking bus might have cancelled due to bad weather. Damn, I was correct. I was clueless what to do because Manali was not at all part of my list.
I heard the bus announcement that bus to Solang valley leaves at 10'o clock from some platform. I heard this name before. Quickly googled and hopped on the bus and reached within an hour. I saw a banner image with Trolley to go top of the hill and started walking towards the place. Cost was Rs 650 to go to top and you have another option other than taking it. Just when about to get in. I saw snow fall for the first time in my life and coincident it was the first snowfall of this season as well. I couldn't believe what I was seeing. Just when I entered trolley and moved towards the top, snowfall becomes dense and clear. Once I got down and entered, the whole place was covered with snow. Played like a kid and took some photos and returned back to the bus stand. I inquired about the next bus to Manali to the local hotel owner while having tea. He asked me whether I visited Anjani Mahadev Shiva temple or not and suggested me to visit there since it just 2-3 KM away. But to reach there, I had to rent quad bike since there is no hiking path because of heavy snowfall. By the time, I reached the top, I almost got wet. My whole body was shaking and my hands are completely numb. There ware another 100 steps I had to take barefoot since it is prohibited to wear shoes. I thought I would give it a pass. But somehow decided to do it thinking I came this far and I will be kept thinking about what it was like to go and see the statue. I was literally running like Usain bolt, chillness was unbearable. But it was treat for eyes to see waterfalls falling directly on top of shiva statue from more than 100 feet. Returned back and had some gods offering sweet and took some rest inside room which used for a guy who stays there to look after shiva temple and then returned back to Manali. I dedicated 10th day for local shopping, chilling and roaming around. If you like more adventures, you can take a helicopter ride from Manali to Rohtang pass for Rs 3500. I had a plan to visit but got cancelled due to bad weather. Maybe, next time ;)