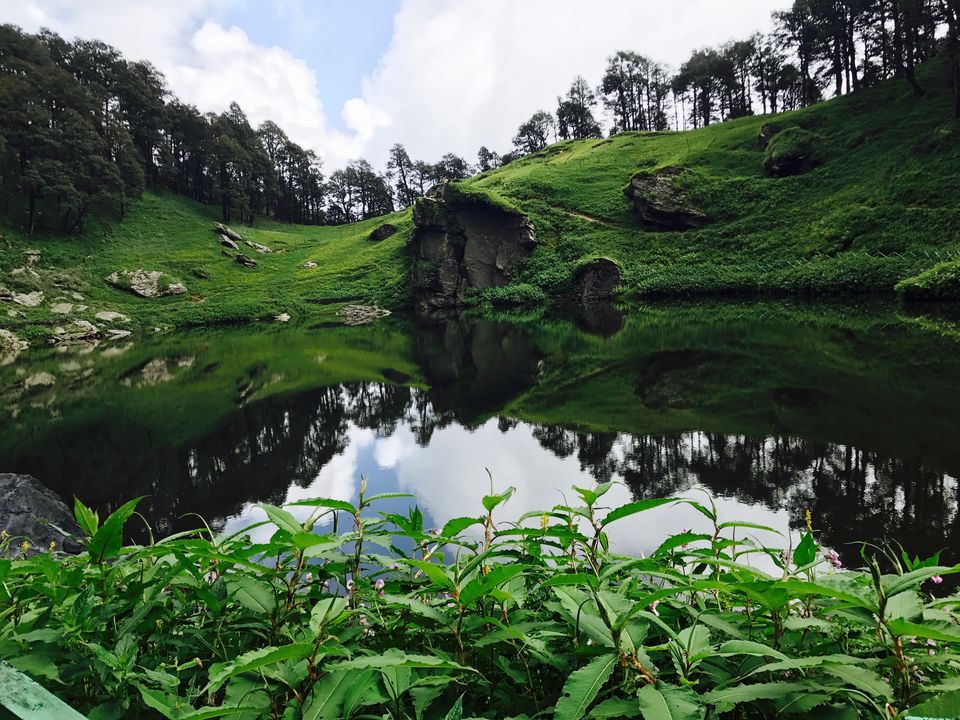 "Sometimes the best way to relax is to exhaust yourself on a drive to an unexplored destination."
Butterflies were 'flying' in the stomach for one of the much awaited long weekend connecting with the 15th Aug holiday. My share of trip started from Jammu (Where i am currently posted) a bit earlier to relay down to Delhi as the actual dispersion of our trip happens from there. The long weekend had to be extra long for me for I have to manage my travel from Jammu-Delhi-Trip Destination- Delhi- Jammu. At least two added days are what I require to accommodate my plans for the road-trips.
The trip destination that we chose this time was another gem of beauty out of Himanchal Pradesh- Jibhi. Jibhi is a very small village near Buntar. If you are driving from Delhi towards Manali, you have to skip the tunnel which comes after Mandi and take a straight drive towards Jibhi. The first signboard of the destination can only be seen once you leave the way to tunnel and continue straight into the serenity of mountains.
The gang was cut short, not deliberately but due to the professional engagements of couple of members but the idea was still rock solid. Our earlier plan was to start the journey on Friday from Delhi. Wednesday evening I got a call from one of my brother from Shillong who was also craving a holiday as much as us. The agenda was to have fun together that we missed long time, and it was going to be a kind of reunion as well. He booked his tickets in a jiffy and made himself in with another chap of his who made the journey fun for us.
"The destination of life is nothing, but the journey itself."
- Amish Tripathi
Friday night we all gathered in delhi, had our kind of party till 4 in the morning and everyone dozed off after the long chit chats and mild introductions. The idea was to get the five comfortable with each other so that to avoid any hindrances in bullying throughout the holidays. We slept for some hours and took the two guys for a super fast Delhi-darshan who have come to travel with us after already travelling so much. Ferrying down from Central delhi to India gate to President's House to again back to south delhi, we reached back at our place roughly around 1900 hours.
Beginning of the Bro-trip:
After little relaxation, we started at around 2000 hours from delhi and to the divinity, we were able to fly our car on the delhi roads which is quite seldom for a weekend. We reached Murthal in record time of around 2 hours and started with some Chochak chai. That followed up with paranthas and later full circle it ended on the tea again.
Being a Saturday night, the radio was quite a thumping affair and helped us dance inside the car. After losing the frequency we switched to our own kinky collection and that was even too much fun. After the three tolls, we took right towards Manali from Ambala and we were into a sole car running for tranquility on the roads. At around 2, we found a halt and broke for some refreshment, for the roads ahead had be to a bit deserted and rarely one can find a better place to snack on. A crisp break of 30 minutes buoyed us up and we were again towards the hill. The valley started in a while and the drive was slow due the condition of the roads there.
However, the roads are always an issue in the few initial kms but adding to the miseries, there was rain that just preceded us reaching there. Following some bad patches, the way ahead was smooth again. We broke the dawn amidst mountains and the beauty was surreal (Pic Below). We reached Mandi at around 9 in the morning and started enquiring about the way further. There were rumors' that due to a massive landslide, the main highway has been closed down and debris is being cleared out. The so called incident was still rumored to be some 30-40 kms from Mandi. Keeping our fingers crossed, we forged ahead. Some said that the landslide has happened in Hanogi which was particularly on the route of Jibhi and had nothing to do with Manali. We called up our college buddy who already reached there a day before. We asked him for the flow of traffic on the route and he signaled us green.
We were trying to be happy again but we saw a car coming from opposite direction which tried to mess with our happiness, they were gesturing us to take a U-turn and drive back. We hardly gave a damn and continued moving ahead for some more time till we finally saw a policeman and stopped hoping some genuine real time updates on the traffic movement. To our dismay, he also suggested to do the same. We were informed that the landslide has happened before the tunnel, which meant that now were not even left with the option to go to Manali. Our jaws dropped in sheer disappointment but we still kept faith on the good lords and kept travelling up. Numerous returning vehicles told us to return but it's never about a U-turn when you are really up to it. We decided to at least see the menace by our own sight, if not cross, and further decide what to do.
The landslide was really shitty and tough but we were the first vehicle allowed to be crossed after the earth movers did their work. In a matter of time we reached near the tunnel from where the road divides. We preferred straight towards Buntar and the first signboard of Jibhi was like bumping into a chilled beer in the desert. After leaving the main road and continuing towards Jibhi, the road gets narrower but is in perfectly fine driving condition. We stopped for a while in the serenity where a small river was flowing on the right bordered with huge mountains and some breathtakingly beautiful meadows.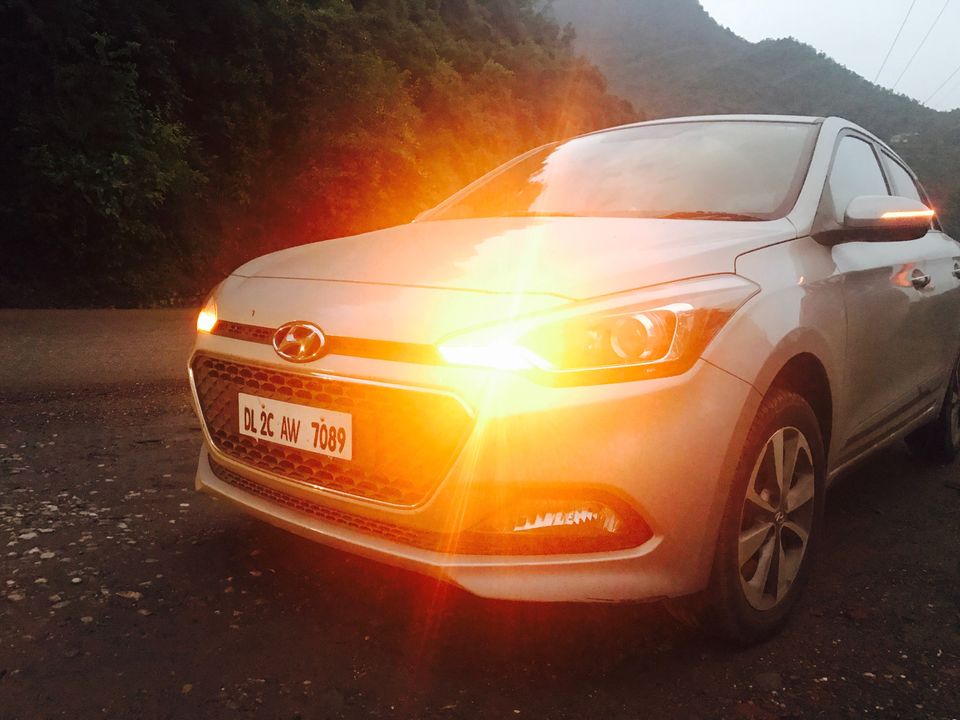 There is sudden elevation to Jibhi when it is left to be drove some 15 kms, but the roads are safe. We reached Jibhi, and all thanks to the buddies who managed us a stay there. We got in negotiation at a hotel called Cedar view and nestled ourselves there. All we needed were some good food and sound sleep. Luckily, we got both. The rooms had a balcony which opened to the mountains and hymn of the flowing river can be heard from there (Pic Below). The view was much more than what we paid for. After having some tea in the balcony with a view, we had met our college friends and joined them for the evening arrangements which was at their stay. We had nasty fun together as we sat for 3-4 hours picking out the nostalgia of the college days.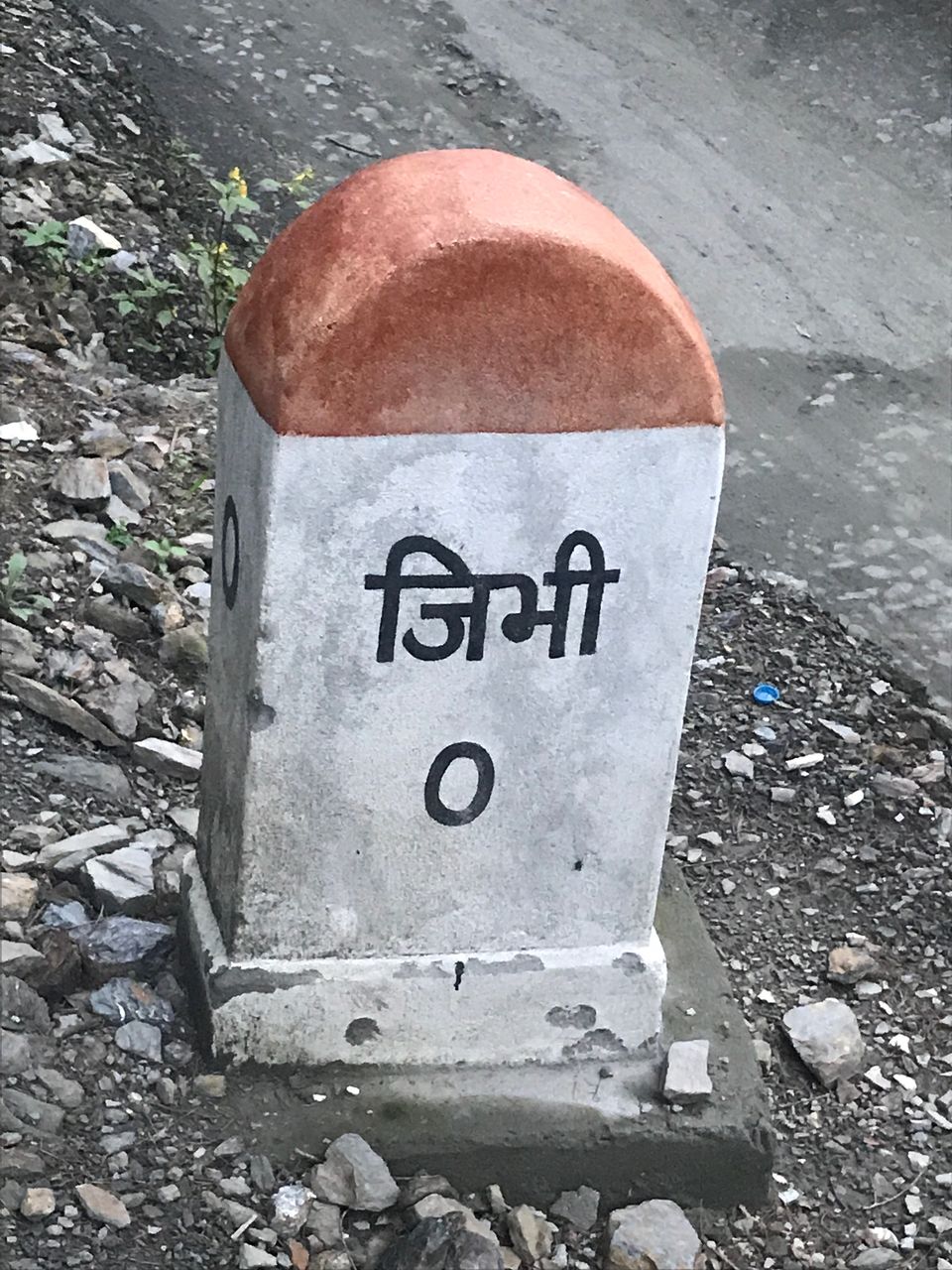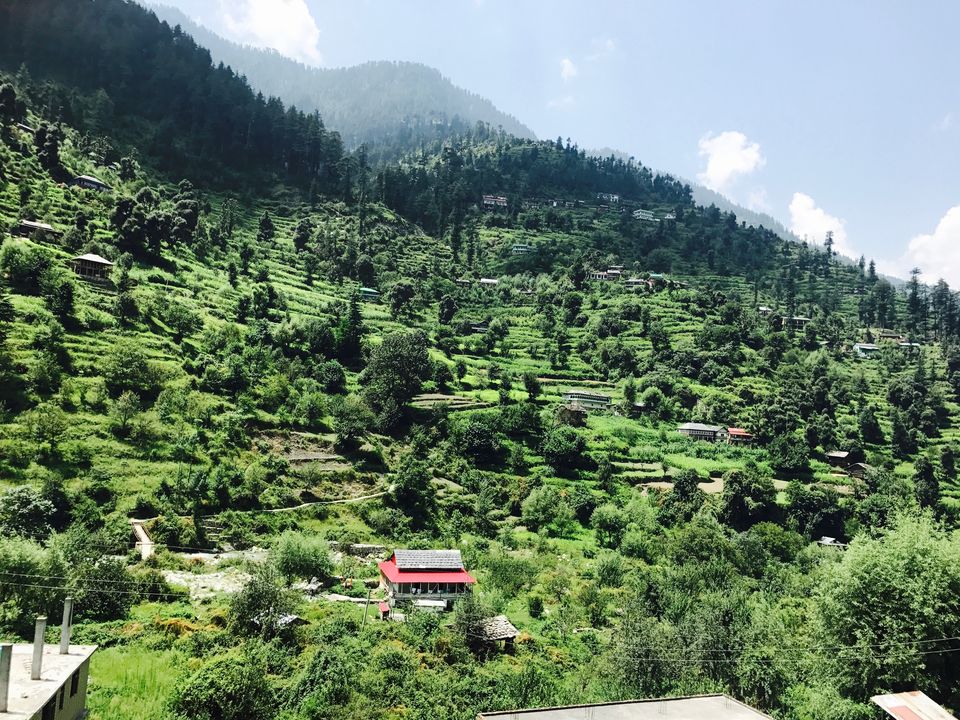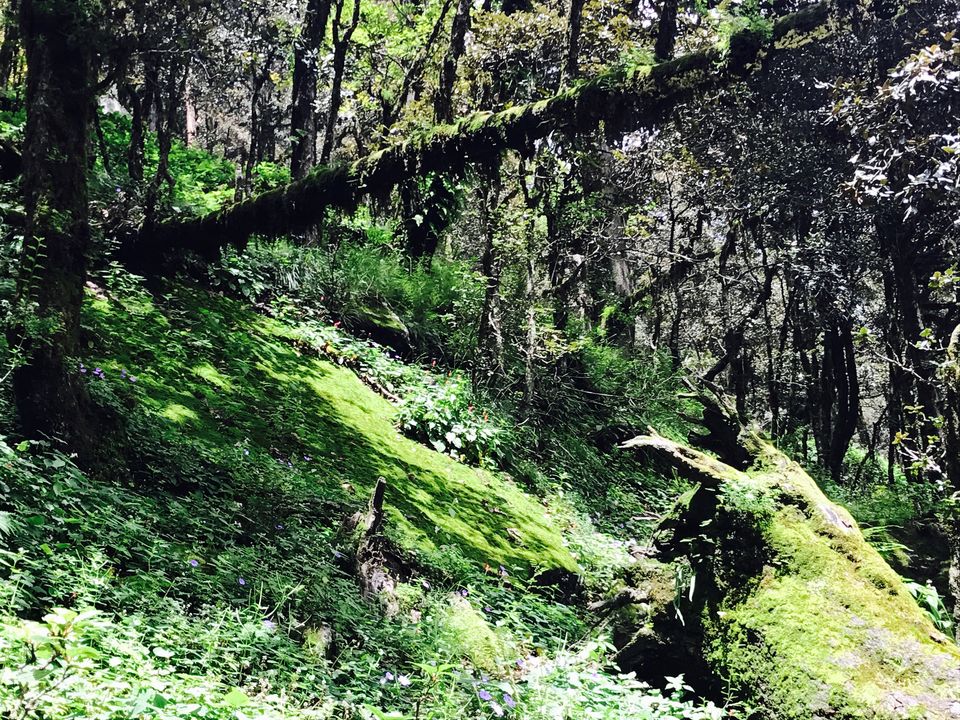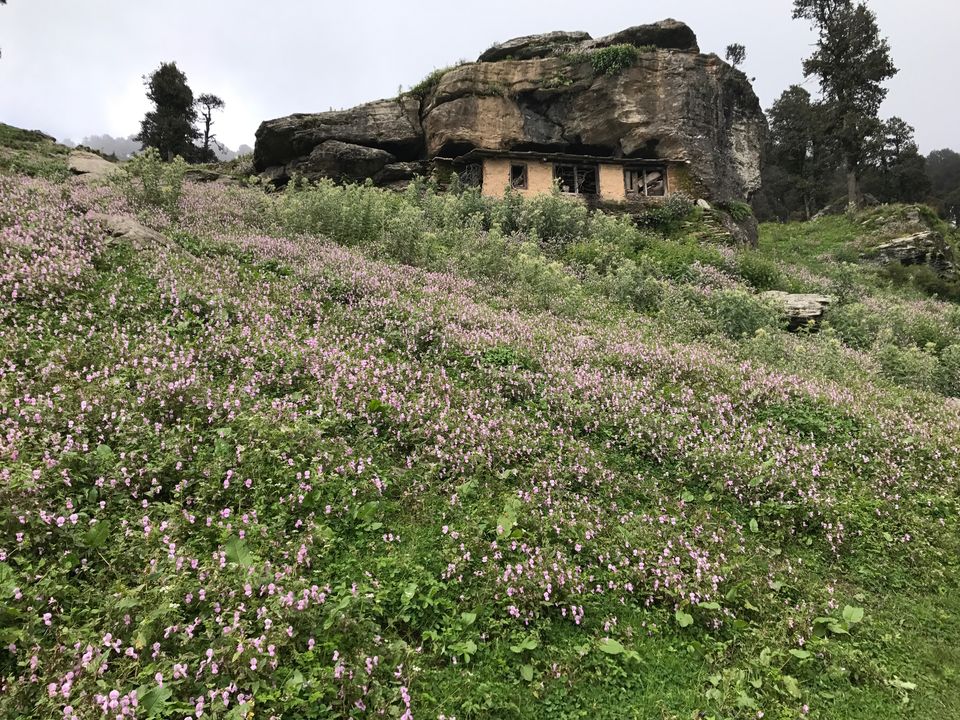 Trek to Sirolsar Lake:

Next morning we planned to trek to the Sirolsar lake which starts from near Jalori pass. We booked a camper as vehicles with low ground clearance should be avoided taken to the place. Also, the roads further are in no good condition for small cars. Three of us loaded ourselves on the back of the camper while the rest two decided to feel comfortable inside. As the vehicle started, songs started oozing out of our mouths. We had no clothing for the cold and as the elevation gained we started feeling a bit of it. After some 30 minutes of drive from Jibhi we reached the place where we had to start the trek from.
First few kms of the trek is quite boring and one needs to be wary of not stepping on the dungs spread everywhere on the way. Once we seeped in the mountain, the view embraced us. Lush greenery gave us high of a different kind. There were some beautiful, colourful small flowers (Pic Below) all around the mountain and being the season of rain the tree trunks were covered with something like a green soft mink blanket of algae. I must say that the god of nature truly turned picasso. There were several fallen tree trunks somewhere in the valley, which the green vines were trying to bosom from the world. The clouds were playing in the Mountain, they hovered and shattered every now and the. Oh god! What a trek it was turning to be.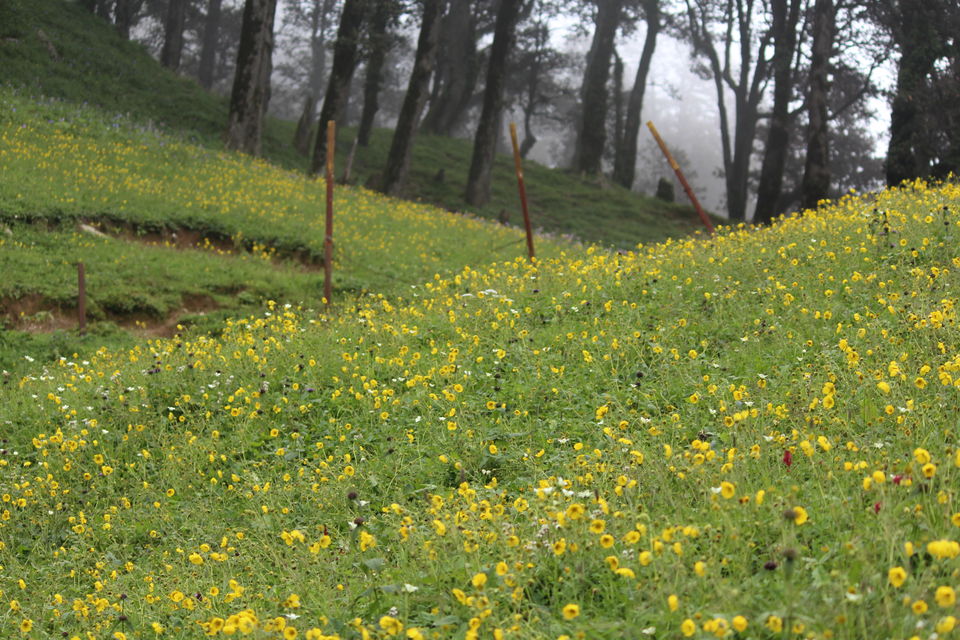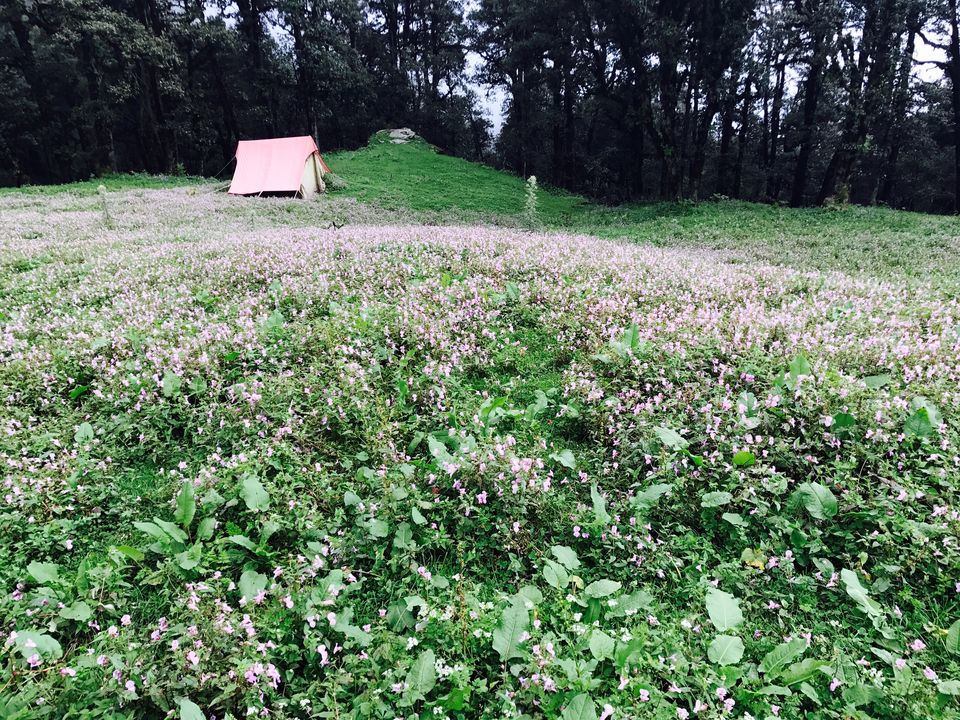 The woods were really lovely and dark and deep.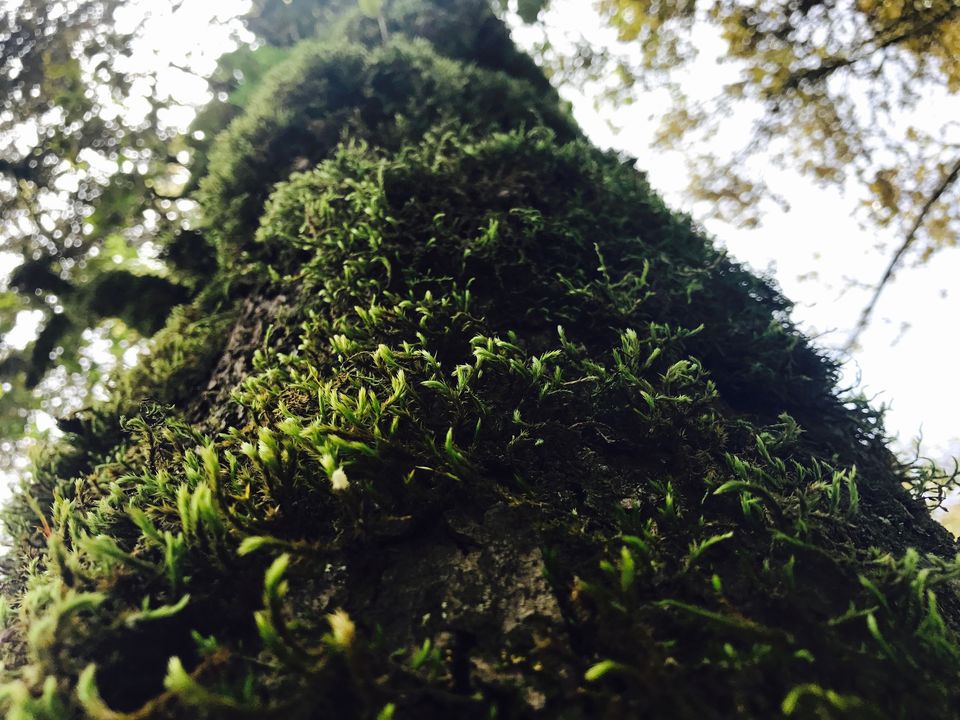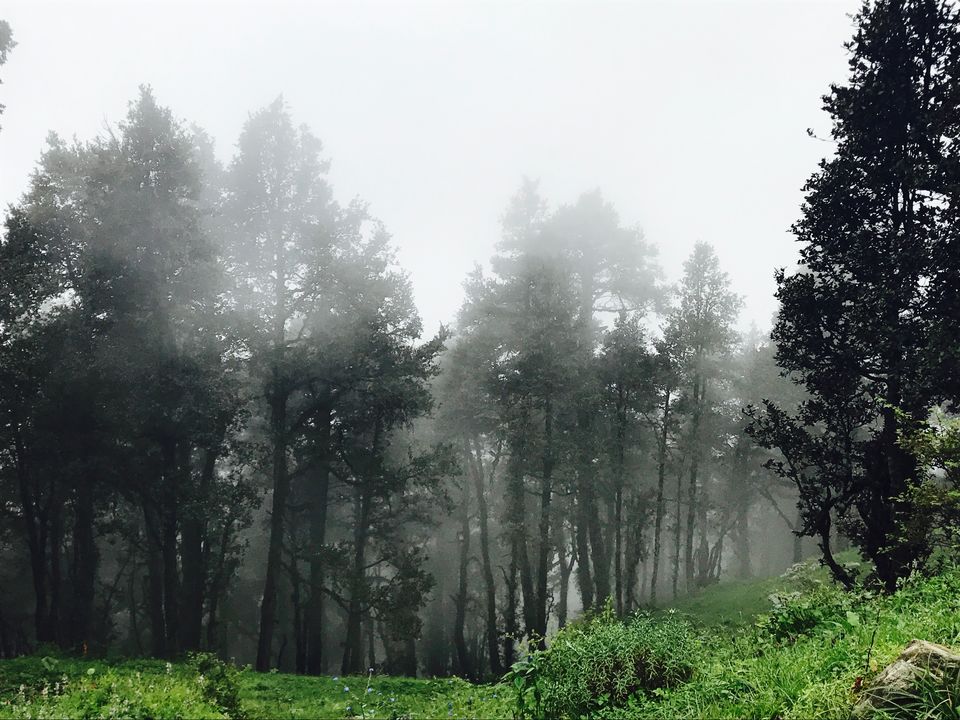 Altogether it gave us feeling that we're on the sets of game of thrones. We paved our way ahead with some nature photography. We did took 3-4 justified breaks and reached a cafe which was closed. We sat there for a while and exchanged some words (Pic Below). Further, we advanced to a real cafe which served Maggi and other refreshments. This was almost near the trek destination and it took us merely 5 minutes from there to reach Sirolsar lake. To just the opposite end of lake was a Cliff which umbrellas a tiny of the lake. We found ourselves on the top of it in a matter of time and enjoyed our peace there till someone urged us to move so that they can click.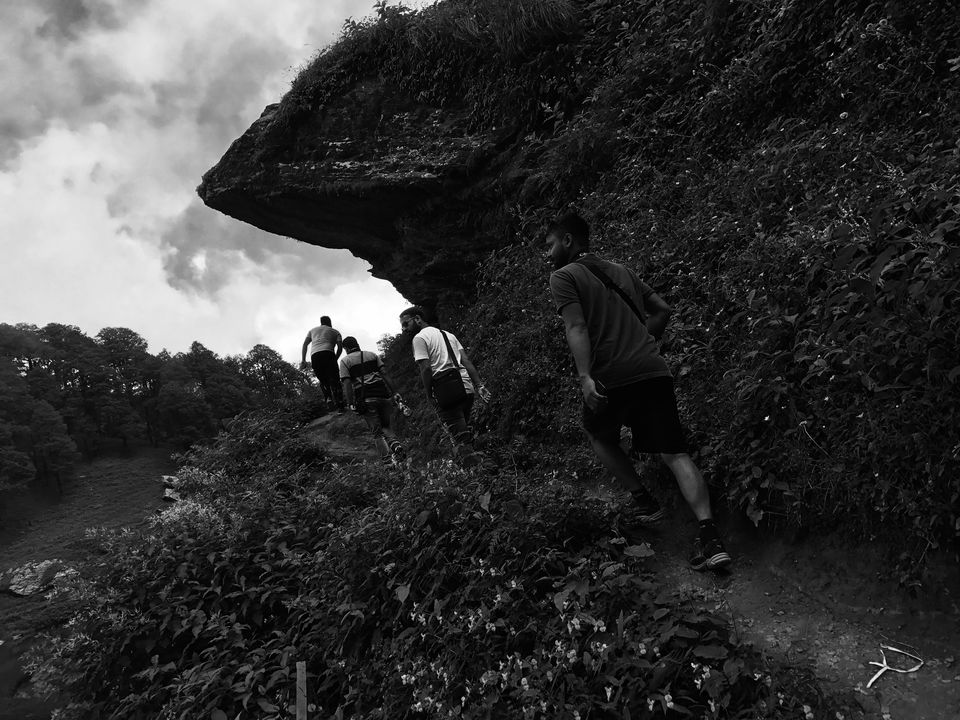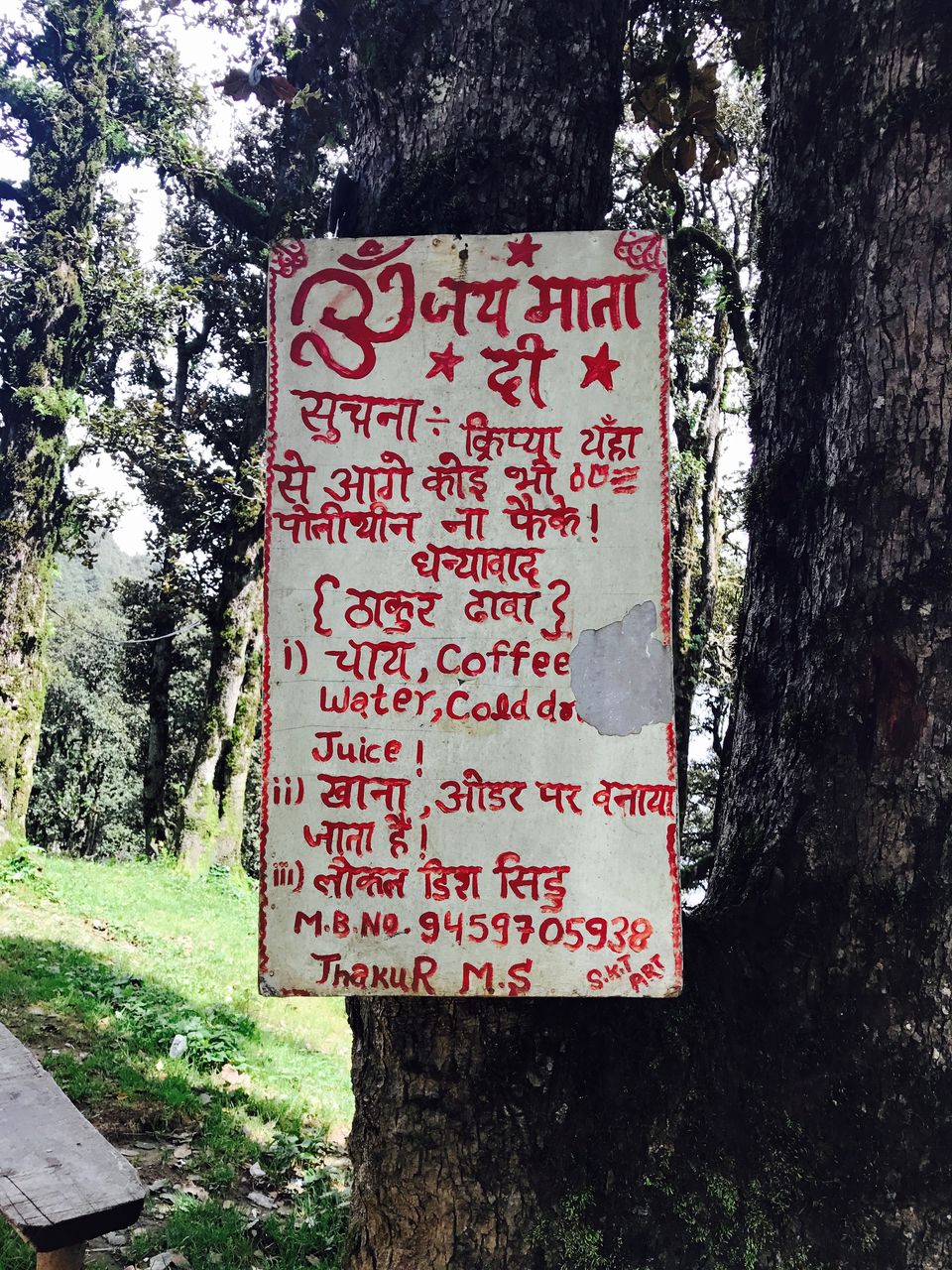 We got down and completed the circum-walk through the lake and decided to visit the Mata Budhi Nagin (Pic Below). The trek took us grossly two hours from single side but the view was picturesque, serene and defined tranquility in a different way. I must say that due to rains, the forest seemed more profusely green to us and left a very sharp impression on our minds. Looking to it, just did the stress buster to me. We had some water only after we reached the trek end as there was no availability of the same on the way. This followed with some tea and the after that we started descending back. The climate was even chilling but we damn cared and stood at the back of the camper. The winds motivated us to sing louder and move our body to the tune of it. We lifted two buddies who were walking down the hill on the condition that they will accompany us in our vocal jam session. And trust me they enjoyed every bit of it.
We went to waterfall in Jibhi after the expedition which was a bit dull as we already did the best of the place. I will advise someone to go there only if they have extra time to kill. There was hardly any glucose left in my body to support me stand again so along with others I also decided to sit inside the vehicle and it was merely 10 mins of drive to the hotel form there. After 30 mins of rest and mug full of Black coffee I was back to life. Then we carried along with the plan to sit on the rooftop with a lone table and only us. Not to mention, the place was surrounded by mountains and river was flowing right besides us. The sky was clear, the stars were twinkling with us and i was silently wondering, what a trip it was!
The session we had was full of fun and strictly non-nerdy things. We had our dinner afterwards and called it a night. Next morning we had to start towards the city again for the CALL OF DUTY!
Few things to note:
1. Trek is quite an easy one and can be done by any averagely fit person.
2. The trip cost includes everything incurred from Delhi-Jibhi-Delhi and meant for 5 pax.
3. I will highly recommend to do this trek during rainy season as there cannot be any better view than this season.
4. There ain't any cafes or dhabas on the trek way, so better keep the water handy.
5. I do not feel that one should plan a night-halt as it hardly takes any time to climb up and down. It can easily be done between morning to evening, managing some time to rest at the destination as well.
6. Keep the camera out in hands as you will never get another view of what you will be witnessing there with mother nature.
Idhar ka hi hoon na udhar ka raha,
Safar ka hi tha main safar ka raha!