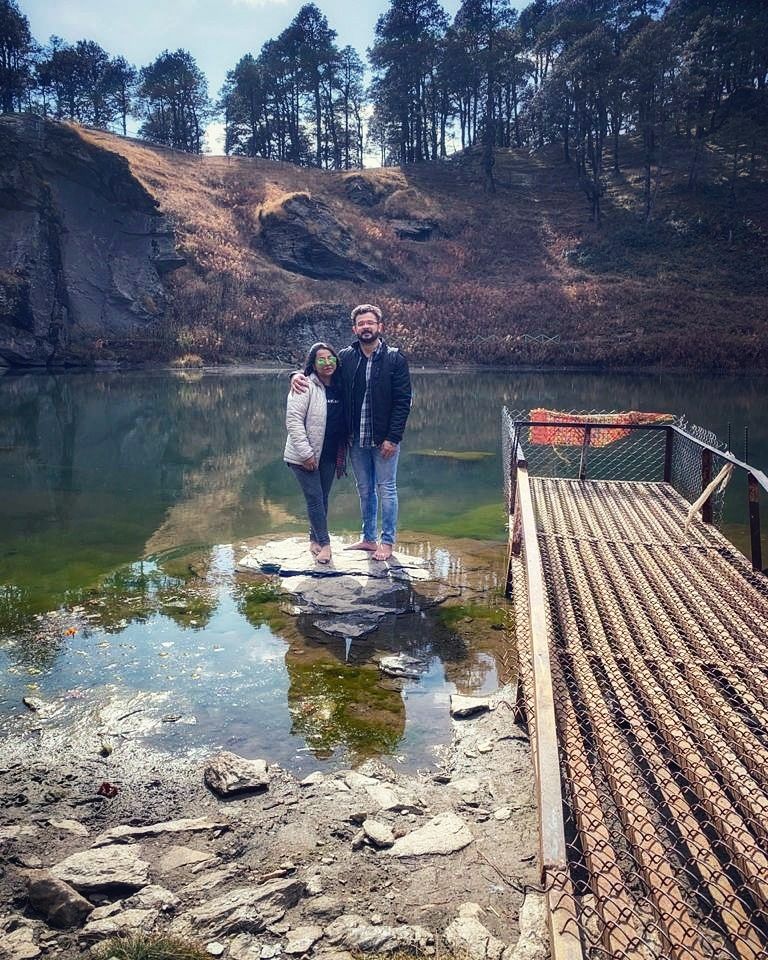 This year 2020 has been very difficult for all. Pandemic bought the entire world to a stop. The Lockdown, working from home with no definite work hours and also keep yourself and your family safe amidst all, have left everyone exhausted.
We too, have had our shares of lows this year and we were dreading a getaway but also were skeptical of everything that was happening outside. It was as if our lives are in danger if we step out.
So, when lockdown started lifting up, we wanted to go for a short rejuvenating trip. A trip whose whole sole purpose was to spend time together and relax our body and mind.
This was not a trip we planned with so many activities or exploring around, but I just thought of sharing our another adventure with you all.
31st October 2020, was the day we had planned our journey.
Ofcourse, like any other trips, this one also couldn't have kick started without our Coffee and Pizza Date at Ama Cafe, Majnu Ka Tila.
We had our 14 hour bus journey with Northern Travels. After the date, we waited for about 1-1.5 hours untill the bus came to our stop.
We boarded, everything was normal apart from the fact that everyone was wearing masks and Delhi Pollution had given me a severe cough because of which I had to take Cough syrup which made me sleep the entire 14 hour journey.
At Midnight, around 2.30am, the bus stopped at a point and we were told to de-board and board mini travelers which will now complete our remaining journey of 14 hours.
This stop was few Km's before the Himachal Pradesh Border where all the Volvo buses de-boarded the passengers to take the mini travelers. We all were clueless as to why this was happening but considering the time and cold weather we all silently boarded the travelers to reach our destination.
Note: If you want to reach Jibhi via Delhi, take a bus till Aut and from there you have change your transport.
We reached Aut, the next day, i.e, 1st Nov at around 11am where the Traveler bus driver was kind enough to help us get a Taxi with bargaining and made sure we were in the Taxi before he left for Bhuntar.
From Aut, Jibhi is 1.5 hours away and the taxi fare is about INR 1500, which after many bargaining we were able to hire for INR 1200 for 4 people (2 other travelers who were with us in the same bus), which came about INR 300 per head.
We reached our booked resort around 1pm.
Maple Outhomes, is an amazing stay near the river for which you need to trek downhill for about 2-2.5kms.
The day we went, few locals were cementing the rough path to make it more durable during snow, but otherwise also its not that hard trek up and down (if you are a trekker, its a plus as trekking becomes natural part of you).
So after 16.5 hours of journey, we were finally at our stay.
For check-in, our temperatures were taken and all our buses and us were santized before we stepped towards our Cottage. (3 Nights Cottage stay for 2 without any meals - INR 9240 + 18% GST - you can book via Booking.com)
We spend the first day lazying, having food enjoying our Hukkah and some drinks at our Cottage's Porch and relaxing to the sound of the river flowing in front of us.
PS: They have a cafe and the food is amazingly yummy. We are very particular about our food, being foodies and trust me being a spicy food person, I loved everything from their kitchen.
Yes in 4 days, we had tasted Everything in their menu 😂.
At around 7pm, they have a bonfire, which we missed on day 1 because we were so tired of our loong Journey and hence we dozed off right before the bonfire started and woke up next day.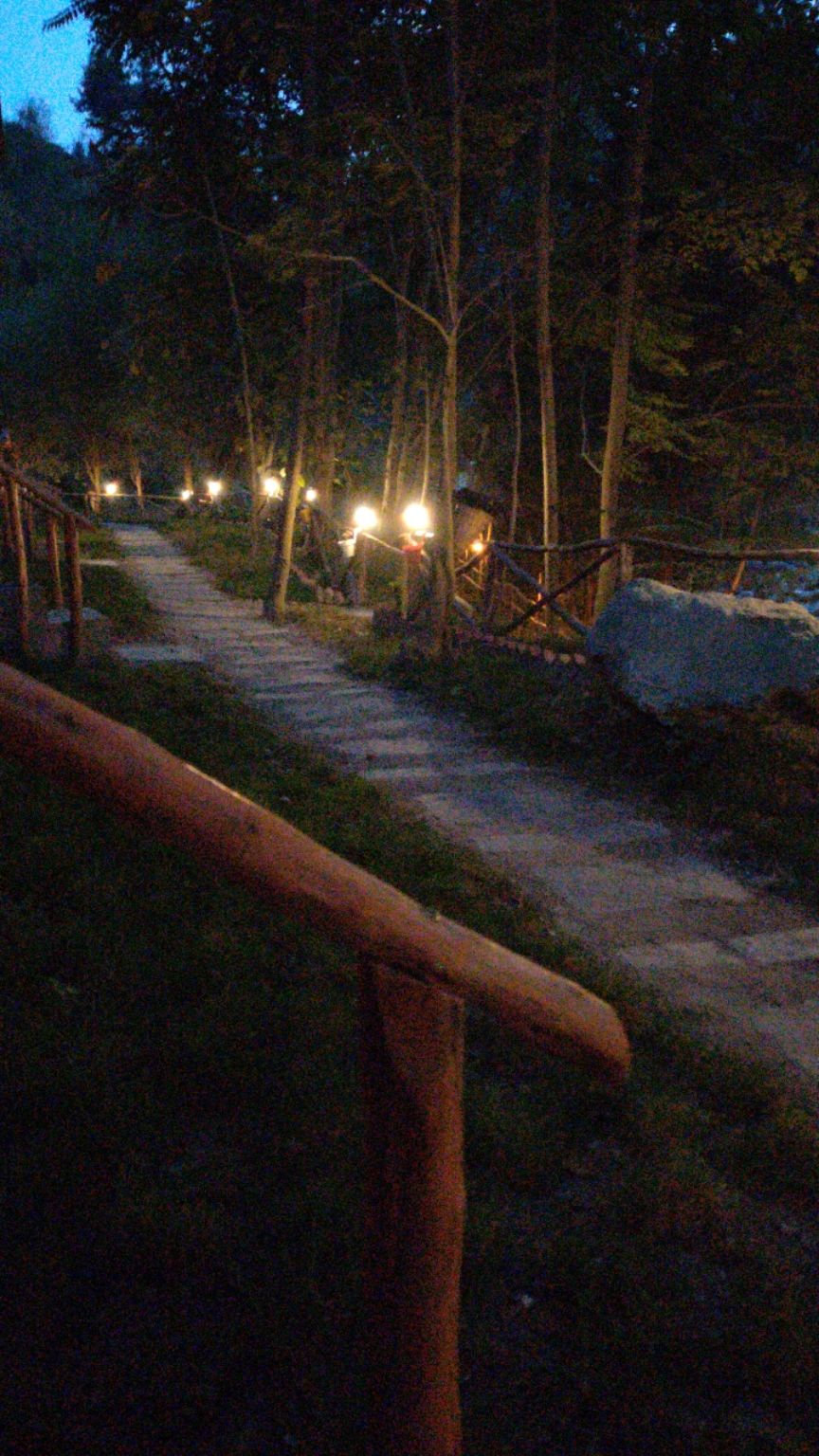 Its My Birthday Day!!
Yes, the purpose of planning our trip so early when it doesnt even snow was to have a peaceful, rejuvenating Birthday.
Finally, I was able to have my travel dates match with my Birthday. Trust me, it was the Best Birthday so far.
Okay before that, at midnight, Pallav woke up and wished me Birthday while I was sleeping like a Bear 😂 with a hug and I dont remember ever being this sleepy on my Birthday. I always tell him to call me at 12am and wish and this time he woke up, was next to me and I was dead asleep. *Funny laugh*
Next day, we woke up around 8am, or rather I woke up at 8am, strolled around near the river, had a Birthday call with my mother and just sat on my porch and took a big breath. A breath of soaking the environment, nature, surrounding and peace all in at once.
I went back to the room, woke Pallav up and we went for tea and breakfast. After that he sat down to do some work and I was replying to so many missed calls and messages I had since the 2nd Nov day started.
Around 12pm we decided to not waste the day spending drinking and chilling and to utilize it a bit by doing some cliché tourist exploring. Because it was my Birthday, he couldn't say No and so we got ready to explore.
We started walking towards Jibhi Waterfall, which was about 3kms from our stay (minus the 2 km trek up to the main road).
Just 500mts down our path, we witnessed few bikes with the same company name and we decided to check if they are available for rent. Yes, I had always wanted to have a Biking experience in the mountains and because we are too lazy to drive from Delhi to our destination, we rent one there.
We rented the bike - the rent for a day for the bike was INR 1000 and the petrol (which is only available in black there) was INR 100/ltr. We took the bike and our first stop was Jibhi Waterfall.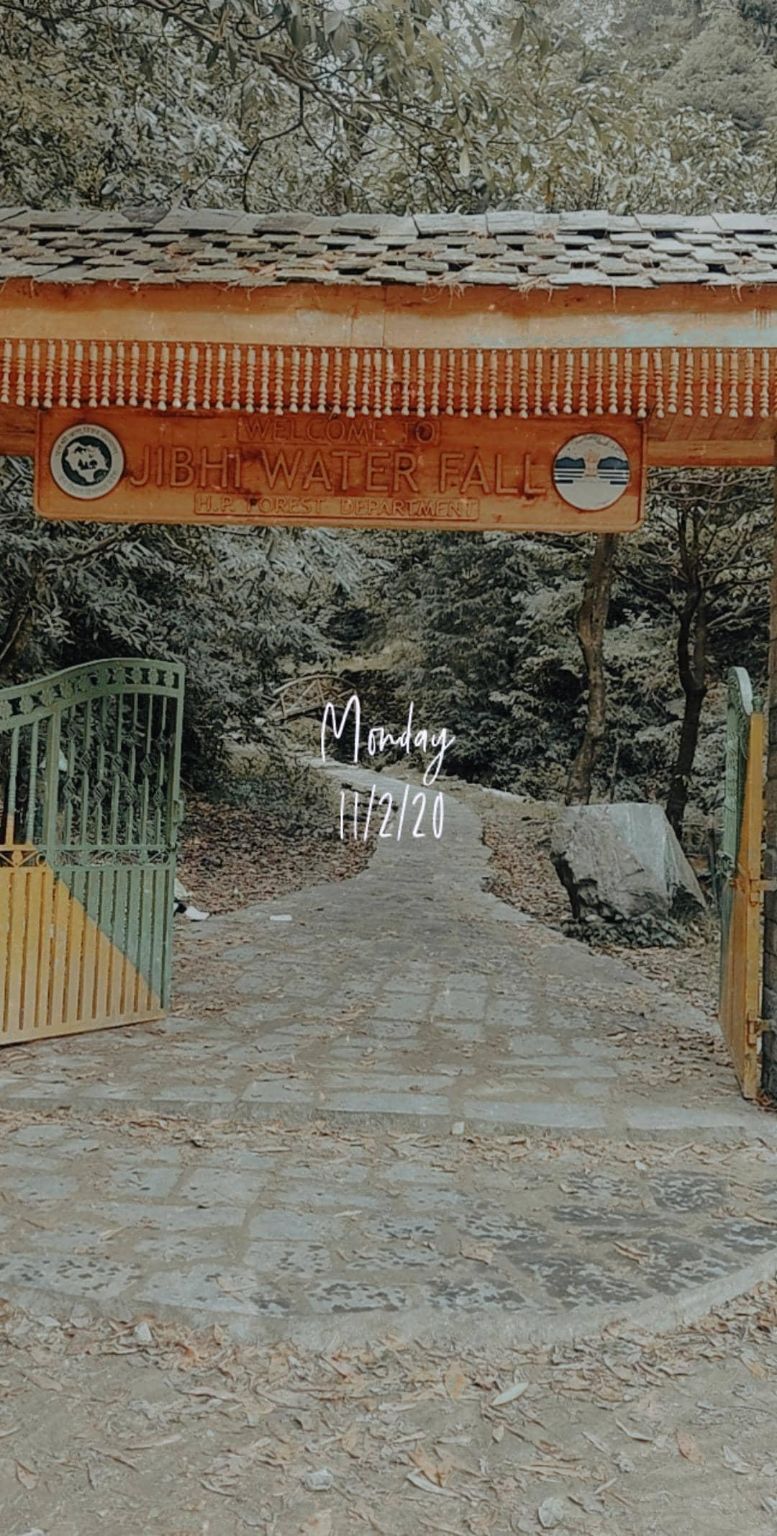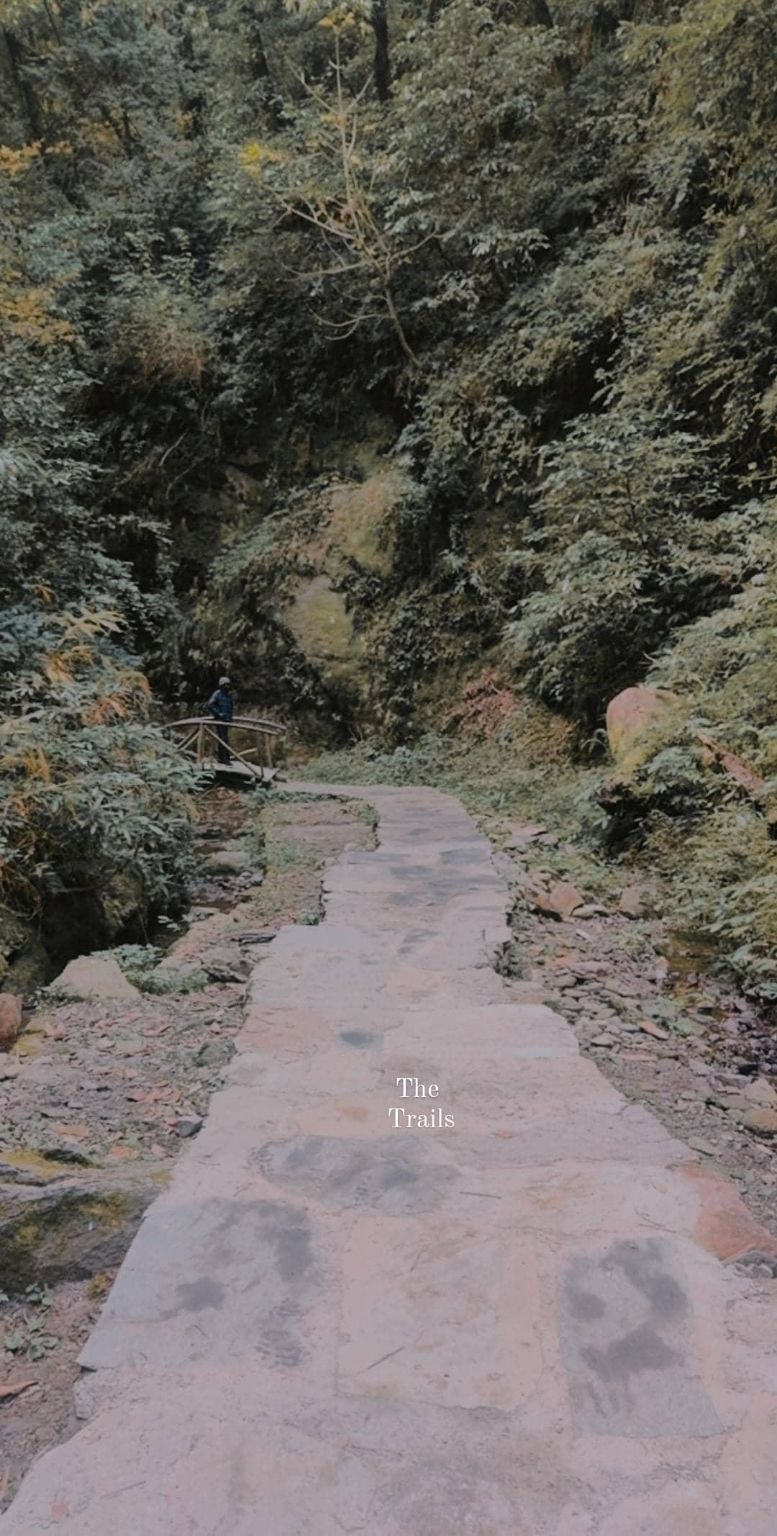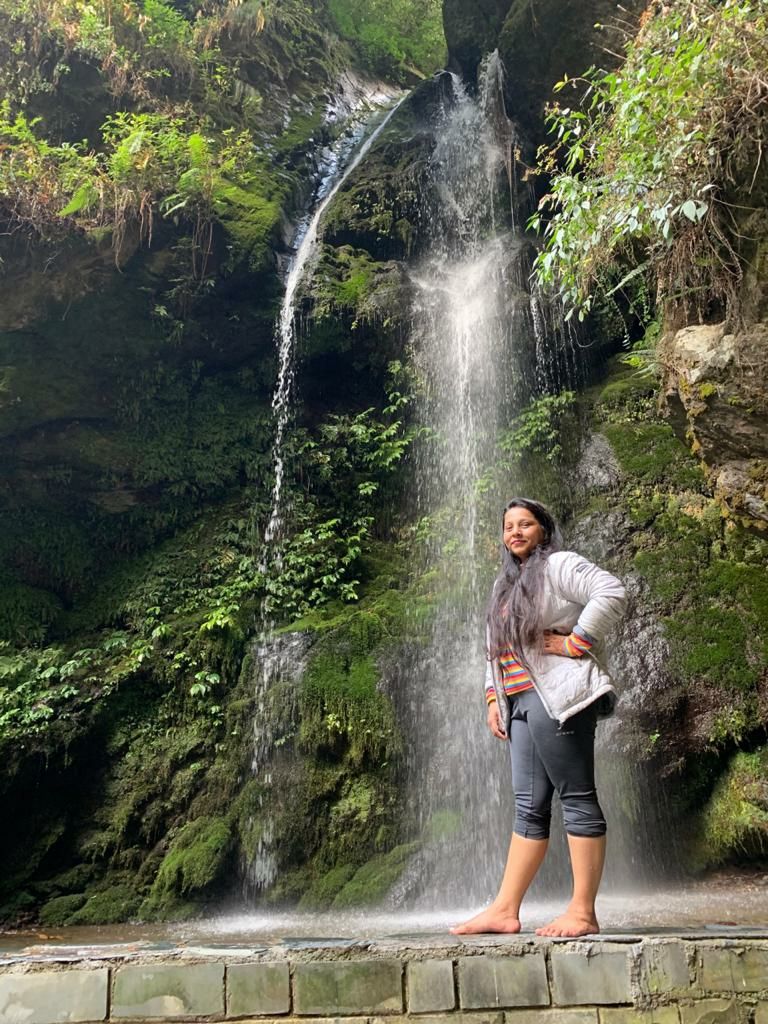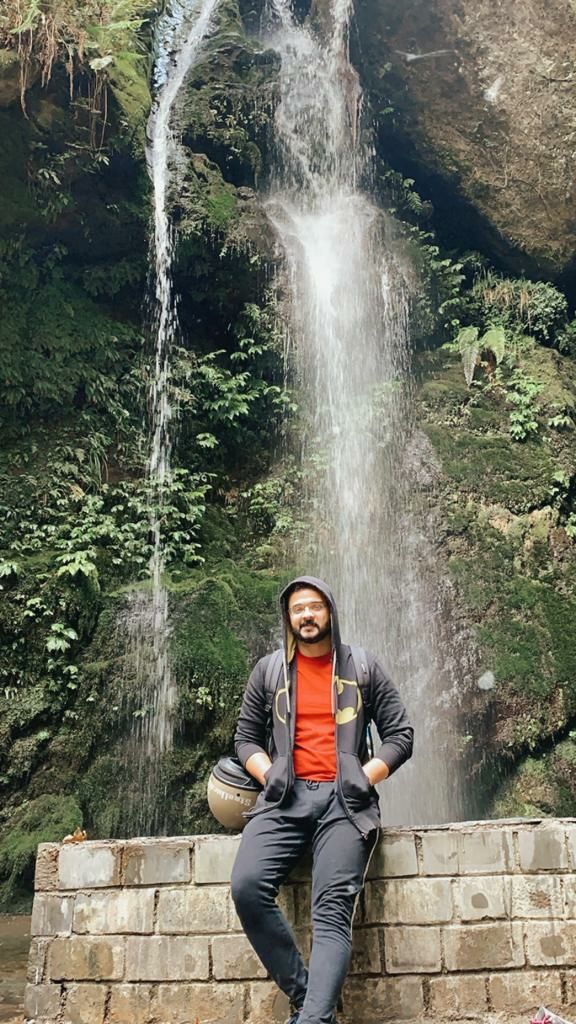 Jibhi Waterfall - It is a small place, about 500mtr walking inside the gate and you will start to feel as if you entered a magical wood land. Everything is miraculously so enchanting. Few wooden bridges and you reach this waterfall.
Really small place, but I would say worth it.
Our Stop 2 was Chehni Kothi, the bike ride to the place is amazing. Trust me, we switched on some songs on our phone and enjoyed the ride. I legit felt like I was in some movie that day.
We reached the top from where you need to trek a little to reach the chehni fort.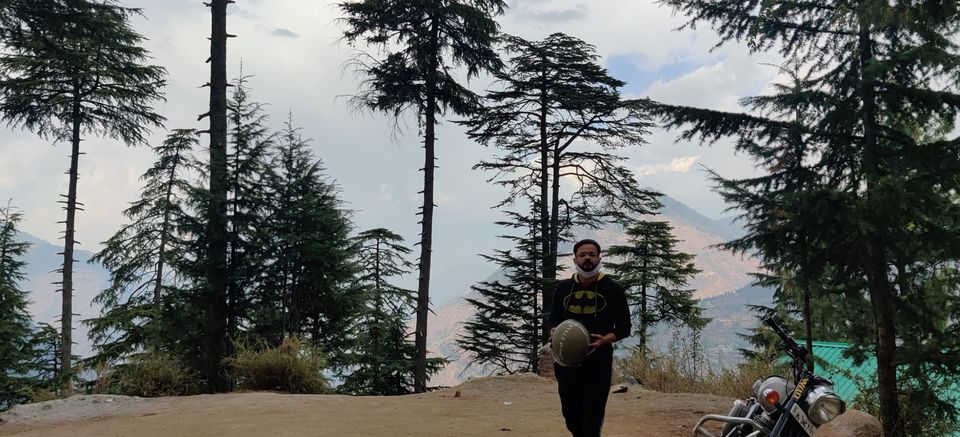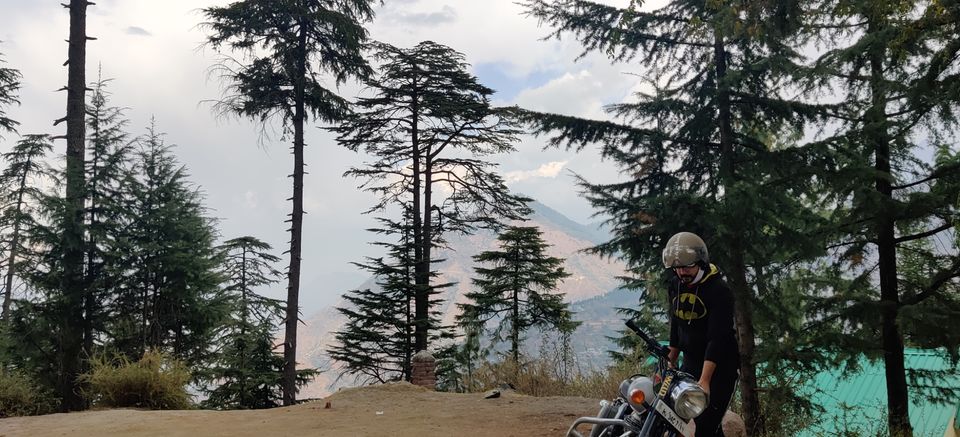 but the weather started changing, we wanted to make sure to be back in the cottage before it rained to avoid getting drenched in cold and fall sick.
So we started our ride back, stopped to have Chai and Maggi, returned our Bike, bought some snacks and reached our Cottage back in time.
The moment we stepped in our room, it started raining so much that it also hailed for about half an hour. (Highlight of the trip)
My night ended up with a Surprise cake, lots of alcohol, bonfire, making some new friends at the resort, chatting around, having a round of UNO with everyone before Dinner (losing it too) and coming back to bed.
The day just couldn't have been better. Trust me, having a Bestfriend like him, who does everything with as little resources to make your day is the best thing in your life.
Next day, we started our trek to Serloskar Lake.
We had booked a cab in the morning which costed us INR 1500 for the day where the driver took us to Jalori Pass and Serloskar lake and also trekked with us as there werent many tourists when we started trekking and the Serloskar trek is a trek passing through the jungle with no human activity around.
We started our journey at 10.30am, reached Jalori pass at around 12pm.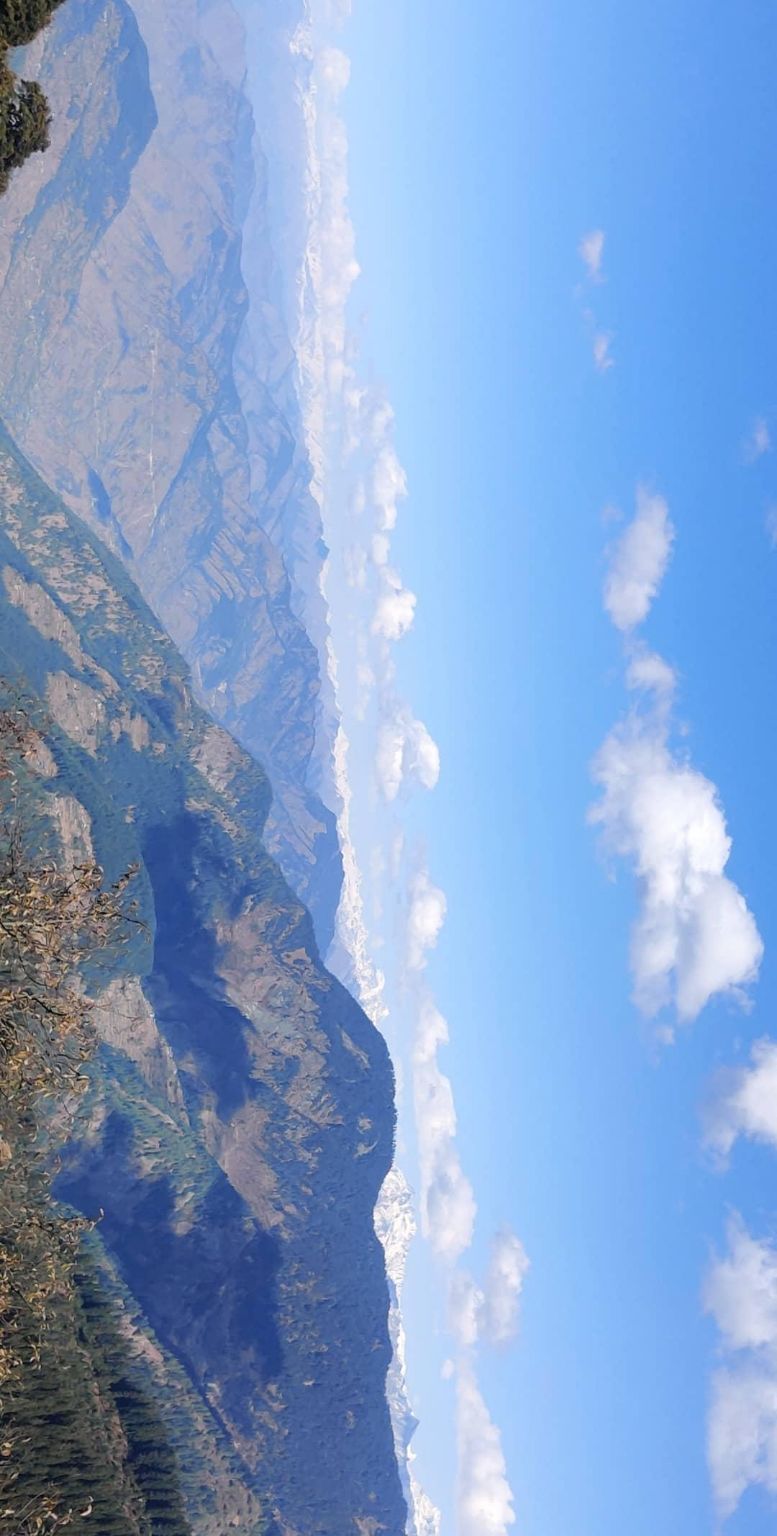 From there we started our trek to Serloskar Lake.
The Trek towards Serloskar lake took us 2.5Hours and coming back took us about 1 hour plus an hour stop at Serloskar lake. Total time 4.5hours.
The middle point of the trek is enchanting. The time when we reached there, no one else was trekking, we saw clear snow mountains and a range of small and big mountains green and brown in front of them.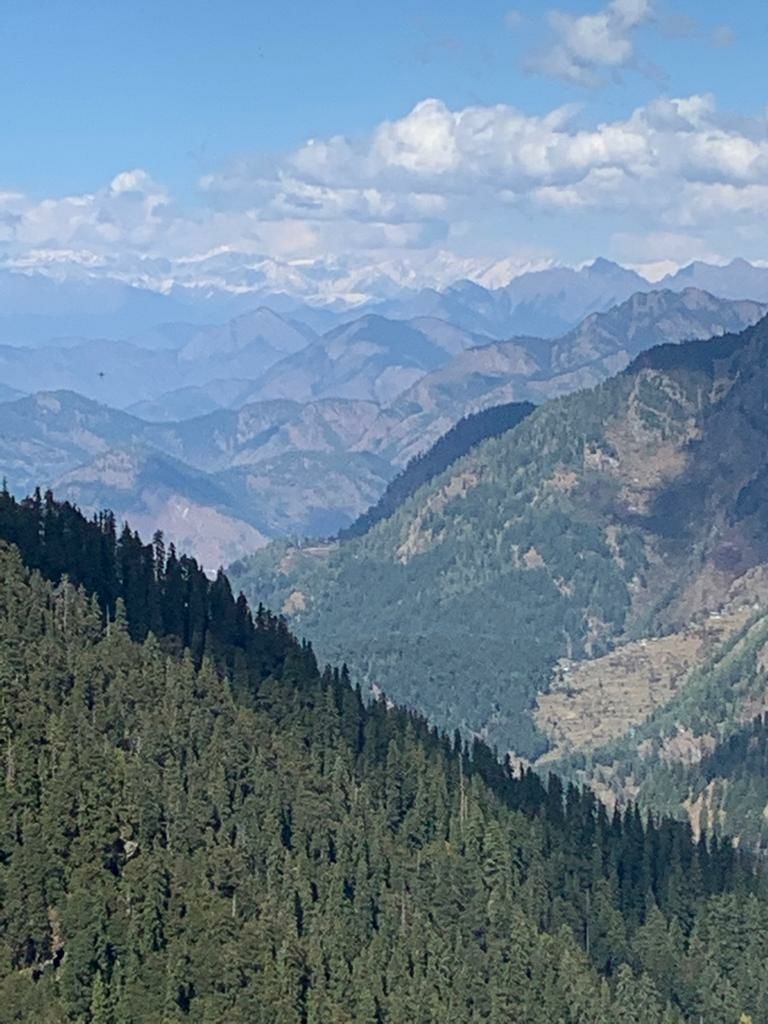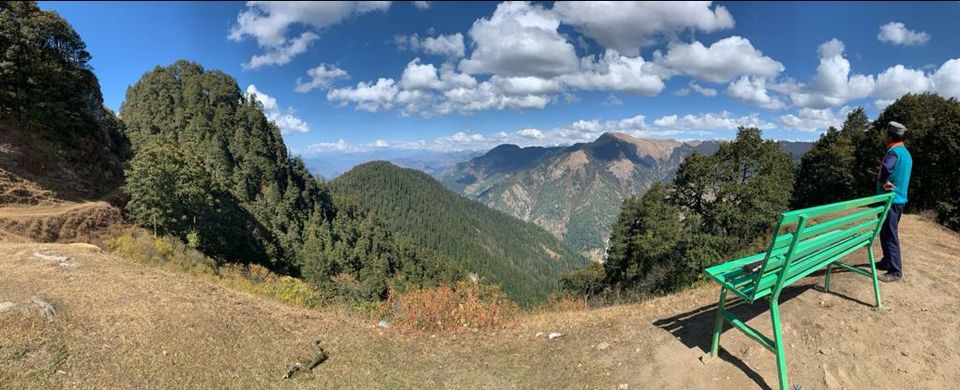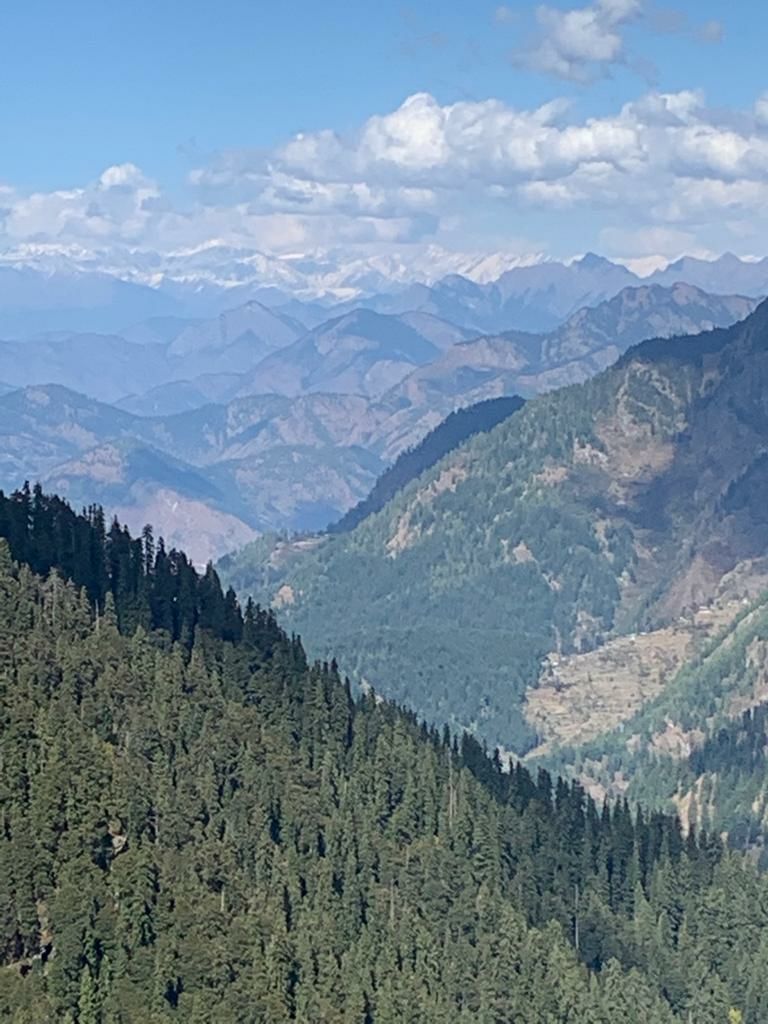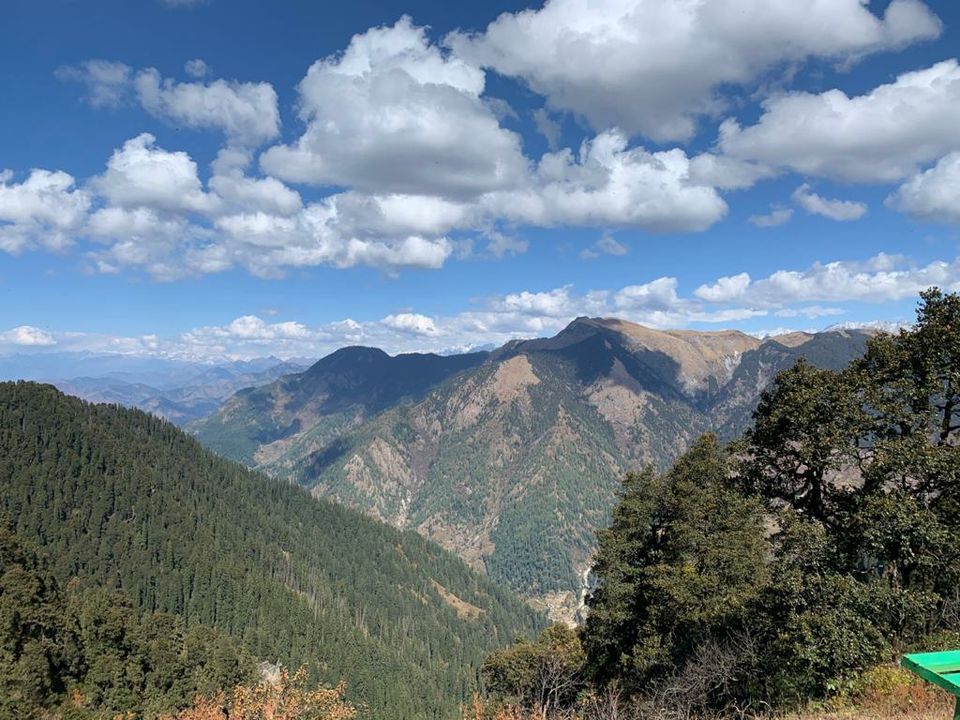 This view was Breath-taking. After taking a halt for about 20 mins, taking few pics, we started the remaining trek towards Serloskar Lake.
While trekking you will come across so many old trees and huge rocks. Rocks that look like some old caves. Trees with big holes in their barks making it impossible to not get enchanted with the beauty. If you are a silent trekker like us, who doesnt like loud music etc while trekking you can also hear Tree Leaves Hustling, as if they are talking to you or about you. Yes, I am a big Enid Blyton fan!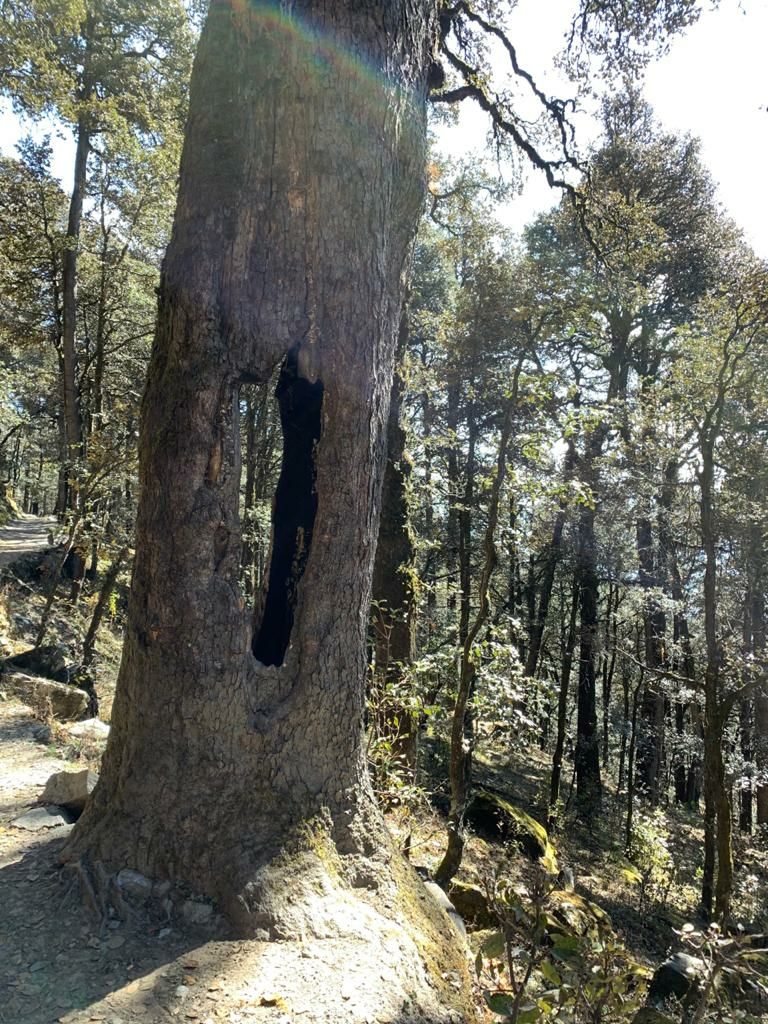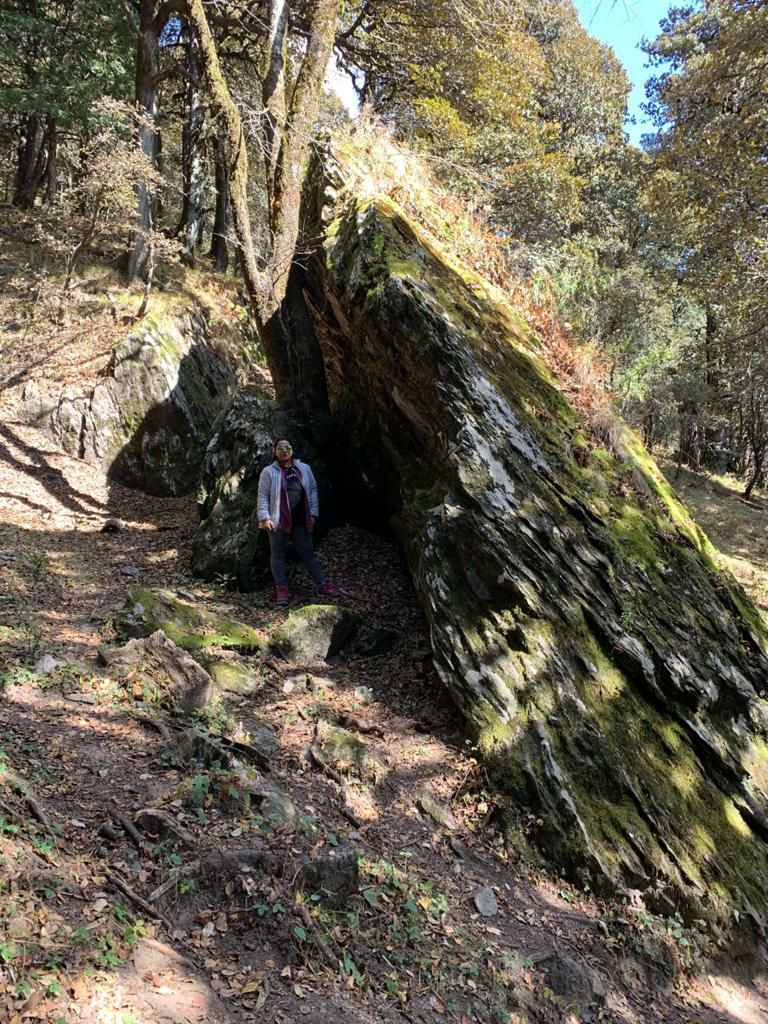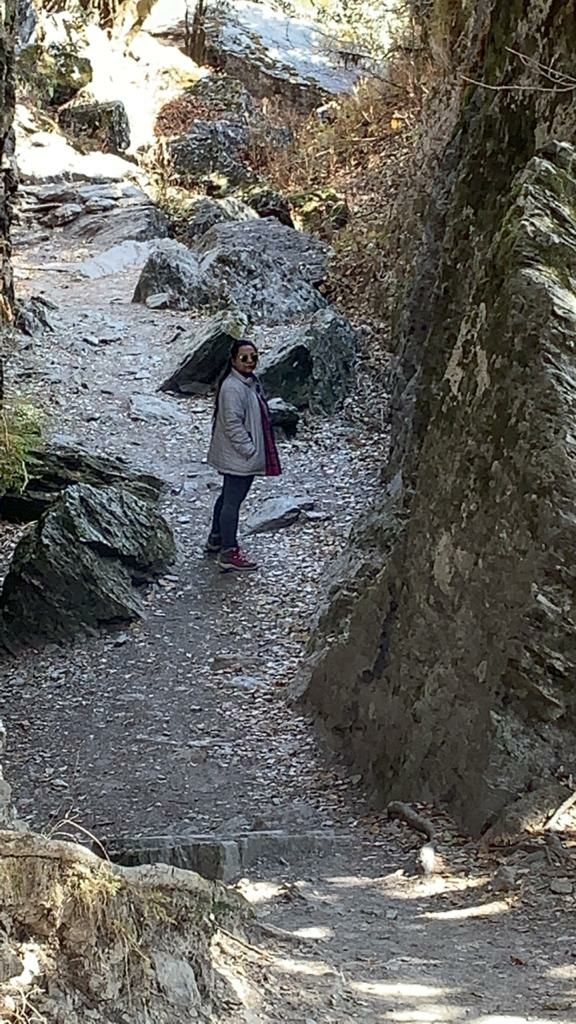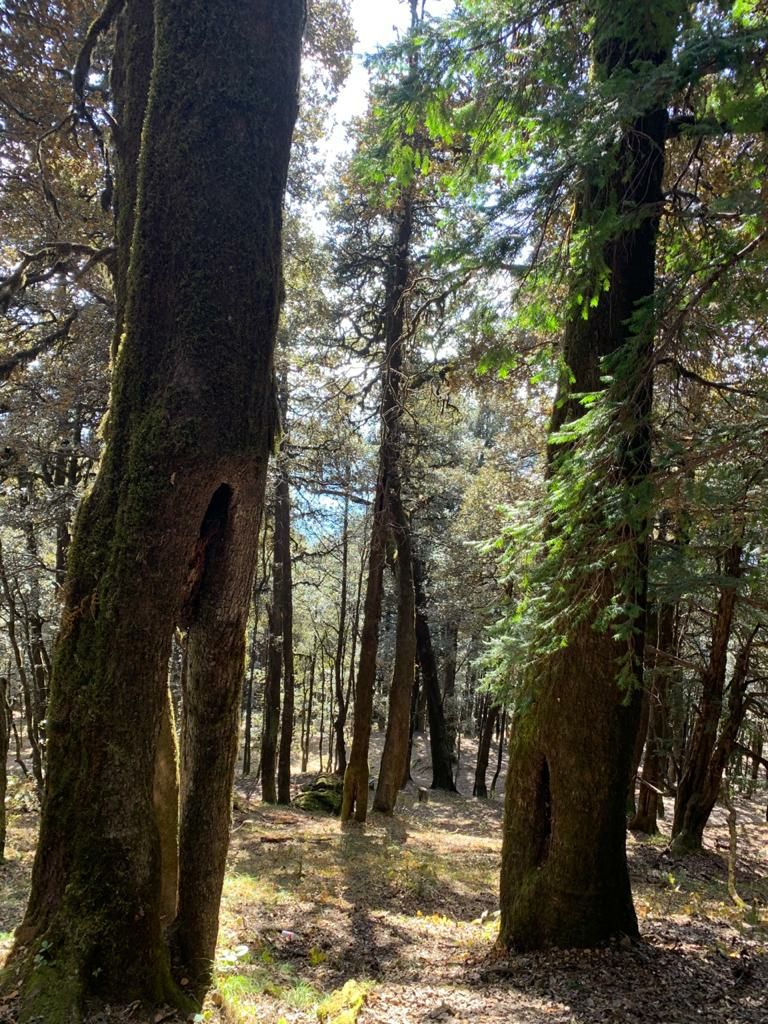 After feeling like this trek trail wont end for about 1 hour from the middle point, you will finally start seeing the lake.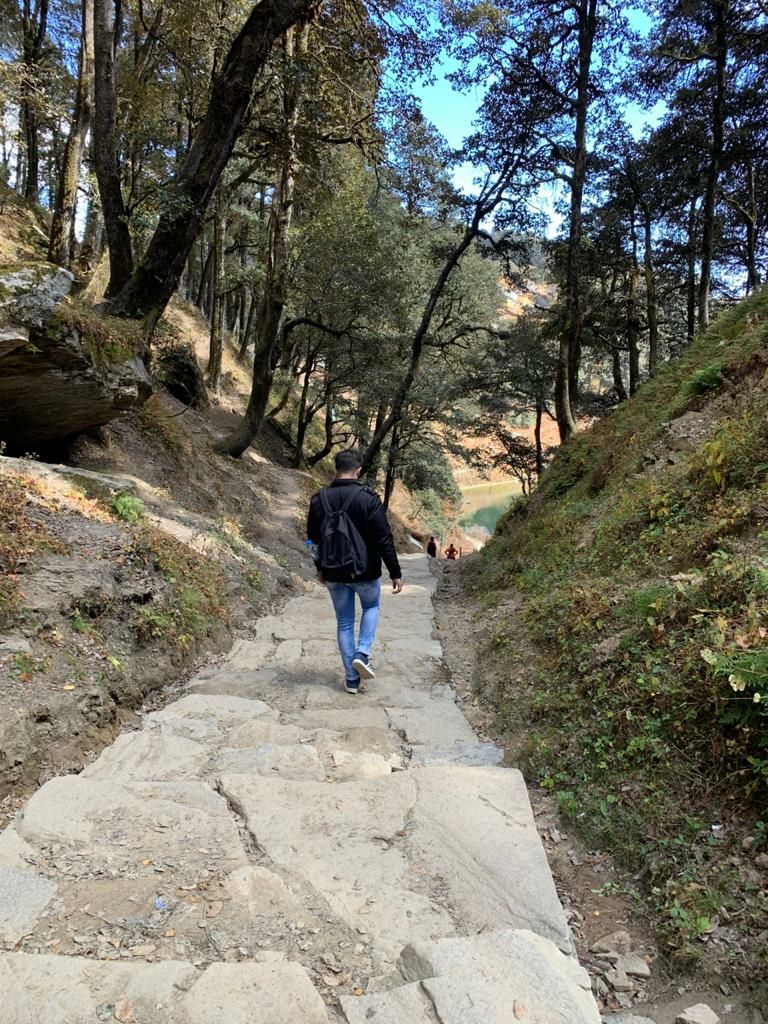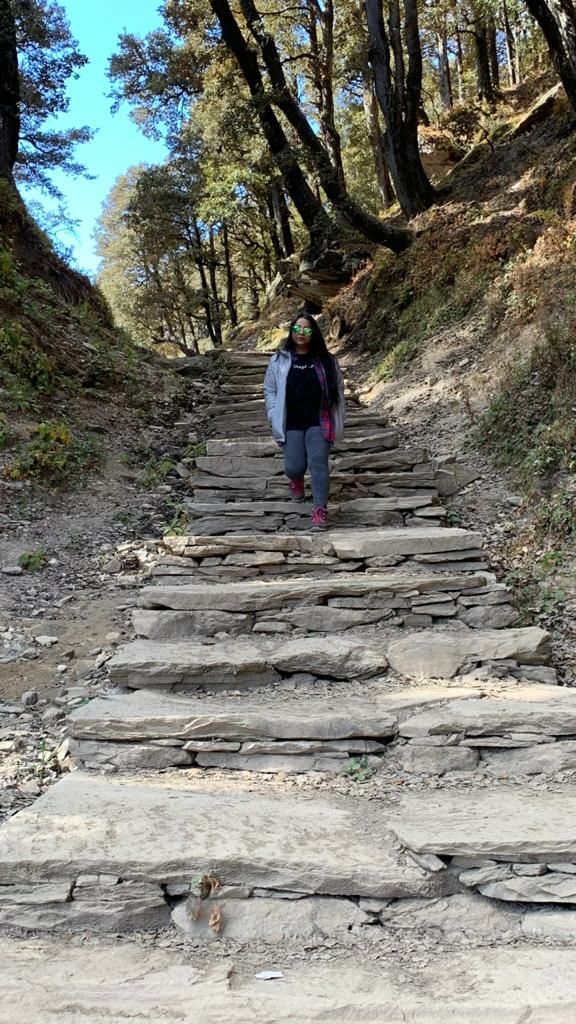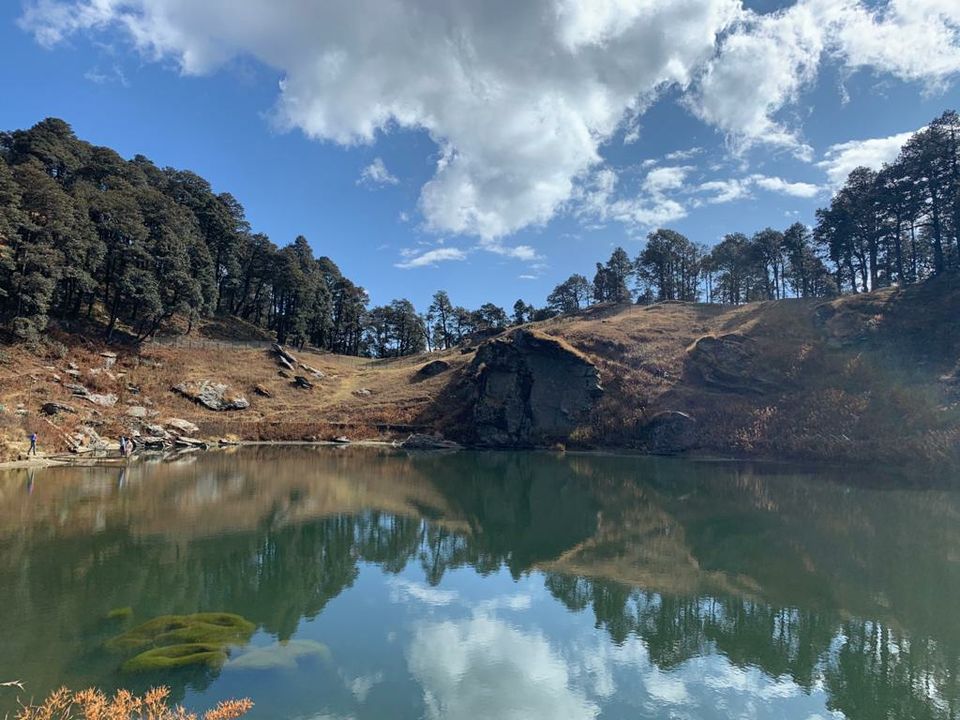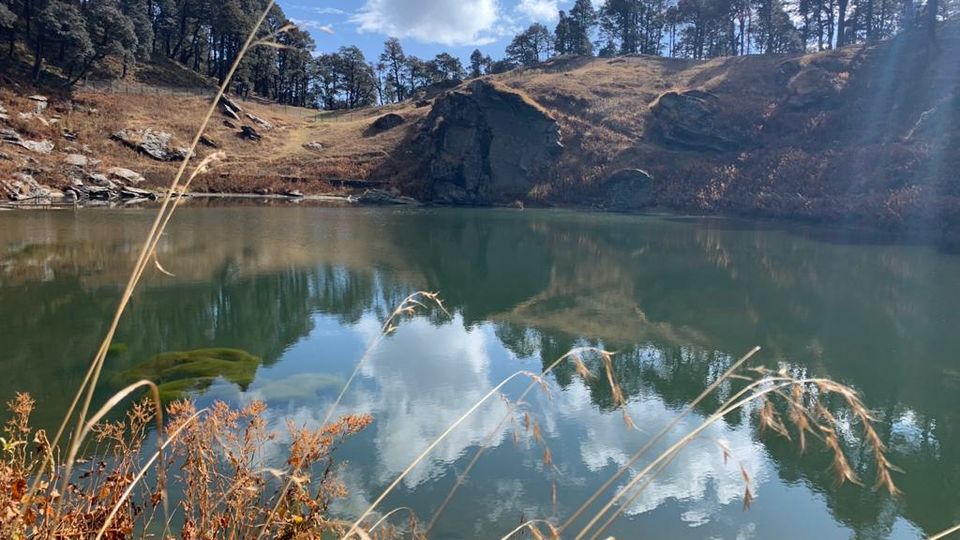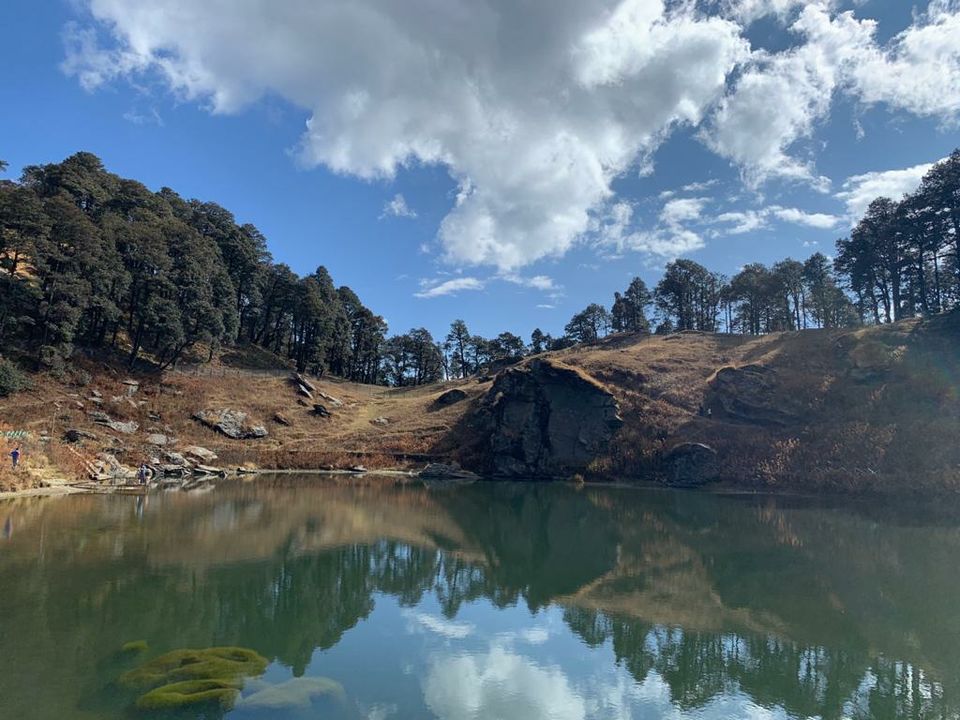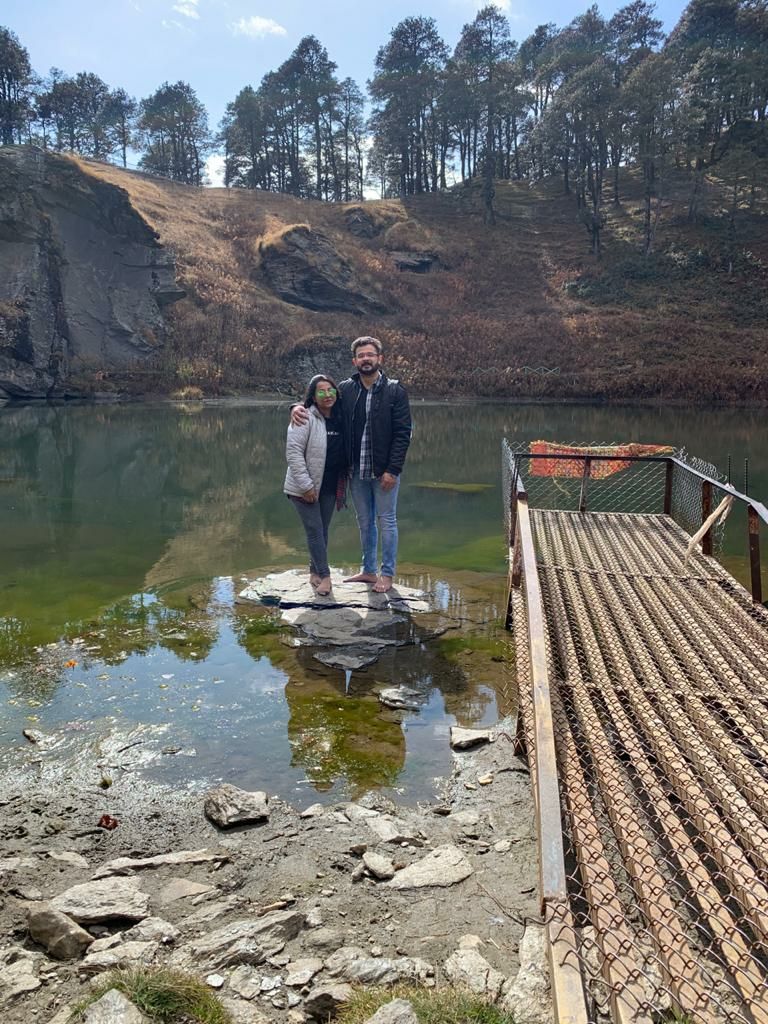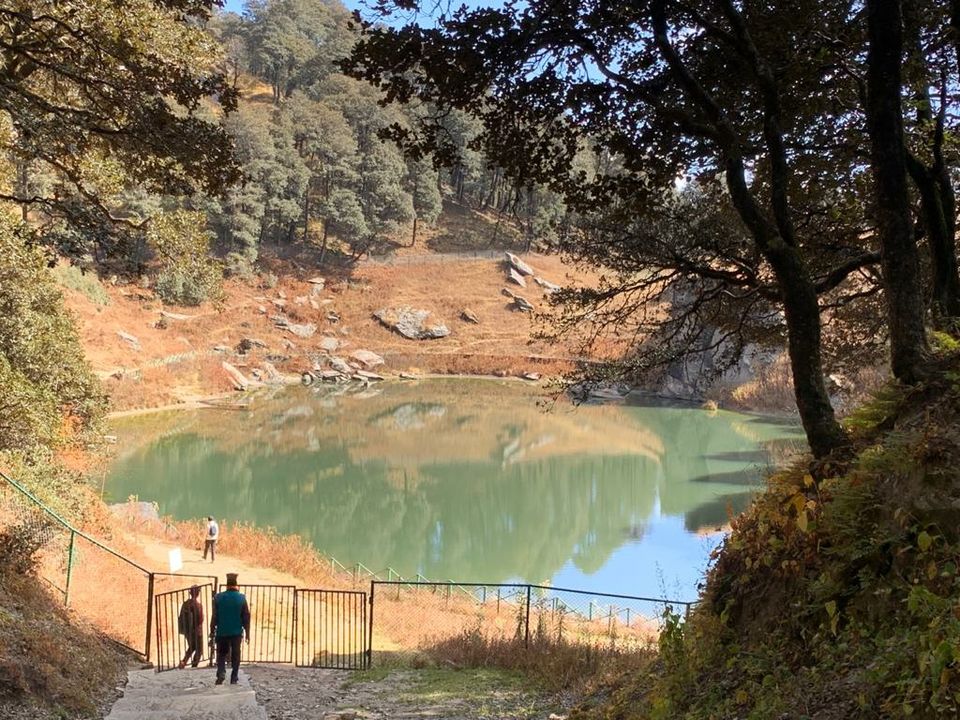 It is said, that this lake is the body of Serloskar Goddess. The locals use Ghee (Indian Butter) and take charas of the lake. They worship the lake and it is said that the lake no matter how much dirty it gets with leaves etc, is always found properly cleaned the next morning.
Well, we spent some time learning about the lake, taking few pictures and started our trek back as it gets dark early in the mountains, we wanted to be back to our resort before it gets too dark to avoid trekking in the dark.
We had an amazing tea and maggi before trekking back from one of the tea vendors near the lake (you can only find them few mtrs before the lake, nothing before and after this)
We trekked back, crossed by so many trekkers. When we reached the mid point again, we saw that the snow mountains have been covered by the clouds at this hour and I felt so happy to have been able to witness that view in the morning.
We reached back to Jalori Pass around 4.30pm with cloudy sky, setting sun and more dropped temperature making it more cold.
We came back to our resort by 6.30pm, relaxed a bit before we finally head out for another Bonfire, drinks and Gossip time with fellow travelers at the resort.
Another day ended well. ✨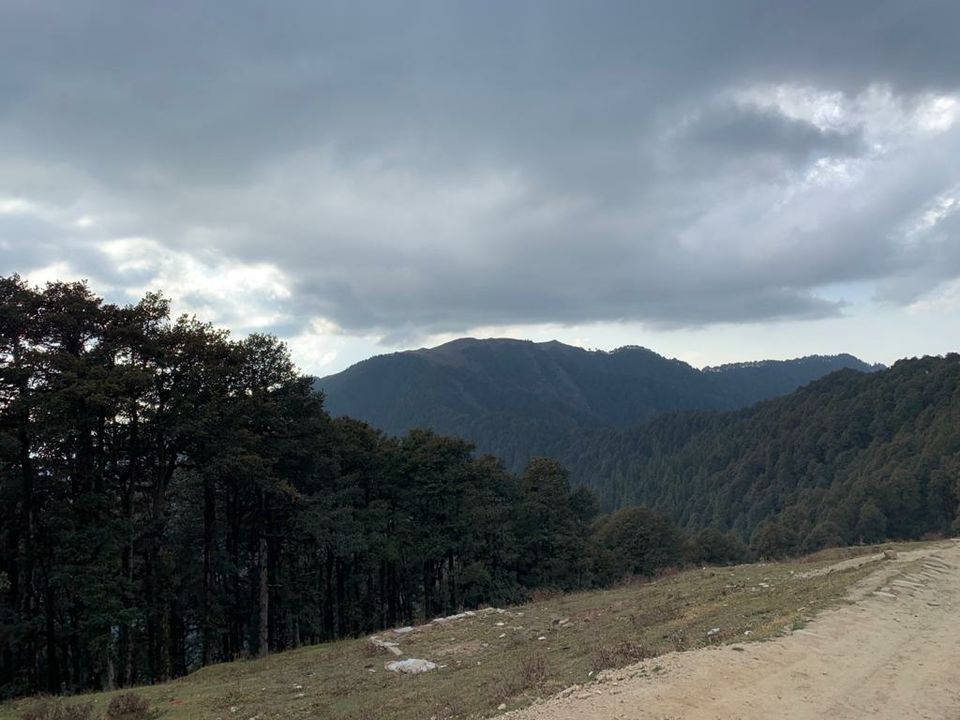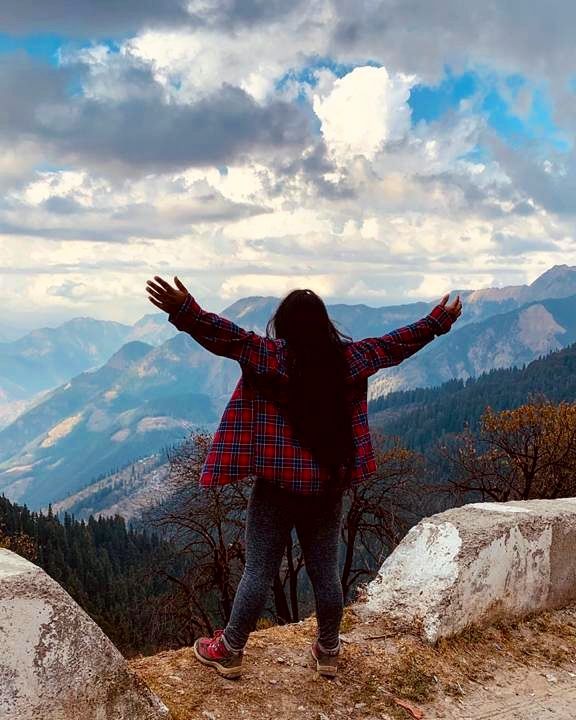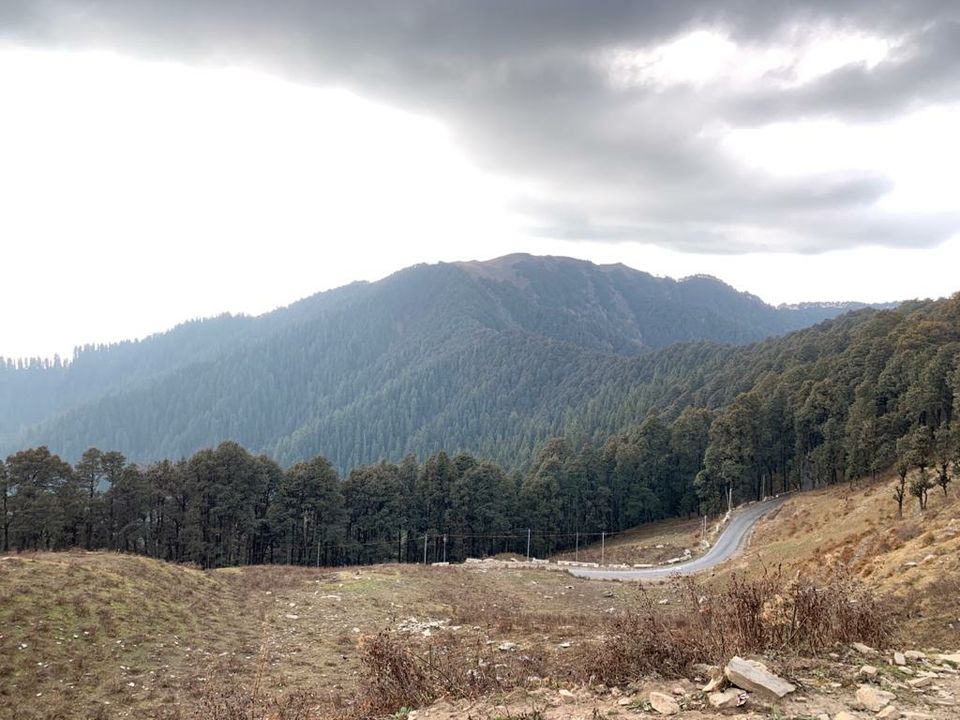 This was the last day in the mountains. We had our bus journey with Northern Bus Travels once again pre booked for 7.30pm in the evening.
We checked out at 12pm and spend the day in the Resort cafe and hammock, took in the last river views before we finally say 'Untill Next Time with Heavy Hearts'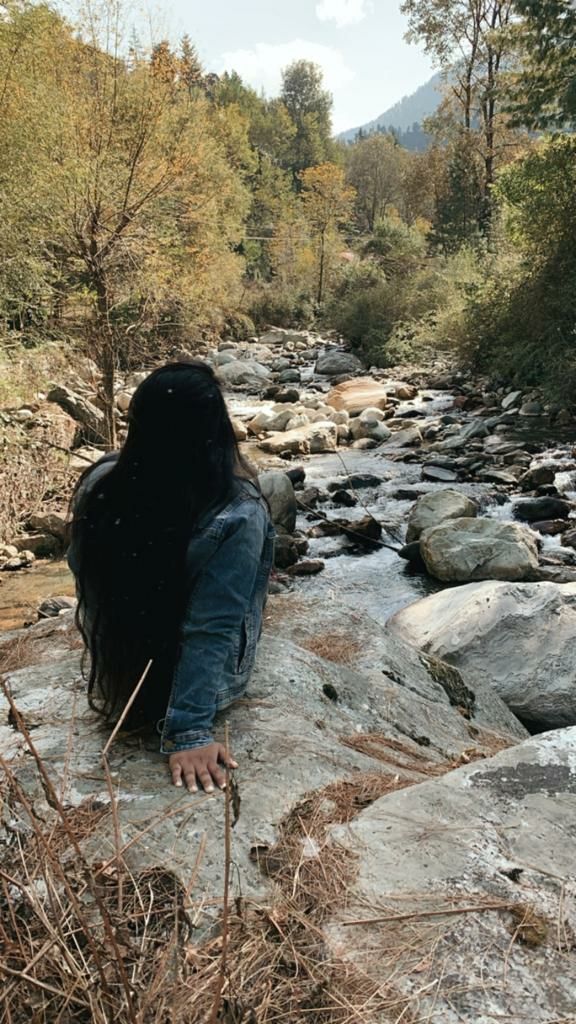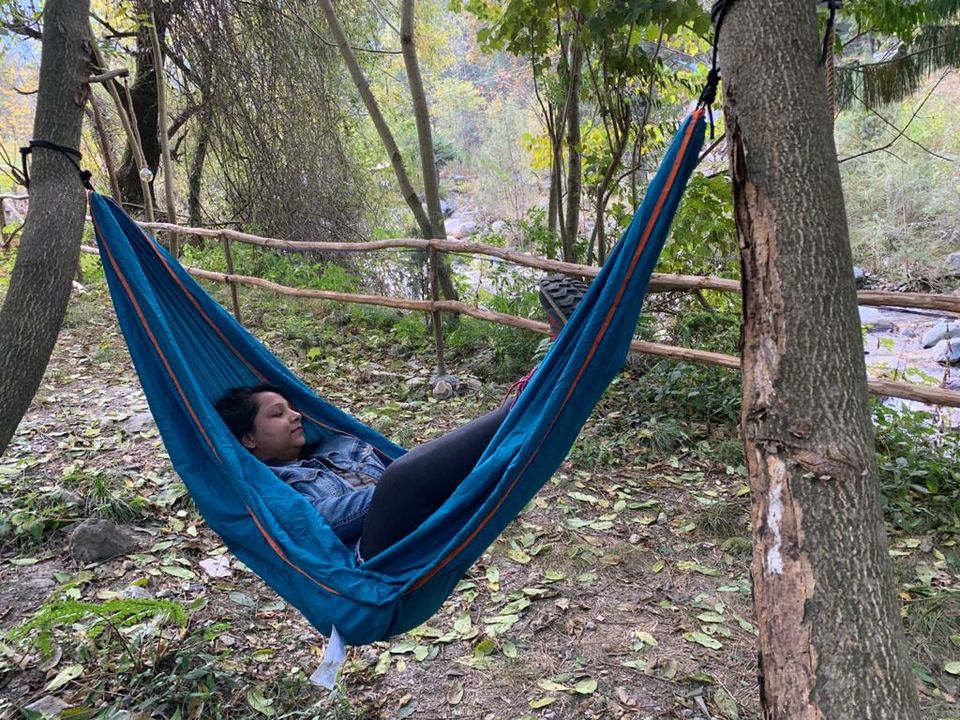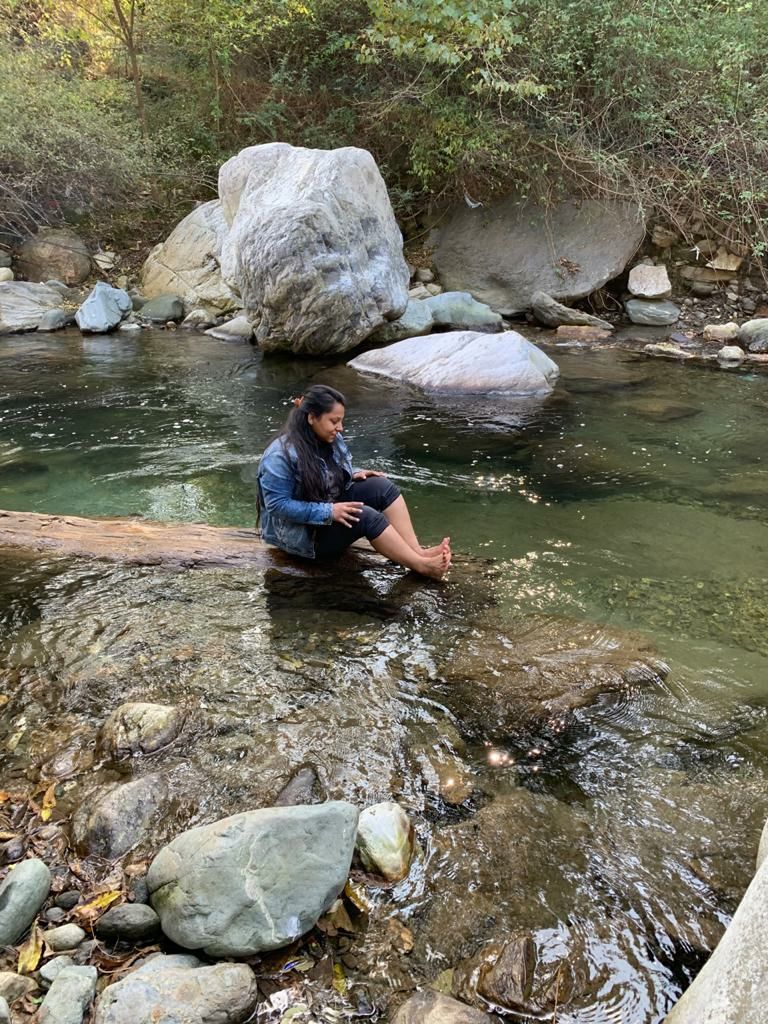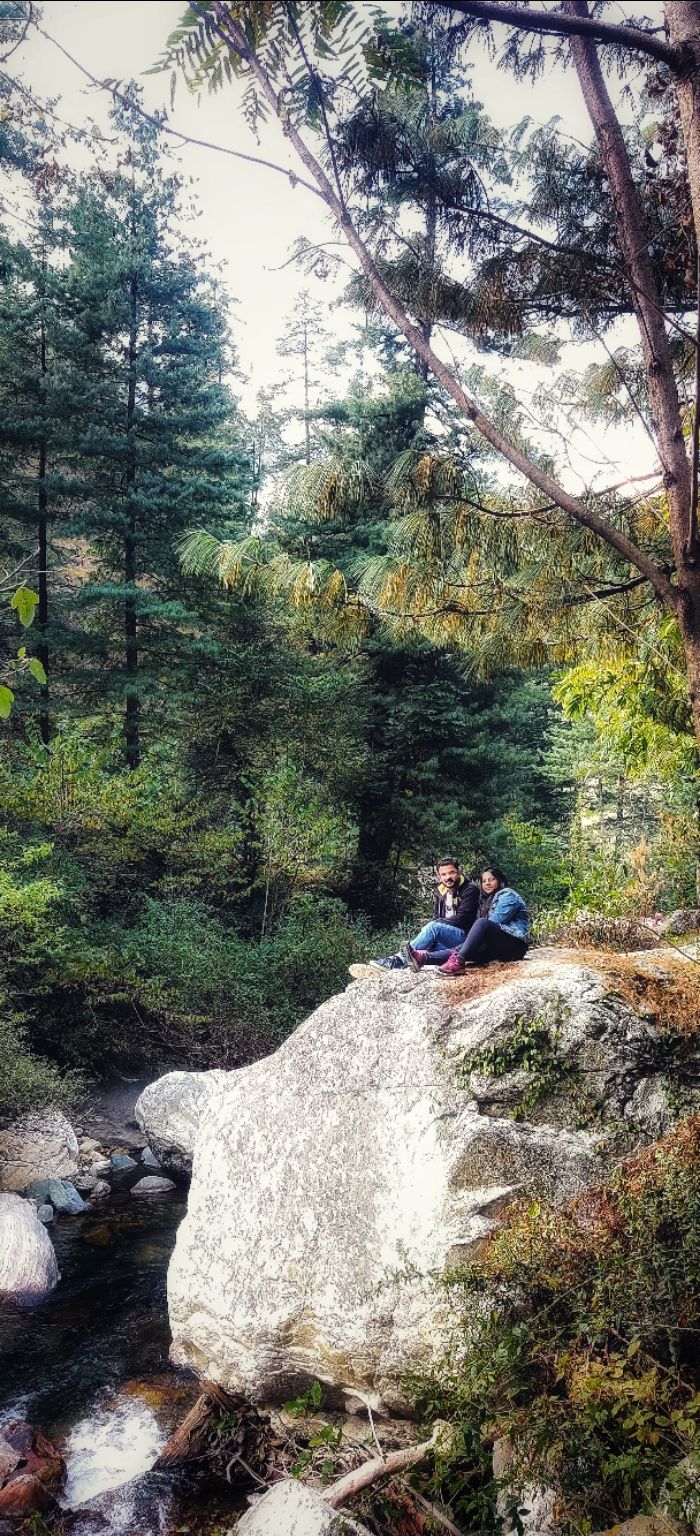 Sitting on that rock, overlooking the river, with your Bestfriend by your side to lean on - Isn't it the best moment you can have?
Around 6pm, we finally took our bags, bid adieu to the amazing owners of The 'Maple Outhomes' and took our cab to the bus stop.
We boarded our bus at 8pm for Delhi.
Again at around 2.30am, we changed from traveler bus to our Volvo Bus to Delhi a few kms after HP border.
We reached Polluted and unbreathable Delhi by 9am and we were home by 10.30am.
I hope this journey to Jibhi and our itinerary will help you in planning your trip there! Have an amazing and safe trip guys! Mask On 😷
PS: This entire trip, with bus tickets + Stay for 3 nights + food + misc expenses for 2 was about INR 28,000/-