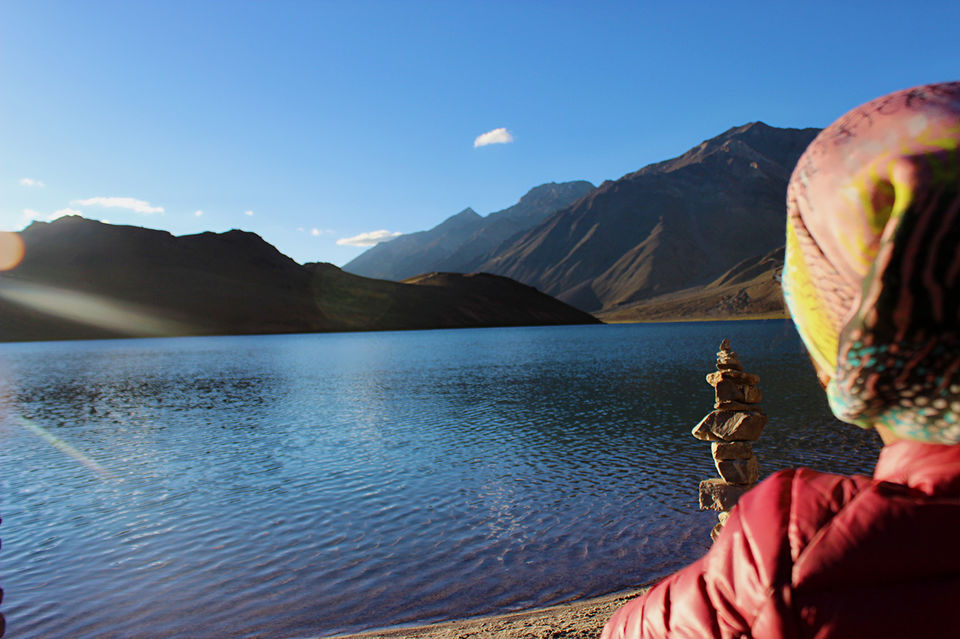 The 8 days Spiti valley trip is the most engrossing vacation one needs to discover thyself, to spend time in the heart of Himachal, knowing yourself, making new friends and a lot more than that. It offers everything so serene - from lush green valleys to snow Cladded Mountains, to take your breath away. I, carrying the heart of a painter, will describe it as a beautiful painting that leaves you in awe, forced to wonder what nature is offering. The land looming into the vastness of the historic monasteries. A PERFECT PAINTING.
Spiti valley is not for an average tourist. One must begin, by carrying no prior images in the mind nor any expectations from the place, and you will come back with a backpack full of lovely and unforgettable experiences. It will leave you SPELLBOUND.
For watching vlogs and videoes: Subscribe to the youtube channel stated below. Believe me its amazing
https://www.youtube.com/channel/UChLXo6u0cISRuVih-pBNAuA
The weather, terrain, bad roads, no roads, landslides, freaking cold nights and endless talks with your fellows, leave an everlasting effect on the soul. And if you are a bike or travel addict, it will be out of the world experience for you.
Day 1: Delhi – Kufri (358km)
It was a 7 day-trip, which later turned into 8 days due to major landslide in Kaza. Me, along with my friend started from Delhi on 15TH August 2017. We were on a bike, by the way, and I was riding pillion. It took us 12 hours to reach Kufri, which was our first night's stay. It was a bum-tiring journey considering, it was the first day of travelling.
Day 2: Kufri to Chitkul (232)
Our second day's destination was Chitkul. It is the last Inhabited village at Indo-China Border (the Indian road ends here). 8 hours of bike ride lead us to this beautiful village. Route is via Sangla and the road is well paved.
Sangla- One needs to see it, to believe how beautiful this place is. I wish my eyes could speak for me to pen it down. And the sound of water in Baspa River, the kind of sound which aggrandize the peace of mind.
Chitkul- Situated around 20 km ahead of Sangla at an altitude of 3450 meter. Though this short stretch was quite rough, the moment you reach here, you will forget about all the luxuries you have or wish for, and only one thought will come in your mind that LUXURY IS NATURE. We booked a home stay which was sufficiently decent, compared to the price we paid. Despite of the super cold night, our idea to have dinner on the rooftop was worth. We could see the clear sky lit with shining stars. We met a couple of other bikers, with their own stories and experiences to share. They were also heading towards Kaza, the next day.
Day- 3 Chitkul – Nako (150km)
NAKO – Our next destination was NAKO. We started 9 in the morning from Chitkul, after one more visit to the riverside, to experience the beautiful sunrise, about which we heard from the many locals. Only a picture can do justice to explain what we saw.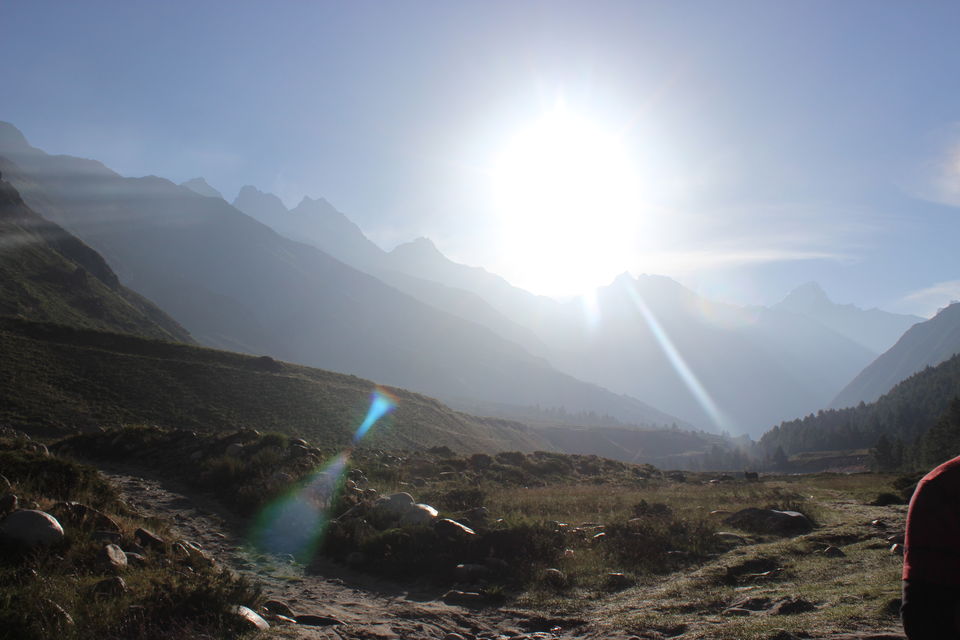 Day-4 (Extended Day3) Kufri – Kalpa (210km)
Next Morning, we had some intense brainstorming on how are we going to spend rest of the days. It was equally frustrating about dropping the idea of riding through Spiti even before entering it. It was like breaking the heart of a traveller a thousand times. So before leaving for Manali, we decided to call Kaza headquarters to know the current situation of the landslides, and, BINGO, the news gave us an adrenaline rush. It was all clear. Though it was well past noon, we started on to complete the trip heading back again to Nako. Kufri to Nako is 300 km. By the time we reached Kalpa, covering 250 km of the leg, sun was set. We had crossed Kalpa village over 10 kms and Nako was still 40 kms ahead. Then we realised that we can't go further and need to find a place for night halt.
Kalpa is majorly an army area. Luckily, we found an Army personnel jogging outside an establishment which looked like a military guest house. No other place in vision to stay nearby, we requested him to let us stay there. After a good session of questioning, he allowed us. Gratitude to the army, that night stay added a good experience to our bucket of Spiti memories.
Day 5- Kalpa- TABO (150km)
The next morning, we decided to run-over Nako to reach Tabo, as were already running 1 day late in the schedule. We started at 7 in the morning and reached Nako at 9:30AM, covering 50 km's distance. Had breakfast there and took a good long walk in the village. It's a very small village which has a famous monastery and a lake named after the village itself. There is not much to see in Nako, but the deserted mountains have a different charm and it is an experience of its own to just be there.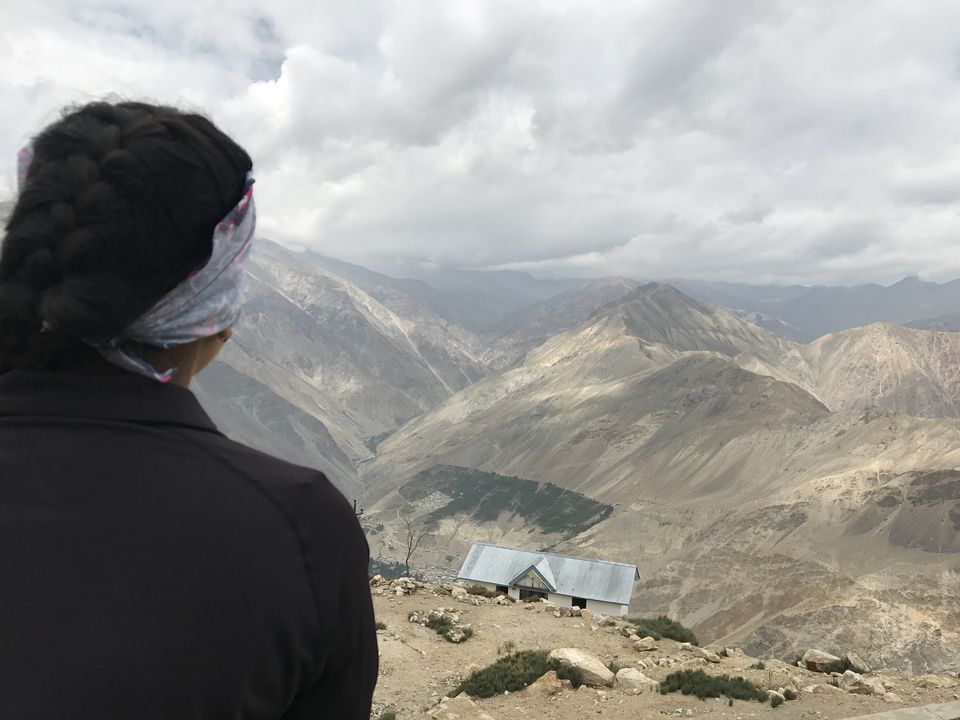 Ki Monastery is a famous Tibetan Monastery in Lahaul and Spiti district of Himachal Pradesh and is located at an altitude of 4, 166 meters above sea level. This beautiful monastery is positioned on a picturesque hilltop and is very close to the Spiti River, It's hard to believe, but this spectacular monastery is at least a thousand year old and is the largest monastery in this valley. It was established in the 11th century and it still houses ancient Buddhist scrolls and paintings. A large number of Buddhist monks, nuns, and lamas live in this religious training centre to receive their religious education here.
Staying there and being part of morning prayers and breakfast added another star to our journey.
We resumed our journey towards Kibber. The beautiful village of Kibber, which is located in Spiti Valley at a height of 4205 meters above sea level, holds the distinction of being the highest motor-able village in the world. This scenic village is situated in a cold desert, surrounded by picturesque mountains, barren landscape, and green meadows. The landscape of Kibber is similar to that of Ladakh and Tibet and the Tibetan Buddhism is the predominant religion here.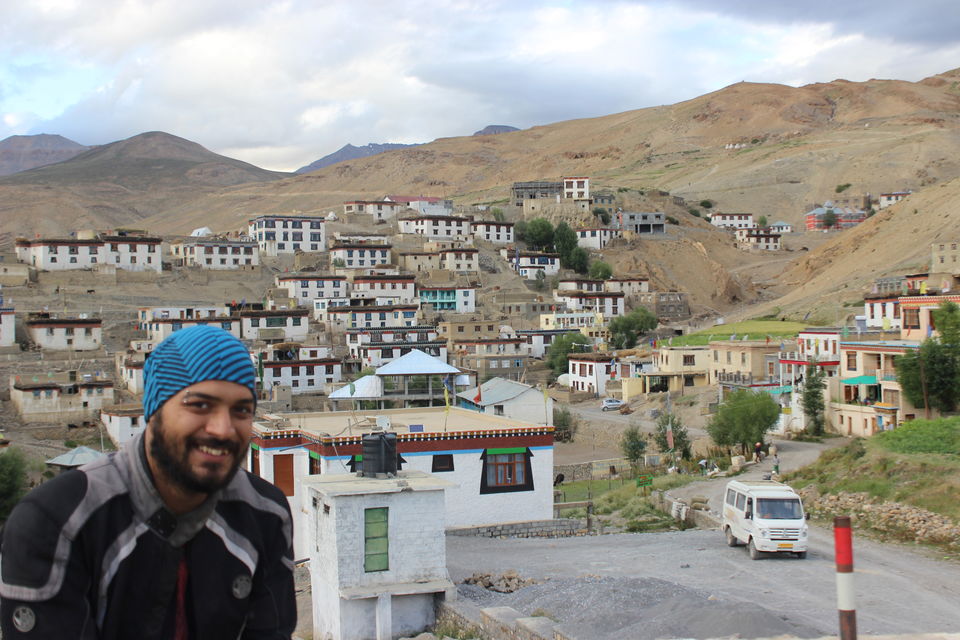 Langza Village is a beautiful destination, located in one of the most majestic valleys in India, surrounded by green pastures, snow-clad mountains and barren landscapes. I was SPEECHLESS. Village is primarily dominated by the statue of Lord Buddha, overlooking the valley, an ancient monastery, and mud houses that the tourists can see during their visit in the village.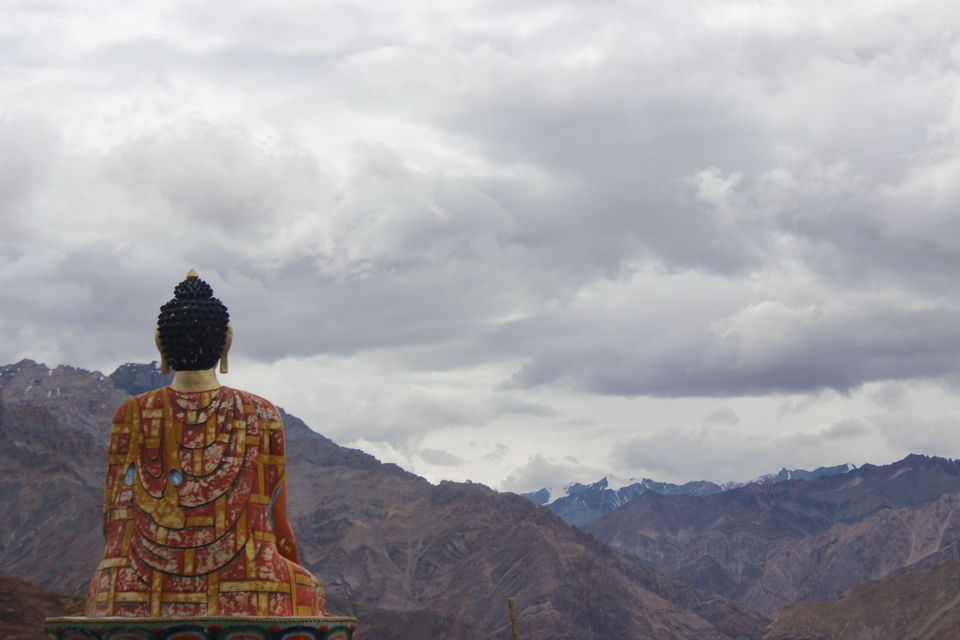 Day-7 Kaza- Chandratal (110km)
The Moon Lake - Pretty hard journey from Kaza to Chandratal, though we were aware of the road conditions but they were much worse than what we thought. Initial 40kms (total of approx. 110) of the ride were amazing, metalled roads, small villages, deserted mountains. After this slab of the journey, the complete off road adventure was waiting for us. The roads were so tough; I am sure enough that It did not allow my rider to leave the rear brake lever. The bike was over stuffed with luggage and pillion, that made us fell off from the bike like 3-4 times on the water crossings, though we were on crawling speeds. Almost after 8 hrs of long, adventurous and scary journey, we reached Chandratal. We managed to get a camp for us soon and settled our luggage. Changed the clothes because they were drenched in water due to the water fall crossings on the way, it was fun though.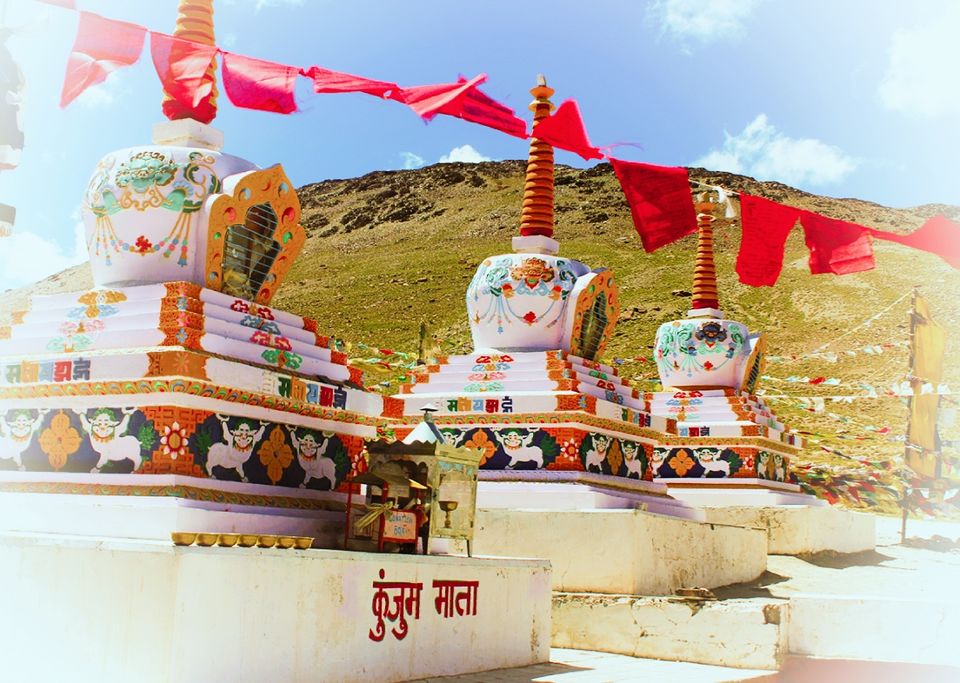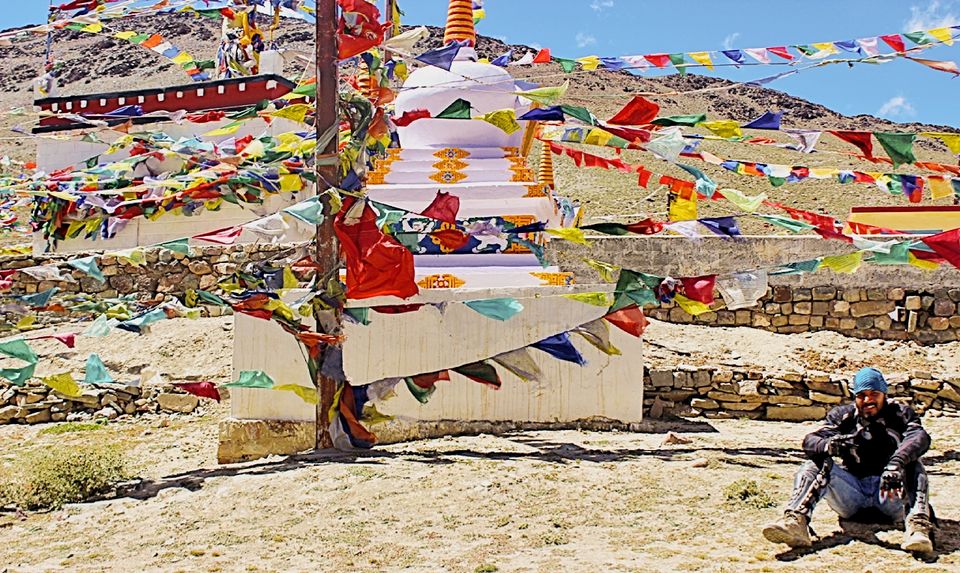 At around 6 in the evening we reached Rohtang pass. The view gave us a different level of energy. We reached Manali at 9 in the evening. After a night stay in Manali Zostel , we headed back to Delhi the next morning. That's how our dream travel to Spiti came to end but for sure, The amazing experience of being there will always be unforgettable.
For videos of this trip : Subscribe to the youtube channel stated below:
https://www.youtube.com/channel/UChLXo6u0cISRuVih-pBNAuA
As we approached Gramphoo about 5 hrs from Chandartal, the scenery changed drastically. The bare, rocky mountains replaced by lush green peaks with signs of life - shepherds, sheep, goats and sheep-dogs. A massive traffic jam caused by these cute creatures would make you chuckle and irritate at the same time.
The scenery around is surreal but hard enough to spare attention towards it, if you are driving or riding.
On the way, there is a diversion which goes to a small village called as Giu. Situated at a height of approx. 10,000 feet above the sea level, between the towns of Sumdo and Tabo. It has nothing much of the interest for travellers, except a Monastery, but, a very unique one. This was our first experience of watching a mummified body and to be very honest, it was a bit scary too.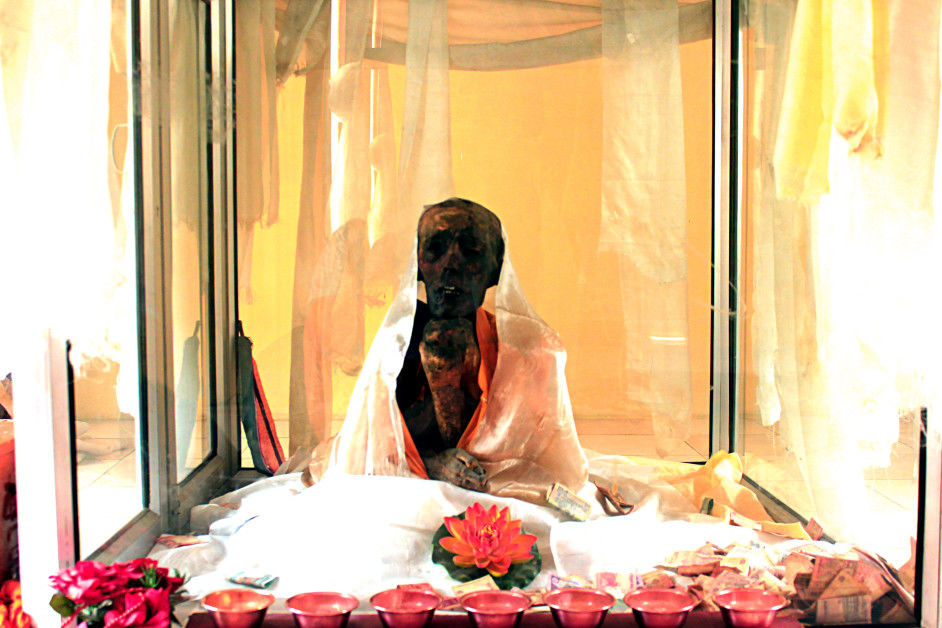 After the dinner, we took a small walk of the village, it was pretty dark by then. Also, we visited the River side of BASPA. Being a traveller, it's always better to explore more and better. Time spent on the river side was quiet amazing, peaceful, like meditation, it was a near to the soul kind of experience.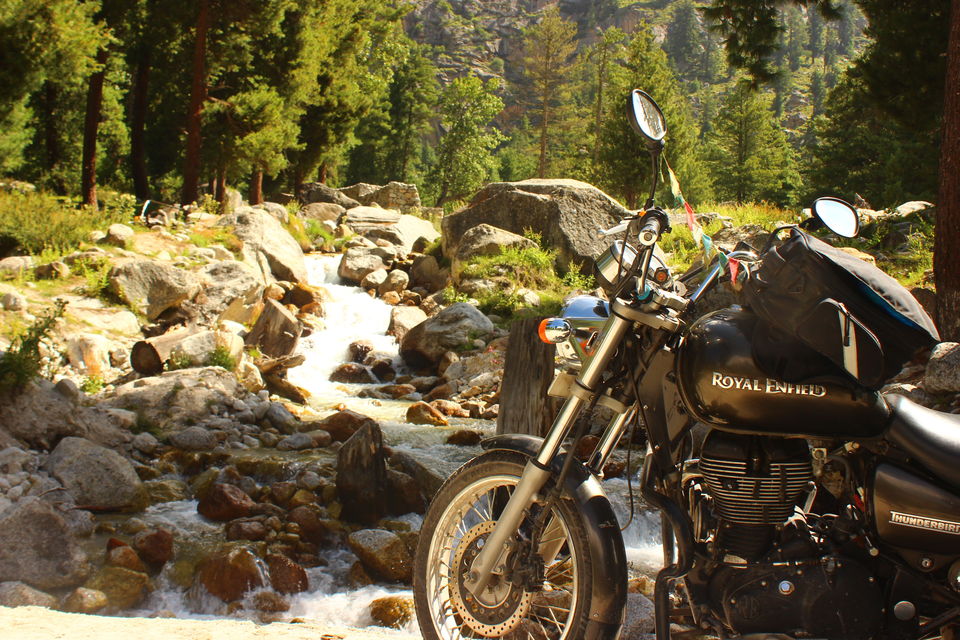 The warning boards in the middle of the road made us pretty sure that the next part of the journey won't be easy. One of them read - "Don't be a GAMA in the land of LAMAS". The road conditions were not good either, after the first 40 km. It was all offroad - rocks, pebbles, loose gravel, mud, dirt. You name and you'll get it.
Just 40 km before NAKO, we experienced a landslide. It gave a big turn off to our fantabulous trip, since it wasn't a good sign for the route ahead to Kaza, we were aware of one major landslide that has already happened in Kaza. Nevertheless, people and machinery were working to clear it. We waited for 2.5 hours, but rocks and dirt were continuously flowing down from up the hill. The whole path was blocked. The team working there, were sure that it's going to take another 4-5 hours to get the way clear, if no more rocks slide down. Clock at 4:30 in the evening and with no scope to move ahead, we decided to go back to Kufri.
We reached Kufri at 11 in the night. A complete day wasted. Fearing to face more dissappointment on this route, we thought of changing the plan and heading towards Manali, the next day.
A few km away from the Nako monastery, there is another monastery called CHANGO GOMPA. It has a prayer wheel more than 500 years old, made up of Yak skin.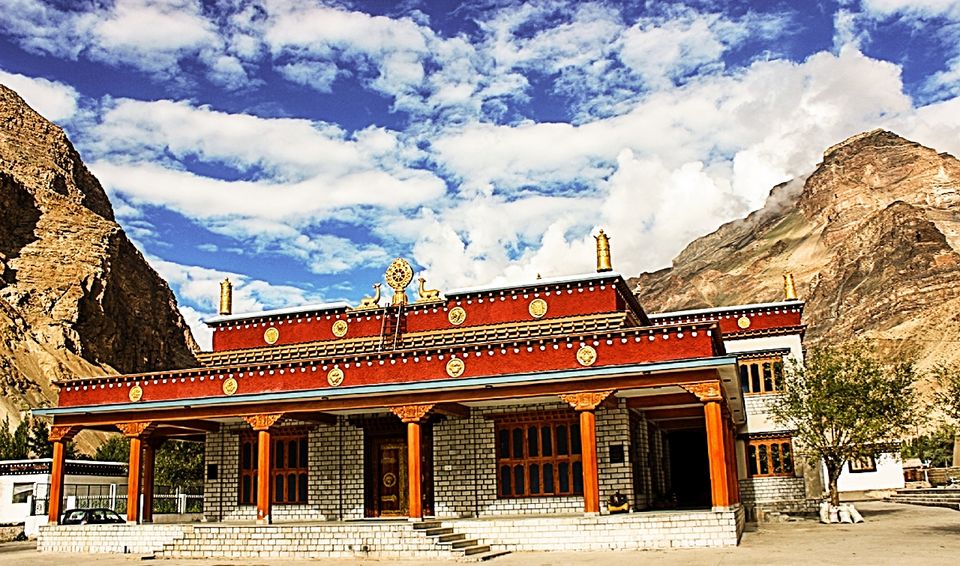 We started for Tabo at 13:30 hrs. After 30 minutes, we finally entered the Spiti Valley. It was altogether a different landscape. In a way deserted, but still so welcoming, serene and mesmerising. The braided roads amidst the mountains, beneath the clearest sky, make you feel its dimensions are endless.
And, to bring us out of the dream, there was again a major landslide ahead. The same place where BRO was trying to unblock the path on Shimla-Kaza road. Due to continuous rain and landslides, it wasn't sure when the road will be clear. We met so many travellers like us there waiting for the road to clear. After waiting around 3 hours, we were able to cross this hurdle and resumed our journey for TABO.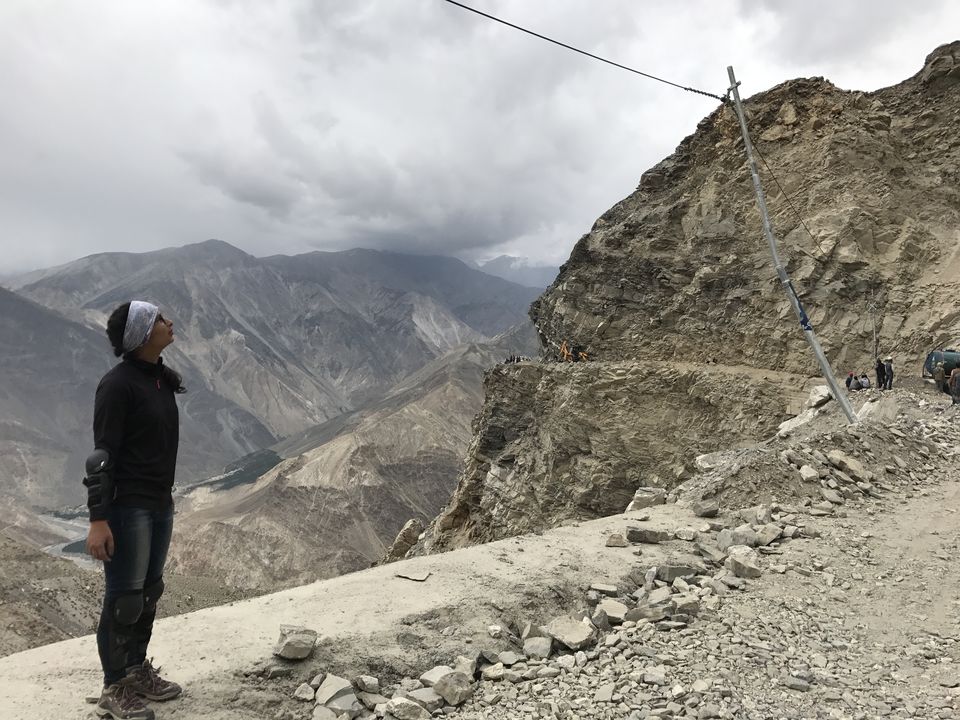 After spending few minutes in the monastery, we headed again towards Tabo. Visibility was getting low as evening approached, and we were still 35 kms from Tabo. Time check - 8 pm. We reached TABO, too late for us to explore the place. Thanks to 2 fellow riders who joined us on the way from Nako, we got to stay in a monastery, again an unforgettable experience.
The place has the oldest monetary of Spiti named after the village, "Tabo Monastery". We spent good time in the morning exploring the around the place. The Monastery, pictures, Gompa's , Lama's.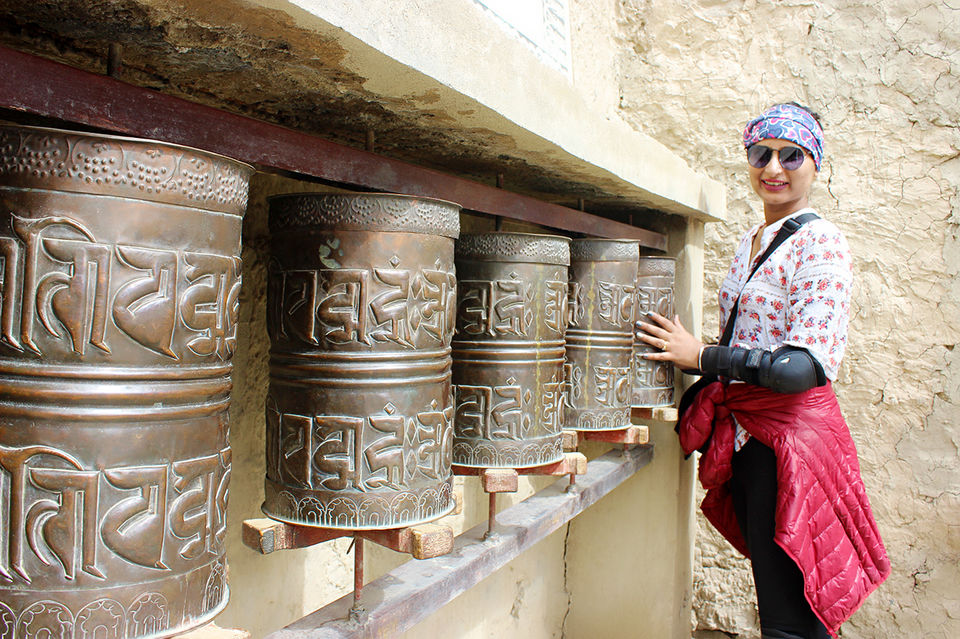 Day 6- Tabo – Kaza (50km)
The night was cold and we couldn't sleep well here in Tabo, hence we started for Kaza at 10 in the morning. Tabo to kaza is only 50 kms. We were happy because the expectation was to reach early and have enough time to explore everything nature has on the plate. Distance was covered in 2.5 hrs, as road conditions are very good. Straight way we reached Kaza Zostel, where we had our bookings for the stay. But it got cancelled because of a no-show a night before. Thanks to landslides on the way. I would recommend people to stay at least one night in Kaza Zostel, if possible. It's a hip place. Although we couldn't stay there but the guy at its reception gave us some basic information of the places we could visit. Our plan was to stay in Kaza for 2 days but had to cut it to 1.
Without wasting much time, we had the lunch and headed towards Langza & Kibber. Taking small breaks along the way, it was beautiful and impossible to resist ourselves not to stop and get down from the bikes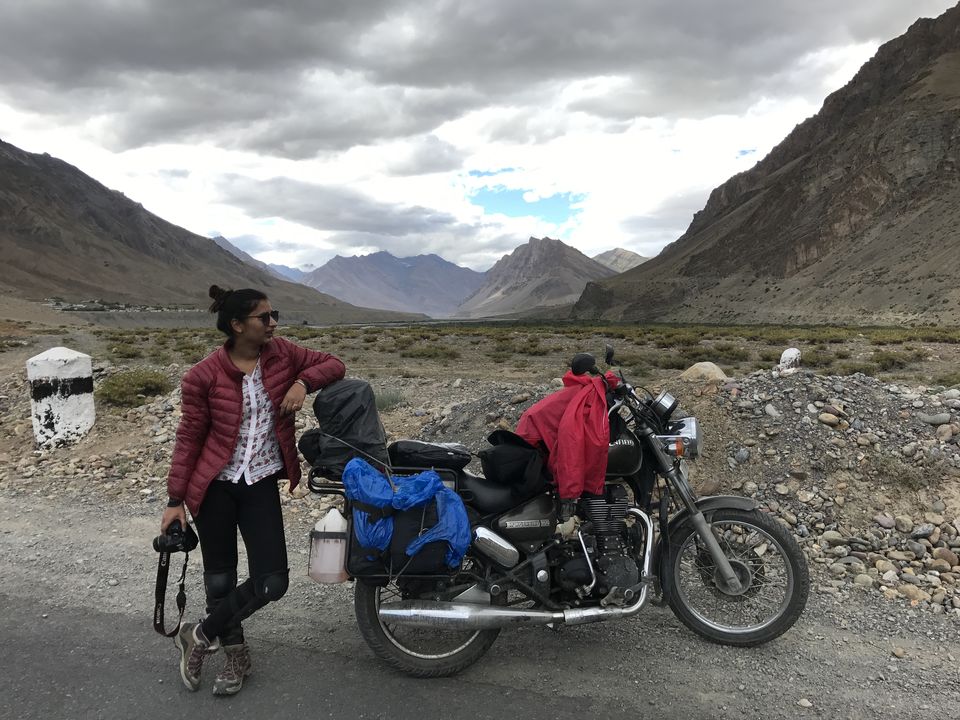 Langza-This village is situated at an altitude of 14,500 feet above sea level. 1-hour bike ride from Kaza took us to Langza. The place is famous for Buddha Statue.
The fossil village: 6 kms ahead of Langza is Komik village, it is believed to be the highest in Asia and the second name of it is Snow Rooster. It has a monastery where Lamas were chanting the mantras. Females are not allowed inside this monastery so I had to stay out and could only listen to the sound of the Music/Mantras which took us to an another level as it was something we haven't had the experience before. Standing next to a window gave a mesmerizing view of the valley.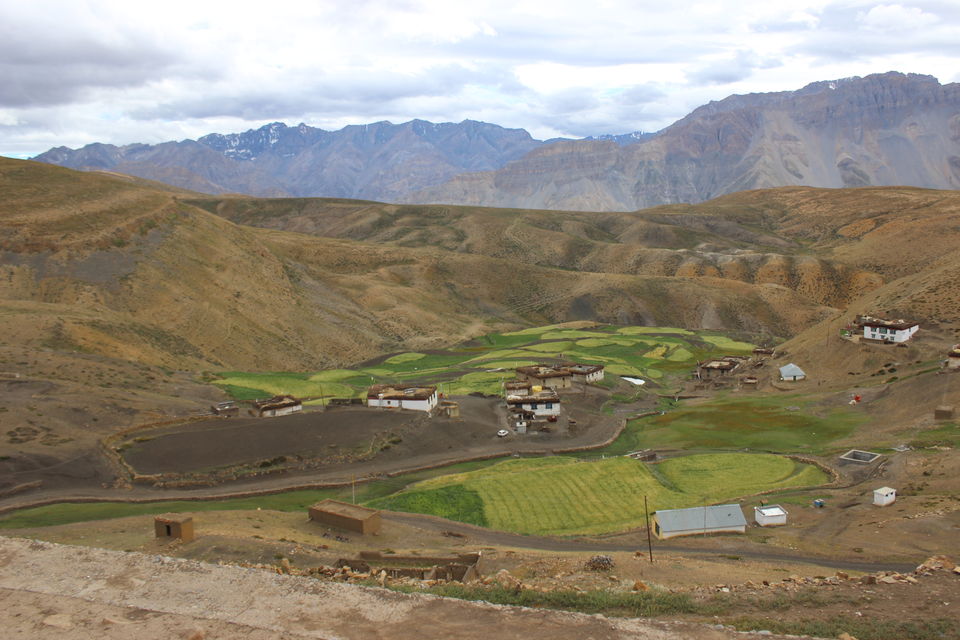 Now it was time for us to move towards Ki Monastery, which was our stay of the day.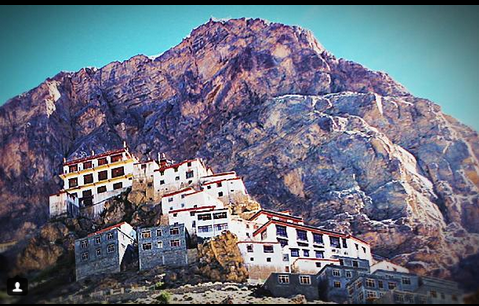 We started our trek of 1.5 km towards the lake, from the camp we stayed. Just one glance at the lake and we were amazed to see something so magical, with our naked eyes. Nature had so much to offer us. High snowy mountains, blue water, sunset. What an amazing evening it was. We spent 2 hrs there, photo sessions, met some other travellers there too.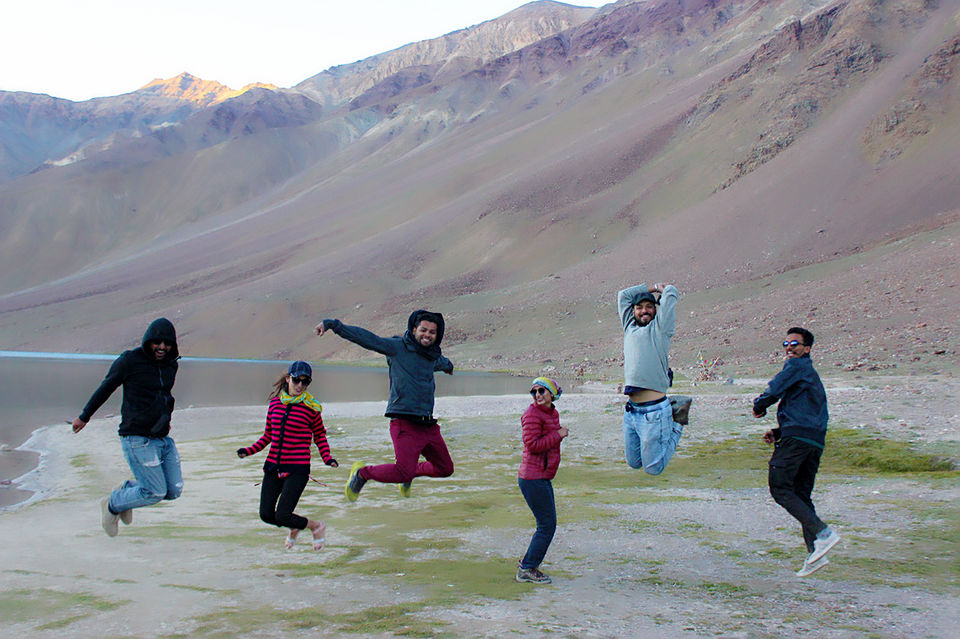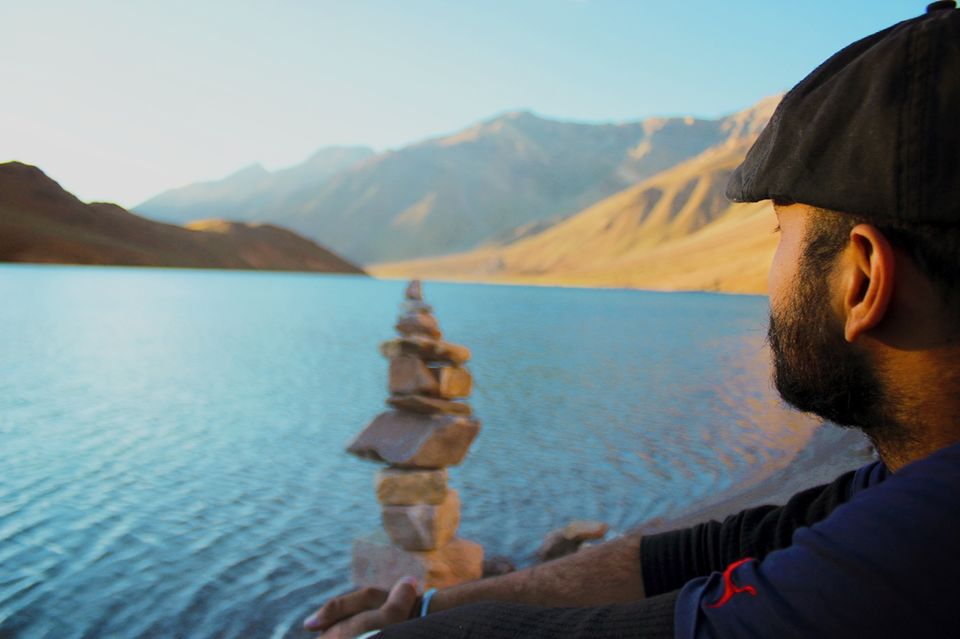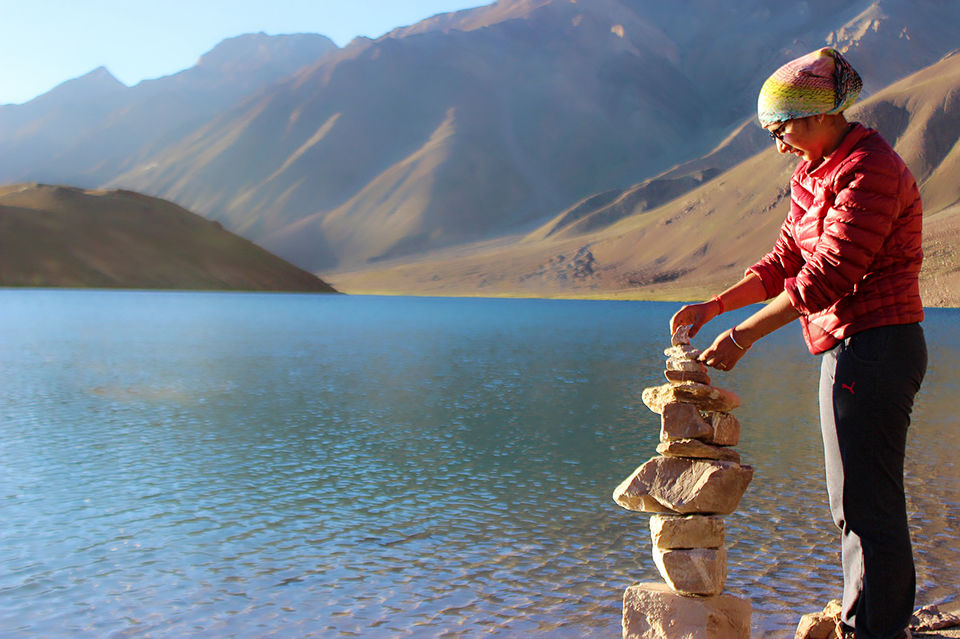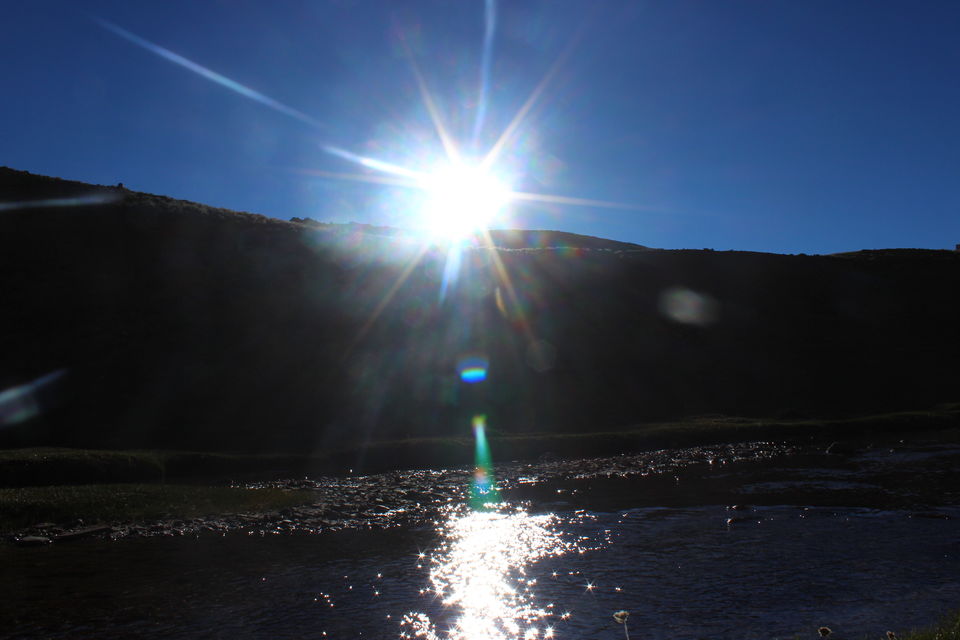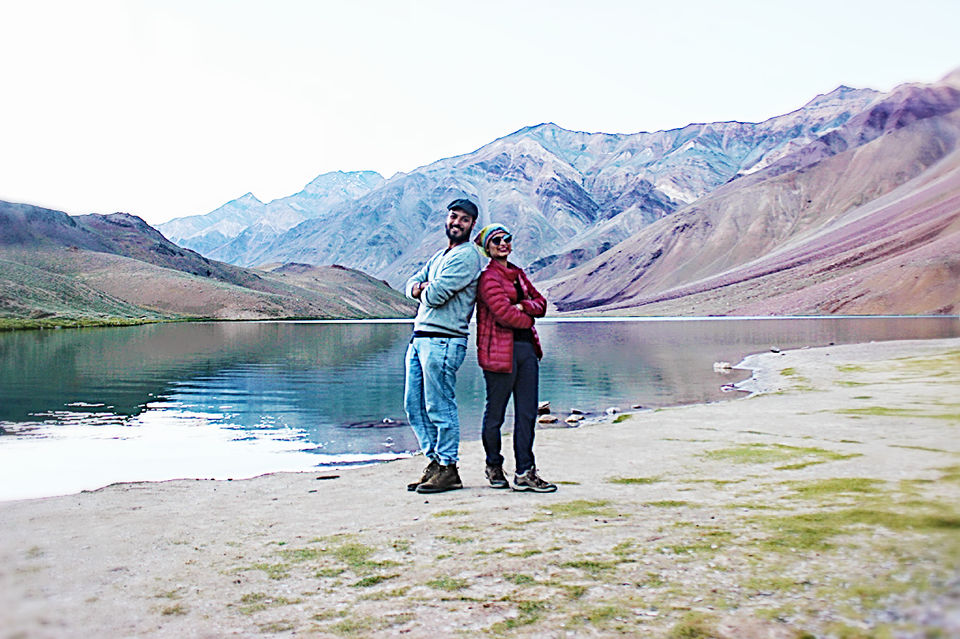 Day-8 Chandratal- Manali (130km) : HORRENDOUS JOURNEY
The journey from chandratal to Manali was difficult and tiring. 8-9 hours. On this route we covered 60 kms in around 5 hours. It wasn't just the absence of roads, constantly dropping and rising path, the twists and the turns. It was miserable.