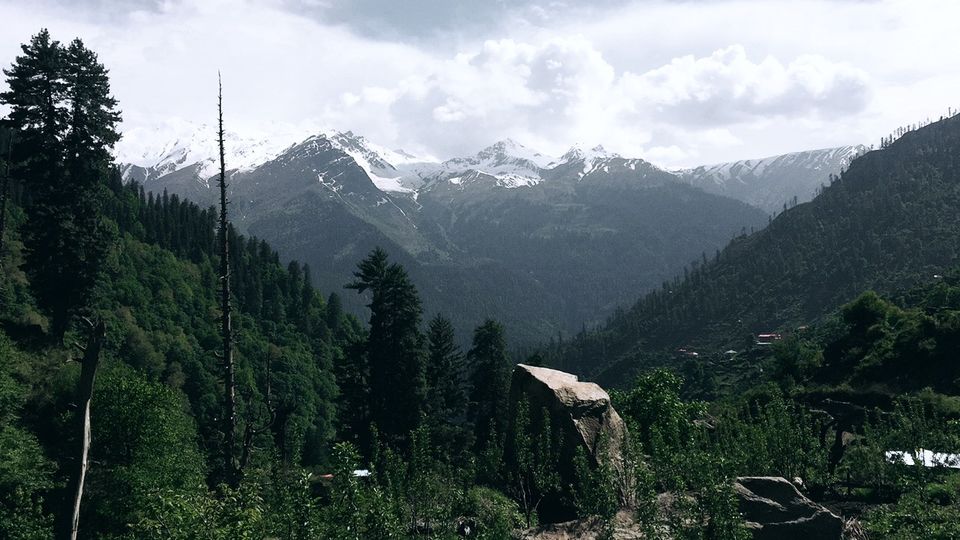 Wanderlust being the new cool and the sudden surge in modern travel, we were far far away from it. We were WanderLOST in its literal sense. From losing paths to getting lost in the jungle.....gah!
Reaching Tosh hilltop is quite the task. My friend and I had been planning the perfect summer get-away. The three destinations chosen, after a LOT of planning was Tosh-Kalga- Kheerganga. For a trip which was to be an impromtu unplanned one, what an irony!
This invariably included coordinating between cities to make it happen.
At the end of the day it was all worth it. Waking up to magnanimous mountains where you feel so so tiny was quite the sight.
Instead of waking up to buildings and office next morning you woke up so snow capped peaks and infinite fields and/or cute little wooden huts tucked between pine trees.
This write up will give you a detailed insight to all three places, all at once.
Must haves
Walking Shoes
Umbrella
Wind sheeter
Odomos
Warm socks
Getting there
Delhi- Bhuntar-Tosh- Barsheni- Kalga-Kheerganga
Delhi-Bhuntar - The Himachal state buses run quite frequently from Majnu ka tila (New Delhi) till Bhuntar.
Bhuntar-Tosh - After a nice rest overnight, wake up to the magnanimous mountains and see the change in terrain as soon as you cross Manali. Get off at Bhuntar and take a shared cab/local bus till Bharseni. If you can get a good price for the cab (Rs 200 per head) then take it till Tosh which is a 1.5 hour drive. The driver will drop you till the foothills of Tosh. Walk your way up.
Tosh- Kalga- Walk down till Barsheni/take a cab. Cross the bridge and ask the locals the way up till Kalga.
Kalga-Kheerganga- Kalga is the transit camp from where you could start the Kheerganga trek.
Bed spread
Tosh -
1. Hotel Blue Diamond - Mostly on the upper side of the budget but we got the BEST view right outside our room. It is one of the hotels situated right on top of village tosh overlooking the valley. It was almost like sleeping on the lap of the Parvati valley.
2. Hill-Top- It has a café as well under the hotel. Again, one of the good views but wouldn't call it the best.
Cost - Rs 1200 per room
Kalga -
1.Holy Cow Cafe- If you go here, it's the Blackhole of Kalga. Once you go there you wouldn't want to leave. Imagine this - After walking through the Apple orchards and little streams running through the village, half a mile away you will see a tall cottage, you might get lost on your way to Holy cow! We really were wanderLOST. Then you walk and walk to find your way to this hidden treasure. Mattresses laid down on low tables with a pet dog chilling by your side. The perfect holiday you need right now.
If this is full, walking along the line of Holy cow and you'll find a lot of homestays
Cost- Rs800- Rs1200 per room
Kheerganga -
A number of options available once you reach the top. You could sleep cosy in a blanket or star gaze and sleep in the tent. The option is yours. Since it gets really cold at night, my suggestion is to stay in rooms.
Ps- You needn't carry your tents are there are plenty of them available there.
Cost- Rs 400- Rs800 per room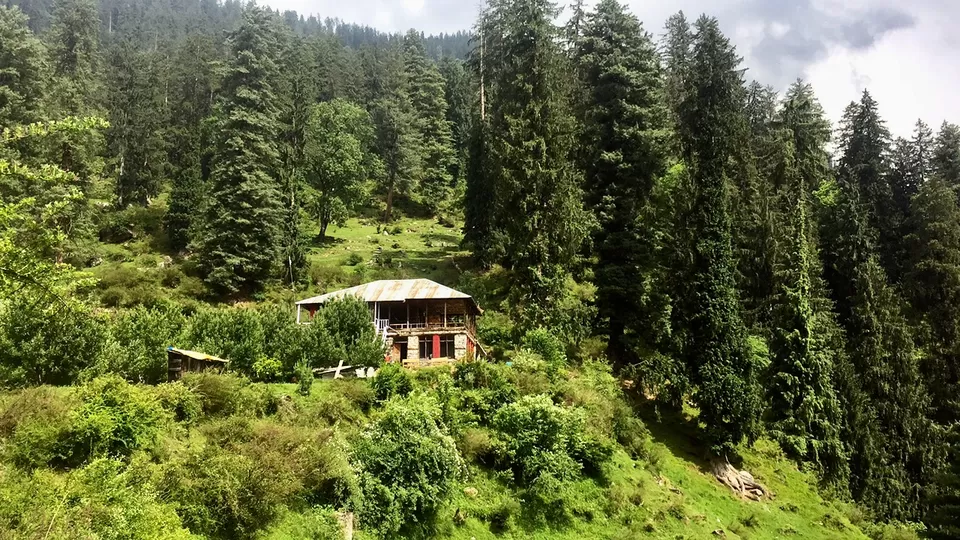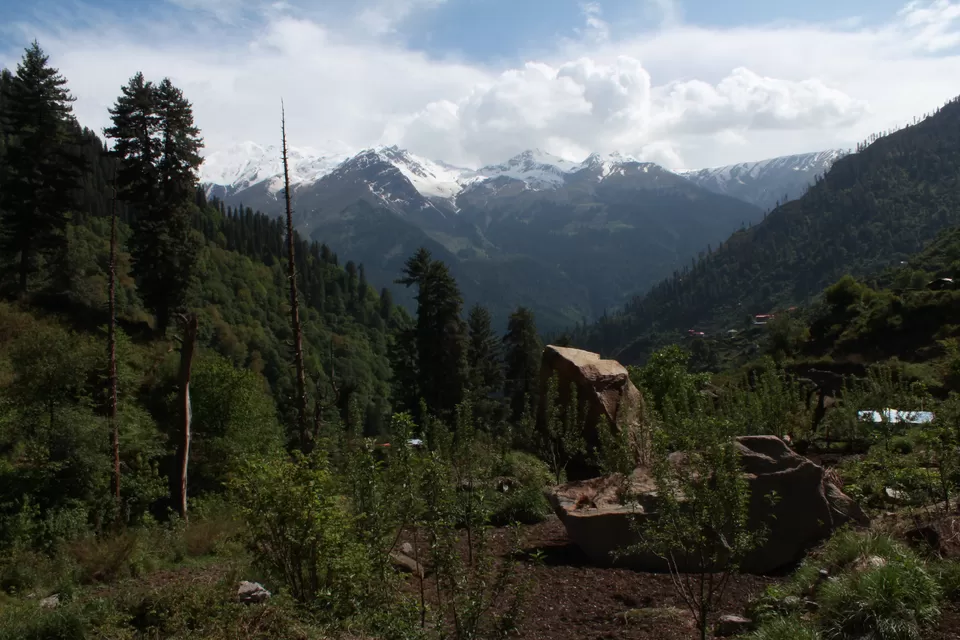 Chill scenes
Tosh-
A variety of cafes available with a combination of the same food. The only difference would be on their ambience and the range of trippiness. If thats even a word. My chosen ones were-
Café Hill Top- Open top café with good breakfast. The clouds would sweep right at your eye level while you sip your chai. If you get lucky (or not) it might drizzle too. The view is to die for. Ill show you why.
Pink Floyd - Not what you would usually think. It doesn't have a Pink Floyd playlist nor does it have old rock playing. Its (literally) pink in colour with Dim lights best to sit with a book during sunset to see the feisty sun sleep through the mountains.
German Bakery- The name is abused for every "decent" eatery at every place possible. Tucketed between cottages, it's a cosy low seating space with good breakfast. It wouldn't offer you a picturesque view but the food is FAB.
Kalga-
A tiny village with very few tourists makes it absolutely divine to roam and find your spots. Little houses converted into cafes at their Porch. Find one which bests suits your need cause there aint no names baby, they're your made do houses for the days you plan to spend. ;)
Take my word for it, youll want to keep going there.
Do not miss
In Tosh, hike towards the waterfall which you will be able to hear soaring through the mountains. The walk through the lush green forest with nothingness around makes you feel like a tiny tiny creature in the world. Turn around for the majestic mountains of the Parvati Valley. Walk till the waterfall to sit right in between for Maggie and Chai (ahem! Typical). There are a few hiking routes as well, go explore buddy! Make sure to time yourself well enough to reach Tosh before sunset so you don't lose your way.
In Kalga, I would tell you to do nothing. Absolutely nothing other than sitting at Holy Cow and take in the view. I needednt say more. Youll know why.
How to reach Kheerganga from Kalga?
There is only one route to reach Kheerganga from Kalga. Ask any of the locals and it will take you to a well defined trail across huge Grasslands, Waterfalls, Orchards and Pine trees. You would need to just follow the trail for 4 hours to reach the top.
The trek is a fairly easy trek (for someone who's not a fitness freak). Take your time to go up and enjoy the walk. There is no hurry to reach as there is nothing much to do other than sit at a café for a meal and then star gaze.
Tip -
Leave by 10 from Kalga
Carry light or no weight on yourself
Carry sweets to pop for instant energy boosts!
Carry lots of water to keep yourself hydrated- The water is quite expensive on the way so one should be ready for it.
Take aways
1.If you're someone who enjoys silence and solitude, choose your spots wisely. There are people from all over who might not enjoy silence as you do. Instead of complaining, look for good spots where you can enjoy to keep away from the thumping Punjabee/ EDM numbers.
2.Carry headphones, you might need it even when you think you won't.
To know about about my other trips click here.