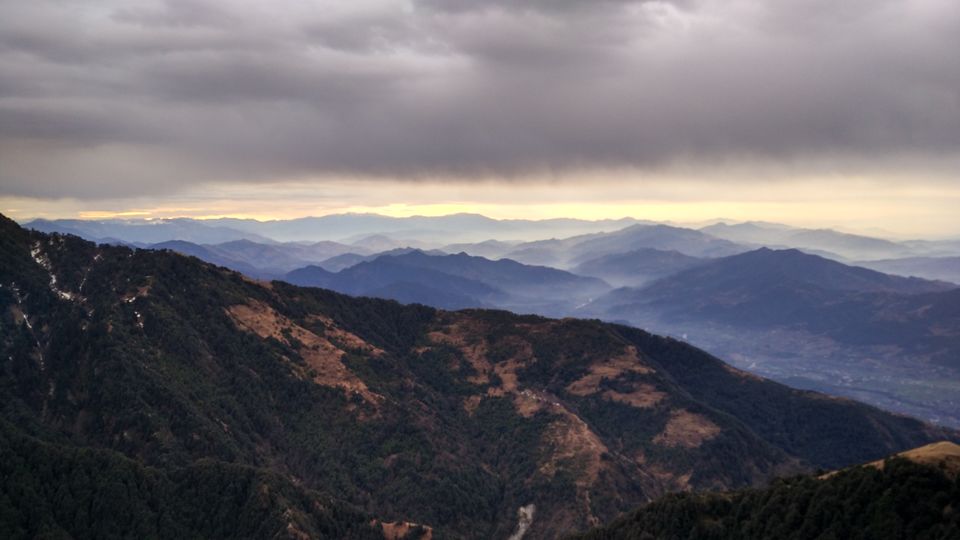 It was Thursday when I was scrolling through some travel blogs and I came across one in the Himalayas. The author had given a wonderful description of his experience of hiking on the Bhabha pass in Himachal Pradesh and as I scrolled down, I came across the first picture in the blog. It was a scenic landscape that most of us would have replicated with crayons in our childhood. Blue sky, two mountains on either sides creating a valley in the middle through which flows a crisp and clean, glowing silver blue band of river accompanied with lush green grass on either side and a tree on one. Suddenly my breathing pattern changed and my mind and body started forcing me to go out and explore some Himalayan region. I quickly glanced through the places I can go to and selected Bir and Billing, in the Kangra district of Himachal Pradesh, as my destination. A sudden decision, but, I can't stand a chance against my excitement, so, just went along with it. Soon, I realized nobody wanted to tag along and so I decided to go solo. I hope the reason for not coming was not me but the short notice I called them on.
Next day, after office, I came back home, packed my backpack, took my tent and left to Kashmere Gate in Delhi to board whichever bus I get that goes towards Bir. I reached ISBT by 7:30 pm, boarded a bus going towards Dharamshala thereby getting down at Kangra. In a few minutes my journey began with me having great expectations in mind. However, it was not an auspicious start as I almost missed my bus when we had stopped for dinner. As I was travelling alone, missing the bus could have turned into a nightmare. One piece of advice I'd like to give everybody travelling in buses is to not forget to note down the bus number and, if possible, get the conductor's or the bus driver's number. It will help track your belongings. I, for a fact, could not get their numbers. Guess I was trying too hard.
By the time I reached Kangra, the first rays of dawn had struck the yawning faces of passengers, the birds chirped louder than the bus conductor's pitches to get passengers onboard. My mind was refreshed after breathing the slightly cleaner air. At least, cleaner than that of Delhi. I boarded the bus to Baijnath and then to Bir. The Baijnath to Bir bus driver had quite an interesting personality. He was the first bus driver I had seen who kept smiling along the whole 1 hour journey. No! he was not stoned. May be a little. But, I reached my destination without a scratch on my body. He would greet everybody he knew on the way. And it seemed like he knew everybody. He looked like he thoroughly enjoyed his job. The area was sparsely populated making the journey even more enjoyable and I was greeted by snow capped mountains, lush green farms and a pleasant air. An hour later, I reached Bir at around 9 a.m. I started walking toward Billing but, soon realized that I had no food with me to carry for the trek. Neither did I have anything for breakfast. Therefore, I walked back and entered a small restaurant. The owner was a very nice guy with a happy face. In fact, everybody in the valley looked very satisfied and happy with their lives. This happiness I have encountered not just here, but, almost every place I visited in Himachal Pradesh and Uttarakhand. This is one reason why I wish to explore more and more of these regions. Another simply being the beautiful view and a pleasant weather. I had a little chat with the restaurant owner and asked him for directions to Billing. After washing my face, I had one aloo parantha for breakfast, packed 7 for the day and started my ascent to Billing. It was a 7 km climb along the shortcut created by the paths of small streams. The trail till the top is quite visible and there are very low chances of getting lost even if you're Columbus. Finally, after two and a half hours of climbing, I reached Billing.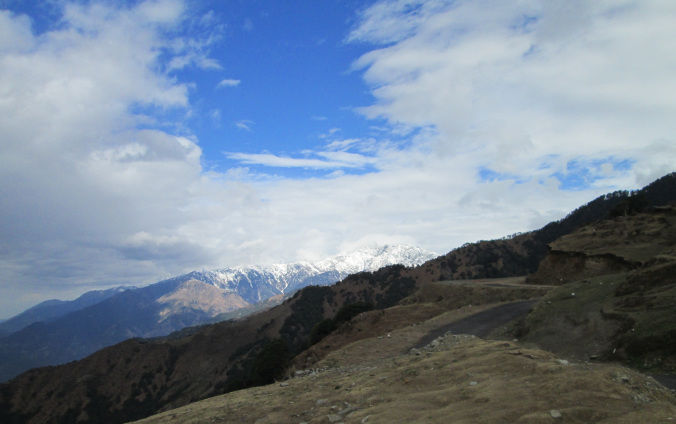 I had my lunch, rested for an hour and carried forward. As I was planning to stay alone for the night, I grabbed two water bottles from a store in Billing and continued walking on the road connecting Billing to Rajgundha. The road to Rajgundha is vehicle friendly and therefore, quite easy to walk on, until you encounter snow. For the first two kilometers, snow was not a problem. But, as I went ahead, snow had completely blocked the way. I kept walking for about four kilometers after crossing many slippery patches. However, the snow ahead had converted the road into a 45-degree angled slippery route for as long as I could see.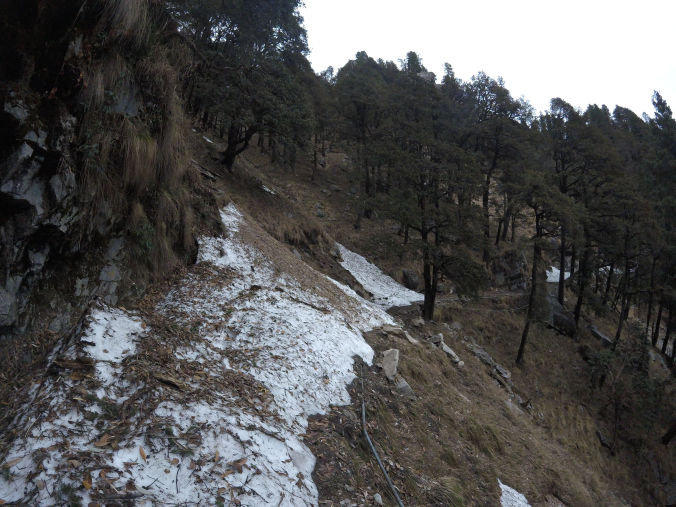 Therefore, avoiding any further risk, I walked back till around 2 kilometers away from the Billing camps. From the route, I climbed up a little and set my tent at a location with a beautiful view of the valley in front and snow-capped mountains at the back.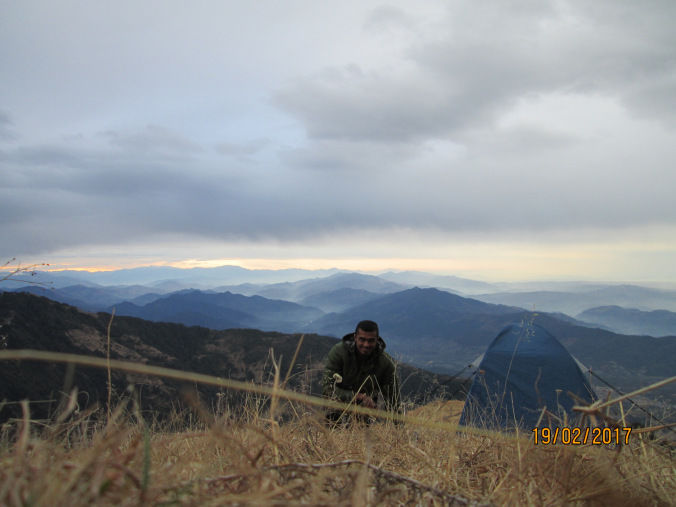 Although I did a great job of setting up that tent, I made a very poor selection of the surface, which had a small gradient of slope. Later, I paid for this mistake through the whole night. While I was facing south-east, I could see the Uhl river flowing through the misty valleys in the far distance in northwest-southwest direction. The mountains were painted with a blue hue and blurred at the bottom with mist, the white mountains behind me were slowly getting covered with clouds, and on my right, the setting sun had painted the sky with shiny shades of orange.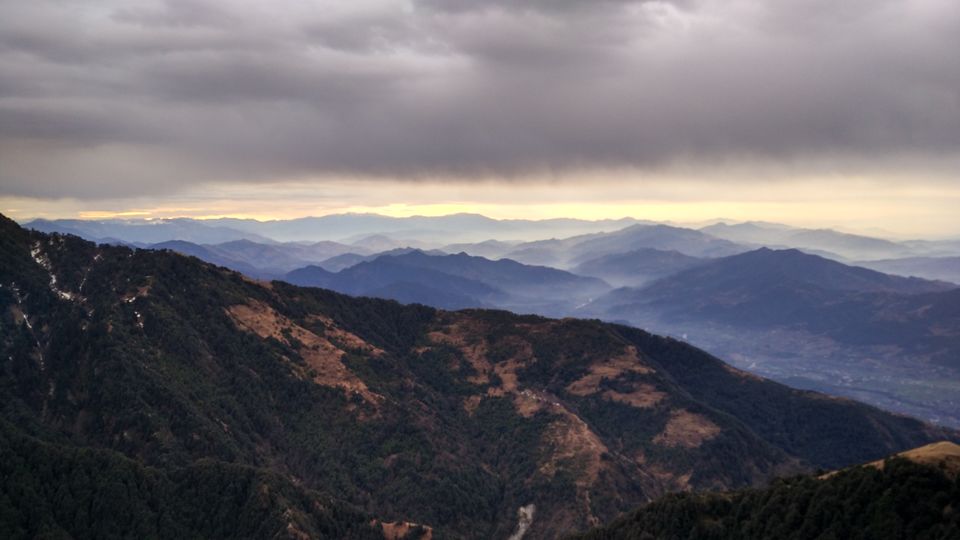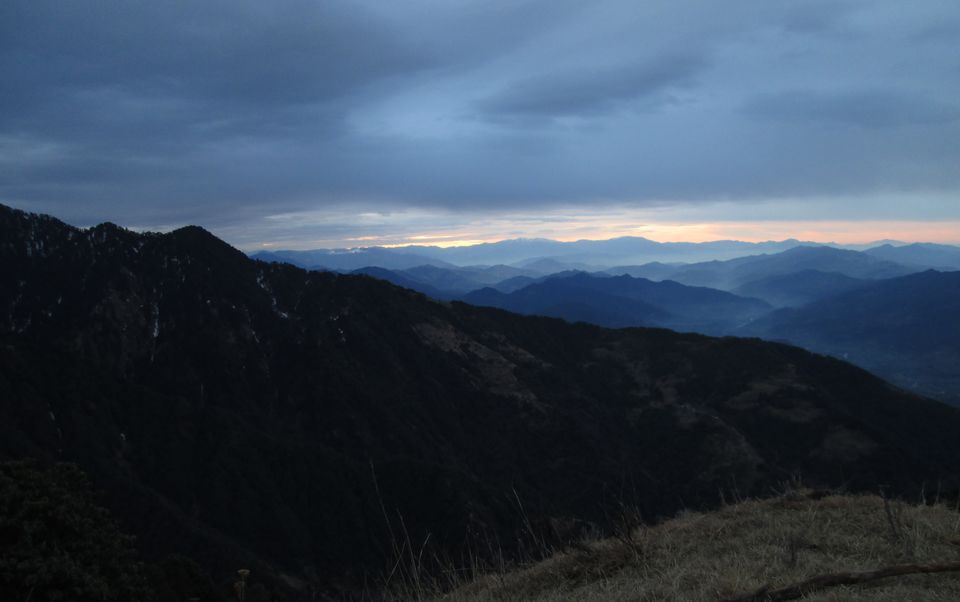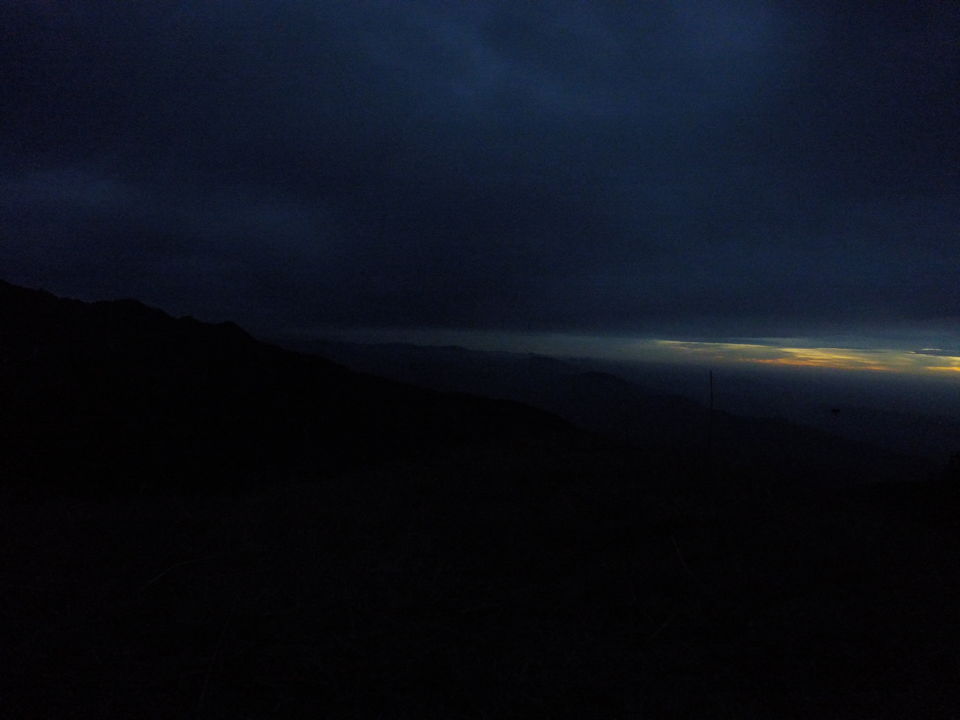 I sat in my tent, put on some good music and started having my dinner at 7. Soon within half an hour, the sky, which was once painted with a blue hue, was replaced with darker shades, the valley was lit up and appeared like an ornament studded with shiny diamonds and while I gazed back to see how the white peaks were doing, I was thrilled to see that they had vanished from my sight, however, there was a soft white glow, which was a result of reflection of dimmed sunlight from the snow. It looked like a moist glass of a small house through which a white bulb was glowing on a misty night.
The feeling that I'm alone on the mountains with nobody to share my thoughts with or look at or just keep my mind occupied with made feel a little insecure. I had a constant fear of wild animals. At night when you're alone, every slightest sound is of a wild animal and you're just waiting for it to plunge onto you and tear you apart. There was this one time (just one time OK!) that I was standing outside my sloping tent. I suddenly heard 5-6 successive loud thudding sounds getting even louder and just then an unknown dangerous animal came running out of my tent towards my feet and I screamed on top of my voice with blood rushing through all my veins. It was my folded sleeping bag that came rolling down while its buckles struck the sleeping mat creating the thudding sounds. It took me fifteen seconds to come back to the normal state. I tried spending my time playing bansuri and singing. It was a clear trade-off between spending the time better while standing the chances of attracting unwanted scary creatures and sitting and doing nothing while hoping that my silence would keep me away from violent four footed strangers. I chose to spend the time better. Although I felt it was a foolish decision, I preferred dying a happy soul rather than a scared pole.
An hour has passed while I enjoyed the misty valleys and my head had then started to ache due to chilly winds. Therefore, I decided to hit my sleeping bag after making sure that there was indeed no animal inside my tent or the bag. It was a tough night for me as I constantly kept slipping down in the sloping tent. However, I was too lazy to remove and pitch the tent elsewhere so I just carried on with my efforts to sleep. The sounds of falling leaves and winds added to the trouble. Not that I was getting disturbed, but, these sounds represented a bear lurking in the jungle or a bear trying to rip off my tent, pull me out and eat me alive or a bear or a bear or a BEAR! I tried my best to sleep, but, succeeded only by 3 a.m. I slept peacefully for around three and a half hours that night and woke up to see soft faded light glowing my tent from the outside. I opened the zip to see that the sky was covered with clouds and was sparing a soft drizzle to my sleepy face. To add to the freshness, I put on some good music, laid back on the mat and enjoyed the view of the blue valley.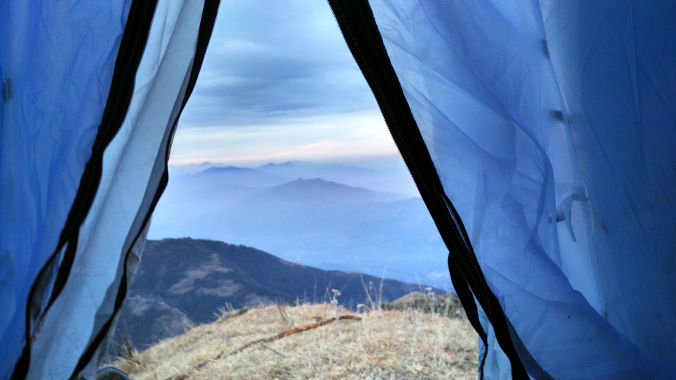 It was one of the most pleasant mornings I've had in my treks. All the fear was gone, my head was paining due to lack of sleep, but, that was fine. I spent a very good hour singing and dancing in the fresh air. One thing I noticed that day: Dancing alone might have made me look stupid, but, it did take away my loneliness and I felt even better. As the time passed, the drizzle had turned into rain. I had the previous day's aloo paranthas and decided to wait for the rain to subside before I start packing. However, an hour passed, but, the rain didn't. Finally, I put on my raincoat, covered my bag with rain cover and packed the tent. It was not an easy task as the cold rain drops and cooler winds were testing my fingers. I didn't have any gloves and the cold was getting into the bones giving me a burning sensation on my fingers. I kept packing while periodically warming them with my breath and then set off from my camp at around 9 a.m. Thereby, within 15 minutes of walking, the rain stopped and I cursed myself for not waiting a bit longer. The sky then offered me a pleasant atmosphere with frequent patches of sunlight to walk with. But, what made me really happy was that I was going to see humans again. I then reached Billing and had a cup of tea from a local store. I had a little chat with the owner while I packed my raincoat and rearranged the items in my bag which I had just stuffed inside. I bid farewell to the owner and started my descent to Bir. This time, I chose to take the longer, main road route. It was a 14 km stretch, but the view was nice. Although the route along the shortcut was through a forest, the view along the main road allowed me to see the Bir valley and the snow-capped mountains.
My journey to Bir was quite less lonesome as a brown-haired dog accompanied me on the way. I named him 'Yedu'. He was quite a joker and kept me entertained. For every vehicle that passed us, he would take position, wait for the rear tire to cross him and then run behind it barking at the vehicle. It looked quite stupid and funny. We walked together for the whole 14 km journey. I thoroughly enjoyed his company and shared my food whenever I sat down to eat. He would sit near me and enjoy the view while I filled our tummies. However, that lazy ass wanted me to keep the food right in front of his mouth so that he doesn't have to get up. So sometimes, just to tease him, I would place a piece on his head and he would just keep searching for the food until he has to get up just so that the piece falls off his head. He would then eat it and bump his ass back on the group and return to the view that I so happily disturbed. A few other times, I would put a piece right behind his back to see him try all sorts of turning and twisting to reach it without getting up. But, my evil plans always worked and he had to get up every time while I sat and had food in peace. Yedu would wait for me every time I took rest. As we come closer to our destination, we started seeing more and more locals. A few kids would try coming close to Yedu to play with him. But, afraid of other humans, Yedu would always hide behind me whenever another person came close. It was a joyous unspoken friendship that we shared for those 14 kilometers.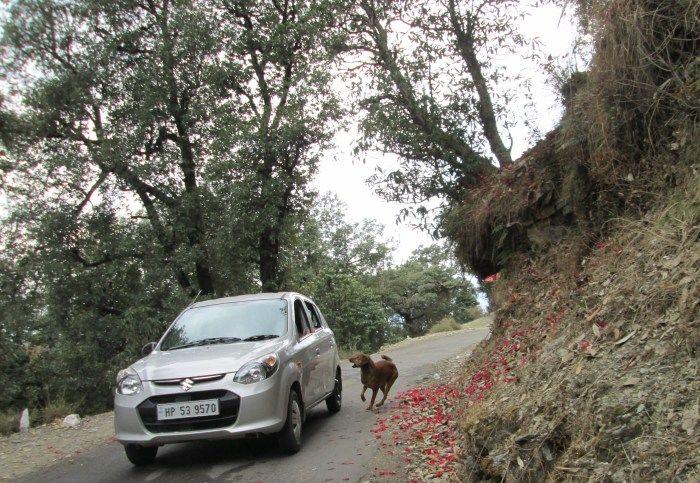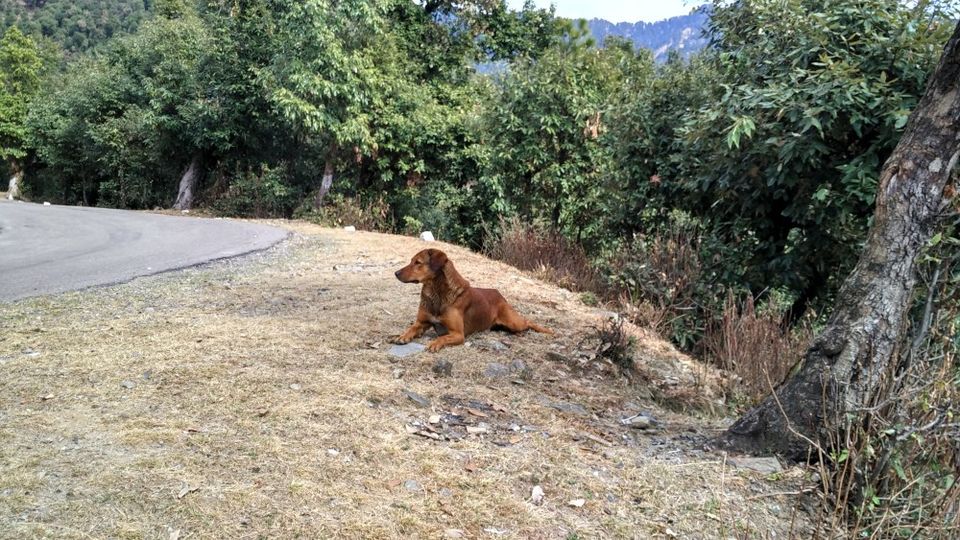 Time passed and we reached Bir. Yedu spotted something and went off road while I carried on till the village. Tired and hungry, I went back to the restaurant I had bought aloo paranthas from on the previous day. The owner greeted me and asked me about my trip. He was surprised to know that I camped alone and congratulated me for doing it. Then, I had a really delicious meal, got fresh and headed on towards the bus stop. After 10 minutes of waiting, I was excited to see that the same bus, which had dropped me here, came to pick me up. The driver was the same stoned looking guy and he was equally happy as he was before. This made me to rethink about the possibility of him being stoned. He can't be stoned all the time, and if he was, then he can't look this sober. Therefore, I took a sigh of relief after realizing that the steering wheel was in the right hands. I reached Baijnath and quickly sat in the bus to Delhi. For the next 13-14 hours, till I reached back, I carried with myself a plethora of experiences, emotions and an urge to do another solo trip. It is quite surprising how just one trip to a place with happy individuals and an exciting view can leave a mind so freshened up. It makes us go into a different phase of life altogether and helps us realize that there's much more to life than our own problems, regrets, depressions, heart breaks, fear and so on, which are just a part of life and are better left alone without giving any more than the required amount of attention. A 3 hour friendship with a stray dog can sometimes mean much more than a 3 year long human relationship. A night spent with the fear of getting eaten alive is much more worth remembering than the bad day at office. A weekend spent adventuring carries many more experiences than a month's worth of learning with the same daily routine. This much needed trip was a hell of an experience and I'm really glad I did it.