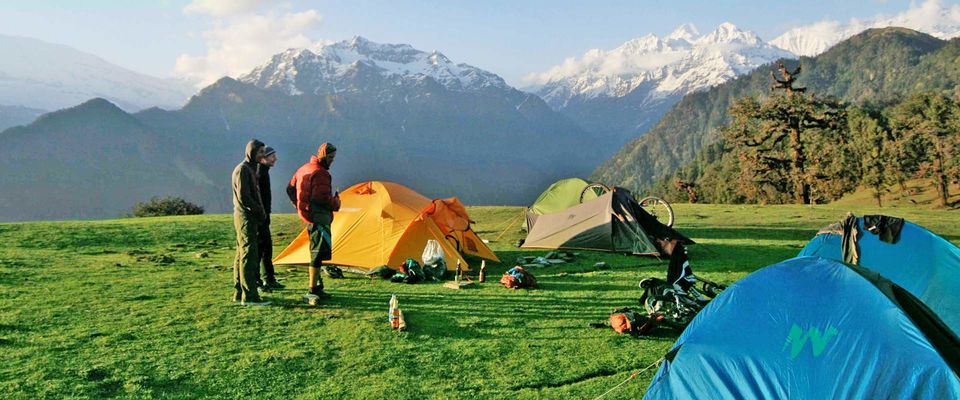 Planning a trip to Kasol and missing out on Waichin Valley is just unfair. Waichin Valley is a 4km trek from Malan Village and offers unlimited views of the mountains. Popularly known as Magic Valley, Waichin Valley is located above the village of Malana in Himachal Pradesh. With its location, snow-peaked mountains, pristine waterfalls and patches of pine and coniferous trees all around, the valley stays true to its name and weaves a magic for travellers. Located at 2700m above the sea level, this Himalayan valley with dramatic landscapes is scarcely populated because of the extreme temperatures and inaccessible location.
Why travel to Waichin Valley:
The nights in Waichin Valley are equally attractive as the days and the simplicity of the locals here will melt your heart away. Maichin Valley is considered to be a perfect getaway for anyone looking for an adventurous and peaceful break from a monotonous city life.
Trekking
For those who love the mountains and seek an adrenaline rush, Maichin Valley is where you need to go. The valley does not have proper transport connectivity, and therefore travellers will have to trek 4km uphill from Malana Village. Unquestionably, this is not an easy trek, but it worth the effort. You can take pauses and enjoy some stunning landscapes while climbing your way up.
If you are planning to stay longer in the valley, then you can also try other small trekking trails in the region and hunt down few hidden treasures like waterfalls.
Camping
All the travellers out there, who want to get close to nature and enjoy a night under the stars or have breakfast with a view, call out your squad and grab your sleeping bags to spend few days camping in this magic valley. There are two to three camping sites here. One can enjoy bonfires in the evening and have a gala time with friends and strangers. You could also try cooking for yourself and others.
Birding
Bird watching in Waichin Valley is bliss for all the avifauna enthusiasts. With a fascinating backdrop of Himalayas and woodlands, bird watching experience is delightful in this setting. Wake up to a new day, where time is not a concept and birds are your alarm clocks. Some of the commonly seen birds are Cheer Pheasant, Kaleej and Koklas.
Photography
Waichin Valley is a photographer's paradise. Photographers cannot ask for a better setting to get some surreal pictures of nature. With picturesque landscapes, this valley is a perfect place for travel bloggers to get some Instagrammable pictures. Villagers here are also not camera shy, which will give you enough opportunities to broaden your horizons and capture the cultural aspect of this place.
Cuisine on offer:
At the campsites, Indian cuisine is the only option for travellers here. Rajma chawal is a well-known local dish served in all the camps. There are limited food options here due to the isolated location and extreme weather conditions of this place.
With a modest population of less than 100 people, this place has no cafes or any other food joints, but there is an unlimited supply of tea and Maggi. Gulp down as many cups of tea as you want from the local shops around.
When to go:
The weather in Waichin Valley remains cold throughout the year. However, the best time to visit Magic Valley is from August to early November. It is when the rainy season comes to an end and winter season begins. This season is most conducive to sightsee as the visibility level increases and the temperature is bearable.
Getting there:
Waichin Valley is remotely located and so is not well connected with roadways or railways. Therefore, it is difficult to reach this destination but not impossible.
By air: The Kullu–Manali Airport in Himachal Pradesh is the nearest airport to reach the valley. After arrival, travellers will have to use road transportation to reach the valley.
By train: Book a ticket from New Delhi to Joginder Nagar Railway Station, the closest railway station from the destination, which is also about 129 km from Waichin Valley. Take a bus or a cab to Malana Village which is 125km from the station. The remaining distance will have to be covered on foot.
By road: Take a bus or a cab from New Delhi to Bhuntar. Change the bus at Bhuntar and leave for Malana Village. Hire a taxi from the village to a dam area, a 3 km drive from Malana. Once you arrive at the dam, you will have to trek 4km to reach the destination.
Getting around
The best and the only way of travelling within the valley is by going on foot. There are buses and taxis available in the Malana Village.
Waichin Valley is only for campers. Either, you can carry your tents with you, or you can rent them in any of the three camping sites here. The people in charge of these sites also arrange meals for travellers. The cost of the tents ranges from ₹900-₹1200 per person. You don't need to pre-book a tent here. There are multiple companies which organise trips from Kasol and Malana to Waichin Valley. However, these only allow one night stay in the valley. Therefore, it is better to first reach here and then get the tents from local people here.
Have some tips or travel-related questions? Visit the community forum to ask questions, get answers, meet other travellers, and share your advice. Also, subscribe to Tripoto's Youtube Channel for more travel ideas.
Frequent searches leading to this page:-
Waichin Valley Trek, Delhi to Waichin Valley, Waichin Himachal, waichin valley himachal pradesh , trek to waichin valley