If you are bored with the daily routine and living just for the weekends, but the weekends also comes and goes in household chores, it's time you need a little break to rejuvenate yourself. There are enough places around but I think it's time to find something new and offbeat, and we found out something just for you. We found an eco-resort somewhere in Sirmour , Himachal Pradesh about 7000 feet above sea level with breathtaking views and enough fresh air to detoxify your system. Sirmour is located in the south-eastern region of Himachal Pradesh and ischurd also known as the Peach bowl of India.
Ideal for
The place is ideal for couples who want to spend some time lazing around, enjoy the views, sit back and do absolutely nothing. Families would also love it here for that forever pending get-together.
About the Property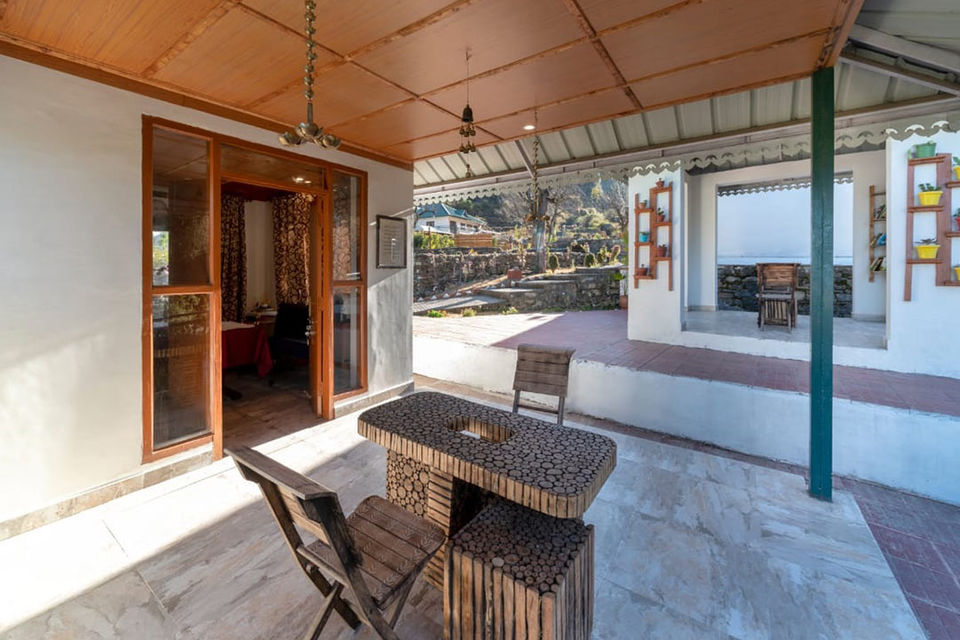 Carnoustie Himalayan Eco Resort is situated in Sirmour, Himachal Pradesh and is a perfect place for relaxation and well-being. The place is about 50 kms drive from Solan, and is located in the picturesque village Kanera. This resort is one of those places where you wake up to the breathtaking views of the snow-capped Churdhar peak along with other valleys and mountains. The resort is surrounded by deodar trees that lead up to Churdhar Peak, which is an approximate 6-hour hike from the resort. So, if you are brave enough to face the chilly winds and athletic enough then go ahead and enjoy trekking. Moreover, there are other numerous short treks and walks with scenic views which are perfect for the family. One of the beauties of this place is that it is untouched and still far away from commercialization. A stream of water emanating from melting snow on Churdhar runs through the resort, before merging into the Giri river. So, you can dip your feet with a hot cup of coffee while enjoying the views. You can constantly hear the sound of the flowing water which calms the mind and relaxes the body. The flora & fauna surrounding the resort is rich and beautiful.
Rooms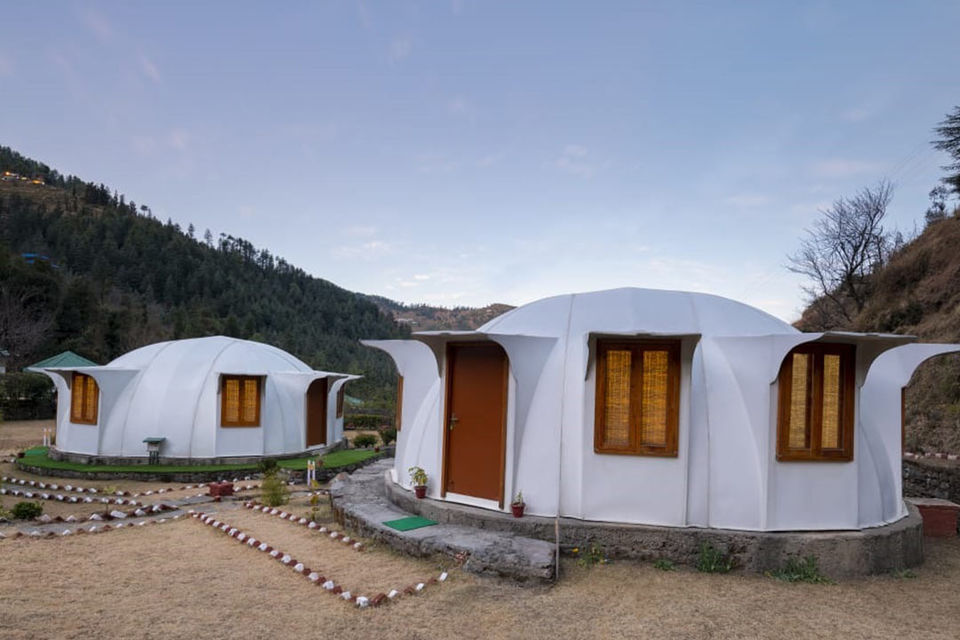 One of the most interesting parts of this resort is the accommodation. There are two categories- one is Domes, wherein the interior is made of deodar woods, and the other is cottages with deodar ceilings and mesmerizing views of Giri river and Churdhar peak. The domes and cottages are well insulated ensuring a warm atmosphere despite the cold temperature outside. The domes and cottages open into the greenery. A stream runs through the resort which will be hardly a few steps away from your room. You can constantly hear the sound of the flowing water which really helps in relaxing the mind and body.
Food
The resort practices organic farming so all the food that you are consuming is fresh and home-grown form vegetables to fruits. All the food served here is pesticide free and pure. All the ingredients of your dishes are harvested in the region itself. You can enjoy a vegetarian breakfast.
Activities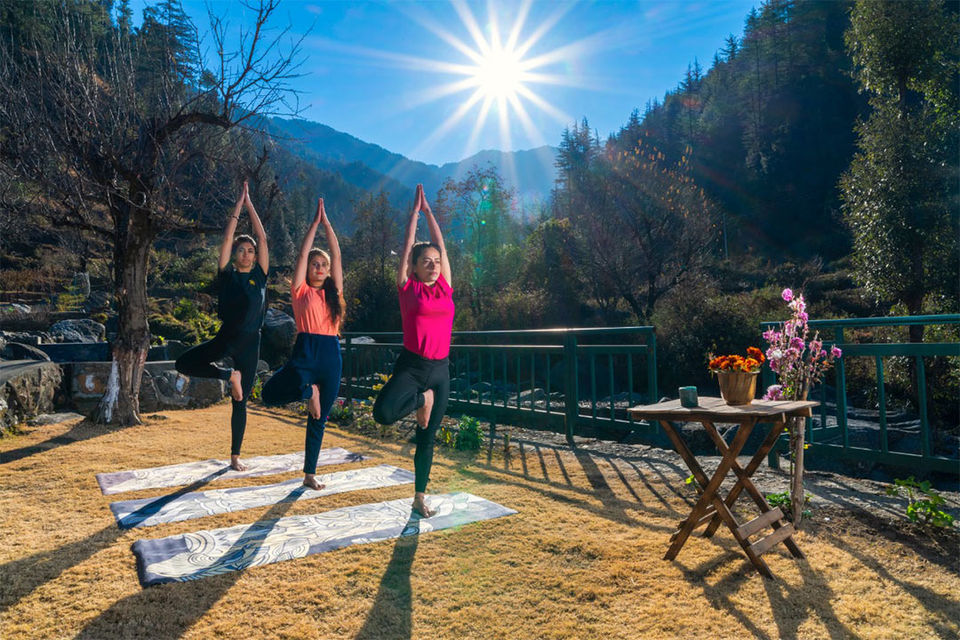 You can either make your trip peaceful or adventurous; it is totally your wish. The resort offers a lot of activities, where you can enjoy with your friends and family. The best part is that they do not have a Wi-Fi so yes you can actually talk to each other without being glued to your phone. If you are an adventure lover, you can go for a trek or enjoy camping nearby, the hotel staff can arrange the same for you. If you want some peace, go ahead and sign up for the yoga and meditation class. The resort can also arrange tarot card reading and reiki healing session, if you inform them prior while booking.
Cost
One night stay will cost you approximately Rs.7000 (buffet breakfast included).
Best time to Visit
Feb- May is the best time to visit Sirmour. It has a pleasant climate when you can enjoy the beauty and various picturesque locations.
What to do around the Property
Trek to Churdhar Peak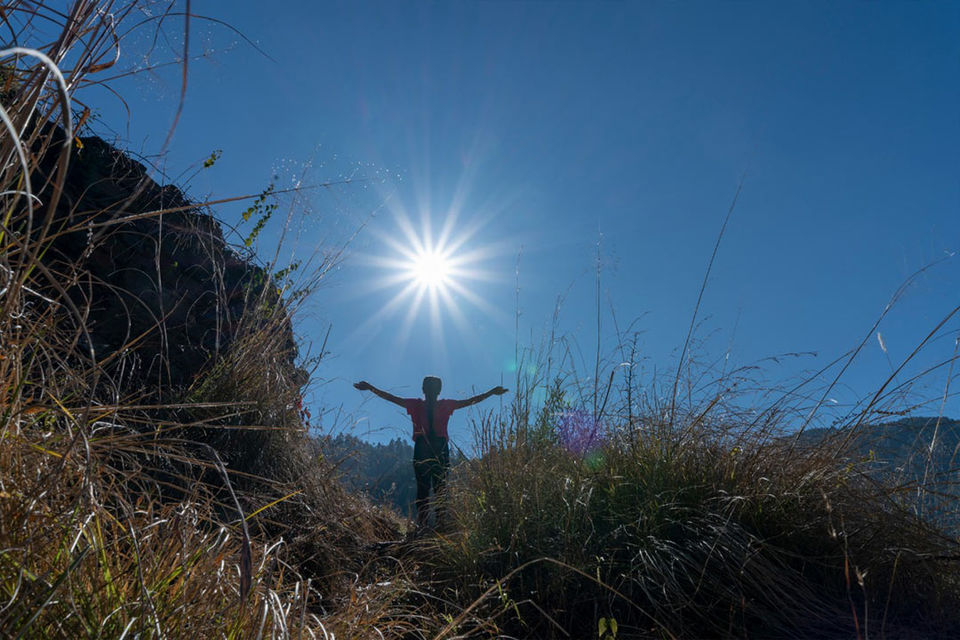 Churdhar is one of the highest peaks in Himachal Pradesh. It is an approximate 6-hour hike from the resort. The rocky trek of Churdhar is the ultimate challenge for the adventure lovers and trekkers. The rocky path and the chilly winds force you enough hard to push your limits and feel the adventure. The surroundings of the trek are blessed with a thick cover of flora and fauna making it picturesque and ideal for nature photography.
Visit the holy Shiva Temple
A 5 minute walk from the resort is one of the oldest and most famous Shiva temple and puja takes place every morning and evening. From the temple you can get a bird's eye view of the resort. According to some stories, Churdhar is the place that had the life restoring herb that Lord Hanuman took to heal the injured Lakshmana in Ramayana.
Habban Valley
Though this place is around 20 km and it takes approximately more than 1 hour to reach this valley, but it is a nice drive. Habban valley is known for various temples and one of the most famous ones is Shrigul devta.It has an interesting structure which is made of wood and stone. The valley is lush green and is surrounded by orchards of Apples and peaches.
How to Reach
By Air: Chandigarh Airport is the nearest airport from Sirmour, located approximately 120 km away roughly four hours drive.
By Rail: Dehradun Railway station, at a distance of 85km. Taxis are easily available outside the station.
By Road: You can drive down from Delhi to Sirmour. The roads are in good condition, thus taking a private vehicle or driving is a good idea. It is approximately 285 kms and will take approximately more than 6 hours.
I know where I am headed for my next wellness holiday.If you know any such place, please share your story here.
Get travel inspiration from us daily! Save and send a message at 9599147110 on Whatsapp to start.
Frequent Searches Leading To This Page:-
himachal tour package with flight, 5 nights 6 days himachal tour package, himachal tour packages from jammu, himachal pradesh tour package from ahmedabad, all himachal tour & travel package, himachal tour packages from bhuj, himachal pradesh tour package cost, himachal tour packages from dehradun, himachal tour packages 10 days, himachal tour packages in september, tour package in himachal pradesh, himachal tour packages from sri lanka