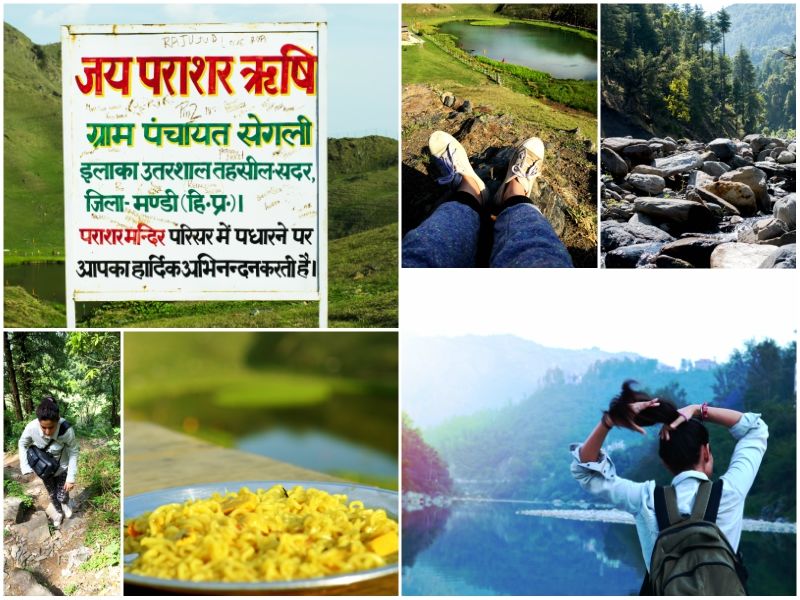 It all started 2 weeks back when I planned to revisit The Himalayas. The mere thought of it gave me goosebumps "Yay! I am going SOLO".
It felt awesome! I will get to know how capable I am to take care of myself in an unknown place. From booking tickets and tent to finding my way to the top, I will be managing everything on my own.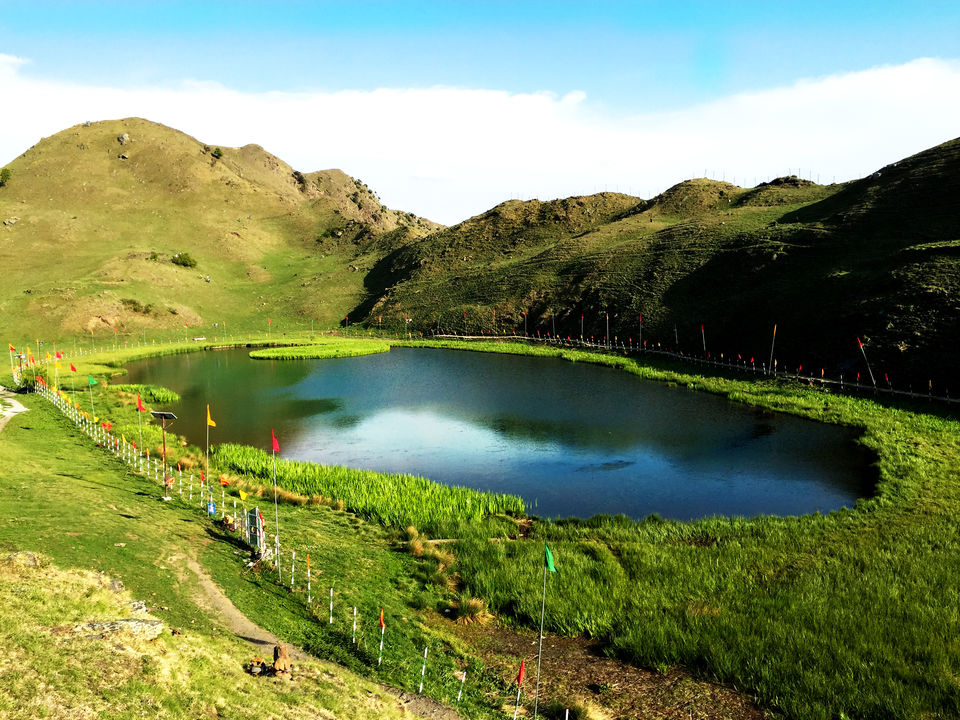 Why is it famous?
'Parashar Lake' is a natural lake situated at an altitude of 2730m. The lake got its name from a famous sage Parashar who made the place his meditation ground. But it is not the only reason to have made it so famed. The actual reasons are:
The mysterious 'floating island' that moves from one end to another seasonally. People believe the island symbolizes Earth, its location has got something with good or bad happenings on the Earth and the lake as the solar system.
It is unfathomable, the depth of this lake cannot be measured till today; when the humans boast of reaching to the Mars. Scientists and many divers attempted to do so but were failed in their attempts.
3- storied temple believed to be carved out of a single tree.
Folktale says the lake was formed by Bhima, one of the 5 Pandava kings, when they were on their way to find the best place for their Guru, with his elbow. In our holy book, Mahabharata, We all have heard how powerful he was. He had the power of 500 elephants.
To me- It is like an eye of earth. What you do you feel?
At Kashmere gate ISBT, our HRTC bus was scheduled at 8 PM and thank god I was not late this time.

TIP NO 1:
Govt. buses will depart on time. Ours was Himsuta, it is one of best buses available.
So the journey had already begun.
The bus stopped at Haveli for dinner and by 5:15 am we were at our stop, Mandi, also known as Choti Kashi (Varanasi of the hills) because it has 81 temples carved out of old stones.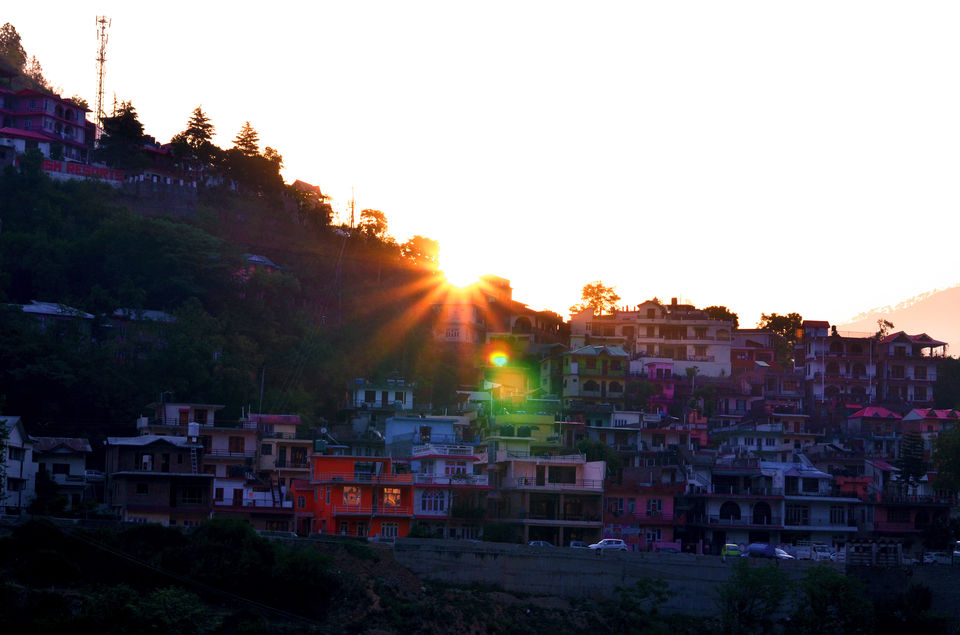 Sunrise in Mandi, H.P.
Mandi bus stand is surely one of the prettiest bus stands I have ever seen. I smiled while looking at the sleepy hills when cold winds awakened my soul. The bus stand was so clean and maintained that I decided to use the public washroom there, I brushed my teeth and got freshened up.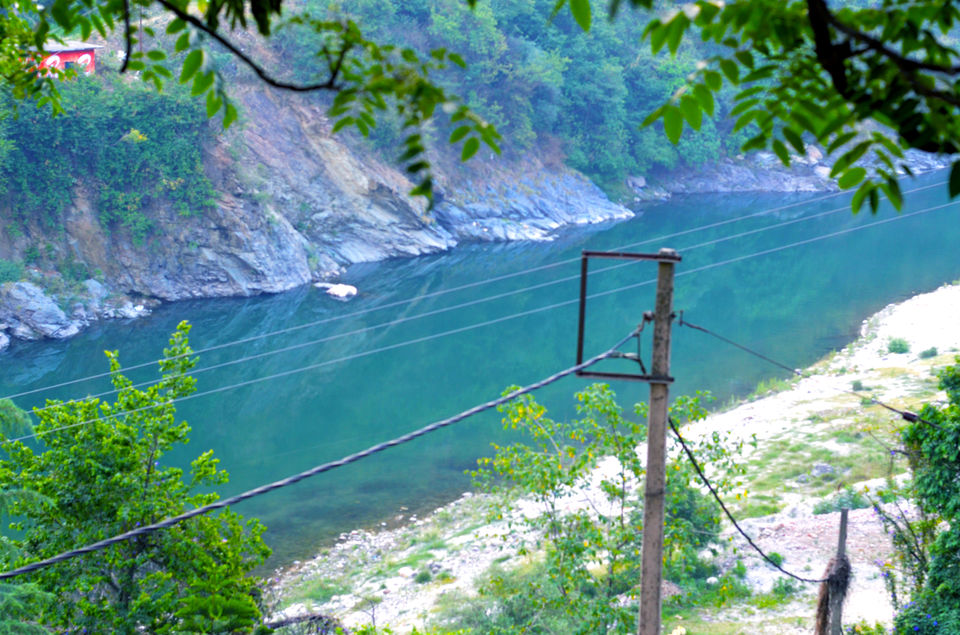 Things You Can Do in Mandi:
We stayed for 2 hours in Mandi. We sat at the bank of Suketu River and enjoyed the morning tea. There is a Gurudwara also nearby bus stand.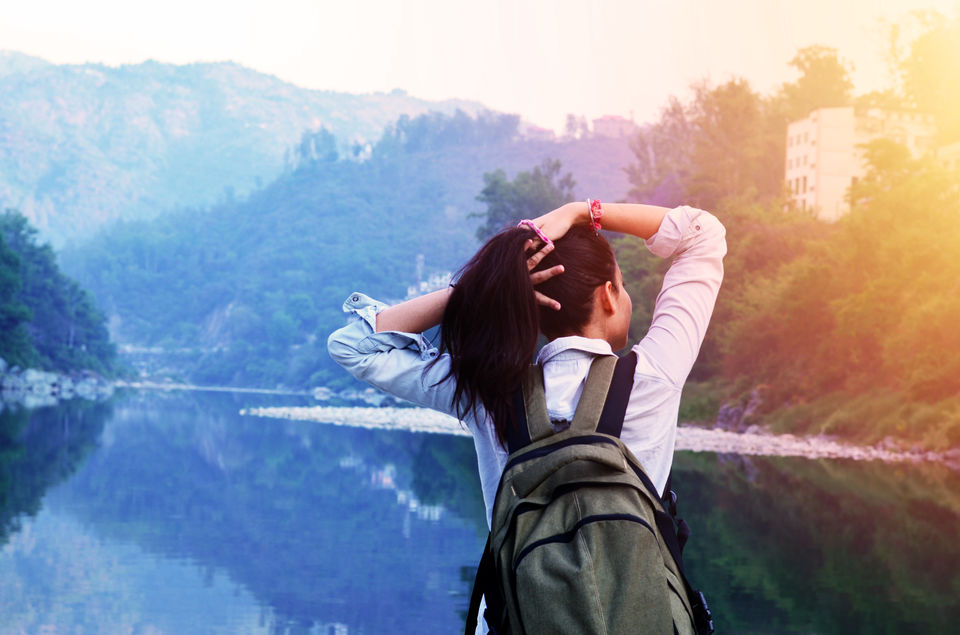 Important Information:
The plan was to get to the trek's base camp Baggi village.
TIP NO 2:
CONNECTIVITY:
Two buses can take you there:
1. The 6 AM Bus - It will drop you 3 km away from Baggi.
2. And, the 8 AM Bus - It will take you to the top of the hill, till Parashar lake. For the trek, you will have to get down at Baggi near 'Thakur dhaba'.
Thakur's dhaba is your only savior because there won't be anything available till the top. We ordered potatoes fries (pakora) and they were so delicious or maybe we were so hungry that we ordered a kg more.
D.K. Thakur 8894582008
The local bus journey was heart pounding at some points. We were literally 'living our lives on the edge'. The road was good most of the time but at some points it was rugged. I saw gravel falling off the cliff ( cons of sitting in the window seat)
Our bus initially had 3-5 women passengers. ( The solo traveler in me was closely observing all the points, how it would have been if my brother would not have been here and I was traveling solo)
I wanted to deliver the right information to budding female solo travelers like,
What things to keep in mind, whether to attempt a trek alone, or not?
TIP NO 3:
My answer to this will be- If you get worried or panic easily and have stayed all your life safe under your parents' protective shelter, then this trek might not be for you. It is better to start your traveling exploration with someplace more popular like, Triund.
Soon, our bus was packed, with all seats occupied by beautiful local ladies. The women here were so beautiful, that I couldn't keep my eyes off them. I wanted to click a few pictures, but I decided not to. The Introvert inside, won!
TIP NO 4:
Speak your heart out politely. If you want to click a picture, ask them. Do not resist yourself like I did. The natives here were very sweet and warm.
Finally, after 1.5 hours, we got down at Baggi and the trek started. It was not long before I started regretting the decision. Who the hell said it is an easy trek? I was literally cursing all those bloggers who were saying..easy hai, easy hai!! Aise Kaun Karta hai batao, Itna pathreela rasta! (You have to start the trek from this rocky patch, and it's very hard to find your way through this). All I saw were big rocks, it's like a dry river run. I have been on 3 treks before this and no trek ever welcomes you with rocks, there is a trail at least.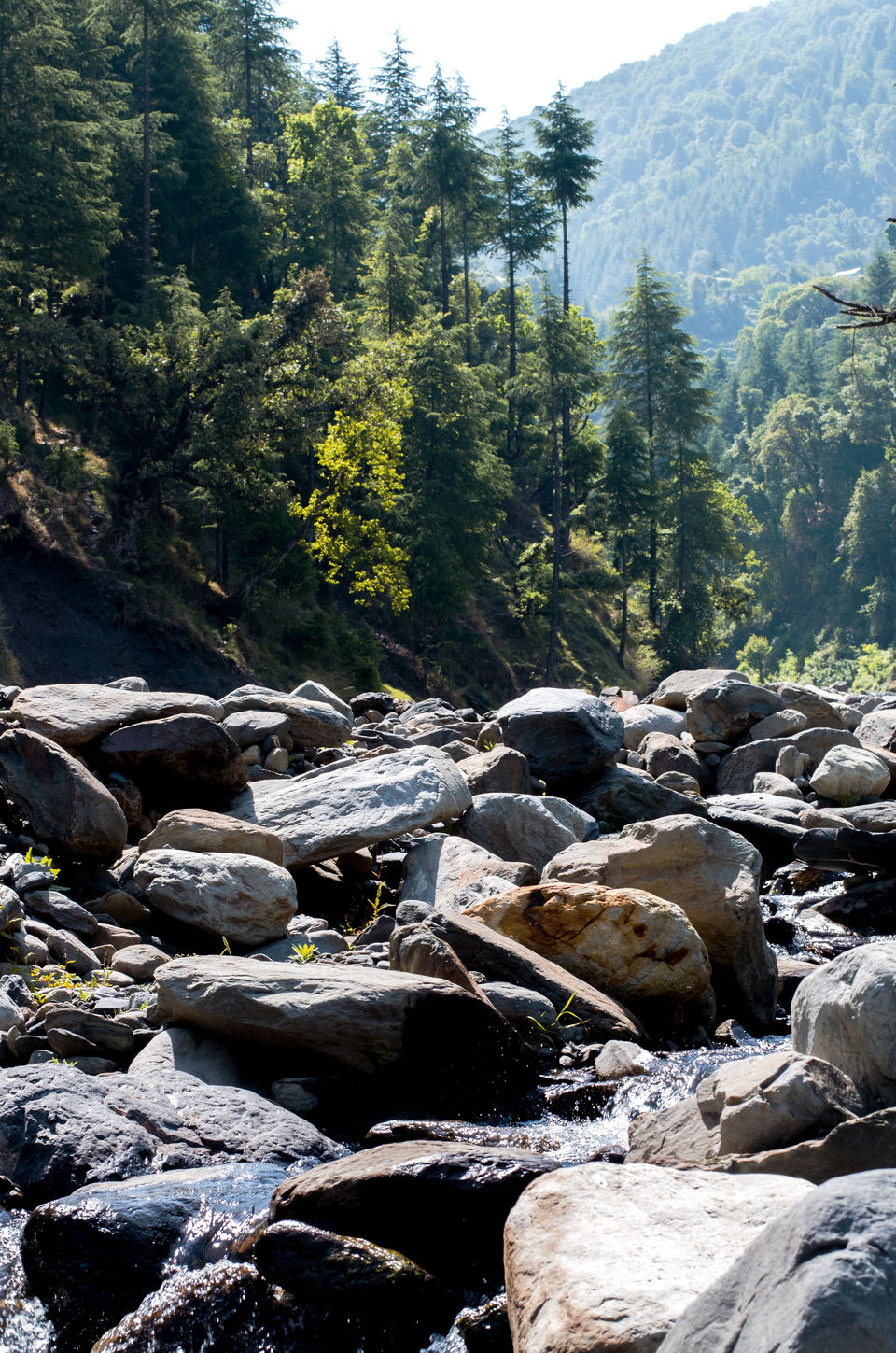 But there was a unique freshness and joy in the air- A wedding ceremony amid the mountains and the whole area was echoing with the sounds of their instruments.
Baraat heading to the Bride's house.
Okay now I get it; all those beauties in the bus were heading to this wedding. The venue was a temple at the top, hardly visible from down here. I mean wow! coming so far and trekking to the wedding. Nonetheless, it was a cake walk for them, 10 mins and swoosh they all vanished in the jungle.
Our only hurdle was that we did not know the way???? At 10 am, we began walking, crossing the rocks and asking the passersby if it's the right way.
TIP NO 5:
For first time or solo travelers who do not know how to pitch a tent. Better, hire a guide.
Time -12:00 noon
For the last good 2 hours, we have climbed and walked on all the wrong ways possible. My brother was getting too adventurous, he did not allow me to call a guide.
Everybody on the way guided us to follow the runnel (Nala). We were doing that but somehow we ended up choosing the wrong way. It was high time, I was about to cry because I had not informed my parents about this trip and I was already worried whether there will be a cellular network at the top or not. I dialed the guide's no and he was scolding us for venturing into the jungle like that and was asking for some landmark so that he can reach up to us. But we were surrounded by trees only. What I could have said?
We sighted a guy on the adjacent hill. We cried out for him and in next 5 minutes he was there, we made him talk to the guide. They conversed and he showed us a way to start with. But my brother was unstoppable that day, he again started to experiment. We were about to climb the misleading route when we heard some person's scream. He came running towards us. He said he will take us to the top in Rs 1000. He was an angel to me in disguise. We were not able to find our way, we needed hi!. Finally settled for Rs 800.
TIP NO 6:
Have contact no.s of local guides and guest house with you (find some of them at bottom of this post)
TIP NO 7:
There are no arrow markings or trails. If you are a pro-trekker, you can avoid guide. Otherwise, IT IS ESSENTIAL TO HAVE A GUIDE.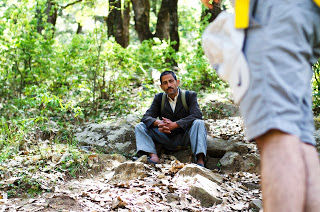 Meet Mr. Govind Ram, a local who owns a farm and is a part-time guide to the lost travelers like us.
It is actually 'NOW' we commenced our trek !!
On the way, we spoke about how he spends his day, stories about the lake- How once a lady diver came, how villagers used a rope to measure the depth but there was no end to it.
He was a simple man with a cheerful heart.
TIP NO 8:
WEATHER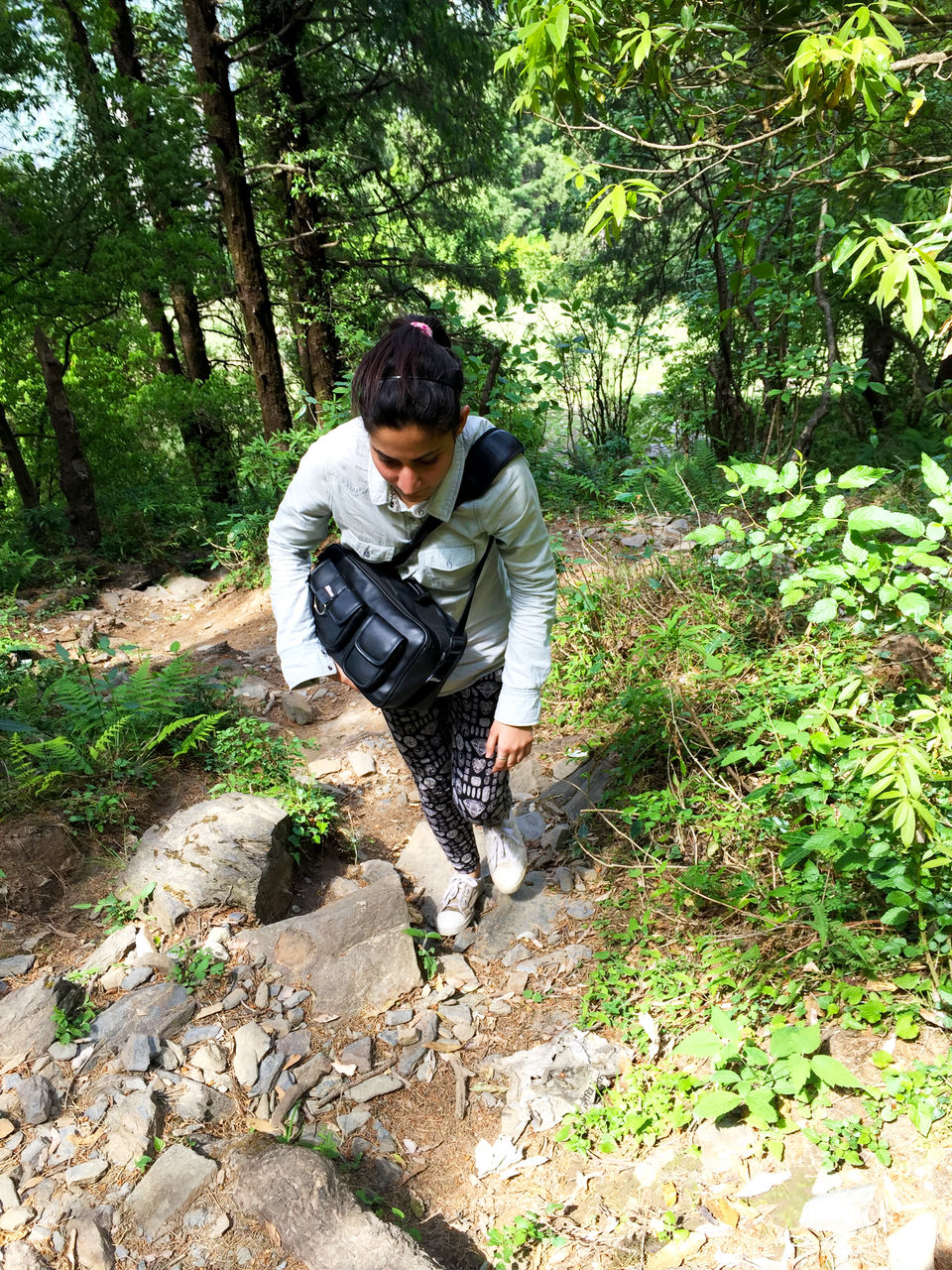 Sunny, must be around 28 deg C in the month of May.
Though you can trek anytime during the year I would recommend a winter trek when it is covered in snow. Dec-march (it is closed)
The Island looks mesmerizing in summers also but I think it will look grand when covered in snow.
There is an annual fair also amid the Parashar meadows in the month of June. It is a 3-day festival celebrated 1 day before Sankranti day. According to the stories, the local deities come and attend the ceremony. So it holds a lot of significance for the followers. The scenario is entirely different at that time. The place is full of devotees and culture enthusiasts.
TIP NO 9:
Choose the time of your trek wisely. Even a not so hyped place can look extremely beautiful based on the time you choose.
WHAT TO PACK-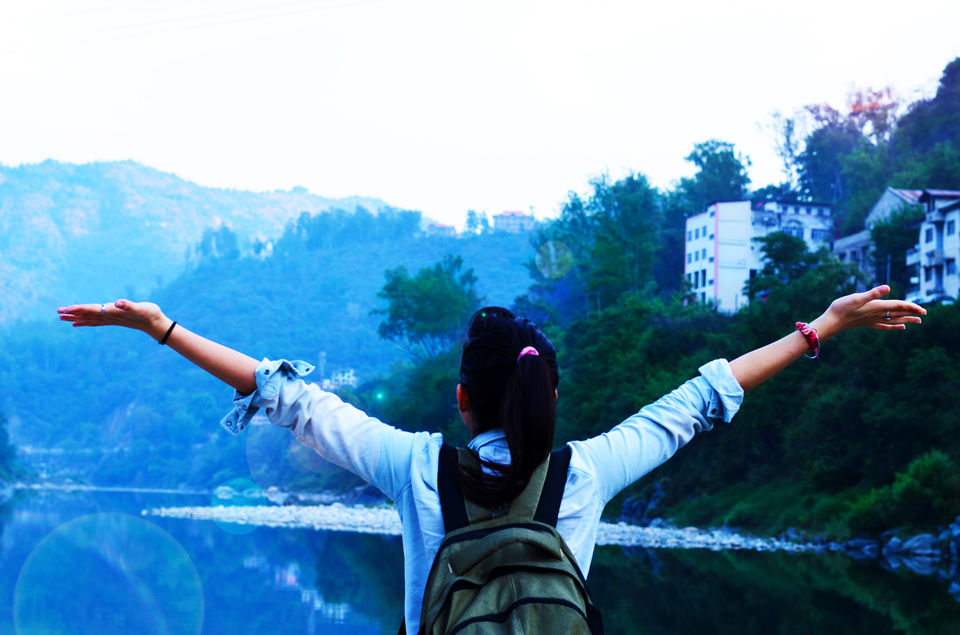 Loose-fitting cargo or shorts.
Chances of getting tanned are high, so full sleeves would do good and sunscreen is a must
At night it was windy and cool- Jacket, cap, and gloves are required.
Medical kit
ACCLIMATIZATION & FITNESS-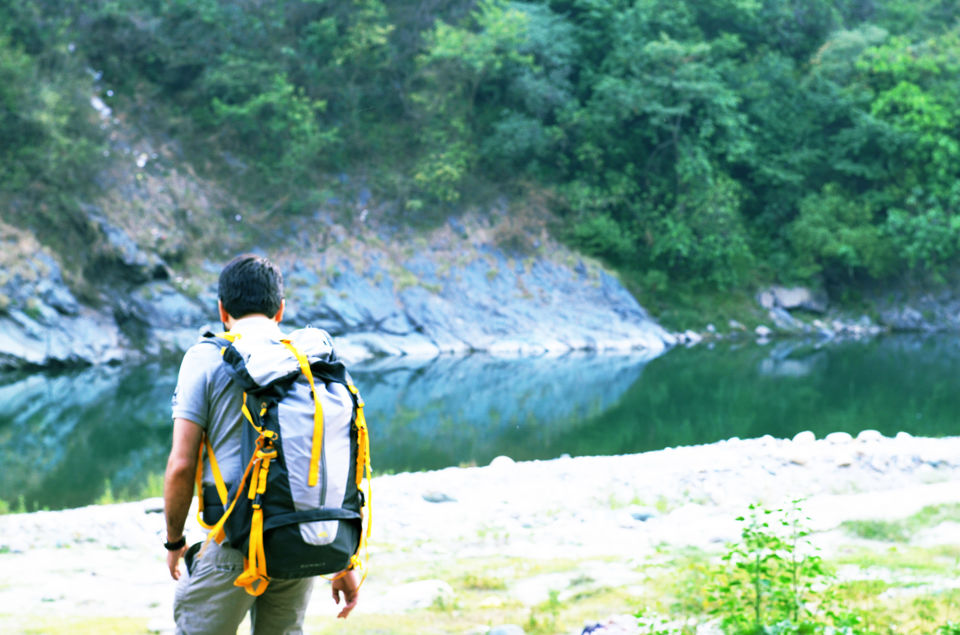 Basic fitness level is required. You have to walk up for 3 hours.
Cellular Network-
Airtel & Jio- Good Coverage up to 6 km.
In the last 15 mins to the destination and the network will fail.
There were very weak signal at a few places at the top but won't last for more than 2 mins. Only BSNL was working fine.
STAY-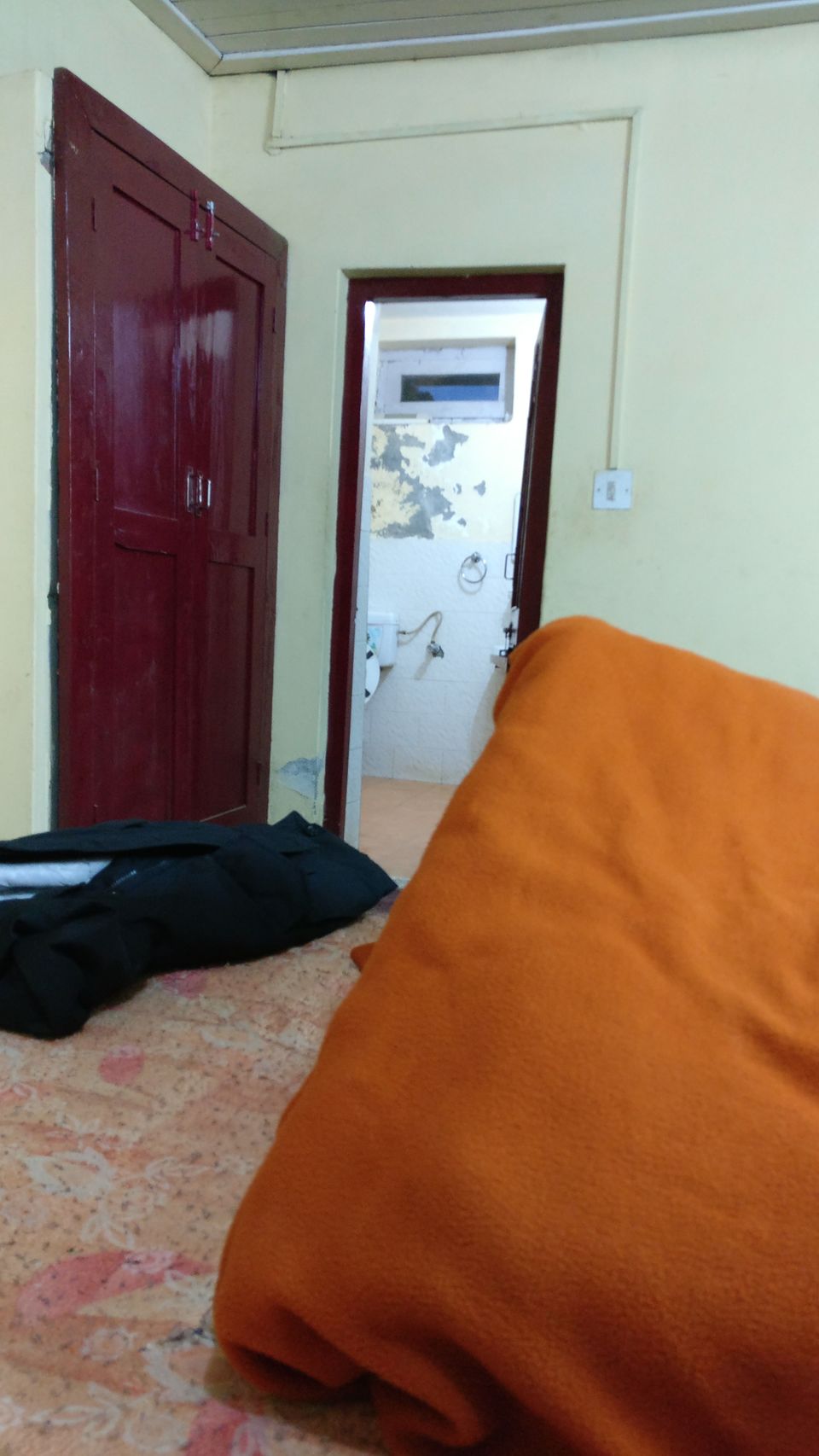 This was our FRH Room
Either you set up your camp near the lake or stay in the rooms provided by the temple admin (Saray).
Otherwise, you have to travel unnecessarily from FRH to be near the lakeside. Booking needs to be prior to your visit. I did it just a day before.
EXPENSES:
It is a super under budget trek. Anybody can try it with meager savings.
The Trip costed us approx 3500/- Indian Rupees only. The distribution is as follows-
Volvo Bus Tickets- 2400/- approx.
Food while leaving from Delhi (McD), Chai, Maggis, Chips, Juices, Pakode at Thakur Dhaba, etc- 500/-
Then there was no cafe on our route.
Bus from Mandi to Baggi- 50/- for 2 person.
FRH Room Price- 400/- including food, though we neither stayed overnight nor had our food.
But taking cab to Kasol was our call! There's no need to do it. You can stay there overnight, gaze at the stars and witness the sunrise.
Comparison with Triund Trek-
We walked through the dense woods in Parashar.
The trek was bit steeper. Triund was having ups and downs but here you will find only ups. The path was covered with leaves which were making it slippery.
View-wise, Both have their own beauty. But the Dhauladhar range in Triund trek was more enchanting for me.
Triund had more footprints, almost 5 times the Parashar trek.
Learnings from this expedition-
I used to believe that 'lonely places are awesome. Avoid people'.
No matter how much we hate cities, we have created them because we wanted them. For me, a place should be mildly crowded with a considerate and well-conducted lot or my friends that's it, I will be having ultimate level of fun there. But again everybody has different judging parameters. Some prefer solitude and scarcely populated place.
HOW TO BOOK A GUEST HOUSE-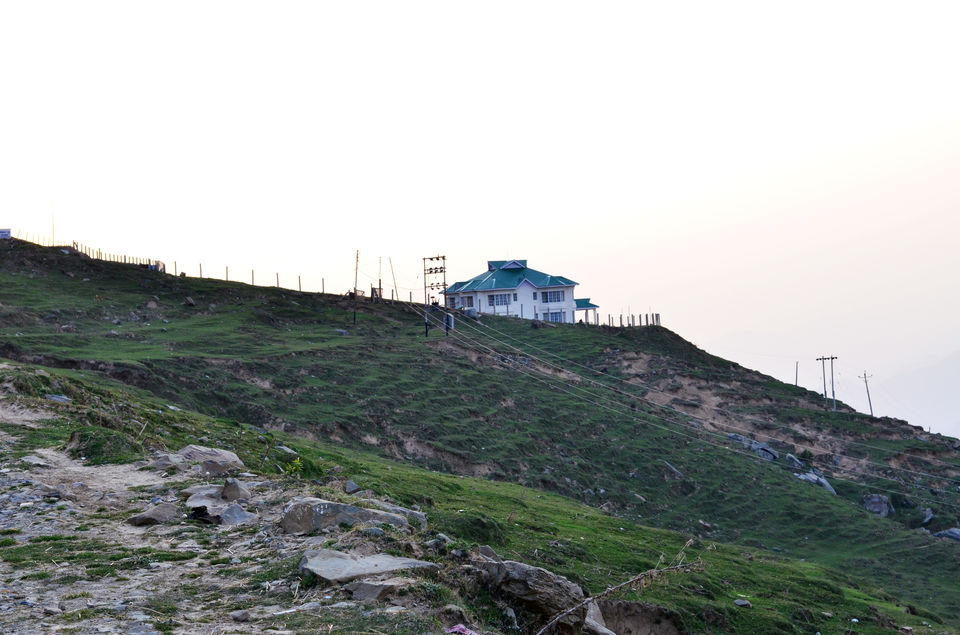 There are two rest places-
PWD Rest House- 8219958452
Forest Guest House- 8219432226
The price will be nominal.
When we reached PWD and we were welcomed by the "No room's available". I mean what the... I have done my booking yesterday only and the entire guest house was empty.
After 15 mins of discussion, they sent us to the forest rest house.
Public Guest House
I took a bath, the water was freezing cold but it refreshed my senses and all the exhaustion was gone. We then headed to see the most awaited lake which is about 0.5 km from there. (Pic Below)
On the way, there were many cab drivers who were waiting for their customers. I already told you that it is a motor-able road till the top. We inquired about the rates to Kasol. Because I was getting panic attacks, my parents must be calling me. But they were charging high (5-6k).
The view of the lake was stunning. The mysterious 'floating island' a big patch of lush green grass.
In the temple, they offered prasad- rajma, chawal, and kheer! It tasted great I was hungry, we had eaten only pakodas since the morning. We also tasted Maggi in the dhaba as it is a kind of ritual to have a bowl of Maggi at the top.
But I didn't like it because the taste of paneer ruined it all.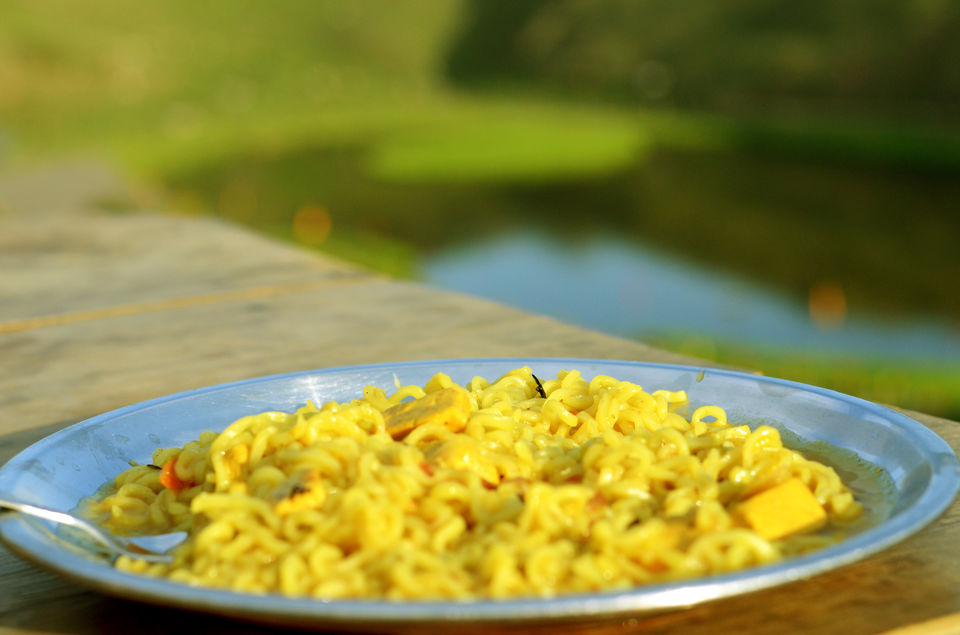 General rules of staying there-
Drinking & smoking are prohibited in the area.
But one group in FRH were dancing like drunkards with woofers in their car. But don't even think about it near the lake area. Rules are made for a reason. Don't think it as some spiritual belief but if they would allow these things there it would really become a mess like Triund becomes every morning. You see hundreds of bottles and cigarette butts. This weight of yours has to be carried down by the helpless mules. If you want to do it, go ahead but take responsibility for your own shit. When you have the power to take it with you, have the capability to bring it down as well.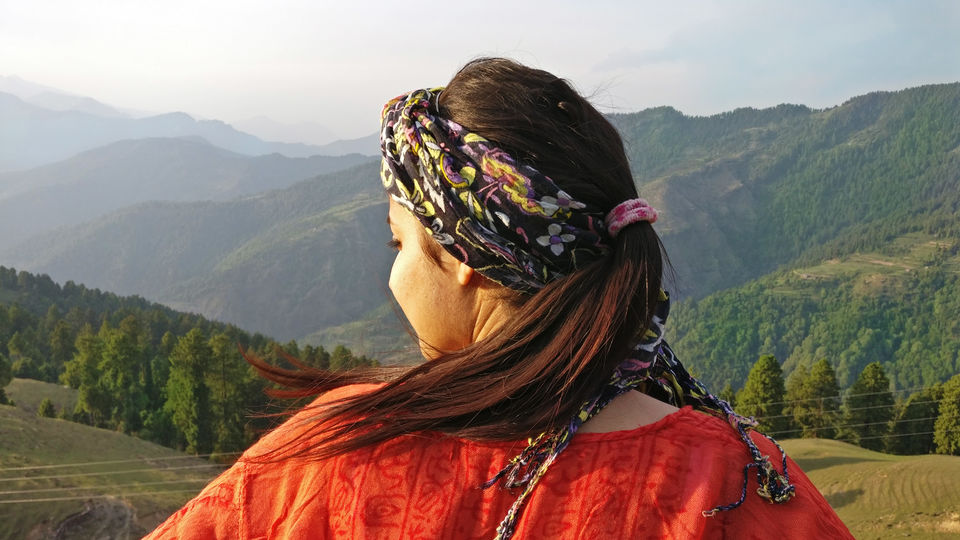 More about the place:
The place was quiet. Again a realization dawned on me. I love people around.
It is not I want the whole crowd to be there. Just a few close friends that are it with whom I can enjoy and sit quietly and meditate there.
On our way back from the lake, we wasted 1-hour calling cab drivers since there was no network. With very feeble signals and a lot of discussions with cab drivers, one agreed for 4500 to Kasol. The time was 6:30 PM- the sun was setting.
There is an option of paragliding as well. We met a guy who is a part-time driver and part-time paragliding expert, taking 3 girls to the site.
At 10 PM, we were skeptical whether any taxi will come or not. I had my reasons and my brother had his own reasons to not to stay over there.
It became dark. I made up my mind that I am screwed now. We made our call to the driver using guesthouse care taker's phone, only BSNL was working there.
The driver arrived at around 11 PM and I was more than happy. I hastened, clasped my bag and hopped into the car.
The road was vulnerable and unsafe to travel at night, it was full of gravel and rubble that despite being so tired I had to continuously see whether I am alive.
The driver was also continuously lecturing us I don't understand what fun people get in this- Life hai to jahan hai..Don't you love your family? There are wild animals outside, he saw leopard twice. I spotted a fox myself. According to the locals, bears are also common there.
At 12 PM also, people were coming up in their cars, Kudos man! One group dared to bring Mercedes on that road.
I don't know when I fell asleep and it was so divine. the moment I used to open my eyes I found myself laying on the entire back seat and my brother glued to the door. Next, when I got up I saw descent roads. I thanked God I am still alive. I know it is nothing as compared to roads to Spiti or Leh but still, it was a dangerous one. Our driver also was driving since the morning from Rishikesh. Hats off to him!
At 2 AM, we reached our destination- Kasol↖↖↖↖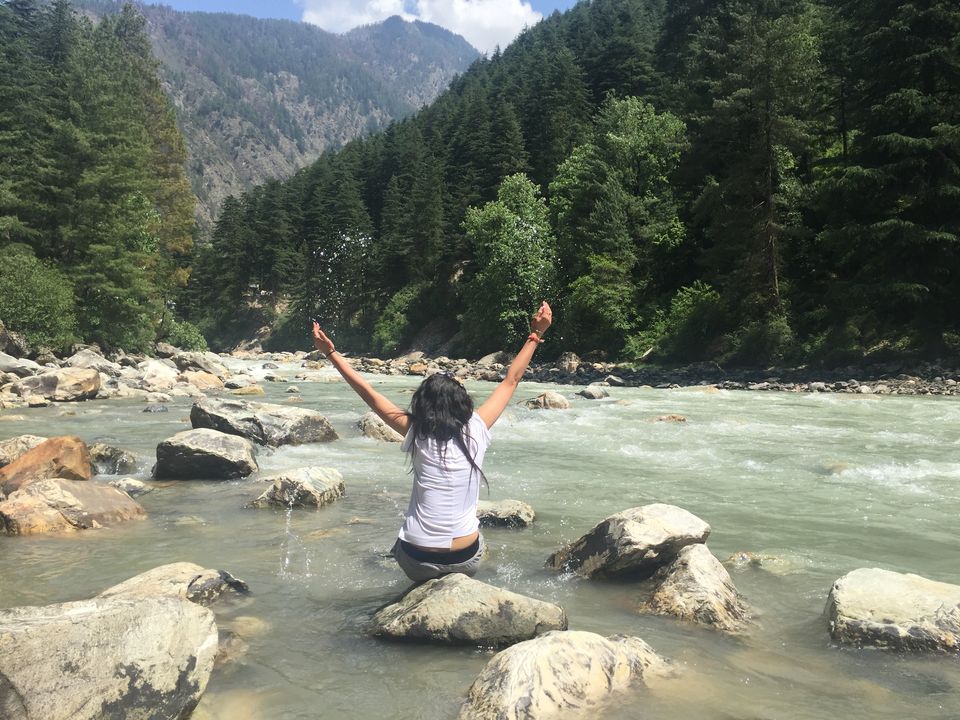 I had taken an inner pledge that this is the last time I am coming to mountains it gave me so much of Adrenalin rush in the day 1 that I will be living peacefully for a few months now in Delhi.
I still laugh at myself, how scared I got that time no network, scary broken roads! and then next month I went for a trek again.
It is like an addiction ONCE YOU TASTE IT THERE IS NO BACKING OUT !!
The complete trek of around 3.5 hours. We took a halt at 4-5 places of around 10 mins to rejuvenate ourselves so that we can move faster.
There were no people apart from us.
Imagine !! what would have happened to me hadn't I convinced my brother of taking a guide along.
We would have definitely completed our trek in 7-8 hrs min or even maybe not.
The issue is not getting lost in the jungle. The thing is how well equipped and prepared you are?
You can't head out in an unknown land without some basic gears. It is not having fun or being adventurous, it is called being stupid.
And, LOL I was going solo !! I would have returned to Mandi from Baggi only.
Some Useful Contact Numbers:
Govind Ram Parashar Lake Guide- 9882188026
Anonymous Guide's No- 9816278509
Vir Singh (Forest Rest House)- 9459137877
Guest House- 01905235360
Enjoy the pictures: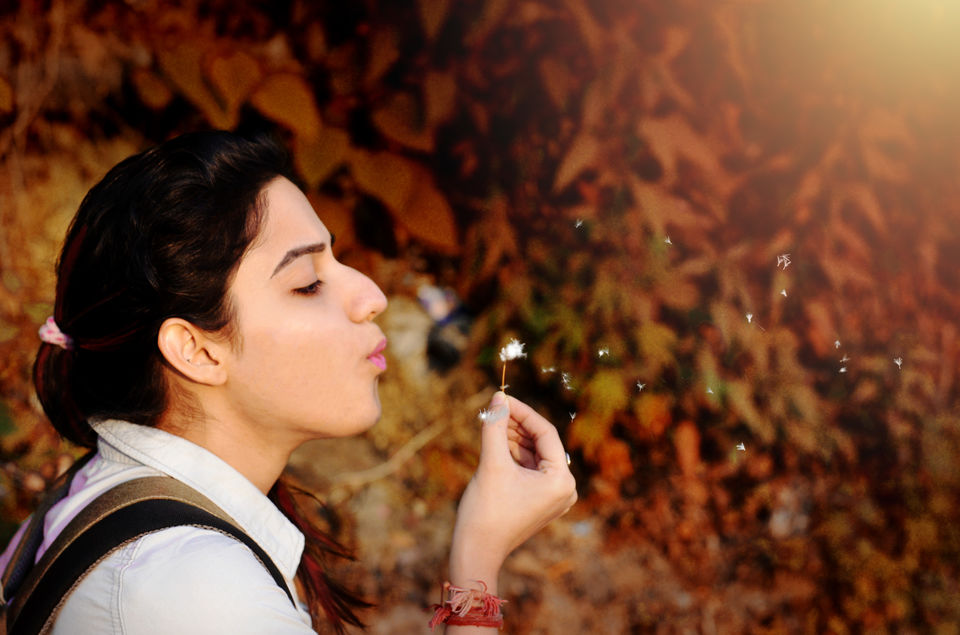 Blowing Dandellion has been my favorite pastime since childhood !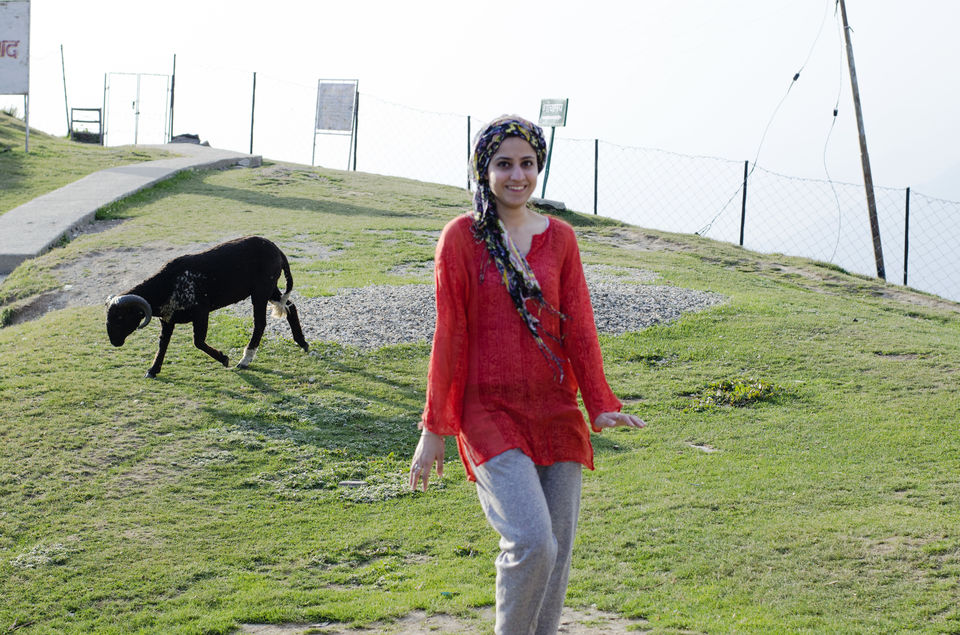 One sheep came running from nowhere, scared the shit out of me :D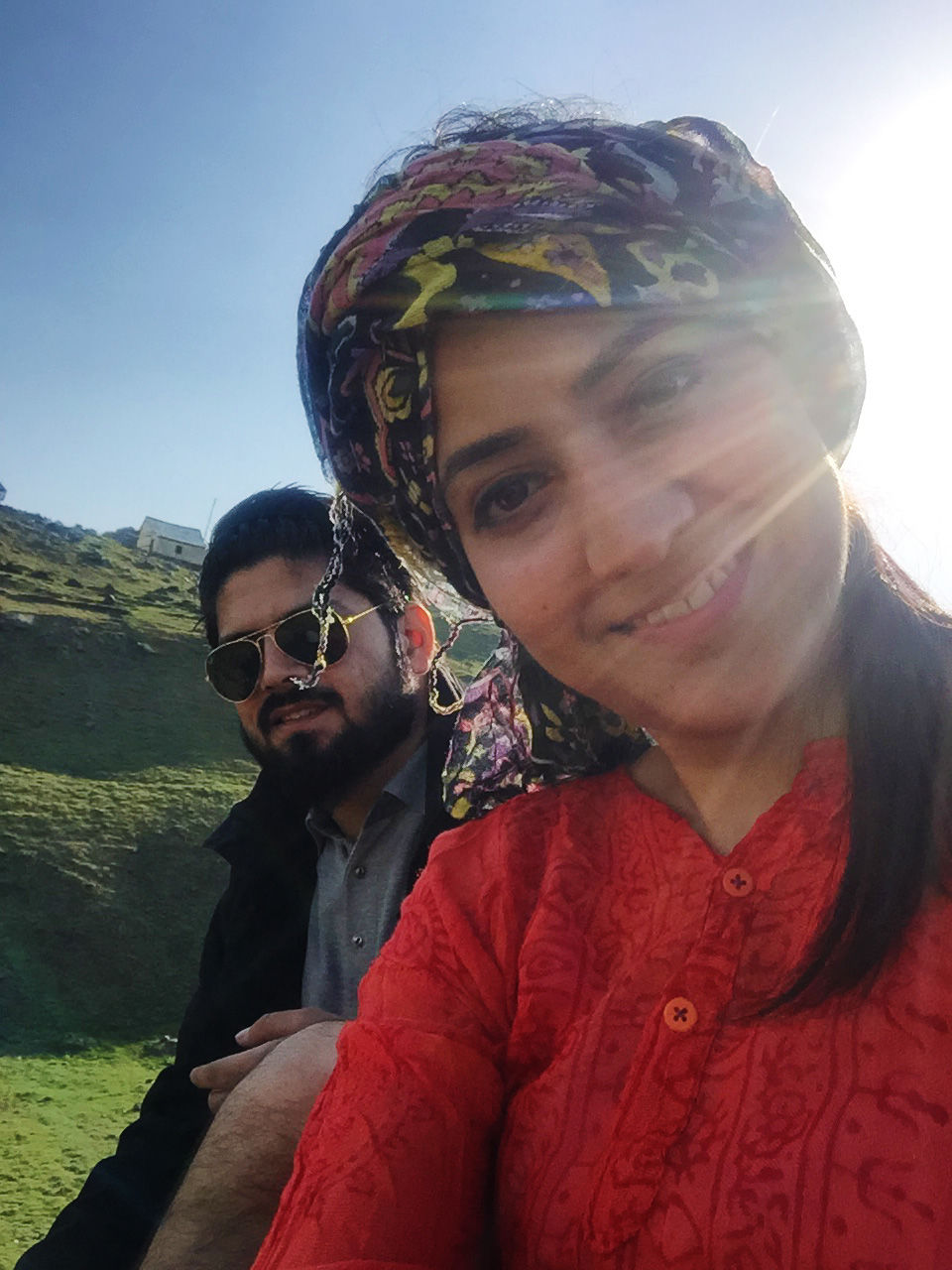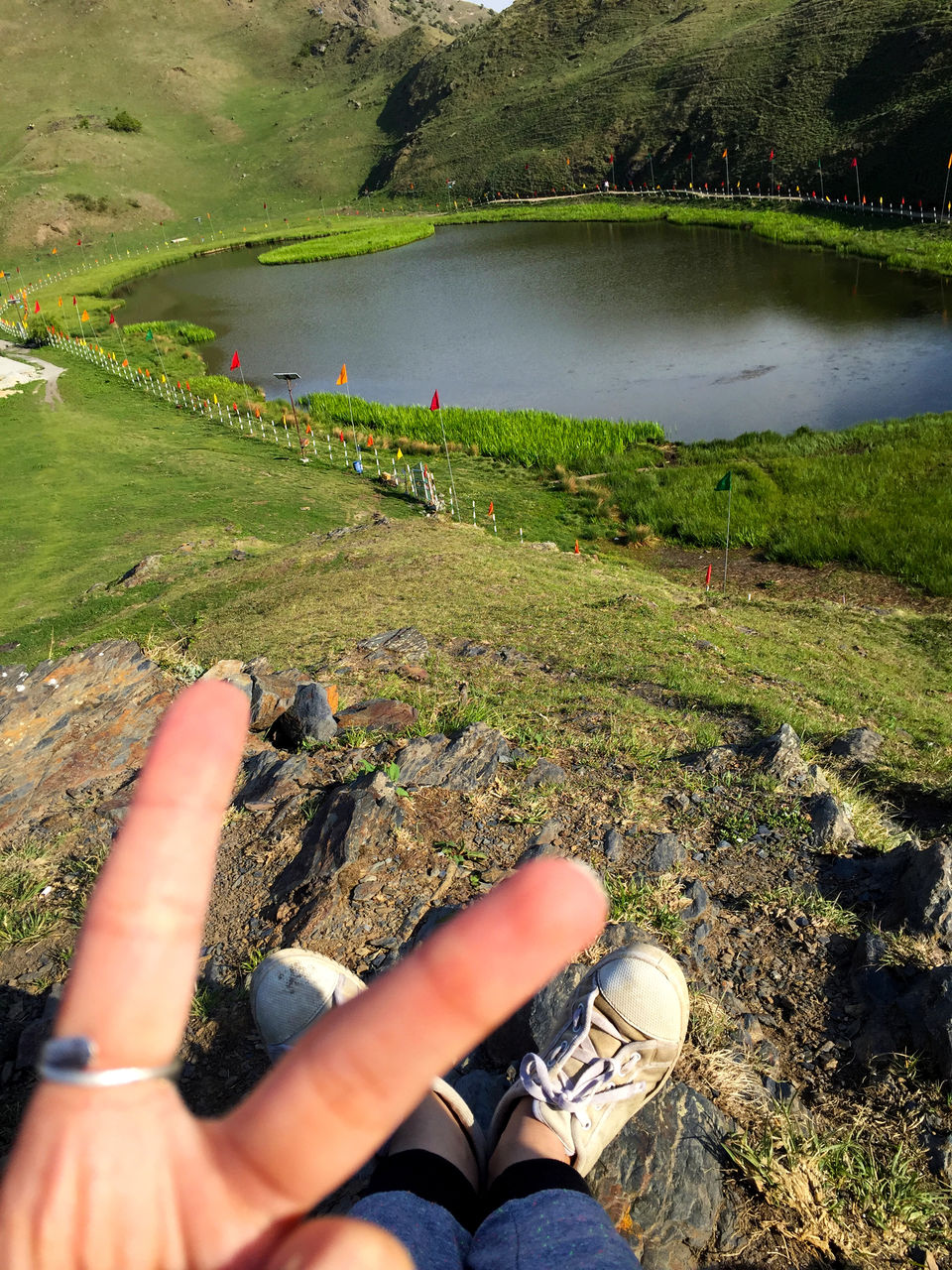 Another Day, Another Peak!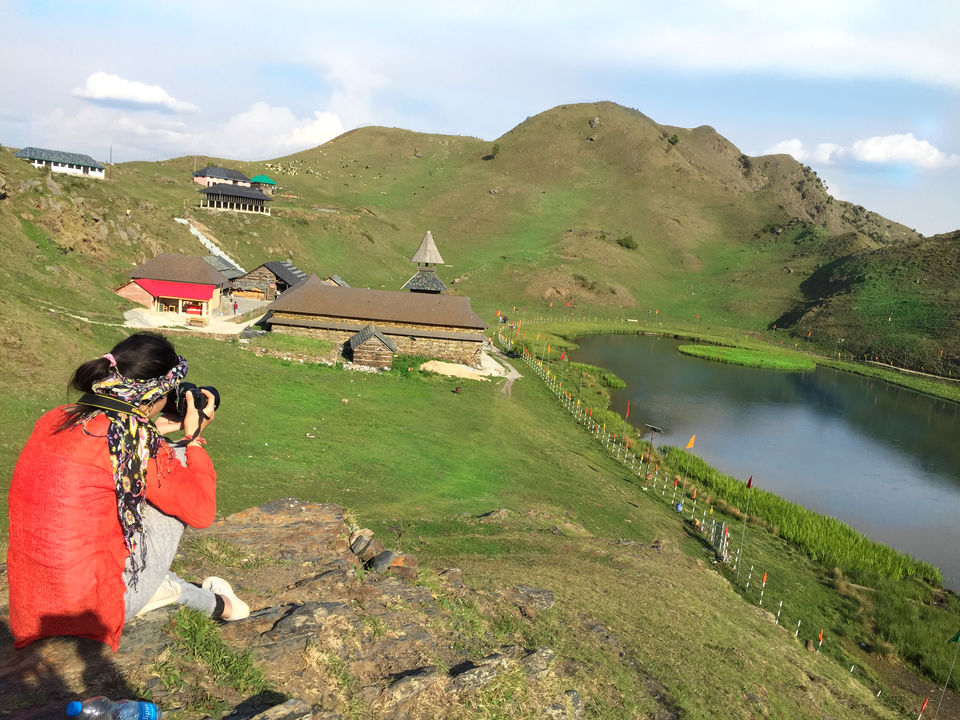 You think you know it but someone knows it better than you :D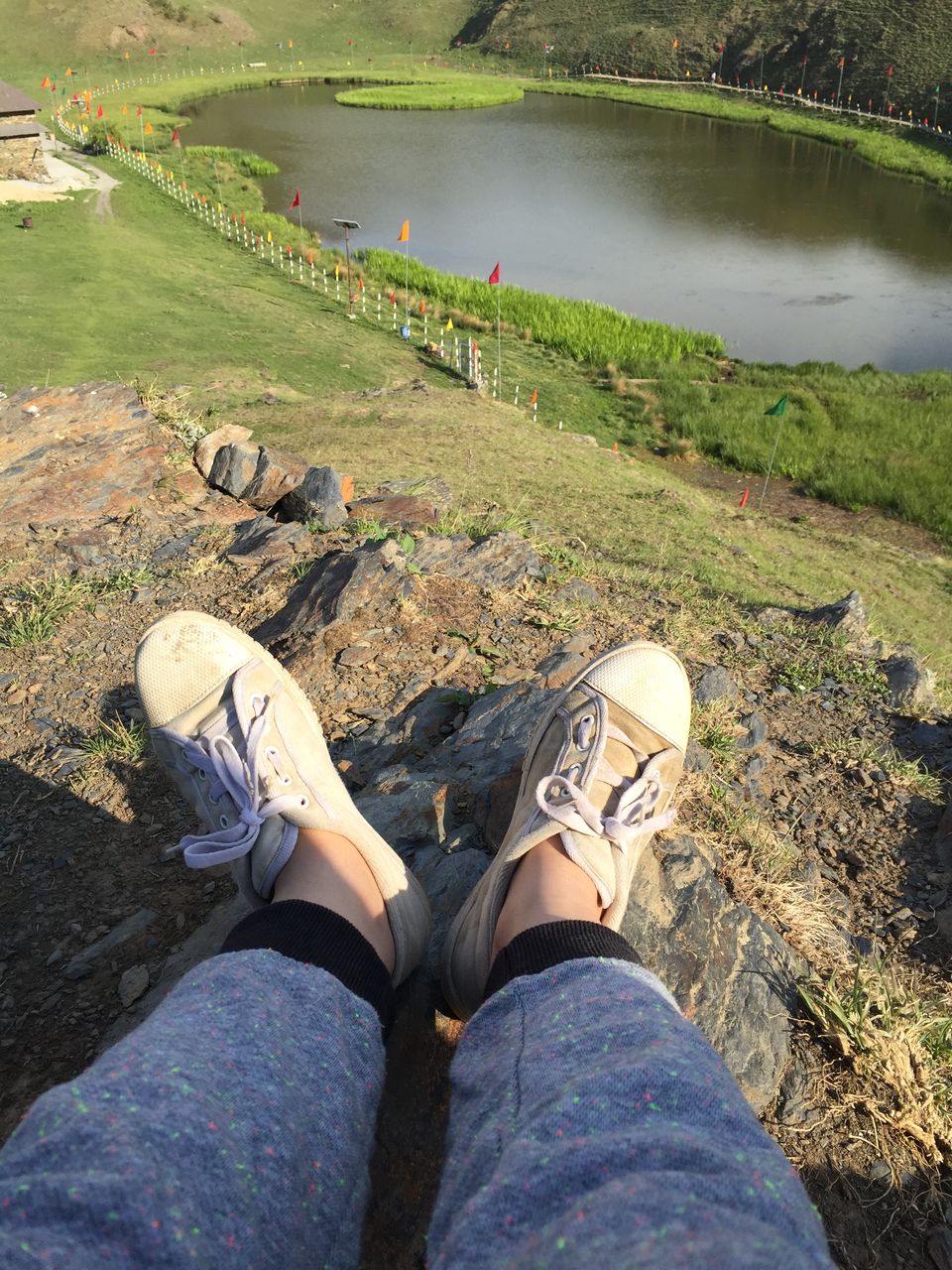 When The Color Of Your Shoes Has Got A Lot To Say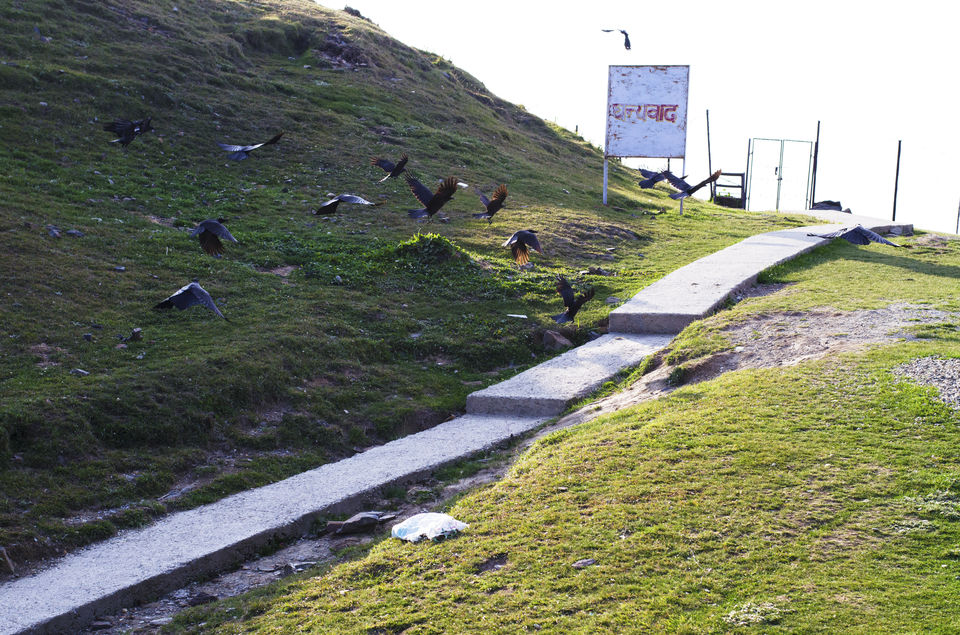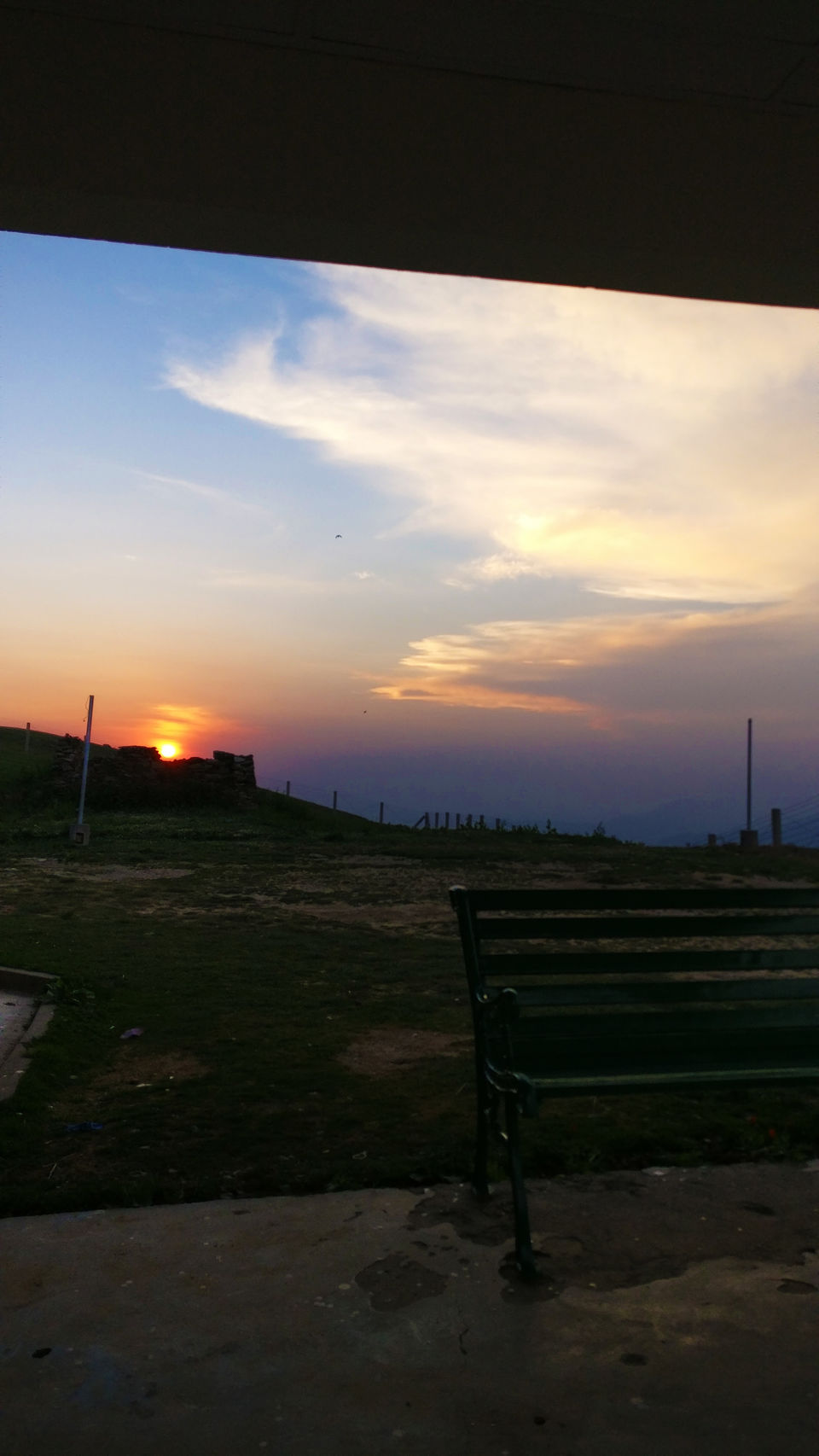 Enjoy Sunsets while sitting on a bench
Did You Like My Post? Don't forget to share it :)
Do share your traveling experience here in the comments.