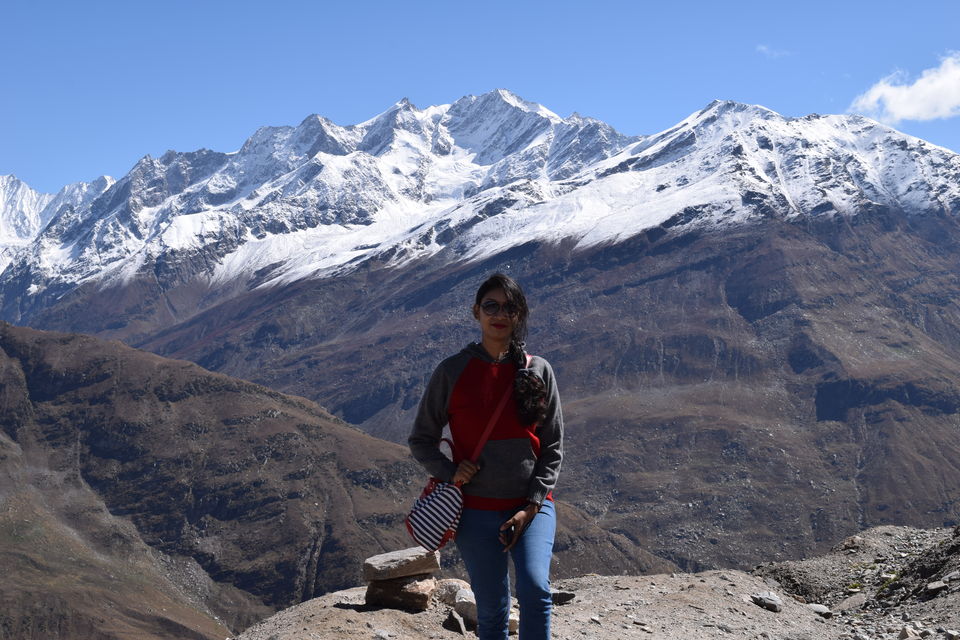 Continued from Day 1
Itinerary Day 2.
We booked a cab for Rohtang from Govt authorized Hiamchal Taxi Operators Office a day prior to Rohtang visit. Advisable to book from authorized operators who charge reasonably and drive responsibly. To know what all we explored on first day, read here http://bit.ly/2uojHb3

Though we were a little disappointed on learning about the ban of snow activities, yet we were geared up for the next day trip to Rohtang Pass, 51 km from Manali. Since snow had not touched the lower hills, we did not rent snow dress, which otherwise is a must have during heavy snowfall. Negotiate for your dress cost in the market, which may range from 200 to 500 INR per person. Do not rent from shacks just before Rohtang.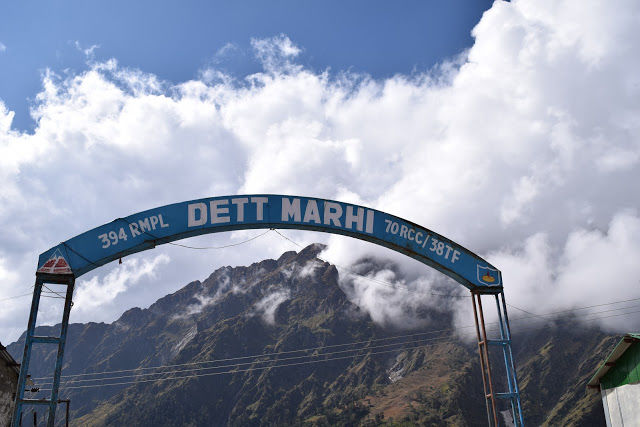 Snow clad hill tops, clouds in the way, lush greenery and beautiful waterfalls added sparkle to our journey. Apart from the fixed rate of taxi, we additionally paid a toll tax of INR 50 only. (No driver should charge you more than this). The entire route is maintained by BRO (Border Road organization). The curvy roads, at times bumpy and at times smooth, pass through village named Marhi, which is the last village before Rohtang. Recommended to buy eatables or have meals here, since there are no shops in the 15 km stretch till Rohtang. The village has a Tibetan Temple which is a good place for photo opportunities. Pic courtesy- Hubby :-)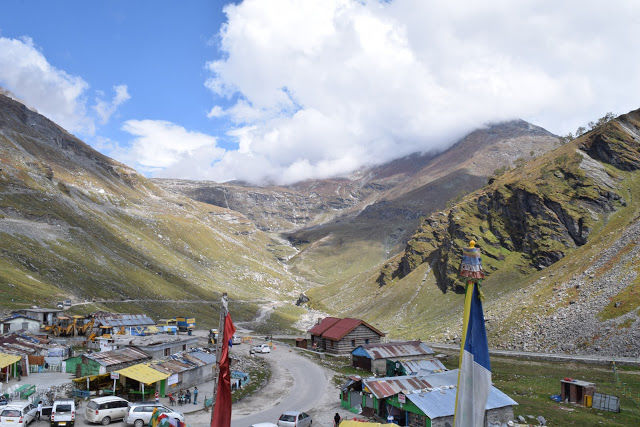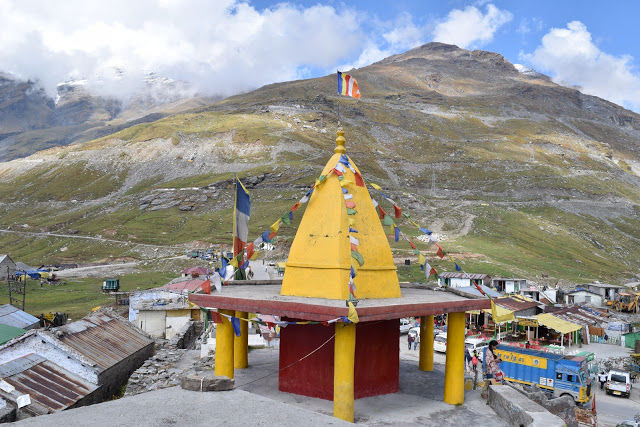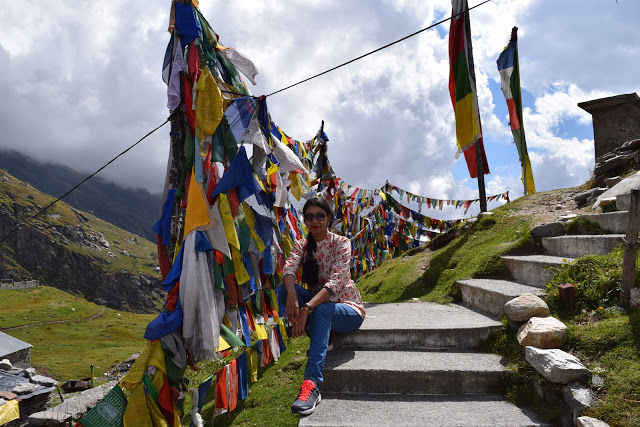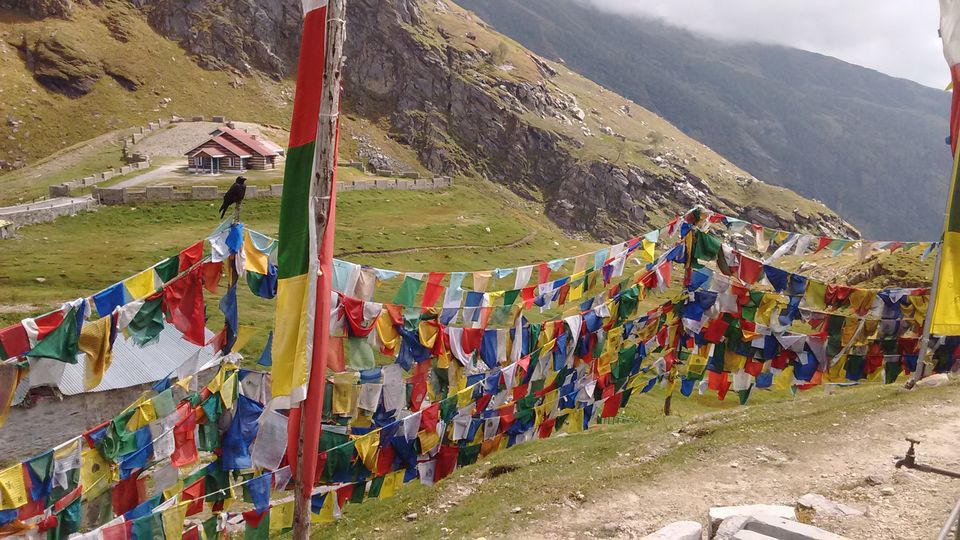 As we touched Rohtang base, frozen winds hit our ears hard. We trekked towards the snow top braving the rocky steeps. Wear gripping shoes, warm clothes and do not carry heavy bag pack with you. As oxygen levels are low in mountains, you might feel dizzy, breathless or heaviness in chest. Its 14000 feet above sea level after all. Advisable to trek up slowly with short breaks in between. Do not forget to sip water in short intervals.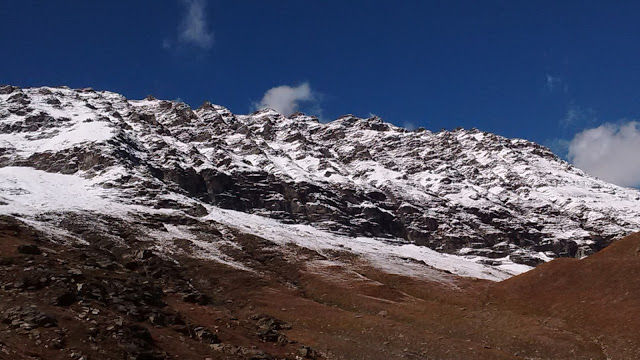 Snow falls up to a thickness of 12 feet in peak season, making it practically impossible to trek up. We were lucky enough to trek in off season with good visibility and comparatively warmer weather. Trekking tests your endurance and gives you an unforgettable lifetime experience. When you see the clouds playing hide &seek with the Sun, mount tops painted with snow, plush green hills disappearing in foggy blanket, herds of sheep grazing, massive yaks walking past and vibrant hues of mountain plants, you start wondering how much nature has in abundance to offer, which we are ignorant of! The mesmerizing experience gives a shudder in your body. You feel as if you have discovered something substantial or perhaps the substance of life. You suddenly want more; want to break free and carry on! At least I felt so. While hubby faced a little difficulty in hiking up, he patiently went ahead, beyond his limit, just to accompany me. Such activities bonds people stronger, trust me!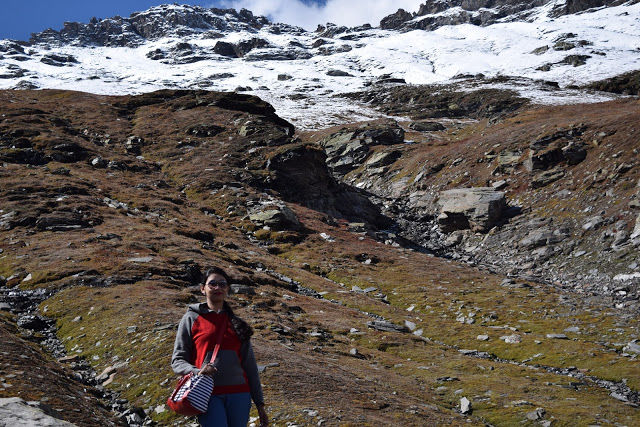 We halted at multiple spots to catch our breath, sip water and watch the beauty around. It feels out of the world. Every halt that we made felt like an eternity and we only wished time could stop. We relaxed, soaked in the warm sunshine, breathed in pure air and kept moving towards the zenith. Seeing the locals and other mountaineers trekking to the snow point, gives you a kick within. I wanted to go on, but stopped, as higher altitude multiplies the risks. Also, hubby was tired pertaining to less oxygen level. He was almost out of breath.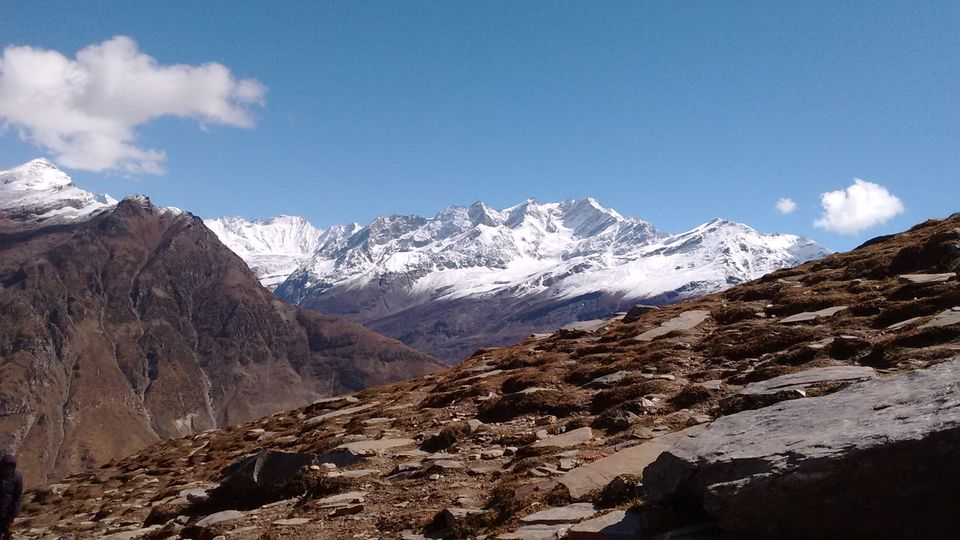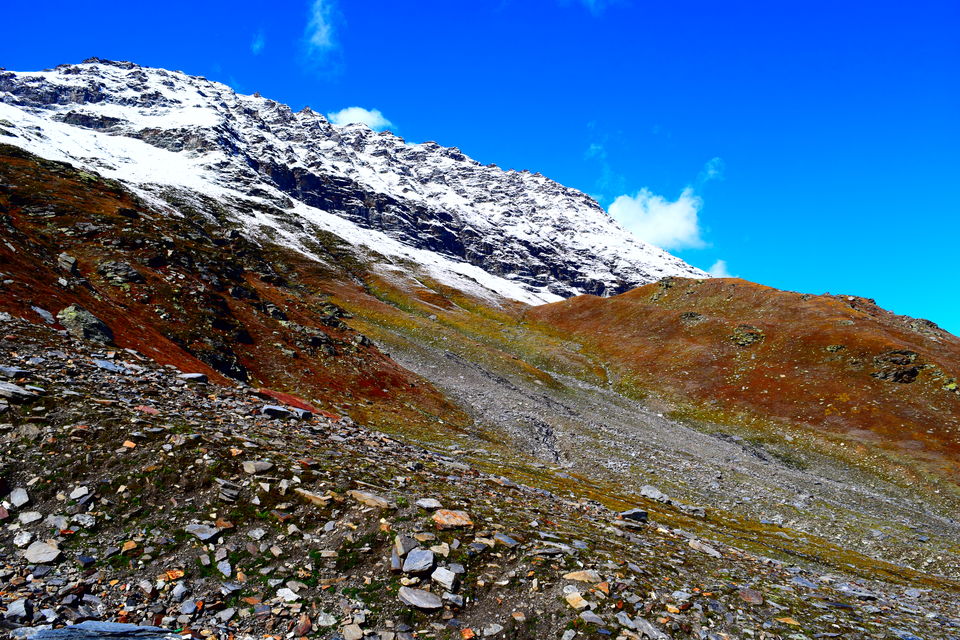 For many, descending seems an easy task. However it is MORE difficult than what it looks like. While descending, your legs bear the maximum force to control and balance the body. Applying brakes to legs is more painful and difficult hence. Only good shoes can save you in such case. Be careful while stepping on stones for they might be slippery. The risk rises during snowfall. Expert guidance is needed there.
I enjoyed the journey to and fro as much I loved the trek to the peak. The entire experience gave me a different perspective of life. Following are the pictures that I took on the way to and back from Rohtang.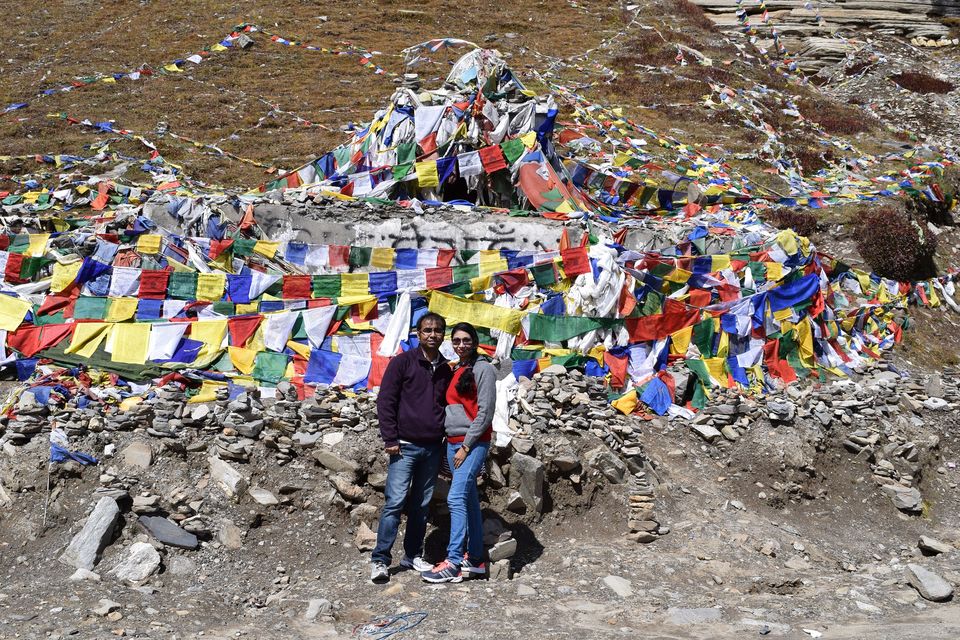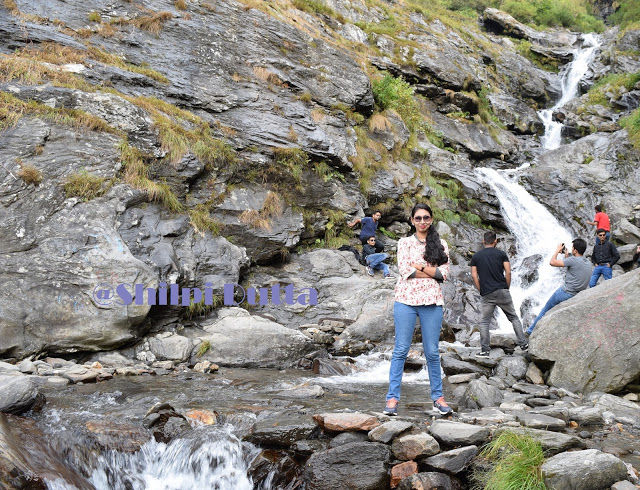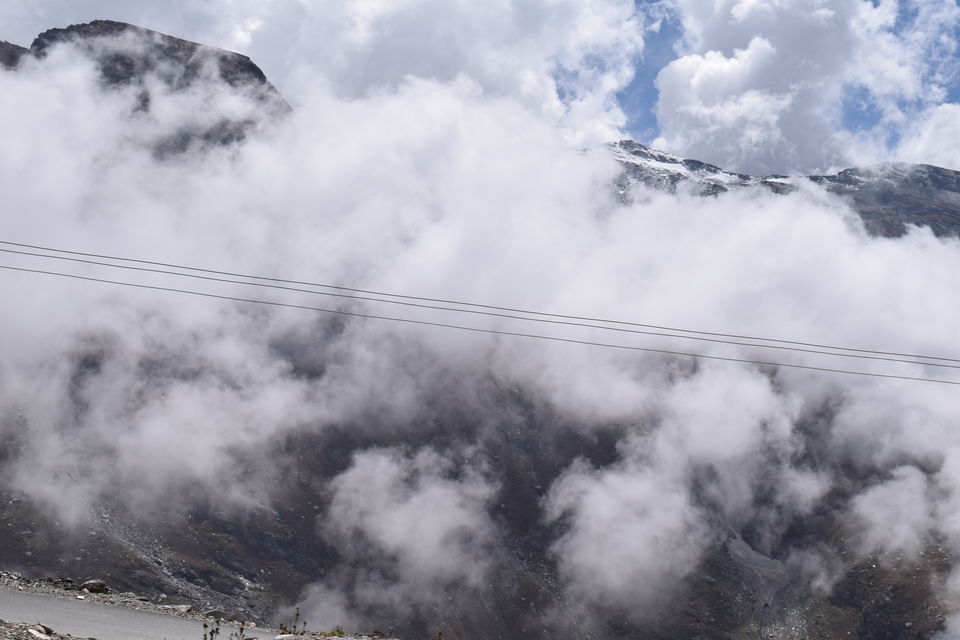 Rohtang is an easy trek for beginners. One only needs to be alert and careful while trekking the mountain, especially when it snows. I finally ticked off Rohtang from my bucket list but do want to visit again.