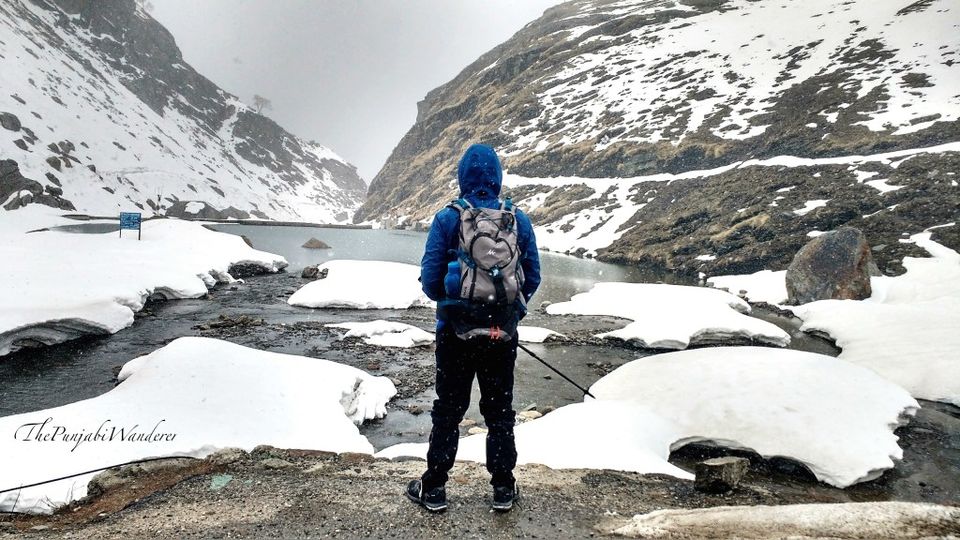 This is an overview of my journey to Rohtang Pass from Delhi. It costed less than 5k per head and was concluded in 3 days. I took the trip in the first week of April, 2016.
Day '-1':
In a bid to flee from the dust and pollution of Delhi, I decided to march to Rohtang on foot. Additionally, the road-routes were shut for tourists, which meant I could get to see virgin snow - and that too sans the noisy crowd.
After booking the last available ticket in HRTC Volvo, I called Paahul (a friend) to brag about the trip. 30 seconds into the conversation, he asked me to tag him along :). So, I had to cancel my previous ticket and book two new ones in a Private Volvo.
Day 0:
9:00 PM: The private Volvo was supposed to start from outside a cinema hall, located next to Kashmiri Gate ISBT. But it was running late by an hour. Since HRTC Volvo is always punctual, I regretted cancelling my sarkari Volvo ticket.

Although I was anxiously waiting for the bust to start, a movie poster stuck on the theater's wall kept me amused for a while as I wondered if I should skip the trip to catch the movie.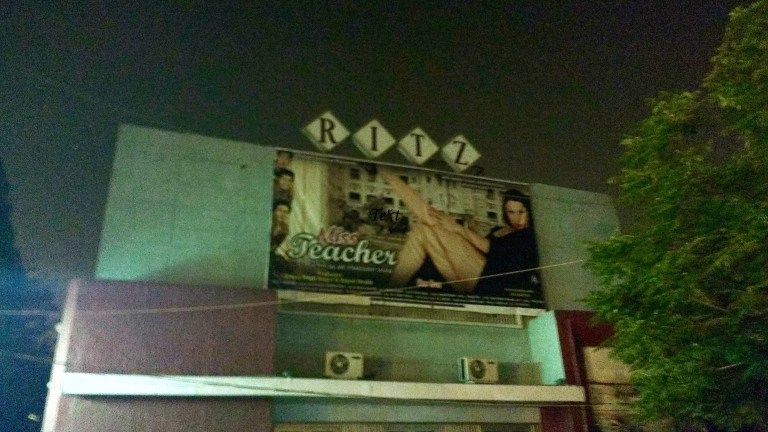 Day 1:
2:00 PM: We reached Manali (Himachal Pradesh, India) after a 16-hour long journey, which a sarkari Volvo would have covered in 12-14 hours. But the mind-blowing view from the private Volvo parking offered instant consolation.
*** Pro Tip: Always choose the sarkari Volvo over a private one. ***
2:05 PM: While sipping tea at a tea-stall beside the Pvt. Volvo parking (which is outside the city), we got to know that the stall owner's son Tuleram, was a trek organizer.
The guy told us that the trek began from 'Kothi', which is situated 20 minutes from Manali. So we hired an auto and reached Manali bus stand.
2:20 PM: Since the next bus to Kothi was to leave after 2 hours, we took a cab for Rs. 500 instead of the bus and reached Kothi village.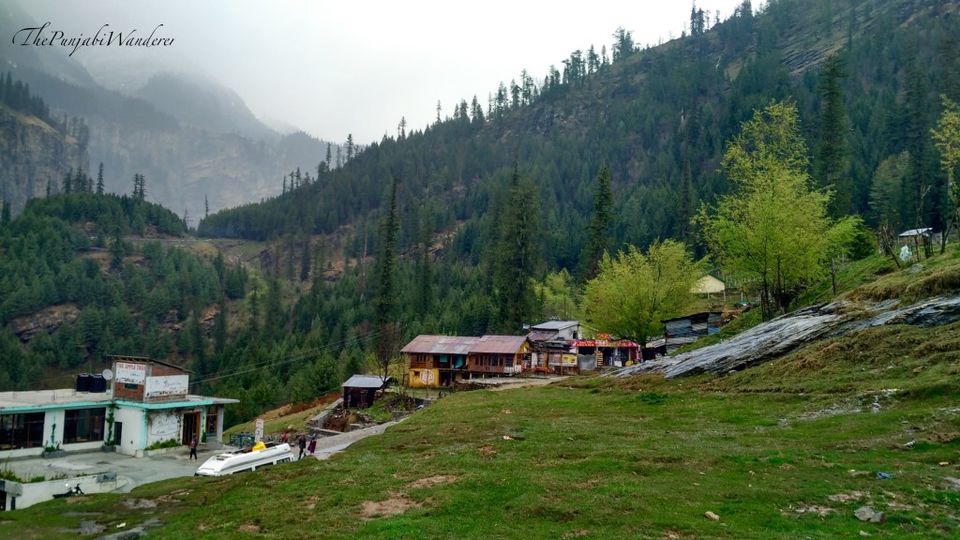 3:00 PM: We came across a PWD rest house facing a delightful scenery. But sadly since we had not booked it beforehand, we quickly consoled ourselves and headed to 'Hotel Saggu Valley'.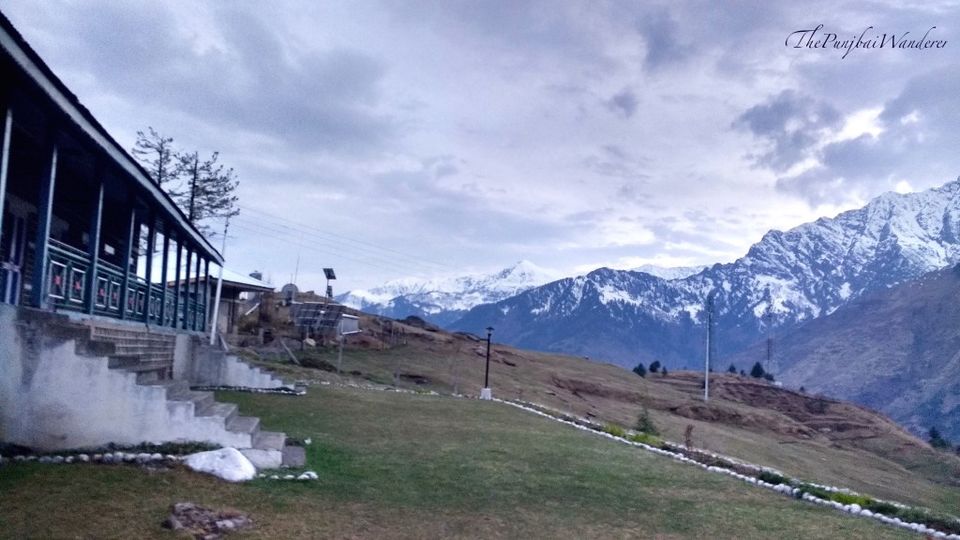 There we hired a local guide for Rs. 1000 and decided to start the trek the next morning at 7.
8:00 PM: We had dinner at a Dhaaba situated right in front of the hotel. After a good amount of chit-chat with the owner, we learnt that he's a former NSG commando.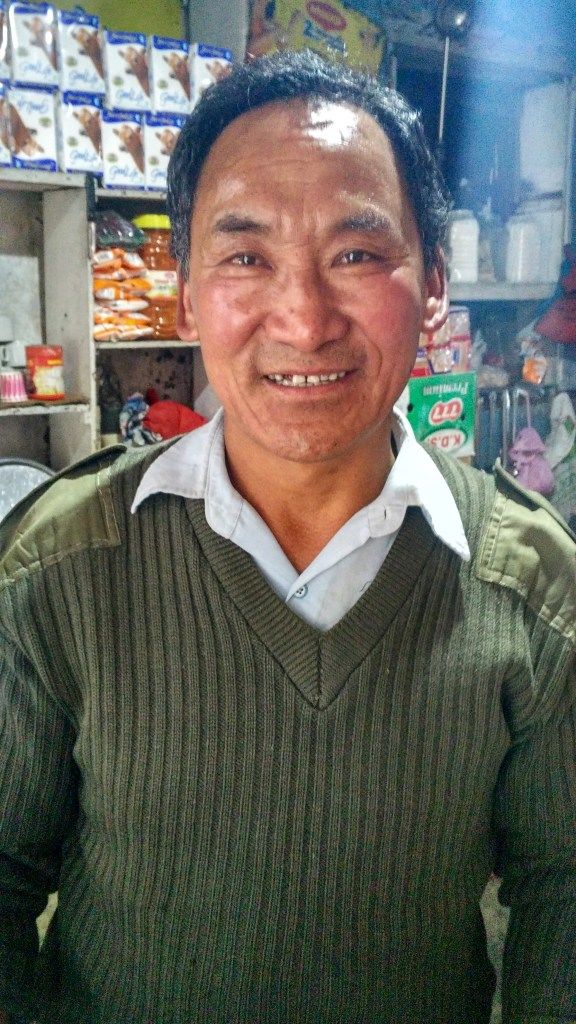 Day 2:
7:30 AM: Two men, Dawra bhai and Jhonny bhai, showed up in the morning. We had a heavy breakfast (at the same dhaaba), packed some paranthaas for lunch and started to walk.
7:45 AM: The trek commenced from a power station, situated a few kilometers from Kothi on the Leh-Manali highway. We preferred to walk those few kilometers in order to warm ourselves up.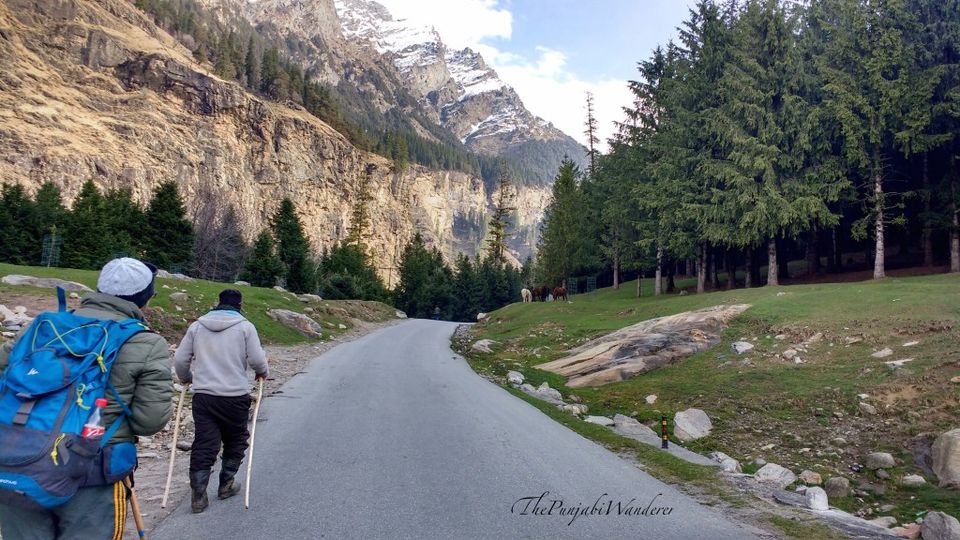 A narrow lane forked out of the highway towards the left, and led us to the power project.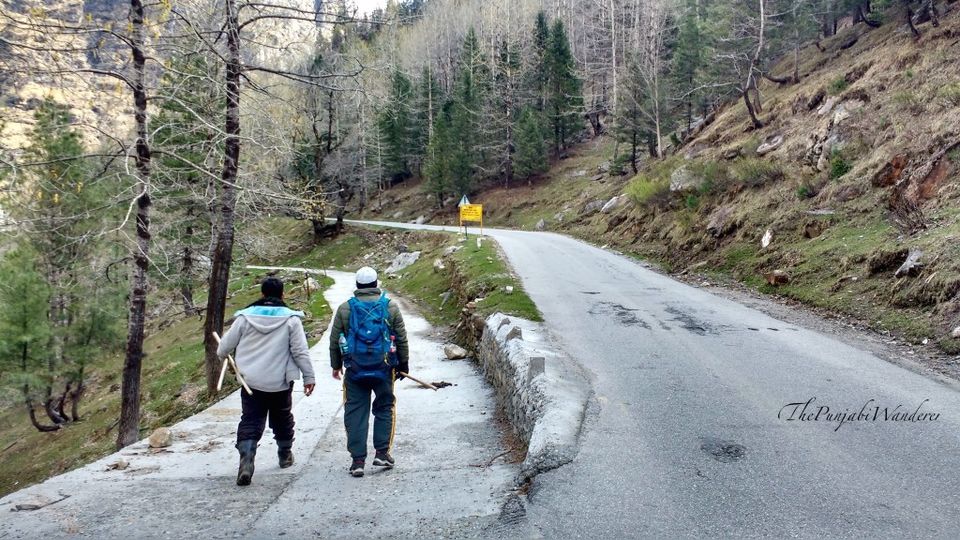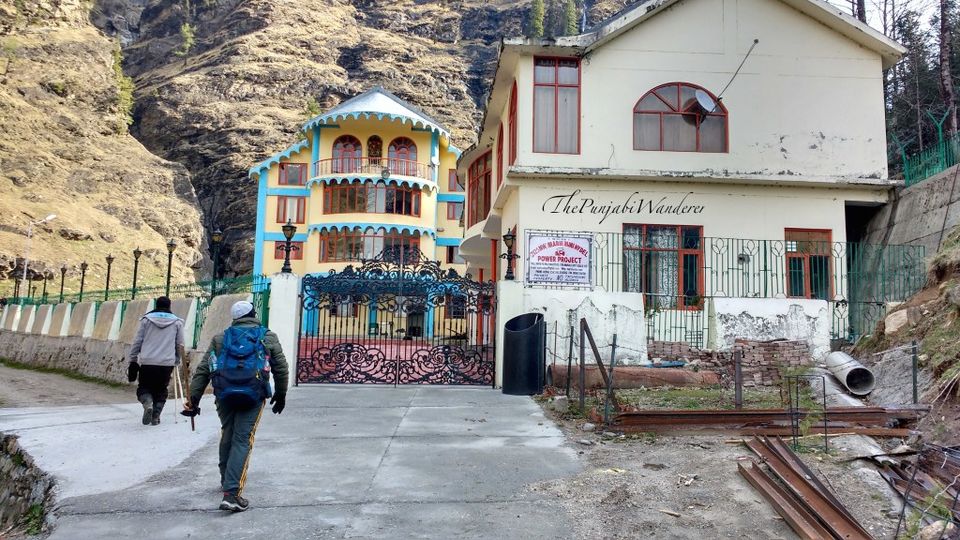 After crossing the power project, we had to go across a narrow stream with the help of a wobbly bridge to get to a prominent, massive 'water pipe', which accompanied us through half the trail.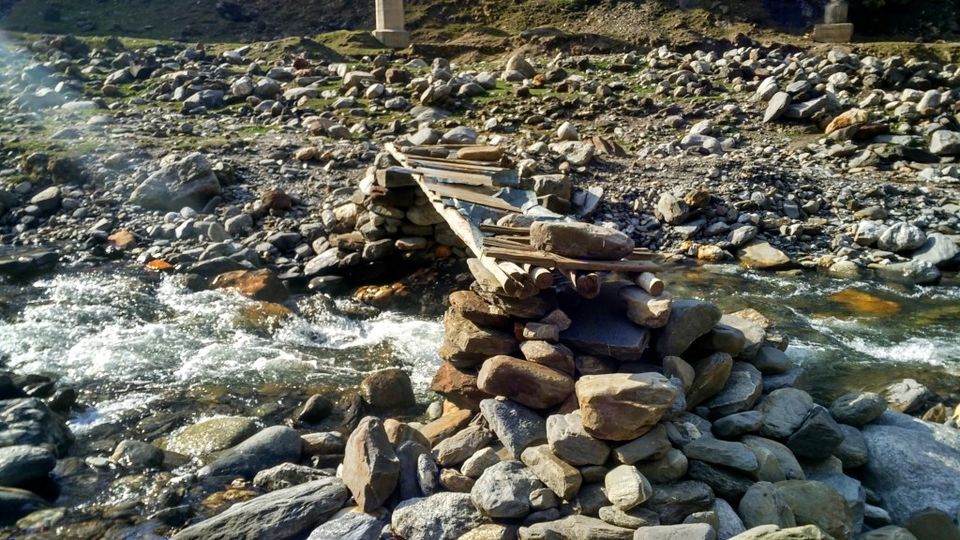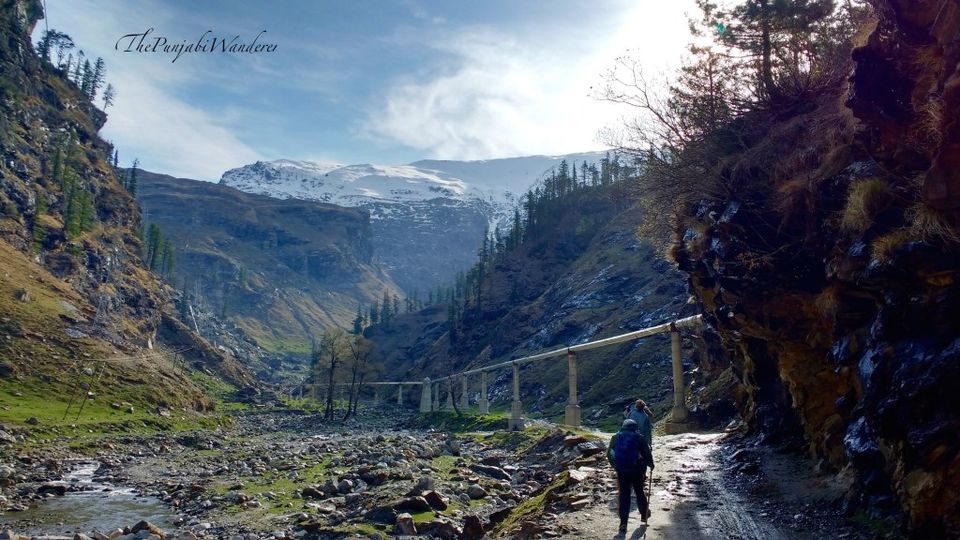 Then we continued to follow the big pipe for a while.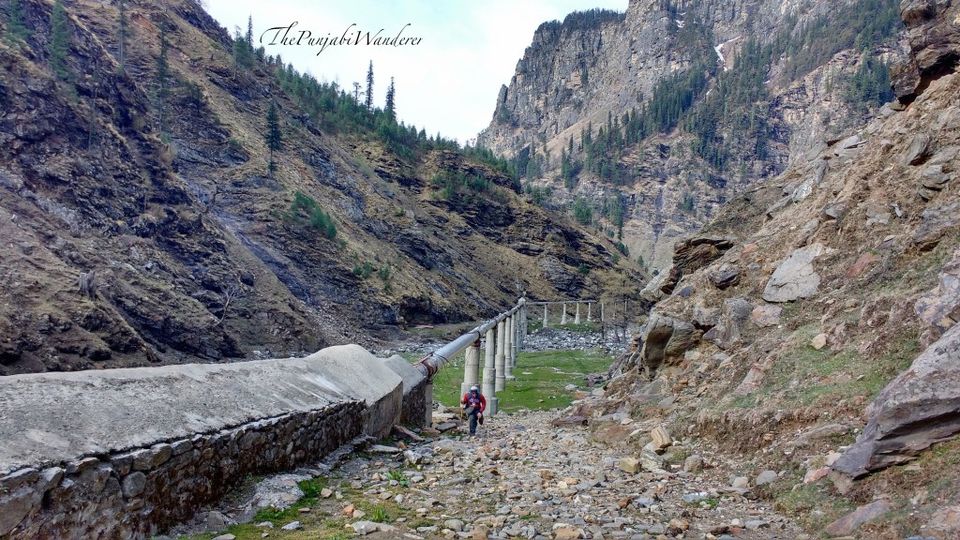 After walking unabated for quite some time, we reached a site where there was an old PWD structure, and from there we began to climb uphill, towards its left.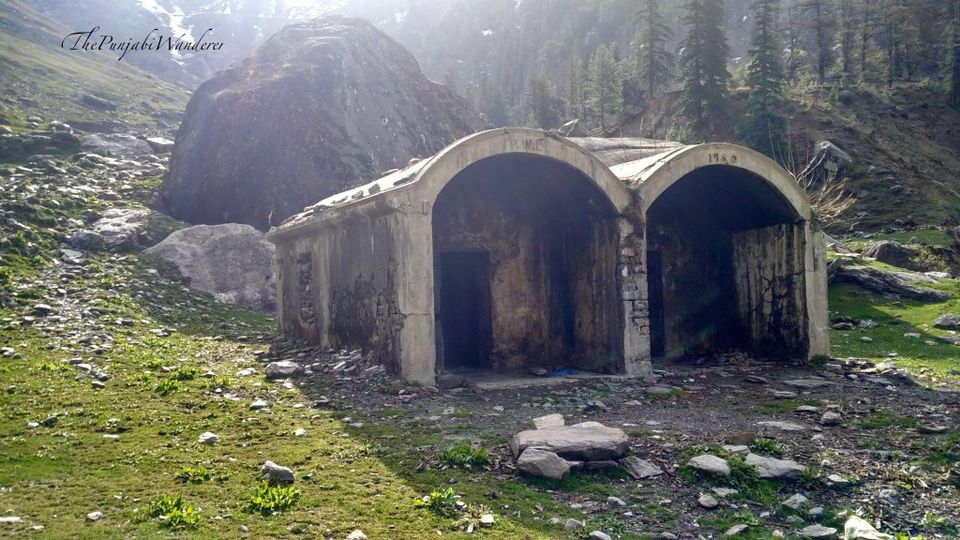 After a while: On hiking further, we saw magnificent snow-clad peaks. Gazing at them motivated us to keep maneuvering steep hikes even though our legs were giving up and breathing was getting heavier.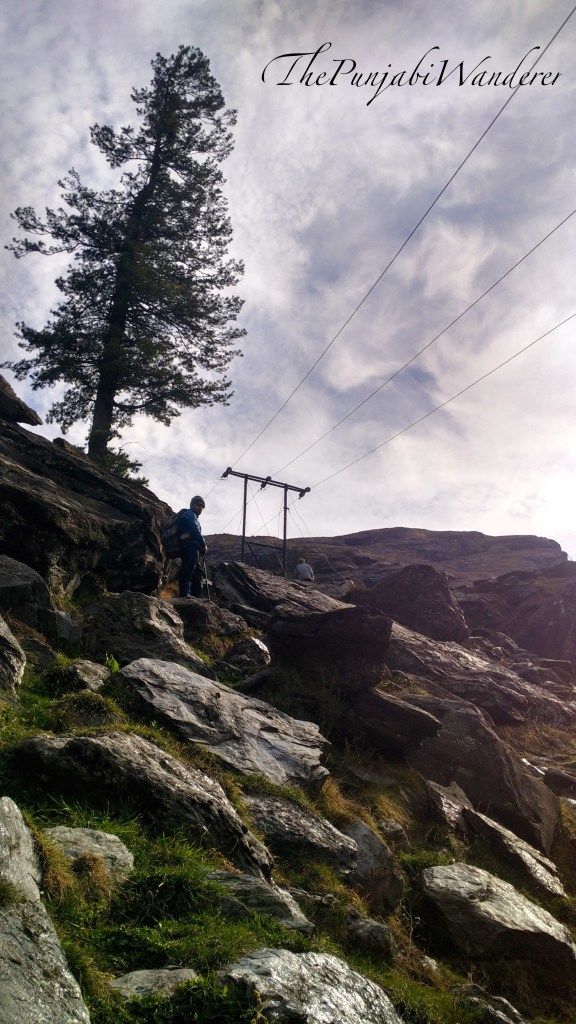 Our next destination was a place called 'Marhi' at the top of the mountain. It seemed close, but we knew that it was way farther than it appeared.
Our guides who were far ahead of us (and who kept vanishing into thin air because of their speed), suddenly yelled out to us, "bhaiyya aise chaloge to 2 din me pohonchenge."
Their assertion infused some energy into us and we caught pace, only to realise that we needed to take rest, yet again.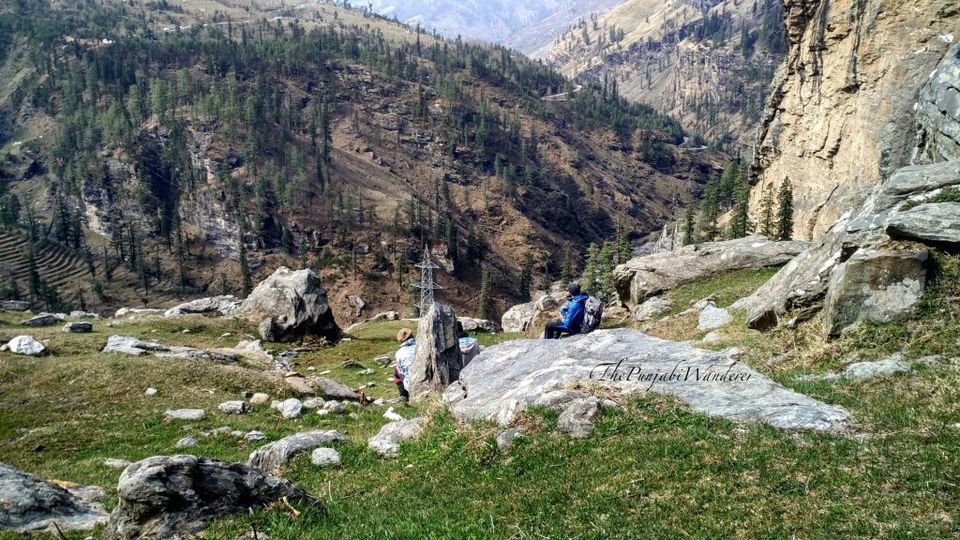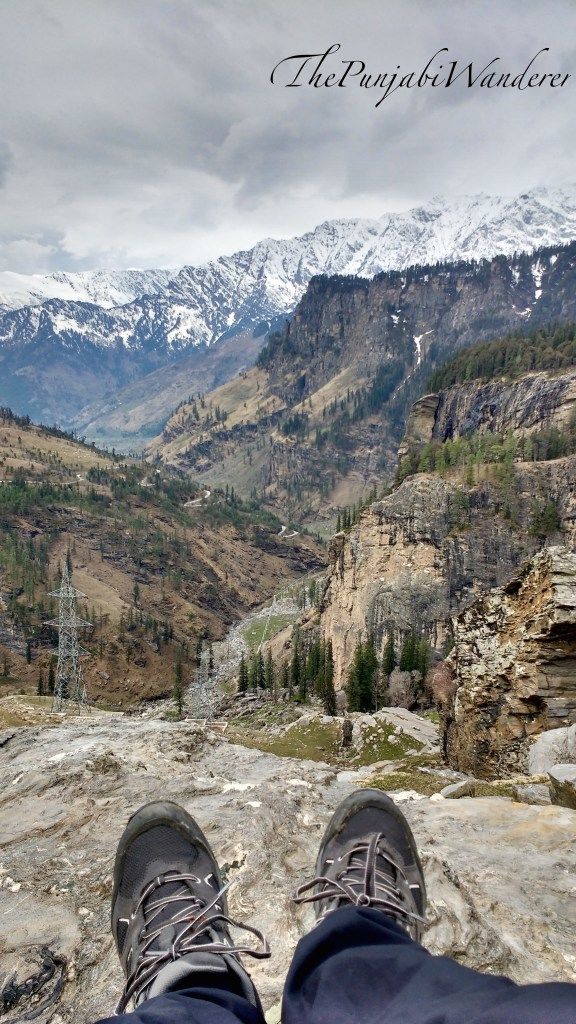 2.5 hours late: We reached Marhi. There was another substation of the power project here. After pausing for a while and refueling our bodies with snacks, we then started strolling towards the right.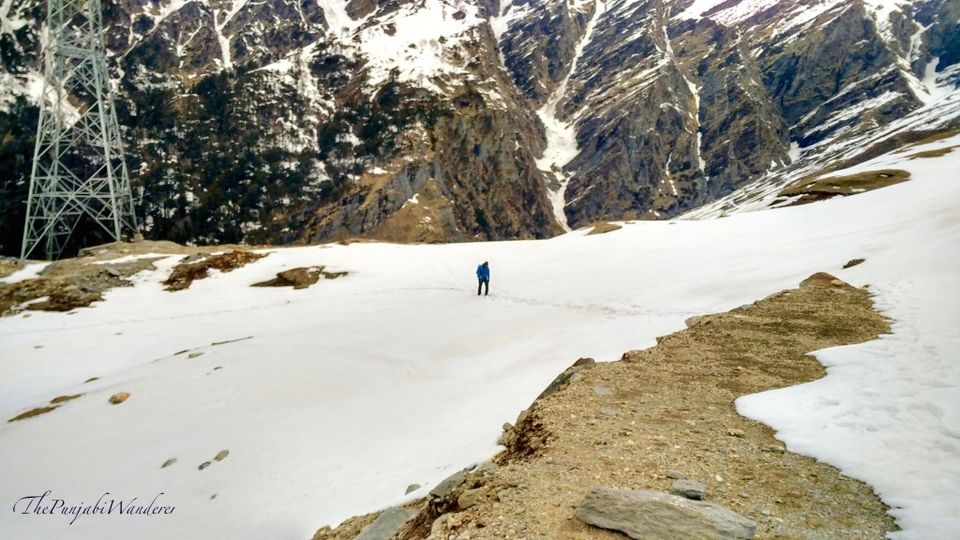 From just around the corner, we caught the first glimpse of the wondrous snow-clad Marhi village. And to add to the fun, it started to snow.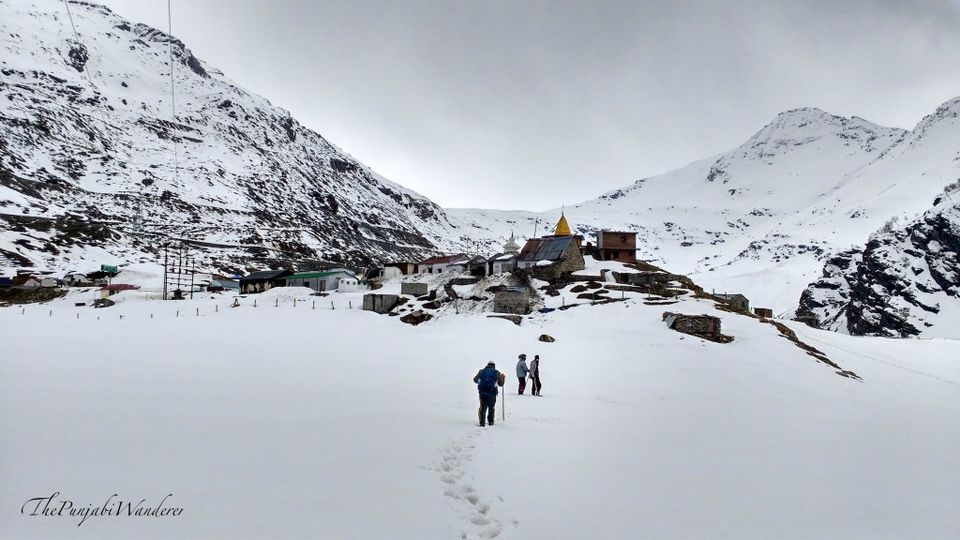 As we proceeded bewitched by the awe of the place, which almost made us believe that we were in a fairy-tale, we saw a meticulously built house. Our guides informed us that it was a PWD rest house. The sight was overwhelmingly picturesque.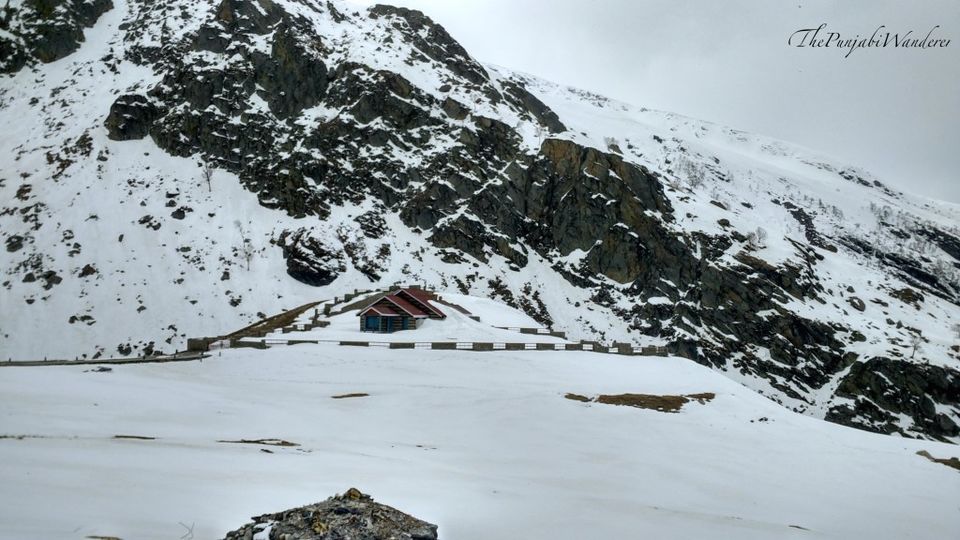 White peaks in the background and a green lake right down the cliff - it was mesmerizing.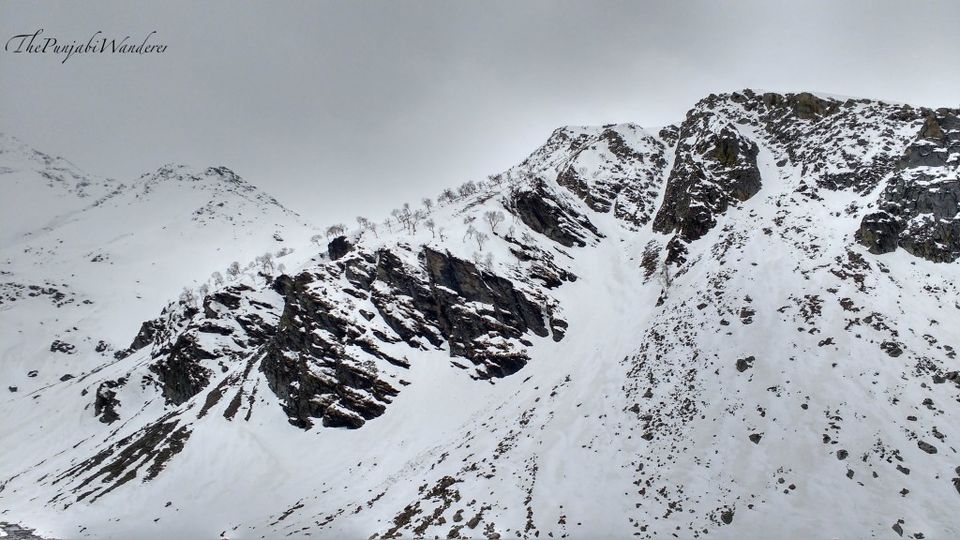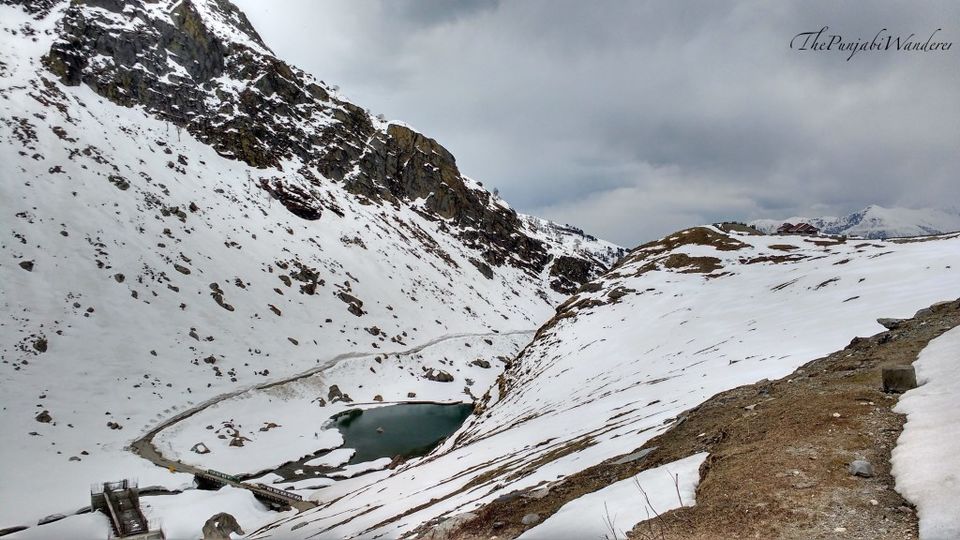 Dawra bhai enlightened us that the green lake down there was Beas naala. It fed the power project at Kothi. I then realised that we were walking on the Leh-Manali highway.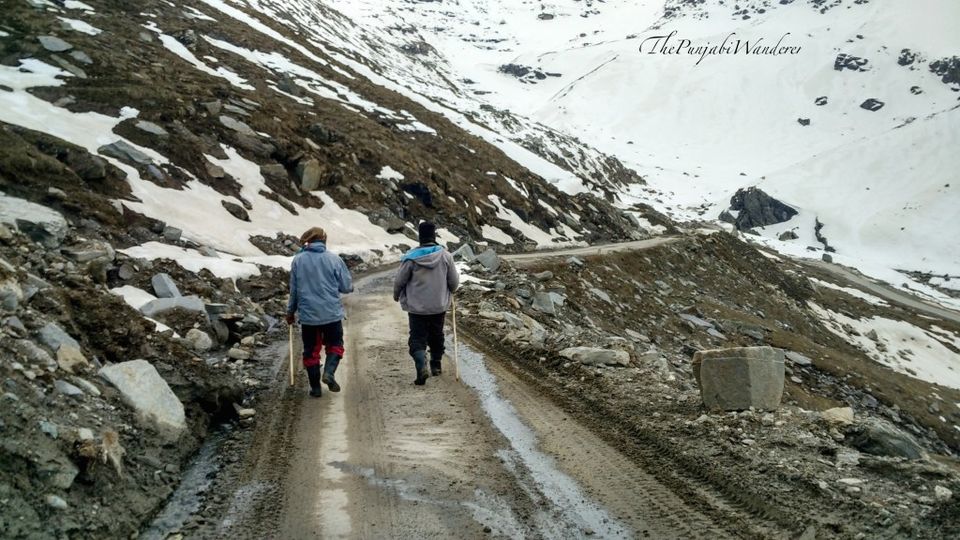 We walked on the highway for 10-15 minutes and then Dawra bhai pointed towards another slope while instructing us that we had to go up. I looked at Paahul and smiled a bit as if asking for his willingness. He nodded and we began to march upwards.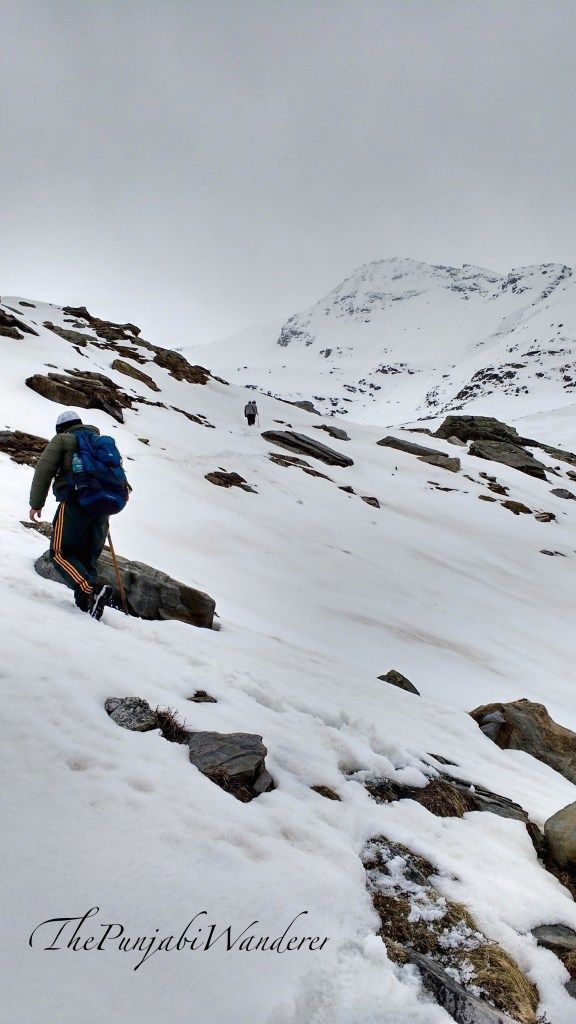 We were told to set foot only in the footsteps of the guides, who walk at 458467879767498279 miles per hour. I turn towards Paahul to complain about the Pahadi velocity and there I discover him, half-buried in the snow because of stepping outside the footsteps.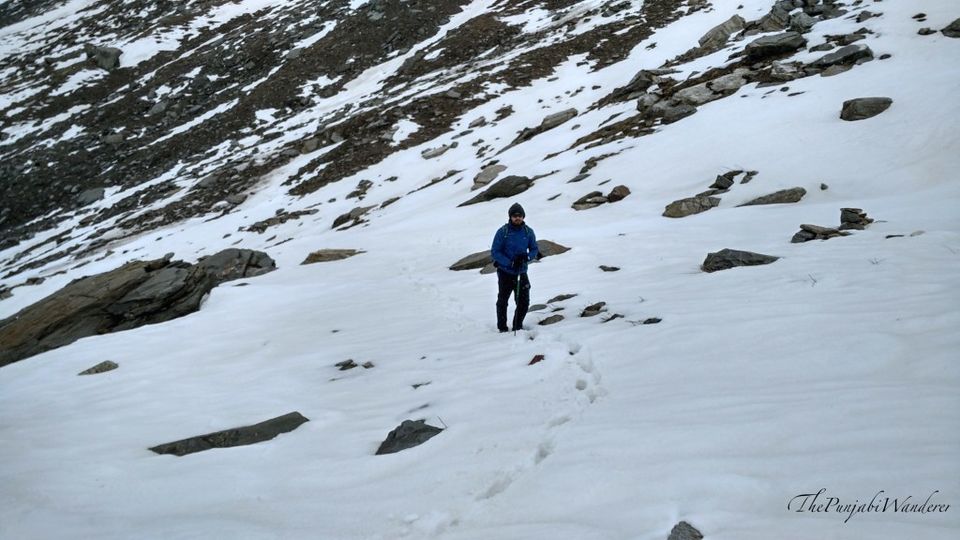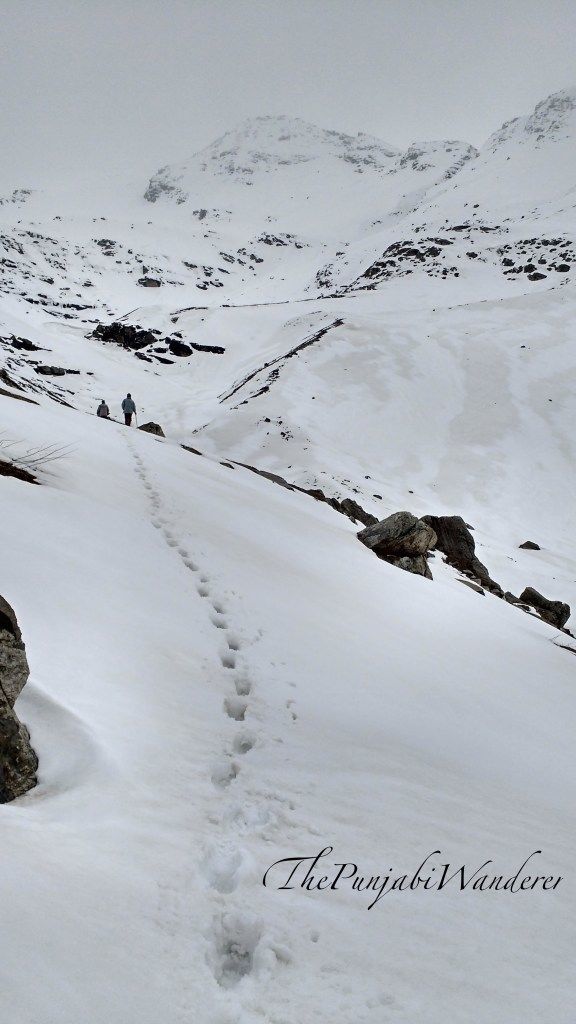 The weather gradually turned hostile and Rohtang was still a long way. We decided to have lunch while silently waiting for a green signal from the Mountain Gods.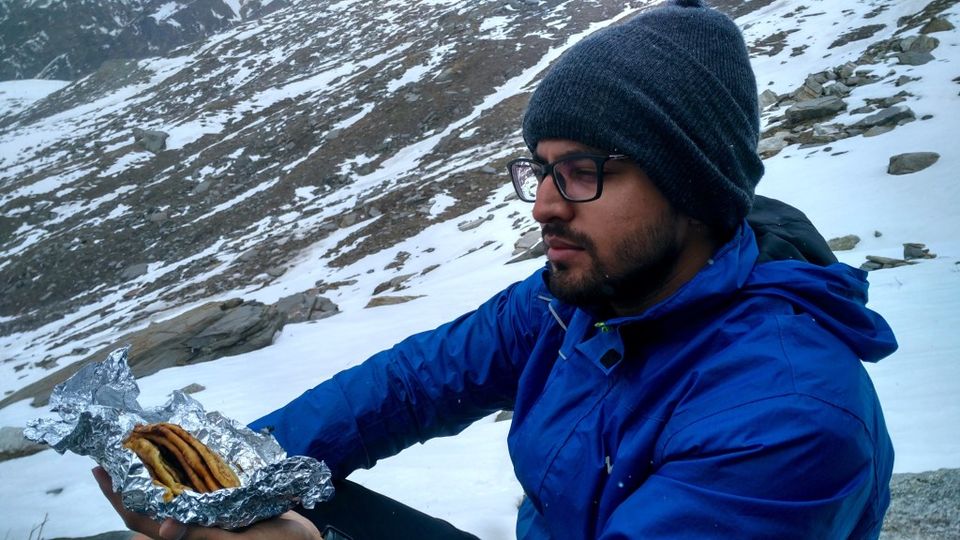 Given our tired bodies, and the stunning panorama of the snowscape, those frozen parathas served a great treat to our taste buds.
We finished the paranthas, put the plastics back into our bags and our guides rolled a "Bumm Bhole" joint for the nth time. They walked away smoking while we, the slow souls, followed.
As we went farther, Dawra bhai cautioned us that if we went further up to Rohtang then we would not return in time. Also, that there's much deeper snow ahead, "Usme gir gaye to bahar nahi aa paoge".
Heavy snowfall and time crunch had left us exasperated and we all decided to go back.
We turned around to gasp at the long way we had just covered and would have to cover once again. On seeing the jitters on our faces, Dawra bhai showed us some mercy and suggested another route alongside Beas naala.
A sense of relief entered my chilled blood and warmed it up, but before I could relish this, Dawra bhai announced that there was a catch and we had to go down a very steep, rocky slope.
On looking down, at the horrifying slope, I realise that I had descended very few such slopes in my trekking stints. Thanks to our proficient guides, Paahul and I managed to tread through the path without hurting ourselves.
And then came the best part - snow sliding!!! Though I have had a near death experience at the time of sliding down the snowy terrain of Kedarkantha, I still jumped at the opportunity to use my butt as a sleigh.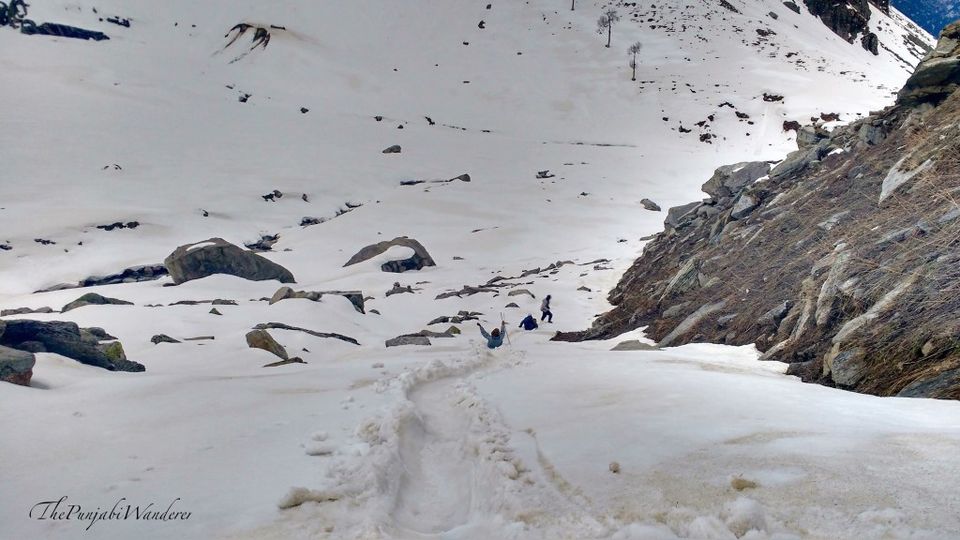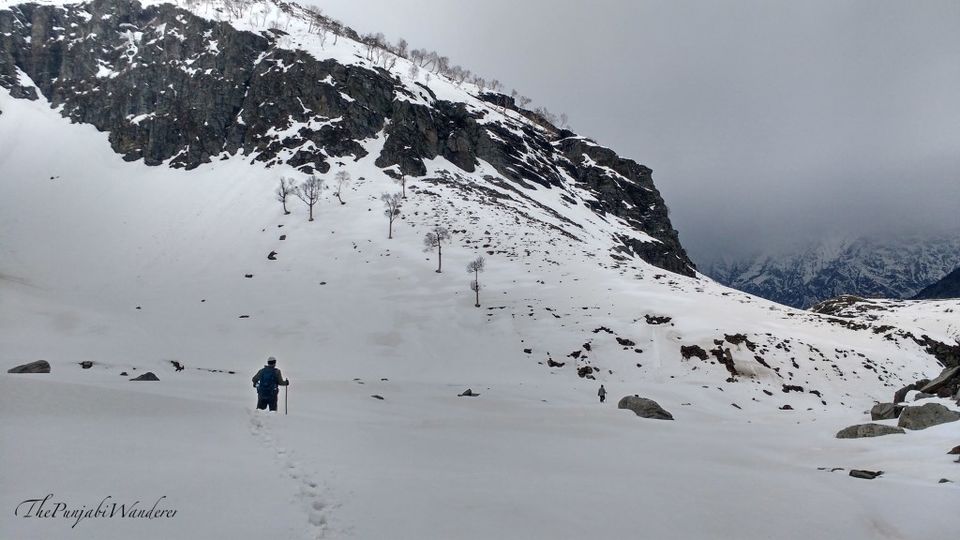 We slid quite a few times before we descended down to the Leh-Manali Highway near Beas nalla.
All was going well when suddenly my bowel movements decided to act funny. I stayed back to drop a deuce on the Leh-Manali national highway! Yes, you read it right and pooping on a national highway was fun, by the way. Highly recommended if you ever find yourself in a similar situation.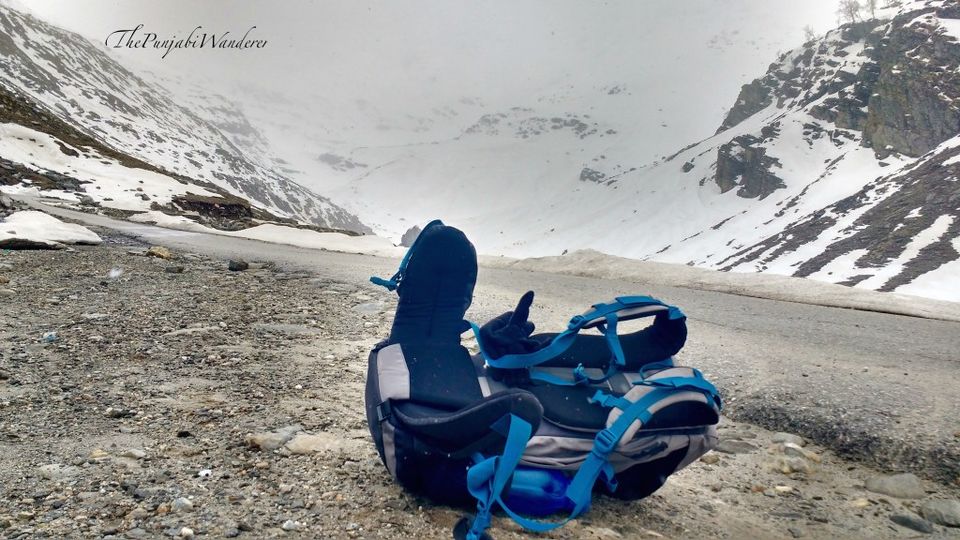 The snowfall started to surge faster than uber prices and it was complementing the beautiful Beas nalla. The view gave way to yet another photography session at the nalla.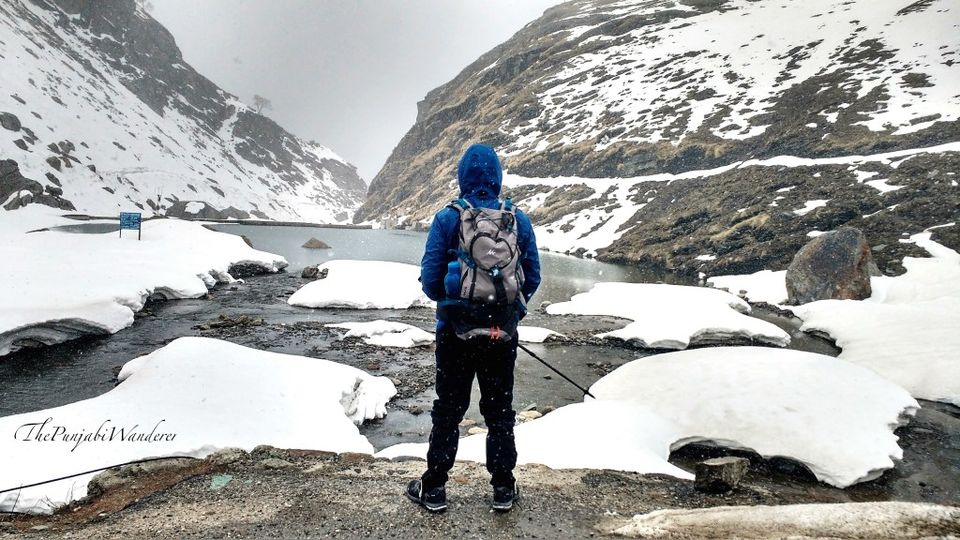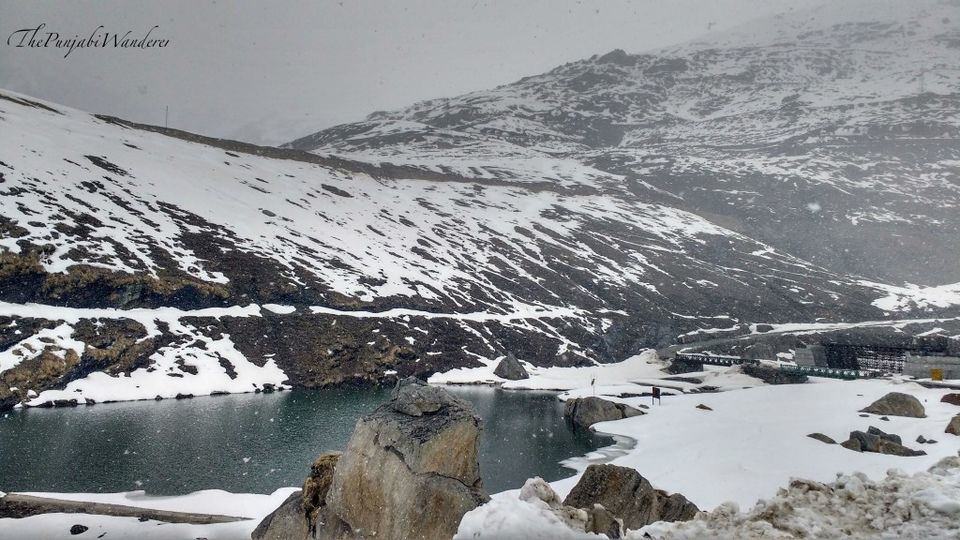 The road ahead was surrounded by snow walls on both the sides. Going by Dawra bhai's standards, the walls were not all that tall this year, but it was still once in a lifetime experience for me.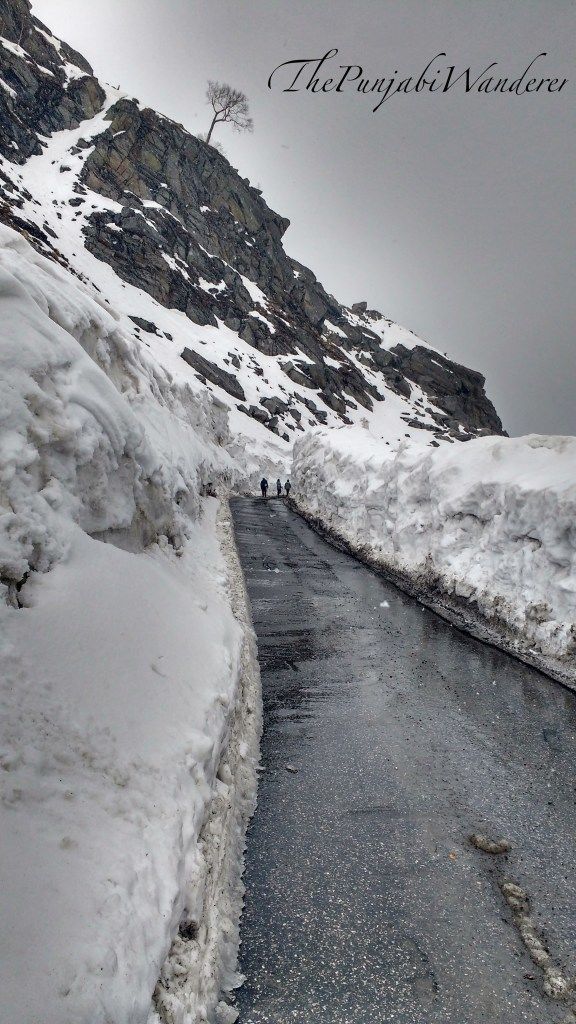 We had slumped down quite a few meters. Mild drizzling replaced the snowfall as we went further down. We were cutting the road loops short by walking down the slopes, and sometimes sliding as well.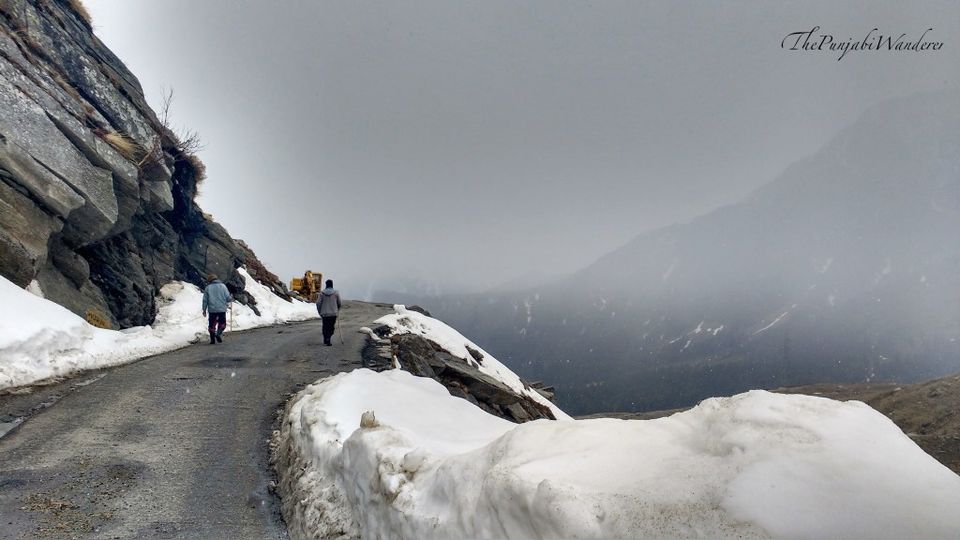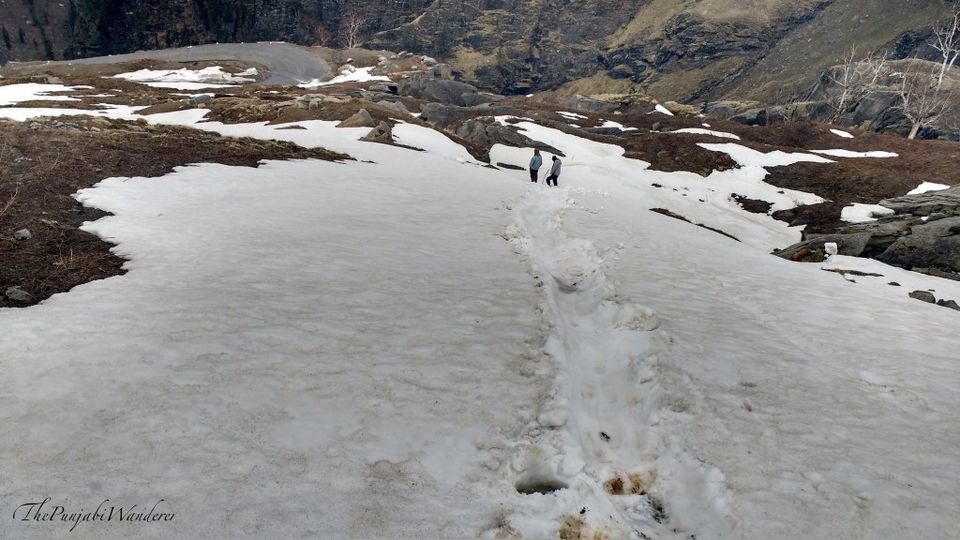 After some time, we saw the gigantic water pipe that we had followed earlier in the morning. Now there was just one task: to get closer to that pipe and stick to it to reach Kothi. We could hardly feel our legs. It had been too long a day for us.
The slopes had apple orchards. But since it wasn't the apple time of the year, no apples for us, only flowers.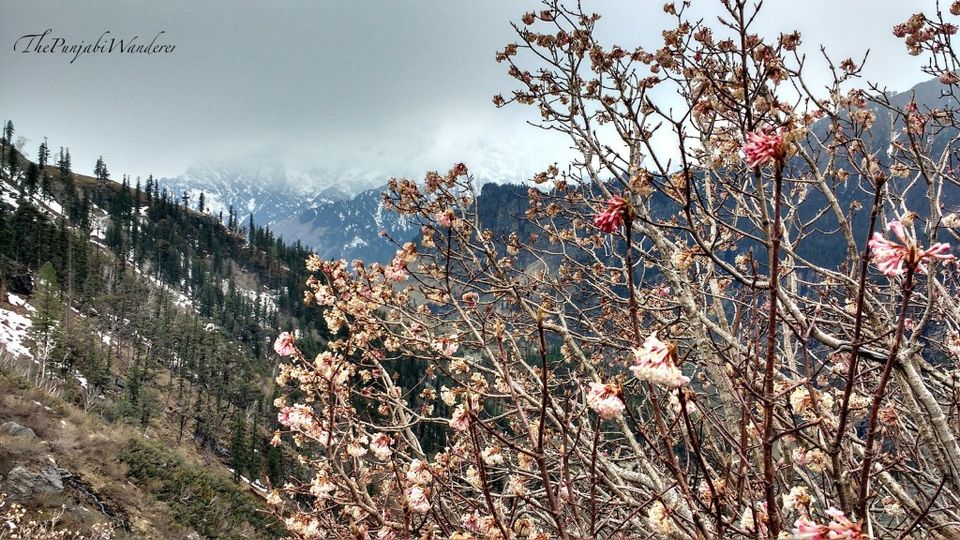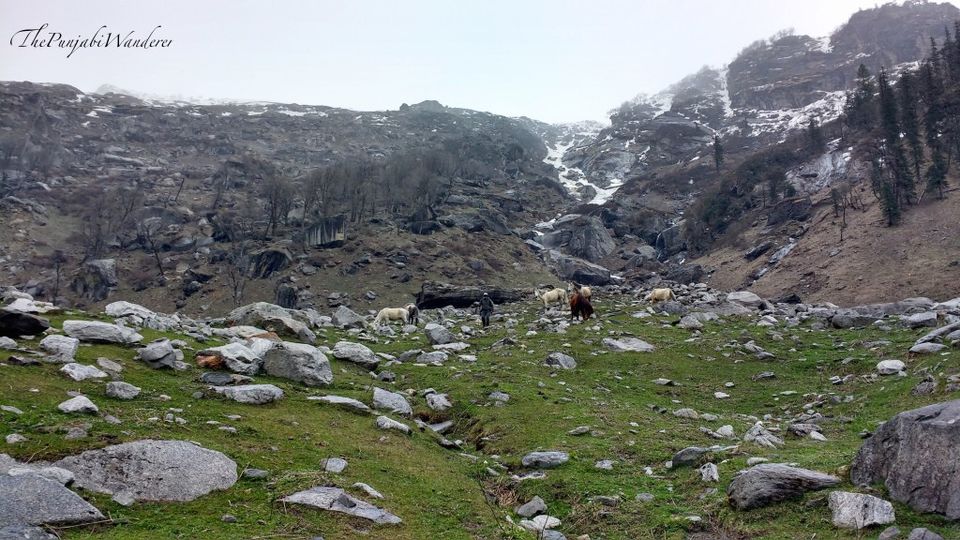 After walking downwards for some time, we reached the same old PWD structure. We crossed the same water stream and then the power plant and we were on the highway again.
Luckily, Paahul managed to woo a biker, and hopped on his bike. I, on the other hand, lack the charm. So I had to take a beautiful walk to Kothi, in mild rain.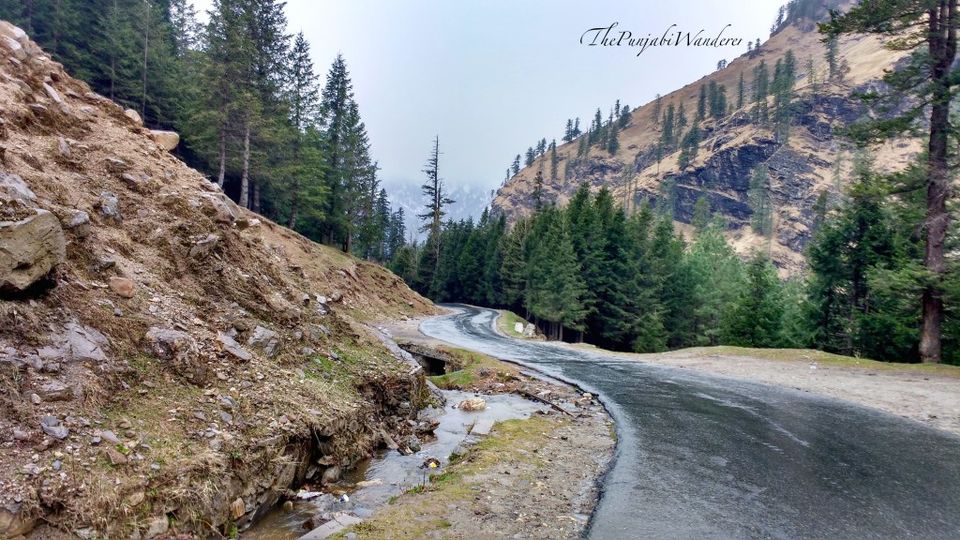 5:30 PM: We reached Kothi.
We had planned to go down to Manali the same evening but because of my time consuming romance with the road, we missed the bus. It was time for Paahul to show his hitchhiking skills again (did I say charm before? Correction, it is a skill ). Thanks to his skills we got a lift and reached Manali without spending a single penny.
GoIbibo got us a room in a decent hotel in just 300 bucks. After having dinner, we called it a day.
Day 3:
I got up in the morning and it was still raining. The window offered a decent sight.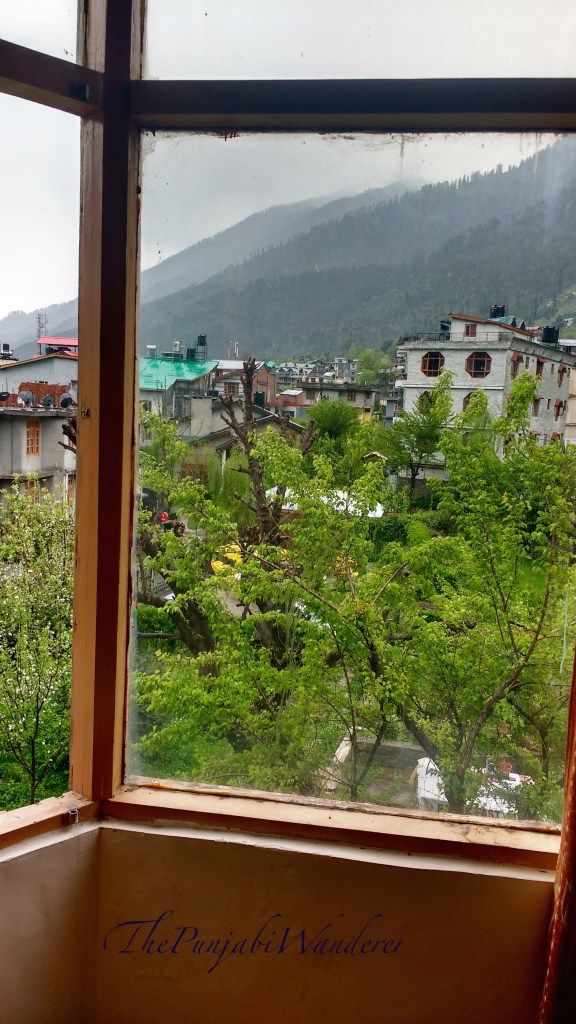 But good views don't fill tummies. I went out to fetch some breakfast. I had paranthaas in a nearby dhaaba, sipped on some tea and returned with some food for the lazy guy.
We booked a bus that left at 5 in the evening, and were left with 3-4 hours to roam around in Manali town. We checked out at 1 PM and headed out to the Mall road. We spotted a park. But upon entering it we realised that it was a vast Jungle.
We spent the remaining hours inside the Jungle and then walked to the bus stand to catch the bus, which was a Sarkari Volvo this time.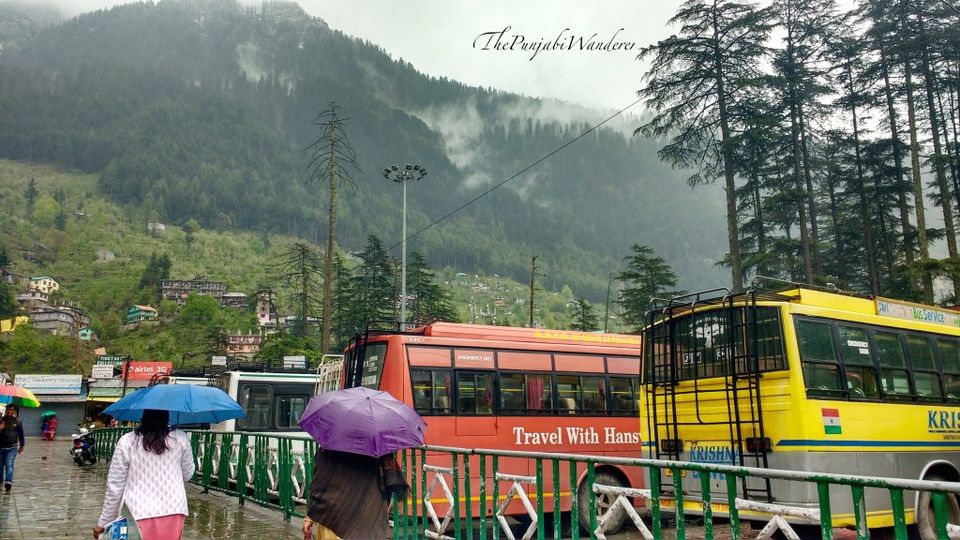 Find more travelogues on www.thepunjabiwanderer.com
Trip first published on The Punjabi Wanderer