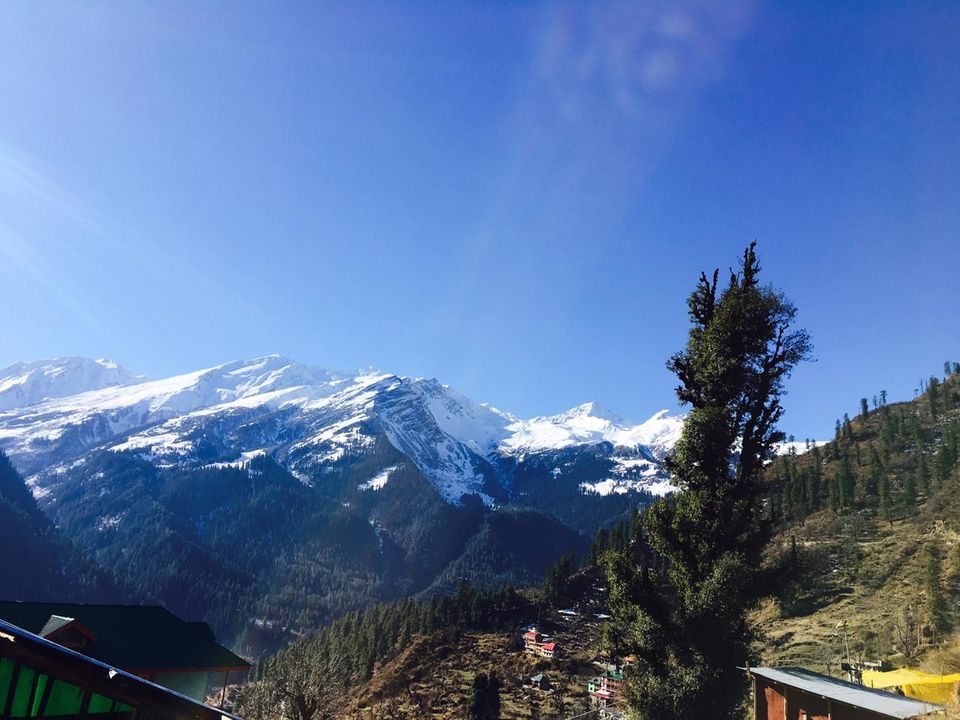 Life is absurd and so we are,
running in a race trying to reach so far
Far is where, no one really know
But doesn't want to stop just want to go!
Nowadays, life is fast mainly for the metro cities and otherwise too. We all want an escape and a place where we can just relax and can give some quality time to ourselves. After working so hard, we look for a time when we can just escape out of town for few days. But this is a same thing which everyone thinks and those silent places have been commercialized. Shimla is one such example. They are even more crowded than our cities at peak season time. But amazingly there are still few places which are untouched and hidden from the reach of a lot of people just like mountains under the snow.
One such place is Kasol. This is the place where going with friends or family is not a necessity. You can just go alone on a solo trip. Most importantly, I love the places which makes me forget my phone and this is one such place. It is a place which accommodates you as well your pocket. Just a back-pack is enough. One can take direct bus till Kasol which will drop you right outside the city. You can walk a bit, it is silent place where psychedelic music suits the best. You don't really have to look for hotels on Oyo or get panicked on not finding one. People are welcoming and have made their houses as hotels at minimal charges like 500 per person or 500 for a room.
While walking inside the city you can clearly hear birds chirping and sky changing its color. Nearby water springs will make you feel refreshed with the sounds of flowing water. It is a place where you can just forget about your home and can keep all your worries away.
It is a 14 hours journey therefore; anyone would be tired after reaching. You can either sleep or can be one like me who just changed and directly entered water spring with my feet in water at Parvati valley. Water was extremely cold but as soon as I put my feet in, I felt I lost them. They were just numb. For few minutes, I felt cold and then stopped feeling my feet itself. But the feeling of content and composure which I felt can't be found anywhere else. I sat there for few hours and all my exhaustion just vanished giving me immense pleasure.
One thing to keep in mind while going to Kasol is to carry cash. It's still a small village where there are no ATM's. You can find multiple cafes in your budget to have mouth watering food. Hash Brownie is one such thing you can't miss on if you are in Kasol. You can see clear sky with stars along with the breeze which will make your night as beautiful as your day. There are many things to explore which includes culture, local sightseeing and the village. It's easy to talk to people and know about their lives. Malana cream, rave parties and stories of hot water are something's without which you can't come back.
I wanted to explore everything and waiting for buses seems like waste of time so I preferred to hire a bike. I spent my first day in Kasol with some malana cream which was easily available through the owner of the house I was staying in. The very second day, my first destination was Manikaran sahib, it's a popular gurdwara. As I told above, stories of hot water, it is related with Manikaran sahib. There is a water stream which goes through Parvati valley which is very cold at one end and very hot at another, it's so hot that whole 'langar' for gurdwara gets cooked in it by pouring mud bowls filled with rice and cereals. It is not less than a miracle but scientifically it's said it flows near a volcano and the side which is closer to volcano is hot water and otherwise cold water.
Another most intriguing part is the places nearby, one can just ride till Tosh and then track until the top of hill and stay in a camp under the sky full of stars. You can camp and enjoy with bonfire. Just an advice, keep a check on temperature while choosing for the camp and the number of blankets you get over there. It feels like heaven when clear mountains with snow shining during sunrise is right in front of you and at night you feel like something shinning far away which is nothing but snow.
Apart from Tosh, one undefiled place is Pulga. It's a complete village with villagers around with very less houses and even less population. Houses are made of wood and you can stay in those houses paying really less like 200-300 for a day. That's the place where you won't find many cafes too but can have local food made by the people with whom you stay. You can also help them with house chores and can stay for as long as you want. This is one such place from where I did not felt like coming back, just wanted to settle down and enjoy the peace. The scriptures in the rooms can even teach alot in such places, these things are quite common but we only get time to think and think deep in peace.
Kasol, Pulga, Tosh are such places where one would like to go again and again without any second thoughts.