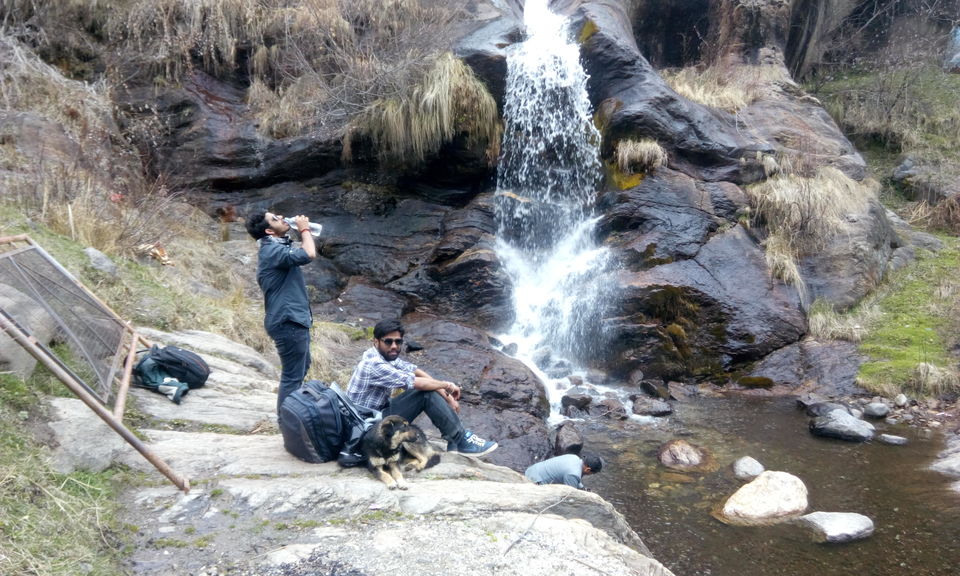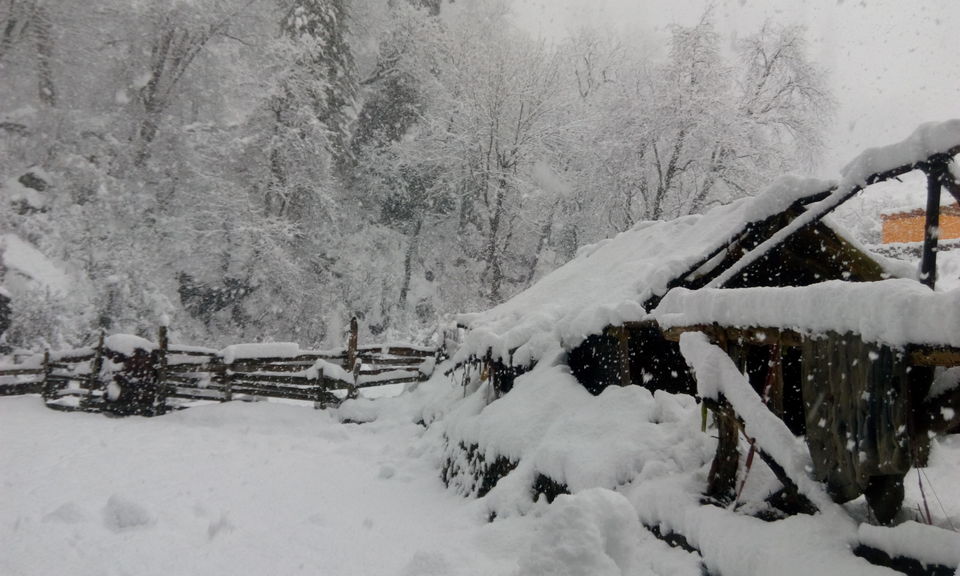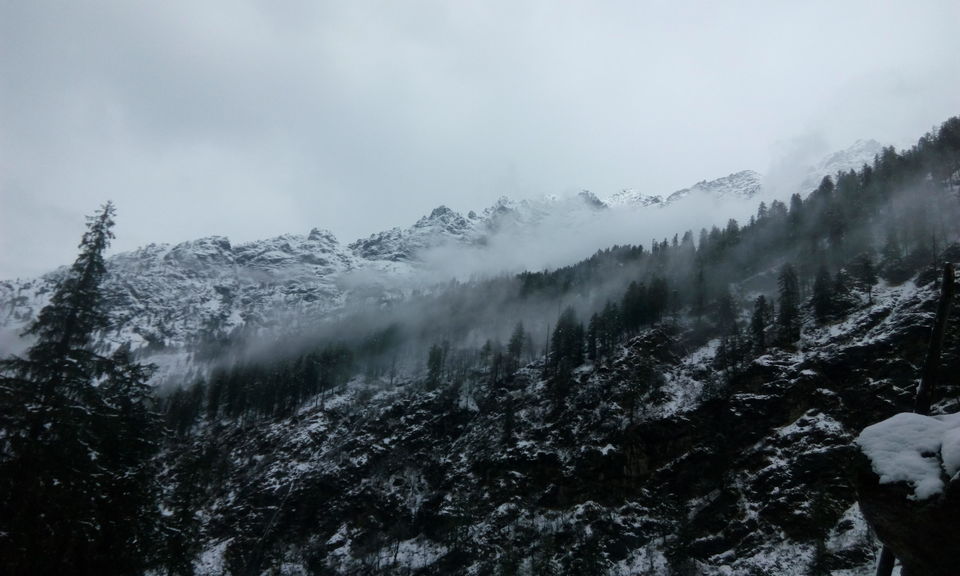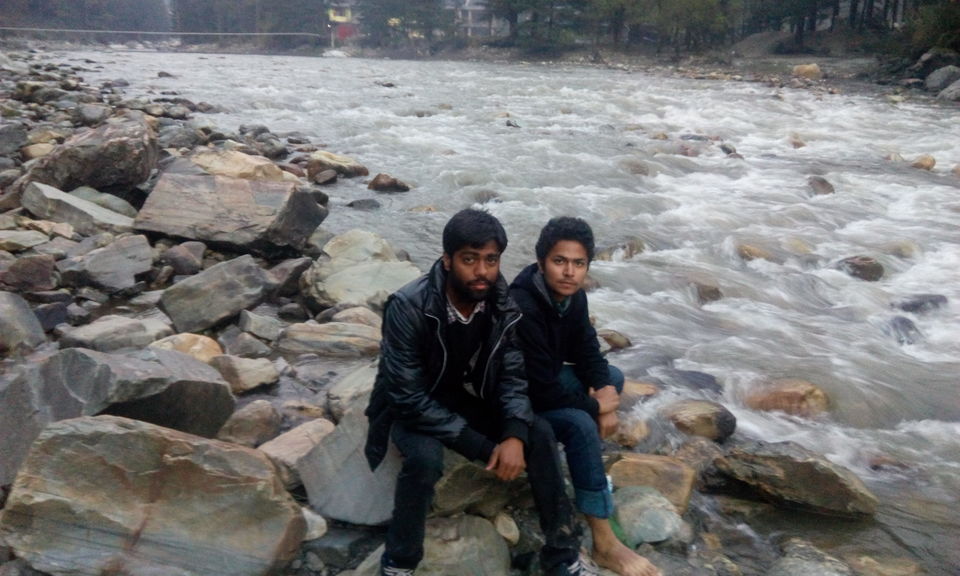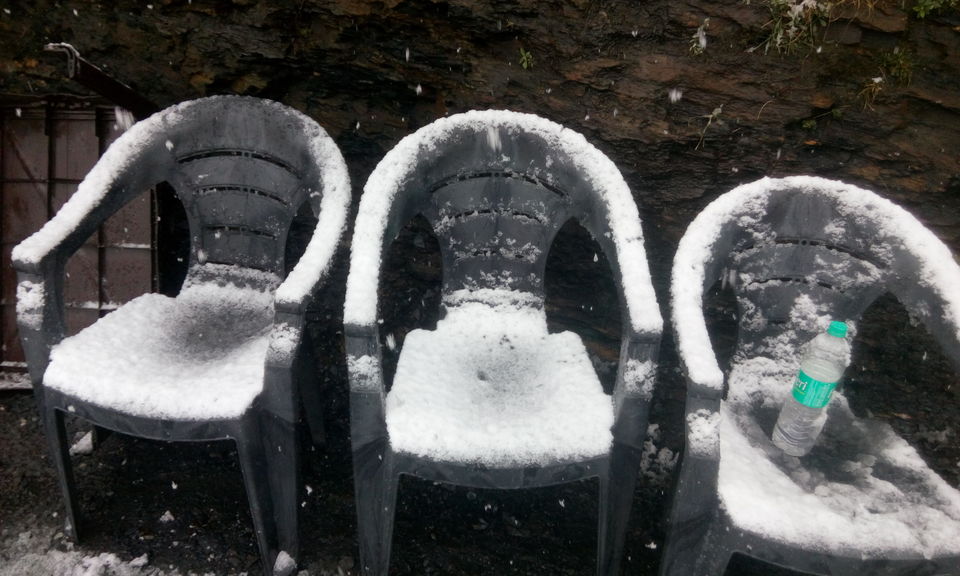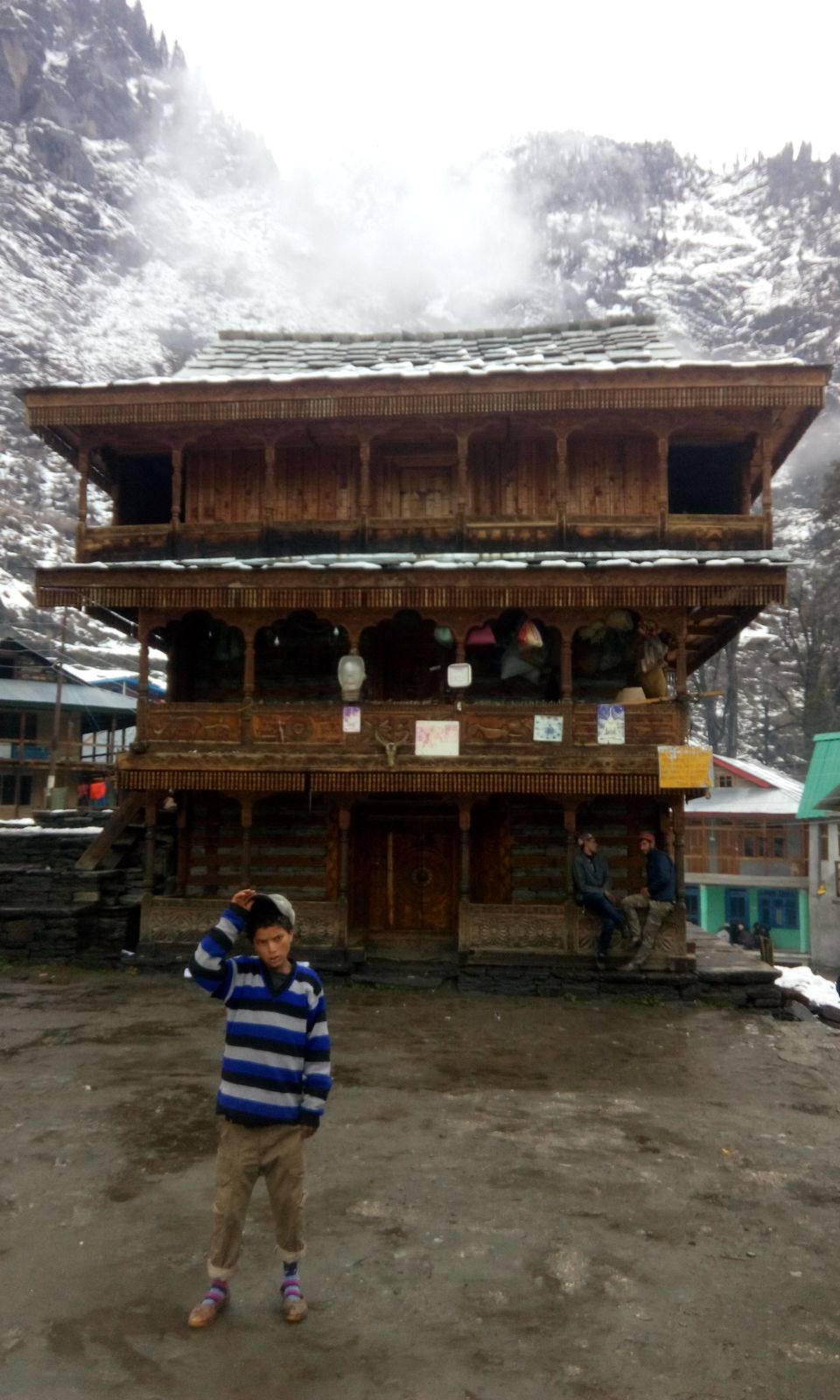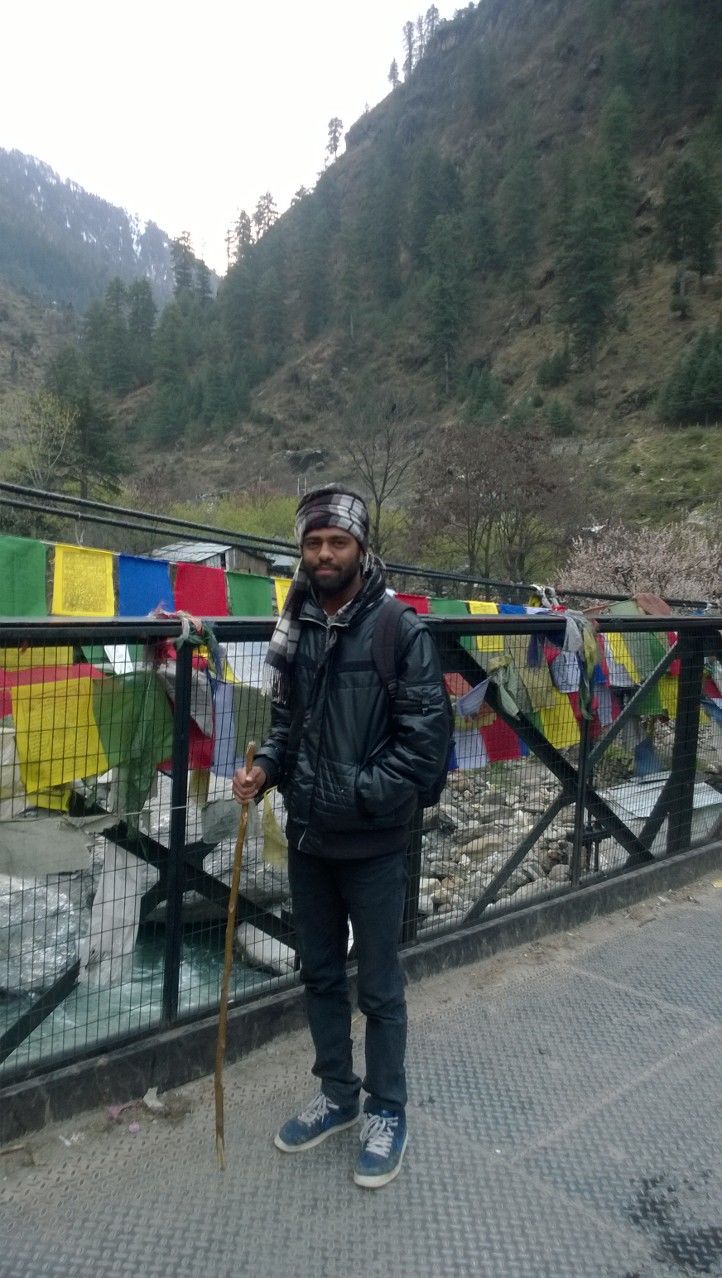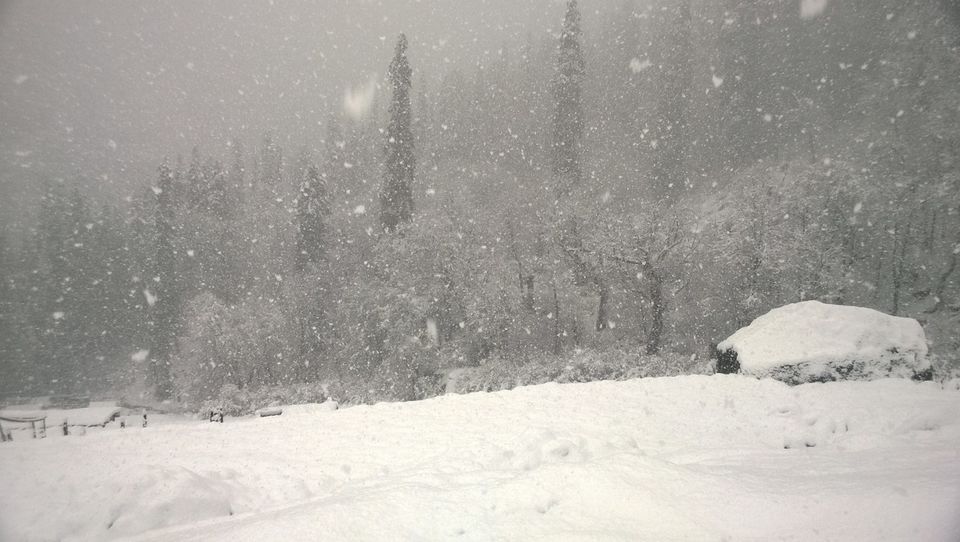 I have heard a lot about Parvati Valley which have Kheerganga(trek), Tosh, Malana, Kasol and the "stuff" that they all are famous for. So, I decided to give it a try.
Day 1(Kheerganga):
We started our journey by hitting Barshaini village from where trek to Kheerganga starts. It is a 12 km stretch. It has two major stops name Nagthan village(around 4 km from Barshaini) and Rudranag Temple(around 8 km from Barshaini). At Nagthan one can refill their water bottles and it has cafe also to have some food. Rudranag temple has a waterfall which has awesome scenic beauty and is an interlude to this awesome trek. Till Rudranag the trek led us to beautiful panoramic views twisted mountain trails, snow capped peaks dotted with brilliant yellow mustard flowers. After Rudranag the the trek led us to thick lush green forest with rejuvenating air kissing your face with uphill ascent. Although the trail is well marked offering little scope for confusion, we got dog as our guide for the whole trek.
We took around 5 hours to complete this trek with 15-20 minutes pause at both stops. On reaching Kheerganga, we enjoy spending few hours in hot water spring. Initially the water seems to be very hot but gradually after entering the pool we feel normal. Believe me its the best feeling in the world taking bath in hot water spring which is located in between snow clad mountains--a reward in itself for most of us plagued by the monotony of routine life. The bath vanishes your tiredness and soreness and dizziness. There are few cafes available for stay and a Dharamsala also(Rs 100/- per night). There is a small temple dedicated to Lord Shiva near the spring and a Kartikey cave just 100 mt trekking from the temple.
Kheerganga is not only peaceful, reviving and laid back , but if you are looking for a place for soul searching or to reach a state of thoughtlessness then it's the place. So serene and surreal where you want time to really stop;as you don't want this dream to get over soon.
Myth of Hot-Water Spring: It is said that Hot Spring was Kheer(Sweet rice pudding) originally but then converted in water so that it never gets over. One can still find White flakes considered to be milk cream in the spring.
Day 2(Tosh):
Although the weather was quiet calm till 6-7 pm yesterday but after that it started raining slowly and in the morning when we wake up around 8 am it all transformed from greenish surrounding to whitish one. "Snow-Snow everywhere" and still snow fall was there. At the same time I was feeling lucky to see snow fall second time in my life but also have tension of down trekking to Varshaini. We started down-trekking, watching our steps very carefully and completed it in around 5 hours and reach Varshaini around 2 pm all wet and tired.
According to our plan we head towards Tosh. At the stroke of 3 pm on our watch, we were welcomed by the cool gush from the mountains. As we scanned the landscape we were left totally speechless - literally stunned into silence and captivated by the magnificence of the glittering and massive expanse of the snow peaks bang in front and around us. The peak had fresh snowfall overnight, absolutely shimmering white and looked chastened. The towering peaks behind us and to our left - it was truly magical to witness these mountains from so close by distance. One had to pinch to believe that this was so surreal - crystal clear mountains, crisp and fresh air and 360 degree stunning landscape.
Tosh is essentially divided into two parts - one to our right which has approx. 50 odd houses and a primary school - the most popular spot on this side being the Aunty's Cafe, which is located right at the end and is at the highest vantage point - you cannot get any closer to the mountains than this. We decided to explore this one first, as we could see shallow cloud building-up. We climbed the stairs (very narrow - barely can you keep one foot only) and reached the Top. We indulged in extensive photography of each and every section and angle of the mountains, i.e. with Parvati ranges on the extreme left to the Sainj valley ranges on the extreme right.
We interacted with a local (who offered home-stays) and he showed the local weed cultivation. He offered us a puff and there is no chance of refusing him. He further elaborated that once the sun goes down, Tosh explodes with jarring music, live bands. He mentioned that the other wing of the village is far more happening, especially the area at the rear end. We walked till the edge and again took additional snaps and explored the home-stays - just to get an idea. It was like a typical village house, the floors were pasted with cow dung, the walls had Lord Shiva painted on them, the colors on the walls (interior) were jarringly loud - pink, green The bedding was on the floor and there were a few worn-out chairs in the veranda.

We marched on the well-marked trail and passed through the relatively clean, more picturesque, well built and colorful row of houses. This part of Tosh had a higher in-habitation density, the market was well marked with eateries (mostly catering to Israeli taste buds), there were several joints where-in people were engrossed in smoking the weed and under its influence the level of intimacy was at its height. So, we also had some Joints here from the Charas that we purchased from a local guy. "Bam Shankar"(INR 1000 for 1 tola(10 gram))

The views from this side of the village were equally stunning - mountain peaks, green pastures, grassland knolls and of course the dominant produce 'weed' growing all over the slopes, in the backyards. We stopped by a beautiful temple structure (newly constructed) - very vibrant colors. This was in the middle of the village, and usually is thrown open to the public once a year. The trail was uneven (up and down) and was taking a toll on our knees. But the sheer beauty around was the key motivating factors for us to keep pushing. We were inching closer to our destination, as we sighted a dam and alongside were the waterfall, wherein water was gushing out with a thunderous roar. We sat by to catch our breath and enjoy the nature's bounty. The roar was so powerful that we could not hear each other without shouting at the top of our voices. We sipped our juices and munched a few goodies and just enjoyed the peaceful and serene surroundings - where else can you afford to get so much peace. We again had some Joints here . "Boom Shiva" . Of course we were 'high' and were rowdy and noisy - just splashing the condiments all over the place.


Day 3(Kasol):
We went to Kasol via Manikaran. There is regular bus service from Tosh to Kasol. Manikaran is a Sikh and Hindu pilgrimage on the bank or river Parvati famous for its hot springs. I found the place just like any other religious centre in India, full of energy and chaos. Devotees visit the famous Manikaran Sahib Gurudwara and an adjacent Shiva temple to receive blessings from various places but mostly Punjabi boys on bikes. And if you have not seen them earlier you are bound to be mesmerised just like many school children who throng the place, buy small rice bags (potli) and dip them in the boiling water of the springs to see them being cooked within minutes!.
Myth- The hot spring offer great healing for arthritis and skin diseases. This place is believed to have been goddess Parvati's bathing spot where she lost her earrings(Mani-jewel and Karan-ear).
Do eat langar(made from hot water from spring) here.
After Manikaran we went to Kasol which is around 3-4 km from here. Things we do at Kasol:
1. Walk along the Parvati river.
2. Tried Israeli Food at Evergreen restaurant.
3. Shopping(Bob Marley Tees)
Staying in Kasol is cheap and you can easily spot dealers who deal with Charas, LSD, and other drugs(Maal).
Day 4(Malana: World's heaven of Cannabis):
We took bus at around 9 am from Kasol to Jari from where you have to hire a taxi to Malana Gate. There is no bus service from Jari to Malana's gate. The rate for small taxi is INR 800/- and for larger one is INR 1200/- . We were three so we hired the smaller one. There is around 1 hour trek to Malana village from the gate. The trek consists of good uphill climb. We interacted with locals and came to know about various stories related with this village which are enumerated:
Myths for Malana:
1.) You can't touch the villagers and their houses/temples. It has fine of INR 1500/-
2.) Some villagers believe they are descendants of the Lord Shiva .
3.) Some thought they are the decedents of the Aryans. A story does that when emperor Akbar was suffering for an a serious disease came to the village, the people of Malana were able to cure it. Akbar was so pleased that he gave tax-exemption to all the people residing in the village.
4.) Malana was founded by remnants of Alexander the Great's Army.
5.) They are very rich because of the Malana Cream and hence villagers have Swiss bank accounts.
6.) They worship lord "Jamlu Rishi"(devta).
7.) They speak their own language and had oldest democracy in the world.
After reaching village we went to Dragon cafe and purchased Malana Cream(Cannabis/Hash) at INR 1500/-.It has different shape than the one that we bought at tosh. The Tosh's maal was in spherical shape and Malana's maal was in pieces of rectangle but both has almost same effect. In a dimly lit room trans music was playing, huge posters of Shiva and Dragon Guest house adorned the Deodar walls of the room. There was more Malana cream in the air than oxygen. Peoples there, were busy smoking Chillum and one among them offer us Chillum too.(It was his birthday and he was on solo trip). We also started contributing to the surrounding and that was the perfect environment for getting high. This was a lifetime experience...:)
One can also do Chanderkhani Pass trek from here, but we didn't opt for that. Malana is more of a village for backpackers and travelers and less for tourists.