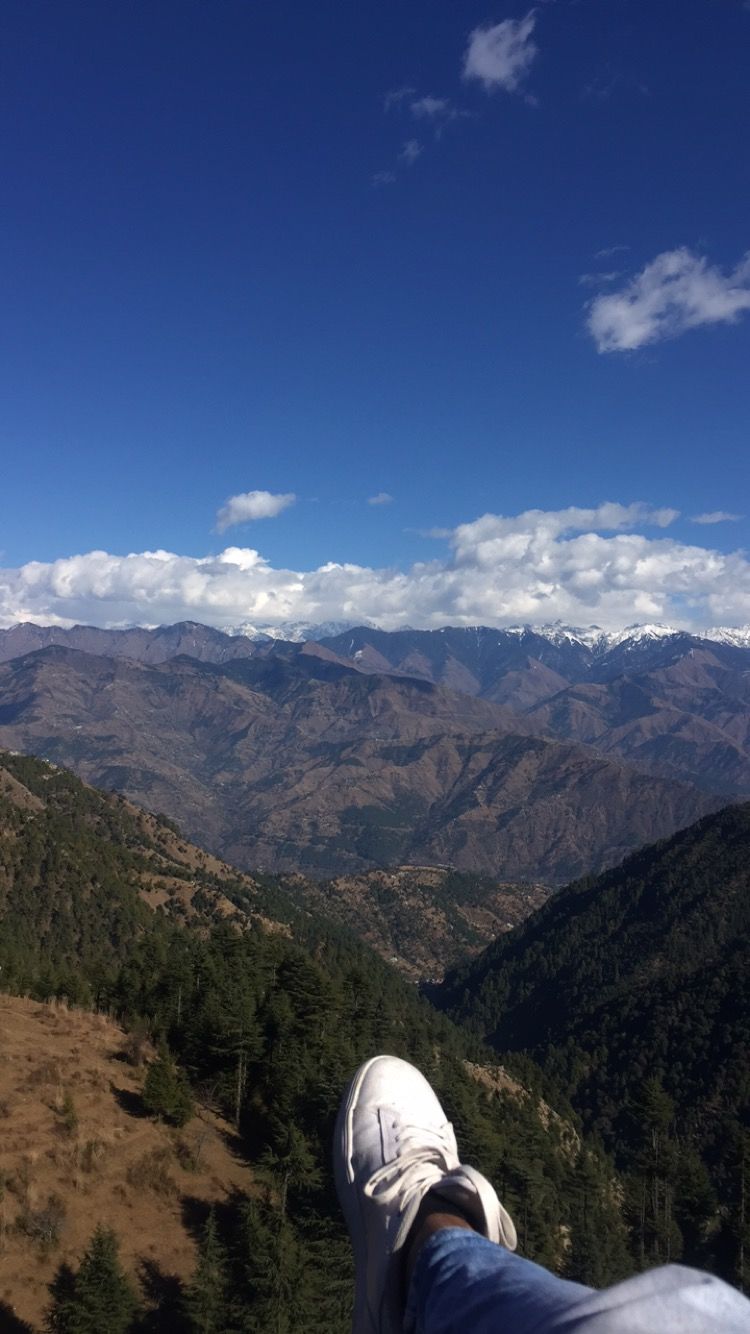 DAY1: A USUAL DELHI WINTER SMOGGY MORNING. AIR INDIA AND SPICEJET FLY REGULARLY TO DHARAMSHALA. SURVIVING THE HEAVY MONDAY TRAFFIC OF THE CITY I MANAGED TO REACH THE AIRPORT JUST ON TIME TO BOARD THE AIRCRAFT. I MEAN I WAS SO LATE THAT THEY HAD A BUS WAITING JUST FOR ME. UNLIKE OTHER AIRLINES WHO ARE JUST FLYING WAY TOO UP IN THE AIR IN THEIR MINDS (COUGH INDIGO). ANYWAYS I WAS ON BOARD AND IN NO TIME WE WERE AMIDST THE CLOUDS. AND TO MY SUPRISE I COULD SEE A LAYER OF BROWN SMOG ALL OVER THE NATIONAL CAPITAL. AFTER AN HOUR OR SO INTO OUR FLIGHT WE GOT THE FIRST GLIMPSE OF THE SNOW CAPPED MOUNTAINS OF THE DAULADHAR RANGE. IT WAS A SIGHT TO WATCH. YOU ARE SURROUNDED BY THE MOUNTAINS AND SUDDENLY YOU SEE A RUNWAY AND THE AIRCRAFT TOCHDOWN THE TARMAC IN THE VALLEY OF KANGRA A TOWN 20KMS FROM DHARAMSHALA. DEPLANE AND THE FIRST THING EVERYBODY HAS TO DO IS TO TAKE A FEW SNAPS OF THE PLANE WITH THE MOUNTAINS IN THE BACKGROUND. AND MAN! IT WAS BEAUTIFUL. CABS ARE AVAILABLE JUST OUTSIDE THE TINY AIRPORT TERMINAL. I ALREADY BOOKED AT THE PAVILION BY HPCA. GOT A REALLY GOOD DEAL AT GOIBIBO.COM. CHECKED IN TO THE ROOM AND LEFT FOR MCLEODGANJ, ASKED THE HOTEL GUYS TO ARRANGE A CAR FOR MR TILL THERE BUT THERE ARE TAXIS AS WELL WHICH IS A MUCH CHEAPER OPTION. I WANTED TO HIRE A BIKE CAUSE I PERSONALLY THINK THAT BEING INDEPENDENT IN TERMS OF TRANSPORT IS THE BEST WAY YOU CAN EXPLORE THE PLACE BUT FIRST I HAD TO EAT. THE DROPPED ME AT THE MCLEODGANJ CHOWK AND SUUGESTED ME TO HAVE AT THIS RESTERAUNT CALLED CAFE MCLEO. AND DAMN HE WAS RIGHT THE FOOD WAS OUT OF THIS WORLD, NOT BECAUSE I WAS FAMISHED BUT GENUINELY. AFTER THAT I STARTED LOOKING OUT FOR A GOOD BIKE RENTAL SHOP. THERE ARE MANY AVAILABLE IN THE MARKET ROAD BUT I RECOMMEND LAKSMI TOURS AND TRAVELS. GIVES THE BIKE AT A VERY GOOD PRICE AND EVEN THE OWNER Mr ANKUSH AGARRWAL WAS A VERY HUMBLE MAN. I ASKED HIM ABOUT THE TRIUND TREK AND HE REPLIED THAT THE TREK IS CLOSED SINCE IT SNOWED PRETTY HEAYVY THE PREVIOUS NIGHT. DISSAPOINTED AND TIRED I TOOK THE BIKE AND STARTED HEADING DOWN BACK TO MY HOTEL FOR A LIGHT WORKOUT SESSION AT THE HOTEL GYM. AND IT WAS A PRETTY RIDE FOR A PERSON WHO HAS NO EXPERIENCE OF DRIVING IN THE STEEP, CURVY MOUNTAIN ROADS BUT ONCE U GET THE HANG OF IT ITS OKAY. DINNER TIME I WAS BACK IN MCLEODGANJ DRIVING IN THE COLD NIGHT. NOTE: WHEN YOU HIRE A BIKE ALSO BUY A PAIR OF GLOVES. BACK IN CAFE MCLEO FOR THE AMAZING FOOD TO MY SURPRISE THERE WAS A LOCAL BAND PLAYING LIVE MUSIC. WATCHING THEM PERFORM I THOUGHT TO MYSELF THAT IT WAS TOTALLY WORTH COMING OUT AND DRIVING IN THAT ASS FREEZING WEATHER. THAT WAS A PRETTY GOOD END OF MY DAY.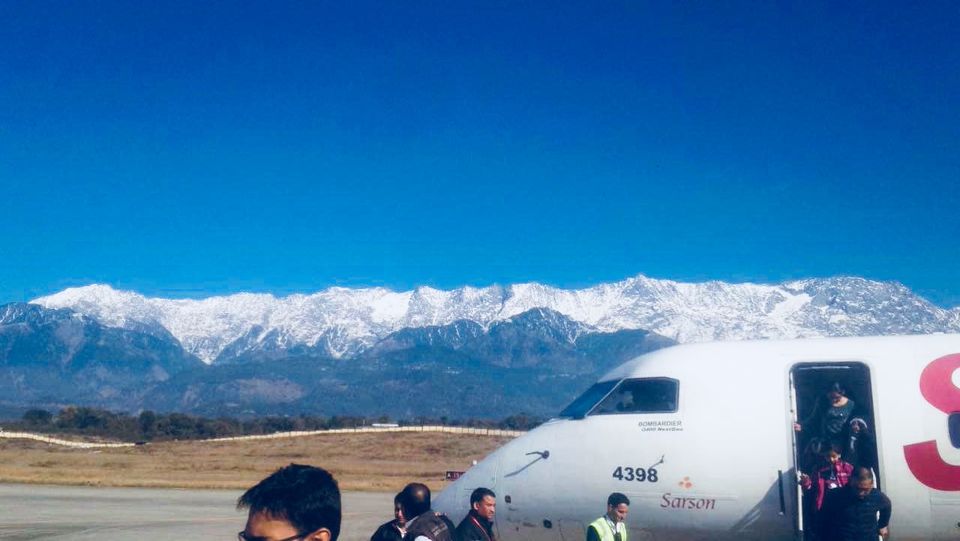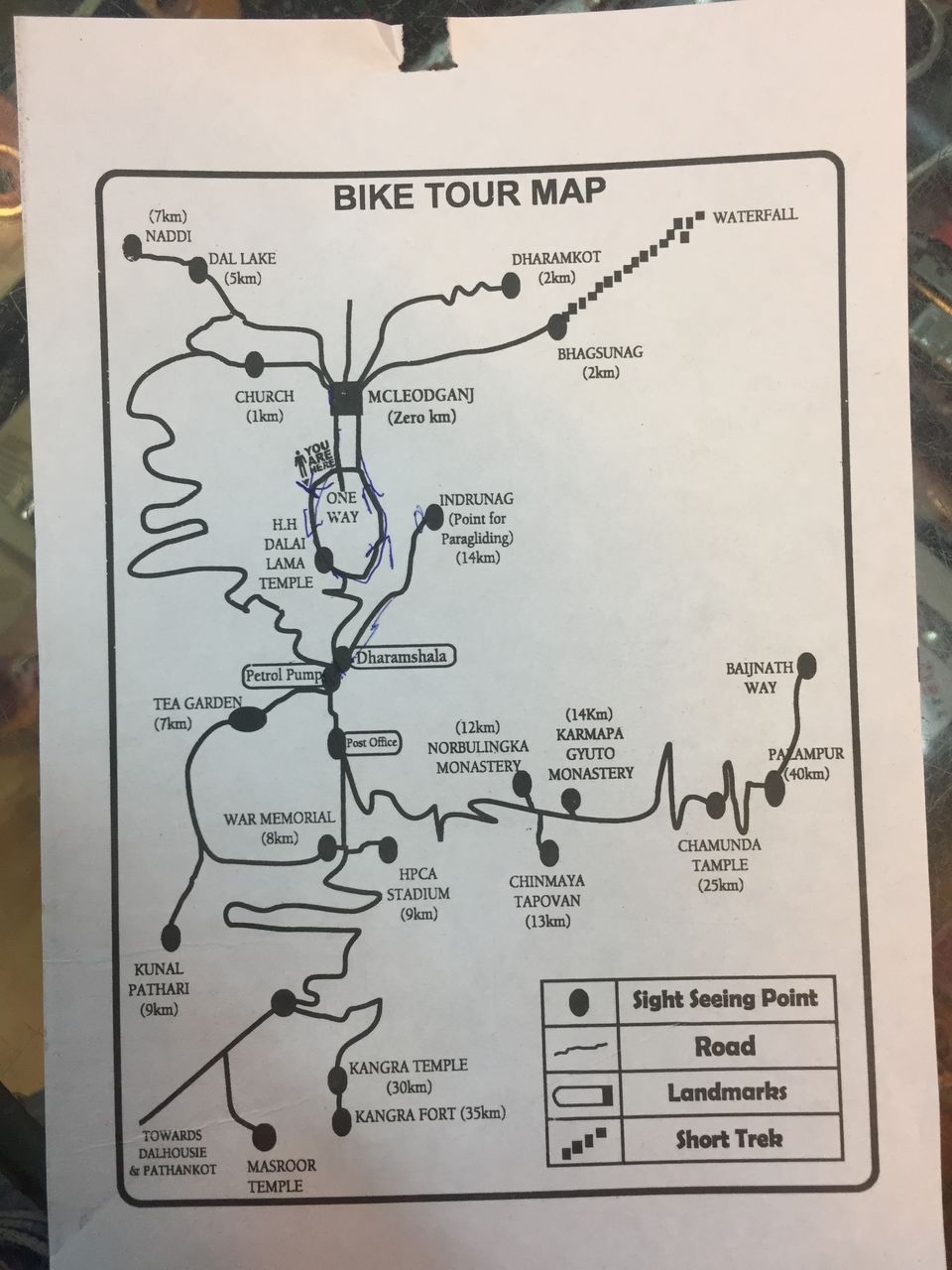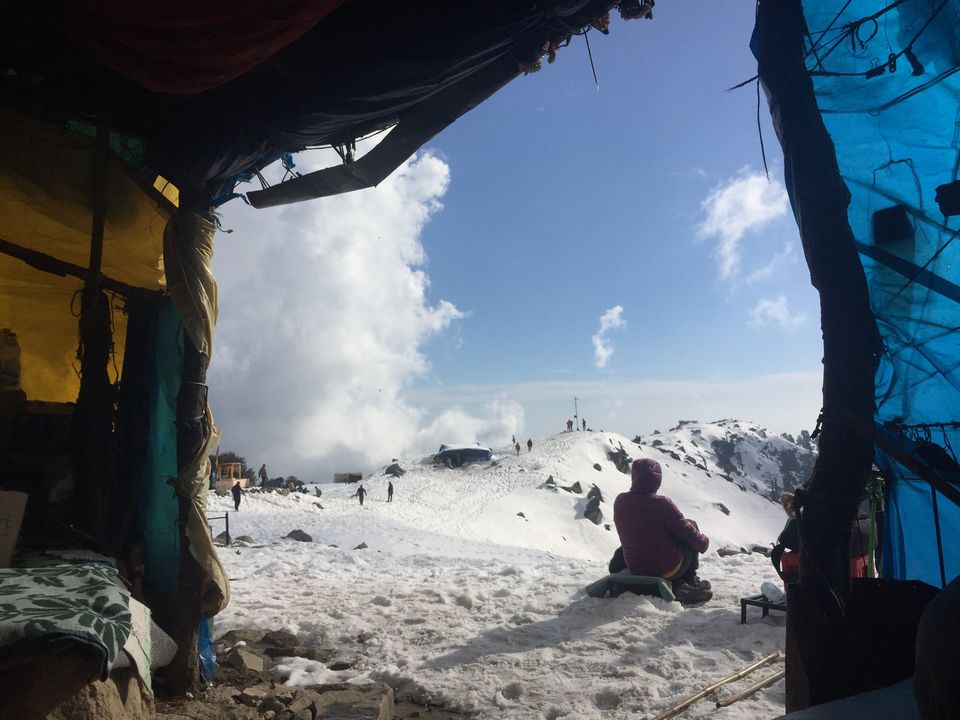 DAY2: THE NEXT MORNING I WENT OUT FOR A TEMPLE VISIT AROUND 60KMS FROM DHARAMSHALA. THE TEMPLE WAS CALLED 'JWALA MATA TEMPLE'. ALL I KNEW BEFORE ENTERING THE TEMPLE WAS THAT IT WAS A SHAKTIPEETH AND TOUGE OF GODDESS SATI WAS APPARENTLY FALLEN OVER THERE. BUT AFTER A LONG WAIT IN THE QUEUE I WAS STUNNED WHAT I SAW INSIDE THE SHRINE. THERE WAS NO IDOL OF ANY GOD OR GODDESS BUT THERE WAS A PIT AROUNG 4FEET DEEP AND FLAMES WERE FUMING OUT FROM THE WALLS OF THE PIT AND ALSO FROM THE WALLS OF THE MAIN TEMPLE. YOU CAN TRY TO EXTINGUISH THE FIRE AS MUCH AS YOU CAN BUT IT WILL ALL GO IN VAIN. I MYSELF TRIED TO COVER THE FLAMES WITH A CHUNK OF HALWA(FLOOR PUDDING)BUT I FAILED.I WAS CONFUSED AND AMUSED AT THE SAME TIME. I ASKED THE PRIEST THAT HOW WAS THAT POSSIBLE BUT HE HAD A RELIGIOUS REPLY BUT I THINK THAT THERE IS SOME KIND OF SCIENTEFIC REASON BEHIND IT. ANOTHER STORY GOES THAT THE GREAT MUGHAL EMPEROR AKBAR SENT HIS MEN IN THE TEMPLE TO EXTINGUISH THE FIRE BUT THEY COULDN'T. HE THEN GIFTED THE TEMPLE A GOLDEN UMBRELLA WHICH TURNED INTO A DIFFERENT METAL BECAUSE HE DIDN'T BELIEVE THE MAGIC OF THE TEMPLE AND INSULTED THE SHRINE BY SENDING MEN TO EXTINGUISH THE FIRE. THE UMBRELLA IN PLACED IN A ROOM IN THE TEMPLE. A HIGHLY RECOMMEND PLACE TO VISIT WHEN YOU ARE IN DHARAMSHALA.
DAY3: WOKE UP EARLY IN THE MORNING AS I PLANNED TO GO TO KHAJJIAR AND DALHOUSIE. THOUGH I HARDLY DSLEPT THE PREVIOUS NIGHT I WAS ALL ACTIVE IN THE MORNING AND READY TO GO. I WAS EXCITED FOR PARAGLIDING IN KHAJJIAR. ITTOOK US AROUND 6 HRS FOR US TO REACH KHAJJIAR WHICH WAS SUPPOSED TO BE 'SWITZERLAND OF INDIA' BUT ALL I COULD SEE WAS A GROUND WITH A PATCH OF SNOW IN THE CORNER. RECOMMENDED TO GO DURING THE LATE WINTERS. BUT THE PARAGLIDING AT THAT PLACE SURELY MADE ME FEEL I WAS IN SWITZERLAND. BUT I HAD TO TREK QUITE A BIT TO REACH THE POINT. BUT I WOULD RECOMMEND BIR BILLING FOR PARAGLIDING WHICH IS THE 2ND HIGHEST PRAGLIDING SPOT IN THE WOLRD.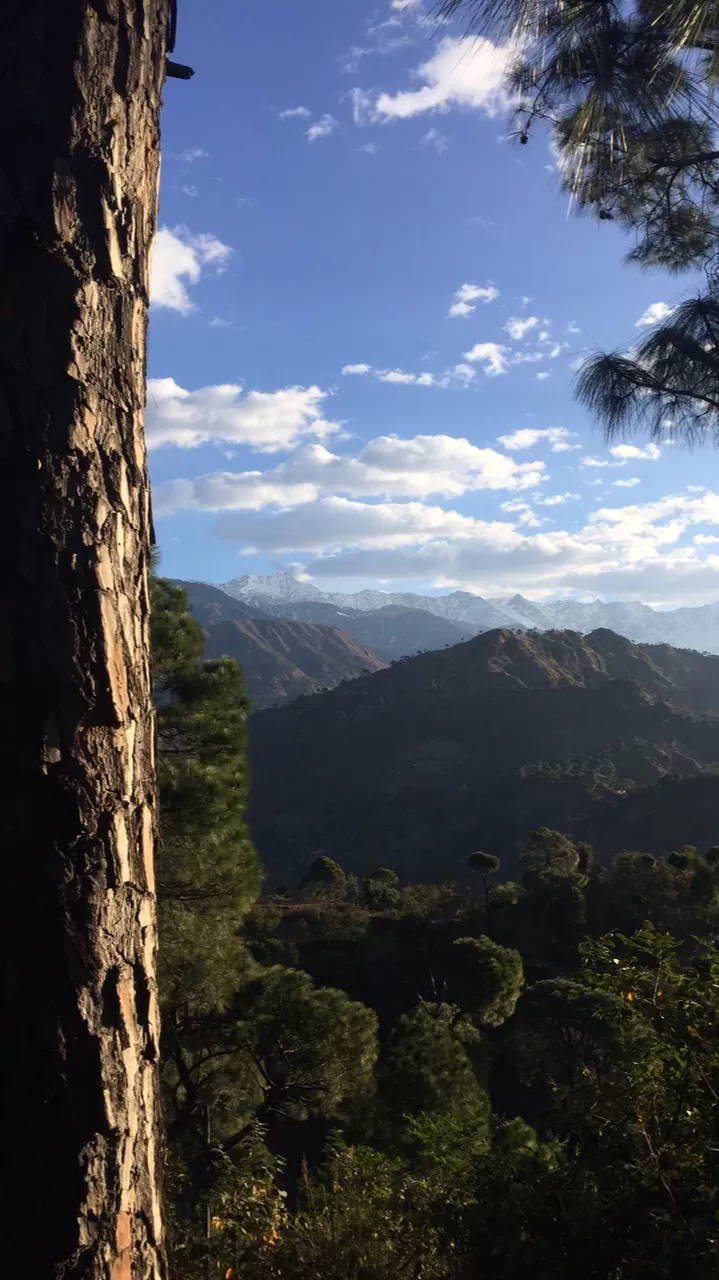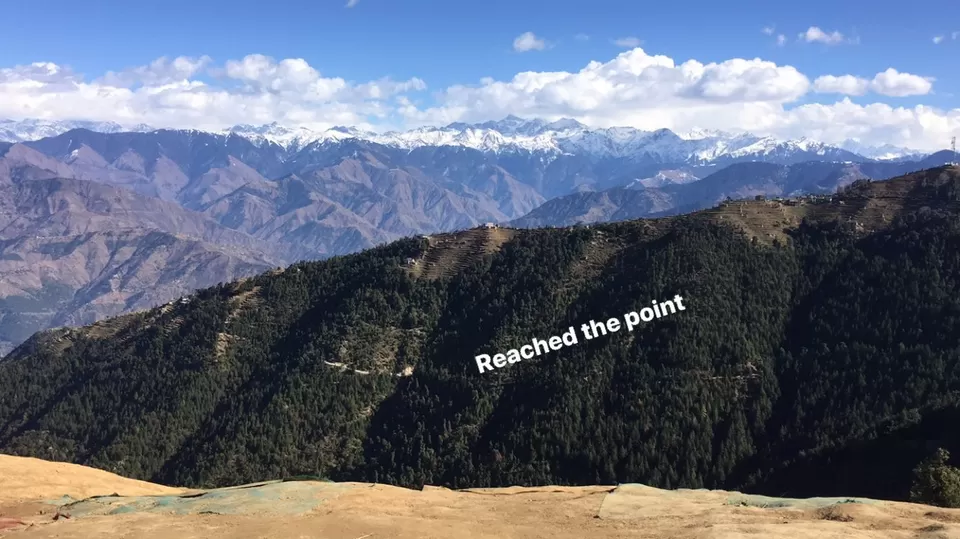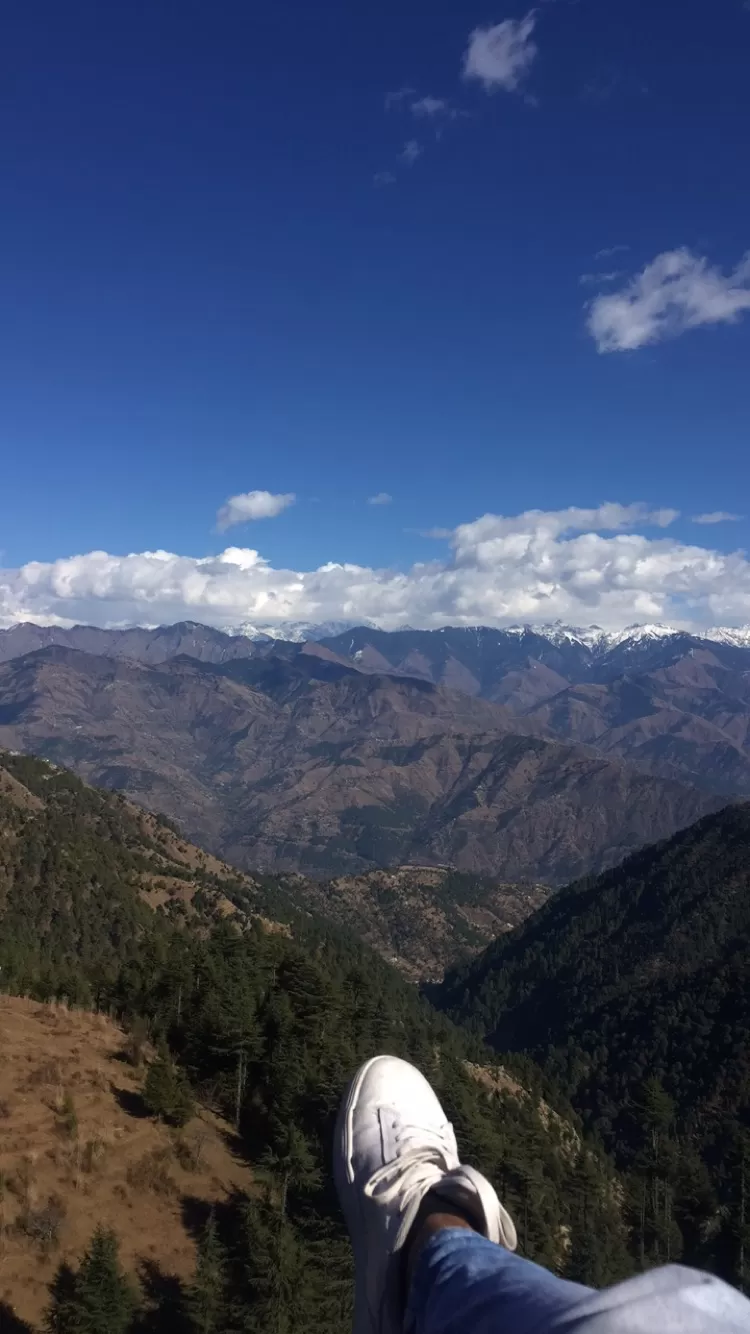 COULDN'T REACH DALHOUSIE AS IT WAS GETTING LATE AND HAD TO HEAD BACK TO DHARAMSHALA ON TIME. LATER IN THE NIGHT I WAS INTRODUCED TO A TREK GUIDE BY MY DRIVER. AND HE AGREED ME TO TAKE ME TO THE TREK THE NEXT MORNING. HAPPY ME COULDN'T THANK HIM ENOUGH.
DAY4: ALL EXCITED REPORTED AT MCLEODGANJ CHOWK AT 6AM. GUIDE ASKED US TO TAKE A CAB TO REACH THE TREK POINT OTHERWISE YOU HAVE AN OPTION OF START TREKKING FROM THE CHOWK ITSELF BUT I WANTED TO BE BACK BY EVENING SO I CHOSE TO TAKE THE CAB.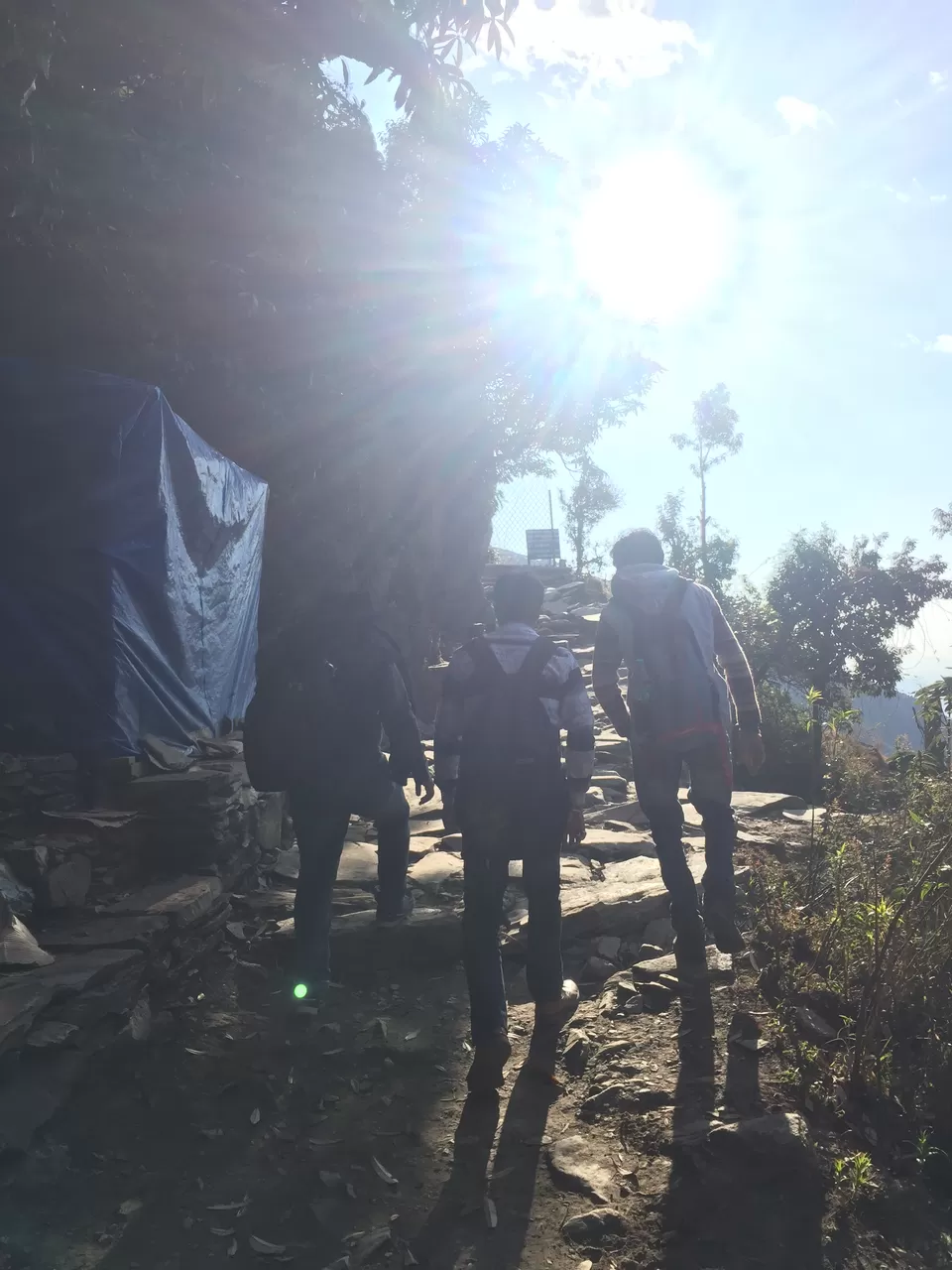 AFTER AROUND 4HOURS OF WALKING ON THE NARROW ROCK PATH SNOW GRADUALLY COVERED THE PATH. SNOW MADE IT DIFFICULT TO WALK. THANKFULLY I HAD PRIOR EXPERIENCE OF TREKKING IN LADHAK AND LOCAL HILLS I MANAGED TO DO WELL WHILE OTHERS KEPT FALLING ON THEIR BUTTS.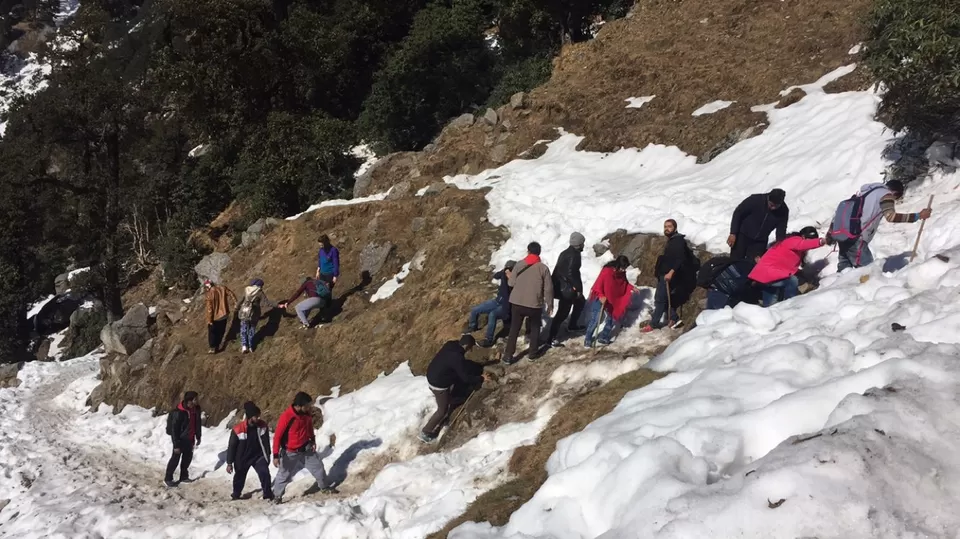 AFTER 6 HOURS OF CLIMBING WE REACHED THE SUMMIT AND BELIEVE ME IT WAS BLLISSFUL.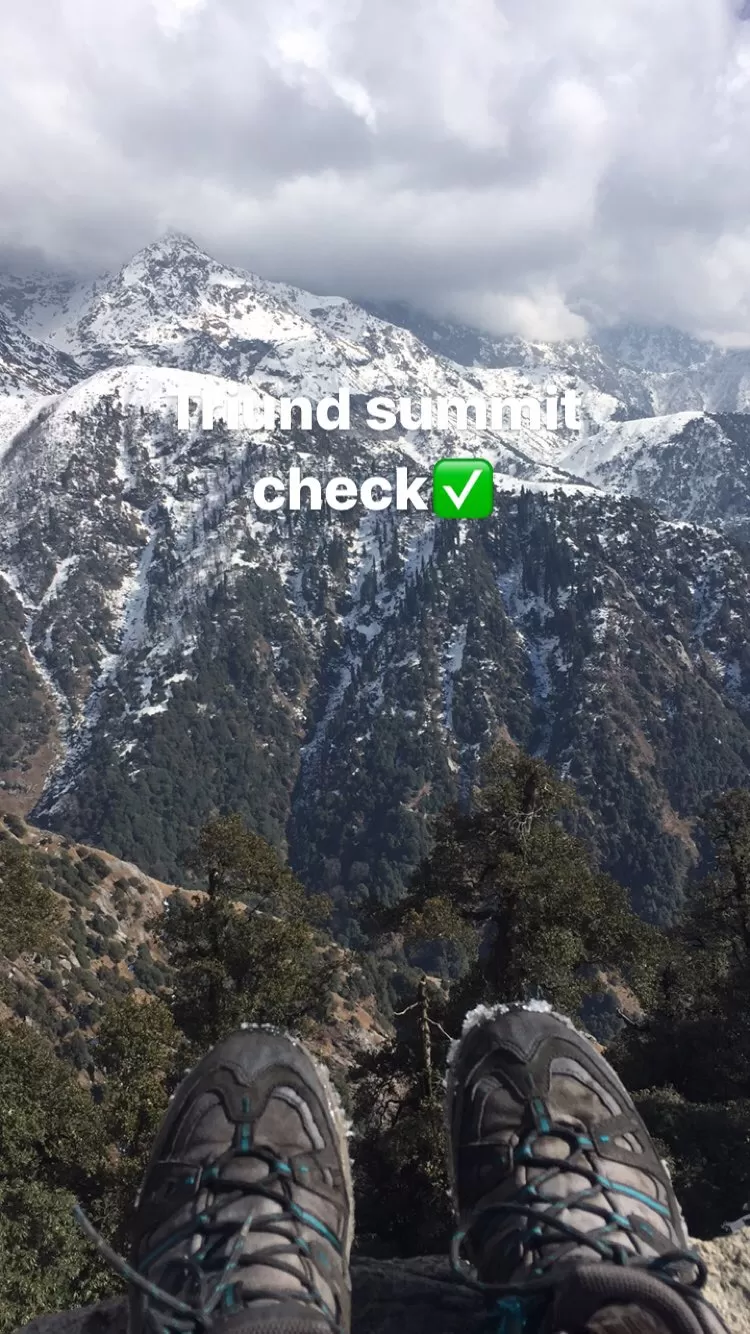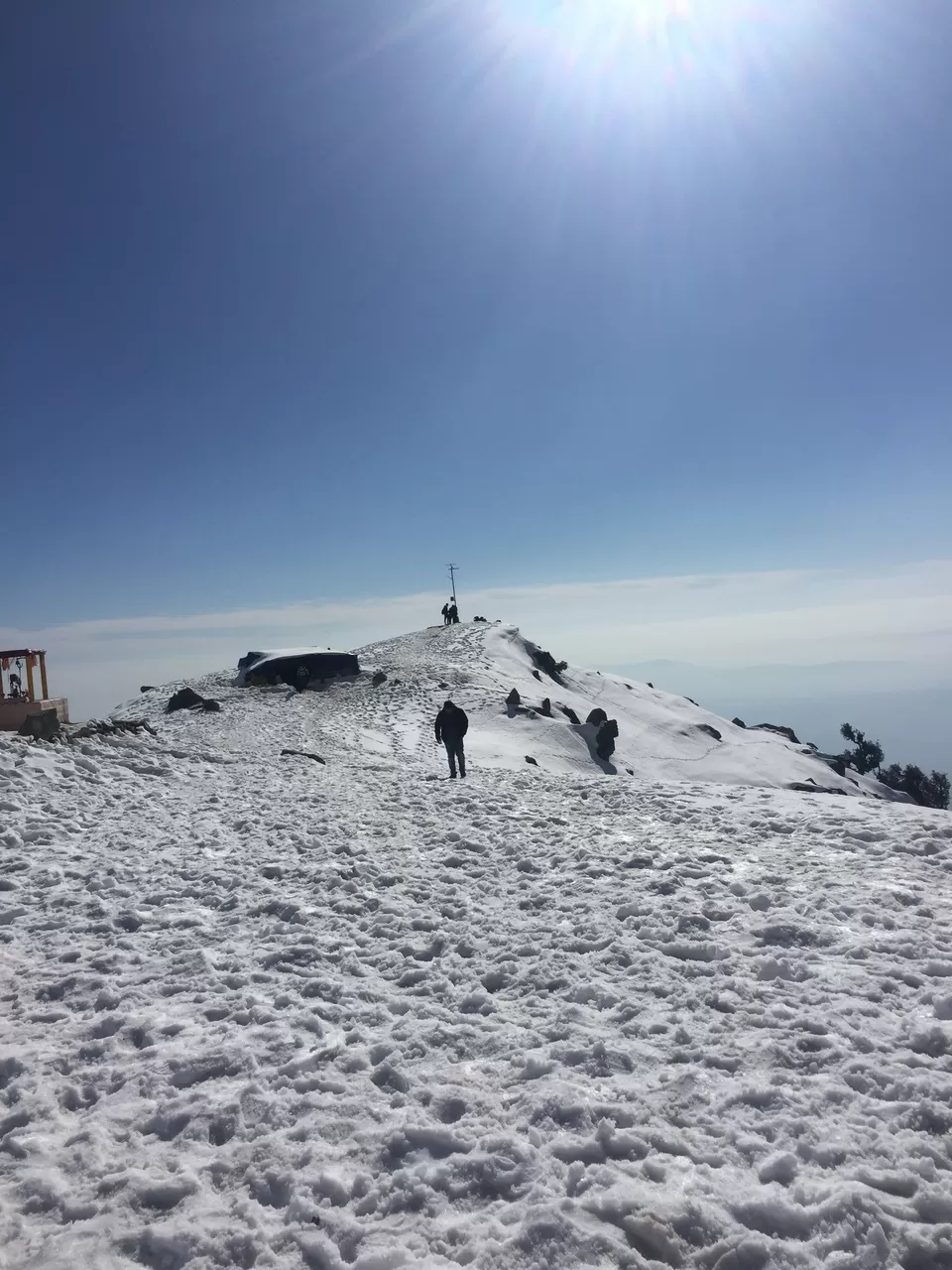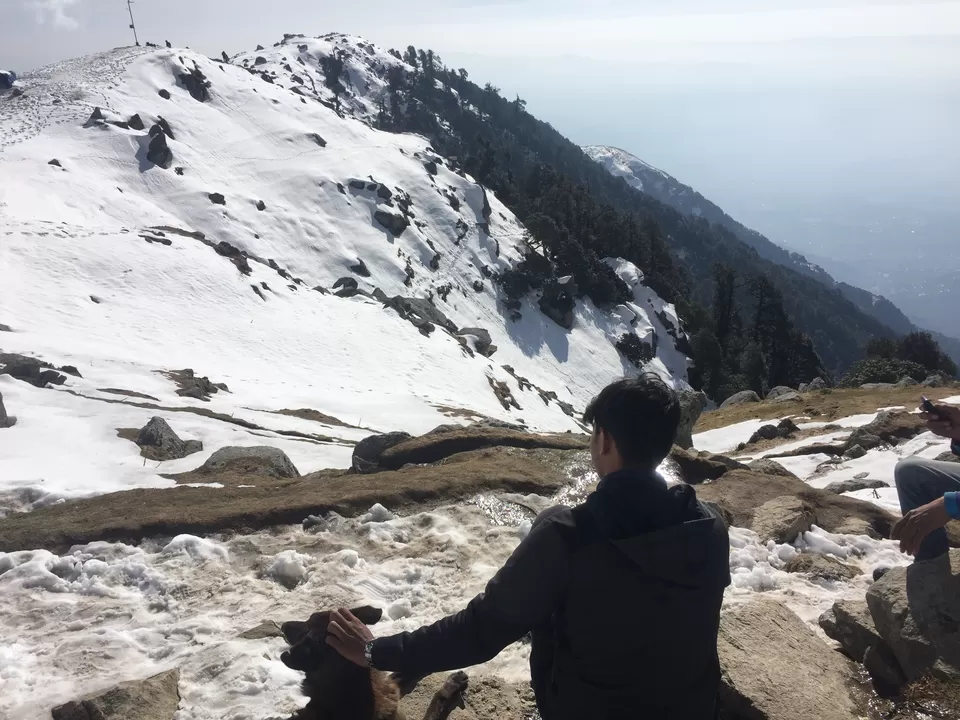 THERE ARE VARIOUS TENTS THAT SELL FOOD AND HOT DRINKS ON YOUR WAY UP AND ALSO ON THE SUMMIT. GETTING DOWN WAS EASY AND TOOK AROUND 4 HOURS. IT FELT LIKE NOTHING AS I MADE A COUPLE OF FRIENDS FROM PATIALA AND SHARING OUR STORIES ENJOYED THE TREK DOWN. REACHED MY HOTEL ROOM AND SLEPT LIKE A BABY.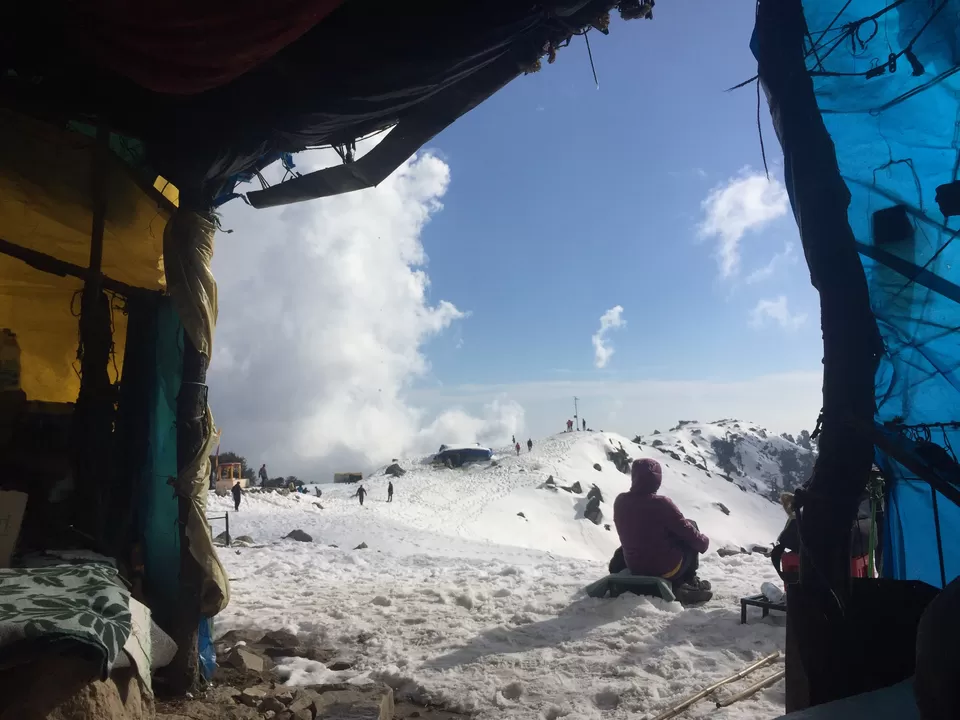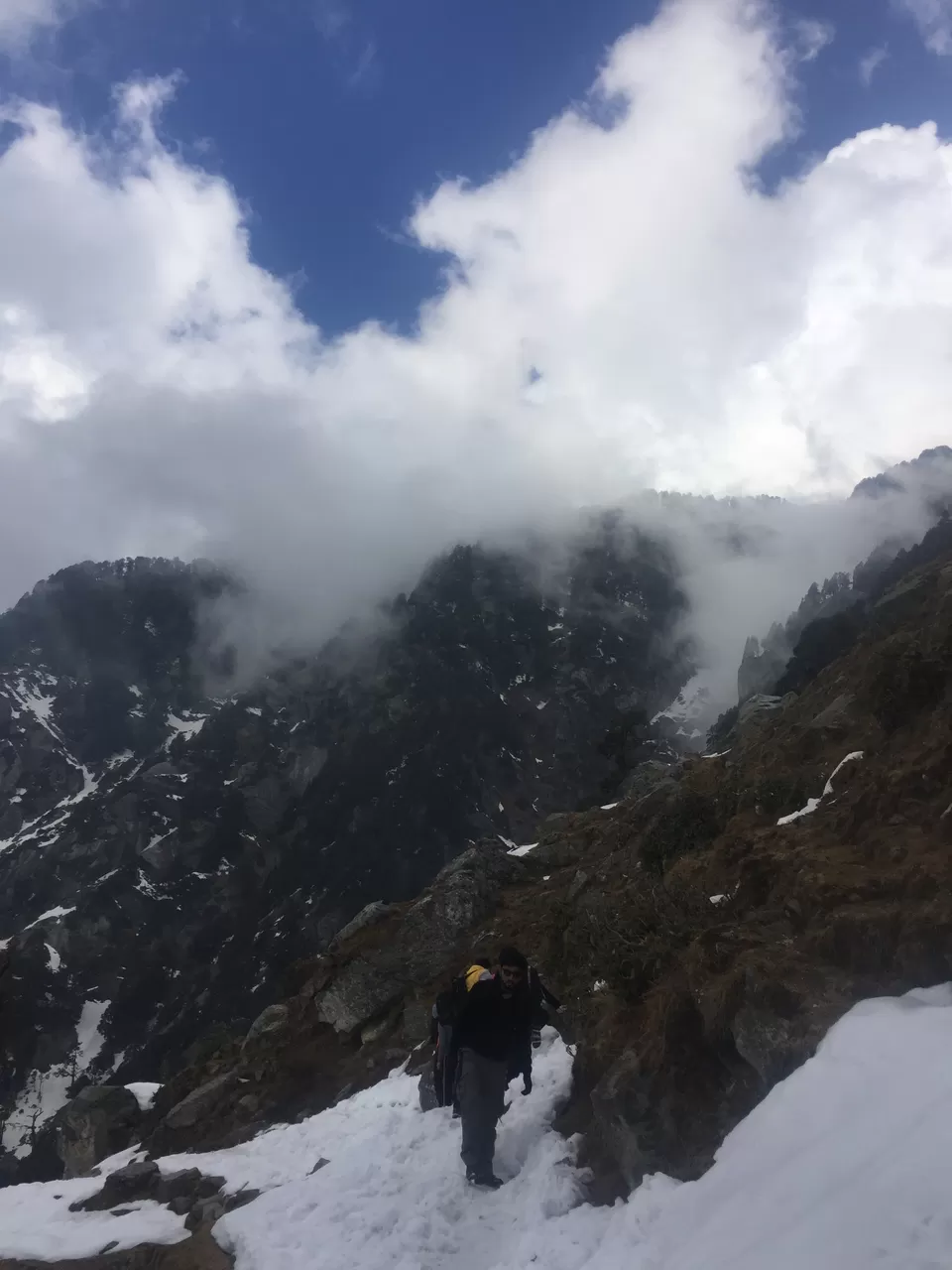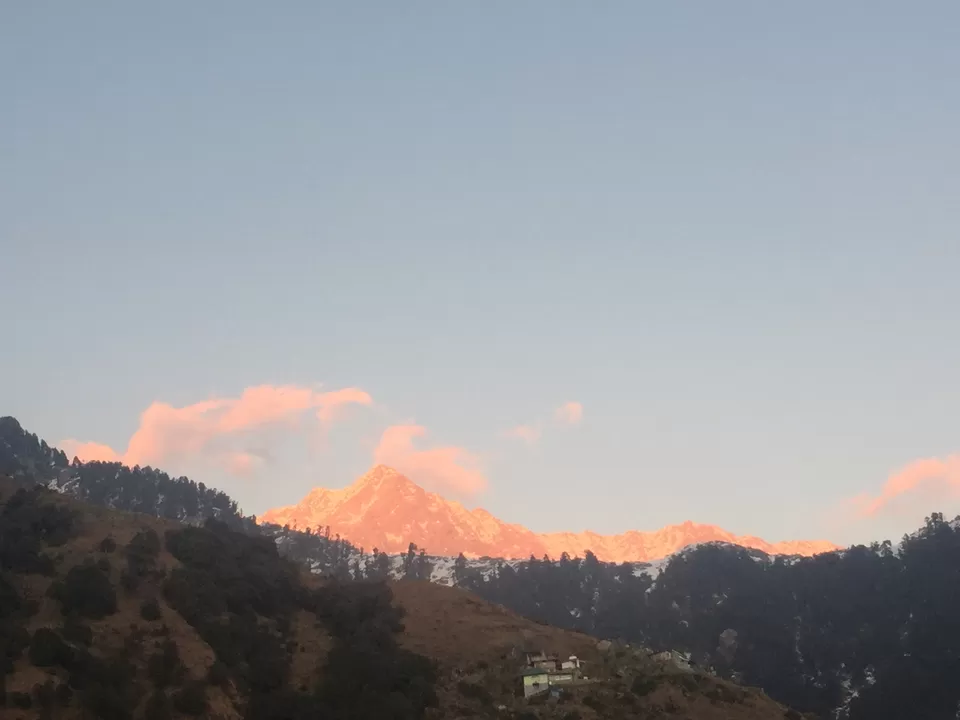 NEXT DAY I HAD TO SAY GOODBYE TO THE AMAZING PLACE AND FLY BACK TO THE POLLUTED NEW DELHI. BUT I WILL DEFINETLY GO BACK AGAIN SOON. THIS TIME FOR A NIGHT STAY AT THE TRIUND SUMMIT.