Day 1: Boarded a bus for Dharamshala
We boarded bus from ISBBT-43 for Kangra late in the morning. There is plenty of buses ply towards Kangra/Dharamshala from Chandigarh, one can easily reach Dharamshala. I suggest you to leave as early as possible as it will be around 6-7 hours journey so plan accordingly. Bus will cost you around 380-450.
We reached Dharamshala around 4pm and boarded a shared taxi to Mcleodganj where we have booked a dorm in GoStops, Dharamkot.
Next day, we started for the trek after having breakfast. After 2-3 kms the we encountered Snow in our path and couple of steep tough patches. A beginner also will not have any problem in this trek as the trek have well defined route with rough staircases. 
Views which you will encounter are amazing, and i feel this trek is worth doing in Winters, just be careful with the weather predictions, people do get stuck in the lake during heavy snowfall.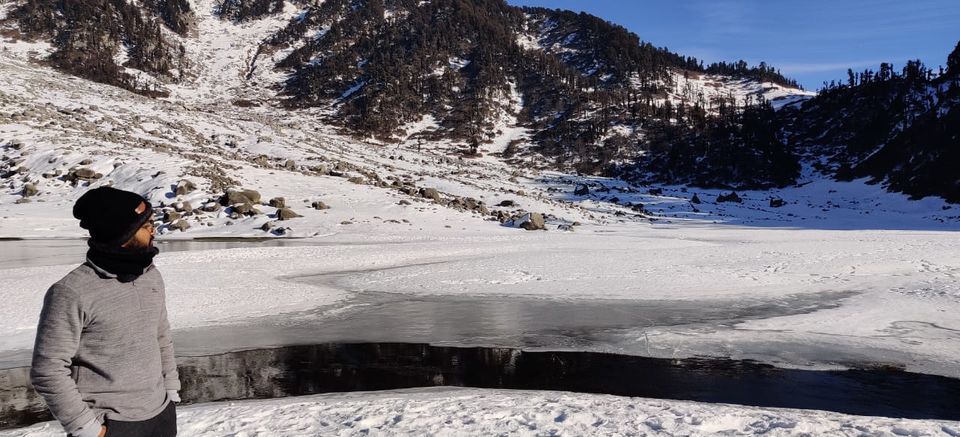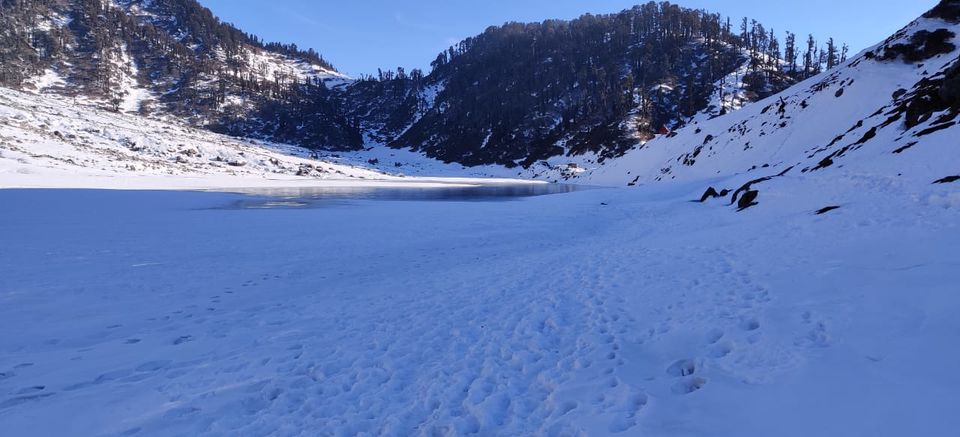 As I have planned come back to Chandigarh on this very same day, I started the trek back to Kareri village early in the morning alone, and reached there around 10am. There are very few people at that time so i booked a special cab till Kangra and from there i boarded the bus to Chandigarh.
After settling up we left for a night stroll and dinner towards Mcleodganj. I personally found Mcleodganj very crowded. There are rooftop bar lounges in Mcleodganj where you can sit and enjoy your evenings if you are with group.
Day 2: Off to Kareri and trek day 1
Next day, we left for Kareri village which is our trek start point. We have shared a cab with our fellow trekkers from Mcleodganj to Kareri village.Cab cost was apprx 2500 and we are 7 persons in total. From Mcleodganj to Kareri distance is around 40-45 kms and will take around 1-1.5 hours to reach there. We started from Mcleo a bit late again :D , and reached around 1 pm at Kareri, with our guide. Guide charged us around 2200/- for 2N/3D trek including tent,sleeping bags and food.
We reached our campsite around 5 pm which is somewhat 4-5km far from the starting point. We all pitched our tents there, explored the mountains and trails around and after a while had our food and relaxed around bonfire.
Day 3: Trek to the frozen lake
We spent some time at lake, admiring the nature's creation and the mountains covered with snow around it. We started our descent around 3 pm and reached the base camp around 5pm. We refreshed there had a tea and enjoyed our evening in the camps.
Day 4: Time to say goodbye