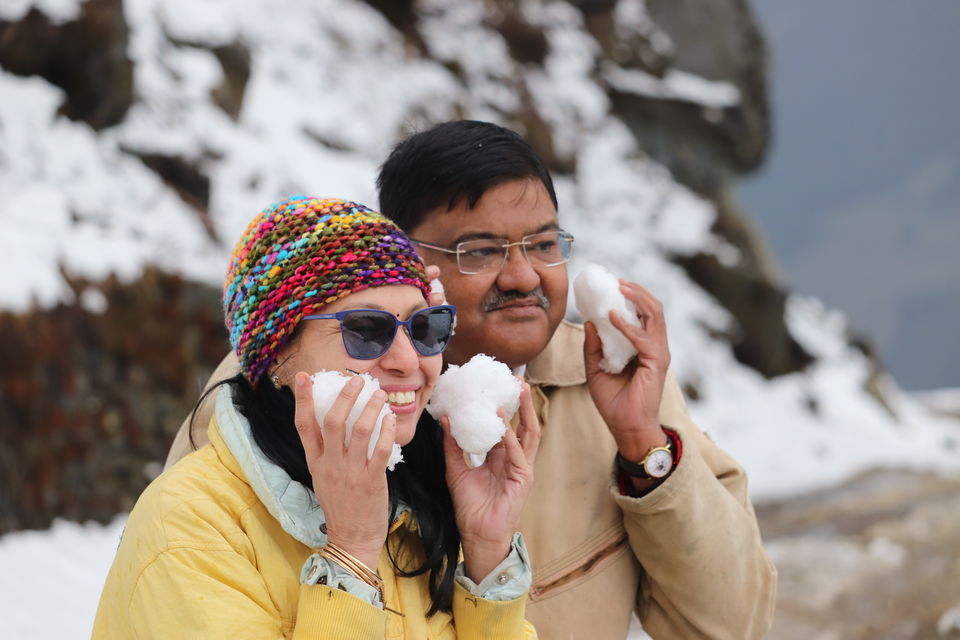 During this season there is something different about Dalhousie , Mcleodganj and Dharamshala apart from the atmosphere that attracts tourists from all over the world. It's like the rains are just starting to fall and the sun is not that hot , the perfect Tourist weather.
This article is for someone who likes to travel with their family , leisure travel and also someone who likes to explore those famous hidden spots that every place has! It's like breaking the limits but still staying in them!
I have listed the top 5 things to do when you visit any of those places at the end of this article and my experience of going through that list is just a few scrolls down! I hope you enjoy it.
Also you check out my video on it as well : https://youtu.be/E2o6OtEKPO8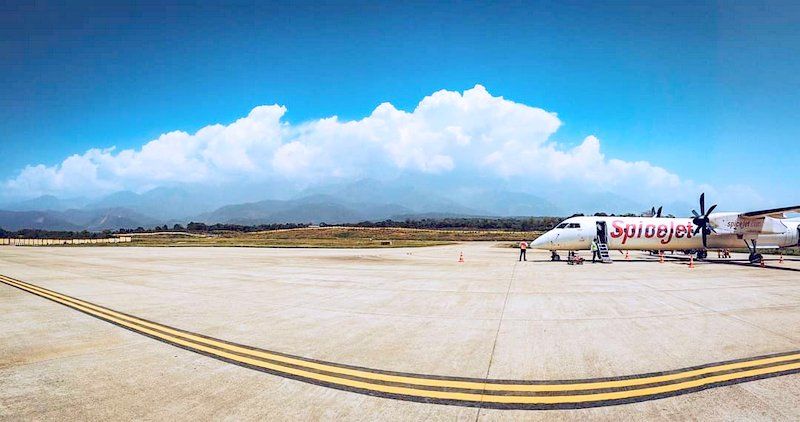 I took a flight from Delhi to Dharamshala which itself turned out to be my first adventure on the trip. It was a small plane(78 seater) known as bombardier , the manner in which it took of , we had our lives in our hand and it would shake without any turbulence while flying that made us even more afraid thinking we got to land as well.
I didn't believe that we would land successfully but somehow it landed and the runway is so small we would have banged on the wall but it stopped !! haha! And am alive to tell the story!
Lets talk about the airport , one of the best locations in the world where an airport has been made! Surrounded by mountains , Greenery all around , Sight of Snow and a phenomenal weather all year , this place will make you want to work at an airport.
Taxis are available outside but we had our hotel send us one. We reached the hotel right before dusk and enjoyed the evening at the hotel.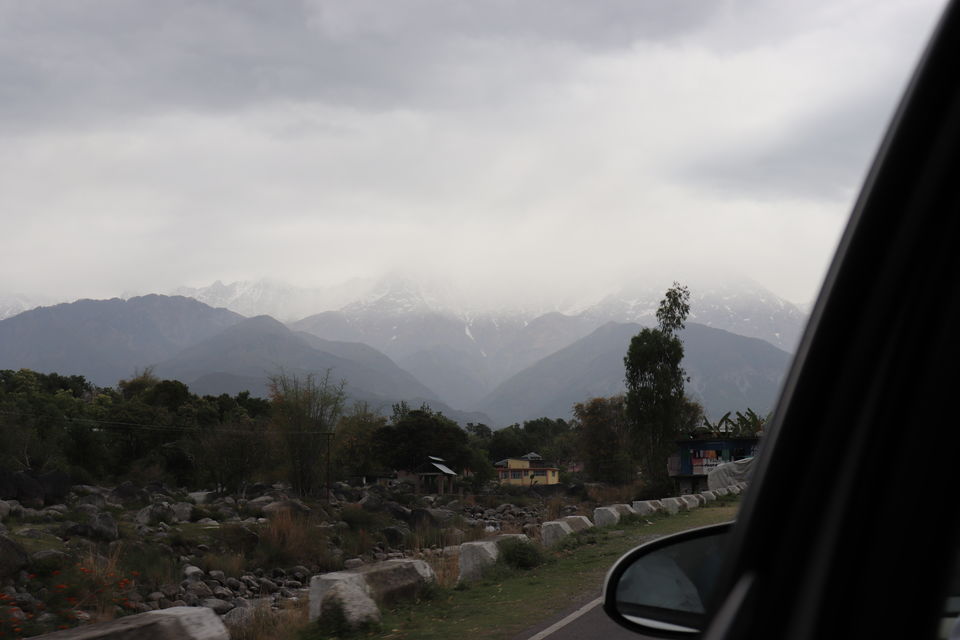 The Pavillion, HPCA is one of the best hotel Dharamshala has and often the Indian Team Cricket Players stay here when they come to play a match at the Cricket Stadium. Luckily I got to stay there!!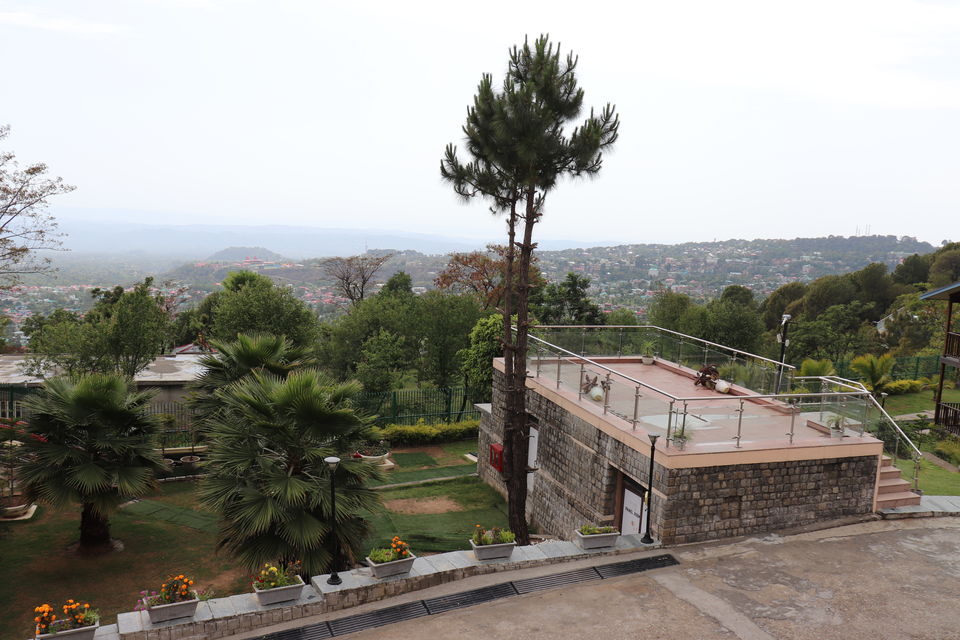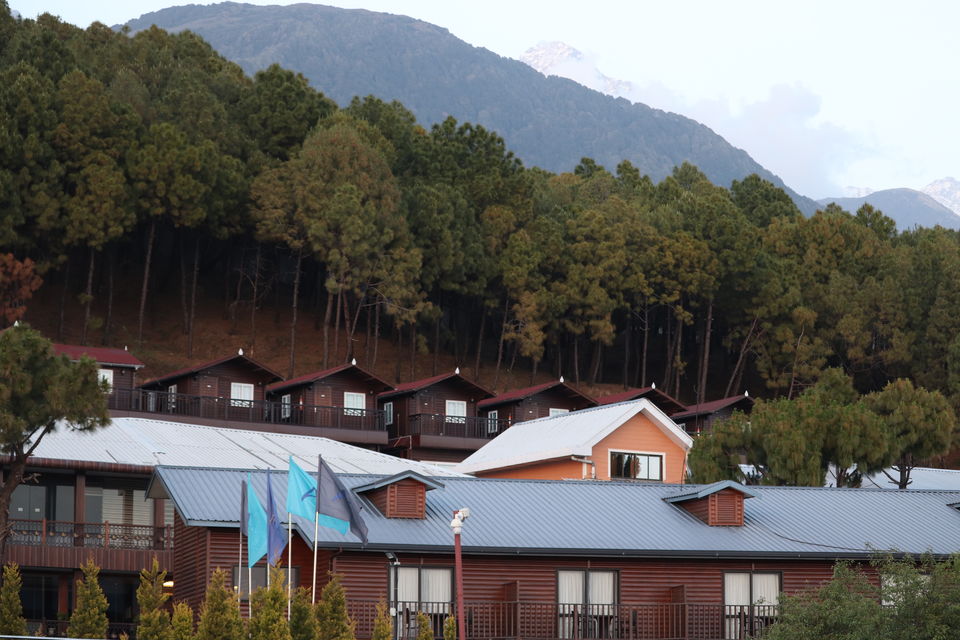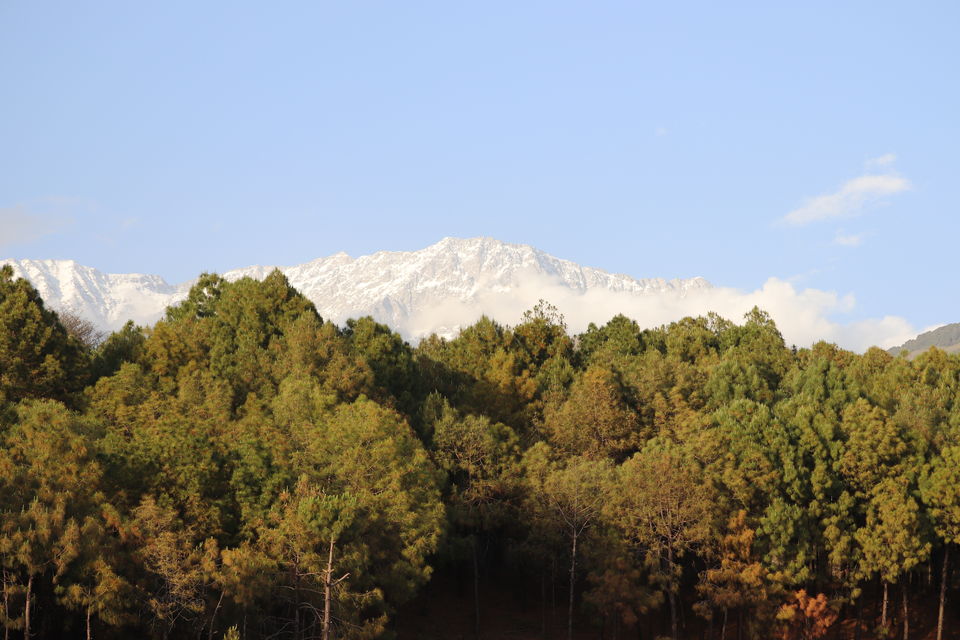 The hotel has an Infinity Pool that is mind blowing. The views from the pool are crazy , i could see the whole city standing on it. The stadium was also visible from my room and the infinity pool. We had the Paragliding location just besides the hotel and it was a great sight to watch people jumping off!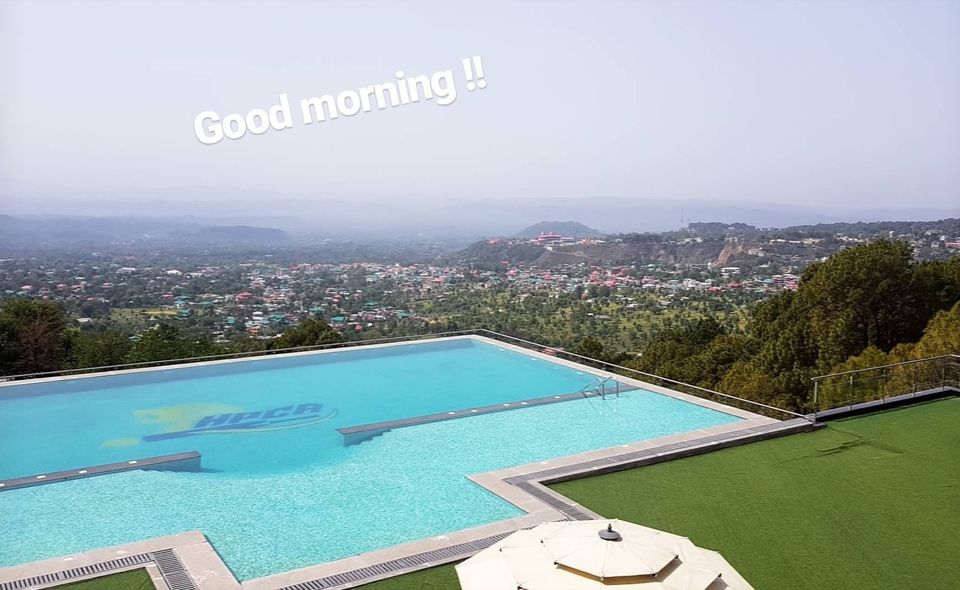 The sunset from the pool is mesmerizing! I had a chance to enjoy it for 3 days!!!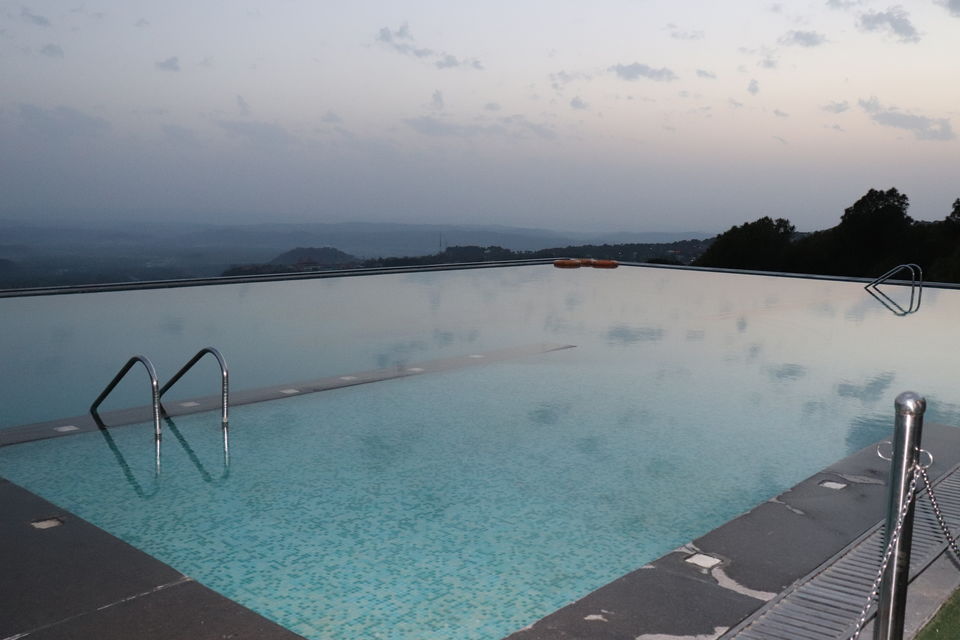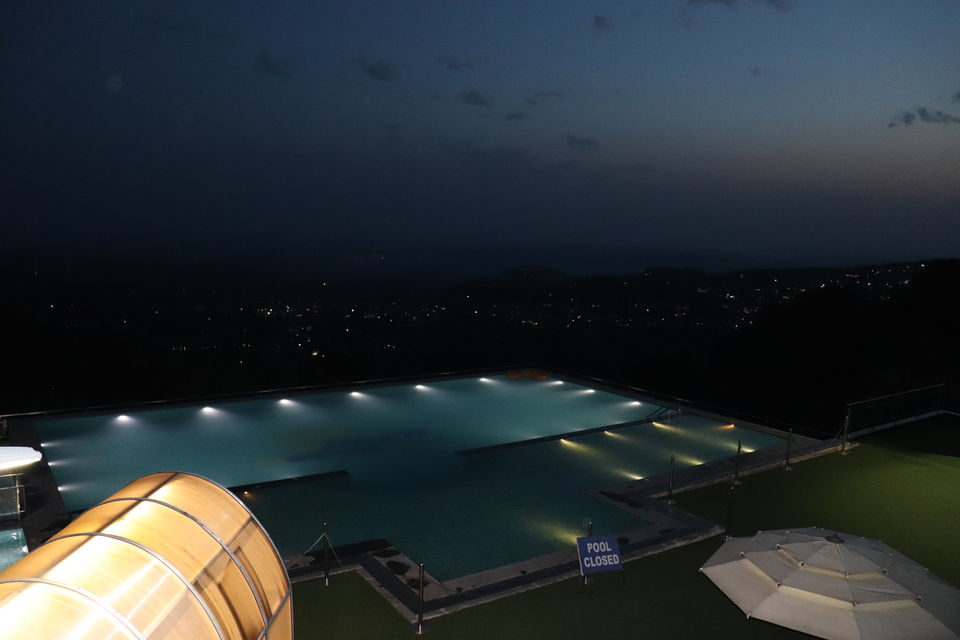 In the late evening we went for some local shopping and Delicious food! ( It's a hippie place )
Next morning we go to , Naddi View Point - Not something you want to visit if you are short on time. Small walk in the forest will lead you to the sight of mountains with snow the only thing good about that place.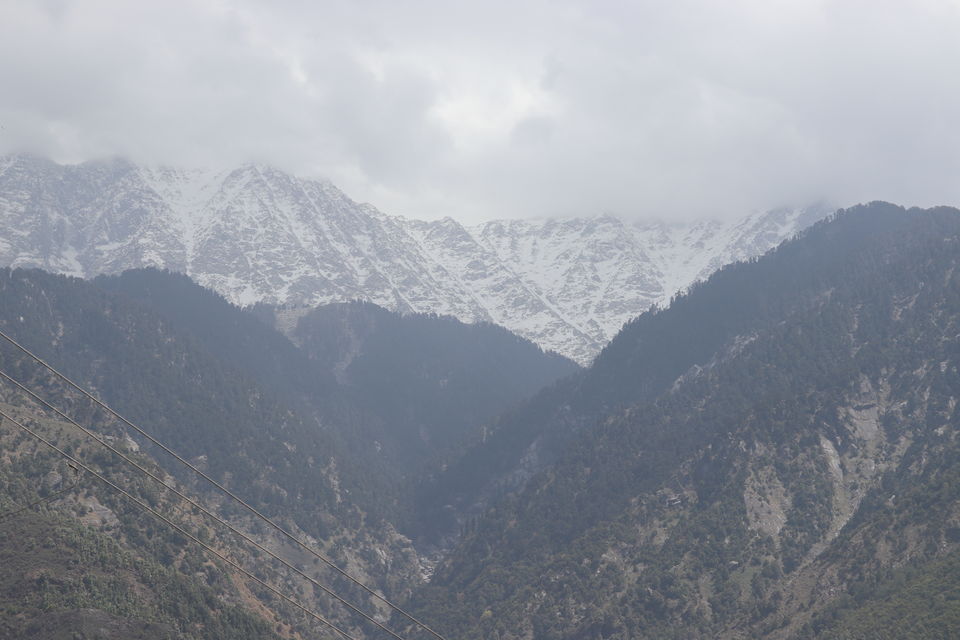 On the way down we go to Dal Lake ( Yes there's one in Kashmir too) , it was clean in the past but today its not that good! It was a major tourist attraction in the past but today its not. Something you can just cross-by again if short on time!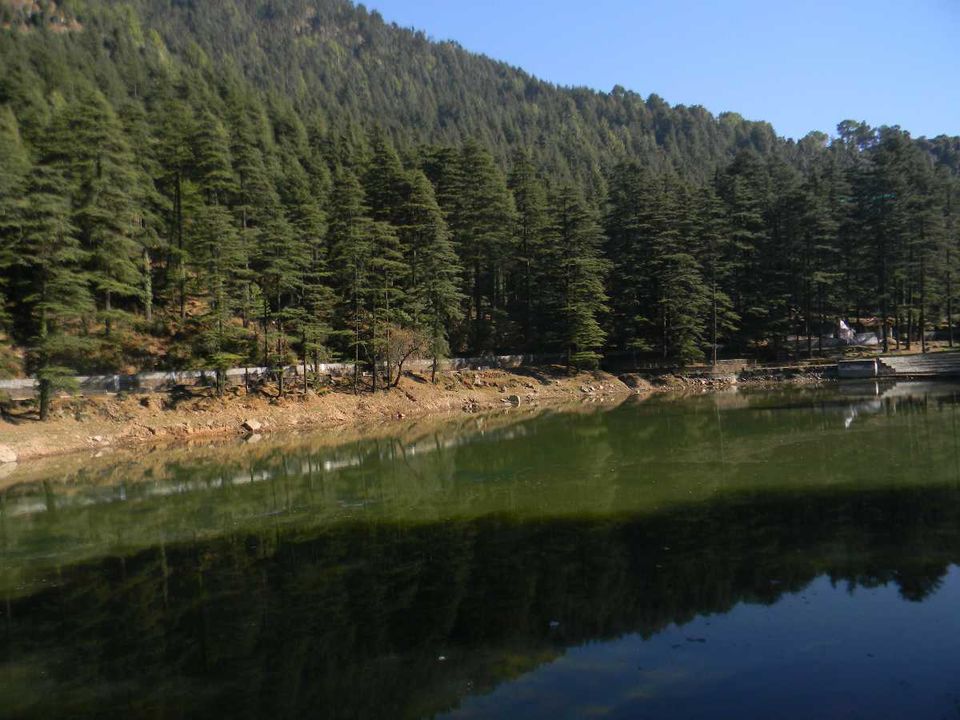 Peace is what most of us seek and St. John's Wilderness Church is a perfect home for it. The place gives you chills like none other and even though its not maintained like it should be but it still looks beautiful! Tombstones , Huge structures , in middle of a forest , the famous clock will make you sit their and wonder everything about yourself.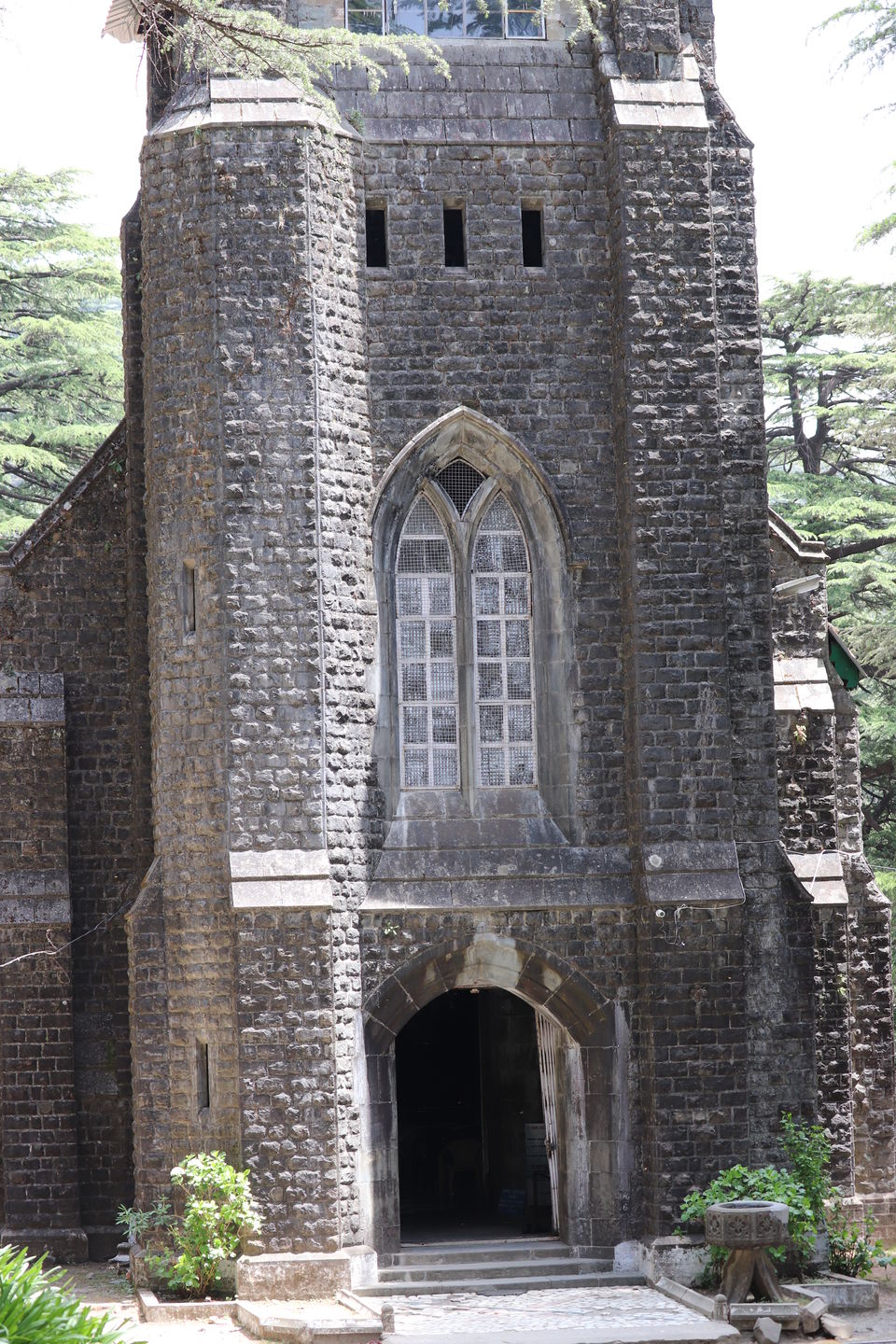 Excited i was as we were visiting Mcleodganj next and the stories that this place has created are legendary. Its a total Firangi town and you just wish to get lost in it.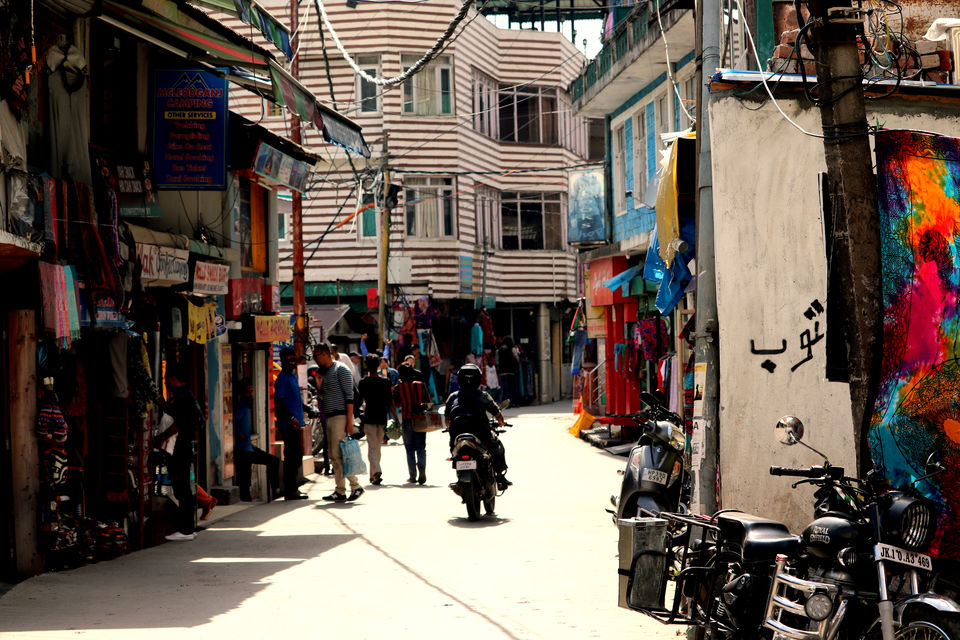 We went to the Nick's Italian kitchen for some yummy food! and the view from outside is great as well. Try the desserts they have a lot of them! Freshly baked !!
Next stop was the Dalai Lama Temple complex which will make you wander how can one live such a life and the activities that happen their will just send you to a different place where its just you talking to yourself.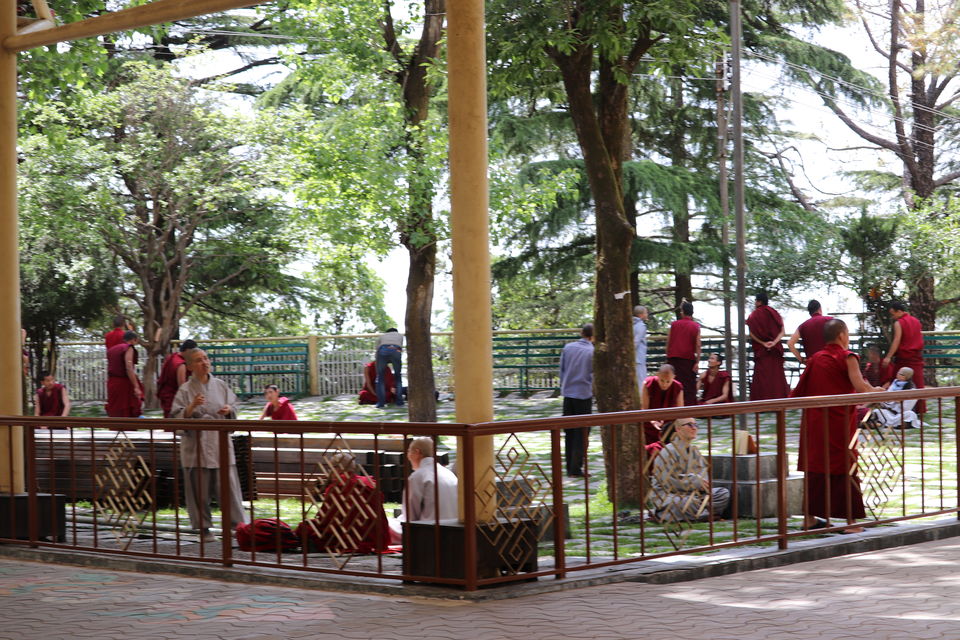 The temples very beautiful and staying their for a while will make you feel better from inside.
Visiting Local cafe's and shopping on the streets are two famous things to do in Mcleodganj!
Mcleodganj and Dharamshala have some of the best cafe's this country has and they serve mouth-watering food with intriguing views.
I spent my evening exploring different cafe's and wandering on the streets of Mcleodganj.
Moon Peak Espresso Cafe - A cappuccino at this place would make you feel like being in paradise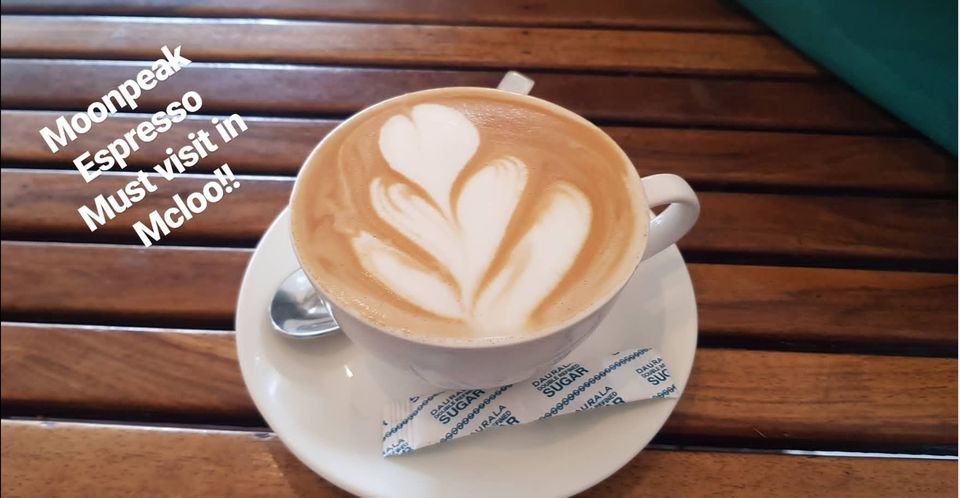 Illiterati Book Cafe - I would call it as one of the best cafes in the world and i have reasons for it. 1. The location is breath-taking ( specially those seats on the balcony ) 2. Their food is umm-tasty! It will make you come again and again! With their Coffee 3. The set-up they have their(Just WOW!)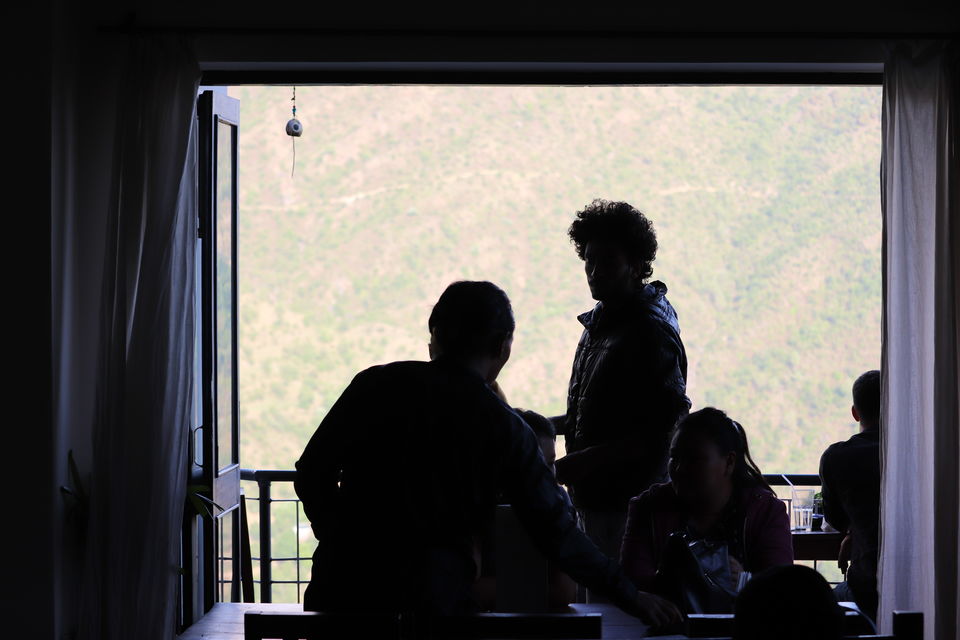 Reading Napoleon , Aristotle , Plato is what i did after going their.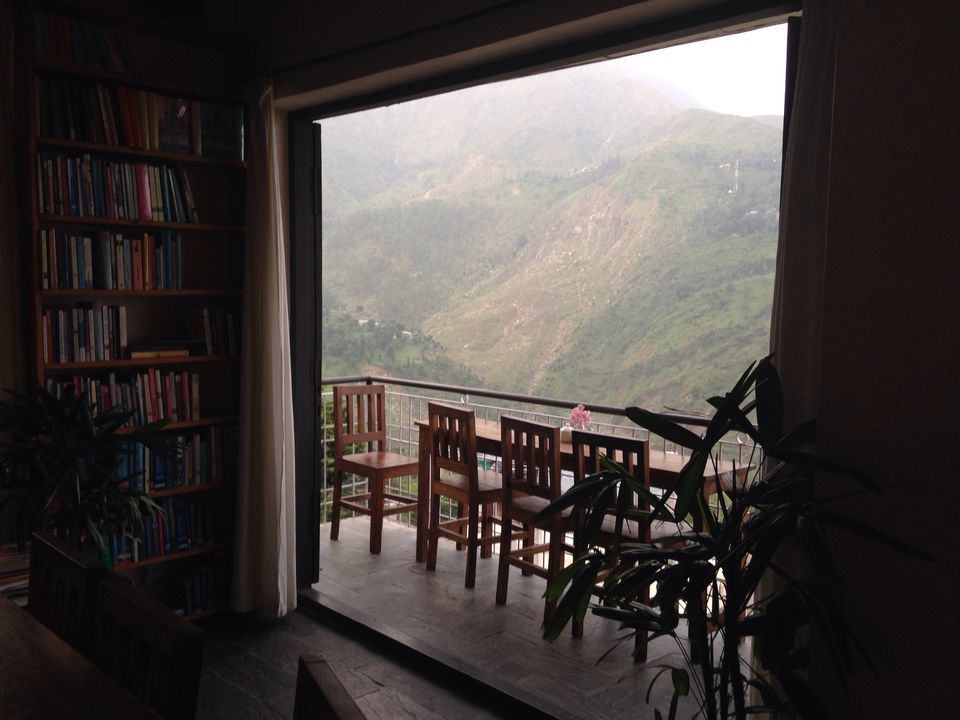 If i have such a place in my city i am destined to be a philosopher! It was Amazing!
Woeser Bakery !! My god this place has a lot of delicacies to offer but don't forget to have the Walnut Brownie and the Red Velvet Cake!!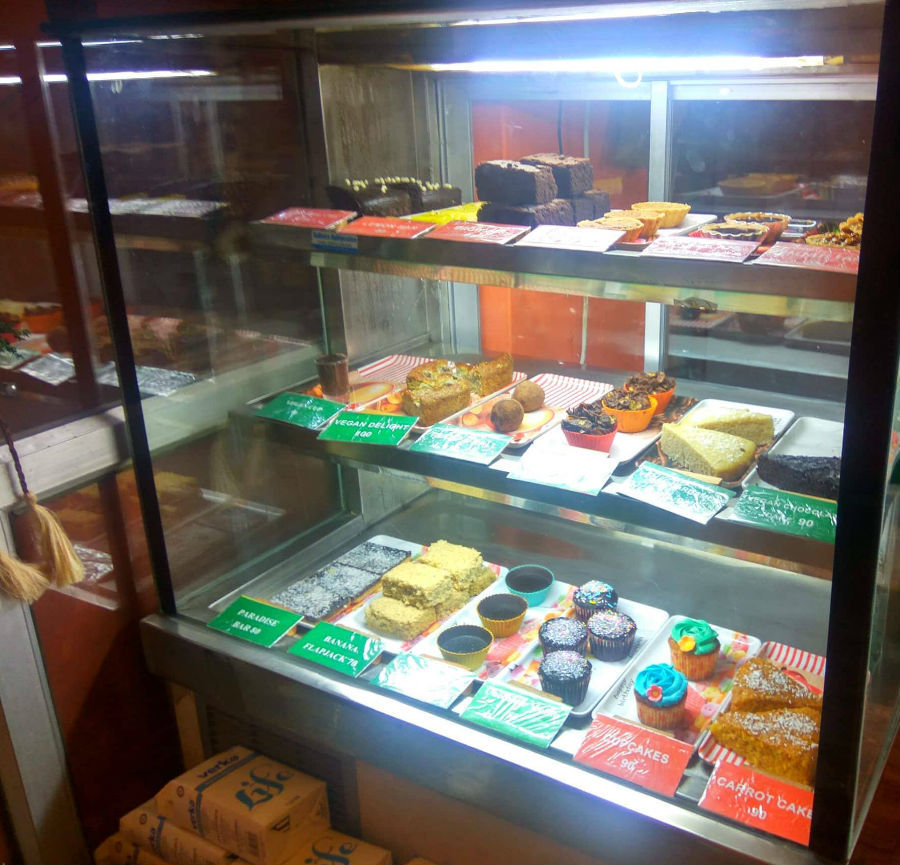 Lastly after the climb you will reach Shiva Cafe(The legendary Shiva Cafe). Its a spot at a good height and hence the view of the valley is exciting. It's a view point in itself. Maggi and tea or coffee or Hot Chocolate what ever according to your preference is a must-try.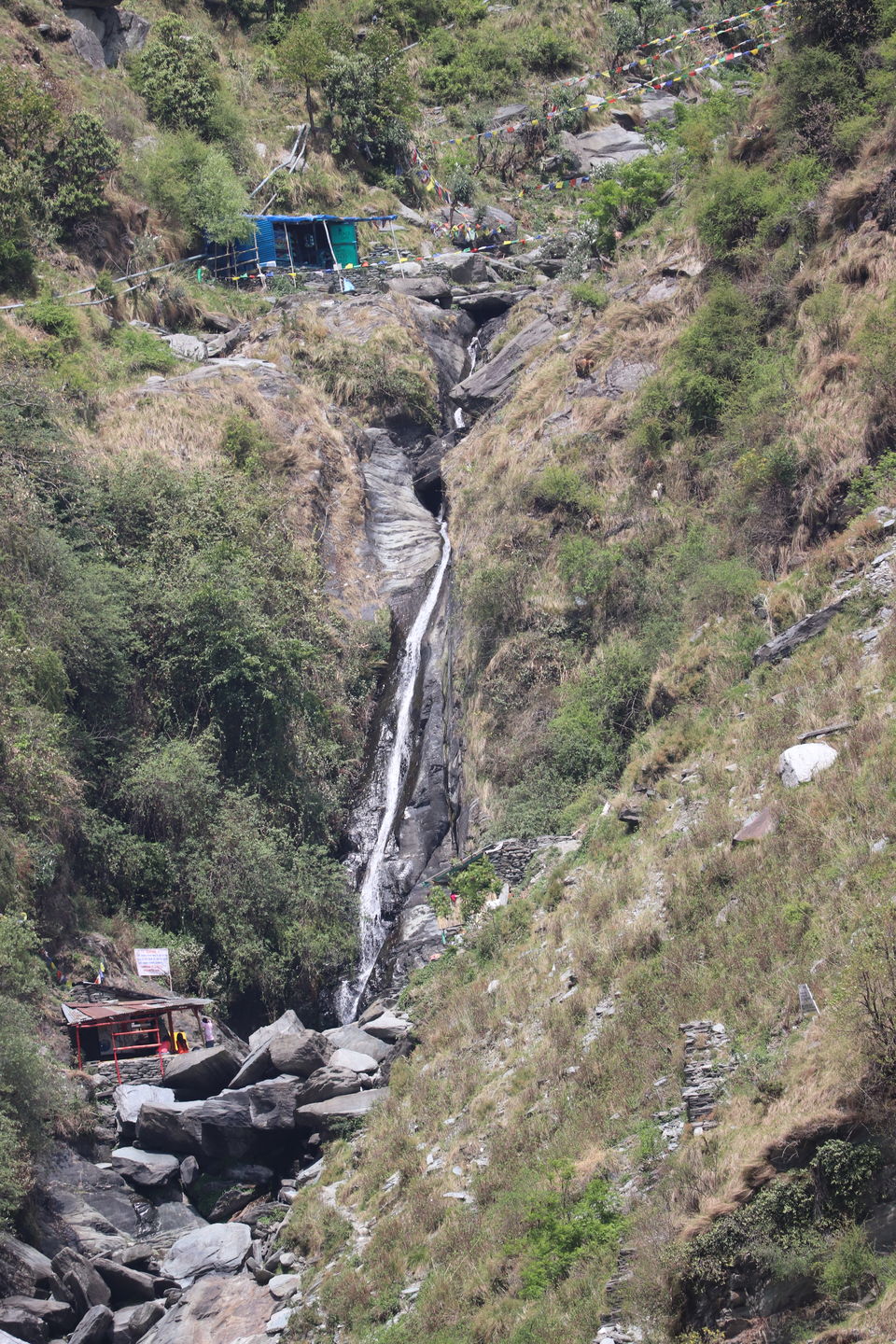 Stars came up in huge numbers during the night! Night was wonderful.
Next morning we start the day with a visit to the Famous Norbulingka Institute. Its a cultural place and filled with depiction of their culture. It was peaceful.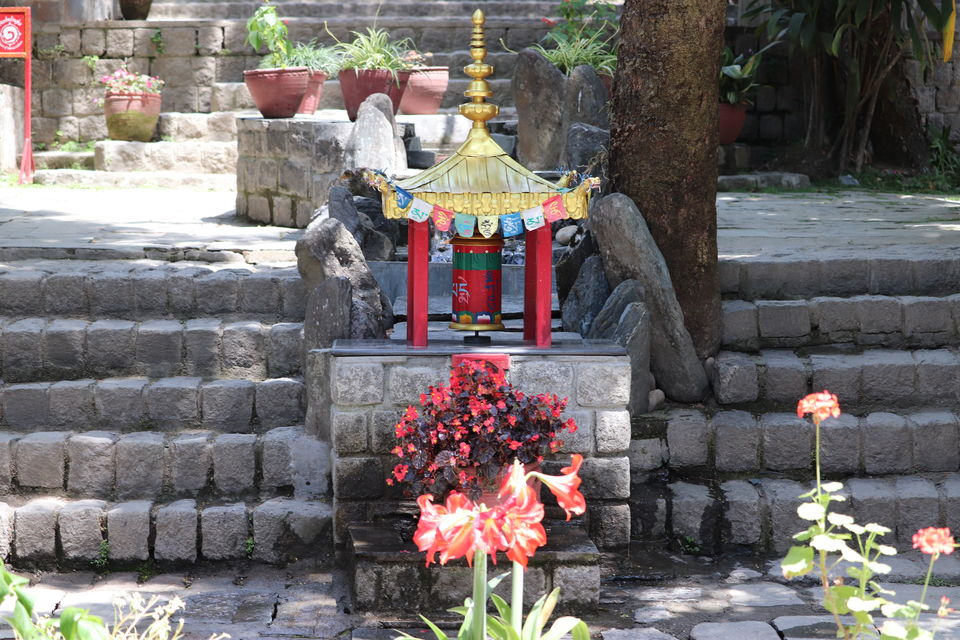 The next spot is the most exciting one , being a mad cricket fan this spot is on top of my bucket list. Himachal Pradesh Cricket Association is responsible for the Cricket Stadium here and its at an amazing location. The views are sublime , you just want to go on the field and play for a while.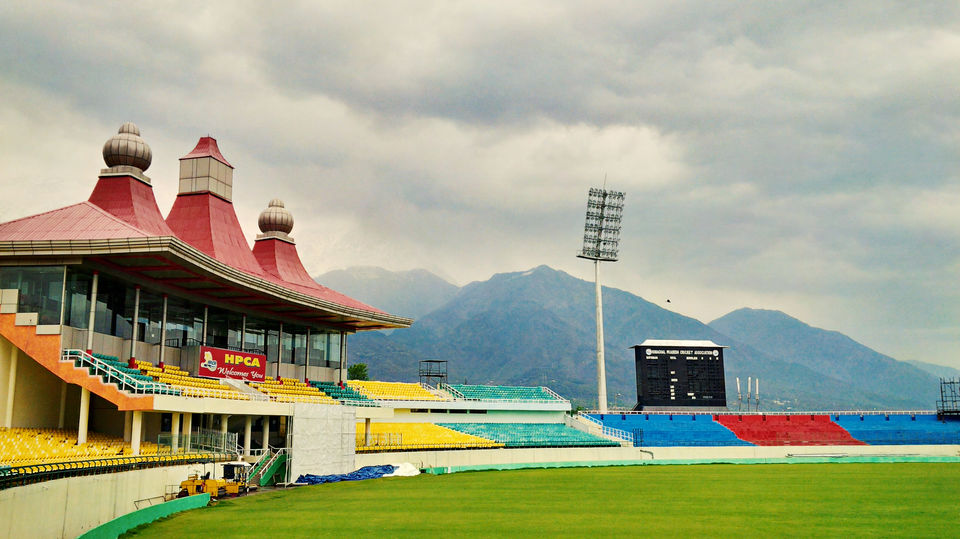 It is the highest stadium ( Altitude Wise ) all over the world where the game is played.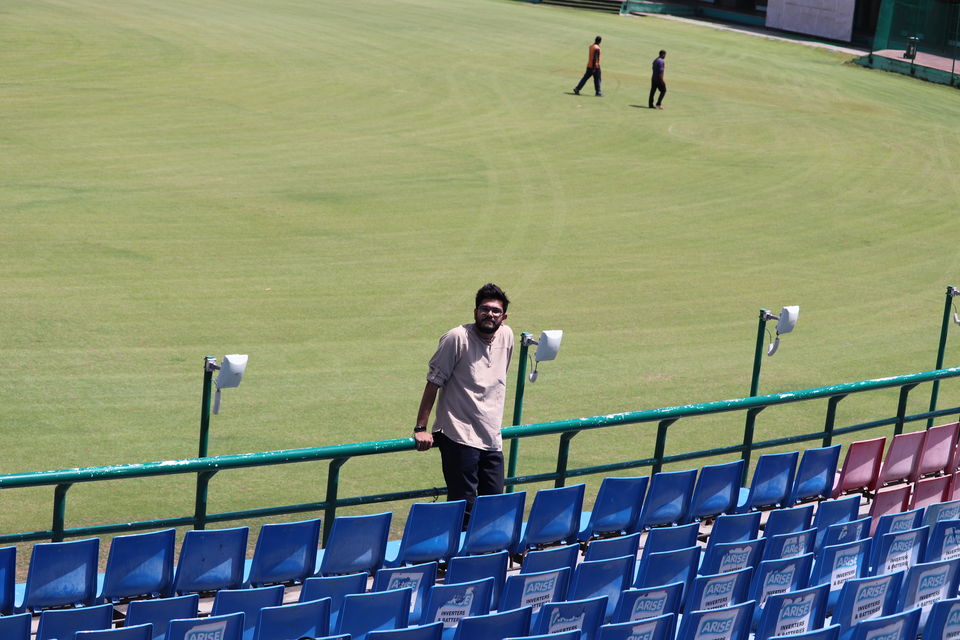 I have a great respect for the Indian soldiers and whenever i get a chance to pay my tributes to them i try my best not to miss it.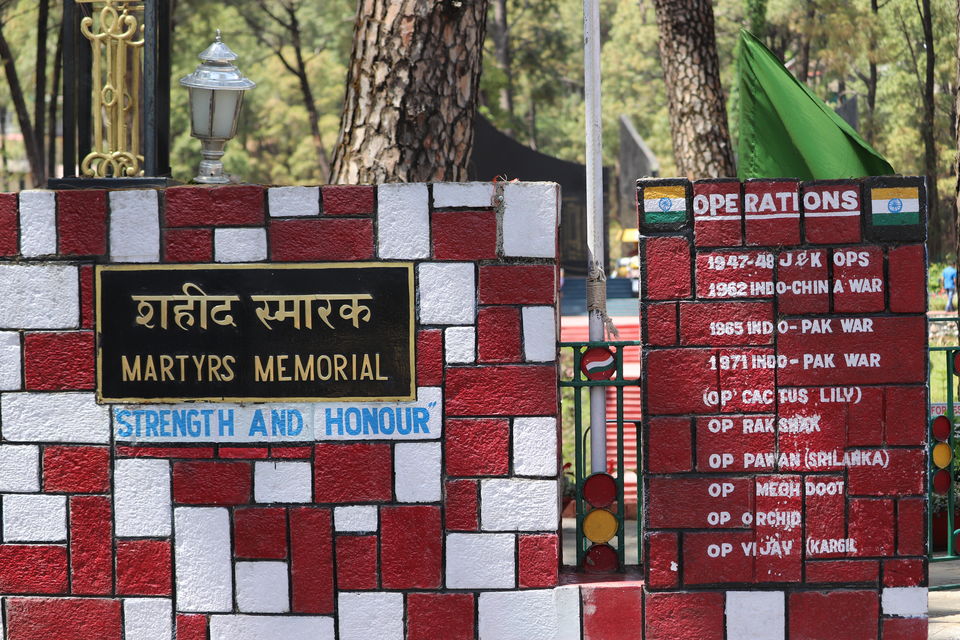 This time it was a visit to the Martyr's Memorial that brought back those memories when our country had to fight tough battles.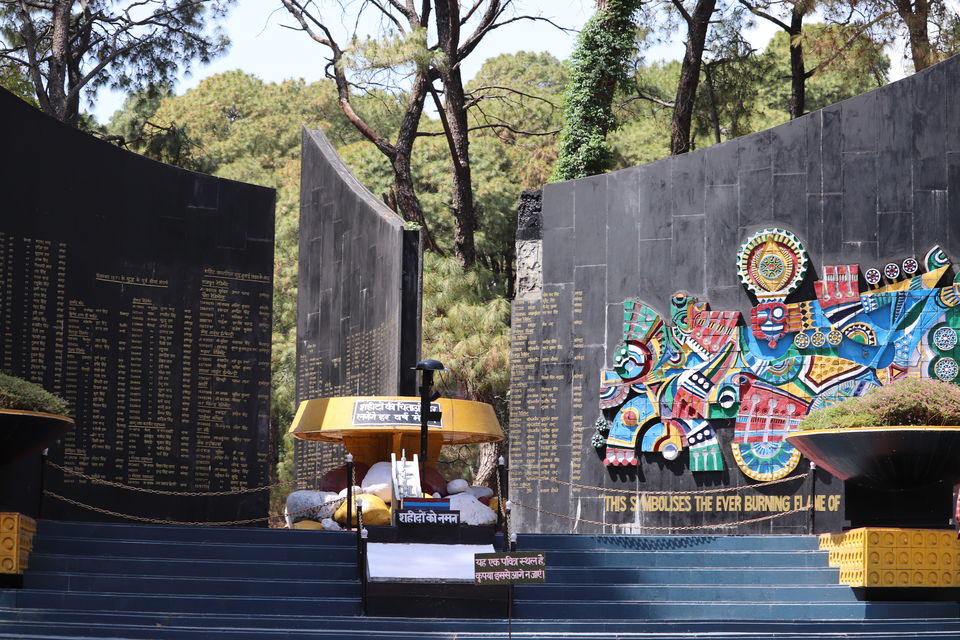 This brave soldiers sacrificed their lives for us. They gave their today so we can have our tomorrow without thinking anything. That's what love is. Jai Hind.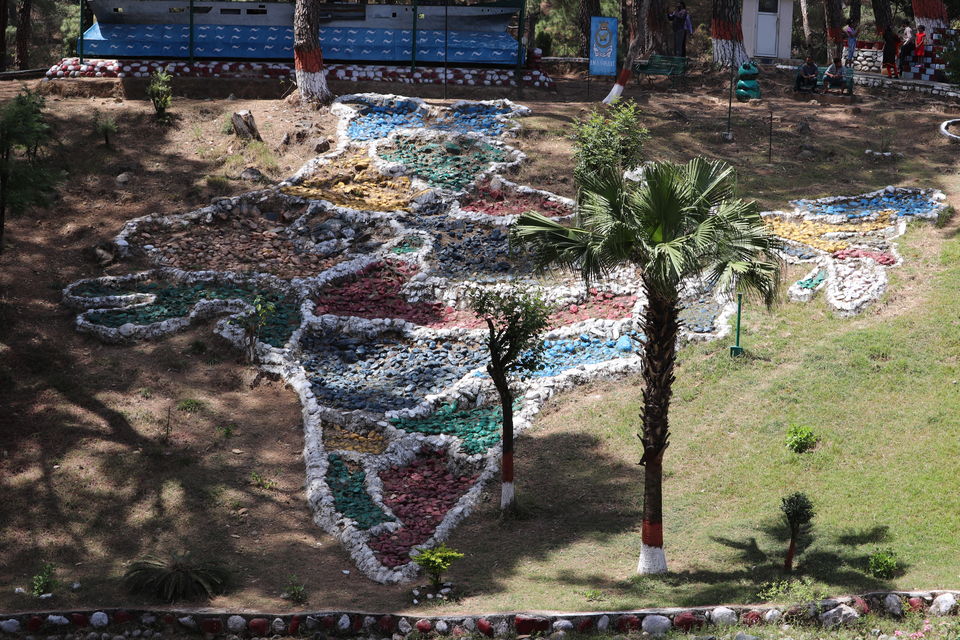 On the way coming back we go t0 Kangra Valley to visit the Tea-Gardens and have a sip of Garma Garam Chai! which was followed by a visit to the famous Nmogyel Monastery ( one of its kind ).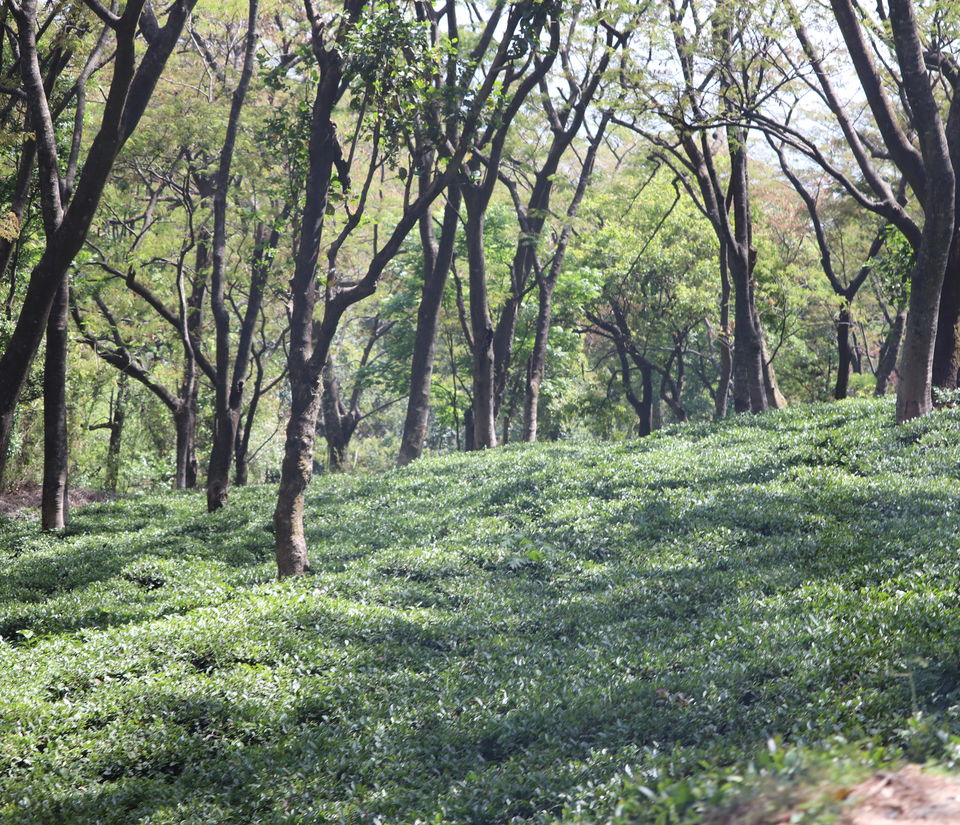 Our last place was Triund and unfortunately due to lack of time i wasn't able to take this trek but its a must go for every trekking enthusiast and if you want to play with snow should go for Indrahar pass as well.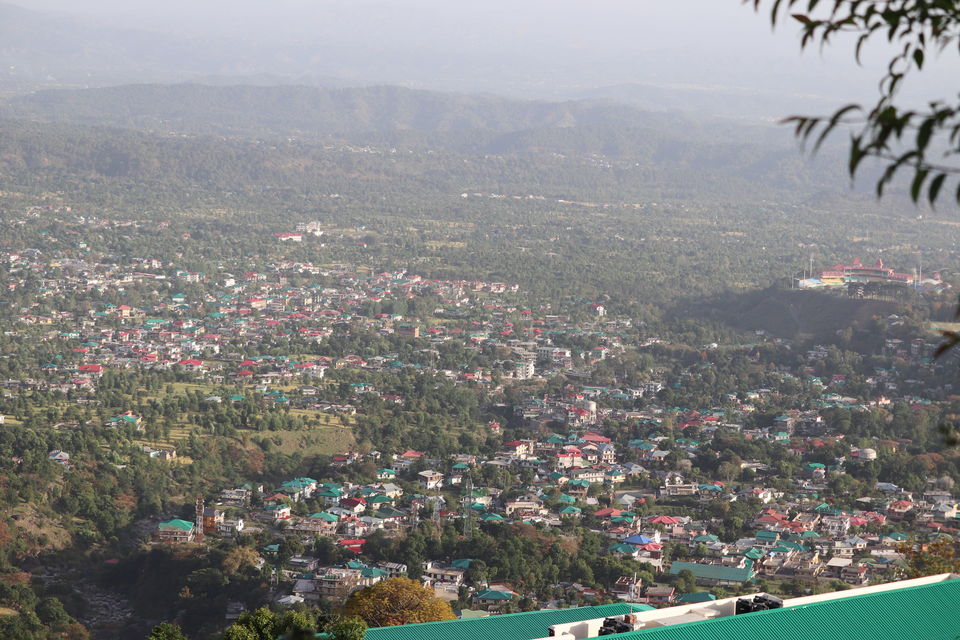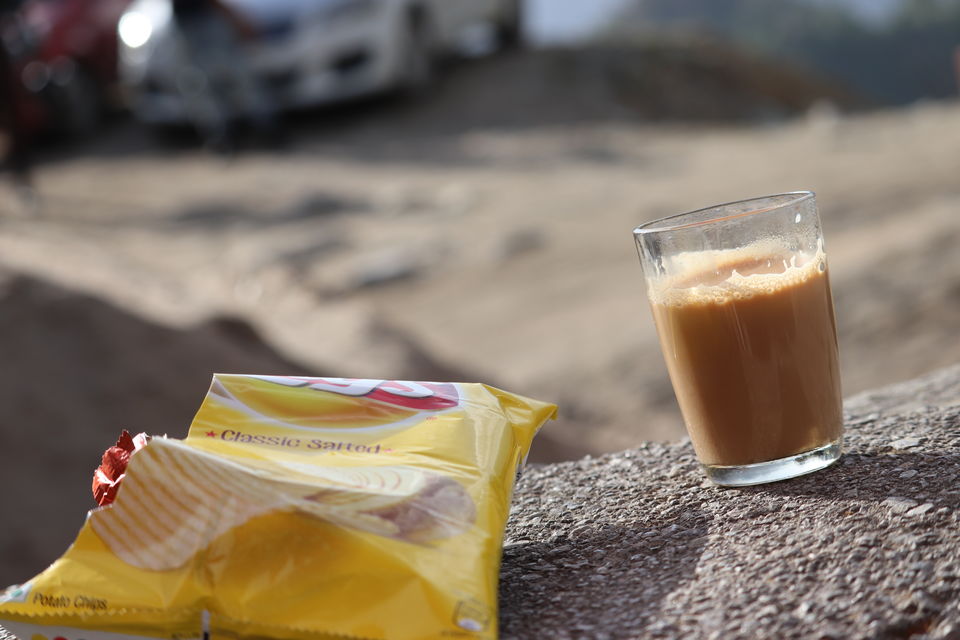 After Triund we left for Bir-Billing close to sunset . This spot is the most famous spot in the country for Paragliding. IT's also the 2nd highest spot in the world for Paragliding.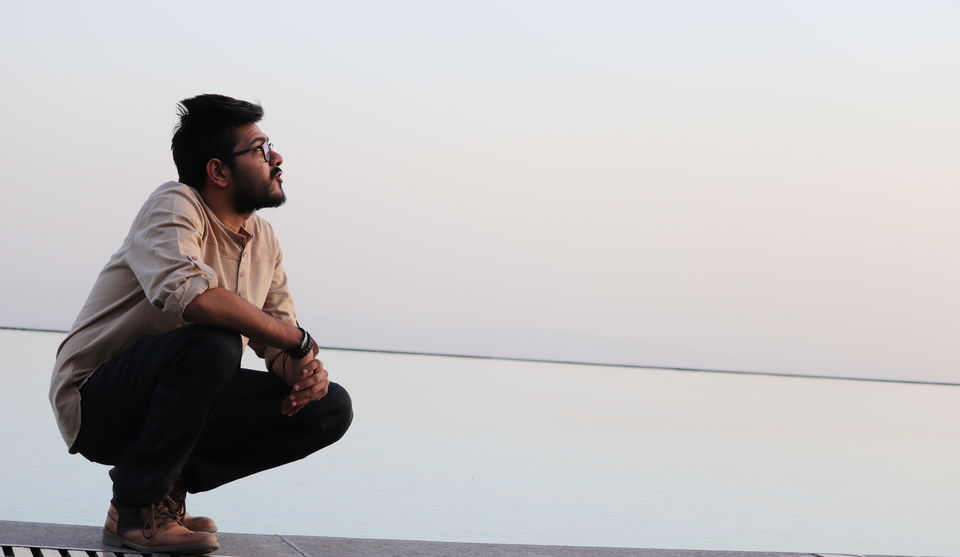 This experience will fill you with so much courage that you will never be afraid again from anything!
We have our dinner at the hotel and leave for Dalhousie next morning.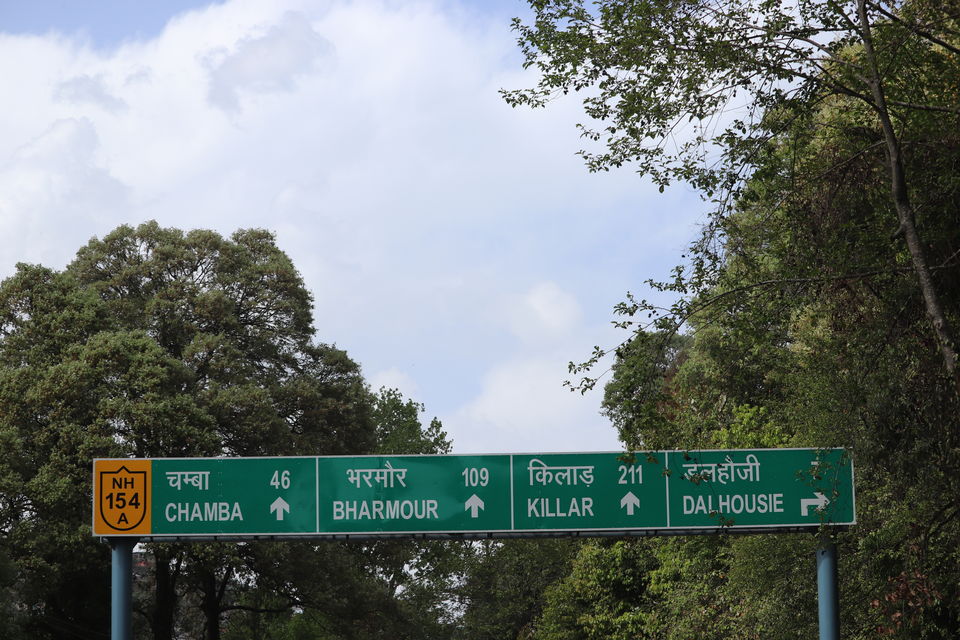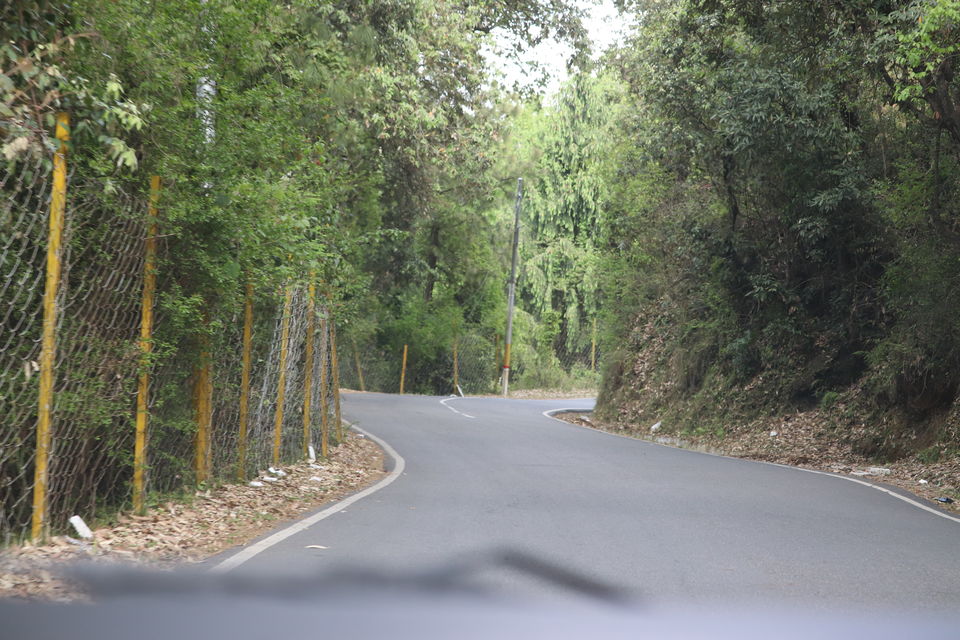 Reached Dalhousie in the evening , the roads all the way are well taken care of and the mountains just ride with you all the way to Dalhousie. As soon as we check in to our hotel we leave for Panch Pula a sunset spot which has a demo version of Shiva Cafe as well but the spot is not well maintained and not recommended.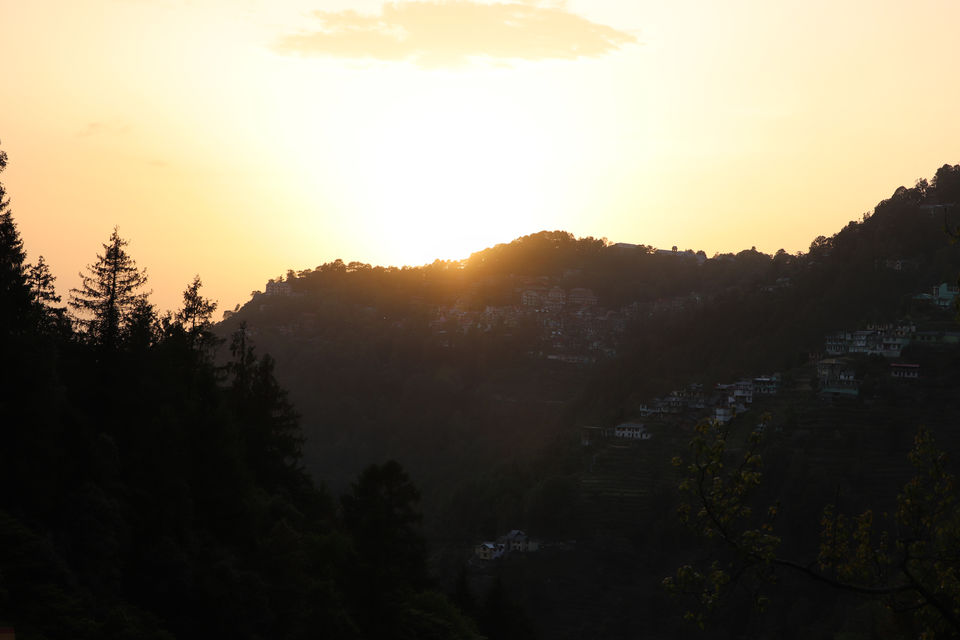 In evening there's not much to do in Dalhousie except a small area which has a few cafe's and a Tibetan market as well. The Panipuri Sellers are present at the end of the market and they are delicious.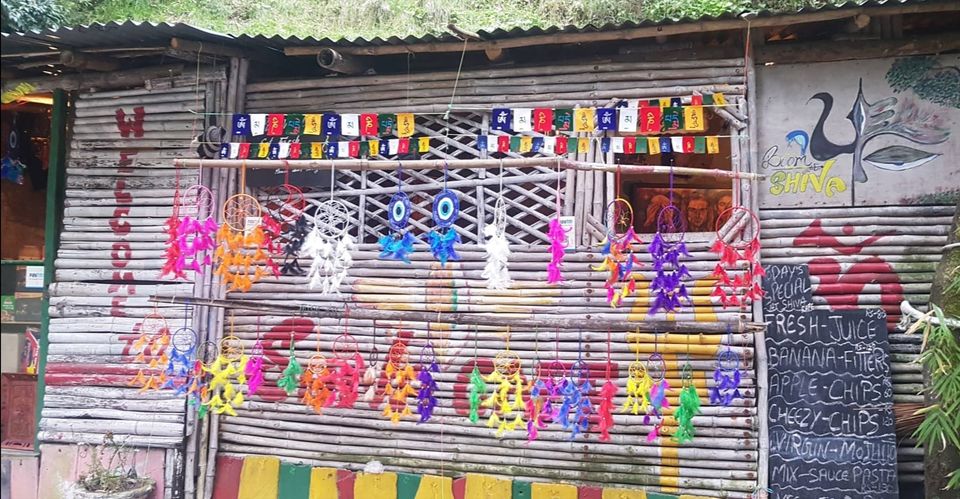 Called it a night early as next morning we are going to a place that is supposedly filled with snow and i am damnn excited.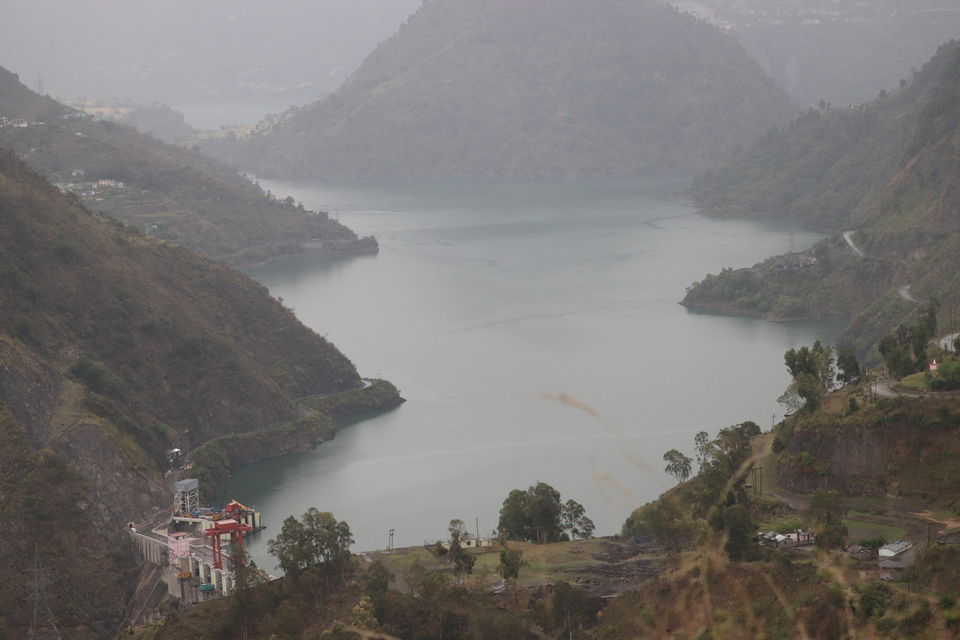 On the way we pass by the huge Chamora river and also have an encounter with Satdhara Falls , as we have to go ahead we don't stop at this places but they are wonderful and the colour of river is unique.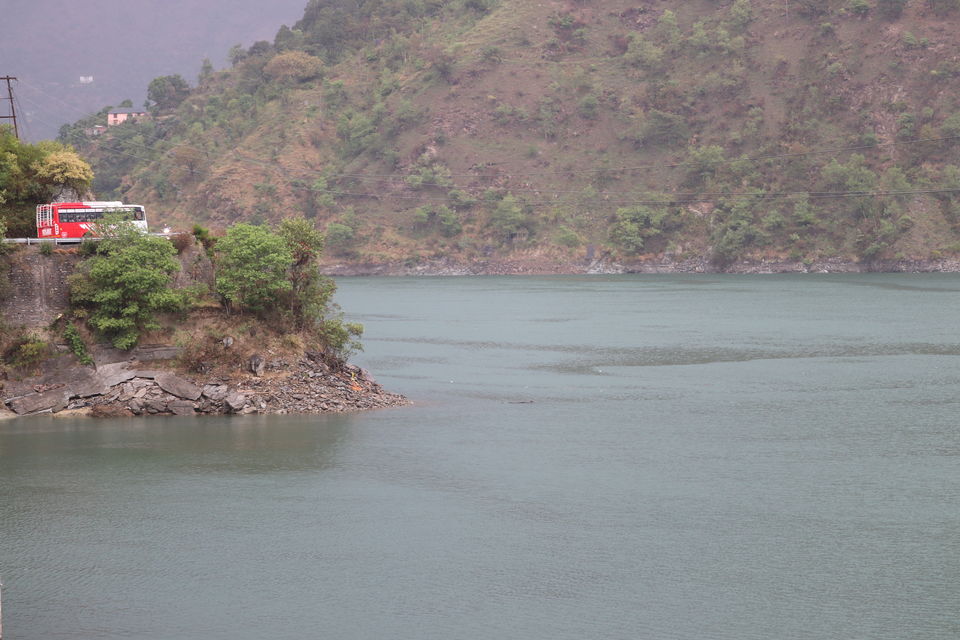 After passing through the Chamora Reservoir we go on our way towards the Sach Town that is just besides the Sach Pass , our location for the day.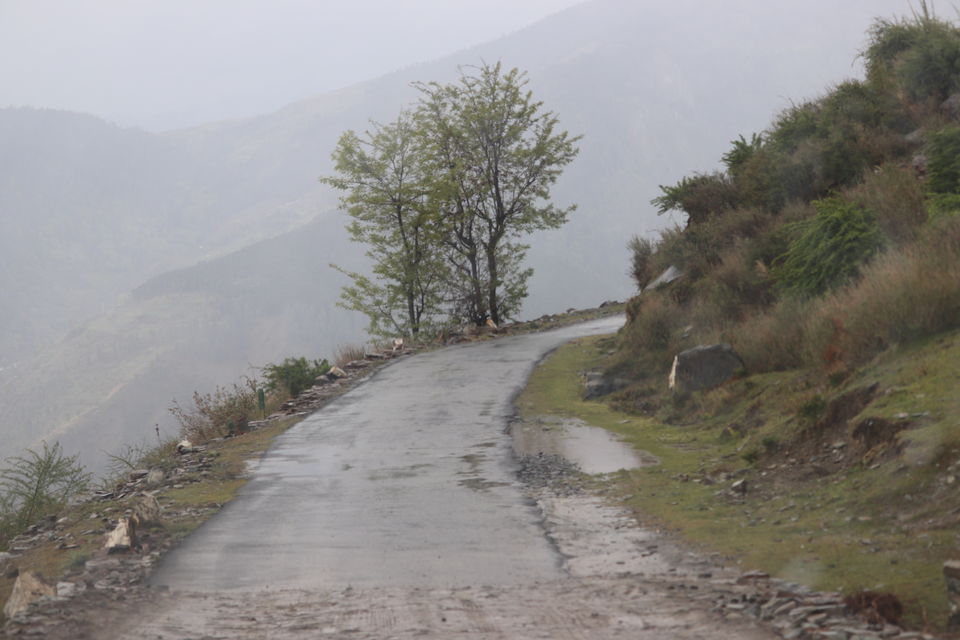 The route to Sach Pass is breath-taking with valley on one side and mountains on the other.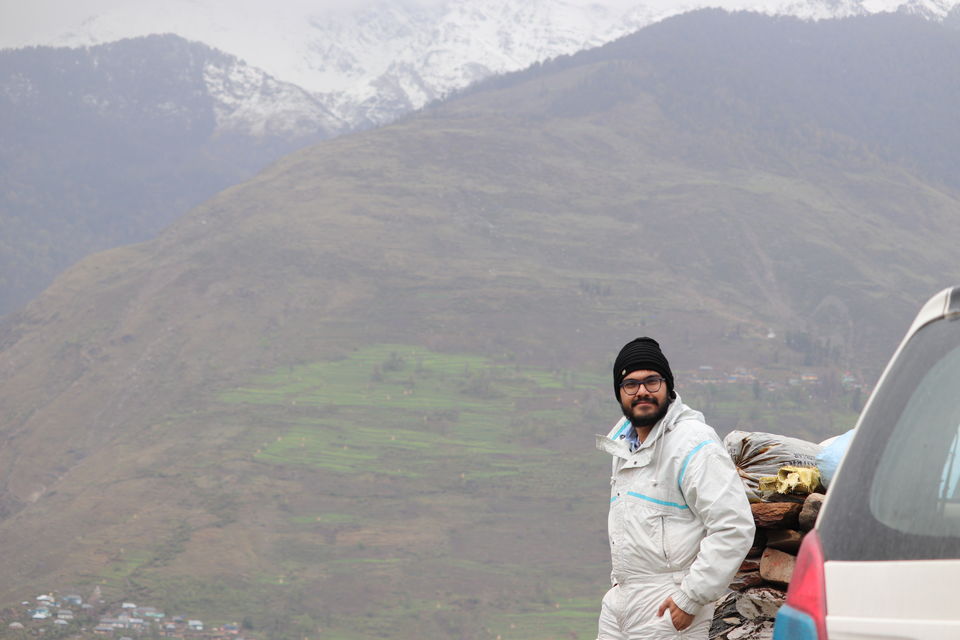 You will find snow all along the route!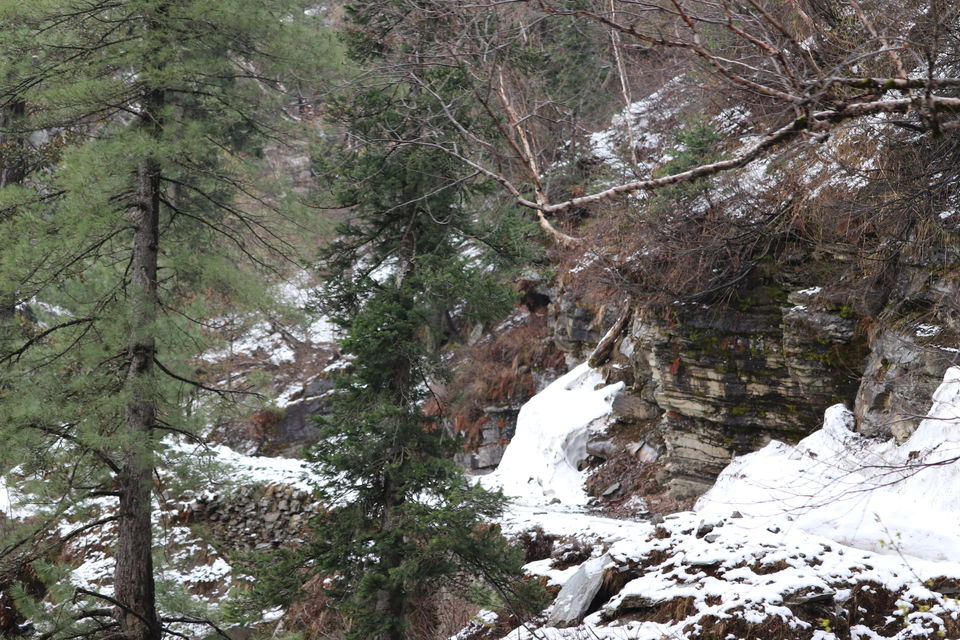 The roads are single lane and even buses commute on this route which makes it even more difficult to travel on this route.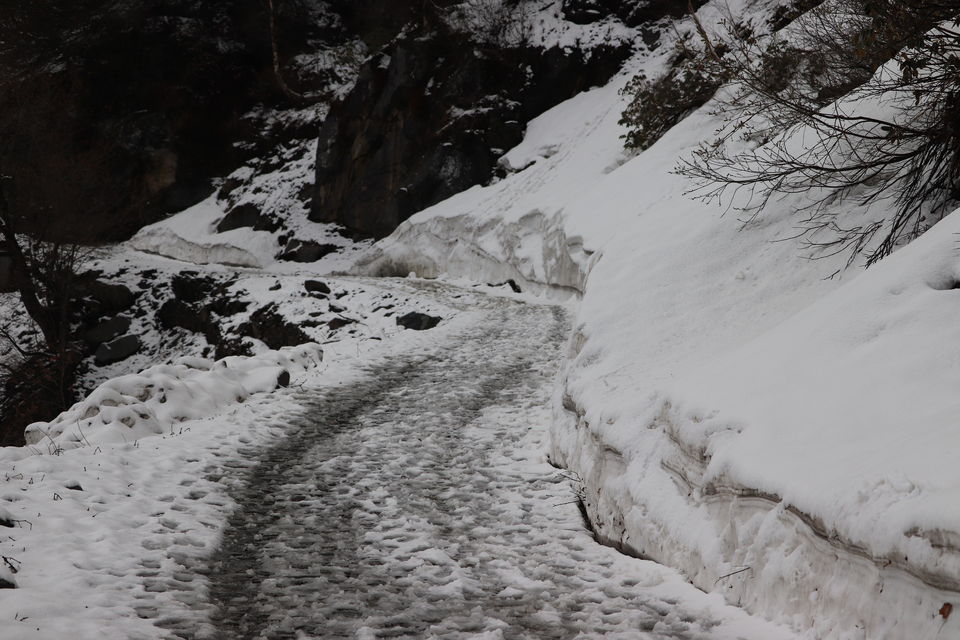 But the ride in itself is a mind-blowing adventure that when you see snow for the first time on mountains you just want to forget everything and enjoy the experience. It leaves you speechless and if you are lucky you might encounter a snow-fall too.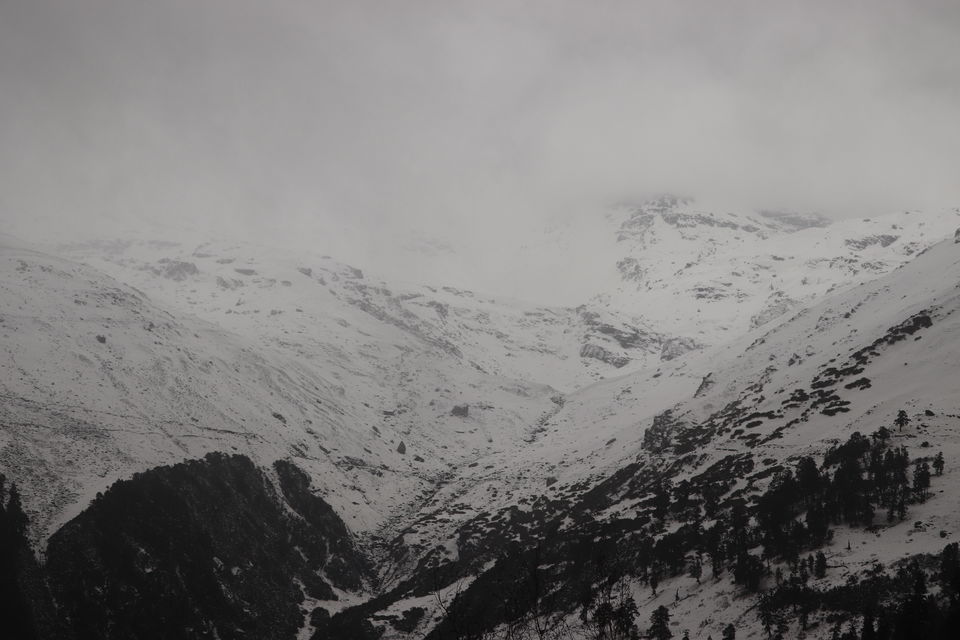 Sach Pass is located at 14500 ft and you have to go through tough roads and slippery terrains to reach the spot that is 120 kilometers from Dalhousie and is said to be a connecting pass to Ladakh.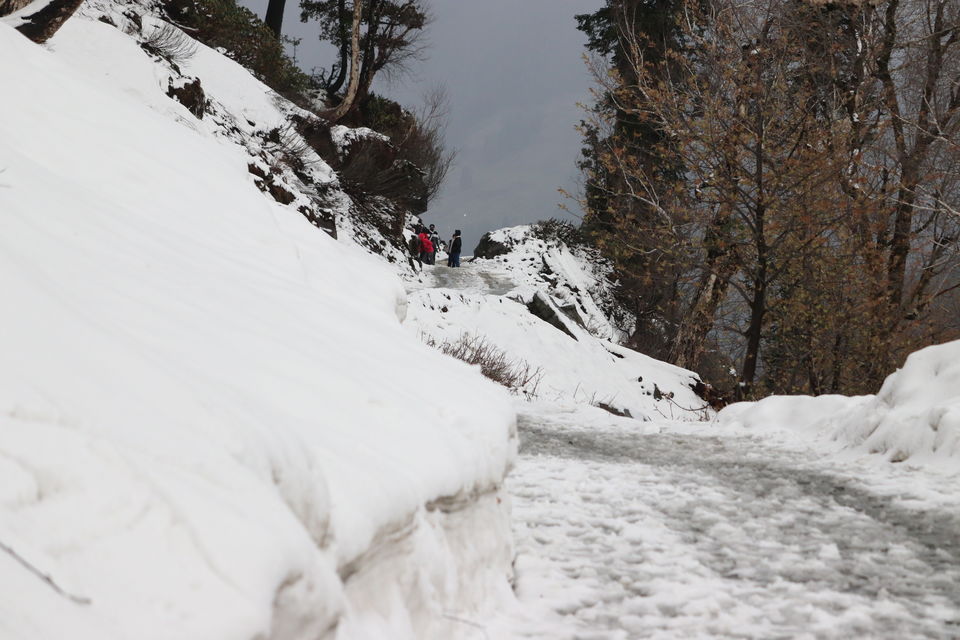 This was my mother's first encounter with Snow! and my encounter with snowfall!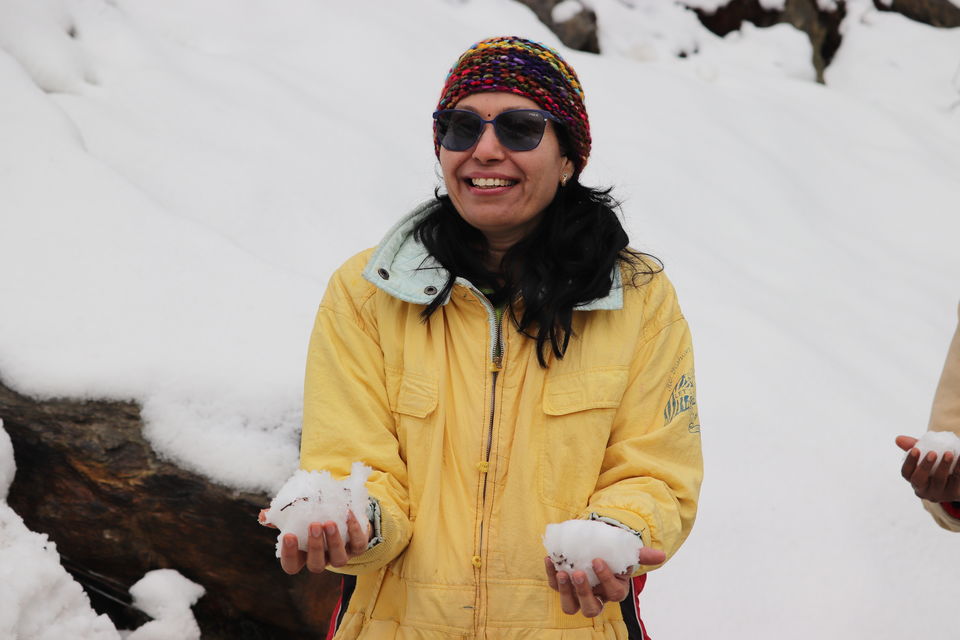 We played in snow but we had proper outfits for it.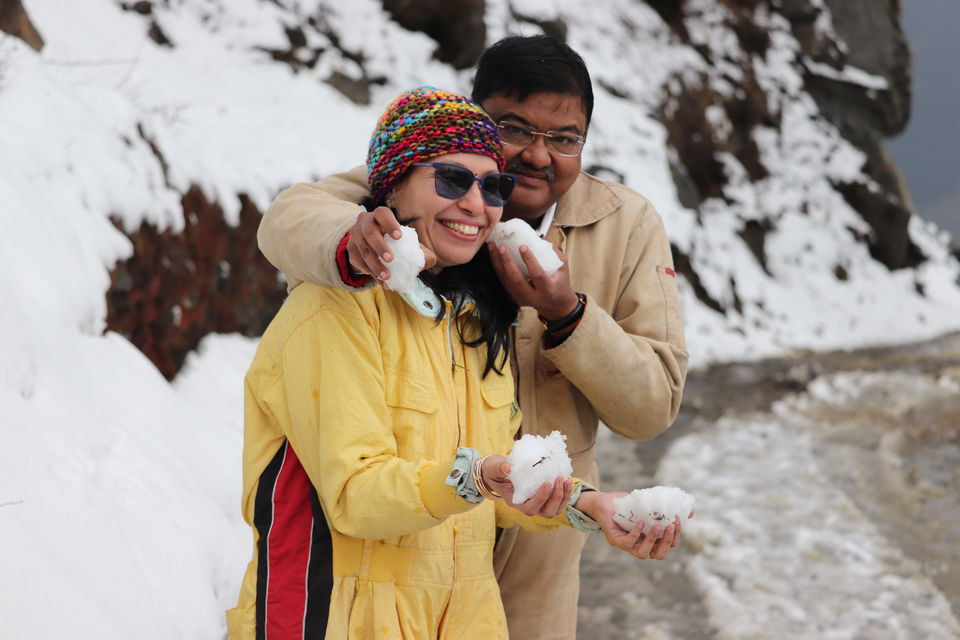 The place is thrilling cold and your hands and body starts to get numb if its not hydrated properly or you hold the ice for a few seconds.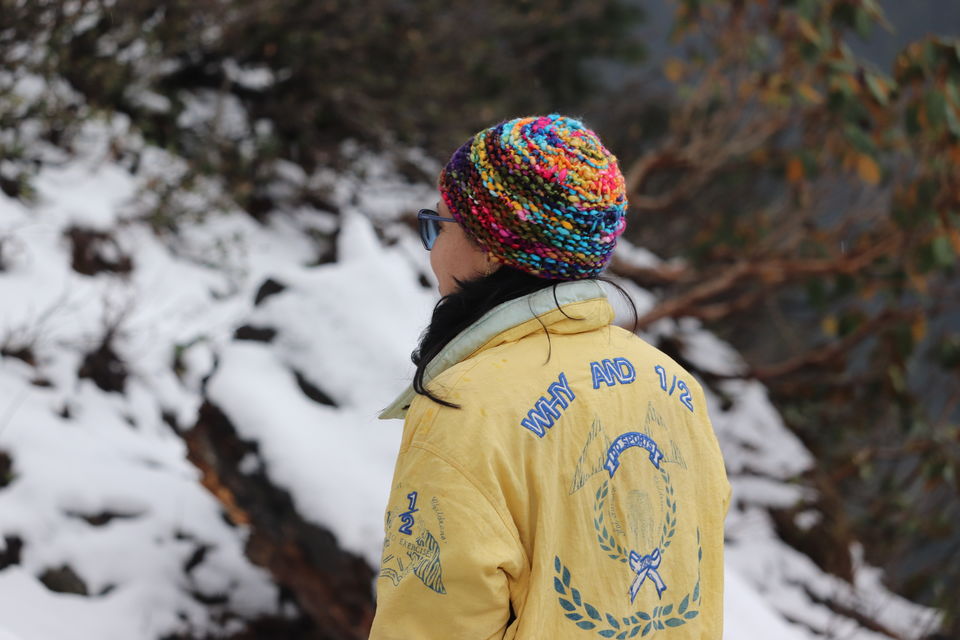 Throwing snow at each other and experiencing a snowfall at the same location felt blissful.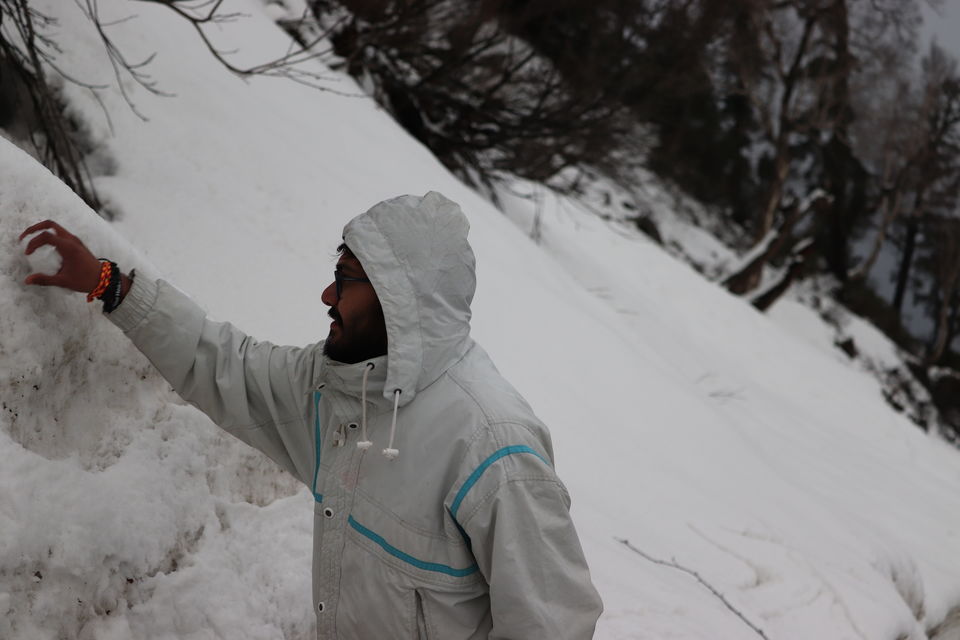 Its actually still an unexplored place that makes the trip memorable and you are by yourself enjoying in Mother Nature's arms and gathering lifetime cherish-able moments.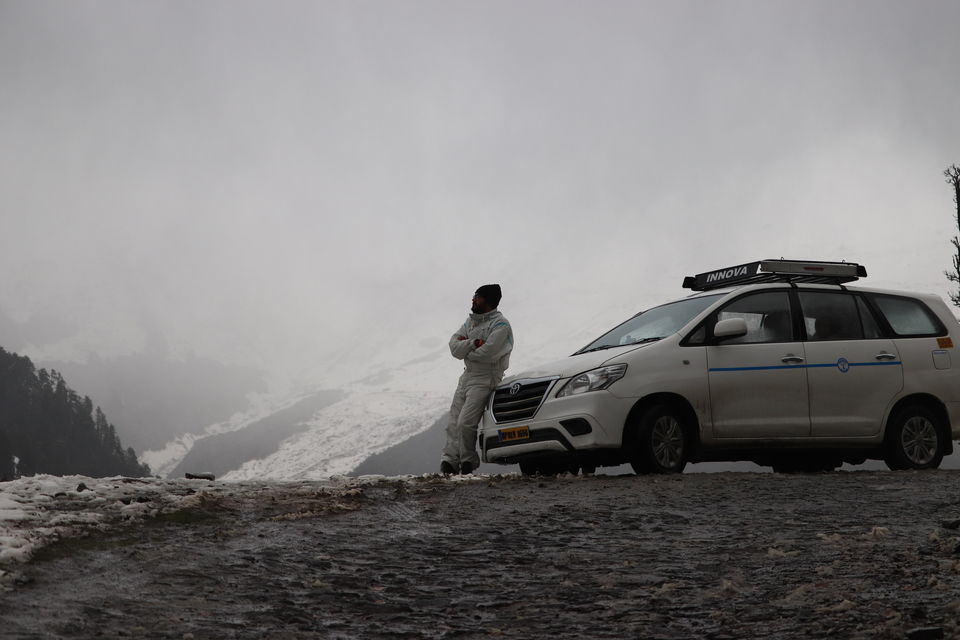 On the way back disaster struck and land slide happened as it was raining heavily and one of the crossings got blocked by the rocks falling from top.
The Machines got to work but the rain wouldn't stop and hence working on it was anyways of no use. We had to stay somewhere nearby so that when this thing clears up and the roads start again we can be on our way back to Dalhousie.
We stayed at a local place and the night was one of the craziest one i ever imagined. The road getting blocked , our encounter with snow , rainfall , snowfall , landslide and those late-night campfires with Punjabi Music. What more could you ask for! Star gazing? I had a chance to do it the best way possible , lying in the woods all by myself.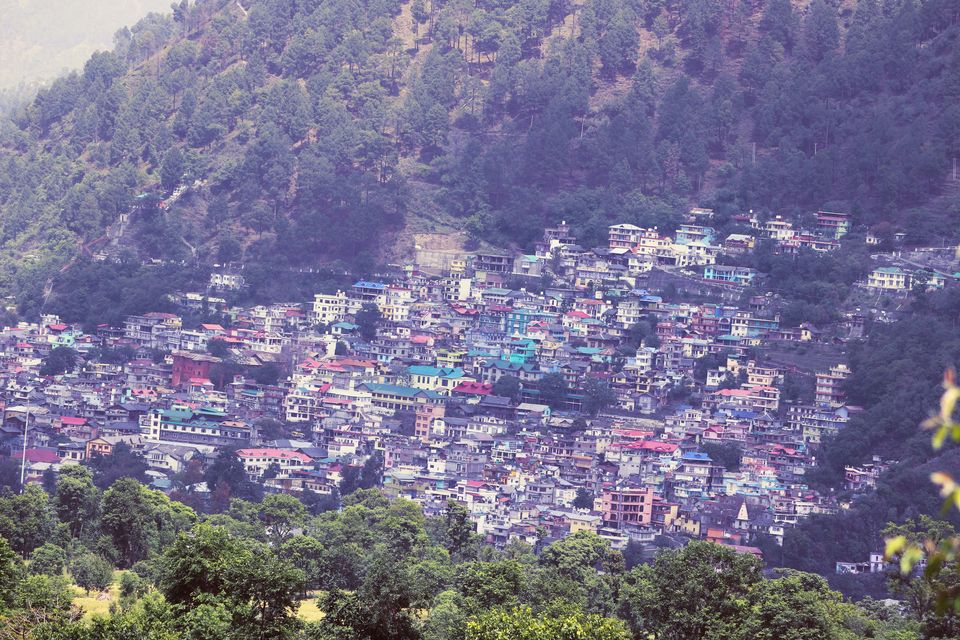 Next morning we start our voyage towards Khajjiar : Switzerland of India ( Truly Called ). The place is a paradise. We went through the famous chamba village that has Ravi river ( one of the 5 famous 5 rivers ) flowing right besides it and the village looked like a painting.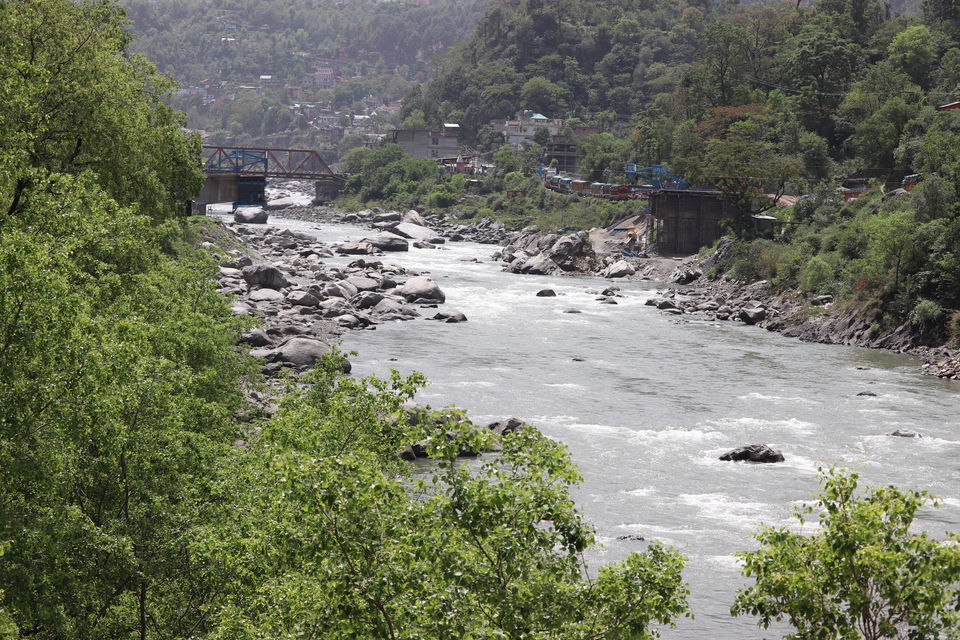 At Khajjiar multiple activities like paragliding , zorbing , horse riding are done and you just lie down on the lawns to enjoy the soothing wind which makes you feel boosted with energy.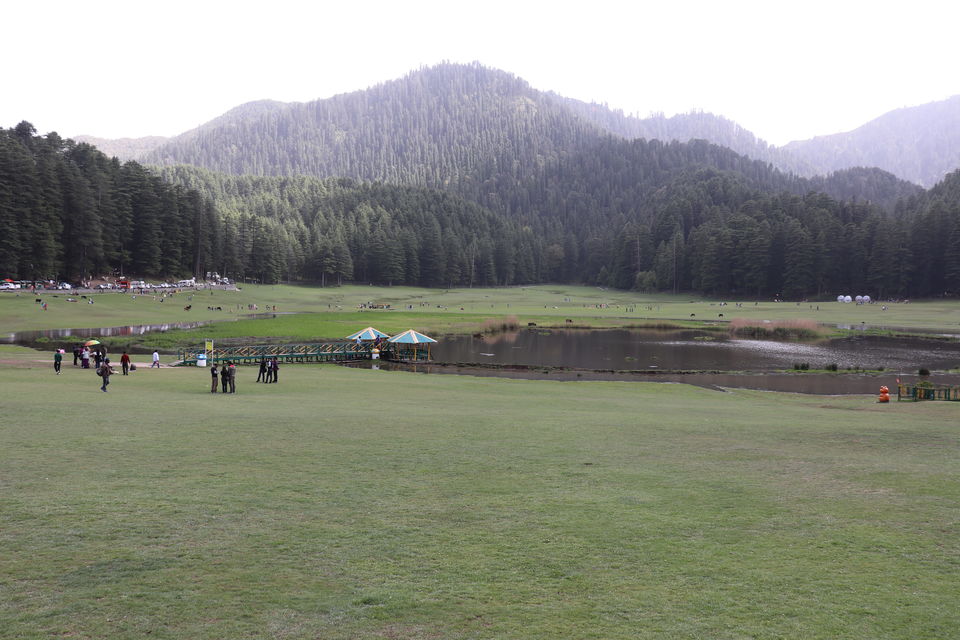 The way trees are standing their is an excellent example of how beautiful symmetry nature can make by itself. Some Philosopher said it write " All Inspiration to art is a gift from Nature "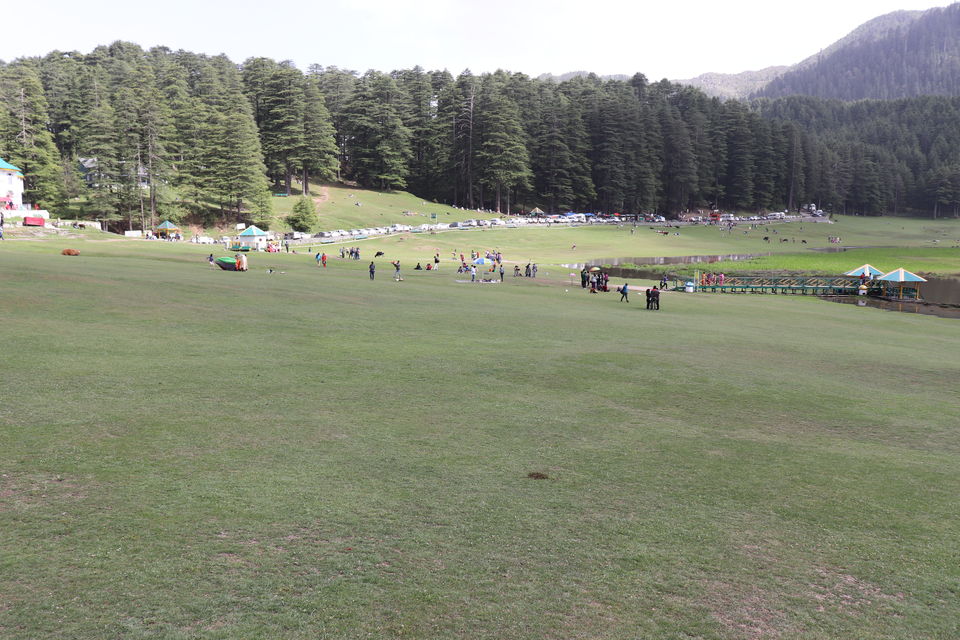 Kalatop Wildlife Sanctuary and Bakorta Hills are the places you can skip if you are short on time. Both had some significance in the past but today it doesn't hold up to the expectations.
Next morning we go to Dainkund Peak , it's a small walk to the top ( 2-3 kms ) and then you reach a temple , which is surrounded by a huge plain ground which looks like you are in the sky.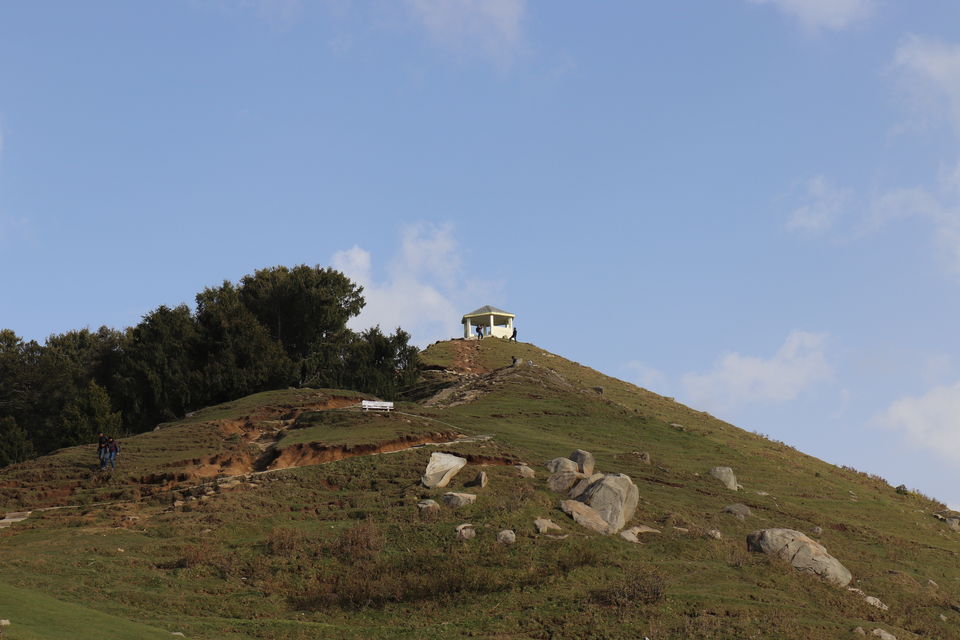 There's a temple on the way to the peak and its extremely peaceful to spend some time their and enjoy your evening.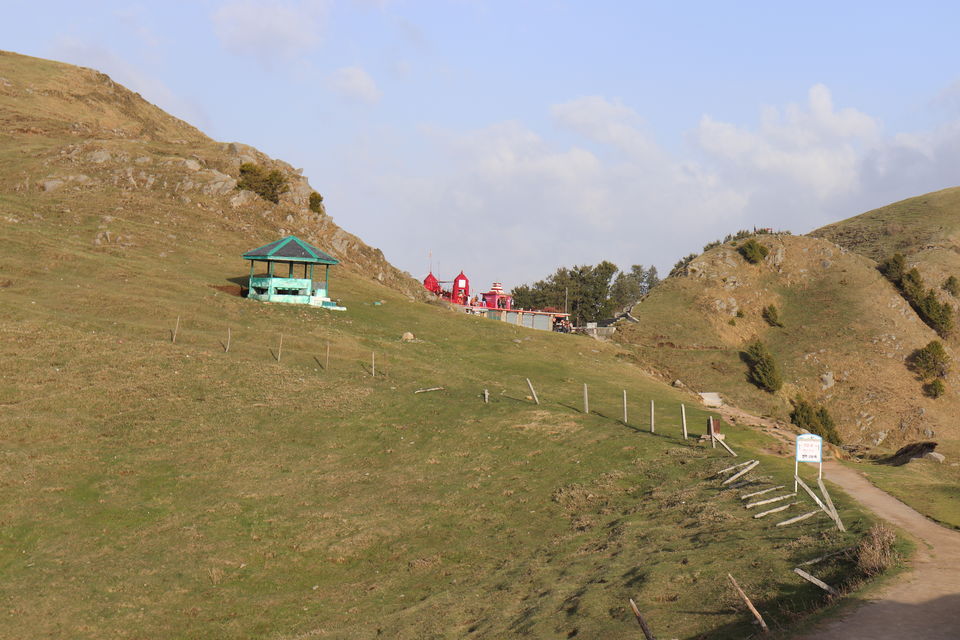 There's an observatory and Indian Air-force station besides which can be seen from the Peak.
#mcleodganj #snow #trek #sachpass #mountains
So fellows: This was my trip to Dharamshala , Mcleodganj , Triund , Dalhousie , Sach Pass and Khajjiar.
Top 5 things to do in Dharamshala :
1. Visit the HPCA Stadium
2. Paragliding at Bir-Billing
3. Visit the St.John's Church via Dal Lake
4. Martyr's Memorial
5. Explore the streets and Cafe's ( Go shopping )
Top 5 things to do in Mcleodganj :
1. Dalai Lama Temple Complex
2. Star Gazing at Triund , the Trek to Triund and forward to Indrahar pass
3. Visit Cafe's - Illiterati , Moons Peak Espresso , Nick's Italian Kitchen , Woeser Bakery
4. Climb up to the Shiva Cafe and devour the view with Hot Chocolate
5. Local Street shopping ( Colourful Stuff ) and traditional things
Top 5 things to do in Dalhousie!
1. Visit Sach Pass
2. Go to Khajjiar
3. Visit Chamora reservoir and boating
4. Visit Bharmour ( a place with a lot of temples in between the mountains )
5. Dainkund Peak
Mountains came calling for my soul , how could my body stop me from going!
Musafir Rooh _ Slm