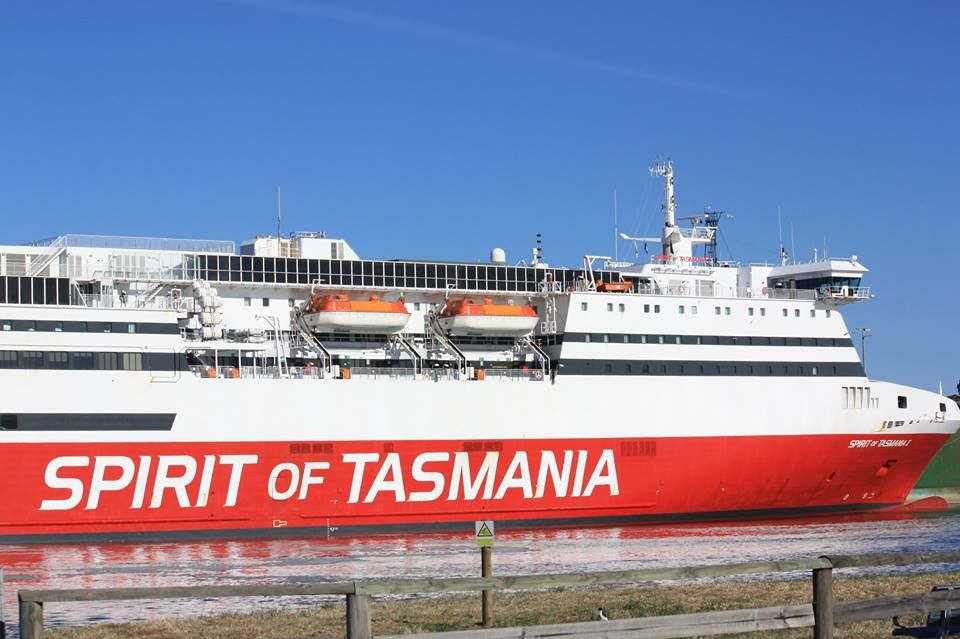 Tasmania - An isolated island state of Australia's south coast is known for its vast rugged wilderness areas,largely protected within parks and reserves. The fertility of its land also led Tasmania to fame for its food and cuisines,especially high quality of cheese and wine.
Two ways to reach there by sea or by air, if you are already in Australia there are flights from major cities to Hobart (Capital of Tasmania). We sailed from Melbourne to Tasmania (Devanport);its about 9 hours sailing, ship leaves from Melbourne and its one during the day and one during the evening. we took the evening one.
Yes ! you are thinking right we started getting sea sickness and we had sea sickness tablets too..we didn't enjoy much of the property as we had taken a tablet and pretty much dozed in few minutes.
In no time we made it to Tasmania and it was a a fresh morning! we drove from devanport to any nearest for quick breakfast and sunrise, (any place you stop in Tasmania, you will get a good view).Later we zoomed to Hobart - capital of Tasmania, city its self had many things to offer.
Hobart : we did couple of things in Hobart - Elizabeth farm a must visit place for breakfast. Bruny Island is one of the must do tours as they take you in the midst of Ocean to experience the Antartica feel. Couple of hours drive and then head to Tahune Walk - its kinda reserve for all the activities, they have suspended bridge and and bush walking.
Next day we moved to to Launceston - a small town with different feel than Hobart.Around 2 hours drive from Launceston we headed to Cradle Mountain - This is the Highlight of the trip. A Mountain in the shape of Cradle and it covers a lake at the center,which makes its picturesque view. I wish we stayed there long but as its outside of the city the city/town council close the services by 6pm to make sure everyone is safe. There are also couple of bush walking tracks around the mountain which you can do it if you are fit and have time.
Next day was a bit thrilling day as we had plans to do Zip Lining. And holly Bank has the biggest Zip lining of the Country 400mts long. I was Confident on doing it but nervousness started hitting me as the clock was ticking. I did it and yes i have Certificate too :)
The last day we had plans to Visit George Town again a small town, famous for its Chair Lift (Old style, no safety measures) As i had done Ziplining this was easier for me to just sit comfortably and enjoy the view.
I purposely didn't write this by the days as travelers can decide on how many days they want to spend in Tasmania or in Other states of Australia. But i strongly recommend each and everyone to Visit Tasmania and its worth keeping less days in main stream cities like Melbourne,Sydney and Gold coast.
Tasmania left me with an awe of its untouched and rugged beauty.
Sushma signing off from Instagram: onlandisland Email : onlandisland@gmail.com