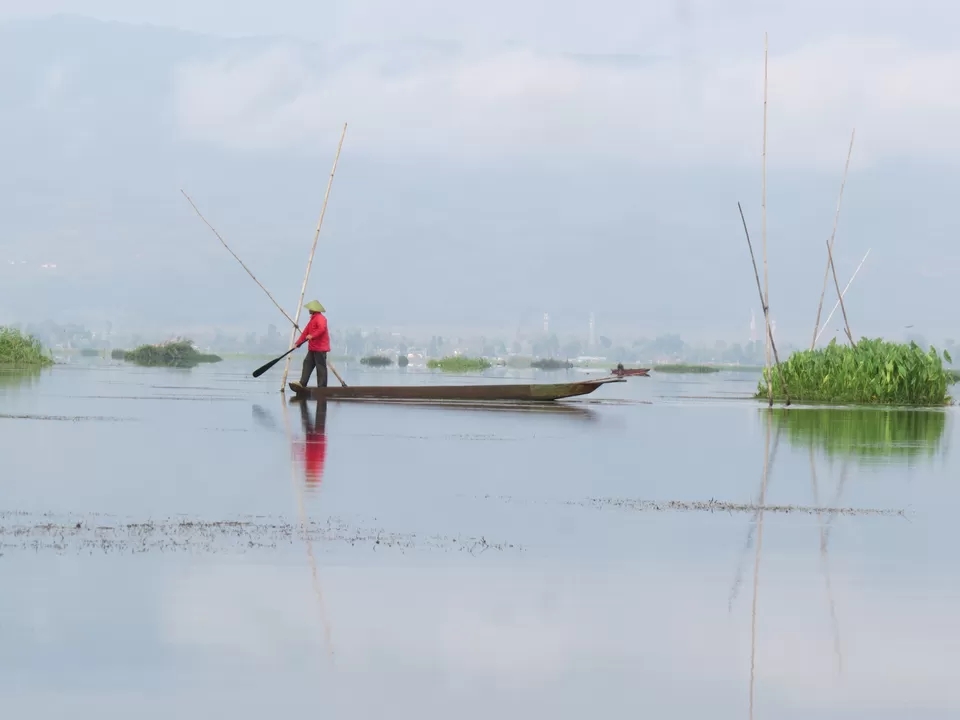 Solo trip to Northeast
Day 7
Got hold of a shared taxi from the Ima market, Imphal to Loktak lake, the floating lake. Literally, the houses are made on swamp and they float. They move throughout the lake. To resist it, they fix stones or bamboo.
Reached Thanga at 9:30. Suresh, the owner of Floating Homestay was waiting on the road. He was a nice, humble guy and gave a warm welcome. He showed his homestay within the lake. Truely speaking, i couldn't identify. It was too far from the road.
It was an exciting moment. It took nearly half an hour to reach the homestay on his long tail fishing boat. It was cloudy. Luckily, only after reaching the homestay it started raining heavily with strong winds. It was breathtaking moment. Just arrived. Strong wind. The whole house was literally shaking like a ship.
I was welcomed with hot tea. I was hot under collar. Just couldn't figure out my schedule. Whether i should see the rooms and toilet first or the surrounding. But i say. It's splendid. Everything is spick and span. The house is attached with a watch tower. 360° view.
I didn't move from the watch tower. Such mesmerizing view. Ring type patches to distance i could see. People fishing with boats. Some are shouting at each other. Birds having gala time. Catching fishes. Resting. Flying. Total peace of mind. Meanwhile lunch arrived. Food was cooked by Suresh's mother. Great cook. What taste. Rice, soup of dried fish and veggies, typical Manipuri salad and fish curry. Fish was my selection. I told him that i will be having only fish.
In the evening, went to the mainland. There is a Shiva Mandir at a hill top. Had a long body warming walk. As per the weather and the environment, how can I miss the local liquor made from rice. It's very cheap. But it tastes awesome. Somewhat similar to JB scotch whisky.
Dinner came quite early. I could not believe the menu. Fish curry, dal, rice, fish fry, veg pakora, roti and salad. Great arrangement. After dinner, climbed up the watchtower. Long distant lights are seen. Fisherman fishing with torches. Suresh told me that they keep fishing throughout the night. Clouds seems have arrived again. Sudden lightning is lighting up the whole lake. Didn't wait for long. Tossed into the cozy bed and finished the day in no time.
Day: 8
You wake up in the middle of the Lake. The night was stormy and rained heavily. Though it didn't bother me after a long strenuous day. Had a nice wakeup elaichi tea.
Suresh already scheduled a boat ride deep inside the lake. He rowed the boat through the small patches of phumdis. It was a awesome feeling. Fishermen were fishing. They use different modes. Some were collecting the fishes with nets. Some from led down hooks. Some collecting cages. And some were directly with spears. Collections were good. Through the lake we were sailing about. I planned to lay down on the boat. It was great feeling. It was so soothing, cold breeze with sweet smooth sun, i literally had a slight nap.
The floating vegetations are the phumdis. They float on water and are quite dense. The lake covers a area varying from 250 square km in dry season to 500sq km in monsoon. Fishermen arrange the phumdis in ring designs and build a makeshift house within it. The rings literally float. It is just 2 ft inside water whereas the depth of water is nearly 8 to 10 ft. The homestay in which iam staying is first built on the phumdis near the mainland. Then it is sailed to the middle of the Lake and fixed there. Stones and bamboo acts as anchor. The whole thing consists of trees, house and also a watch tower. I had a doubt about the toilet. What do they do with the excretions. To keep the lake clean, they use a drum. When the drum fills up, they change with a new one. Toilet has running water. That means they have water tank. They have a hand pump to fill the tank as pumps cannot run on solar power.
Had a smart breakfast with fruits , masala milk and omlet. Suresh had no objection when i requested for a solo boat ride. Taking a boat i rowed in the lake. No, it was not at all a easy task. Aligning the boat in straight line is quite tough. And the muscles start speaking. Still, it was a great experience.
Lunch was great with the fresh catch. It was a big shol fish. Suresh's mother cooked it spicey and was too good. Rested a bit and prepared for the evening exploring.
Suresh took me to a nearby island, Karang island. We reached to the jetty service but we didn't go to the island. It is nothing to see there. There's a watch tower in the hills of the mainland. This used to be an army base camp and now is abandoned. It was a long evening hiking.
Had a sumptuous dinner. Tomorrow my trip will end. I couldn't resist myself from the bed and thought of packing my bags tomorrow.
Day 9
I tell you, I have mastered rowing. After having a black tea, packed my bags. I will be leaving for the airport, so i asked for an early lunch and skipped the breakfast. Asked Suresh whether i cold take a boat. And he happily agreed.
Initially it was a tough sailing, moving in a zig Zag way, busy in aligning the boat. Later on it was smooth. Infact, i sailed through the lake flawlessly. Went near the fishermen. Checked there catches. Different modes of fishing. They were friendly.
Don't know how Suresh could read my mind. He asked me, do you want to swim? Just what i wanted. Actually, the whole lake is filled with aquatic plants. This plants can catch your legs while swimming. But the interesting thing is that the plants below the phumdis die if stays for more than seven days. And they again rise up within three days when phumdis moves away.
What Suresh did is, while I was rowing the boat in some other place, he and his father moved a big patch of phumdis and prepared a place for my swimming. What hospitality. Very grateful to these people.
It was a life time experience. Swimming in Loktak Lake. What a way to finish the trip. After the strenuous trek it is always soothing to swim in cold water. Didn't felt like getting up, but life has to go on.....Back to normal life.
But before that, still there is some juice left. Tried the roof top journey from Thanga to Moirang. Had a awesome lunch at Luxmi kitchen at Imphal.
That's all....now time to ruminate for next few months with these memories