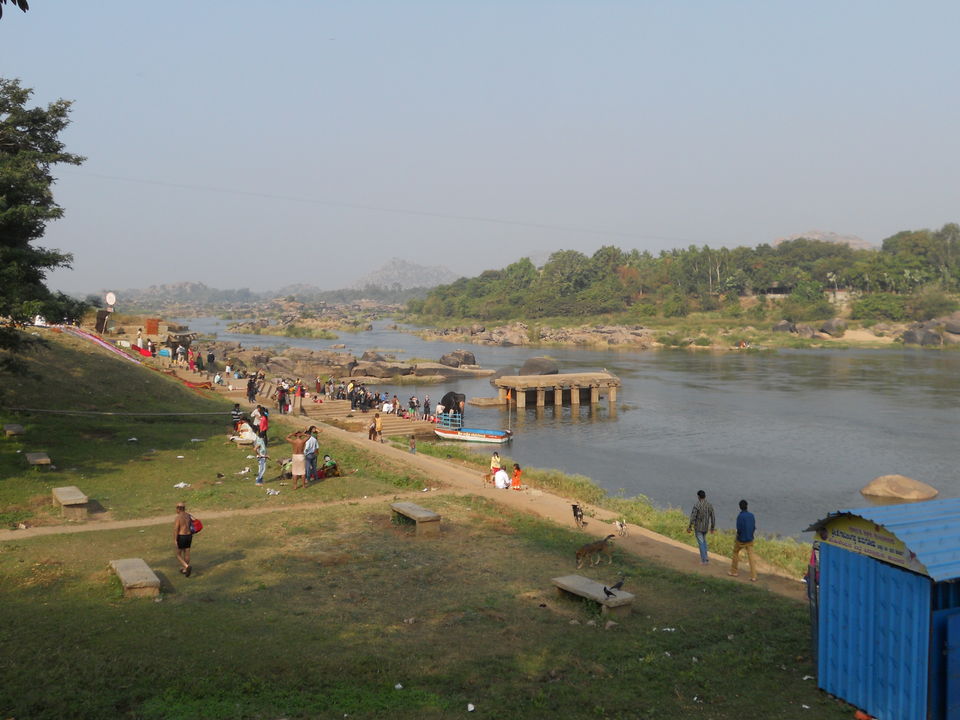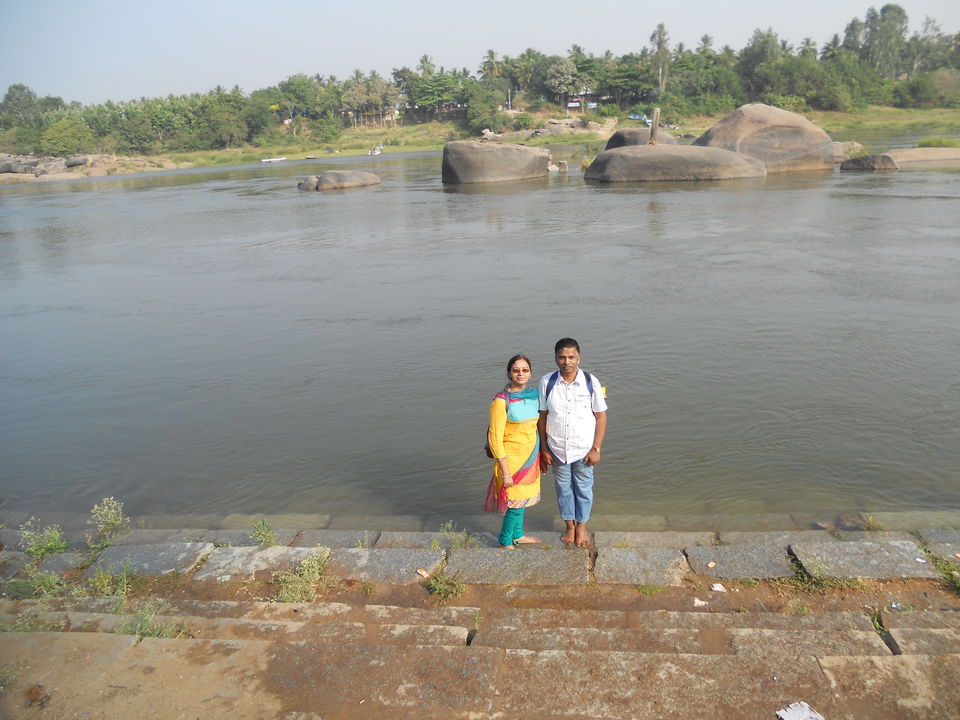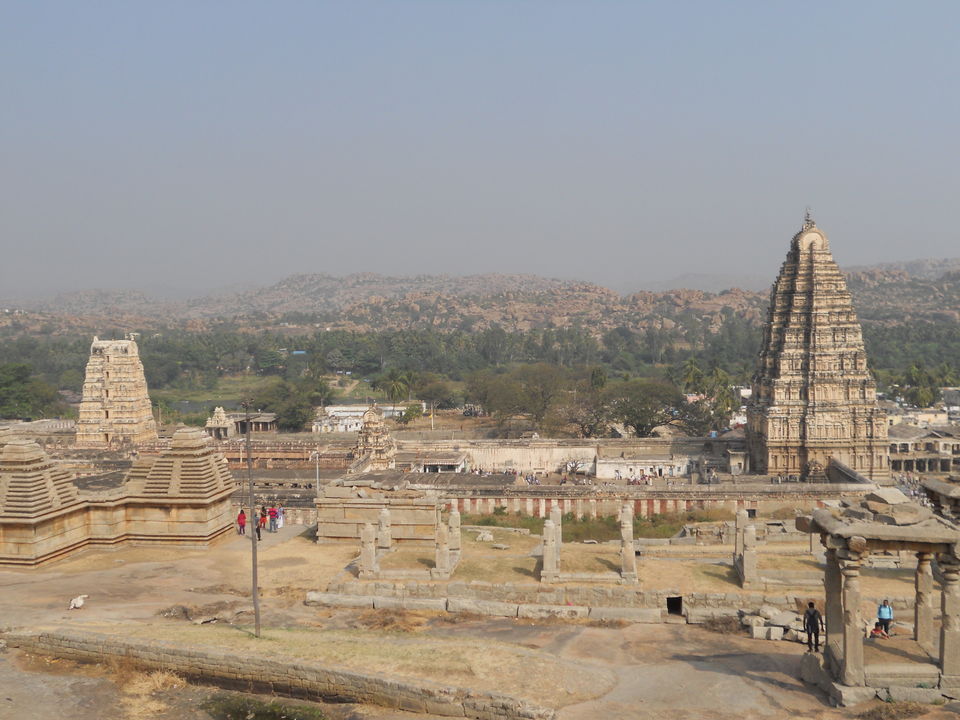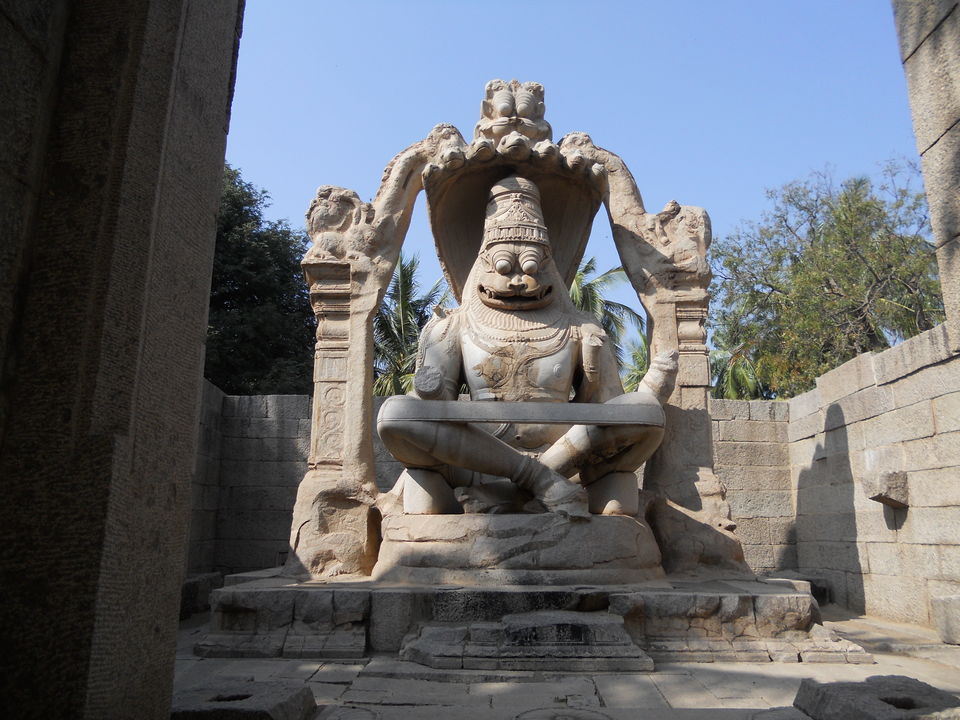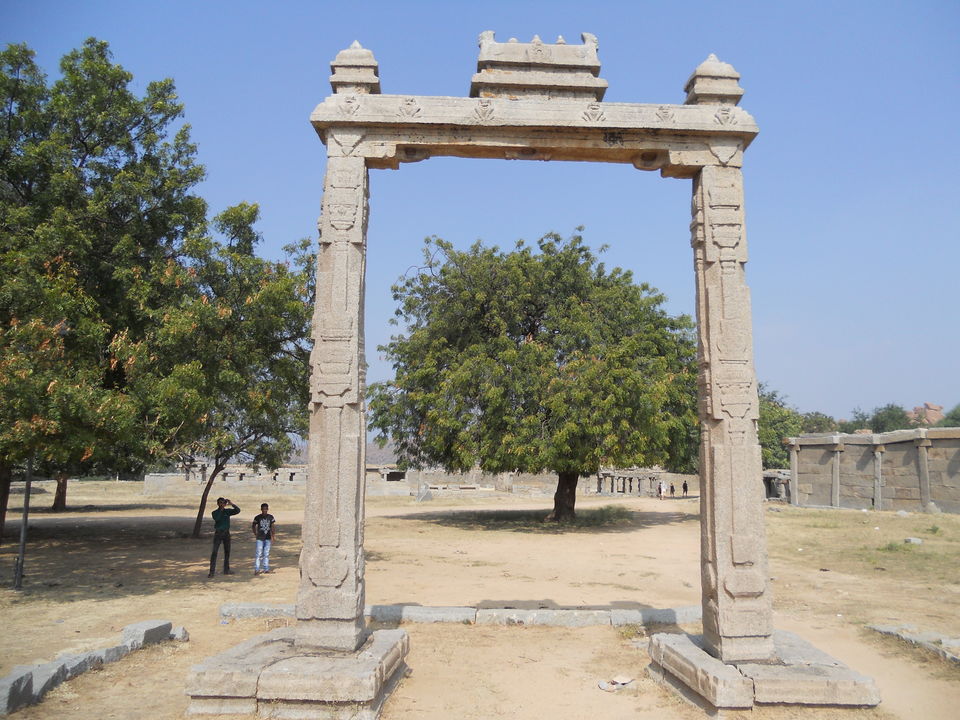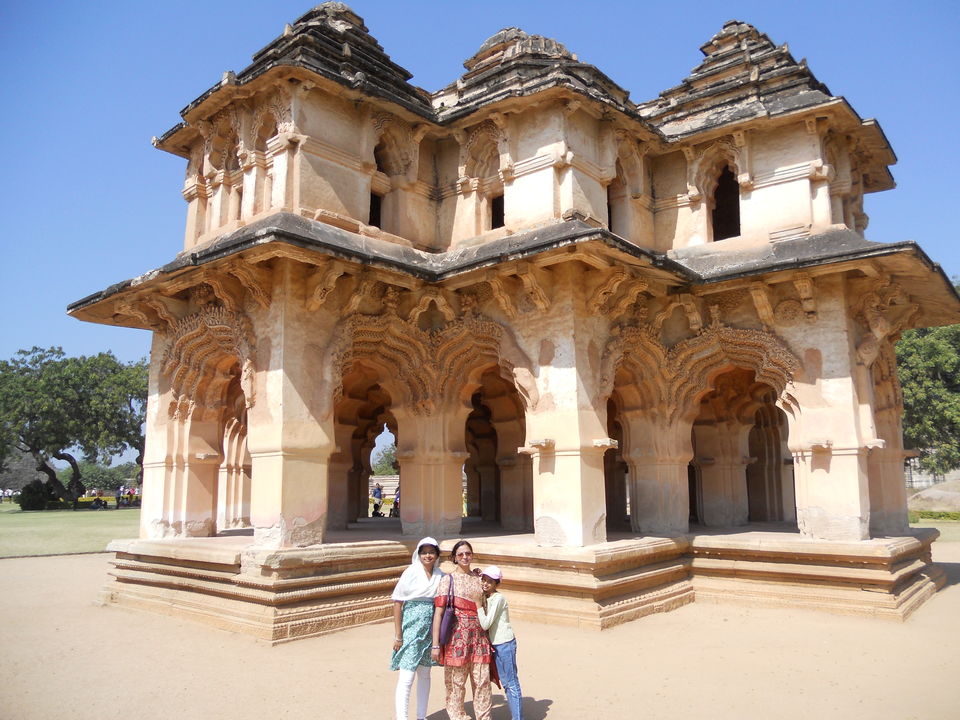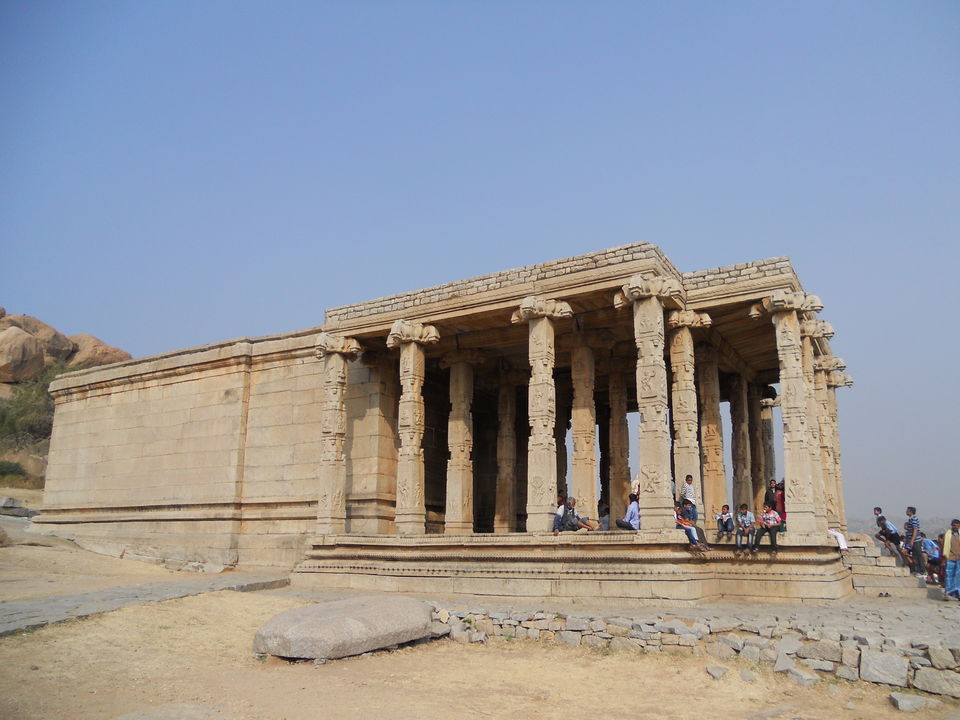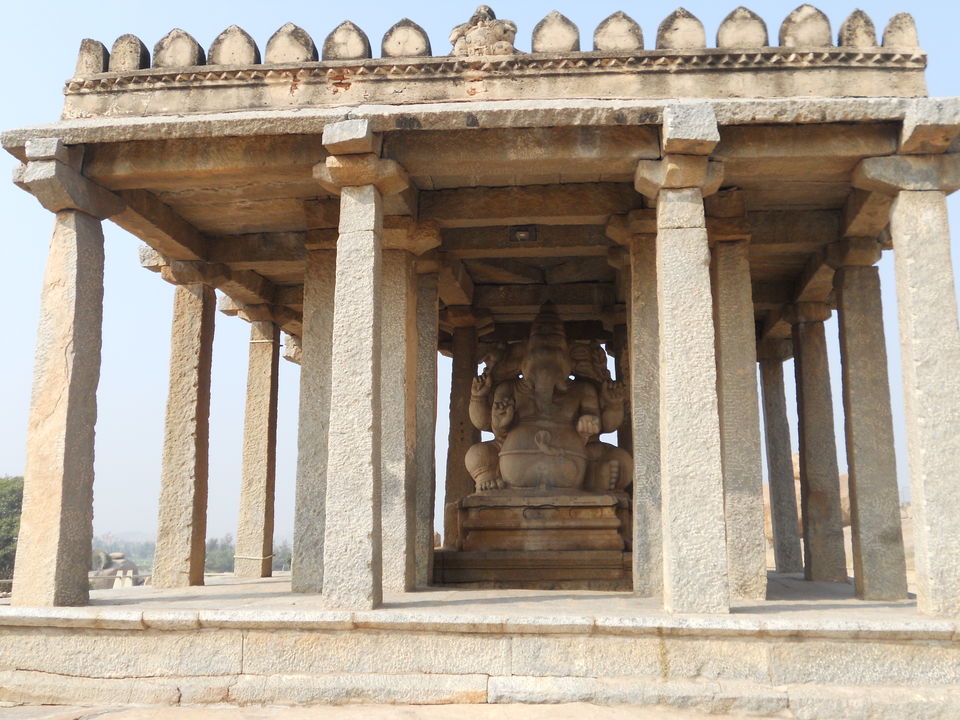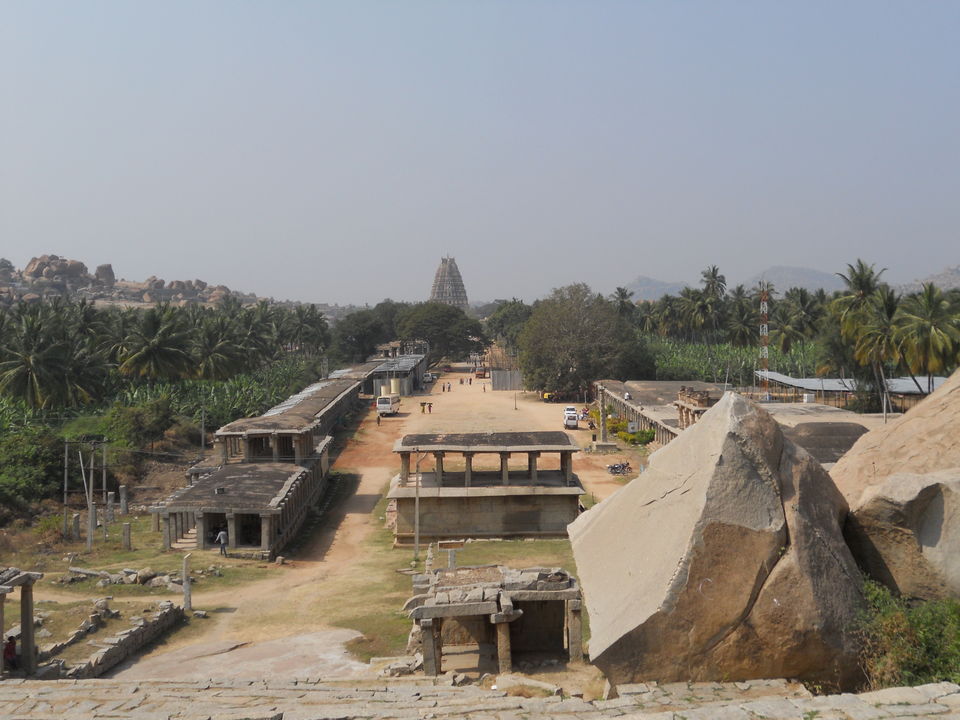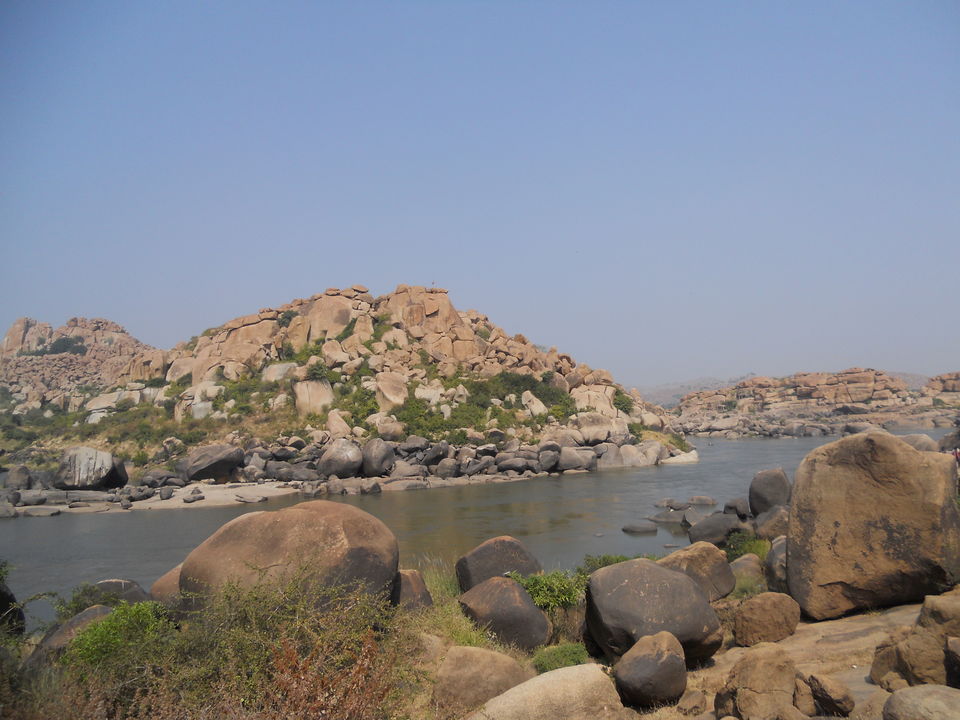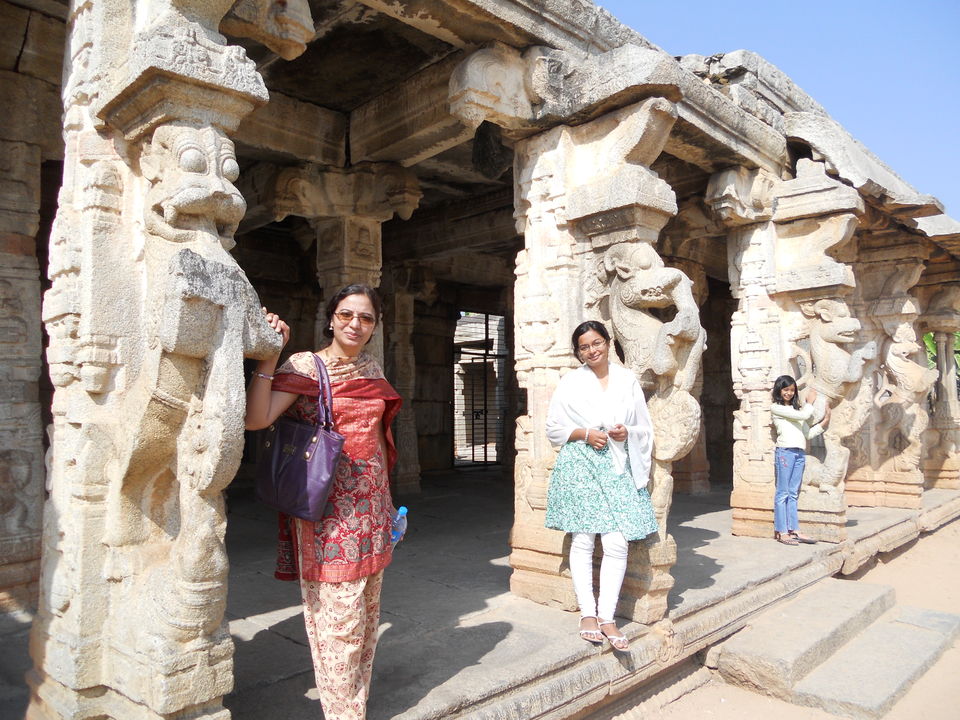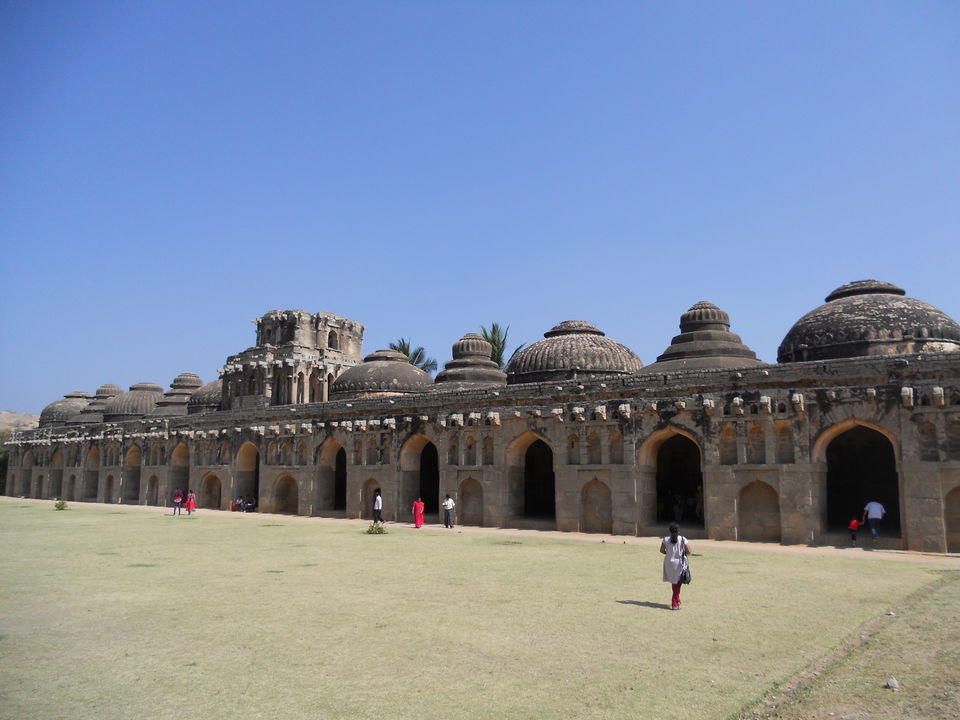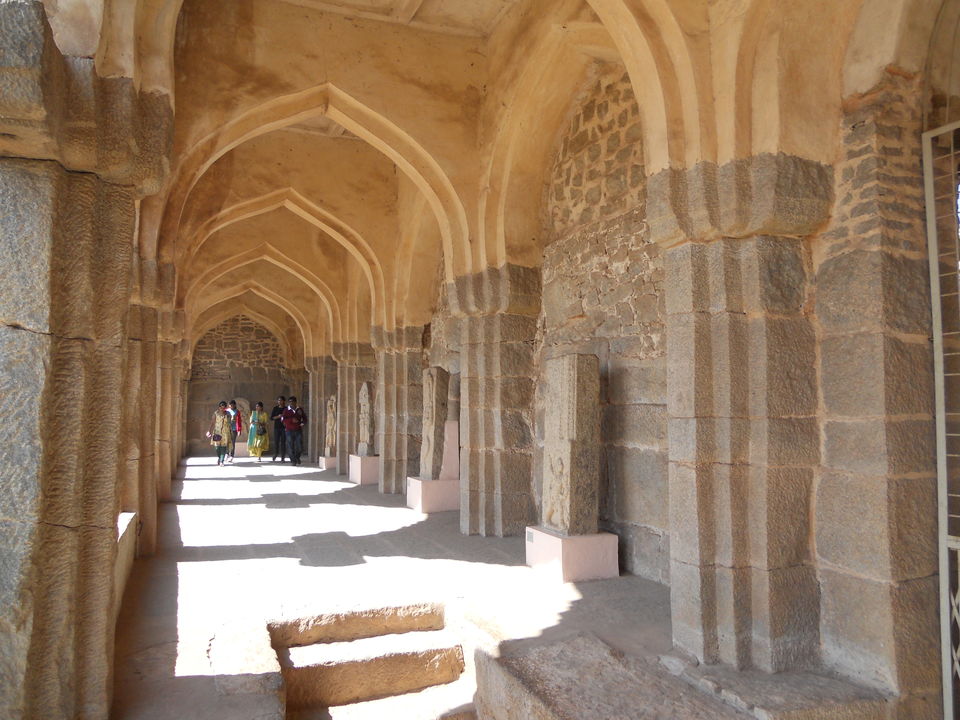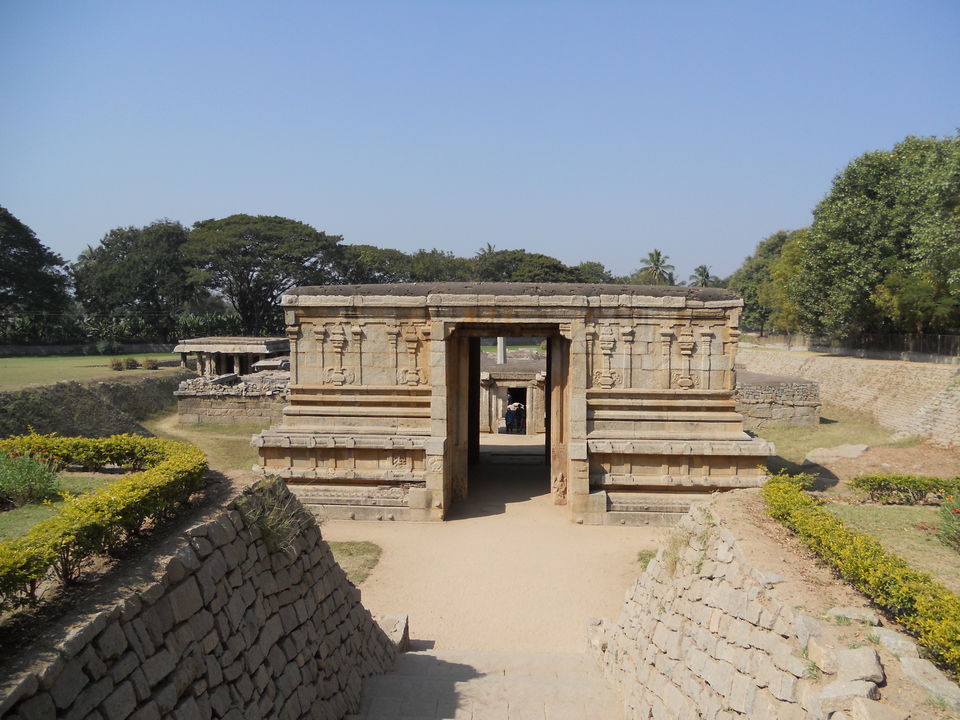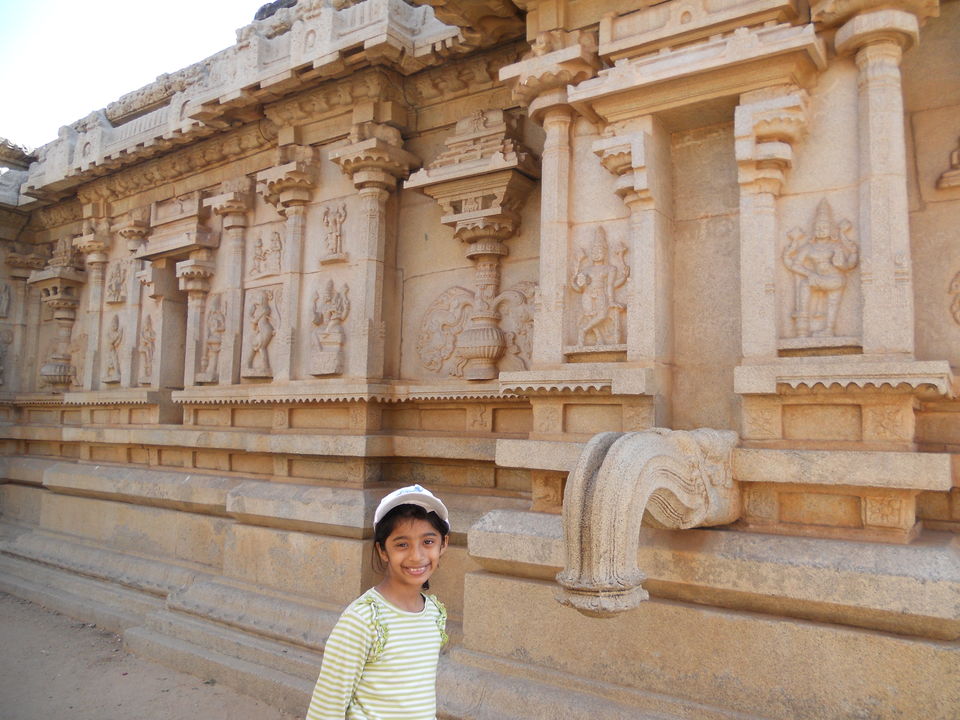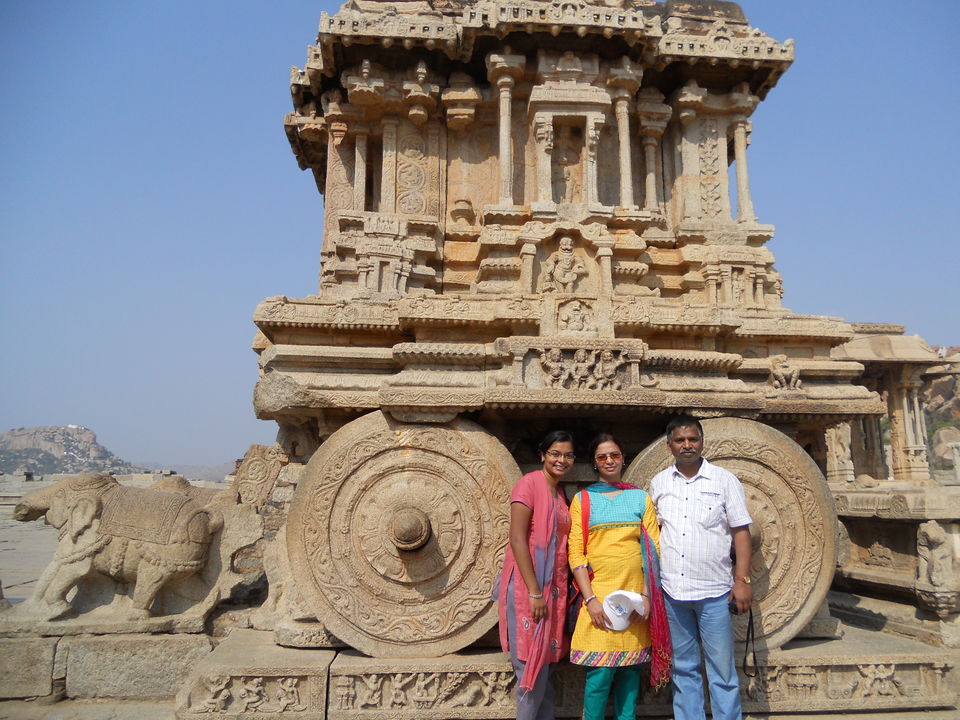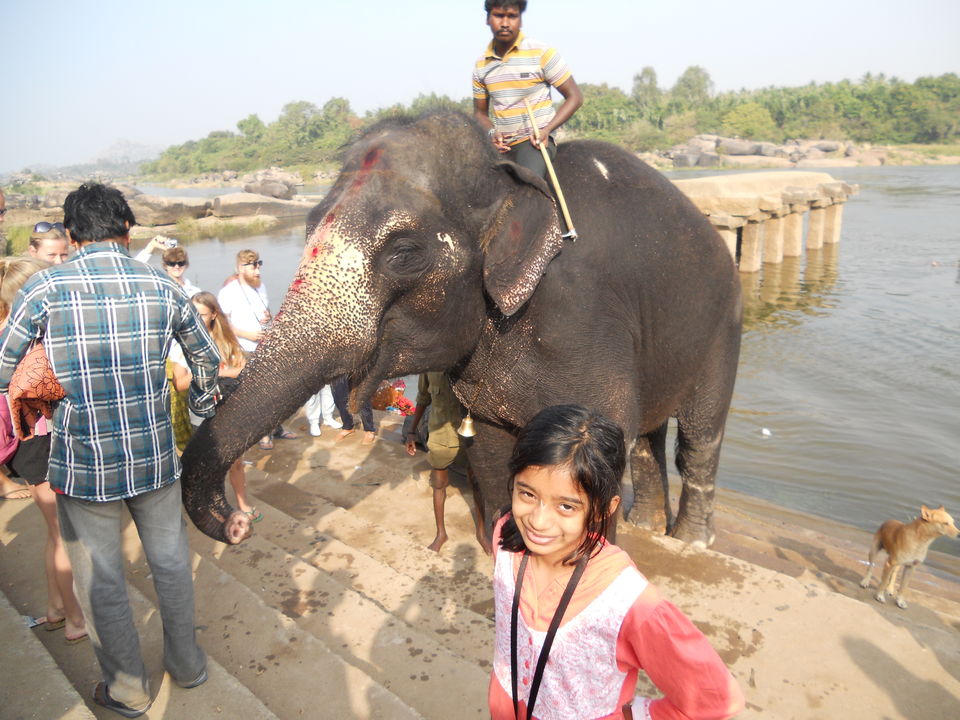 We visited Hampi in December. We have read so much about Hampi from our school days but there is nothing like seeing it in real.
We had planned a two days trip on a weekend to Hampi. We booked rooms in Hotel "Hampi international" in Hospet town, which is about 15 KM from Hampi. Hampi has very small hotels and lodges. We took a KSRTC sleeper bus from Bangalore on Saturday to Hospet and it was a comfortable journey. The bus started from Bangalore at about 10:30 PM and reached Hospet at about 6:00 AM. We checked into the hotel, which was quite neat and well maintained. The rooms were clean and spacious. The hotel had a lawn and one could have dinner on the lawns in the evenings. The hotel has a good restaurant. It was December when we went there and the weather was pleasant and perfect for travelling.
After breakfast, we took a city bus to Hampi and the journey from Hospet to Hampi was about 30 mins. There are regular city buses plying between Hospet and Hampi. We started the trip with a visit to Virupaksha temple. This is the main temple in Hampi and is still in good condition. It has vast premises. The temple was not crowded. Then we decided to explore Hampi on foot.
Half the monuments in Hampi have to be explored only by walk as these are away from the road connectivity. After darshan in Virupaksha temple we walked to the nearby river bank. The river Tunga flows along some of the monuments in Hampi and creates very beautiful backdrop at some places . The river bank near Virupaksha temple has a beautiful view. The temple elephant was being given a bath here and children enjoyed the sight. The water is clean and place is really worth visiting.
Then we walked to Saasuve kaalu Ganesha and Kadalekalu Ganesha temples which are close to Virupaksha temple.
Eventhough Hampi is well known for monuments, one cannot imagine the vast number of monuments standing till today. Wherever we gaze, we find a stone structure beautifully constructed. The whole ancient city is full of temples and other structures, most of which are in ruins now.
After visiting Ganesha temples, we started walking along the main street from Virupaksha temple, the famous "Hampi Bazaar" where gold, silver, pearls and diamonds were sold in ancient times. The street is wide and long with stone structures on both sides, representing shops of ancient times. The bazaar street may be a Km or two in distance. The structures are two storeyed, giving impressions of multi storey shopping malls of the ancient times.
At the other end of the bazaar we find other temples, structures on the small hills. From here we started exploring the way to the most important site "stone chariot" in Vittala temple. The path to Vittal temple goes along the river bank with picturesque boulders forming the background. The walk is about 3Kms or more from the bazaar but it is worth it. On the way to Vittala temple we saw "Kings Balance" which is a huge stone structure. This is the balance on which King Krishna Devaraya used to weigh himself with gold, gems, silver and precious stones, and distributed it to the priests on special occasions.
A little further from the Kings balance is the Vittala temple where the stone chariot is located. The stone chariot is one of the most significant symbol of Hampi and also one of the most photographed monument in Karnataka. The Vittala temple is a very beautifully carved temple. The pillars here produce sound when just touched gently, but it is not allowed anymore.
By this time it was late afternoon and we were tired and decided to look for a restaurant for lunch. Hampi town has very few good restaurants and the restaurant "Mango tree" is the most famous. It is neat and clean, has table chairs and also food is served in traditional way where people sit on the ground on small cushion.The Food is good and tasty and there are a few different cuisines available for foreigners.
We took a bus to Hospet and returned to Hotel to rest for some time. In the evening we visited Tungabhadra dam which was lit with lights.
Next day we wanted to explore the remaining monuments which have road connectivity. We hired a rikshaw for the full day for Rs 600. We started with Krishna temple which has a big courtyard with beautiful carved pillars. The temple was partly destroyed during the war and is in ruins. Then we visited the famous Ugra Narasimha statue and the famous elephant stable. Surprisingly, the elephant stables were in good shape. This is a huge structure where royal elephants were kept. The structure is built with a series of gumbaz. Then we visited the beautiful Lotus mahal which was also in good condition. This was the structure used by royal women. Lotus mahal has a system of aquaducts in the walls to keep the structure cool in hot weather. From there we went to other temples called Hazara Rama, Under ground Shiva temple etc.
We also visited "Queens bath" the private bathing chamber of Vijayanagara kings and queens. This is a big structure with a big open rectangular pool with a number of balconies projecting into it. There are so many other smaller temples and monuments everywhere. By that time it was evening and we decided to return to Hospet as we had to catch the night bus to Bangalore.
Best time to visit : October to December weather is pleasant. Other times may see warmer or hot wether.