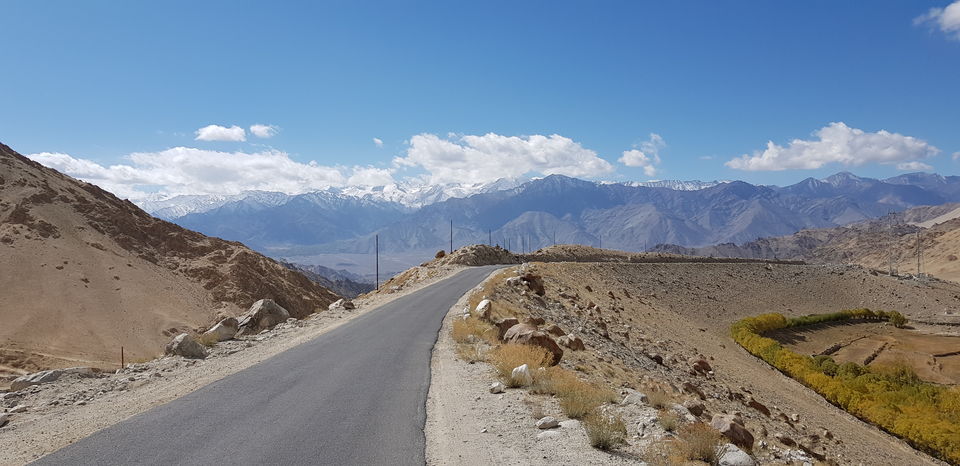 One fine night, i was enjoying a good night sleep and suddenly my phone rang in the middle of the night. I picked up the phone and it was my friend who was drunk so i was just mumbling in sleep to whatever he was saying. I remember, during the last minute of the call he got extremely excited and said we will have fun bro and i said yes sure and hung up the phone and went back to sleep. When i woke up in the morning i found out there was pdf file, i opened and i was shocked to see it was a flight ticket to Ladakh for 3 days after. A volcano burst in my head thinking how is it going to happen, my boss will never allow to go on leaves on such short notice, what would i say at home? etc. I managed the situation at home but now it was a bigger challenge, asking leave from boss. I asked my boss for 5 day leave and he asked why. I told him that i have to go to ladakh and explained him the situation and surprisingly he said "Are you mad, who goes to Ladakh only for 5 days, you should have gone for at least 10 days". Finally, everything was set and we were ready to fly.
9th October 2019:- The day finally came and i was so excited as i was about to fulfill my childhood dream of going to Ladakh. We boarded the flight on time and before arriving in Ladakh, the flight captain made an announcement that we would need to give ourselved at least 24-48 hours to acclimatize to the weather and the three of us got upset as we only had 5 days and if we will spend 2 days in out hotel we will have no time to explore. We finally reached and i told my friends that imagine we are warriors and it's our battle against the weather so be mentally prepared, we will not stay in our hotel and go out and explore because that's what we have come for.
Damn! I saw this signboard and pinched myself to make sure i was not dreaming. I was actually in Ladakh seeing my dream manifesting to reality. I had sudden burst of different feelings like happiness, gratitude and cold(No joke, i was feeling really cold there).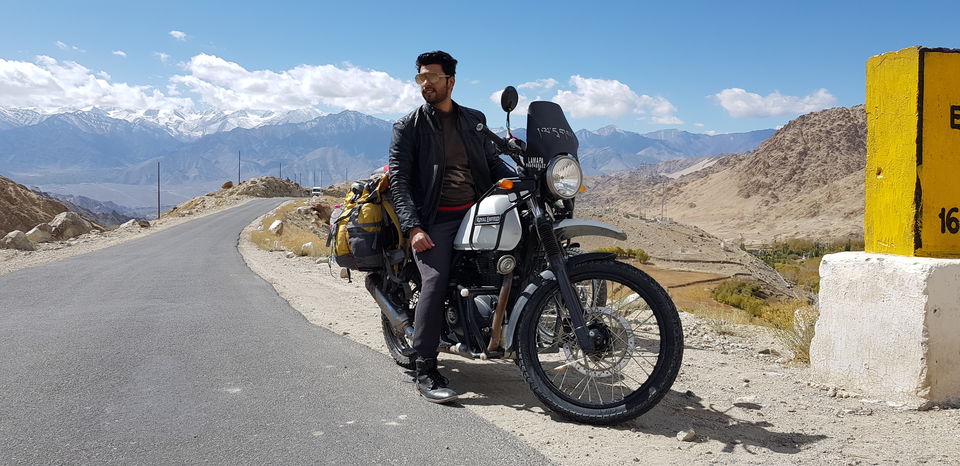 10th october 2019:- We woke up with enthusiasm and excitement as it was officially the first day of Ladakh exploration.
We went out and the first thing we did was to rent the bikes. I always saw people riding Royal Enfield in Leh ladakh and this was the day when i was going to do the same. So, we rented Himalayan and it was treat to ride this bike. Our first destination was the highest motorable road in the world i.e The mighty Khardung La. We started our journey and we were just stunned by how astonishing the views were.
We finally reached the first check point i.e South Pulu and we were stopped for the permit. It was a heart breaking moment as we got to know that it was not allowed to ride the bike any further from that point. All the excitement and enthusiasm that we had just shattered in that moment. We could literally see Khardung La from far but we could not ride there. Well were heart broken but we did not give up. We decided to explore Leh locally and then see what to do next.
We decided to go check magnetic hill first as we heard a lot about it and seen it in a couple of videos. When we reached there, all the sad feelings just vanished because of all the scenic beauty.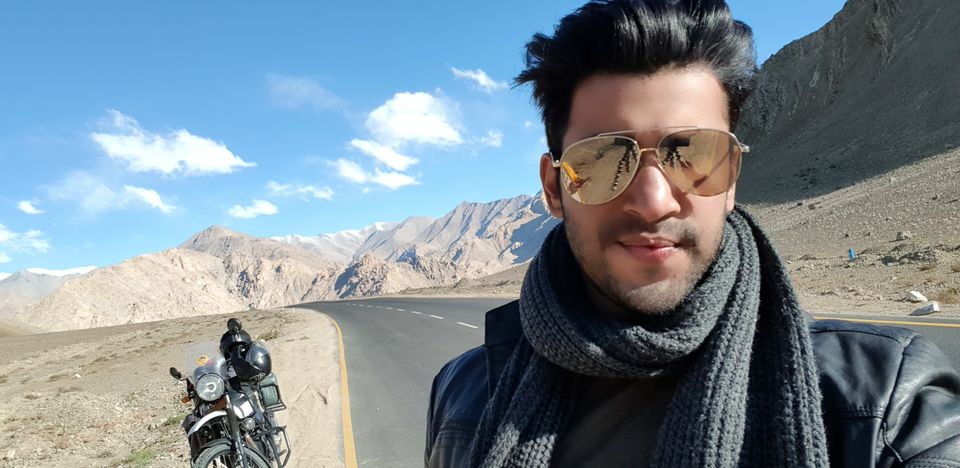 After experiencing the magnetic phenomena at magnetic hill, we just rode the bike without any plan and we reached a point where a sign board mentioned a place called Chilling. We neither heard of it nor we knew what to expect out of this place but i believe, it was one of the best decisions that we took. It was an empty long road which took us to a place which was heavenly.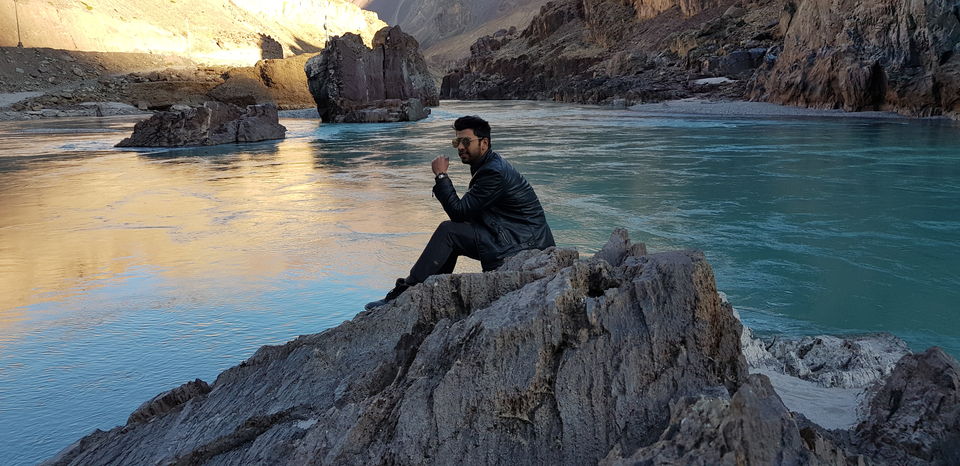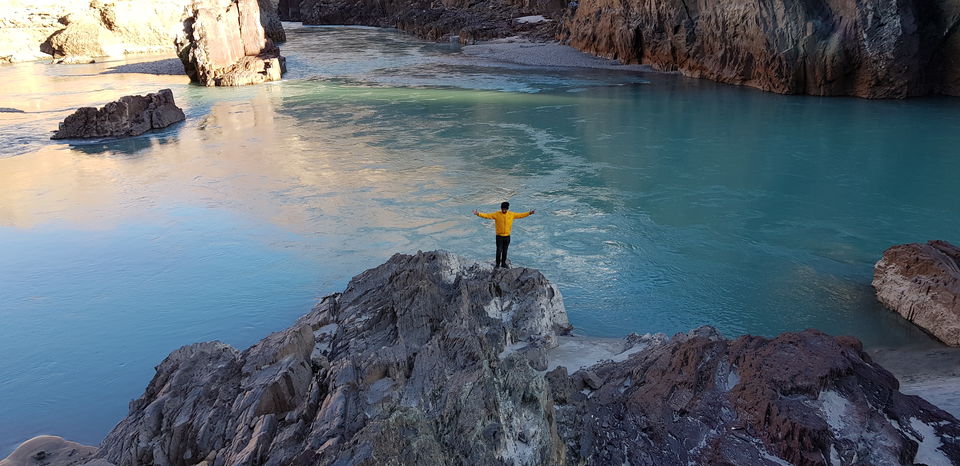 11th October:- Well, we knew that it's not possible to explore any more of Ladakh on a bike so we hired a Taxi with a very heart because we really wanted to go on a bike. So, the plan was to go Nubra Valley via Khardung La.
When we reached Khardung La, i said "Thank You" to my friend for bringing me there. It was the first time i was seeing those majestic mountains covered with white and bright snow. My inner child just came out looking at all the snow and i just started playing.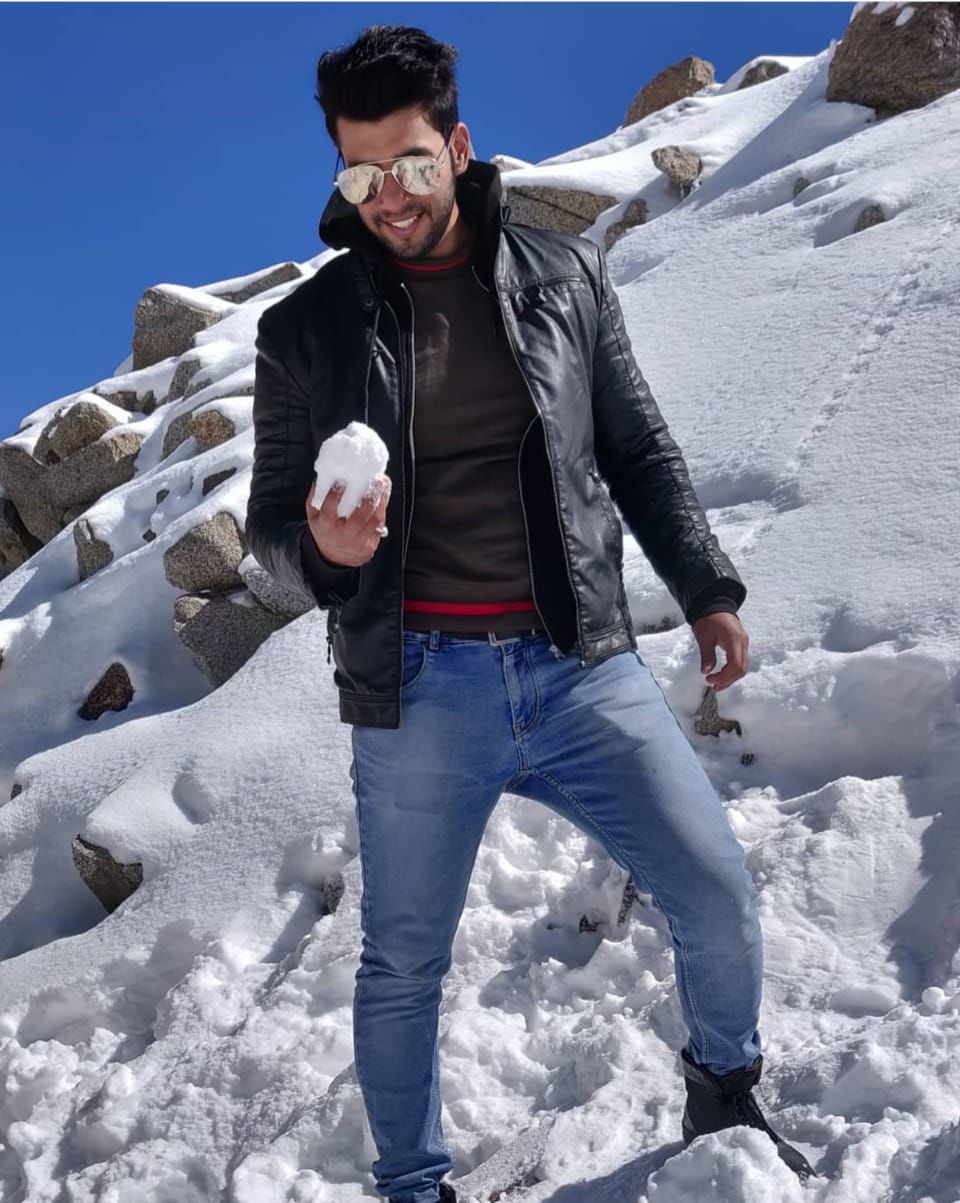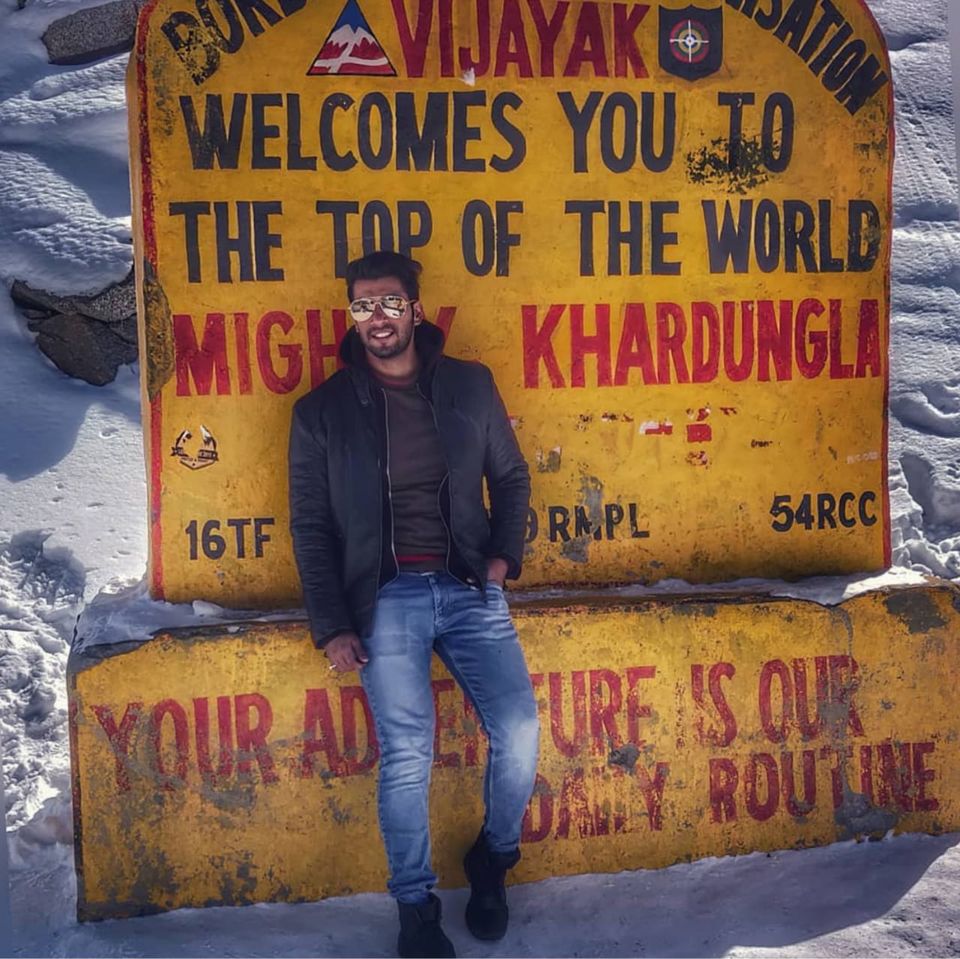 After staying for a while, we left for Nubra Valley. The journey was just amazing with all those mountains, those road and great music. It was a long journey but after every turn there was another view which made our journey astounding. Our first stop was Diskit monastery. I am a believer of Buddha's teaching and i love visiting monasteries. I even meditated there and it was by far the best meditation session i had.
Next stop was the Hunder sand dunes. Although, i am not a big fan of sand or desert but i was quite impressed by the place. We did few activities over there like Archery, camel ride etc. Then we just went to our hotel and spent the night in Nubra Valley. It was really cold but i stayed awake all night for star gazing however it was unfortunate night for me as it was so cloudy that i couldn't see the stars the way i wanted to see.
12th October 2019:- It was the day i was most excited for as we were going to the legendary Pangong Lake. When we reached there, i realized why that last scene of 3 idiots was a little special. I just could not get my eyes off the lake. It was just like those happy dreams which you don't want to end. I have never admired water like that in my entire life but this one deserves it.
We could not stay for long because of the time constraint but i was happy that we somehow made it to this place otherwise i would have regretted so much. It was the last day of exploration as we had to leave early morning next day but this experience was like a cherry on the cake.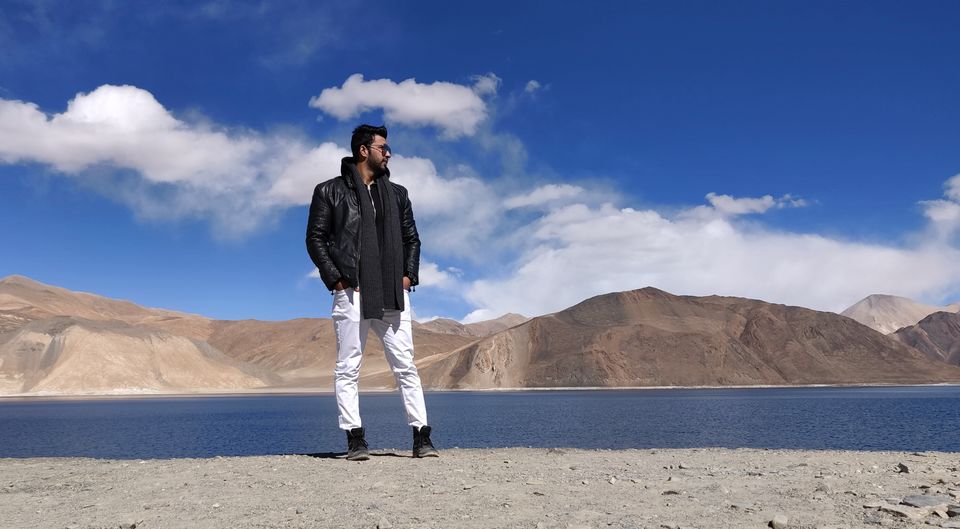 In the end, i would like to say that it has been more than year but i still have those memories crystal clear, i still have those emotions and i still have those feelings because these were something i never experienced before this trip.
I wish i could get a chance again soon to visit Ladakh.
Thank You