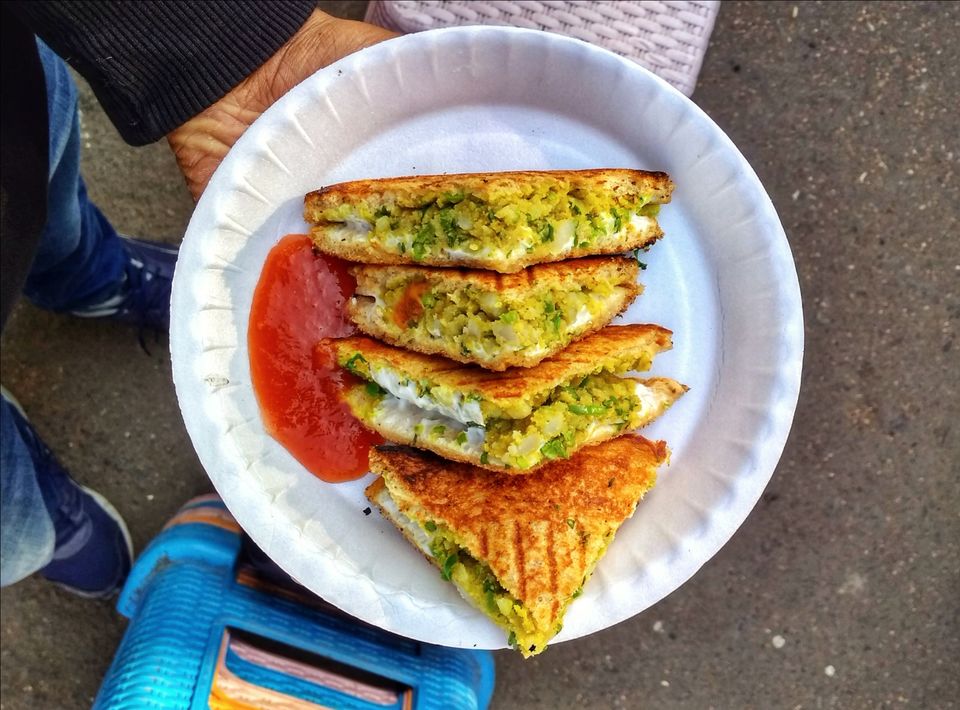 My abbreviation for FAT is Food, Adventure, Travel. I don't know if it's my super power or luck that how much ever I eat I have never crossed 75 kgs in my life till date. I have always been in love with food especially when I am travelling to a new place, I look out for what food that place has to offer which I cannot get anywhere else. So I'll share with you my list of top 7 and leave you all craving for it.
1. Charminar + Irani chai & osmania biscuit
Price : Rs - 20-30/-
Where : Beside Mecca Masjid. Ask anyone.
Standing outside nimrah cafe sipping Irani chai and muching on osmania biscuit and having a look at Charminar will make you feel royal.
2. Gokarna + beach + fish thali
Price : Rs - 80/-
Where : Tadadi port.
Enjoying your day by soaking your soul at a beach and losing all your energy and when you want to eat something just go to any small hotel and ask for a fish thali and dig into that delicious fish fry and hot rice with fish curry.
3. Bangalore + friends + VV Puram food street
Price : Rs - 30-50/- per food
Where : Vishweshwarapura, Shankarapura, Bengaluru.
How can I forget about this place in Bangalore when I'm talking about food. A go to place for all the friends at least once when you are in Bangalore. It opens after 7 pm and mostly youth gather around in groups and munch on all types of food you get here. From idli to vadapav or Dabeli and from plain milk to badam milk or Rabdi. And the taste is amazing.
4. Ahmedabad + friends + manekchowk
Price : Rs - 20-50/- per food
Where : Manekchowk near jami masjid.
The old style Ahmedabad in Gujarat has got this area near to Jami masjid which opens in the night around 8 pm and closes after 2-3 in the morning. The food street with all types of Gujarati sweets and snacks which you can munch on. You'll find a new thing to eat everytime you go there.
5. Mysore + Mylari + Dosa
Price : Rs - 30/- each dosa
Where : Shop No. 738, Nazarbad Main Rd, Doora, Mysore.
In my opinion, Going to Mysore and not eating a dosa at Mylari hotel is considered as a sin. Get up early in the morning and get to Mylari by 7 am to enjoy the delicious Dosa with saagu and butter. As soon as you take a bite of it your taste buds will thank you for that and you won't leave from there without having at least 3 dosas.
6. Araku valley + stick chicken
Price : Rs - 70/- for each stick
Where : Galikonda view point.
A ride from Vizag to araku valley with mesmerising views all around and taking short break on the way at a view point and enjoying just made stick chicken grilled on charcoal.
7. Shivanasamudra + waterfalls + fish fry
Price : Rs - 60-80/- depends on the size
Where : Road side on the way to waterfalls after crossing checking point.
A quick ride from Bangalore to shivanasamudra looking at the giant waterfall and enjoying the views. As you decide to come back, you find few shops on the way where you see fish fry and go out to try it. It turns out to be an hour of fiesting on all types of fish fries.
So, Get out there, travel the world, see new things, experience new people, experience new food, experience new culture. What happens is that helps you to grow and be your best self. Happy travelling and enjoy the food!!!