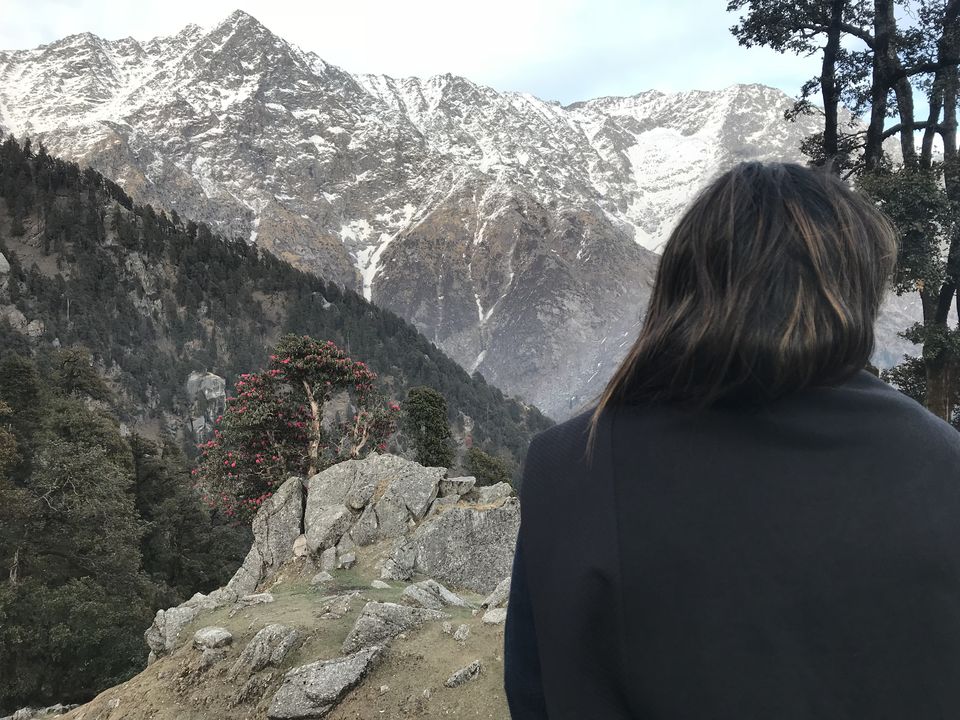 This has to be the most popular trek for North Indians and if you may not have been here, you would be planning to go here. I must have gone to Mcleadganj like 4 times yet Triund evaded me because of various reasons and finally this March we ended up going there quite spontaneously. Primary reason was that Mcleadganj was quite warm and crowded and hence, we decided to escape the boredom by hiking to triund.
You can read more about Mcleadganj here
Why Triund?
After being there I have to say, Triund deserves all its glory. It is easy, well marked and beautiful. So couple of pointers with some opinions and some really enticing photographs. I am putting down most of the things including basic information.
A trek of 6 km, it is moderately challenging but the journey is exquisite. The views are gorgeous with colorful mountain flowers, sharp sun and cool breeze. It is peaceful, one can walk at their own pace and at the top of Dhauladhar ranges- it is completely worth it. This place again strengthened my love for hiking.
Recommended path:
Mcleadganj-Dharmakot-Guna Devi temple- Tiund hike- Dharkmot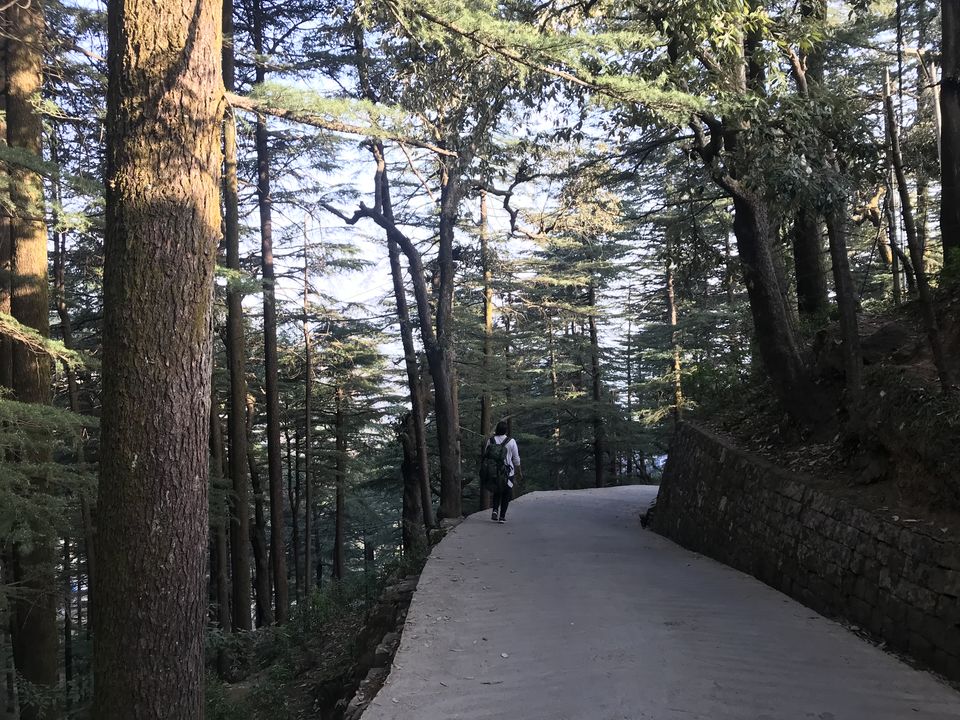 We enjoyed our stay in Mcleadganj and did all touristy things. We packed our bags and took a taxi to Guna Devi temple where the trek begins. We got one of the shopkeeper to keep the bags for overnight for Rs 100 and carried a smaller bag. We had already booked a camp by paying Rs 1000 at the campsite. We started climbing as late as 2:00 pm and reached by 6.30, just in time to capture gorgeous sunset.
Some points to note for beginners:
1. Wear layers- so that you can remove or wear your jacket as the weather changes
2. Carry light- I have seen people with their rucksacks going and if you can do it great. I can't! So, I carry as light as possible- basic toiletries, a change of 'lightest' clothes (no extra jacket) a litre of water, some snacks and my medicine.
3. I am an asthmatic patient and take an inhaler once in 2 days inhaler. My partner had enough apprehensions about me climbing it but we still decided to go ahead. If you can survive Delhi pollution, you can survive this climb. Go easy, drink little sips of not very cold water and take deep breaths. You can do it! And, always cover your chest with something warm inspite of burning sun. I avoid preserved food as much as possible- so I will prefer a banana then a biscuit. And this works for me. If you are an asthmatic patient, try this- it works wonder.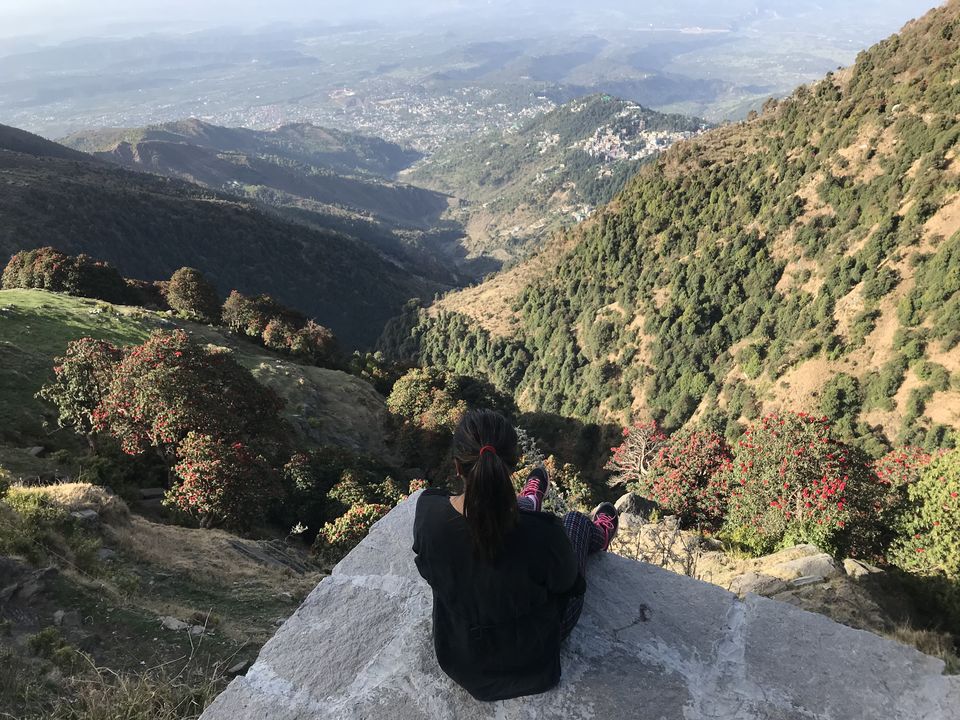 After the first 5 km of the trek, it gets quite steep and requires a sturdy walk. This one took quite an effort for me. This stretch is popularly known as 22 curves because of the 22 sharp curves en route. So keep your strength, and I would suggest take breaks a little later and gain on the distance at the beginning of the trek.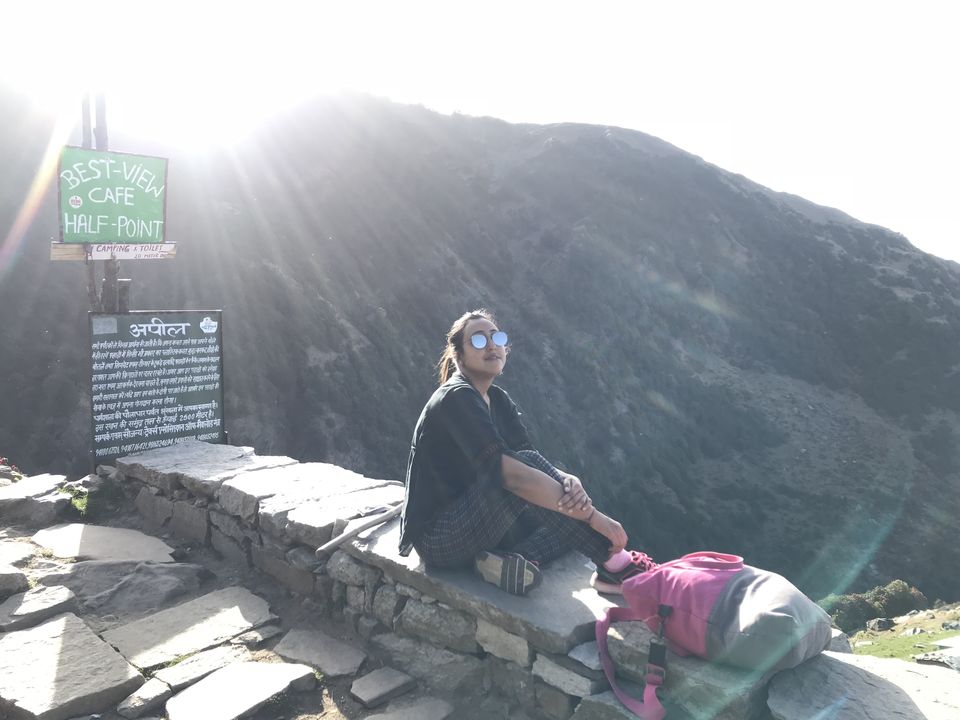 As you see your first view of the Dhauladhar range and you will feel all tiredness leaving you.
We literally ran to capture the sunset photos and the magnificent mountains as if they will escape us somehow.
Once, we took enough photos, we searched for our camp which we had booked near Gallu Temple. The solitary camp was away from groups and being our first time, we were not very comfortable with being too alone. I would have been more comfortable booking a rest house. The wind through out the night definitely wasn't very comfortable along with their used sleeping bags!
Option 1- Now, if you love nature and want to spend a night gazing stars and the city lights- do plan camping a night there..it was gorgeous.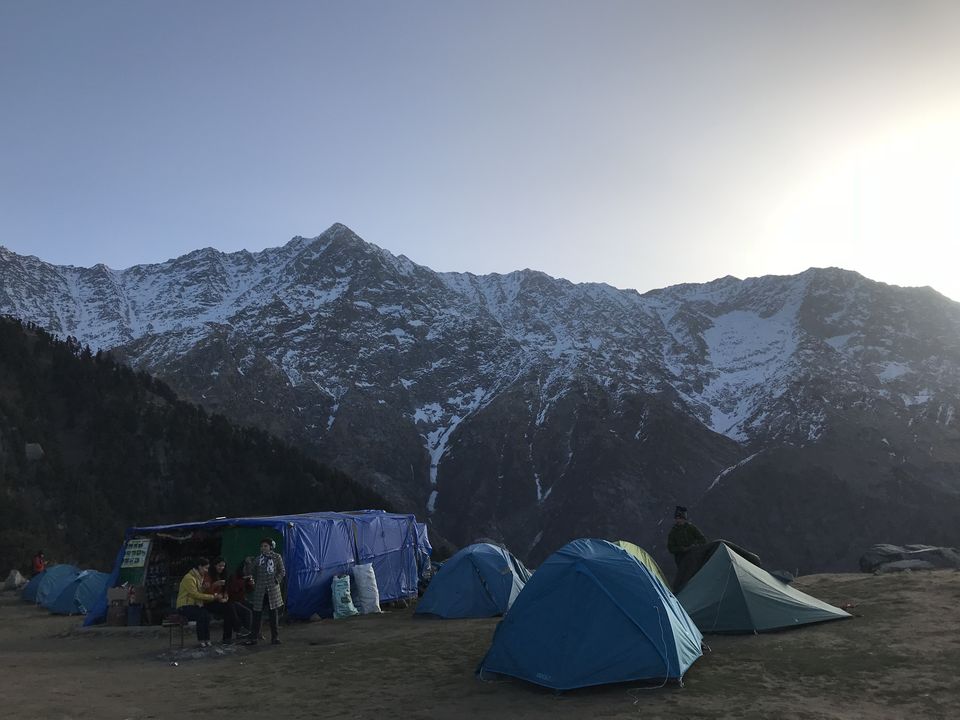 Option 2 - However, if you are not that comfortable with doing your 'morning rituals' in the open behind some rock and would prefer a washroom and better sleeping arrangements and hygiene- climb up first thing in the morning (as early as 6:00 am), spend your afternoon at the top and get back in the evening.
If you are unsure, then go ahead with option 2 and decide once you are at the top, if you would like to spend the night there or not.
You don't require a guide for this trek, however, in case you are going alone, camping with a group is a good option.
Next morning, as soon as I saw the daylight, we decided to ascend and reached Gallu temple in 2 hours and freshened at the guest house there. Then we walked till Dharamkot with our luggage and enjoyed the breakfast fit for the kings.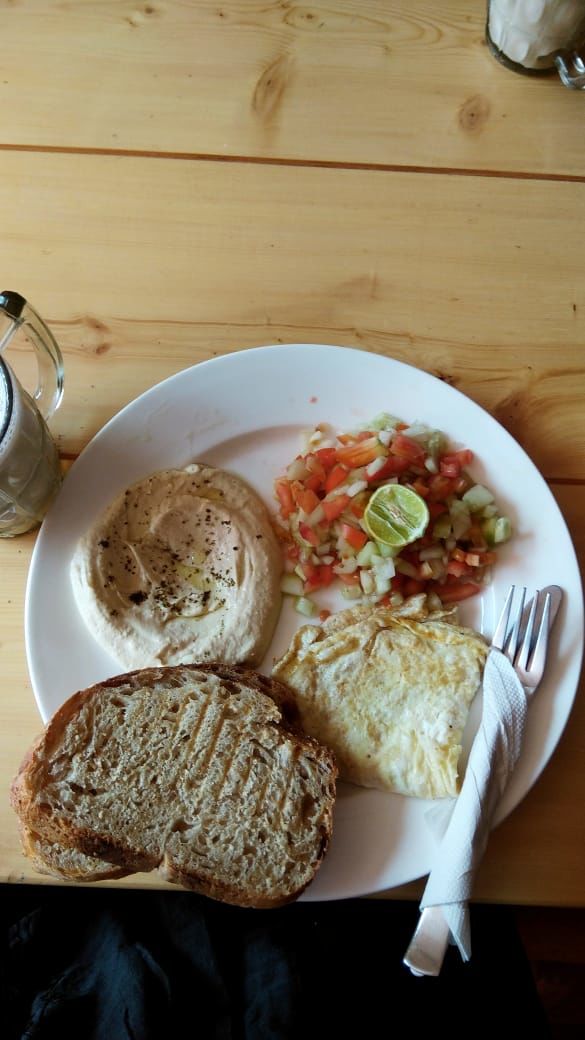 We took a room at Dharmkot to feel a bed under us and for a shower! And then we explored this place..well but that makes my next blog!
I hope this blog was helpful. How was your first trek? Tell me about it!
Connect with me on my Instagram handle to know more about my daily travels- @beingtravelninja