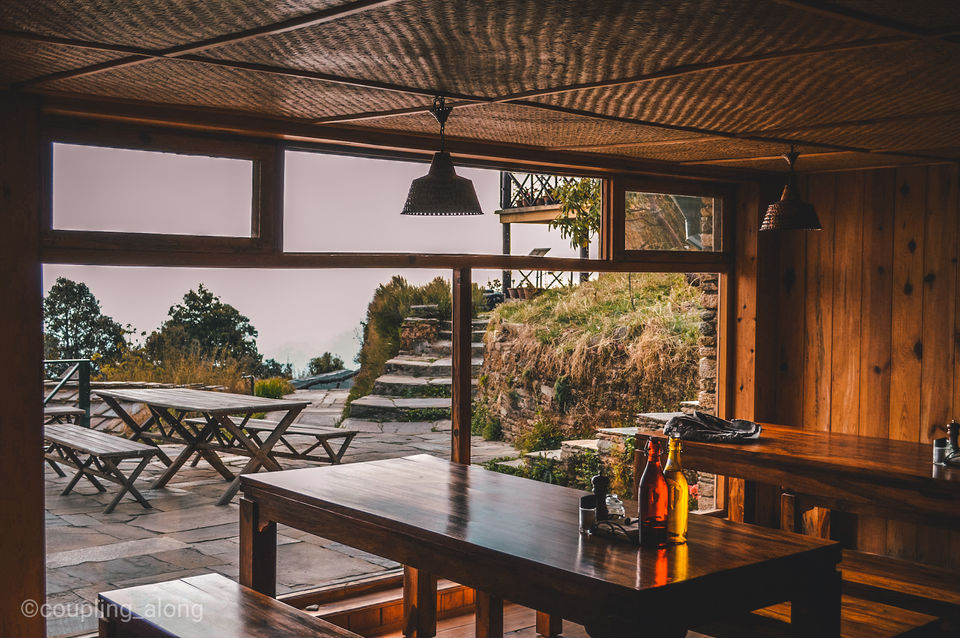 What comes to your mind when you think about relaxing summer escape?? For us - its mountains, greenery, away from hustle-bustle and NO internet!! What is the point of an escape if you still want to be connected to the rest of the world at your fingertips? Personally we think its a great way for digital detox.
Nestled in the Binsar Wildlife Sanctuary, in Uttarakhand's Almora district, the homestay has quite an enviable location.
About the Property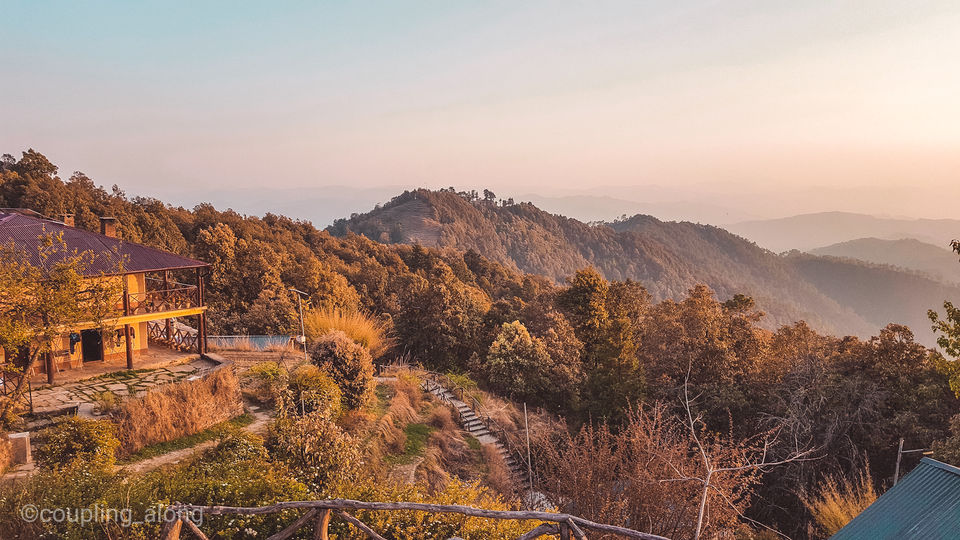 Around 430kms away from Delhi, the property features a collection of wood & stone cottages all of them overlooking a sweeping panorama of the Kumaon Himalayas that includes the perennially snow-capped peaks of Trishul, Nanda Devi, Sunanda Devi, Panchachuli and Nanda Kot.
The dense oak and rhododendron forests supply abundant fresh air and their seclusion engenders peace and tranquility. You will wake with the chirping of birds, hike in the beautiful forests by day and have endless conversations about all things wise and wonderful over dinner.
Pallavi, Preetam and Aahna live here now, and run the property along with close friend and partner Rajesh.
Rooms
There are a total of nine rooms at the Retreat. Most rooms are named after the peaks that they overlook. The rooms are tastefully done and the color coordination of everything is pleasant with optimal utilization of the space. The bathrooms are also well planned with enough space. Each room and every piece of furniture has been done very tastefully.
Most balconies open to a vast jungle at the back of the room which overlook the mountains.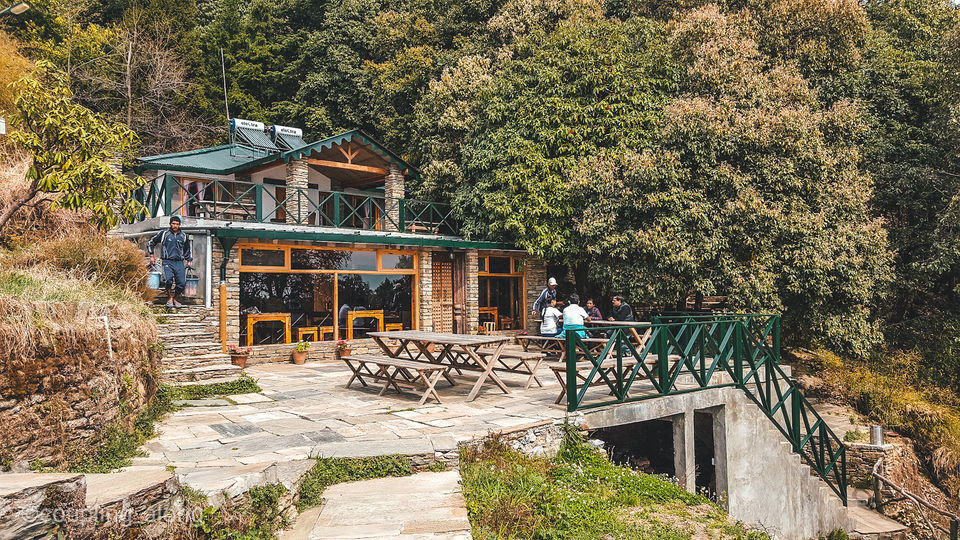 A pleasantly surprising fact about the rooms is that there is no TV or intercom in the rooms. the simple reason being that your stay should be uninterrupted and away from the regular hectic life.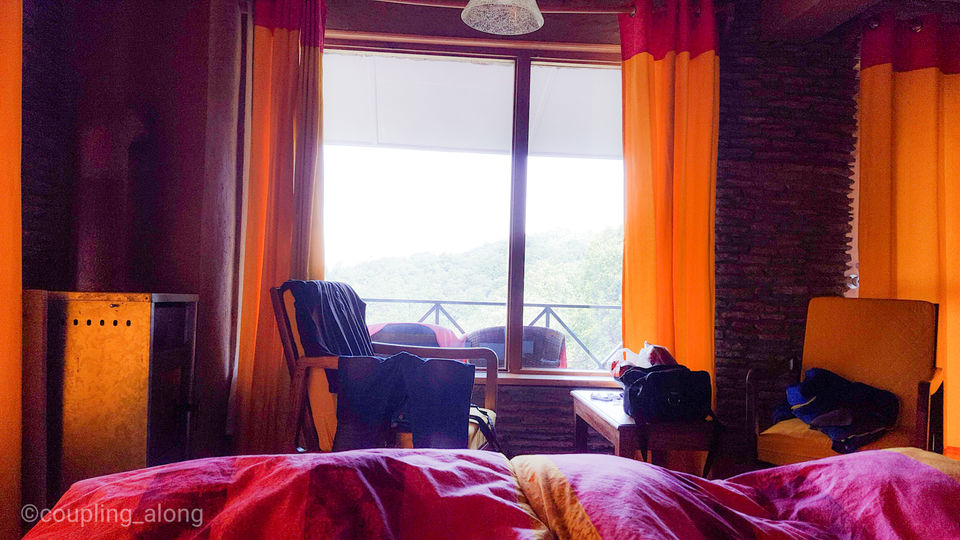 Plus, for any assistance you can call the care-takers at any given point making your stay even more personal :)

Cost
The cost of rooms vary from on-season to off season. Tent rates start from Rs.4000 per night whereas the Nandagunti room rate is Rs.6500 per night and can sleep upto 3 people. The biggest room which is Trishul can sleep upto 4 people and is chargeable at rs.8500 per night.
The above rates do not include GST & meals. For meals one has to pay separately.
Food
Freshly baked breads, cakes and home-grown vegetables is what awaits you at Binsar Forest Retreat. You will eat freshly prepared, organic, vegetarian food sourced from Kumaoni villages. The food is simple yet extremely delicious. and if you like, you can walk up to the kitchen yourself and make something on your own.
Best time to visit
For us, its definitely summers between April to September.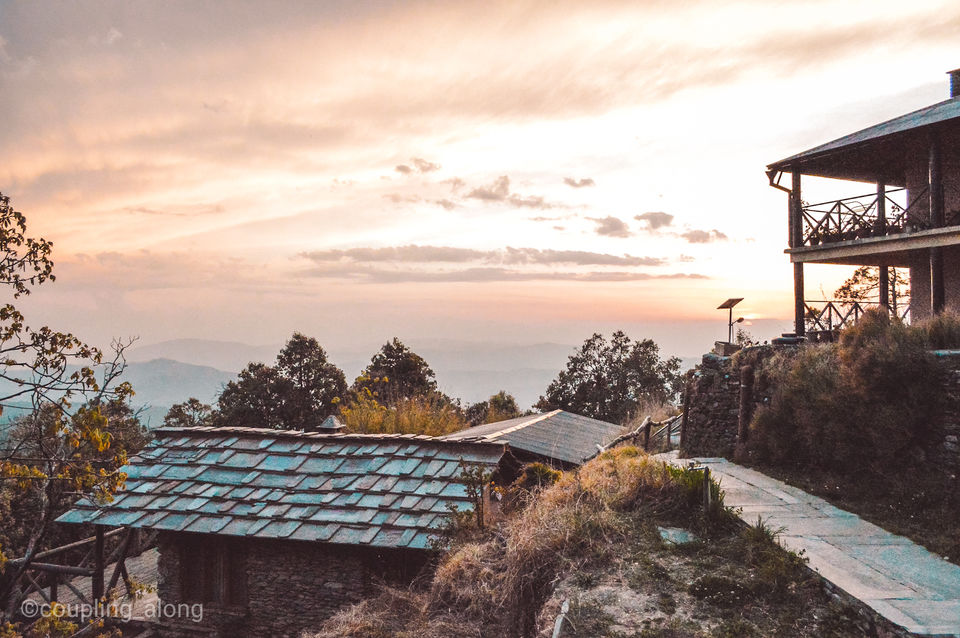 But you can also visit the place in winters when its completely covered in snow. However, it might just be slightly difficult to get there during the winter months
How to get there
The Retreat is at an altitude of 7,600 ft amidst dense forests with spectacular views of the higher Himalayas and the Kumaoni hills. Its around 100 kilometres north east of Nainital in the eastern part of the Himalayan state of Uttarakhand. So the best way to get there is driving down from Delhi. you can follow this route -
Delhi – Ghaziabad – Hapur – Gajraula – Moradabad – Rampur – Bazpur – Kaladhungi - Nainital – Bhowali - Bhowali – Ramgarh – Natuakhan – Satkhol – Kwarab – Almora - Almora – Kasaar Devi – Kaffarkhan – Binsar Wildlife Sanctuary gate.
You can also take a train from Delhi to Kathgodam railway station. From Kathgodam to Binsar is a 4 hour car drive.
What to do here
There are quite a few things you can do when in Binsar. If you love trekking, this place is your Heaven. Binsar Wildlife Sanctuary has over 60 km of walking trails. Given the dense forest cover and spectacular views from these trails, walking is the best way to experience the natural splendours of the Sanctuary.
Since these walks need a trail guide, either Pallavi, Pritam or somebody from the retreat staff will always accompany you through the forest walks.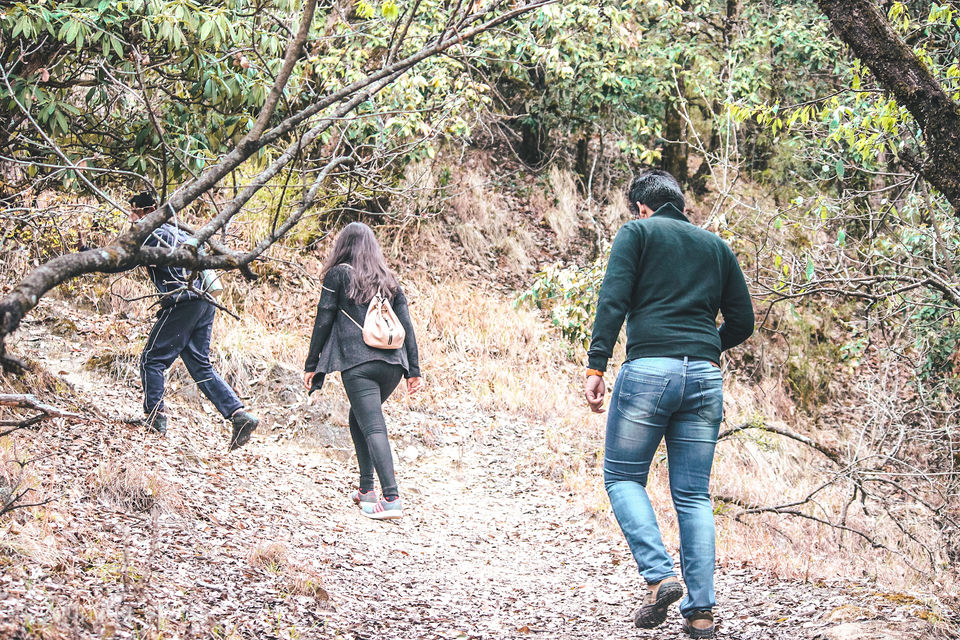 You can also take their shortest trek which is approx. 1 km to get to the Zero Point to catch the beautiful sunrise.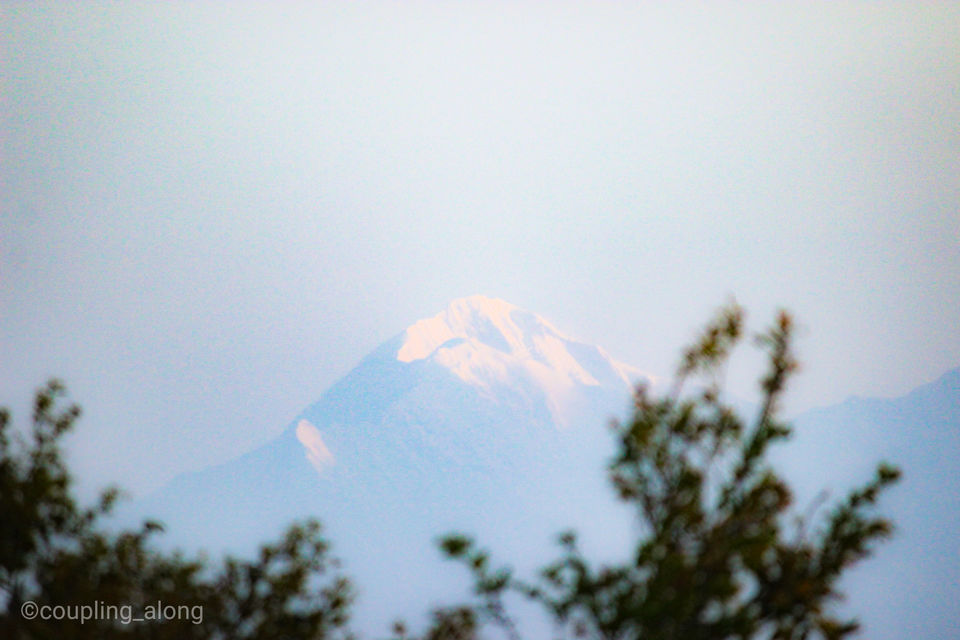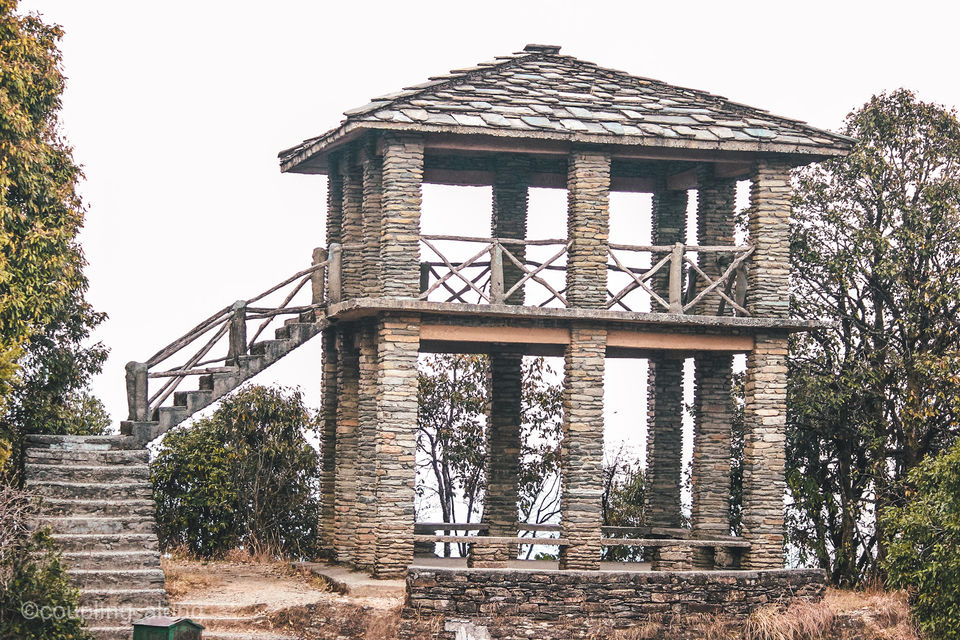 If you are not that into trekking, you can probably indulge in bird-watching. Binsar is the home to a number of bird species like Blue Whistling Thrush, Brown-fronted Woodpecker, Grey-headed Canary-flycatcher, Grey Bushchat, Rufous-bellied Niltava and many more. You can spend a few hours watching these beautiful creatures in and around the Wildlife sanctuary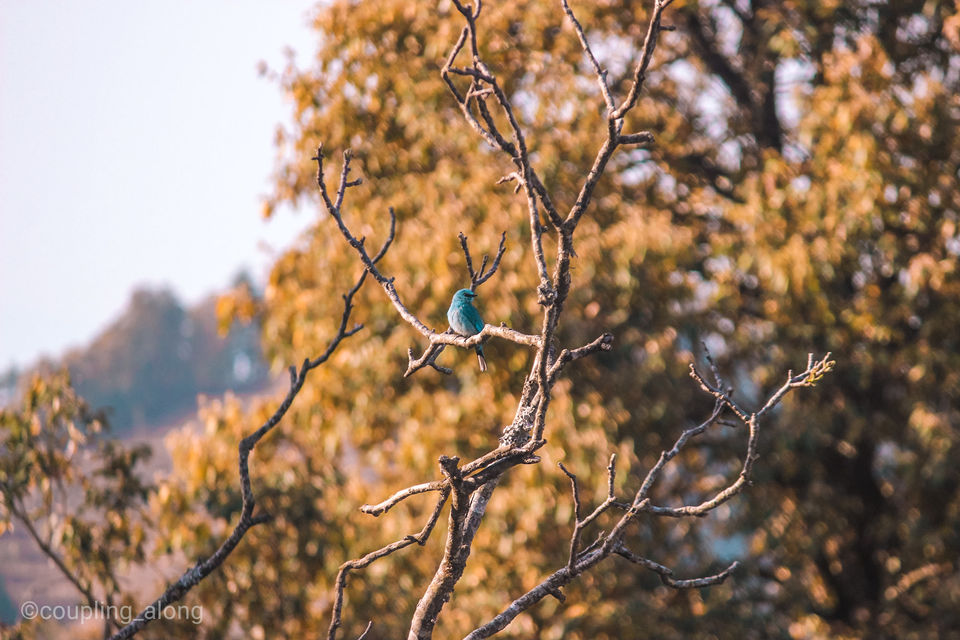 And if you are in the mood to just relax, you can just set at the deck and enjoy the beautiful nature around you.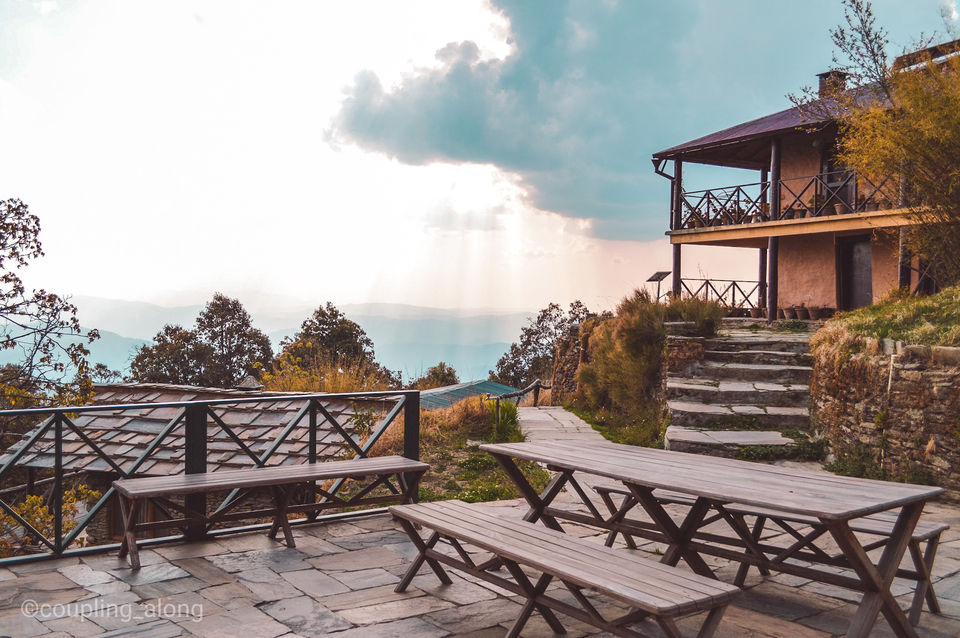 It wouldn't be absolutely incorrect to say that Binsar is a home far away from home. Your stay will definitely hit all the right notes throughout!
If you love nature in its pure and unadulterated form, with added luxury as a bonus, Binsar Forest Retreat is the place to be at in Binsar ! Highly recommended!