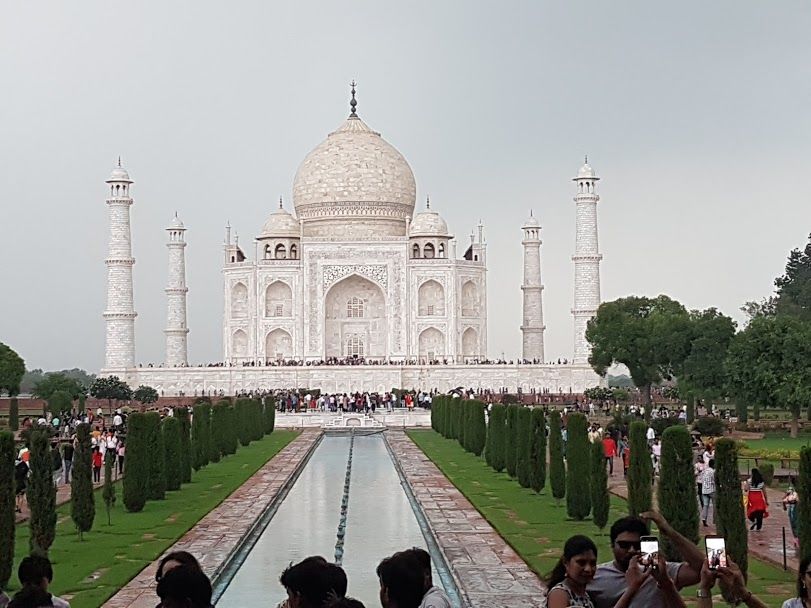 "True love never dies" It may sound cheesy or stupid to some but the perfect example of this is "Taj Mahal – The Legend of eternal LOVE"( also called Mumtaz Mahal, which was made in the memory of the Emperor Shah Jahan's beloved wife Mumtaz). The grave of emperors "khaas" queen (special) and the emperor rest here in peace.
Agra is about 233 Kms from the national capital Delhi .We Started from Delhi in the evening at 7 P.M. via Yamuna expressway
Route 1:-
Delhi- Faridabad-Palwal-Mathura-Agra
This is a one of the oldest route to Agra which in under renovation, making it slightly disturbing and unsafe for travelling. (But expected to be a great ride very soon)
Route 2:- Preferred
Delhi-Noida-Greater Noida to Agra via Yamuna expressway
This is a much shorter and well planned expressway which kick starts with a bit of congestion but helps touch basing the destination smoothly and quick.
If you are road tripping during weekdays avoid peak hours as the traffic in Delhi and Delhi NCR is pathetic and it will eat up lots of your time.
We stopped for a quick break at the first food court on the expressway (Jollygo Food court – left hand side).Most of the place is vacated but they still have Starbucks & Bikanervala, Starbucks maintained its charm but Bikanervala was a franchise outlet which was very badly managed and unhygienic.
Stop by this place if you are looking for quick coffee break only, if you drive further you will find food court two over the right side which is very well accessible.This place is very well maintained, managed & being major brands by Devyani the food is of very good quality and hygienic.
Link to food court 2:-
https://maps.google.com/?cid=1638252515125820975
We were booked at Sarovar Premiere,a place close by Taj with most of the rooms having a mesmerizing Taj view.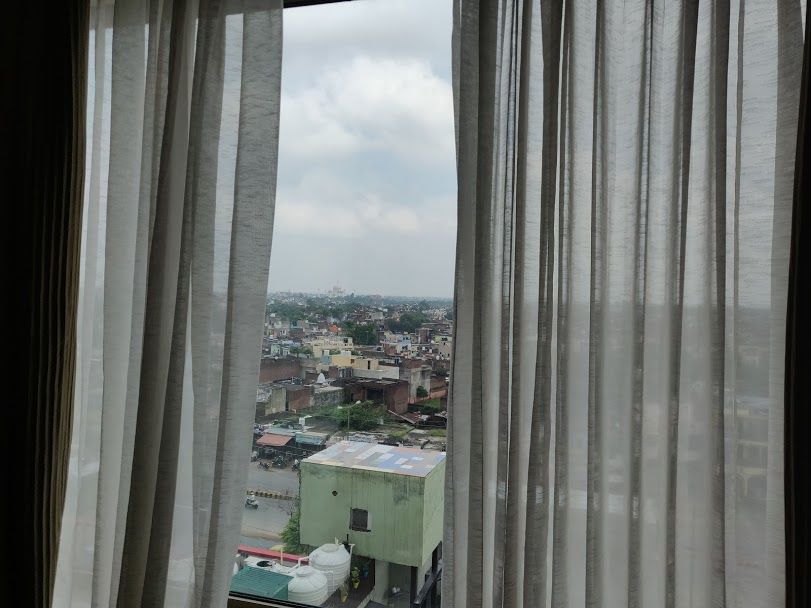 After parking our car we hired a tourist guide and took our tickets.Their are electric carts that take you to Taj complex. On the way we could see "The Oberoi hotel" which is set to be very beautiful with all it rooms facing the Taj (sources).Wish we could afford it! ;P (The guide we hired carried a government ID card but truly speaking it wasn't that fun. Either travel by self or try getting a quality guide)
However, moving forward we entered this "white beauty", no wonder why it's among 7 wonders of the world.As you enter closer to the Taj your heart thumbs up to the peak.We were stunned to see the beauty of the place.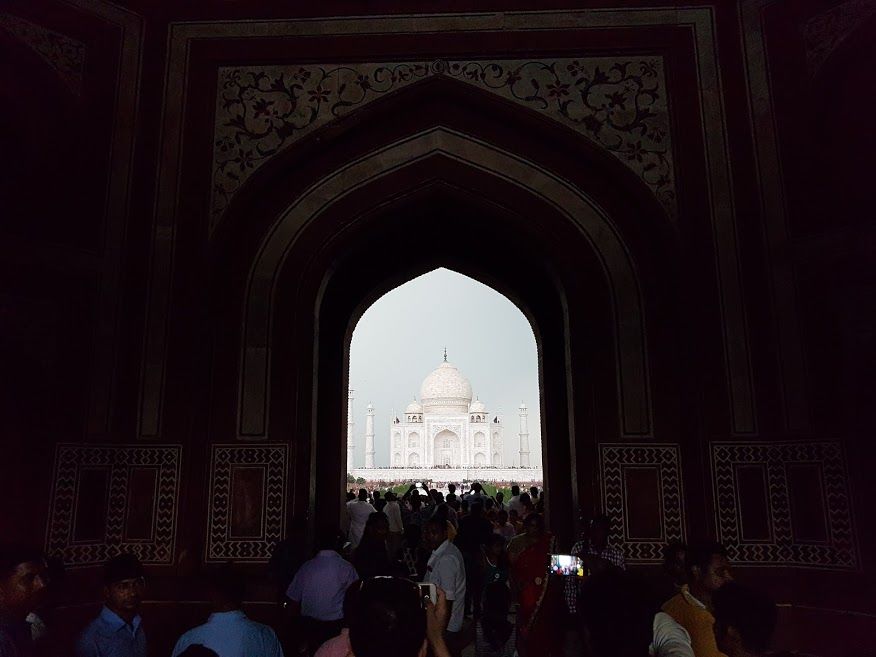 Our guide informed us that the beauty of "Taj Mahal" is more fascinating on full moon nights.These are usually 3-4 days a month which need to be pre booked at a price of approx 500 rupees for Indians.Under the moon the Taj is set to reflect the true color of love which is very beautiful and something you will not regret.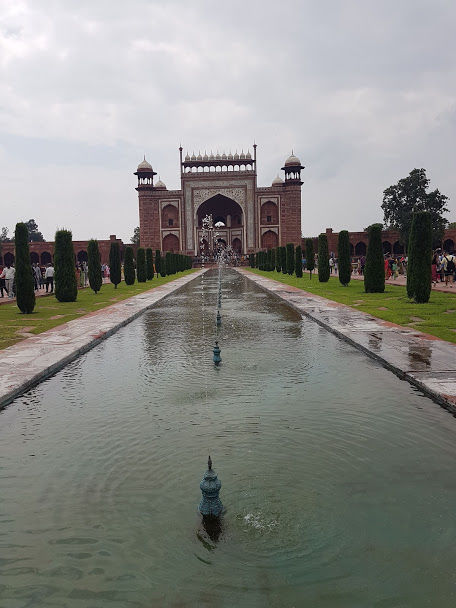 Exploring Taj took 1.5-2 hours, it was exciting to here royal stories from the mughal era. You must visit the Taj museum to get into more details.
As we had a heavy breakfast we decided to visit the famous "Chaat Gali" at Sadar Bazaar and have some mouth watering chaats (pani puri, dahi bhallas, aalo chaat, chillas and many more).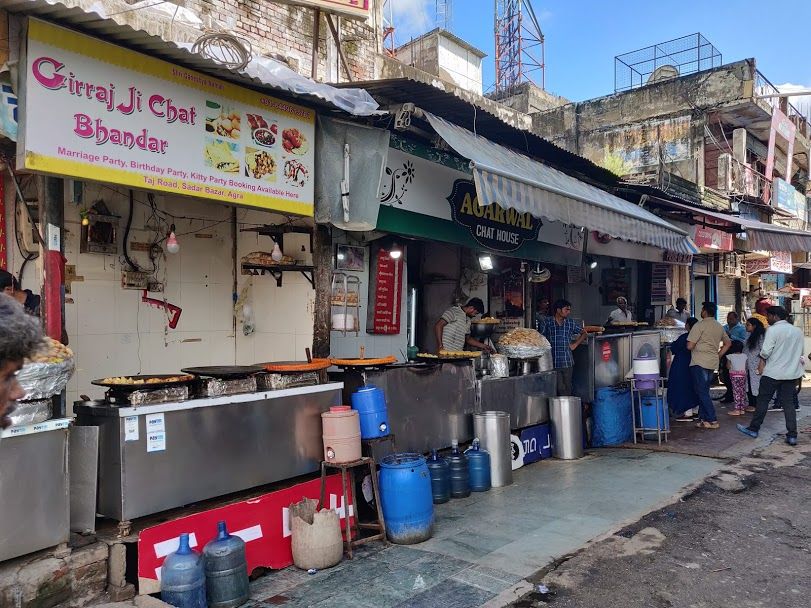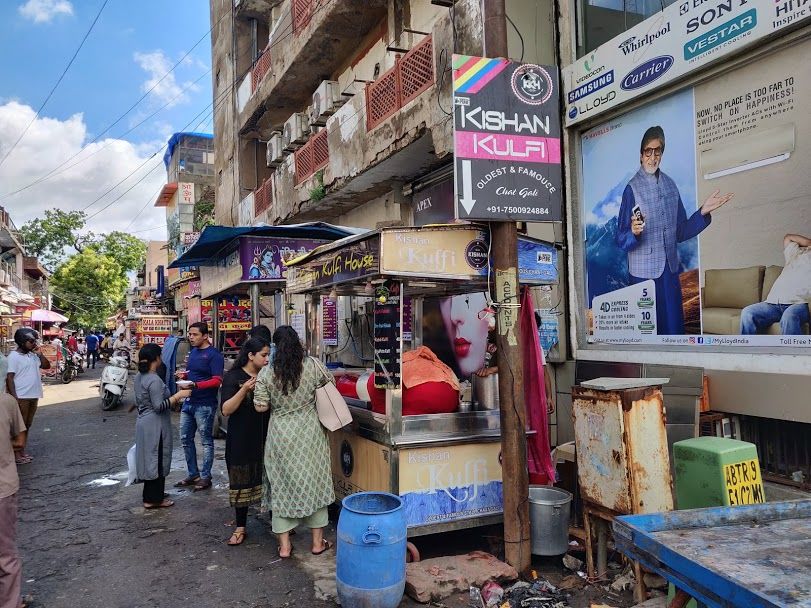 Chaat gali is actively open in the late evening and night, but we were lucky to find a few shops welcoming us to tweak our taste buds.
Visiting Agra or any place and not exploring the true street food taste of the city is disheartening for a foodie like me :P, must try: aalu tikki chat, dahi bhalla chat, moong daal cheela and falooda ice cream, one of the best falooda ice cream I have ever tasted.
Being in Agra and having "Agra ka famous petha toh banta hai boss" and also famous namkeen (daal moth)
In Agra you will find thousands of shops selling world famous petha and all claiming to be the Panchi Petha, but the only original is located at Sadar Bazaar, a small tiny shop which is usually missed is a must visit.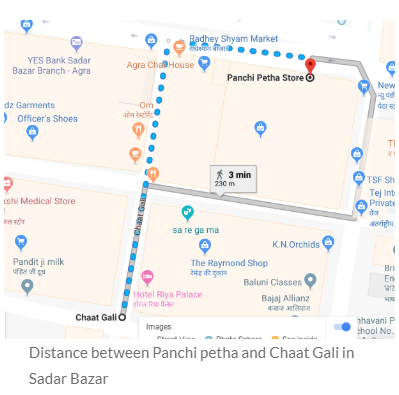 After hogging and buying the famous Petha and Namkeen, we moved forward to visit the Agra fort. It's a historical fort which was the main residence of the Mughal dynasty. The well architecture helps you to view Taj very clearly which is very beautiful and scenic. If you love history and like to explore the historical places as I do, Agra is the place for you. Please do take a quality guide because without knowing the actual story of these historical places its very difficult to connect as you walk by making it just a destination for clicking pictures and selfies.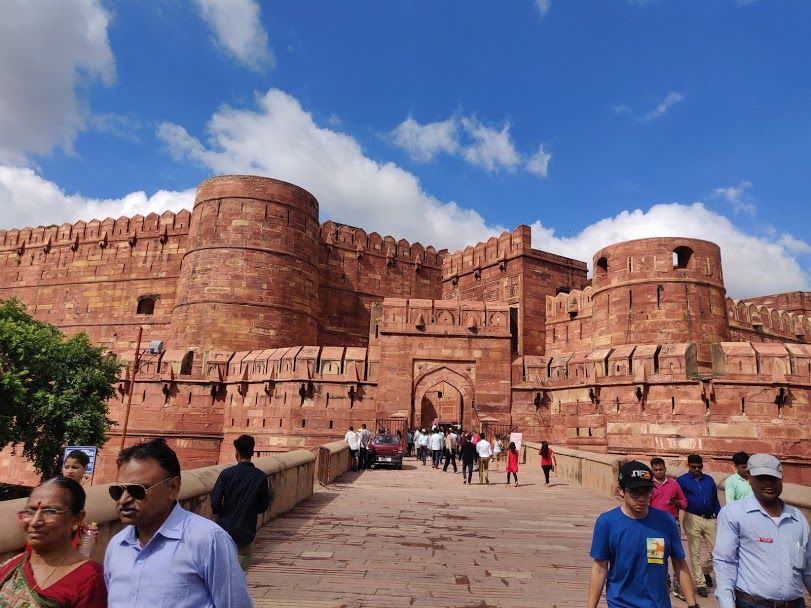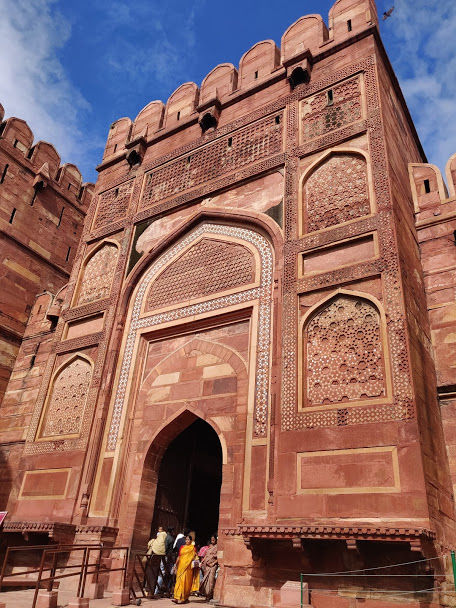 View of Taj Mahal from different areas of the fort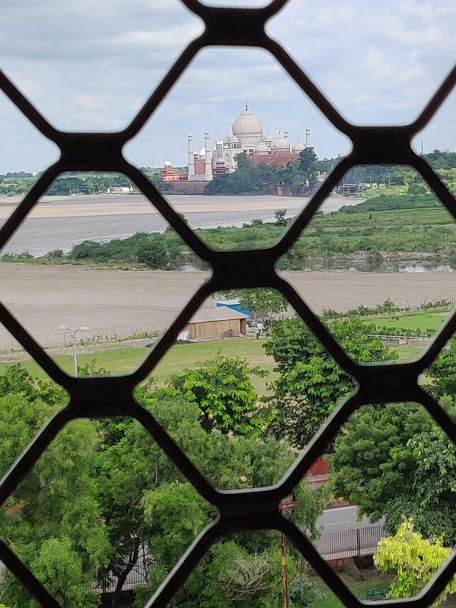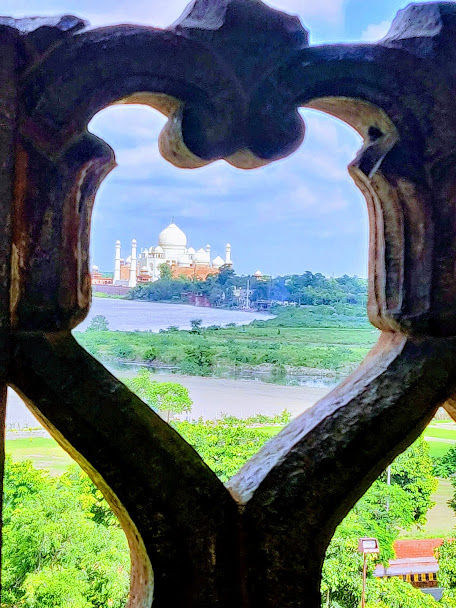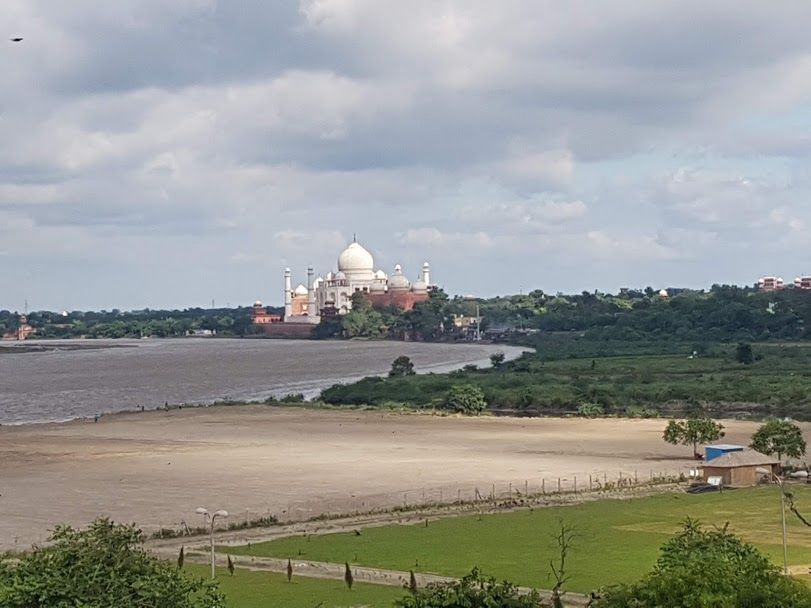 We left from Agra to Delhi at around 4:00 P.M.
Our travel plan
Day 1 Start of a road trip to Agra in the evening
Dinner
Check in by 11 P.M.
Day 2
Breakfast
Check out by 11 A.M.
Visit to Taj Mahal
Lunch at Chaat gali
Visit to Agra Fort
Travel back to Delhi
A guide we loved to travel with, knowledgeable and well informed Arshad- 9536458383
(Details provided are the true facts and experiences not promotion or to defame)