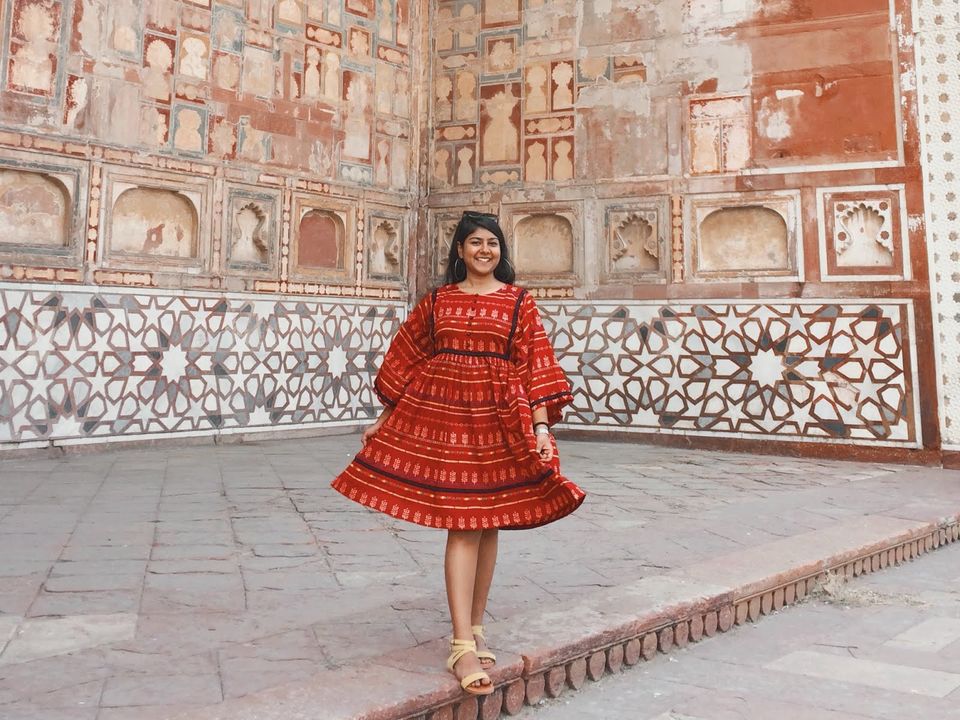 As someone who has always lived at such close proximity to Agra, I had always taken this beautiful city for granted. Even though a crazy number of foreign tourists visit this global favourite on a daily basis, it was never my first choice while planning a getaway. But last October, my friend and I planned a trip to the city of love, simply on a whim. Being someone who is constantly looking for Insta-worthy architecture, I was not disappointed. Here are some amazing things to do in Agra that won't cost a bomb.
Getting there
By road, it'll take you about 4 hours to get to Agra from Delhi via the Yamuna Expressway. There are many regular trains and buses between Delhi and Agra but nothing beats the fairly new Gatimaan Express that takes only 1 hour 40 minutes to get you to Agra. I would advise that you book tickets for Gatimaan well in advance as it is completely booked on most weekends.
Where to stay in Agra
I'd always wanted to stay in a Zostel and since the one in Agra matched our budget and was located super close to the Taj, it was our first choice. Our room had a big enough bed, a make-shift looking mirror (no dresser) and a simple attached bathroom. My favourite part was the in-house cafe- it served decent food and had beautiful travel themed graffiti and 'thank you' scribbles drawn by travellers from all over the world.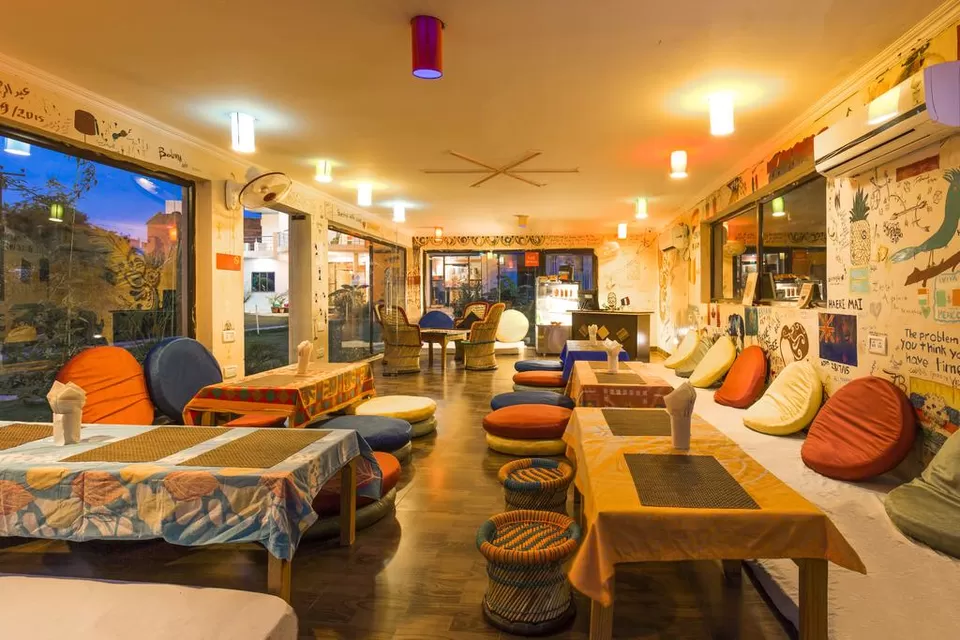 Though it was a cute little complex and the staff was lovely, there were a few disappointments: the on-going construction work caused a lot of noise and I wasn't happy with the condition of our bathroom. In case you'd like to consider other hostels in the vicinity, do look up goStops and Bedweiser.
Things To Do In Agra
Let me start with a quick checklist of all the places that should most definitely be a part of your 2-day itinerary: Taj Mahal, Tomb of Itmad-ud-Daullah, Akbar's Tomb, Agra Fort, Fatehpur Sikri, Sadar Bazaar.
Day 1
We checked in at our hotel around 11am and the hotel staff helped us book a full day cab to Fatehpur Sikri, with a brief stop on the way to explore Akbar's Tomb.
We reached the Tomb by 1pm after a 40-minute drive. It is a magnificent complex with gigantic red sandstone archways and minarets with kaleidoscopic patterns carved on them using marble and several other naturally patterned stones. The beautifully adorned ceilings were particularly overwhelming for me. Another thing that took me by surprise were the free-roaming deers in the gardens!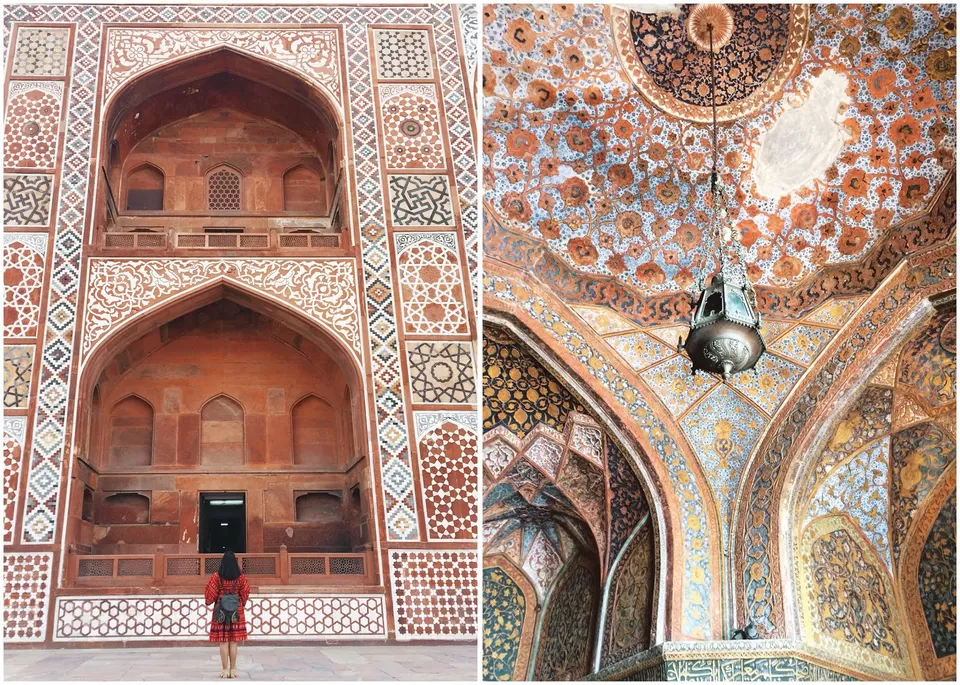 Fatehpur Sikri was another 50-minute drive from Sikandra and we got there around 3pm. You need to board a common bus from the parking to the monument complex located on a bit of a height. The fort comprises of different idependent structures within the complex, like Panch Mahal, Jodha Bai's palace, Birbal's palace etc. The vibe is very peaceful but I did find the monotone of the red stone a bit dull, especially after witnessing such a grand pattern play at Akbar's Tomb. My expectations from Fatehpur rose once again as my eyes caught the sight of Buland Darwaza, the highest gateway in the whole world, constructed to commemorate Akbar's victory over Gujarat. As you enter the gate, you'll spot the Tomb of Salim Chishti made in pristine white marble.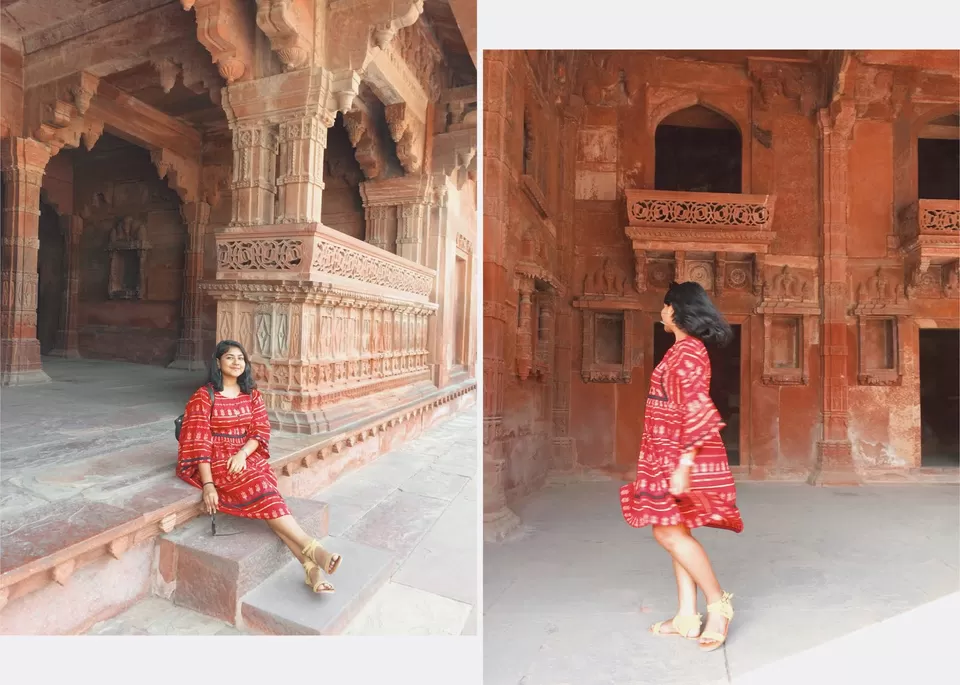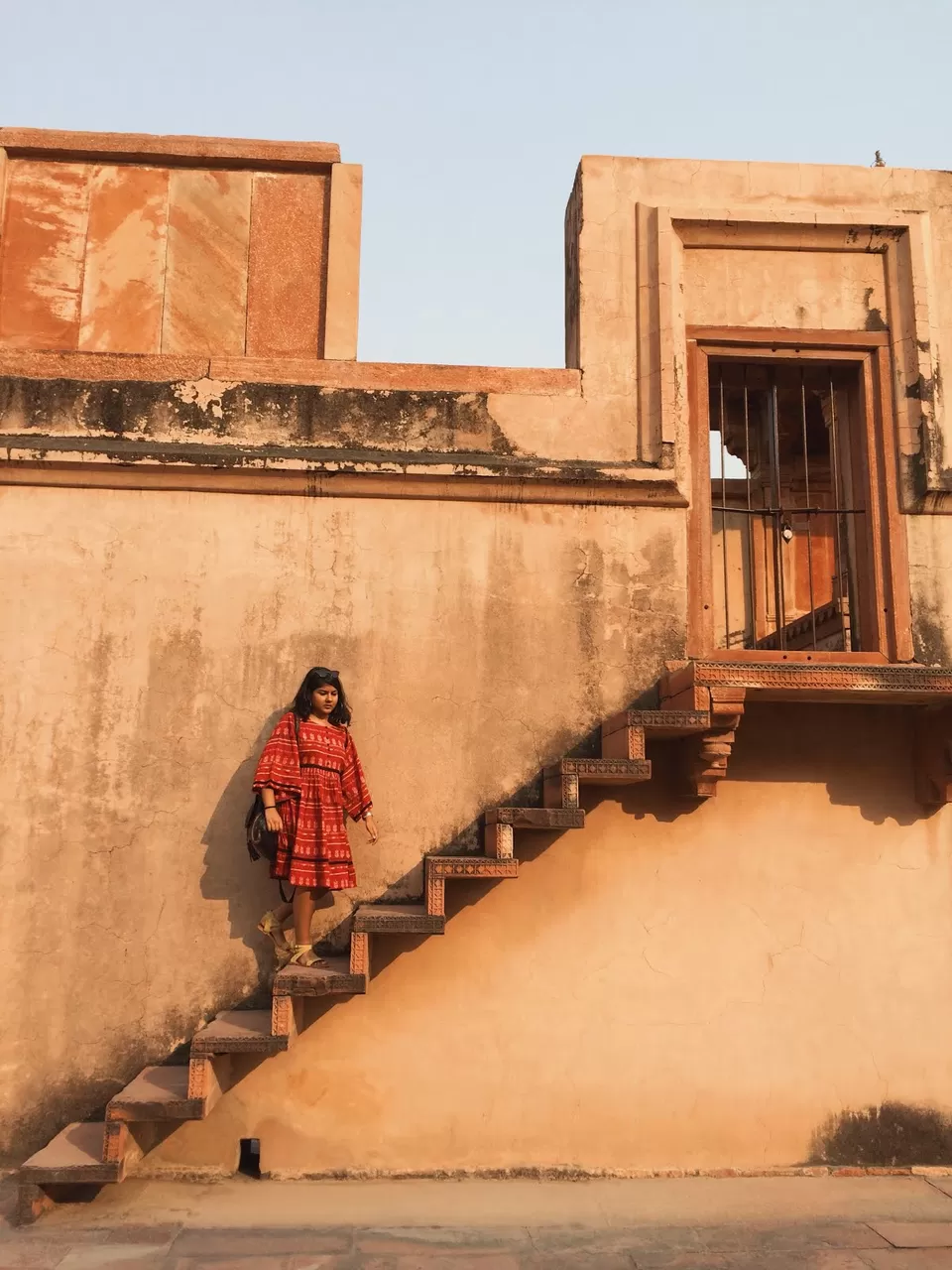 We made it back to Agra for Agra Fort's Sound and Light Show by 6pm. However, I cannot stress this enough: IT'S A TOTAL SHIT FEST. DO NOT, I REPEAT, DO NOT GO FOR IT. There are FAR better things to do in Agra.
We left the show midway and made it to Sadar Bazar by 7. We had skipped lunch and the famed 'khau gali' in Sadar more than made up for it. We filled ourselves up to the brim with crispy tikkis, golgappe and dahi bhalle from the super popular Agra Chaat House. After this we went boot-hunting in the parallel street and weren't disappointed!
My overambitious self booked our Taj Mahal tickets online for the 6am but reached its entrance panting like a crazy person at 8.59, just ONE minute before our tickets were to become invalid. The crowd was considerably less than what I had expected on a Sunday morning. I was mentally prepared to be disappointed thinking there's no way it would be worth all the hype but I was wrong. It is as marvellous as I grew up believing it to be.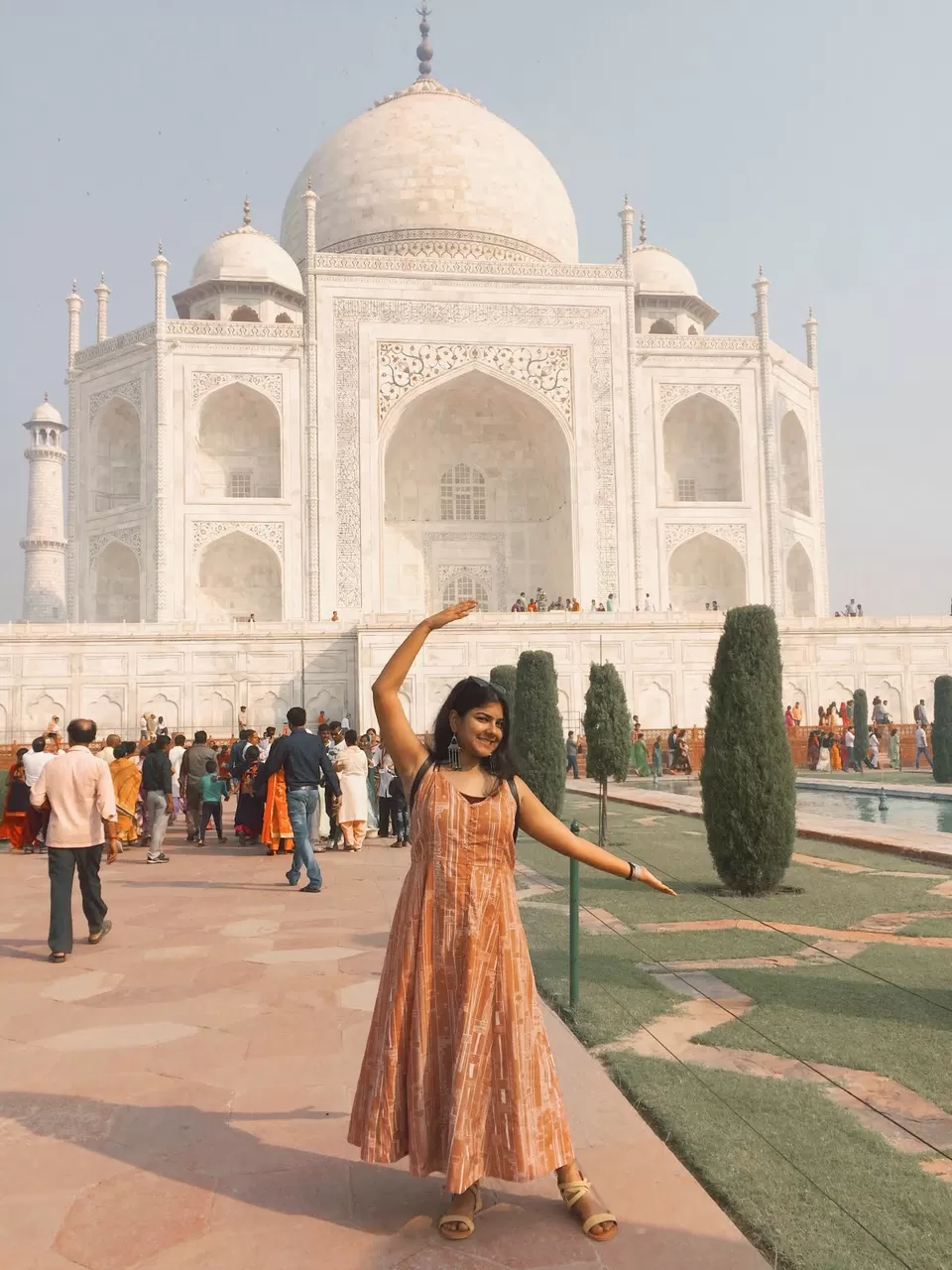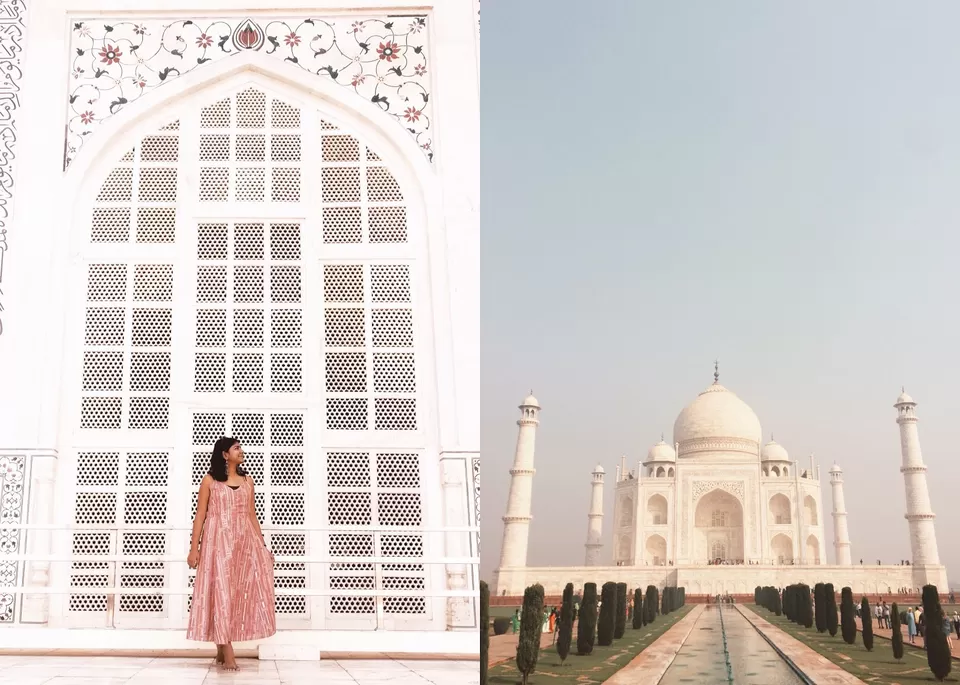 I headed back to the hostel half-stunned, half-tired and checked out around 12pm. We decided to leave the luggage at the hostel and took an auto to our last stop of Mughal magnificence: the Tomb of Itmad-ud-Daula or baby Taj as the locals call it lovingly. The intricacy and the symmetry blew my mind!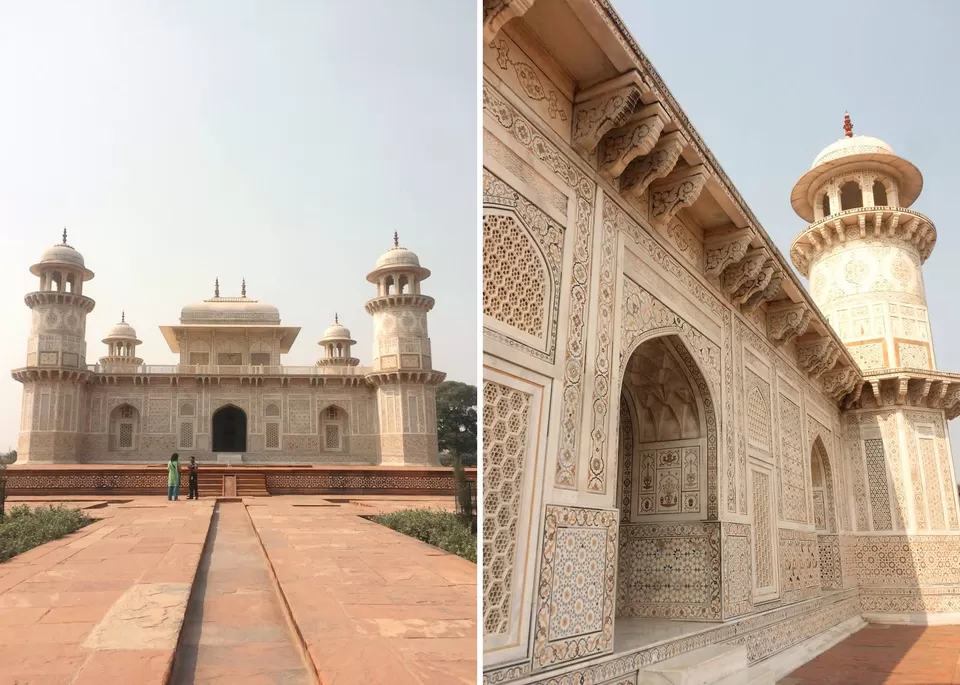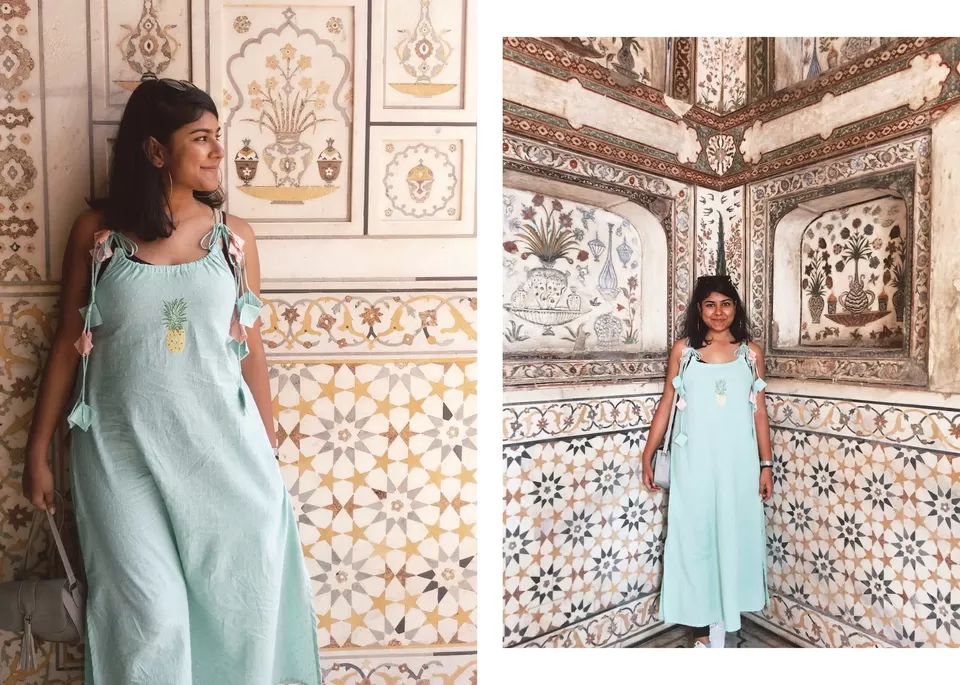 We were done exploring the tomb by 2pm and had plenty of time on our hands before our 6pm train. However, we were too tired to do anything and simply ate and napped in our hotel's cafe but if you have a couple of ours, do check out the Agra Fort..I regret missing out on it!
Here's a rough breakdown of my budget for two people for two days:
Hostel: 800 per person
We paid 1600 for a private room at Zostel. A bed in a shared dorm costs even lesser.
Train: 1500 per person
Gatimaan Express one way ticket costs around 750, you can opt for cheaper trains as well.
Food and Alcohol: 1200 per person
We easily survived on inexpensive local north Indian food, Chinese food and pasta from Zostel's own cafe, a quarter of Old Monk and a couple of beers.
Transportation: 1100 per person
Our full day cab for Sikandra and Fatehpur Sikri came down to INR 1800 i.e. 900 per person and we used local autos for sightseeing which didn't cost us much.
Rest was spent in buying tickets at the monuments.
Shopping
I would suggest that you keep a separate budget of around 2-3k just for shopping because Agra's Sadar Bazaar sells excellent export quality leather boots and bags. The only catch is that the sizes are all mixed up and there are limited pieces available per size. You really need to have some time on your hands (and lots of patience) to dig out the best pieces. Other than boots, guys can find really great formal shoes and kolhapuri chappals too. All the vendors are quite open to bargaining so don't shy away from negotiating the prices.
Don't forget to get some of Agra's glorious Panchhi Petha for your friends and family as a yummy, edible souvenir. There are multiple outlets selling fun flavours like paan, mango, orange and even coconut petha.
Other than that, you'll find beautiful marble decorations, lamps, beaded clutches, anklets and boxes studded with semi-precious stones in Fatehpur Sikri.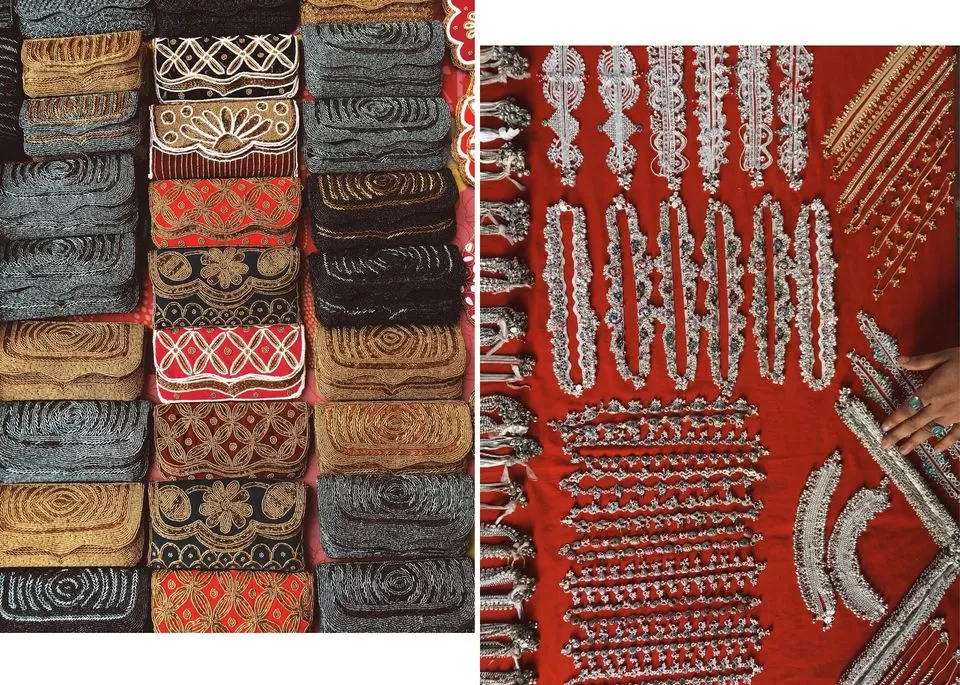 Know of any other great things to do in Agra? Write about them on Tripoto. For regular travel inspiration, Subscribe to Tripoto on Youtube.
Frequent Searches Leading To This Page:-
top things to do in Agra, Agra tour package, offbeat things to do in Agra, unexplored places near Agra