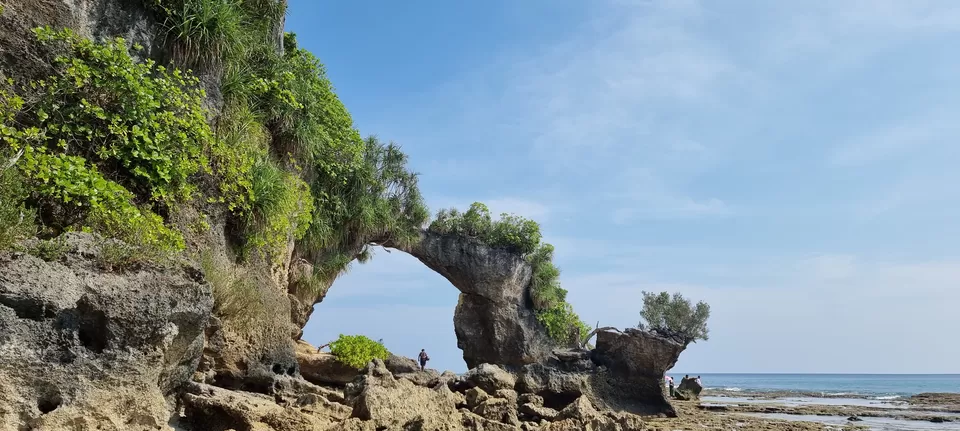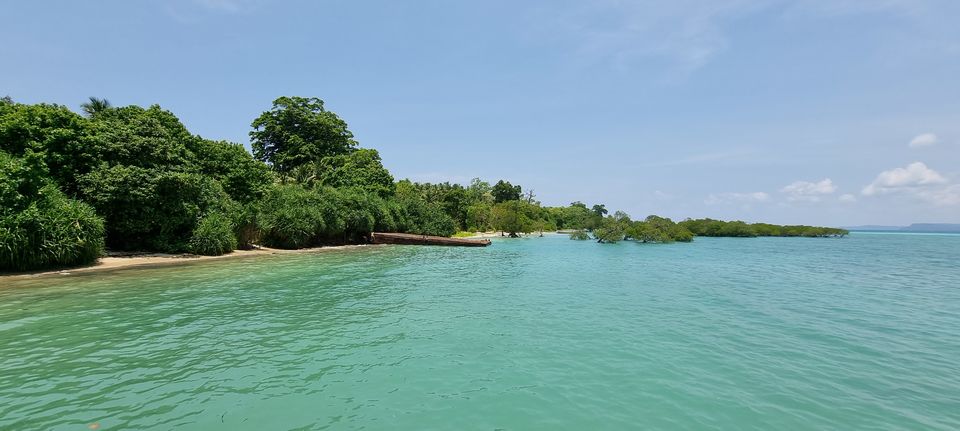 Neil Island, now renamed as Shaheed Dweep, is a very small island in the Andaman Group of islands. It is one of the two most common islands, visited from Port Blair in South Andaman, second one being Havelock Island / Swaraj Dweep.
Best time to visit the Andamans is during Winters and early Summers.
For a detailed guide on visit to Havelock Island / Swaraj Dweep, go to the link below:
https://www.tripoto.com/trip/a-detailed-guide-on-trip-to-havelock-island-swaraj-dweep-3abc73c3f7e60437f
Neil Island is just 8-9 kms wide, and most commonly approachable by ferry ride from Havelock Island or directly from Port Blair. From Havelock Island, it takes just 1-2 hours to reach Neil Island, depending on the weather. You arrive at the Jetty Point, which is just next to the water sports hub of Bharatpur Beach.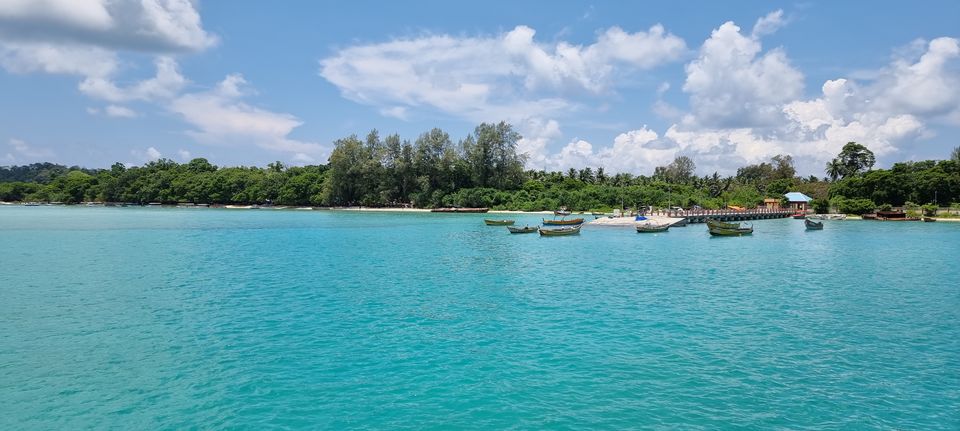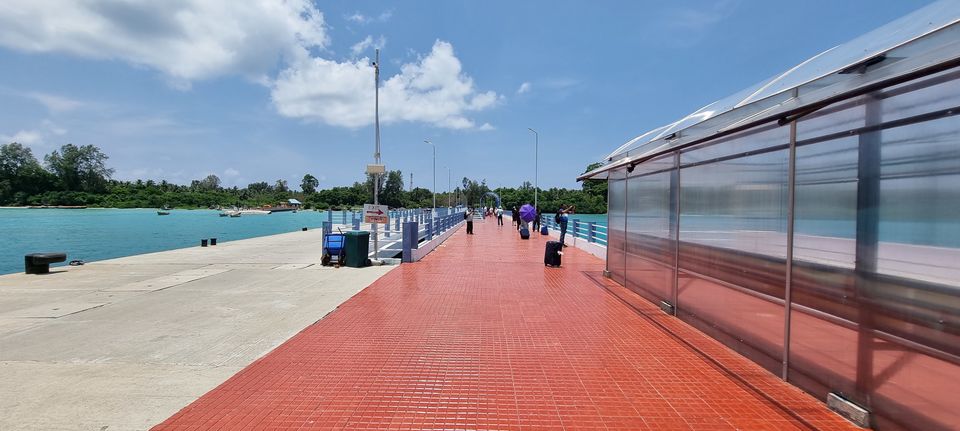 Government ferry rides are also available, but their booking being available offline only and that too in limited quantities, are more favorable and accessible to locals, and thus are a limitation for tourists. Private ferry providers like Makruzz, Nautica etc. are available online for booking and can also be booked through various travel agents.
The island has the following places of tourism interest:
1. Laxmanpur Beach - 2 (Natural Bridge)
2. Laxmanpur Beach - 1
3. Bharatpur Beach
4. Sitapur Beach
The island can be visited in a single complete day, wherein you go to Bharatpur Beach in the morning, followed by Laxmanpur Beach - 2 (Natural Bridge), during afternoon/evening and then watching sunset at the Laxmanpur Beach - 1.
However, in case of a relaxed schedule, you can split the destinations in 2 days, with covering Laxmanpur Beach - 1 and 2 on day one, and Sitapur Beach + Bharatpur Beach on day two.
For local travel, you can hire a cab or rent a scooty. The island, being very small, has a very limited options and number of mobility services. Also, the food options are also very limited, and it is recommended to have your breakfast and dinner at your place of stay only. It is inconvenient to move out for dinner, after returning back to your hotel / resort early in the evening, because it is not allowed to be on beaches after 5pm and the sunset also occurs early due to eastern proximity.
Mobile Network connectivity is very limited on the island, with only 2G Network available, that too on few providers only.
LAXMANPUR BEACH - 2 (Natural Bridge)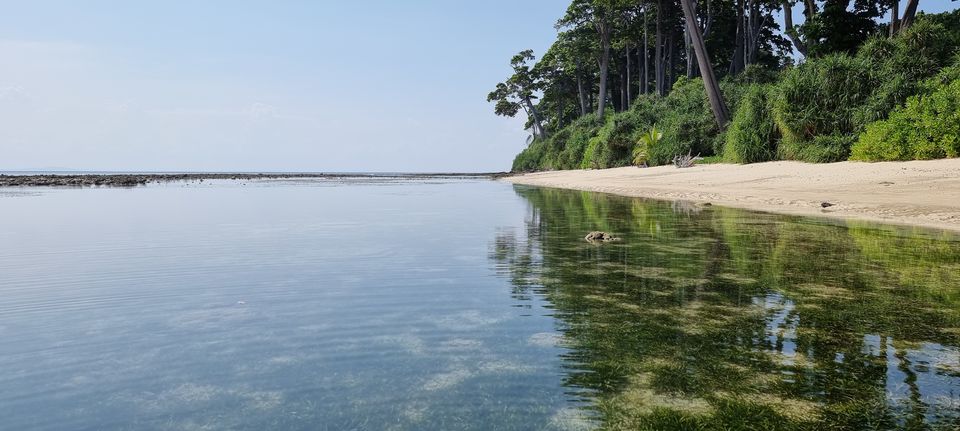 The Laxmanpur Beach is located on two sides of the island, in a roughly V shape. It is divided into 2 parts, Laxmanpur Beach - 1 and Laxmanpur Beach - 2.
Laxmanpur Beach - 2 is being mentioned first, as I consider it to be the main highlight of this island. The approach road is different for this part of Laxmanpur Beach, and after reaching there, you have to hike and decent a flight of stairs to arrive on the main beach.
PLEASE NOTE:- IT IS HIGHLY RECOMMENDED TO VISIT THIS LOCATION ONLY DURING THE LOW TIDE.
During low tide only, will you be able to see all that the place offers. It is one of the most beautiful places to see when visiting the Andamans. People visit it at all times, not knowing about this low tide timings, and return after seeing whatever is available to see. But believe me, you will have a truly rich experience if you visit this place during low tide.
You will also find lots of guides available at the entrance, who will charge you somewhere between Rs. 500-1000 depending on the time and locations covered, which are mainly the natural bridge with nearby coral formations and right side beach with small pools and different fishes and other water organisms.
On arrival, you will see a small stretch of beach on your right side, with lots of "Wild Pineapples" growing behind. They are prohibited to be consumed by general people due to lack of its knowledge and are reportedly the favorite fruit of the Jarwa Tribe in the Andamans.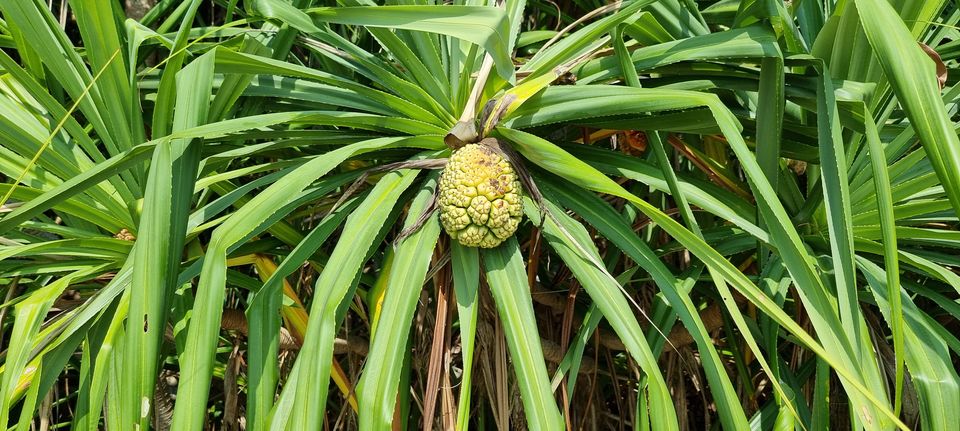 If you go further, you will see pools of water during low tide, wherein you will see lots of fishes of various species and if lucky, you may also see Clown Fish of the "Finding Nemo" movie fame.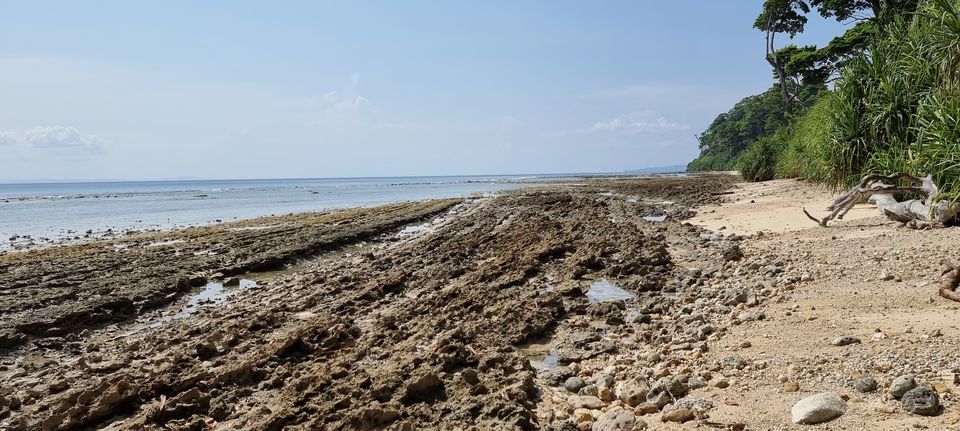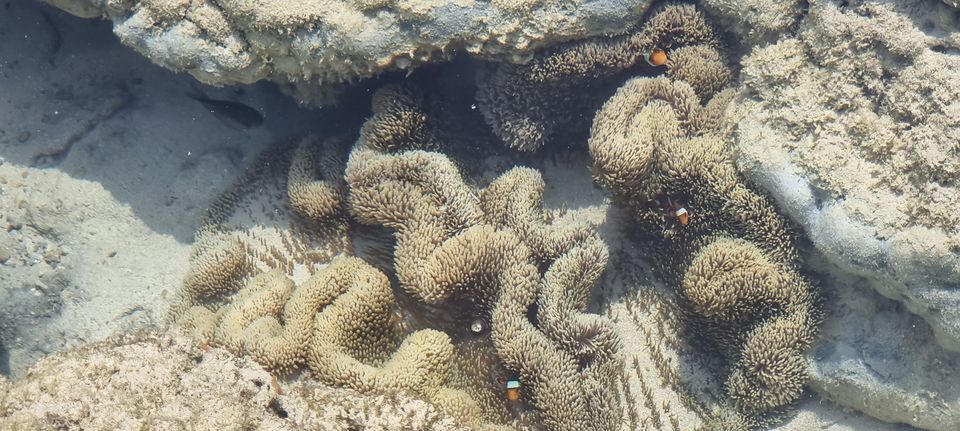 On the left side, you will see the Natural Bridge and lots of rocky land, which actually are the dead coral formation. The coral formation if exposed to sunlight, touch or if outside water for some time, become dead and lose their colour. Their solid skeletons then turn into rocky formations. You will see lots of these rocks on the left side and the Natural Bridge, you will see, is also said to be made of corals only. When you pass this natural bridge, you will start seeing lots of pools of ocean water, wherein you will see innumerable coral formations, of various shapes, patterns, and colors. (Few coral pictures attached at the end)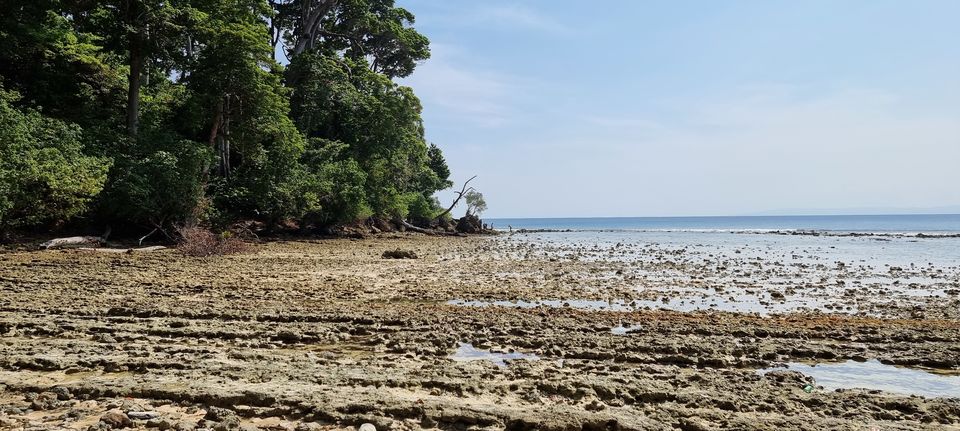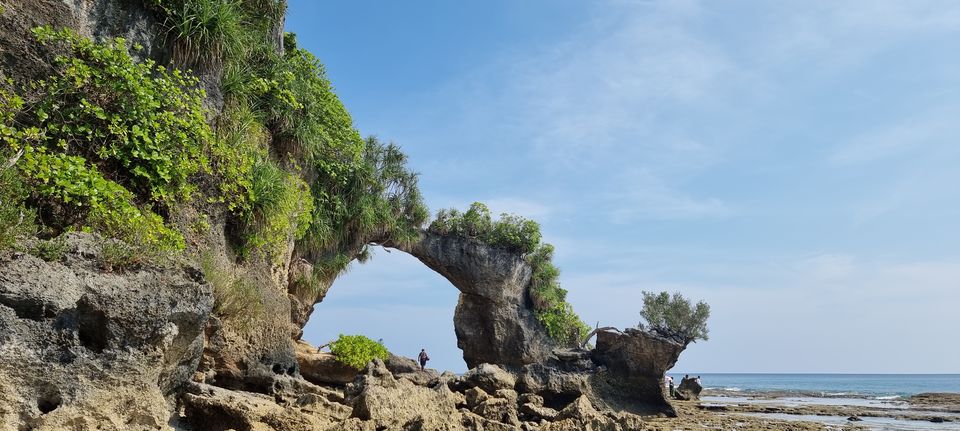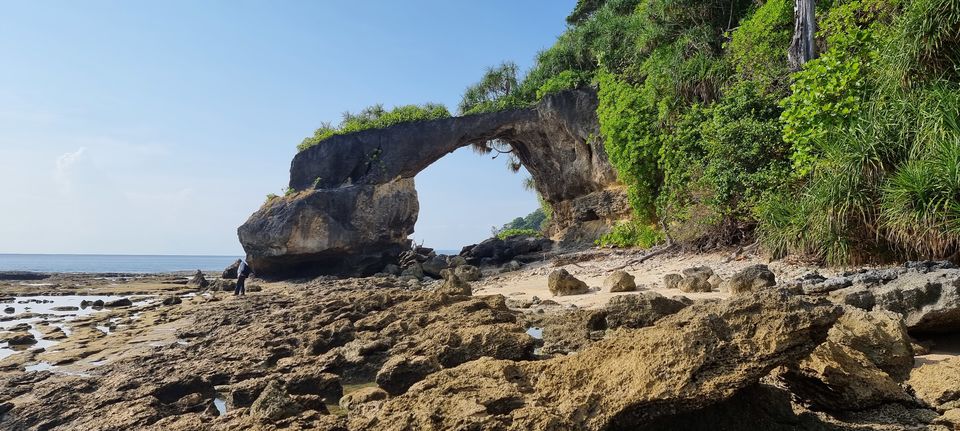 If you have opted for guide services, they will show the different patterns, along with the common names of those coral formations. You will also see various types of fishes and other sea animals like sea cucumbers, Clam shells, Starfishes, Crabs etc. spread all over in various small pools. In one or two large pools at the end, you will see lots of fishes, who are more aggregated by the guides sprinkling biscuit crumbs over the area.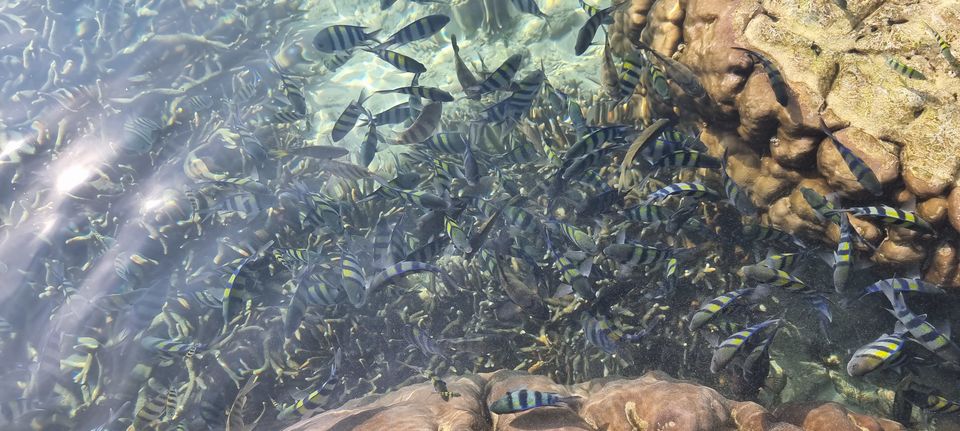 At the end point, you will see one more bridge, called the 2nd Natural Bridge, which is reported to be a rocky formation only. However, it was told by the guide that though it was earlier approachable, but now it is not allowed to be visited due to the fragility of it's structure and nearby formations.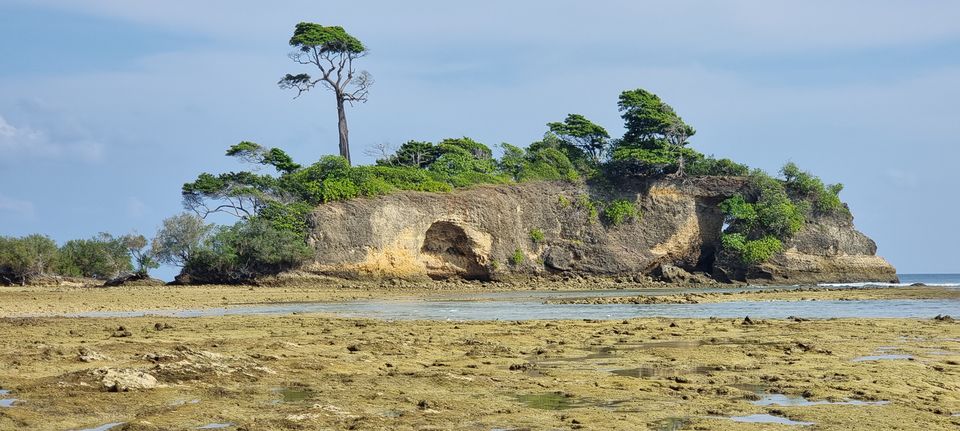 Overall, this Laxmanpur Beach - 2 (Natural Bridge) is a Nature's Paradise and a must visit destination.
LAXMANPUR BEACH - 1
This is a long white sand beach, famous for it's sunset view. On a clear sky, you will be able to see the ideal ocean sunset here, setting in to the horizon. The sandy beach also has corals (live and dead), when approached further towards sea during low tide. Near the sunset point, you will see a lot of clams shells, embedded in coral formations and rocks and also, lots of small colorful patterned corals, as seen during visit to Natural Bridge.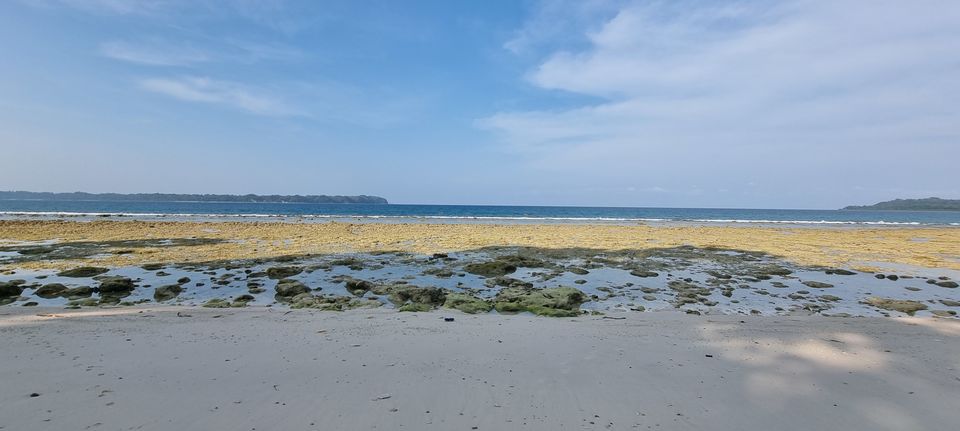 You can relax on the beach and enjoy the sunset, while having few snacks and drinks, available on the 4-5 makeshift shops, which usually start operations at the sunset time only.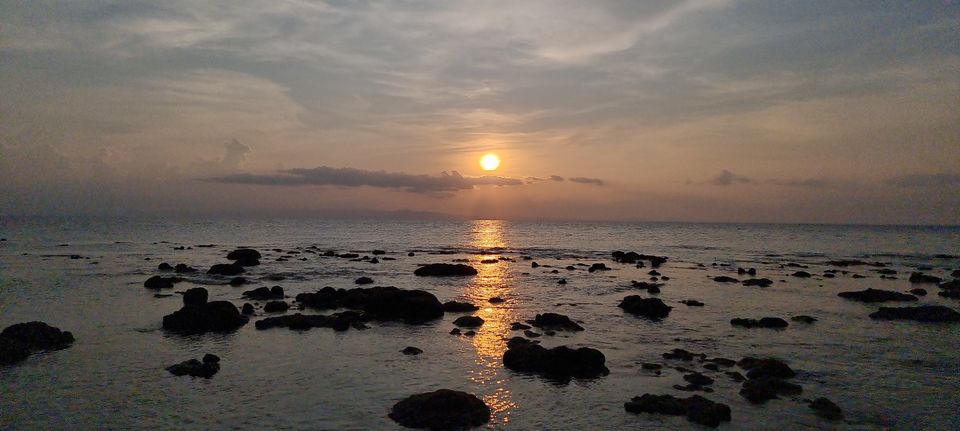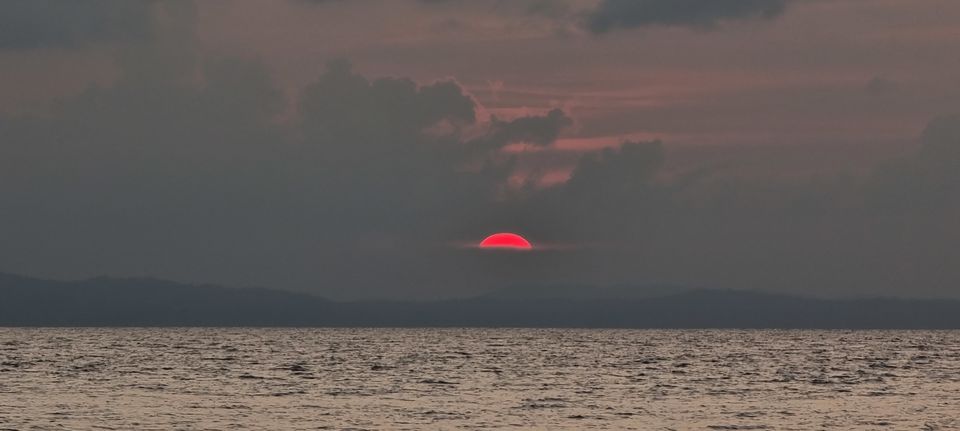 BHARATPUR BEACH
This beach is located just next to the jetty point and is mainly famous for water sport activities. All kind of water sport activities are available there, including glass boat ride, jet ski, snorkeling, scuba diving etc. There are a lot of restaurants located on the left side of car parking near arrival area. A lot of souvenir shops and snack shops (selling maggi, coconut, chats etc.) are located all along the beach on the right side.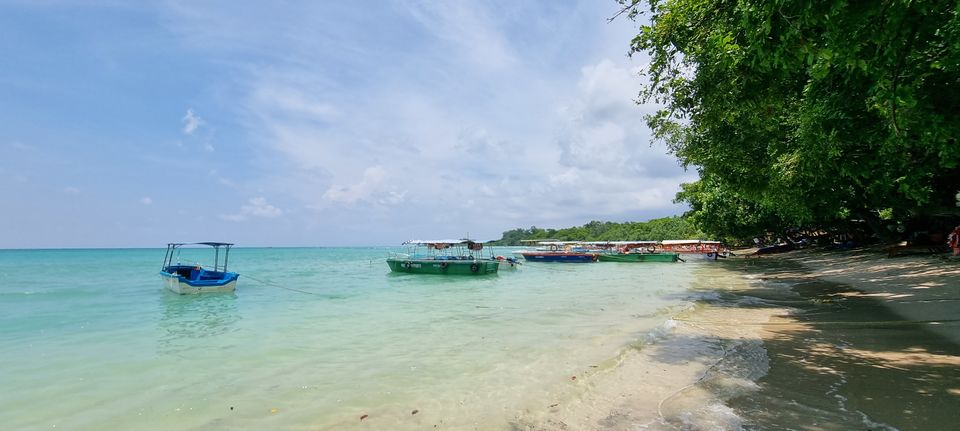 A lot of benches and huts are available along the main beach area, where you can sit and relax in the shade of dense tree cover. However, if you keep walking on the right side, you will reach an open beach area, which is the ideal area for having a bath in the sea. You will also see a lot of coral fragments and shells (empty or occupied by small Hermit Crabs) all along this area of the beach. If you go further, there is also a Backwater pool, which keeps draining water back to the ocean, during the recession of water in low tide.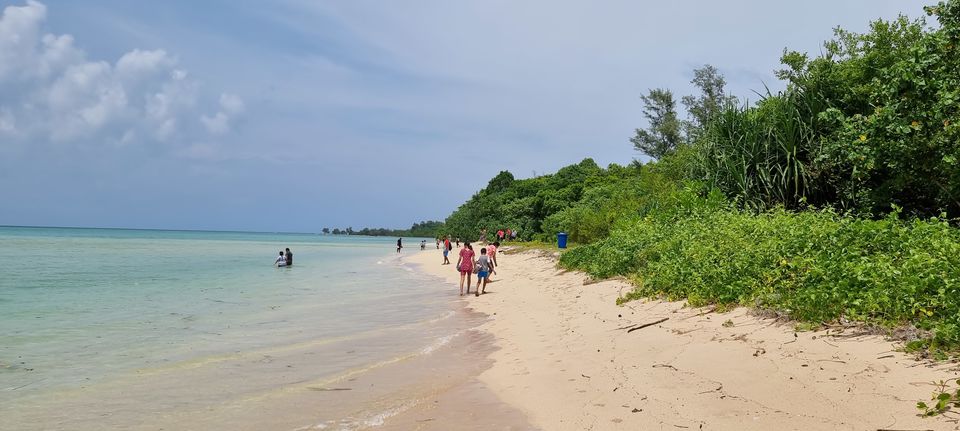 SITAPUR BEACH
Sitapur Beach is located on the other far end of the island, and is mainly famous viewing sunrise early in the morning. If you want to see the sunrise there, you will have to be there waiting super early, since the sunrise there occurs much earlier compared to the usual sunrise timings, due to the islands being on the easternmost extreme of the Indian Map. It is not a usual frequented spot by tourists, due to the limiting feature of sunset only and just a few remote hotels / resorts located there. Mobile Network connectivity is also not available anywhere near that area.
FOOD OPTIONS
Almost all hotels and resorts have their in-house kitchens, serving all meals, which is most convenient to opt for breakfast and dinner. Most of the restaurants are located on the approach road to Bharatpur Beach, and the beach itself.
An advice - However attractive coral pieces or shells you find and collect on the beaches, you will not be allowed to take them with you on the Veer Savarkar Airport, Port Blair. The corals are prohibited to carry or even, for sale. For shells, only polished and processed products, bought with a bill, are allowed to be carried along with in the baggage. All baggage is subject to an x-ray scan at the airport by the respective airline provider to check for the same.
Now, few corals and clams to conclude the guide.