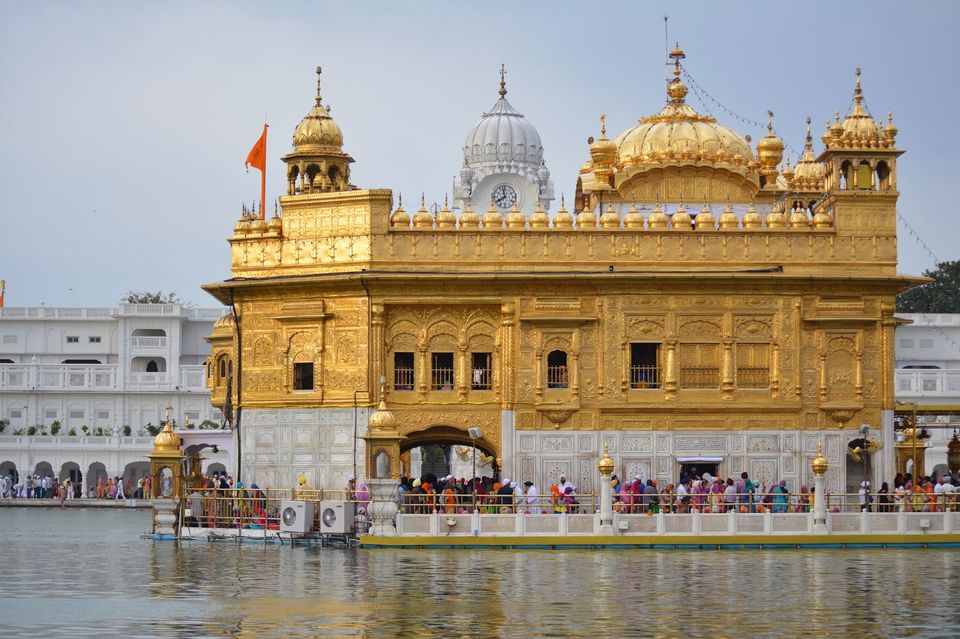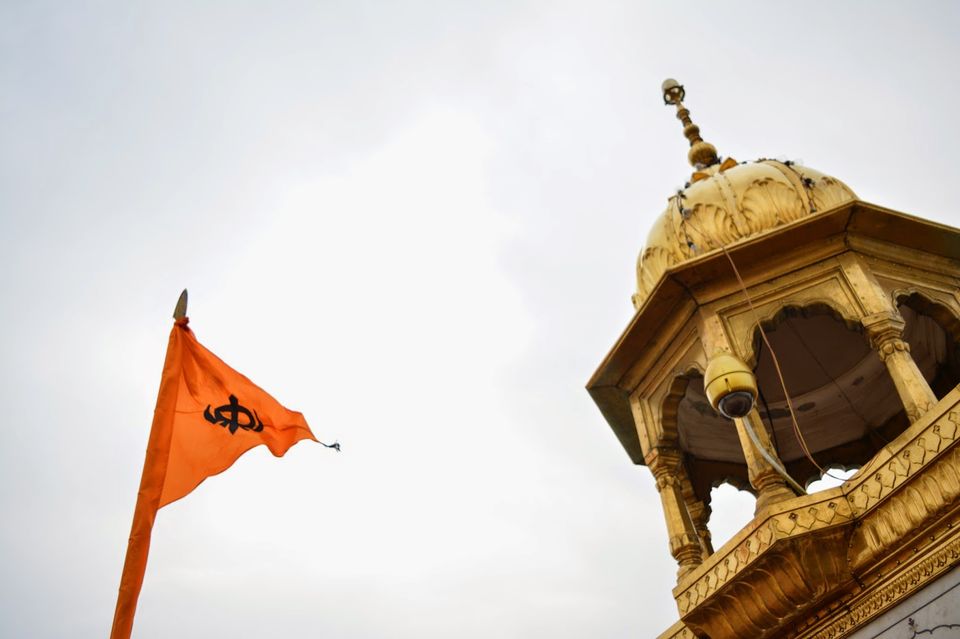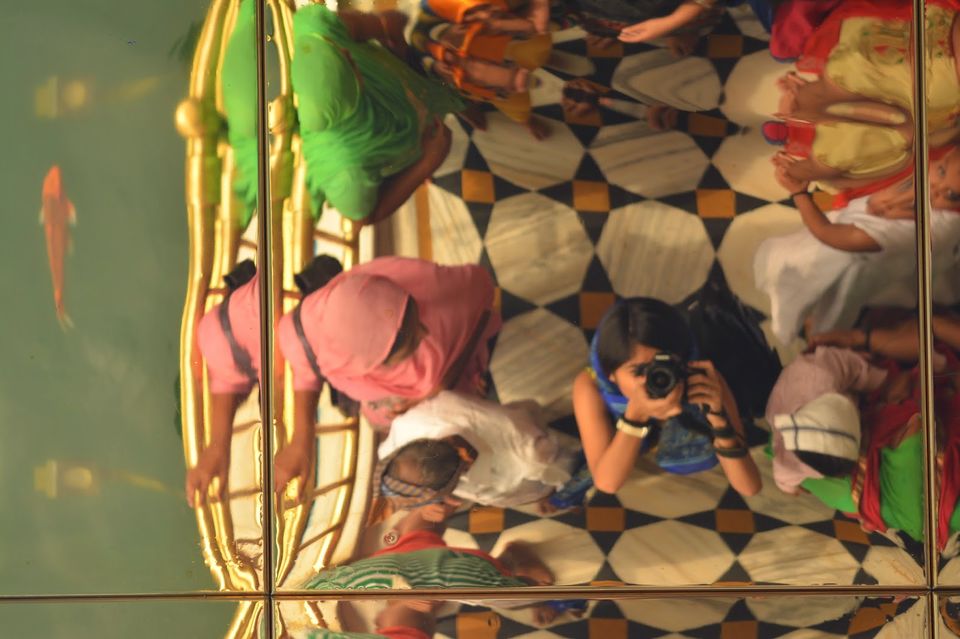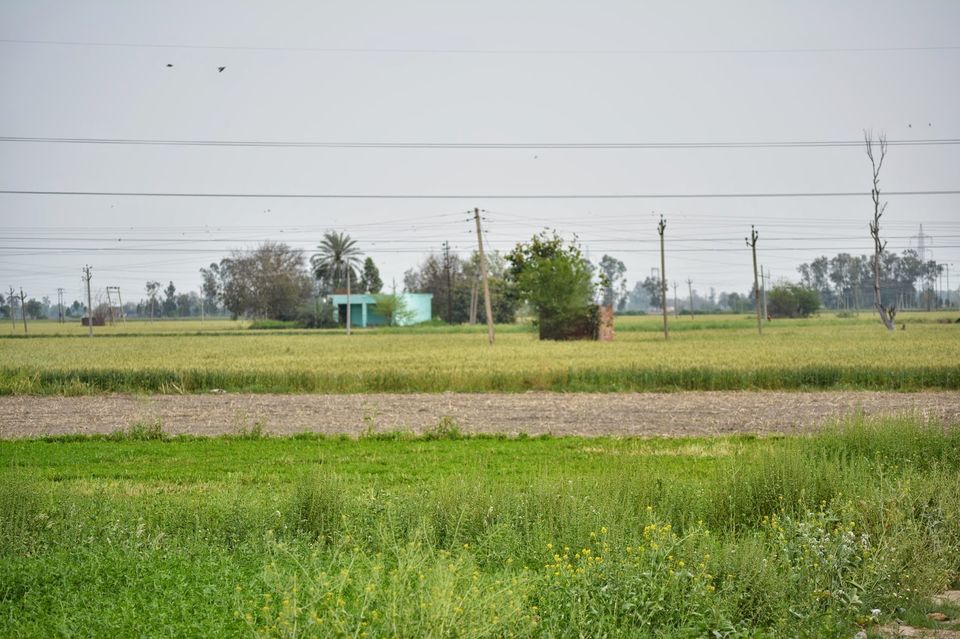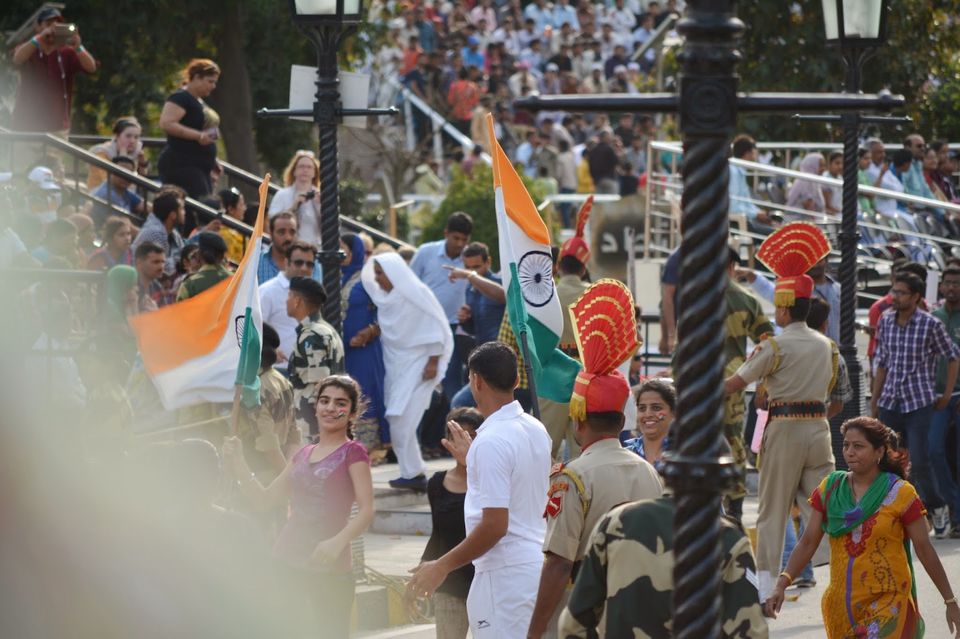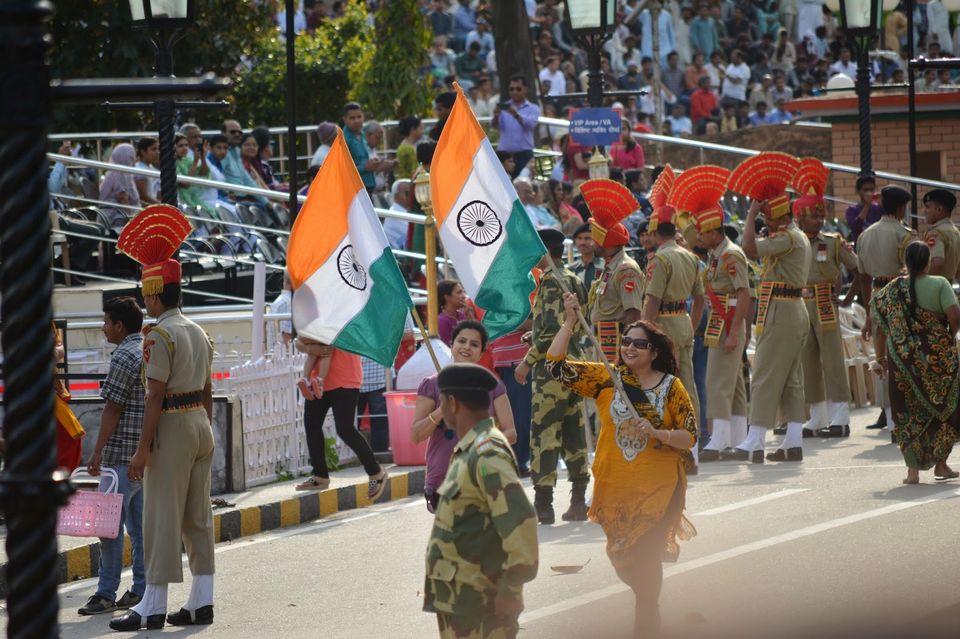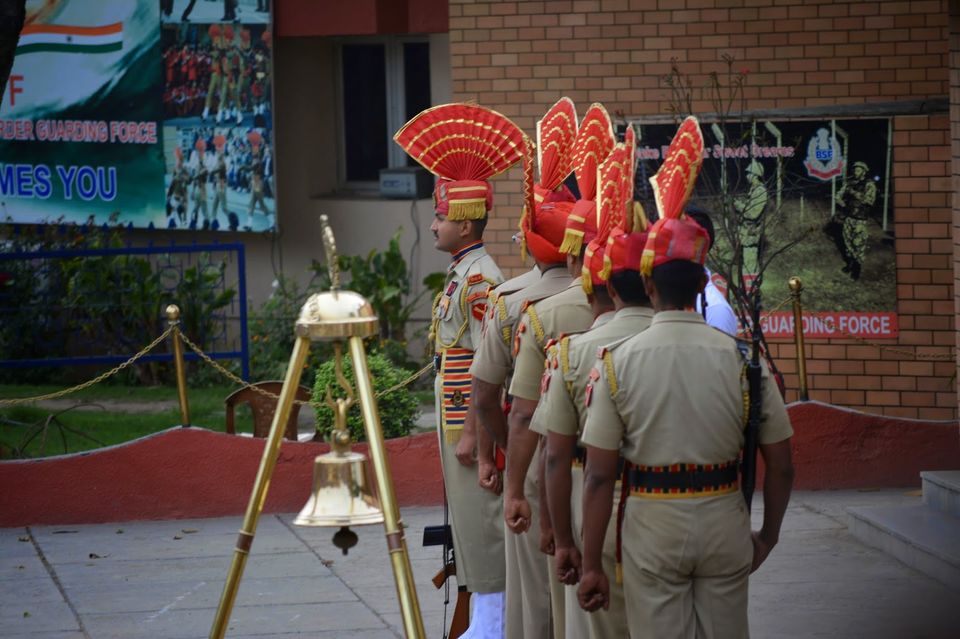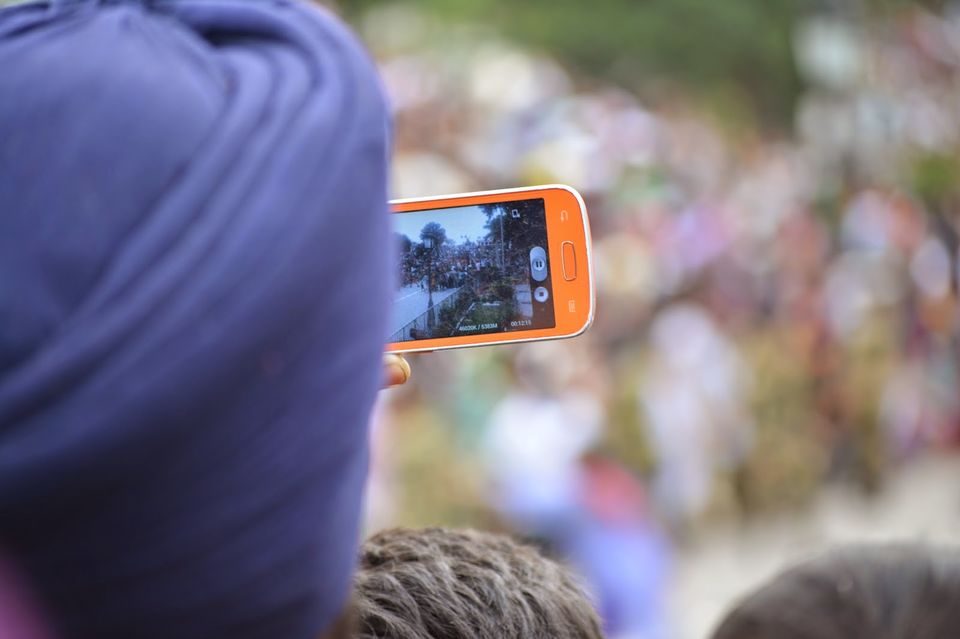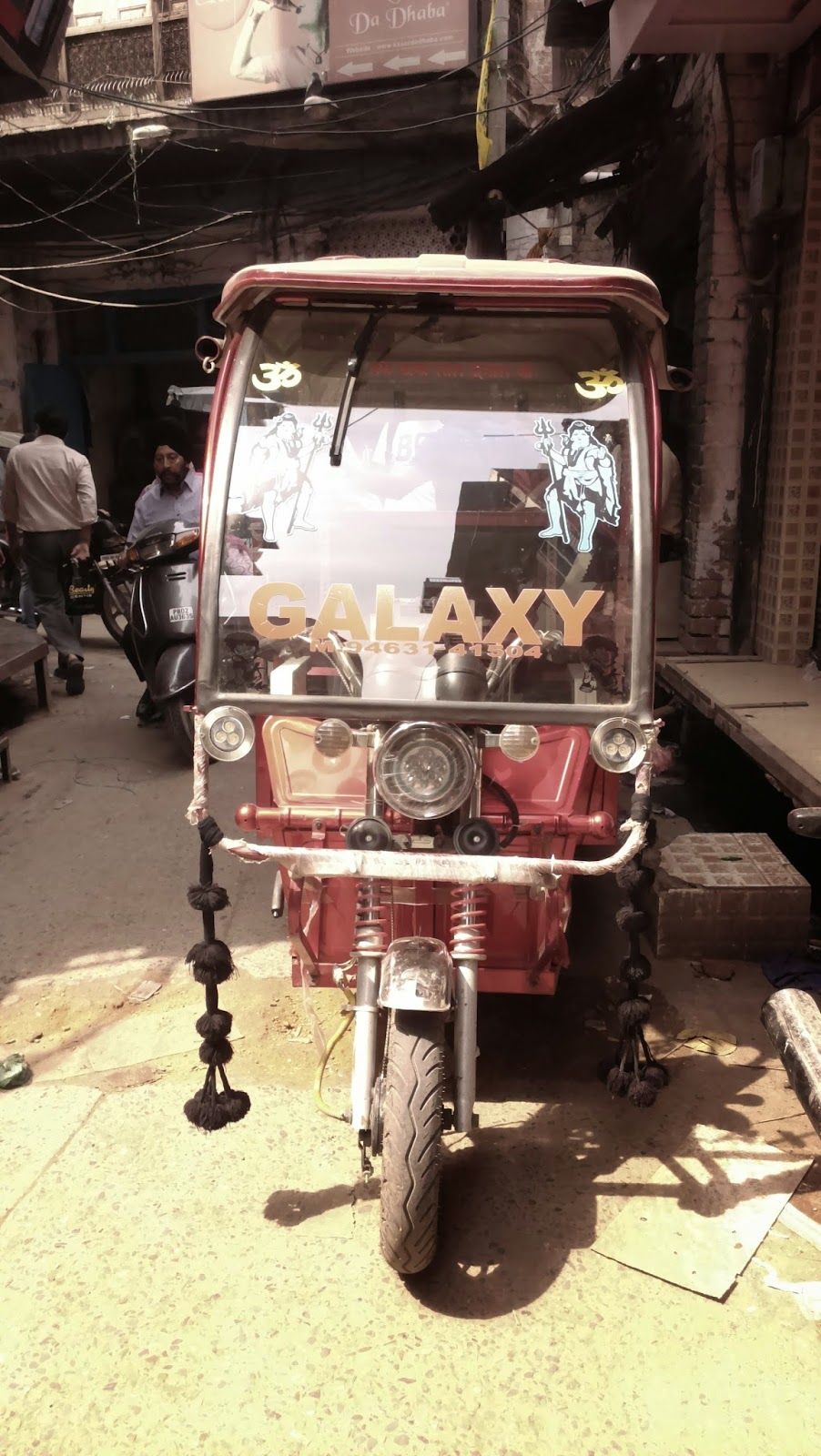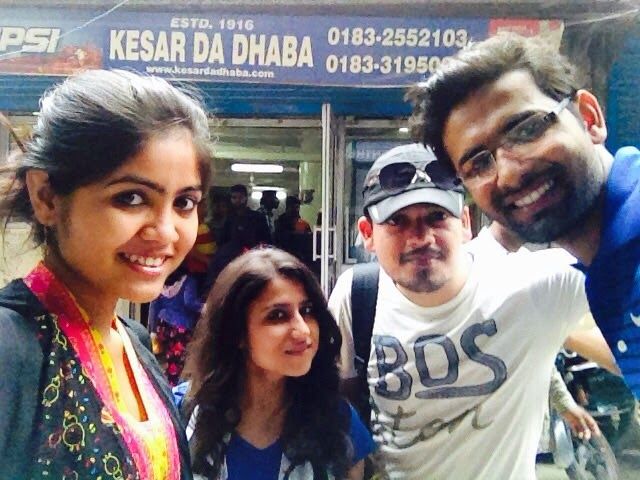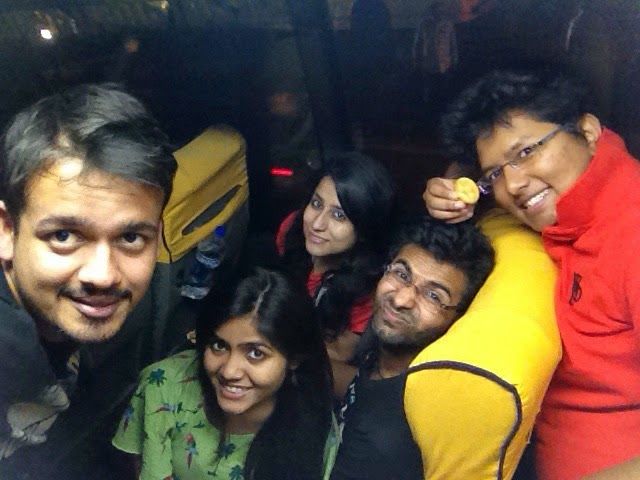 They say, your best journeys are the ones that are unplanned. So the other day, when me and my friends were wondering, if we should go to Chandni chowk or a similar place to celebrate the weekend, one of us came up with this crazy yet great idea, "why not go to Amritsar?"

Well, I admit the leap was huge, but then all of us agreed readily with that sly smile on our face, without showing any sign of bewilderment. So the next thing I remember was, people rushing to their respective flats/ rooms and getting their back packs ready.

All thanks to those responsible friends, who without wasting a second, got our bus tickets booked, and hence began our journey to the city of the majestic Golden Temple.

After a journey of 8 hours, non stop chatter and tasteless food at a local dhaba, we finally reached our destination.
There it was, the ever serene and beautiful- Golden Temple. We were greeted by the foggy weather, which brought some respite from the March heat of Delhi.

All of us covered our heads, as is done traditionally and joined the que of devotees and after two hours of wait, we managed to get into the temple. And suddenly, we realized that the wait was worthwhile, as we watched ourselves absorbing the positive vibes and divinity.


It was a heart touching experience to watch old people, some of them in their late 70s, waiting patiently for their turn and chanting the name of God. There was contentment on their face and they all shared a common strength- their faith on almighty. I imagine at times, when I will turn 60, will I be strong enough to walk continuously for hours, just like these people? Well, I am skeptical.
As I explored the nukes and corners of the temple, I found this holy flag right above my head. This image was taken, when I was sitting on the terrace of Golden Temple, the freely flowing flag reminded me of my own spirit, how at times it was necessary to let it flow at its will and leave the rest on the supreme power. I remained seated there for a while.



As I was leaving the temple premises, it dawned on me that I was feeling at peace with myself, though I would have appreciated the temple to be less crowded,but given the Sunday rush, adjusting was the only resort. Meanwhile I happened to look right above the ceiling and there I found myself, amidst the chaos. The reflection of people, the Gold fish making its way in holy water and I, made me wonder, we are all just the same only the renditions are different.


Our next destination was Jaliwalan Bagh, which was right next to the Golden Temple. Remembering the tragic day, we sat their for a while.
It was 12 in the noon and feeling terribly hungry, we began our hunt for the famous Amritsari Lassi and Stuffed Naans. A friend of mine suggested us to visit "Kesar da dhaba", a well known restaurant famous for its Tandoori Naans dipped in desi ghee.
So began our search for the food paradise. After mapping down the narrow streets of the city in an electric auto, we finally found our paradise.
Though it was not exactly the large restaurant as we imagined it to be, but it wasn't that bad to look at either. Without much ado, we placed our orders ...
And what a delectable Lassi that was!!..as smooth as butter :O and those soft mouth watering naans, added a dash of heavenly awesomeness.
Happy to our hearts, we concluded our meal with a sweet paan ( Betel leaf) and let the its flavors melt our souls.
Soon we resumed our journey and headed towards our next stop, The Wagha Border.
As we enjoyed the Riksha ride of about an hour, from Amritsar to Wagha Border, the temperature plunged down. It was an amazing experience to see so many people screaming in unison and having a gala time with their family and friends. Though we barely got a seat, still the experience was worth it. People of all ages, shapes and sizes, joined each other as they danced and enjoyed the patriotic beat.
Heading back towards Delhi, I wondered, perhaps the best journeys are the ones, that are unplanned. At times, you may not know what you exactly need from a given moment, until you make a move and let that moment take the reins.
I guess, this is the beauty of living and enjoying the gift called "NOW" and the journey becomes even more interesting when you have friends who give you a tough competition when it comes to weirdness and a zest to enjoy life. :p
Cheers to more such journeys and its crazy awkward moments, which destiny may bring for me in future. :D
Amen!!