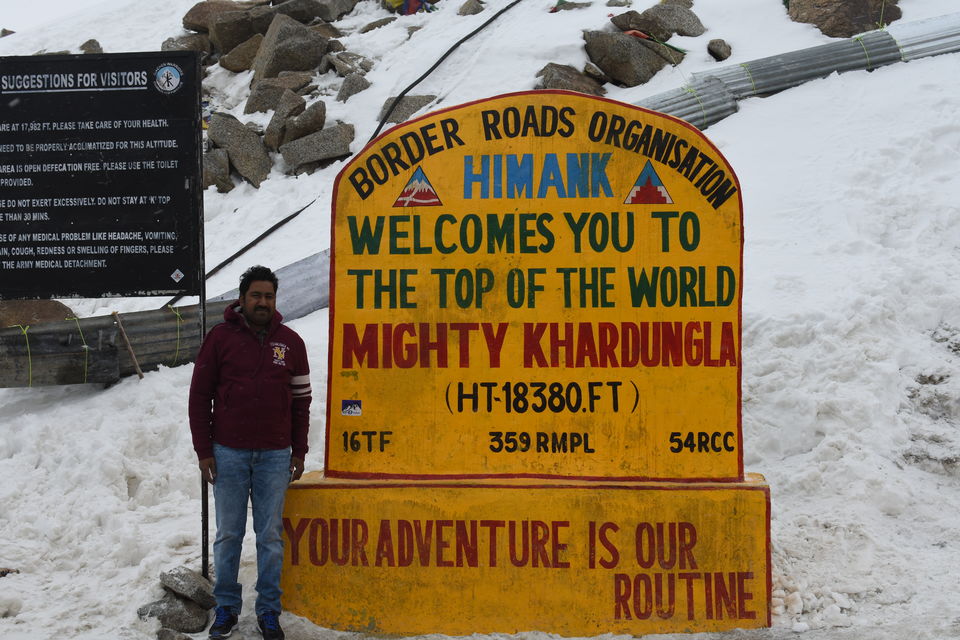 Its a dream Road trip of every travelogue to visit Leh- Ladakh by Road atleast once in their lifetime. And it happened for me after a long struggle and multiple failures for many years.
Its my dream trip when i bought my RE (Bullet) few years back, but unfortunately couldn't do a Leh trip because of my health. I was in hospitalised last year and couldn't move my feet and this year decided to give a last try inspite of my health issues.
Fortunately i was able to make it with my car this year. Here we go , how we got Leh'd ?
Here is the snapshot of out trip
Chennai - Hyderabad - Agra - Delhi - Manali - Jammu/Srinagar - Kargil - Leh & Ladakh -Sringar - Delhi- Chennai
15 Days (May 5th to May 18th)
45*C(Telangana) to -2*C(Khardungla,Leh)
22ft (Chennai) to 18580 ft (Khardungla Pass enroute to Nubra valley)
13 states Covered - Tamilnadu, Andra Pradesh, Telengana, Madhya Pradesh, Uttar Pradesh, Maharastra, Delhi, Rajastan, Haryana, Punjab, Chandigarh, Himachal Pradesh and Jammu & Kashmir
Round trip of approx 9000 Km
Budget of approx 30,000 Rs per head (we are two of us)
Mode of Travel - Car - Fiat Punto Diesel, Dynamic
NH Travelled- NH1, NH1D, NH44, NH26, SH65 & NH16
Places visited:
Tajmahal - Agra
Manali (Marhi near Rohtang)
Srinagar Tunnel - Longest tunnel in India
Kargil - Dross War Memorial
Magnetic Hill
Monastery
Nubra Valley
Hunder Sanddunes
Pathamik HotSprings
Pangong Lake
Passes Travelled:
Zochila Pass
Khardungla Pass - World's Highest Motor-able Road - 18580ft
Changa la Pass - Worlds Second Highest Motor-able Road
Route map:
Chennai to Manali
Manali to Srinagar
Srinagar to Leh
When we think of Leh Ladakh, that comes to our mind is the Snow Mountains of Himalayas, Valleys, Beautiful skyscapes, Narrow Roads, Pin Bens, Curves, Snow Pass and climate.
What we might not think about is those Unpredictable weather, Sudden snow fall, Sand storm, Shooting stones, Rain, Forest fire, Rain washed roads, Snow melting and least the border.
And yep, its Adventure ..........................to the core! Be it Bike, Car, Flight or even trekking, Adventure is fully loaded with Himalayas.
Here is our Trip diaries !
Day 1 - Chennai - Hyderabad - Nagpur
Day 2 - Nagpur - Jhansi - Agra
Day 3- Agra - Delhi - Manali
Day 4 - Manali - Rohtang - Marhi - Manali - Mandi
Day 5- Mandi - Dholpur - Pathankot
Day 6 - Pathankot - Jammu - Srinagar
Day 7 - Srinagar - Sonamarg - Kargil
Day 8 - Kargil to Leh
Day 9- Leh to Nubra Valley - Hunder - Panamik - Hunder
Day 10 - Hunder - Agam - Shyok - Pangong Lake - Leh
Day 11 - Leh - Kargil - Srinagar
Day 12- Srinagar - Jammu - Jalandhar - Ludhiana - Kurushetra
Day 13 - Kurushetra - Delhi - Nagpur
Day 14 - Nagpur - Hyderabad - Chennai
Before that, here is how we prepared for the trip. Like most of the Leh-Ladakh Traveloges, we have not done a 3 to 6 months plan. We just met sometime in February and discussed about the trip. We decided to hit the road by May End and travel by car(not by Bike). In parallel, we kept researching about Leh- Ladakh and was reading the other travelogue articles, Route maps, Places to visit and Stay options and especially Climate and how to manage it. So our preparation was very minimal. But bare minimum, we need the following
Route map - Day wise - Even if it is not accurate
Vehicle Documents - RC, Insurance, License and Pollution Control Certificate (Carry both original and Photo Copies)
Proofs - Aadhar,Voter ID, License, Passport size Photos and PAN Card (Optional)
Travel Itenaries - Cloths, Shoes, Food, Snacks, Water, Torch & Toiletaries
Vehicle Accessories - Be it car or Bike, we need to carry atleast few mandatory spare accessories. In our case, Stepney wheel, Jacky, Fuel Cans, Water cans. I did a complete service before the trip and hence didnt carry Engine oil, Coolant and Air Filters.
Permits - For Manali Leh Highway, you need to get Rohtang pass and Beyond Rohtang permit online.Fortunately we got the Rohtang permit that allowed us till Marhi . Please note this permit is required for your vehicle and yourself. Only 800 vehicles are allowed per day based on a quota for petrol and diesel cars. Tuesday is closed for Maintenance.Unfortunately we were not allowed beyond Marhi because of heavy snowfall. Hence we returned back and choose to go by Srinagar - Leh Route
Here is the permit we got it online. Masked my details:)
Inner Line Permits - This permit is required if you are visiting few inner places from Leh like Nubra, Pangong Lake, Tsomoriri Lake...etc. You can apply online and need to get it sealed in person at Leh Tourist Centre.
Medicines - Carry any medicines that you regularly take and few general medicines that helps you with Migraine, Cold , fever...etc. You might get affected because of the altitude and temperature
Here are few pics to mesmerize