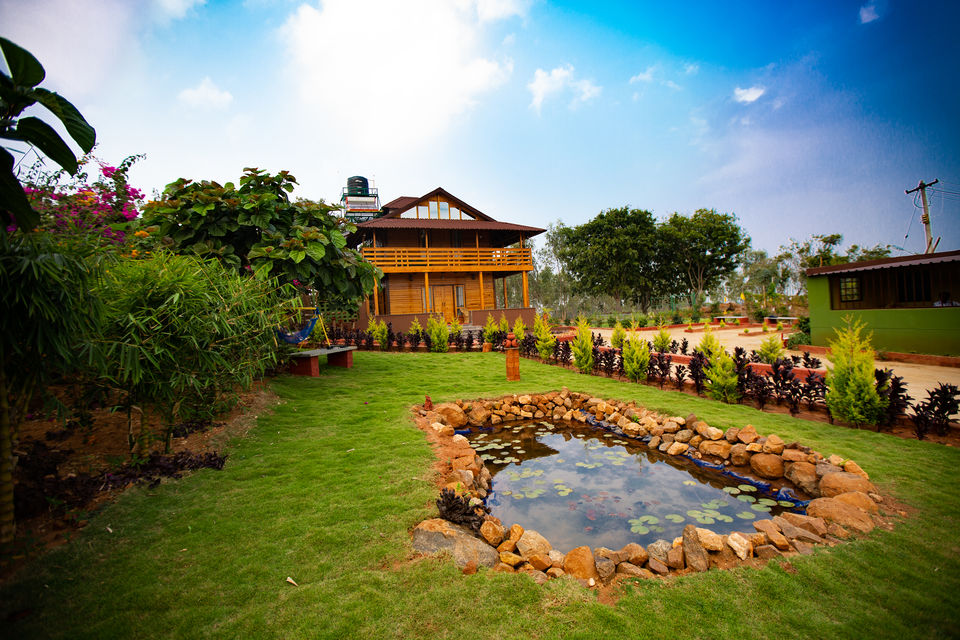 Hey you, it's my little secret. A heavenly place I found near Bangalore where I can see a gazillion stars in the night and wake up to the sounds of small birds in the morning and stay inside a wooden cottage and do absolutely nothing. Have you ever craved for something like this?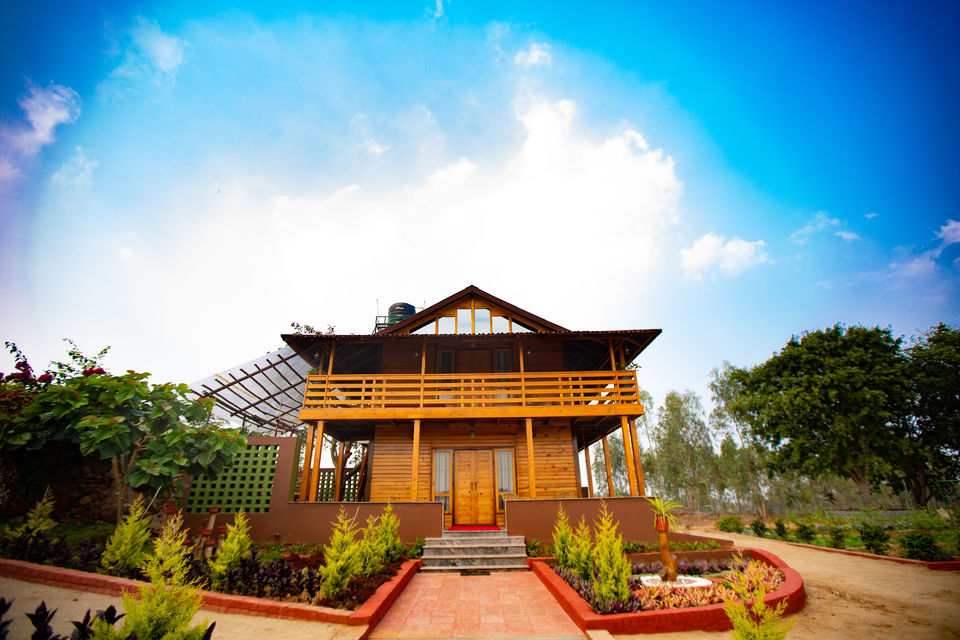 Just 70 km from Bangalore, this wooden chalet is a dream come true.
It's been a crazy couple of months of hard work for me, and I really wanted to unwind with a bunch of friends. A place in which I could totally relax in nature's lap, where I could play board games, take long walks, stare at the horizon and eat great food.
Welcome to Thenkani Organic Farms, 70 km from Bangalore.
We left on Saturday morning with 2 of our friends. We had seen pictures of this brand new cottage and were very excited. We stopped on the highway and ate delicious Tamil Nadu breakfast of dosa and idly in a place called Ranka Villas. I knew I was close to Tamil Nadu when the sambar wasn't sweet and the dosa was crisp. We crossed the Karnataka- Tamil Nadu border and drove for a good 1 hour when we reached the Denkanikottai town. The caretaker at the cottage helped us with the directions.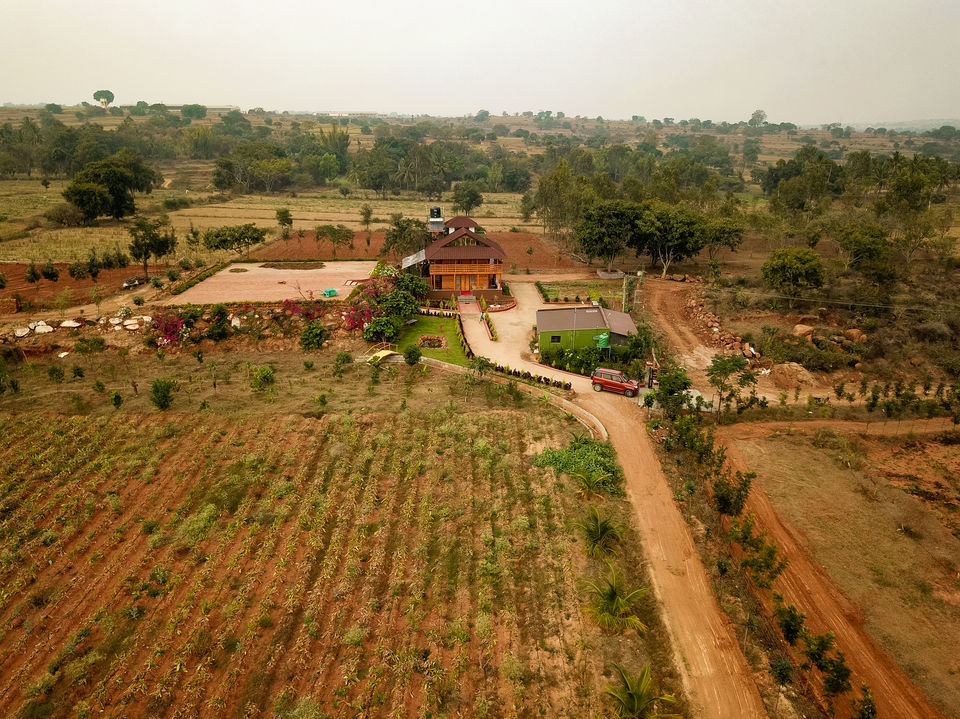 I must warn you the last few km of the road isn't the best, and the streets are confusing.
We finally reached the farm, thenkani. Large wooden board welcome us to this green heaven, and there stood this cottage. I've never seen a wooden cabin like this in India. It was refreshing and nothing like any place we've ever stayed. There are two floors. We took the top floor, and our friends took the ground floor. The top level has an extra attic which you can climb on using a sturdy ladder, and there's a cosy corner with books and board games. The rooms have very comfortable beds and a long verandah with dewan kinda beds. Every corner of this place begs you to bring a book and settle down and read.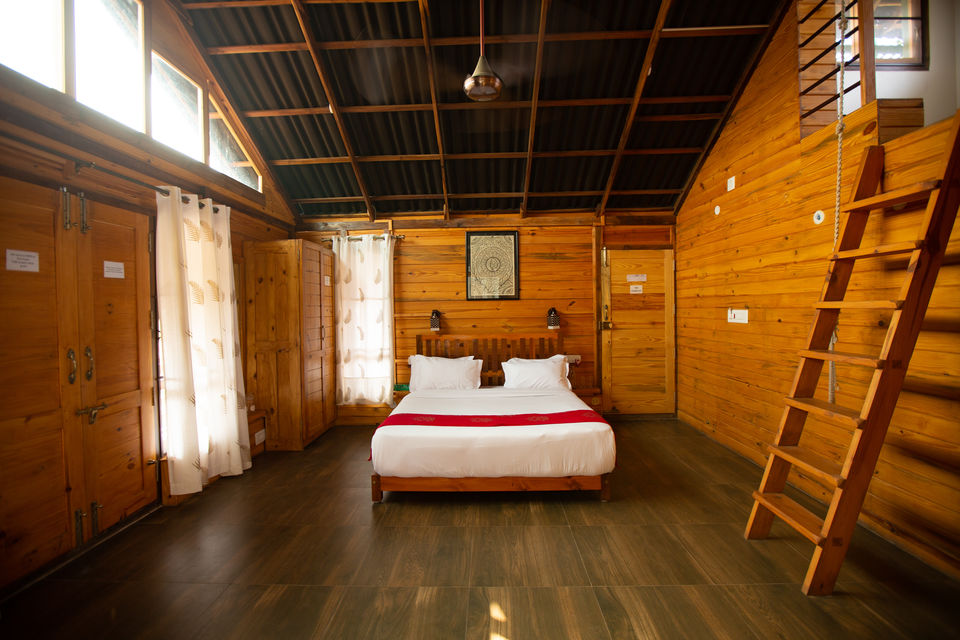 The caretaker served us some delicious roti sabzi and a glass of lip-smacking chaas. We ate to our heart's content and went and took a small nap. We woke up in the evening and went for a long walk around the farm. The farm is situated right next to a forest. The caretaker informed us that they often see a herd of elephants passing by near the farm, and he needs to switch on the electric fence around the property by the evening. Just as soon as we got back from the farm, the caretaker served tea and snacks on the hillock. It's a raised hill with around 10-15 steps right next to the cottage. The view of the mountains far away and the setting sun from there was absolutely stunning. We made a mental note to chill here right after dinner. But before we go to that, I have to tell you all about the tea the caretaker made for us. It was THE perfect tea! The strong, right amount of sugar and the aroma of ginger and masala that had me swooning. I shamelessly asked for another cup, and he gave us all a fresh new pot. There is something so therapeutic about having a cup of strong tea while watching a bright sunset.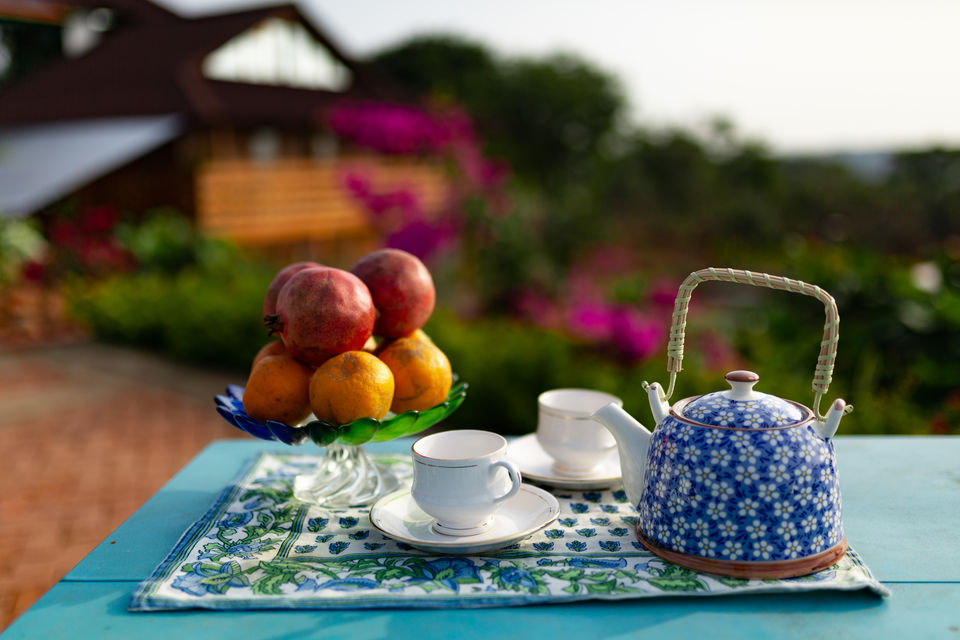 We got inside our rooms, freshened up and started to play one of the board games they had stocked. We played for a good couple of hours when around 9, the caretaker announced that the dinner was ready. "What a good life", I thought to myself. We ate some delicious food and sat by the bonfire they had set up for us. The place got so cold after the sunset, and the campfire was heavenly.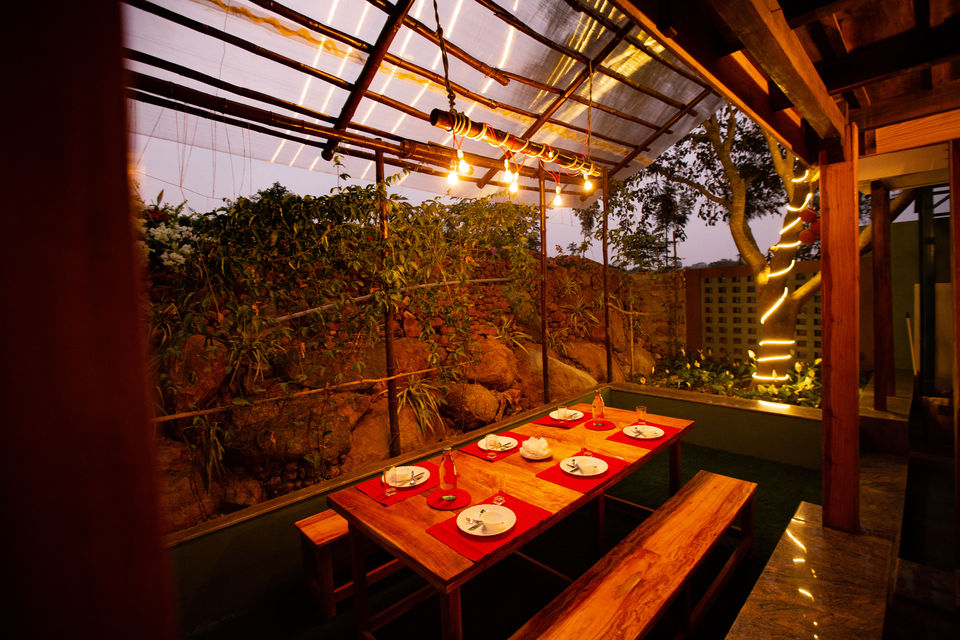 We heard some noise around, and the caretaker informed to us that it's an elephant around and the villagers are trying to chase it away with the help of crackers. One by one, the stars started to appear and before we knew it, the sky was filled with gazillion stars. The 4 of us were lying down in the hillock near the bonfire and laughing at some jokes. Slowly we started talking about everything under the sun. Soon we fell silent and lay there under the stars with our minds reflecting the tranquility and serenity of the atmosphere.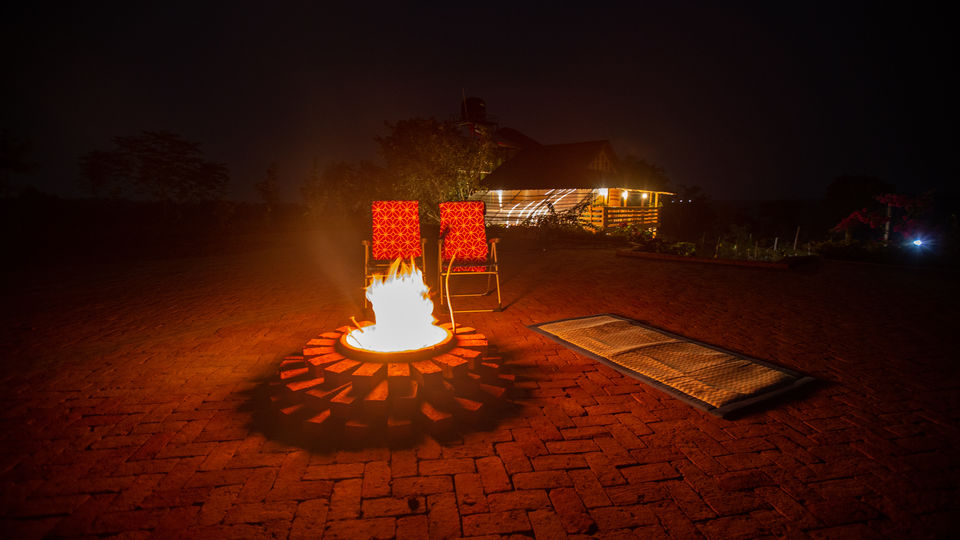 After a while, one of my friends got too cold, and we all had to shift the party indoors. We drank some wine and played board games and were talking till the wee hours.
We absolutely loved that in spite of us making a lot of noise, there was no one around to judge us. It guaranteed total privacy.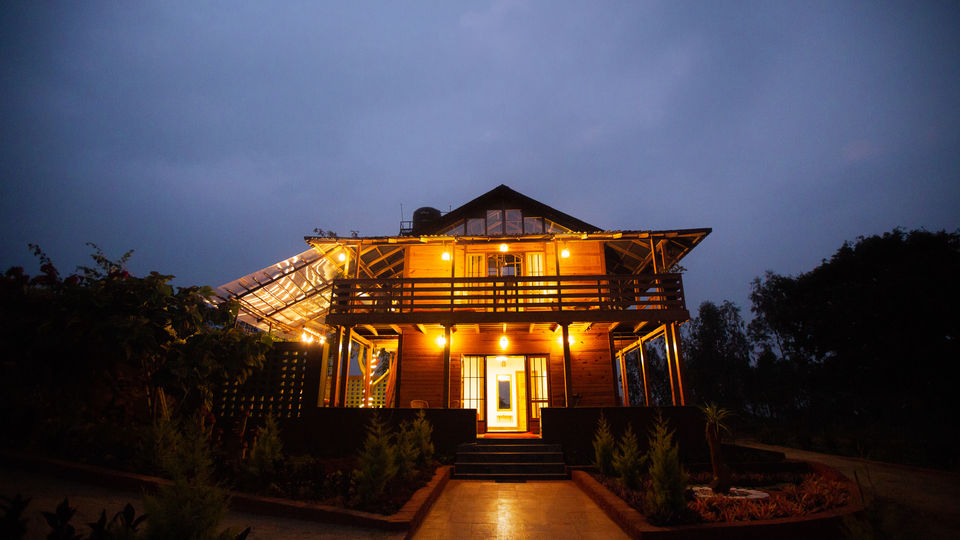 I woke up the next morning cause I heard a sound like someone's tapping my door/window. When I opened my eyes, I realised it's not someone but a little birdie. This cute little bird was trying to peck through the glass on top, and I guess it could see it's reflection. I found this adorable.
The caretaker served fresh coffee (which was not as excellent as the tea) and breakfast, and we had to say goodbye to a perfect staycation.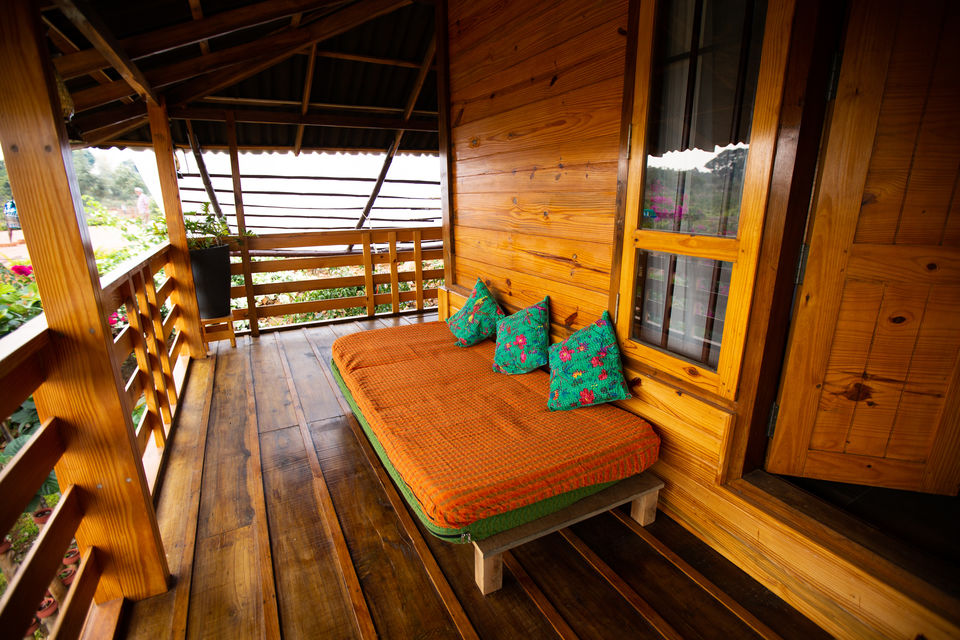 Come to Saffron stays Thenkani if you want to unwind, come if you want to spend some quality time with family/friends, come if you want a vacation but cannot afford to go to that exotic island right away. It's worth every penny.
Loved the idea of spending a weekend here?