Rishyap had been on my mind ever since I had read about it in a magazine. I have been wanting to explore this small village located at an elevation of about 8500 ft, for a long time now. The idea of staying in a village in the lap of the mountains had me excited. Having stayed in luxury hotels so far, it was a complete contrast to stay in a wooden cottage (kind of homestay) in a rural setting. Nonetheless I wanted to experience the latter.
Getting to Rishyap
Rishyap takes approximately 4 hour 28 minutes (150kms) via Lava, 4 hours via Kalimpong (110 kms) and 3 hours 30 minutes (107 kms) via Gorubathan. You can choose to go uphill via Kalimpong or Lava but both ways present you with a bumpy ride. It is advisable to opt via Lava while going uphill as it is possible to retreat via Kalimpong as well as Lolegaon while coming downhill. This option enables you to get the round trip right.
Transportation
Given the steep road, especially during the final kilometers of the ride, only vehicles like Mahindra Bolero or even Innova are suitable to withstand the tough conditions. Local transportation include shared Jeeps that ply from NJP to Kalimpong or Lava. From these places you have to again take a separate vehicle to reach Rishyap. There is no direct mode of local transportation from NJP to Rishyap. However you can hire prepaid taxis or personalised vehicles to reach Rishyap without break.
It should also be noted that Rishyap via Lava can be reached by two modes. One is by use of a 11km road which can be covered by vehicle. The other is a 4km trekking trail which is characterized by small rocks throughout. The trekking trail is beautifully lined with pine trees and junipers and the intermittent chirping of birds is a warm welcome to the tranquillity you are about to feel next. Because of its steep, rocky nature and narrow width it is almost impossible and dangerous for vehicles to ply through it. A little inattentiveness behind the wheel can lead you rolling down from 8000 ft above. My driver being a regular on the trekking trail had dared to take the Innova through the 4km trail. He drove with ease, but those 4 kms was no less than an adrenaline rushing adventure for me. However it is good to use the 11km road to be safe. trekking those 4 kms will take a minimum of two hours.
The First Impression
Making my way through the pine forest finally I reached Rishyap. It was almost evening by the time I had reached, as my itinerary included a tour of Lava in between. The first thing I noticed about the place was its serenity. I have never before been to a place more peaceful. The place appeared to have limited accommodation options. The few village houses present were creatively decorated and their wooden balconies adorned with variety of flowers. The sky was in its full blue. I could breathe fresh oxygen in gas units. In the far horizon the sun was setting for the day. I watched it set in the silence of the moments.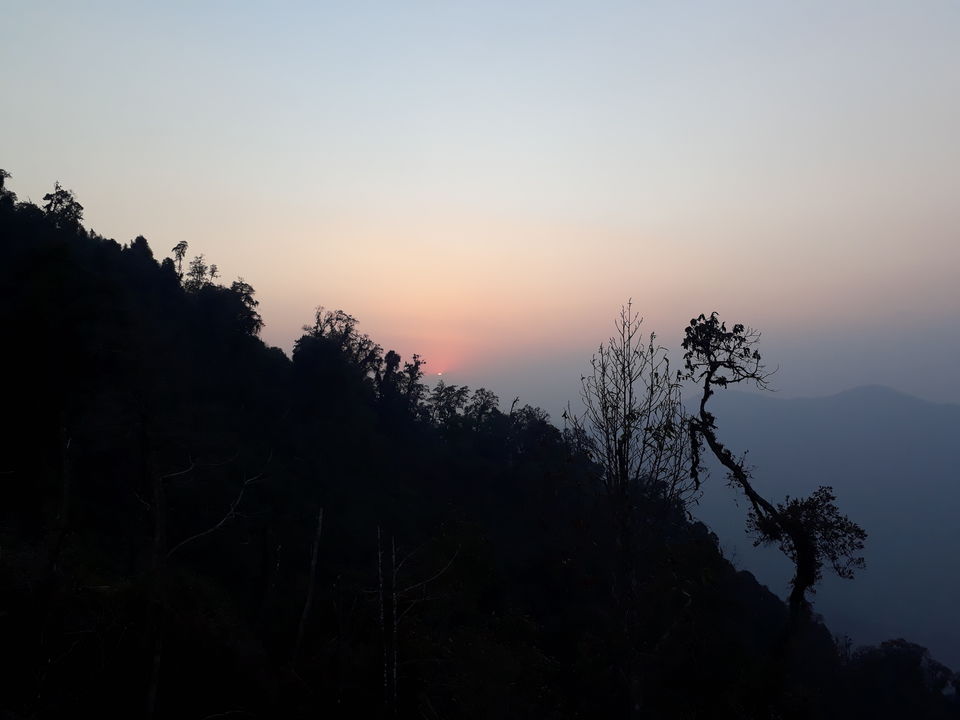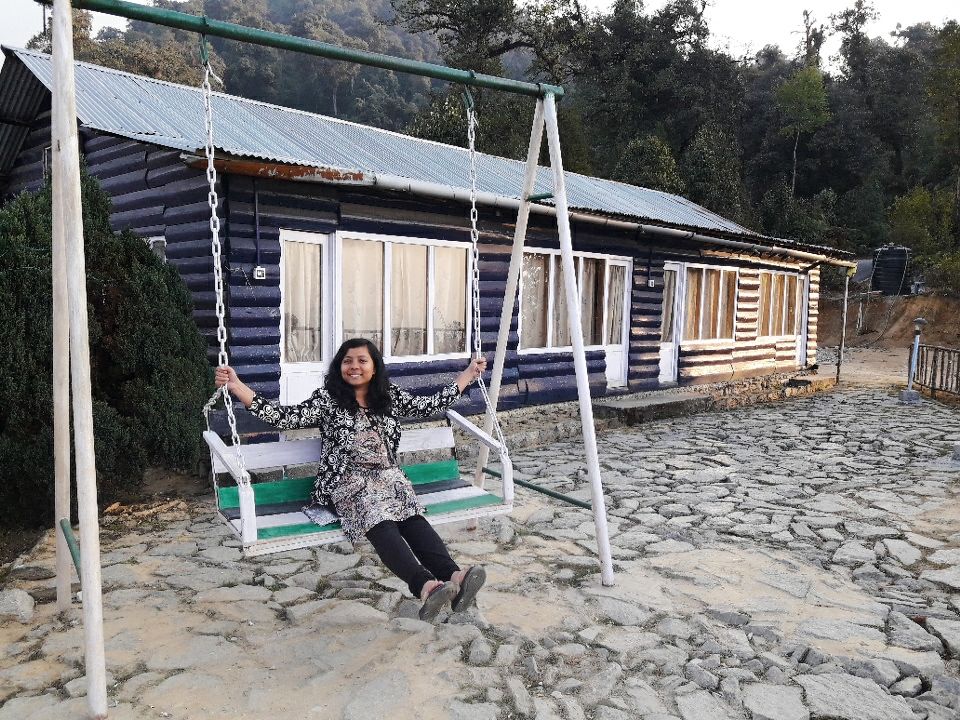 Early next morning I set out to explore more of the place. As I have mentioned earlier the whole idea of staying in a wooden cottage in the village was my choice. It was a first time experience for me. Though the owner would like to address his property as a hotel the cottage was basically a homestay managed by a local caretaker. The cottage was a short walk away from the dining lodge. Right on the peak of the mountain it was the highest accommodation of the village. The wooden stairs lead you to a room which welcomes you with wood carvings and local architecture on the walls. You will want to walk across the room towards the window with an urge to draw aside the curtains because of the way has been intelligently placed. Once the curtains are aside you get a magnificent panoramic view of the Kanchenjunga. Right beside the window is a small table with two wooden armchairs. On the table, hand carved tea pots and glasses are ready to serve you if you wish to sit and enjoy the view through the window from you room. Right beside the window is a door. As you step out the door it is a kind of personalised open air balcony to your cottage. A swing is strategically placed there for you to swing yourself to magnificence of the view.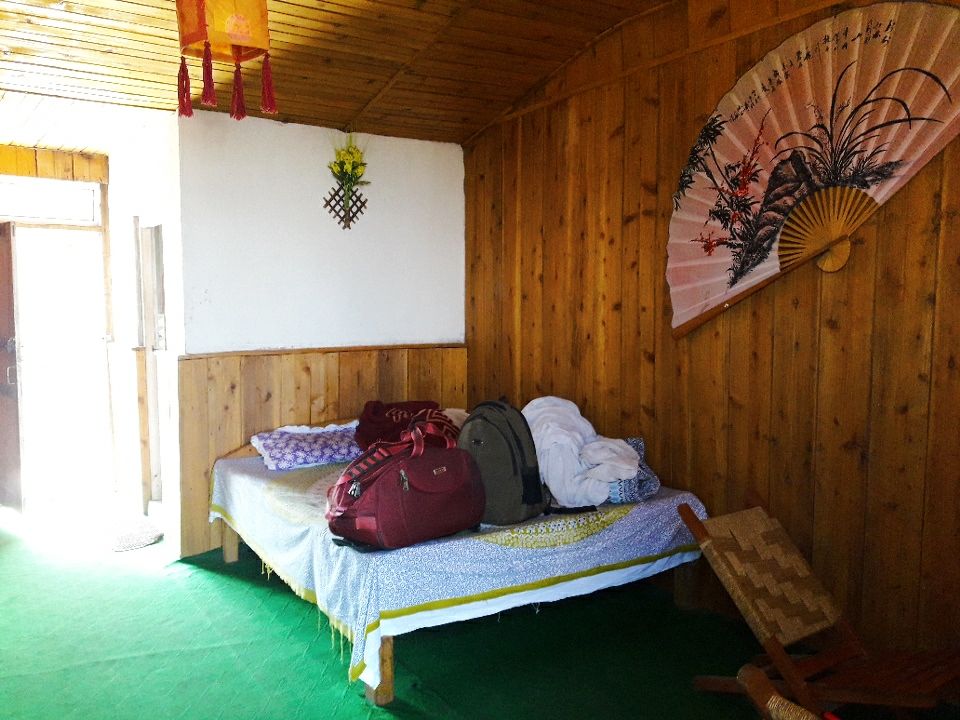 Dining
Since accomodation is mostly in the form of homestays, do not expect to be served with luxury delicacies. However you will get homemade dishes prepared on Chulha fire, the taste of which will linger on for a lifetime. You have to place your order well in advance as it might take some time for your caretaker to arrange for the items from the market downhill.
Sight-seeing
Rishyap in brief is a peace lover's paradise. If peace is what excites you Rishyap is the place for you. The place is suited for a honeymoon destination, a writer's heaven, an aged couple's reclusion (if they can withstand the bumpy ride to reach it) or a family's escape. You can sit in the place for long hours and savour all the serenity.
However, if you are looking for some options to explore there are a few spots around.
Tiffin Dara
According to geography, Tiffin Dara is the topmost point of Rishyap and 2nd highest point of West Bengal. I had heard that from here a 360 degree view of Kanchenjunga, Pedong and Kalimpong was visible. Indeed that is true if the weather conditions favor you. The view point is about a 15 minute walk from Rishyap village. A leisurely walk through those hilly roads rejuvenates your lungs.
Shiva Buddha Temple
This temple is situated approximately 2.5 kms downhill Rishyap village. It is located on the road to Seoul village (another village in the vicinity) and is characterized by a very narrow road. A walk through those roads will feel straight out of your bucket list wishes. There is also a picturesque waterfalls along the way. Inside the temple are adjacent idols of Lord Buddha and Lord Shiva and hence the temple is named accordingly. The red stairs bordered with white colour cemented railings that lead you to the temple make for a good place to click pictures.
Neora Valley National Park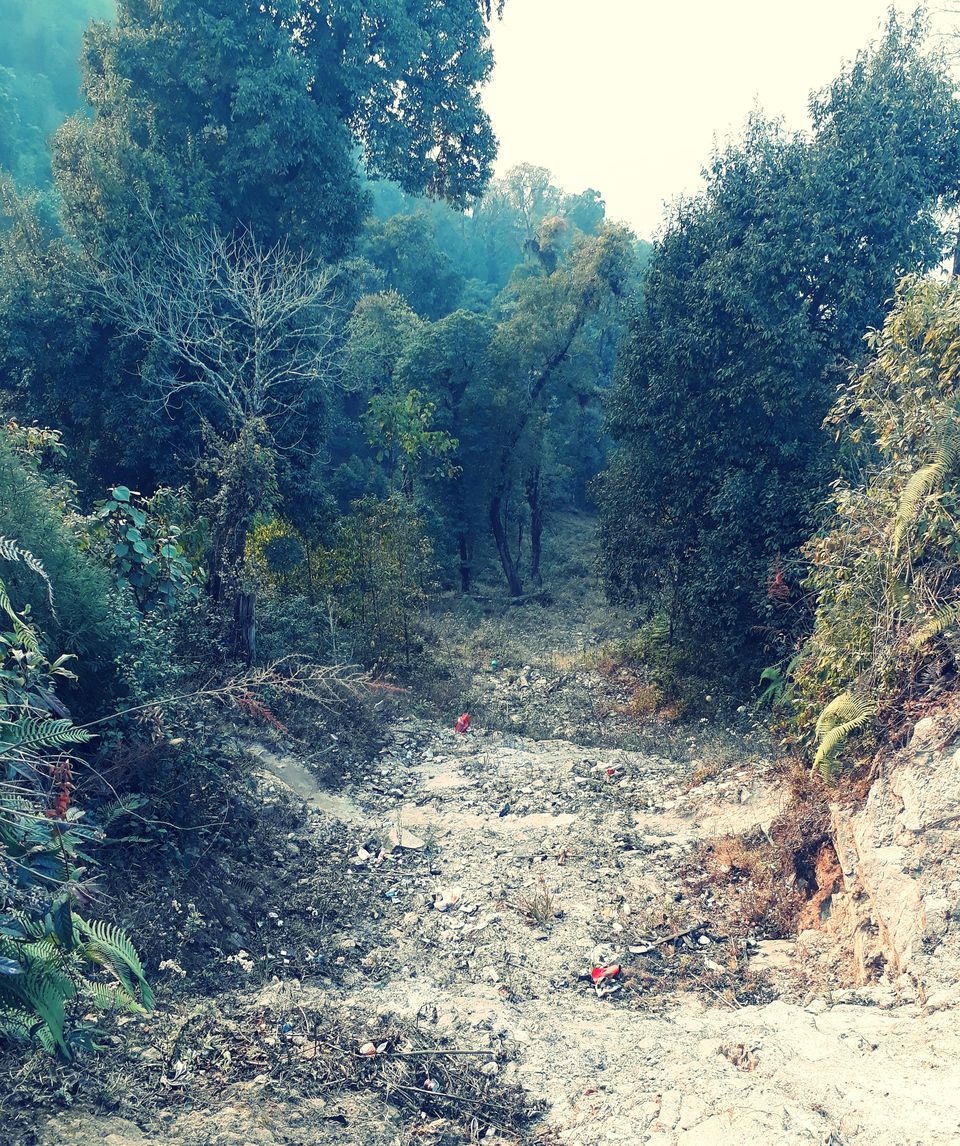 If you are looking for a little adventure in the profuse silence of Rishyap you need to visit this national park. Ever since I had heard of its dense wilderness and inaccessible areas with sinuous rivers in the midst, I had wanted to visit it. The park is an explorer's paradise. You can choose to simply sit beside the streams and while away the hours or you can intrude into the hinterland. A permit is required to visit the park. Be informed that the permit is available from the Forest Range Office at Lava and Samsing. So if you are travelling via Lava to Rishyap it is advisable to travel uphill along with the permit to avoid a double travel downhill. A variety of flora and fauna makes the park famous. The red panda being the most popular fauna found in this forest visible very rarely only in the denser areas of the jungle. The densest area of the park is almost a 12 .5 km trek into the forest, which can be accessed by vehicle. Guides are available from the main gate of the forest to show you the correct direction. There is a trail that leads to Bhutan border too from inside the forest.
Miscelleneous
There are many other destinations in and around Rishyap which you can visited depending on the number of days you can invest. If you are targeting only Rishyap, the above mentioned places are ideal for quick visits. If you have time in hand you can combine places like Lava, Lolegaon, Pedong, Kolakham too. I shall dedicate separate posts for these places as well for elaborate information.
Stargazing
Rishyap is a perfect destination for stargazing. The stars appear bigger and as if they are very close to you. The lights visible from the lit up towns of Sikkim and Kalimpong below and the sparkling stars shining above make for a perfect couple, infusing more beauty into the night. If you are able to fix your dates matching a full moon night you will be lucky to witness the moonlit snow-capped Kanchenjunga along with the bright stars.
Fare and Costing
NJP/ Bagdogra to Rishyap: Rs. 3500
NJP to Lava: Rs 2500
Lava to Rishyap: Rs 800
If you hire a private vehicle for few days at stretch the fare per day is Rs 3500 too, inclusive of driver's fooding and lodging.
Homestays: 1000 per day inclusive of taxes.
Hotels: 1500 per day.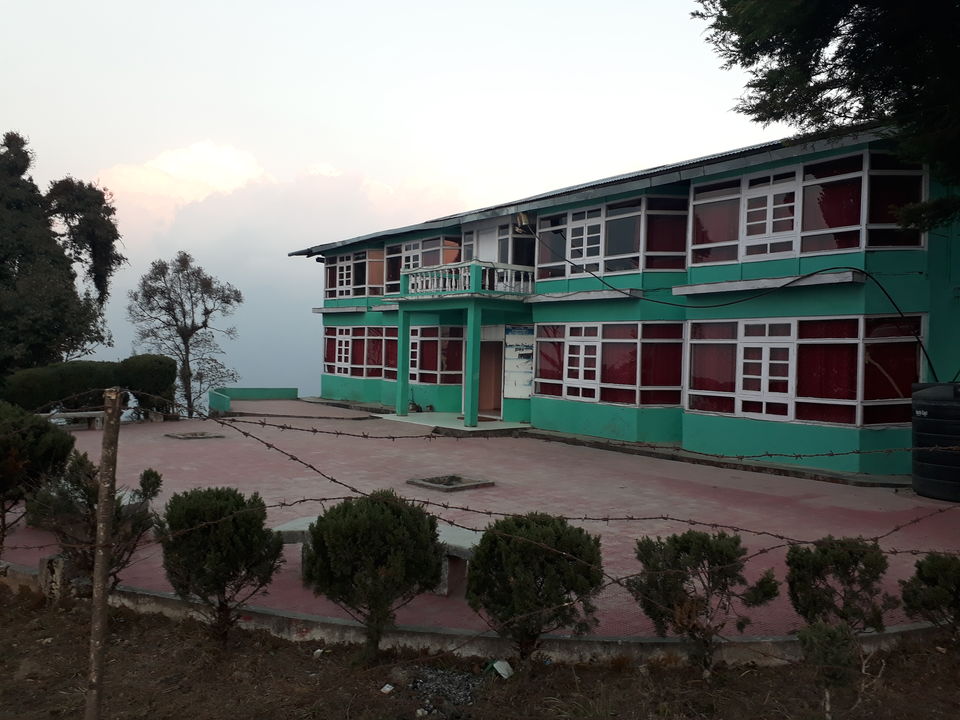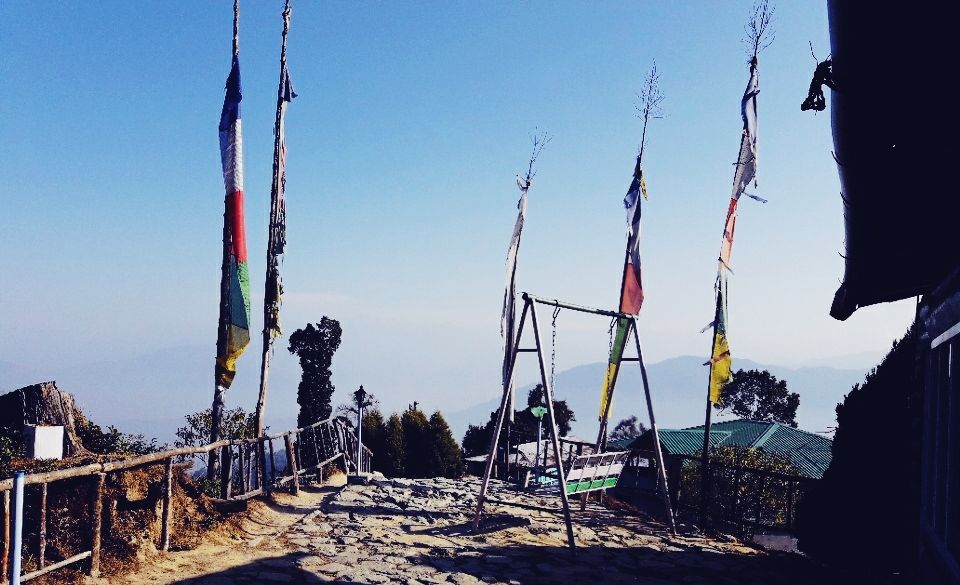 The best time to visit Rishyap is March to July or around September to November. These are the months when scenic beauty and best views of the Kanchenjunga can be targeted. Book accommodations and transportation well in advance to avail cheap and with view rooms. Availing private transportation is better as within fare on per day basis you will be able to cover maximum sight-seeing. If you opt for shared vehicles expenses increase as roud trip to nearby tourist spots separately have their individual rates here.
Are there any unexplored places in Rishyap (other than the above mentioned) that you know of?
This trip was originally published in https://feetontrip.wordpress.com