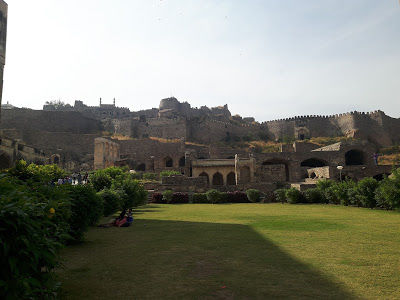 'So what is with your fetish with Hyderabad anyway' wife Suchita asked me.
I gave her a blank stare. No one had called my love for Hyderabad as fetish before.
'You will never understand the true beauty of Hyderabad until you see it for yourself. The food, the people, the atmosphere, the night life and the chutneys will make you wish to be there forever' I sighed.
'Ok take me there' she said.
'Take me to this promised wonderland of yours' she repeated.
Caught in my own web of words. But it was too late to take my words back as the arrow had already left the bow. Besides the thought of visiting Hyderabad always leaves me excited.
Incidentally it so happened that 2 of our most loved couples were at Hyderabad at that very weekend - one has settled there for work and the other was on road trip en-route Nagpur through Hyderabad.
'It will a perfect location to celebrate their wedding anniversaries'
So I decided to chart up a short trip to Hyderabad... one which will allow us to meet up with friends and also help tick one location off our travel bucket list- Golconda fort and Charminar of Hyderabad.
Hyderabad is an overnight journey from Pune and very well connected by flights, trains and bus.
We unfortunately are not great with planning and hence scrambled to book an AC bus ticket at the last moment. It was an overnight comfortable journey in Orange Travels bus from Pune to Hyderabad and took us approx 14 sleepy hours.
We reached Hyderabad at 8 AM and were greeted very warmly by Mr. and Mrs. Pimpley's (Formerly Dushyant and Nupur).
We had a wonderful breakfast at the 'Chutney's' restaurant. Anyone visiting Hyderabad who has a liking for South Indian food and chutney should visit this food chain !!!!Gun powder Idli...heaven !!!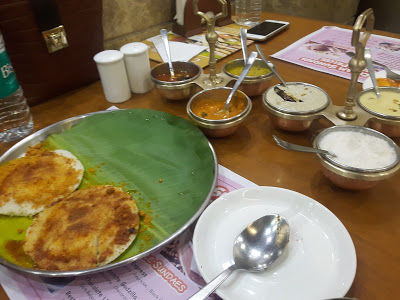 We spent the entire day chatting and joking. Meanwhile we were joined by Patil family (Gaurav and Priyanka) who had drove down from Bangalore.
In the evening it was a surprise cake cutting to celebrate the wedding anniversaries of both these couples.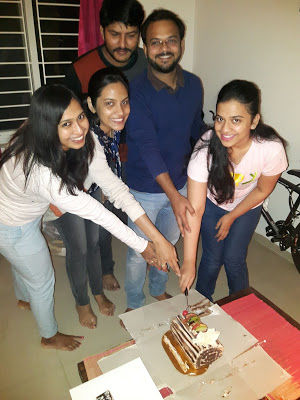 Had an awesome Biryani from one of the famous biryani joints- Shah Ghouse Café. (Incidentally there was a news of dog meat being used in biryani at some of the joints killing our appetite the following day. The news was dismissed few days later)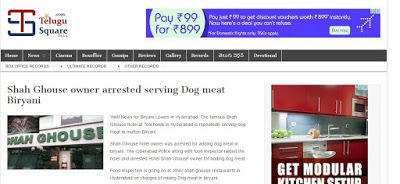 It was on Day-2 that we decided to visit Golconda fort early morning.
Golkonda Fort was first built by the Kakatiya dynasty as part of their western defenses along the lines of the Kondapalli Fort.
The city and the fortress were built on a granite hill that is 120 meters high, surrounded by massive battlements. The fort was rebuilt and strengthened by Rani Rudrama Devi and her successor Prataparudra
Later, the fort came under the control of the Musunuri Nayaks, who defeated the Tughlaqi army occupying Warangal. It was ceded by the Musunuri Kapaya Naidu to the Bahmani Sultanate as part of a treaty in 1364.
Under the Bahmani Sultanate, Golkonda slowly rose to prominence. Sultan Quli Qutb-ul-Mulk (r. 1487-1543), sent as a governor of Telangana, established it as the seat of his government around 1501.
Bahmani rule gradually weakened during this period, and Sultan Quli formally became independent in 1538, establishing the Qutb Shahi dynasty based in Golkonda.
Over a period of 62 years, the mud fort was expanded by the first three Qutb Shahi sultans into the present structure, a massive fortification of granite extending around 5 km in circumference. It remained the capital of the Qutb Shahi dynasty until 1590 when the capital was shifted to Hyderabad.
The fort finally fell into ruin in 1687, after a eight year long siege leading to its fall at the hands of the Mughal emperor Aurangzeb.
Golconda fort with armory on left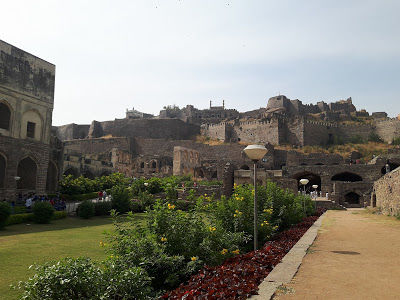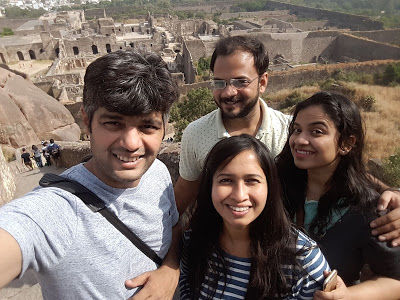 The session along with a personal guide costs around 1000/- and lasts for 2 odd hours. In this time the guide gives you a detailed information about the fort, the unique mechanism of claps used by guards in the fort and the amazing acoustic which made it audible 5 km away.
We also got to know how Aurangzeb had used 40 cannons to bring down the entire fort structure to ensure that no other king rules in the area again.
It is said the entire fort was brought down because of the Nawabs refusal to pay taxes to Aurangzeb.
Guide name: Arif, Ph. No.: 9885147251
The place where we stood used to have 2 floor palatial building which was destroyed in a siege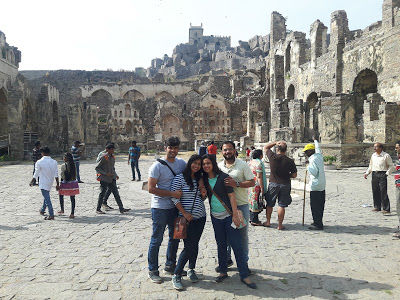 Golconda fort gardens and structure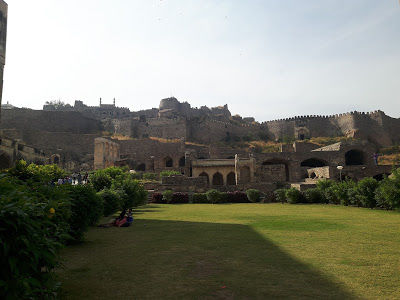 View from top of the fort with royal quarters visible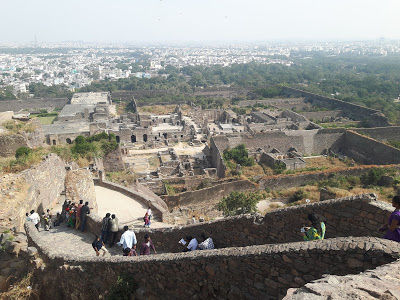 From Golconda it was an hour drive to Charminar. We were fortunate (or unfortunate) to visit old city during one of the festive days.
It was extremely crowded and while the girls in our group were very happy with shopping options, the boys were left scratching our heads of what to do next.
Charminar does also have a lot of eating options and we passed our time exploring the various delicacies to offer.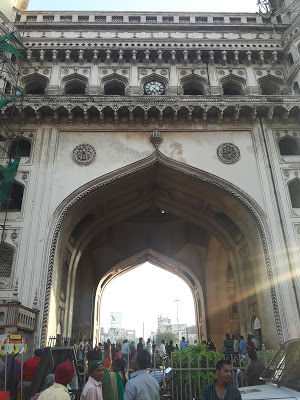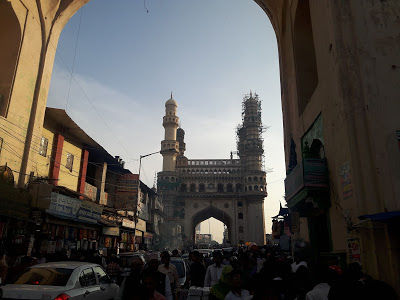 It was late in the evening that we rushed to catch our return bus back to Pune. All the wonderful memories of the trip were now captured in our cameras and heart as we made our way back.
Apart from Golconda and Charminar, there are host of other things to be done and seen at Hyderabad which we missed. Maybe next time :(
Thanks for reading and happy travelling :)
* Please visit our travel blog Alifeinslowmotion for other travel stories.
Frequent searches leading to this page:-
hyderabad charminar nearby me visiting places, one day getaway from hyderabad, places to visit on hyderabad, visiting places hyderabad, hyderabad place to visit, golconda fort hyderabad telangana