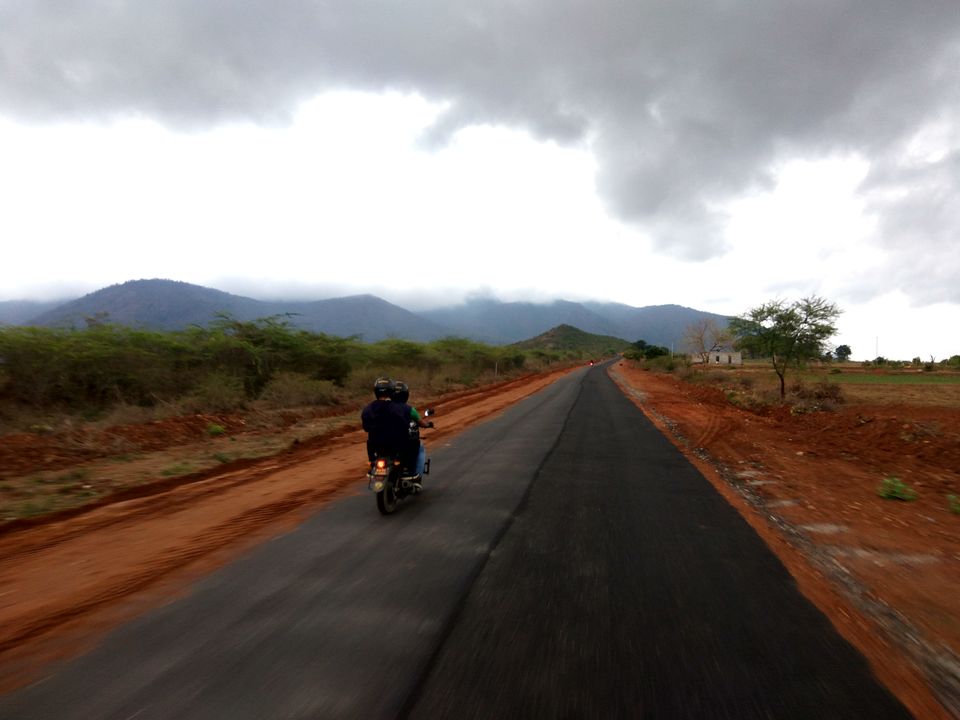 "Don't you think we should return or halt somewhere?" I asked, shivering
"We will wait for others", said Jayant, feebly.
On a chilly dark evening at around 7:00 PM we were on an FZ at the gates of Bandipur forest waiting for four more people of our breed. Along with being a dense Reserve Forest, well known for its Tiger Reserve, it also is a dwelling for many animals and birds, a place where sighting wild elephants and deer is very common. It also houses a road which connects the states of Karnataka and Tamil Nadu. It's a road not less than those seen in some horror movies, a road where the vehicular traffic is closed at 8:00 PM until sunrise. And that evening, the darkness of the forest was coupled with some chilly breeze making us shiver for both cold and fear. What were we doing there? Well…
It all started at around 11:30 AM on that day. The Cyclone Vardah was going to hit the eastern coast of India. When it brought fear and a sense of preparedness among the locals and relief forces, it also brought with it an amazing weather in the areas around Mysuru. The weather which was the best in the span of 10 months I had spent in the city till then.
We had come out of our office and were enjoying some coffee in the food-court. The topic of discussion over that coffee was obviously the climate and it was justified. Mysore was not less than any hill station on that day. All of a sudden, Priyanka, out of nowhere, said excitedly, "Let's go to Chamundi Hills". Chamundi Hill is on the outskirts of Mysuru, and one of the famous tourist spots. It's named after the Goddess Chamundi, and the hill houses a temple of the deity. We all ignored her for the first time but somewhere we knew that it would be amazing to ride there in such weather. But then, she was stubborn enough to dial a bike rental agency for a bike for her own. After a bit of brainstorming over this as it was a weekday and we were in office (Well, it was again an amazing discussion), we decided to go. We all knew it was not worthy to sit before a virtual box and do something in that virtual world when the nature has let out one of the best it had in its possession. Only a stupid would have enjoyed watching those clouds through closed glass panes.
Now, everything we did to get out of the office can altogether be a different story! But one thing that happened was, we asked some locals from our team for some more options, and we decided to change our destination from Chamundi Hills to Gopalswami Hills. We never knew about Gopalswami Hills. It was only through Google that we understood it's about 80 kms from Mysuru. We set from office around 01:30 PM, hired bikes for a day, decided to return Mysuru at 9:00 PM and went to our respective rooms to get ready. We got all the required stuff handy, say jackets, water, some fuel, first aid kit, etc. and left Mysuru around 03:30 PM. We six went riding with ease, breathing the weather in, and the road was amazing. A highway with minimal traffic, trees, grasslands and farms on both sides of the road, bridges… Oh man…!!!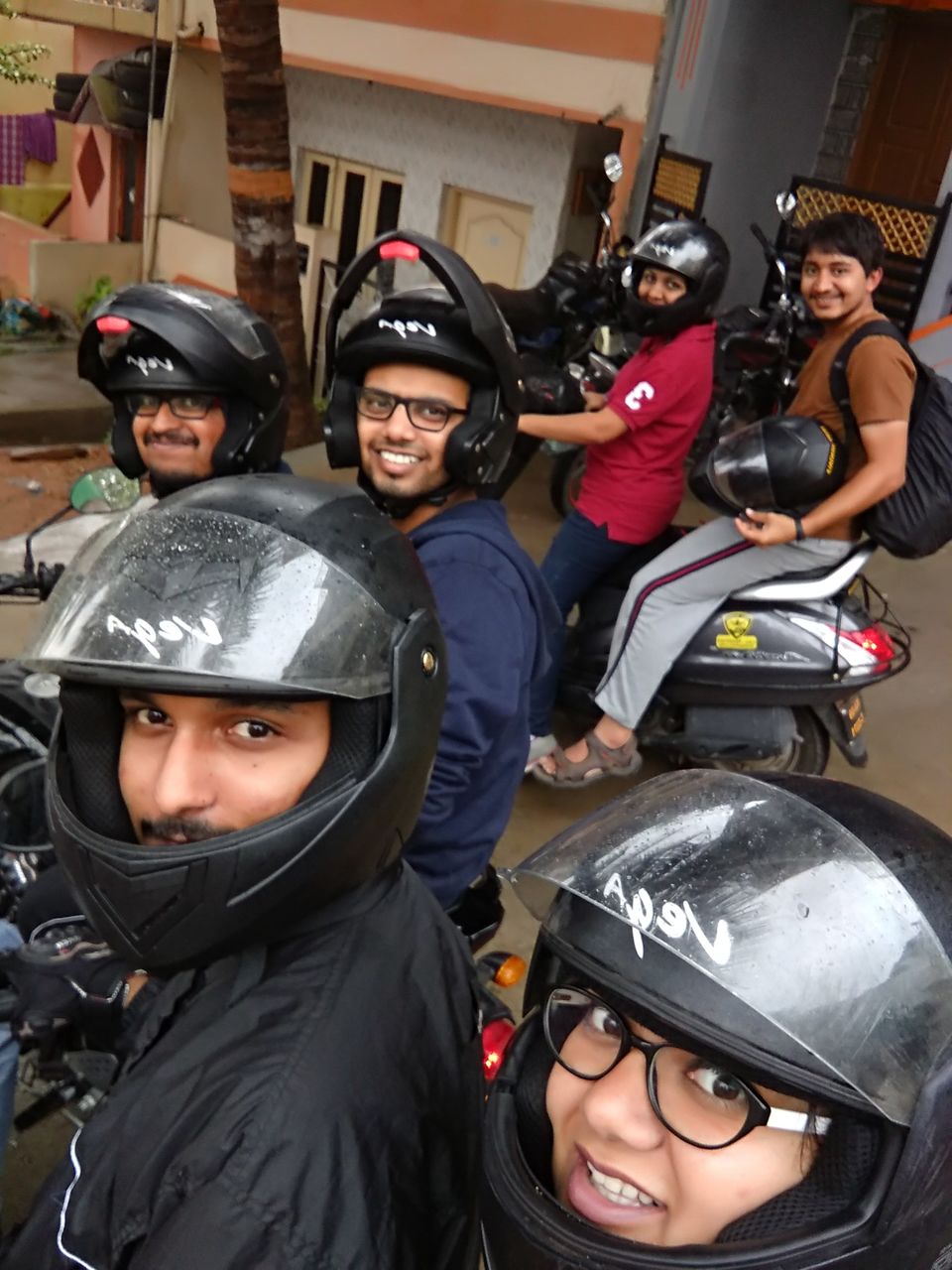 We reached the foothills of the Gopalswami Hills somewhere around 05:30PM. The hills being in the Bandipur forest, access to it is not easy. The Forest Department has banned the entry of any private vehicles beyond the foothills. The only option there is to take the transport provided by the Government. To add to it, the buses run at frequency of about 30 minutes and stop at 05:00 PM.
So, to our bad fate, we were stuck.
With shattered expectations, we grabbed tea and some biscuits from nearby. We badly needed it after a 2 hours ride in a cold weather. On the second cup of tea, we started brainstorming again, about returning, say like taking a different route or visiting Chamundi Hills again, etc. But then, a thought crept into our minds. It was going 60 kms ahead, to Ooty! However, we were skeptical about it for obvious reasons, very first, we had office next day, we did not have any clothes, we had not eaten that afternoon, etc. But the prime reason was the closure of the highway. As the highway passed through the forests of Bandipur in Karnataka and Muddumalai in Tamil Nadu, it was scheduled to close at 8:00 PM and open at 06:00 AM and we obviously had no intensions of being served as a course for the cubs! However, then, it was Piyush, who blew the spark into flame, taking a vote on which the count actually was 6-0. And with no readiness of the TRAVEL-KIT and keeping the thoughts of our 9 to 5 aside for some time, we started our ride, towards Ooty.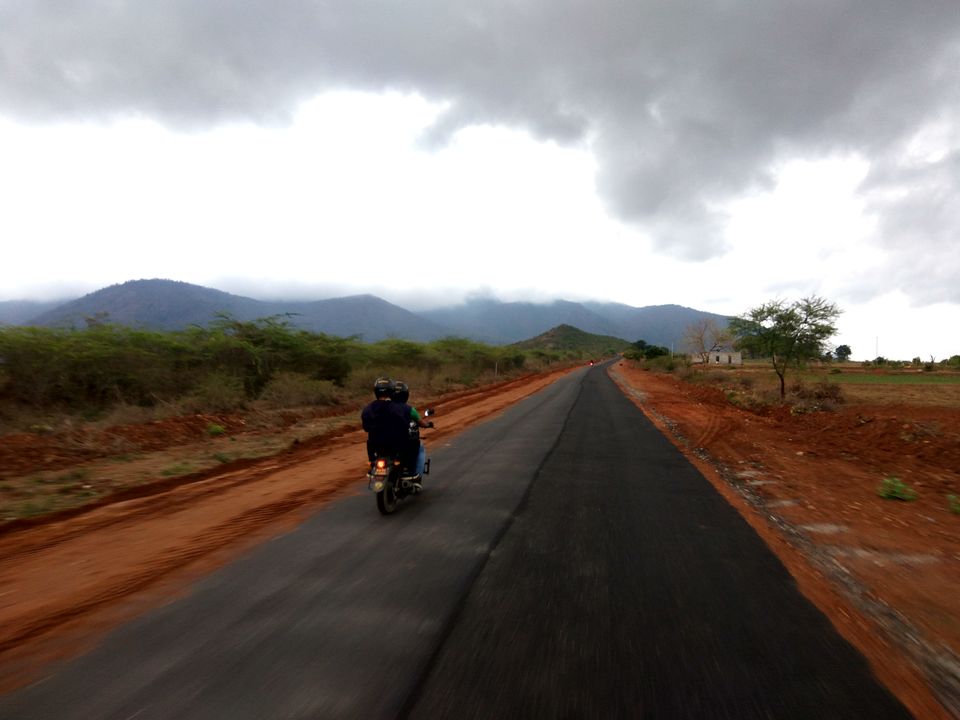 Filled with a renewed excitement and raised adrenaline, coupled with the shiver due to cold, we reached the gate of Bandipur around 07:00 PM. I and Jayant were leading the ride and we stopped at the gate. It was the first time I was scared of darkness, it was naturally pitch dark and we had no idea what was in front of us. We could not even see the road, forget else. We could not even differentiate sky and ground. Yes the headlight of the bike was ON, but then it was the only savior.
"Don't you think we should return or halt somewhere?" I asked, shivering
"We will wait for others", said Jayant, feebly.
After some 10 or 12 minutes, others arrived, and were equally scared of the darkness. However, the adrenaline gushing thorough our veins was enough to overcome the fear and we entered Bandipur. We thought we overcame the scariest phase, but we were very wrong. It took us just a km to figure out that there were no vehicles other than the three bikes. We drove at 25 to 30 kmph due to the darkness and the strange sounds that came from the dense tress on both the sides of the road. Visibility was very low. We drove for around an hour and half in the forest and we came across humans only twice-on the entry gate of forest and second on the exit. Both were officers appointed by the Forest Department . The officer on the exit gate advised us to stay in the town nearby and continue in the morning, as the there was an uphill ghat ahead, but madness had gripped us so tightly, that we overheard his advice.
We refueled our vehicles, took a break of some 20 minutes, spoke about how scared everyone was; but started again! We knew it was an uphill ride from there. It's not as simple as it seems though, because the uphill to Ooty has sharp curves, almost at angles of 10-20 degrees and they are 36 in number. They are popularly known as "36 Hairpin Bends". And then there is an ever ready 4000-6000 feet fall to embrace you!
The weather we started with in Mysore had started playing its aces. Shivering is not really good while riding. But, we experienced something more after crossing the first of those 36 bends –Fog! It was in the forest too, but it just got denser, and it really affected the visibility. The low visibility just got lower, that too on the curves, and it was dangerous. Visibility was probably only one or two feet. I and Jayant were actually laughing out of fear and excitement. I really don't know about others. After some ten bends, we could feel the heaviness in the air we inhaled. The temperature was 5 to 6 degree Celsius with dense fog, no visibility, and sharp curves and not to miss, it was dark!
And all of a sudden, may be after 25 bends or so, the visibility increased, the air was lighter and we felt that we were not shivering as before. It took us a while to realize that there was no fog. I and Jayant were still in the state of transition when we heard Pankaj and Priyanka literally shouting to stop. We thought there was something wrong, but they asked us to look at our right in the valley. I was stuck to see the dense layer of clouds below us. It was then where we realized why the air was thin now. The relief we felt there is something that I cannot write here. It was in our eyes, it was in our breath.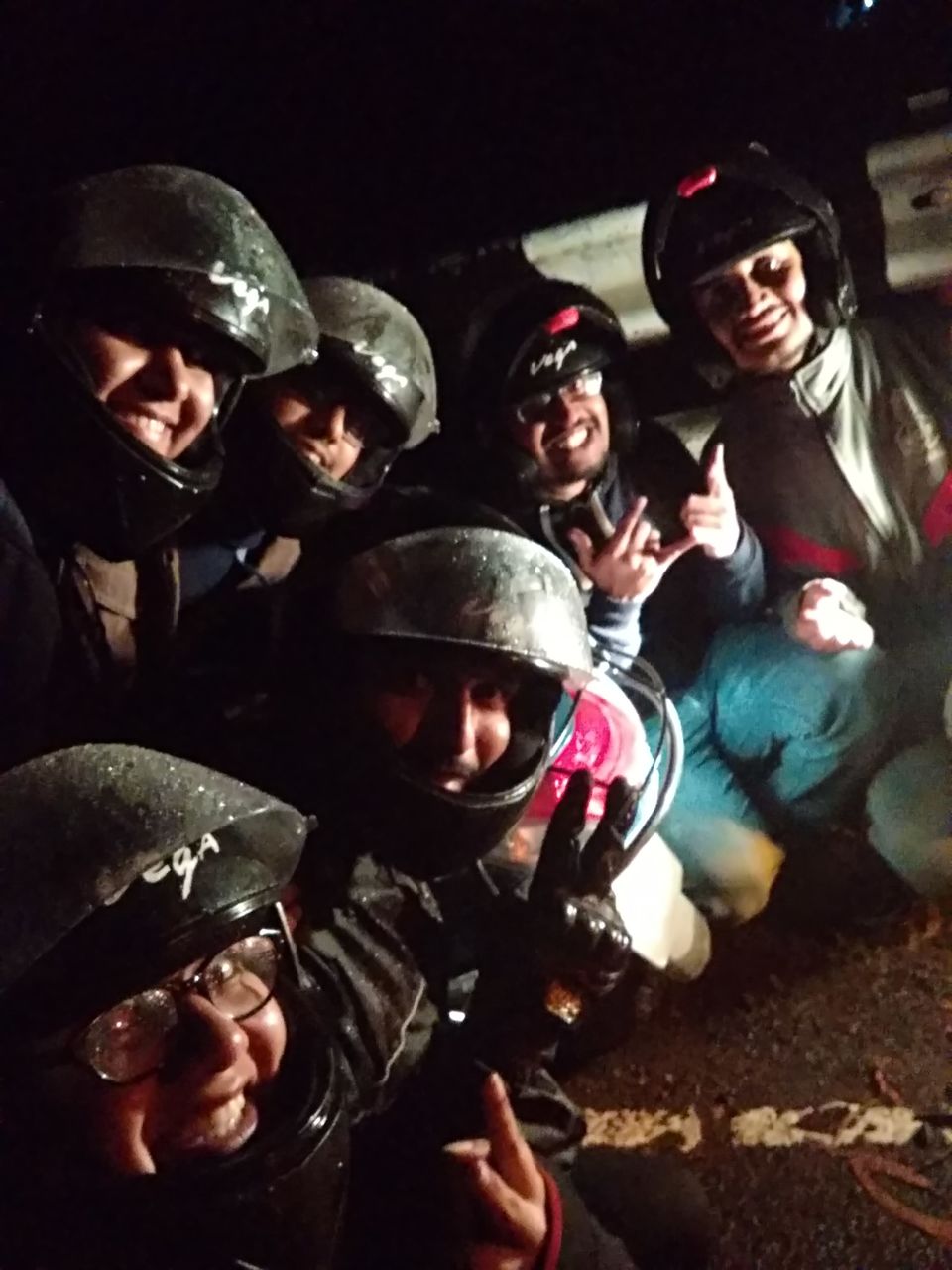 From there, it was just a matter of 30 minutes when we reached Ooty, somewhere around 10:00 PM. We were hungry and we did not bother to wait anywhere. We headed straight to Hyderabadi Biryani House, a place to find some delicious biryani and it tasted the best ever then. It was around 11:30 PM when we found a cottage for us. Being a non-seasonal weekday, we got it really cheap. Then, we bought some temporary clothes for the night; but I won't mention about them here. It's a secret kept amongst us! We slept at around 2:00 AM.
The next day, we set to return to Mysore at around 7:00 AM. We did not visit any tourist spots in Ooty then. But the experience we had there, the plan (no-plan) was instant and it turned out fabulous (Thanks Priyanka and Piyush). I always had the fantasy to travel, but this ride turned it into passion. It was only there when I realized why people advise you to travel, to adventure.
That was my second visit to Ooty and it has been around seven months since that ride. In these seven months, I have explored Ooty (five times!), Munnar, Alleppey, Coorg, Kozhikode (yet another exciting bike ride), and every second weekend, I visit some place in or around Mysore. And upcoming stops on my Travel Express: Pondicherry, Gokarna, Hampi, Rameshwaram, Kodaikanal, Jog Falls, Thenmala... till the fuel is exhausted!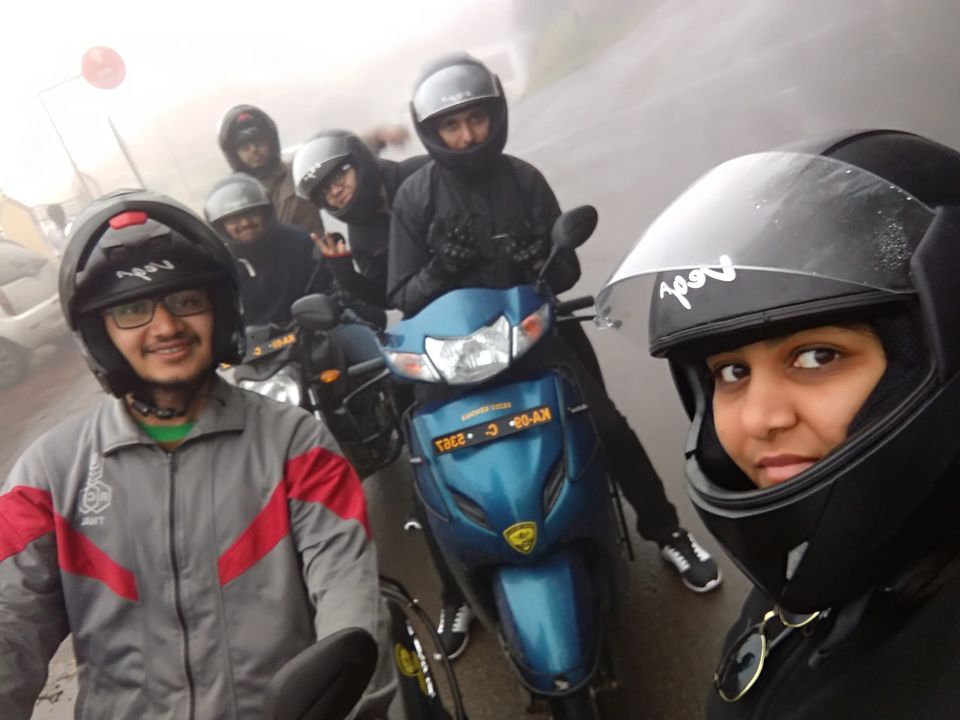 So, an unforgettable experience for all of us and we now always look forward to travel. To end this, I would just say just go off on some untaken path…..
Your Destination will find you !!!