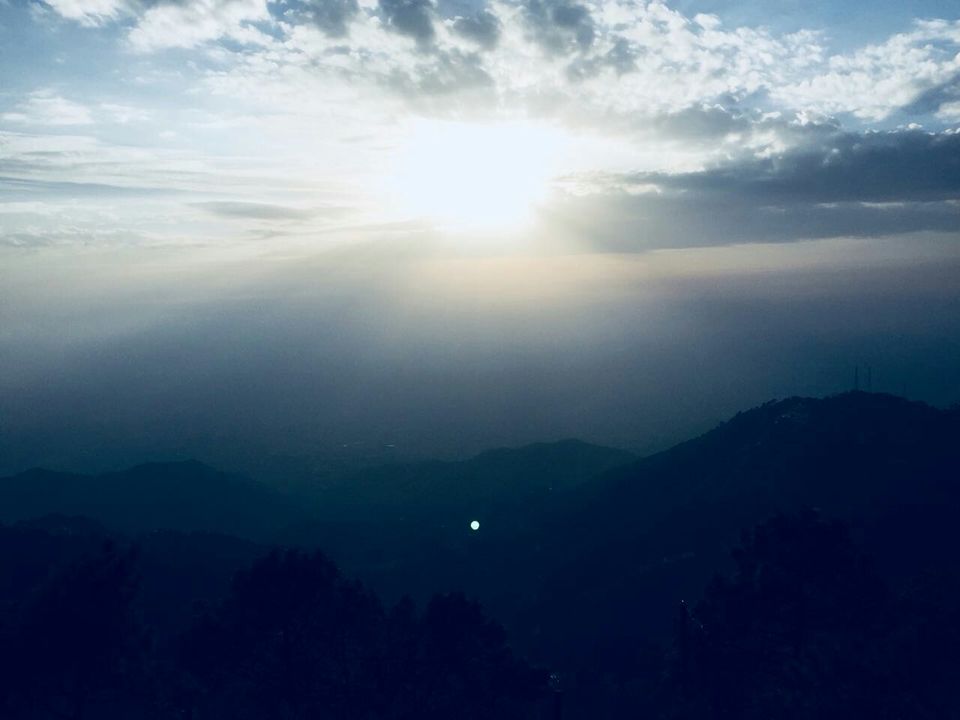 Something which instantly connects me with People is the "Travel talk", I will more interesting in listening their stories and telling mine, at times just reading the about the place itself makes me feel alive and I live that moment at my peak.
People will come and give you advises every then and now about the things which would look good the society, which would make the society happy. No one will come and advise you or ask you to weather you are happy – Hence ensure that you do enough to satisfy your soul instead of the society or people around you.
Now about this trip, we decided to visit my relatives place in Chandigarh and that is one of the nearest place we can cover and in 2 days and I checked the weather was good too.
By the time we reached there the mood got changed and we had breakfast left for Kasauli.
It took us some time to book the cabs on the spot but we were lucky enough that the Uber cab driver agreed for To-for, Sight scenes in Kasauli on 2500INR inclusive of all taxes and toll etc.
As this was an instant plan we didn't book for the hotel, I looked a few hotels on Go-Ibibio and called them directly for booking, we stayed in white Mushroom Villa. It has spacious room and was perfect for us. Away from Mall road more towards the Military area.
It took us almost 2 hours to reach there. Kasauli is in Himachal Pradesh, Delhi and can be It is 65 kms from Chandigarh.
As soon as we reached we headed towards Manki point and the Sun set point.
So, the first stoppage was Manki point – As it's in the military area the (any electronics item is not allowed like cell phones or any gadgets, cameras, head phones etc. We kept all our electronics in one of the shops which was just at the entrance collected the token and headed toward the stairs.
Completely amazing view, it has a hanuman ji temple and a helipad for Military force.
We stayed there for some time, had Maggi and headed for the Sun-set point.
I guess we made the best use of our evening by going there, One of the best places in Kasauli. Sun sets are the beautiful thing in the world. Trust me you will not get disappointed if you are visiting this places on a right time. Do check the sun set timings so that you don't miss it.
Finally, we checked-in in the hotel and decided to utilize the balcony with some good seating arrangement, Snacks etc. We set and enjoyed the greenery, the untouched beauty, life beyond the mountains.
Late evening it started raining and converted in Hail Strom. The temperature went down to -1. As per the locals it was about to snowfall, if the rain lasted for more.
Next morning, we decided to go the church, Gurdwara and the local market, we checked out of the hotel and headed towards the
Christ Church Kasauli known as one of the oldest of its time. Very peaceful & beautiful. It was near to Kasauli Bus stand.
Gurudwara Shri Guru Nanakji is another minor stoppage for us. Well maintained.
there's also a camping site in Kasauli where one can stay due to rain we could not opt, but it's amazing to stay in camps rather than hotels.
As it was about to rain again we headed towards Chandigarh. Luckily, we had half a day in our hands to travel to the city, I have been there lot of times but every time I there the city brings lot of excitement and surprises for me.
For this trip the high lights were
The Rose festival.
Sukhna lake – walk
Amit Trivedi event in Zirkapur.
The Volvo was booked for 11 at night, we headed towards sector satara ISBT and reached Gurgaon in a bare time of 5 hours.
A fruitful trip in 2 days, the time was utilized so well somehow that we didn't feel tired at all after the trip. It was super relaxing and full of enthuse for us.
Holi also went smooth and I played with full of my heart as usual.
Next trip ammmm, almost planned tickets are booked. soon you will hear from me till then Keep travelling & do whatever it takes to make you feel real / Happy full of life.
Keep shining, keep smiling
Love
Anshu