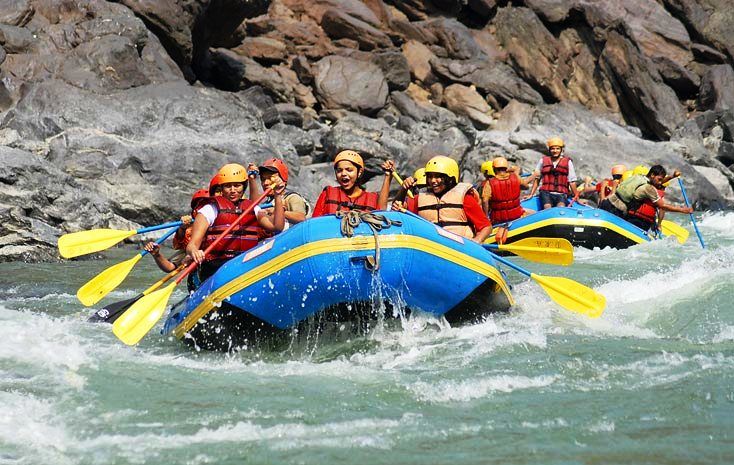 Treat for adrenaline junkies: Best 5 adventure water sports in India
Are you a water sports enthusiast? If yes, then you can't afford to miss this blog post. Here's a treat for adrenaline junkies. This time don't jump from a mountain cliff or ride on wild animals as a source of adventure. Whether it's rafting or rowing or surfing, India houses some of the best water sports in world. If you're an adventure freak like me, then these activities will definitely entice you. From the popular rafting rapids in Rishikesh to the wild surfing waters in Kovalam, these are some of the best sports in India
White water Rafting
When it comes to epic water adventures across India, few can compete with the daunting, but highly rated white water rafting. Navigate your way through the rafts, move your hands like it's going to be the last technique of your life, rafting is a treat and river expedition which you will never forget throughout your life. There is nothing more adventurous than the thrill of riding on the wild waters of untamed rivers, or white water rafting, as it is called.
From popular rafting rapids of Rishikesh to rough waters of Zanskar, here's a list of places where you can enjoy natural rapids:
Rishikesh (Uttarakhand): This stretch is considered as the best and most wicked in India. Best season to go here is from September to June
River Indus (Ladakh ,Jammu and Kashmir): The rafting season begins in the month of June and lasts till August on the River Indus when the water levels are high.
Teesta River (Sikkim and Darjeeling): One can experience peddle and oar rafting here. Best season to experience this thrilling adventure is during winter months (October to April)
Zanskar (Jammu and Kashmir): Rafting is held between Padum and Zimo regions in the Zanskar River which is located 12000 feet above sea level. Best time to go is July to August as the river freezes during winters.
Kayaking
Indian water life can be best seen from the "deck" of your kayak. If you're a true nature lover then Kayaking is something which you shouldn't miss. Off Shore Island and travelling through marquee water ways makes kayaking an experience worth remember.Let us have a look at some of the best destinations for Kayaking:
Brahmaputra River (Arunachal Pradesh): For anyone seeking an adventurous high, kayaking on the Brahmaputra River is the ultimate balm. The best season to enjoy this bold ride is between the months of November & March.
Subansiri kayaking (Arunachal Pradesh): The beckoning water of this river makes it an ideal destination for kayaking. Ideal time to go on this expedition is in the months of March, November and December.
Rishikesh: This kayaking track will take you through some challenging and not-so-wild stretches. Right time to go for this freaky activity is between October and April.
Sailing
The core of one's spirit comes from new experiences that move and leave you with new found appreciations in life. Sailing the high seas is one such memorable experience that you will never forget. Add this wonderful experience in your life and explore the high seas on your own. Simply sit back, relax and watch the world drift by.
You can sail through the sea-shores at following places:
In the west coast, sailing depends upon the progress of monsoon; however in Chennai, summer is the best month to get high on the seas.
Scuba Diving
For all those who always wanted to don that oxygen tank and wet suits, the marine world is the place for you. With an 8000 kms long coastline, India offers rich under water diversities. Witness colourful reefs, overhangs, swim-through and big fish action. Discover the sights above and below water. We have a list of the best scuba diving sights in India:
Grand Island, Goa: Ideal diving season is from October through May.
Lighthouse Point, Andaman: Best season to dive is between November and April.
Aravind's Wall, Pondicherry: Best season to dive here is January through June and then September through November.
Manta Point and the Wreck of the Princess Royal at Bangaram Island, Lakshadweep: May through June is the best time to dive in Lakshadweep.
Surfing
Do you need a reason to rejuvenate and regenerate? There are many hide-outs in India where you can indulge in some rejuvenating sport of surfing. So, what are you waiting for? Time to surf and shake! Listed here are some of the most popular surfing destinations in India:
Kanyakumari: Good waves make this place one of the most recommended destination for surfing.
Kovalam Beach, Kerala: Probably the best known surfing spots in India; this spot is typically meant for your beach breaks.
Goa: This place has plenty to offer for all surfing enthusiast. Ideal time for surfing is between May and June.
Whether you're paddling out or revving your engine, list of these games are endless. Gear up for your adventure trip by visiting these exotic destinations and experience some adrenaline rush at these picturesque spots.
Frequent Searches Leading To This Page:-
Tour packages for lakshadweep, holiday packages of lakshadweep, Holidays Customized Travel Packages of lakshadweep, lakshadweep adventure package, Weekend Excursion lakshadweep Package