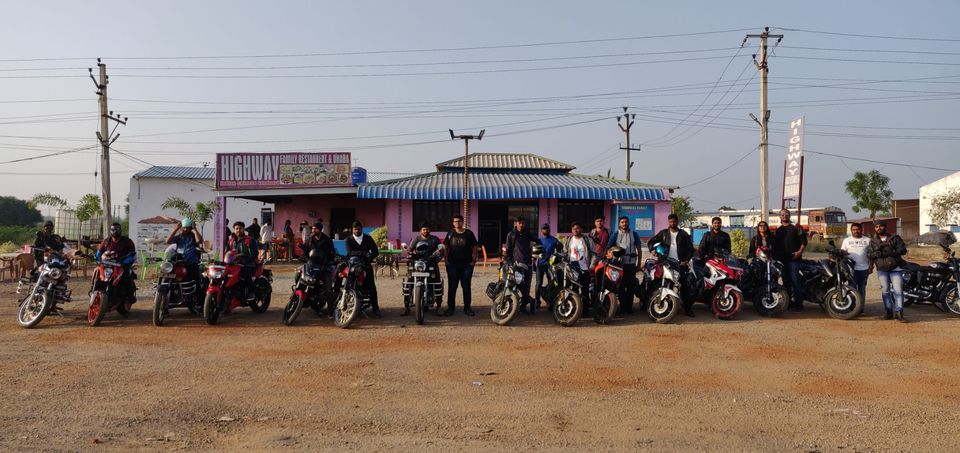 22 Riders with 15 Bikes
The Riders Gathered  at BHEL with their beasts beginning  5:00 AM early in the morning and once everyone was at the meeting point ,  we started for bidar at 6:00 AM  following the Mumbai pune highway to cover a distance of 110 kms . we Stopped midway for breakfast (7:00 AM) and  another hour journey took us to the city of whispering monuments - Bidar.
our first stop was at hazrat multani baba dargah at 8:15 AM. After a stroll of the huge dargah and lot of pictures, had a quick round of introduction and the started towards the bidar fort 26 kms away from dargah.
we reached our second stop, bidar fort  at 9:35AM and witnessed an amazingly planned huge architecture close to the city. The red rocks, big walls, the designs, the gates, dorms and the paintings talk about the 600 yrs old historical importance of the fort. Though some part of it is ruined now but it still stands tall. Government now is working on fixing it keeping in mind it's archeological value. The weather turned warmer now as we headed to our next destination.  
we reached Gurudwara nanak jhira saheb(6 kms) at 11:20 AM and the holy place has its own charm. After listening to the kirtan and a good fulfilling lunch at langer of the temple we started for narshima temple (4 kms) at 12:40 PM. Reached the temple at 1:00PM and finished the darshan. One has to pass through a cave with about 4-5 feet water to see the idol. The darshan via the cave was under renovation and hence we could not have the darshan inside.However the idol was placed outside and we we're lucky to have the puja. we  started towards hyderabad at 1:35 PM and reached Hyderabad at 4 PM.
However you try not to but Another trip came to an end like rest. Leaving us looking forward to the next one.
Rightly said, Good people make great memories and a grear great trip.