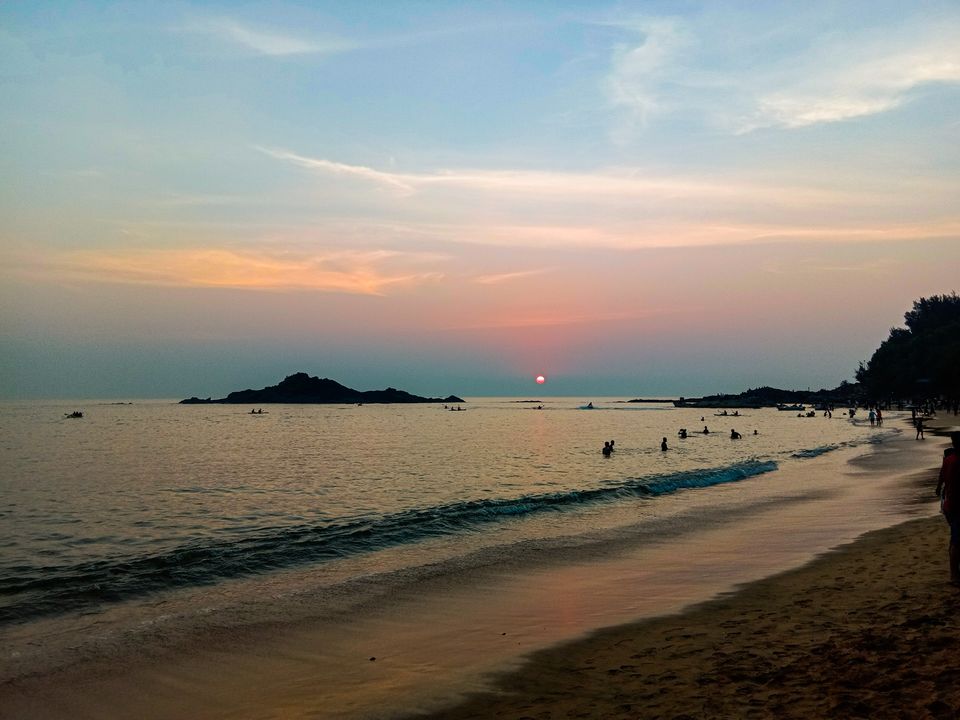 After having a tough year with lots of stress and pressure, we have decided to have a peaceful break.
We opted "Gokarna" would be the best place to celebrate this new year eve.
Short itinerary :
Day 1 : Start from Hyderabad, Bidar fort.
Day 2 : Dandeli, Sathodi Waterfalls.
Day 3 : Murudeshwar, Gokarna.
Day 4 : Doodhsagar Falls and back to Hyderabad
Started our journey in the midnoon around 12:30 pm from Gachibowli
After travelling for 3 hrs around 130 kms we reached our 1st destination.
"Bidar Fort"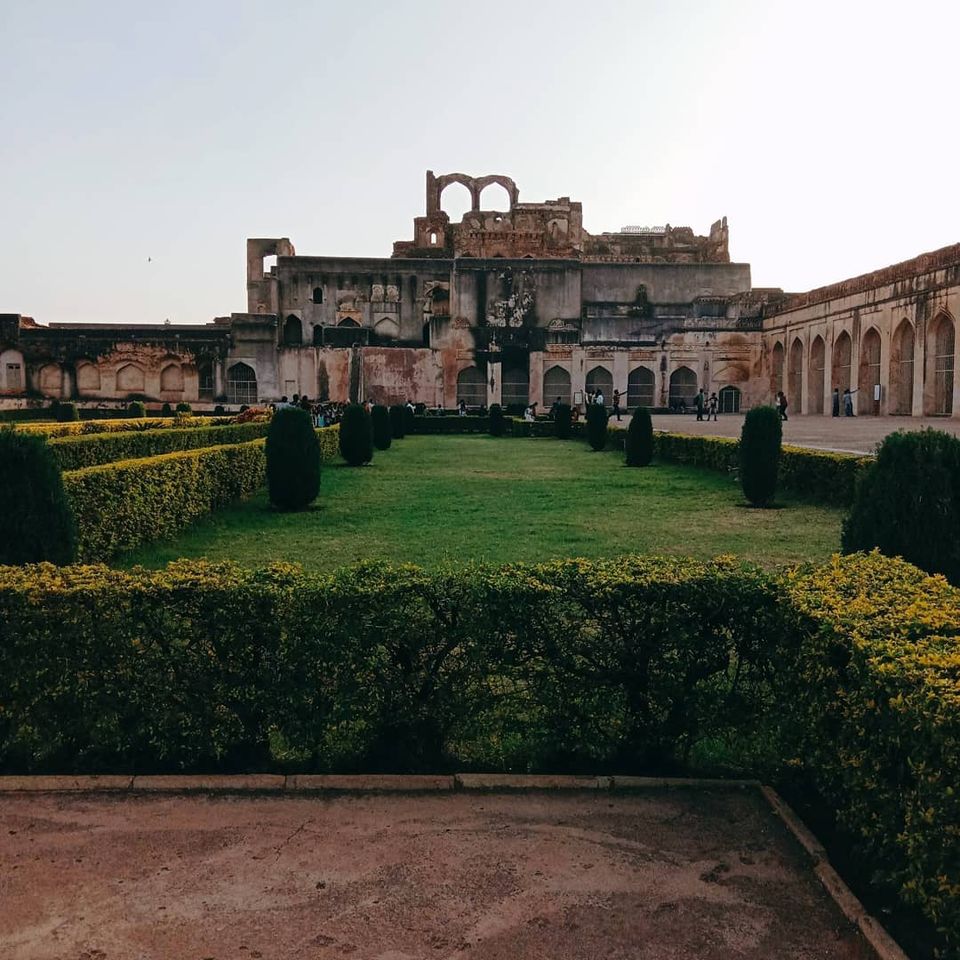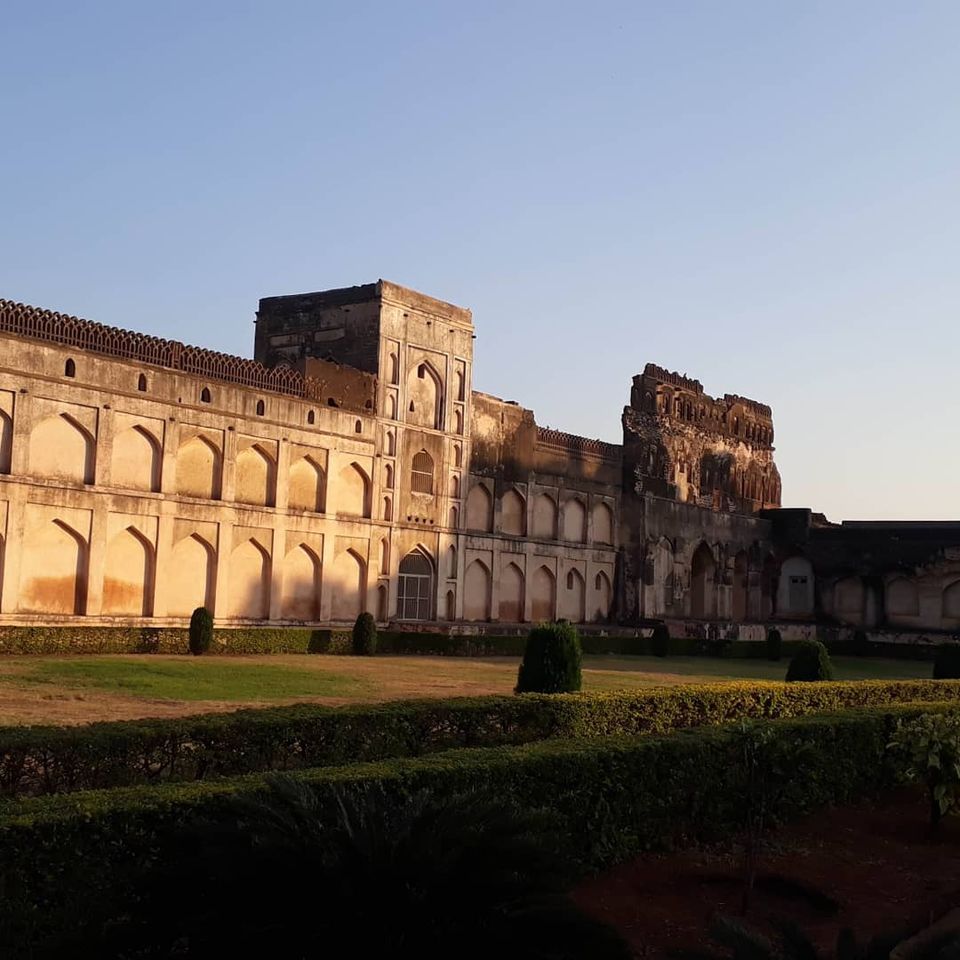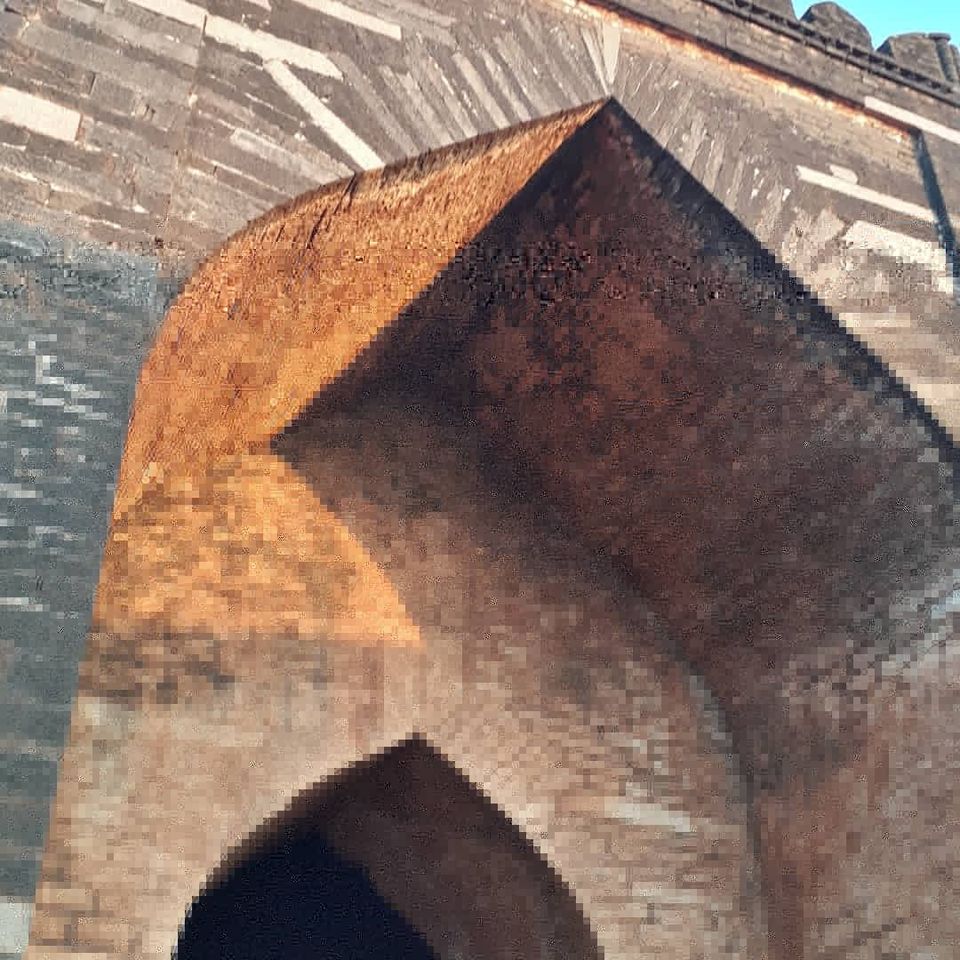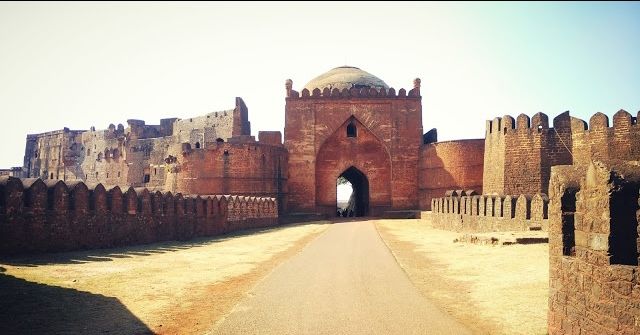 Bidar fort is huge fort built in 14th century and then rebuilt in 15th century by Bahmani Sultan Ahmed Shah.
The fort is quiet big so keep atleast one hour to see the whole fort. It is sad to see that Few parts of the fort are locked , but still the parts that are open to the public are worth visiting.
As the time is running late and its getting dark we resumed our journey in the evening at 6pm from Bidar to our next destination Dandeli.
If you want to visit Bidar there are more places to visit , so unlike us you people start early in the morning and go visit them for sure.
Places to visit
1. Bidar Fort
2. Madarsa of Khoaja Mahmud Gawan.
3. choubara (clock tower)
4. Shri Jharni Narsimha Mandir
5. Papnash temple
6. Barid Shahi Garden
7. Gurudwara Sri Nanak Jhira Sahib
8. Memorial Garden
We had our dinner at a dhaba in the highway after crossing bidar.
I always suggest people who are travelling towards gokarna not to opt this route. The route is not at all good. I think no one would travel through this route we rarely found an other vehicle with us on this route within a distance of 50 km.
After a great struggle through the single road with alot of potholes and for some distances even there are no thar roads, we reached Dandeli by next day early in the morning 5 30 am.
We have searched alot for a place to rest and freshup.
After a great hunt we have been to the best place in Dandeli i.e., "Fly Catchers Adventure Club."
This is the best place providing the night camp ,bonfire, stay in the tent and alot more activities like trekking, rafting, kayaking, jacuzzi bath etc.,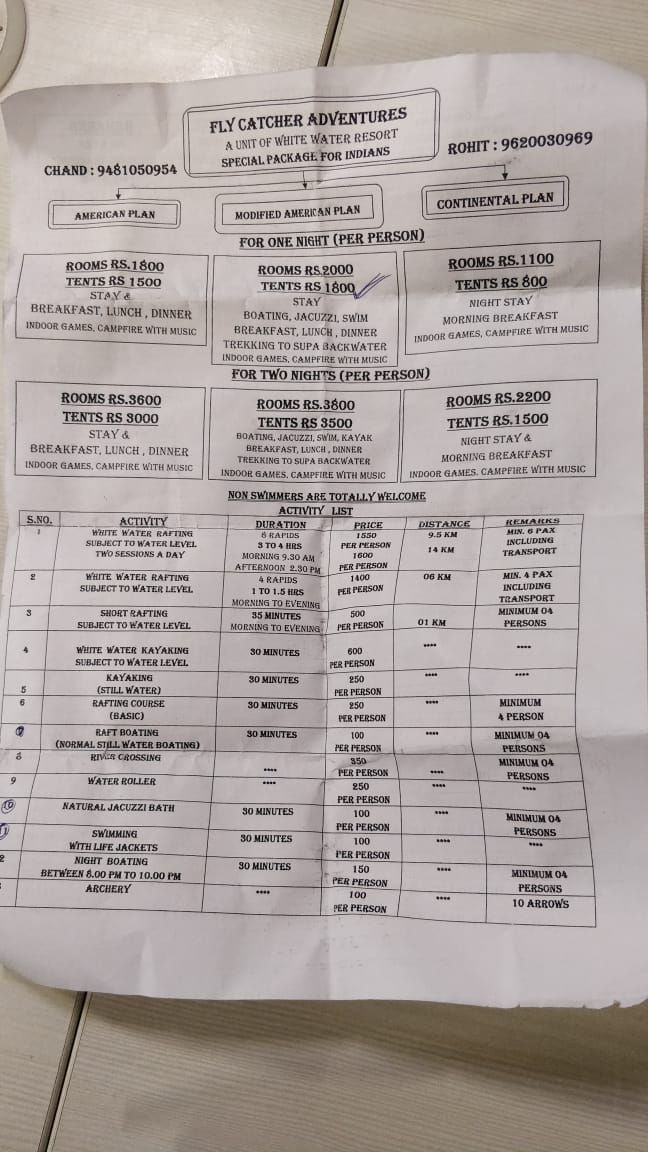 One who is heading Dandeli i suggest you not to have a second thought for the stay and having fun over there. Fly Catchers Adveture Club will be the best place for everything.
Refer above image.
After getting freshed up in their restrooms we went for a trek to the back waters of supa dam which costed us Rs. 100 per person.
The trek was pretty awesome, hiking the hill will be some hard for us. Though never backoff push hard, sure you will be having to see a good scenery in the end.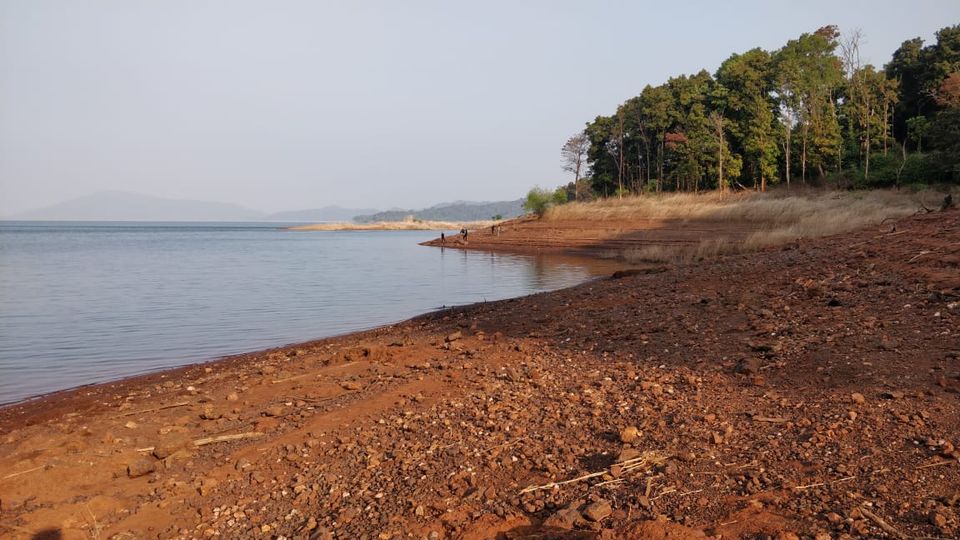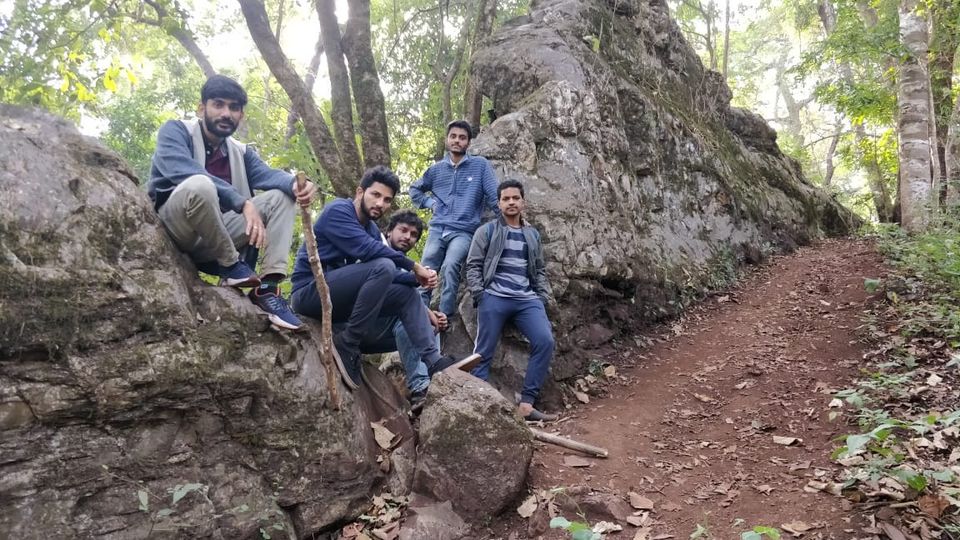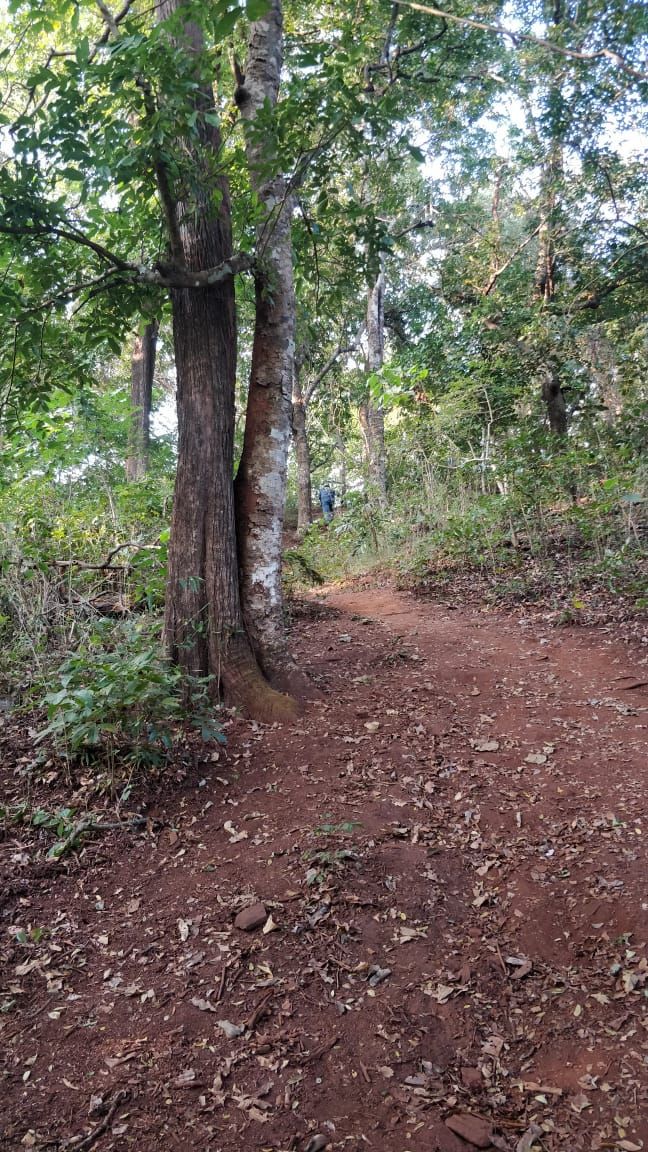 After the trek we had our breakfast in a small shack which is 10 steps far from the club.
The food was pretty good and it was the cheapest you can find over there.
You can even have food at the club too, but its quiet expesive compared to this one. It would have tasted good but we didnt give a try.
We have been to white water rafting through this club. It was one of the amazing things ever done in my life. Their saftey measures are pretty good too.
It will cost us Rs. 500 per person for short rafting .
I suggest Always go for the short rafting only there is nothing more rather getting bored in the long rafting.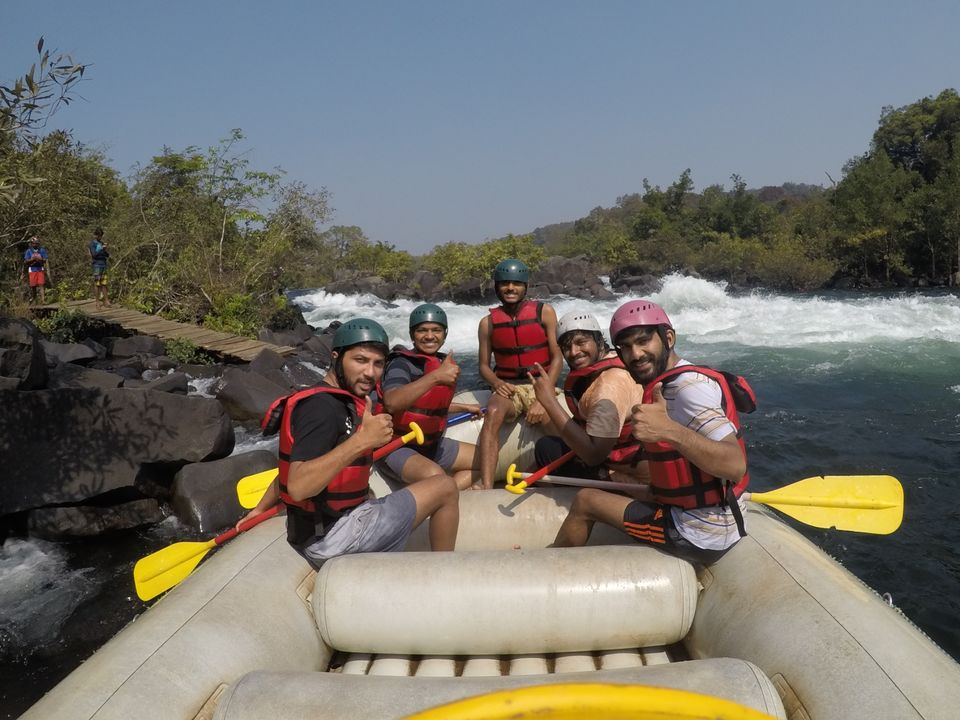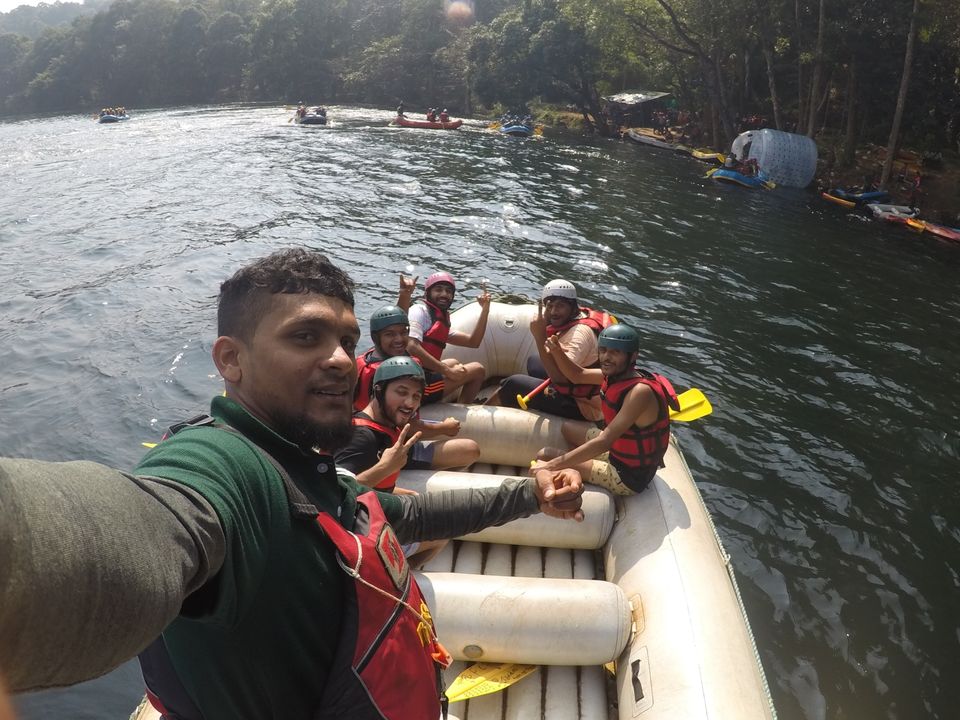 We finished our rafting and other few activities by noon and started to our next destination "Sathodi Falls".
We had our lunch in a restaurant on our way to the falls in yellapur.
After crossing the yellapur we will enter the ghat road so we dont find any restaurants in that route.
The ghat road was 25kms long and the road was damn dirtiest one would ever have seen. For every 5kms our minds said to backoff ,still we pushed hard by listening our hearts and finally after a great struggle we reached the place which is more than awesome.
Yes, it is . It is the worth of having that struggle to visit this one.
It is always true that the dirtiest routes lead to a heavenly place.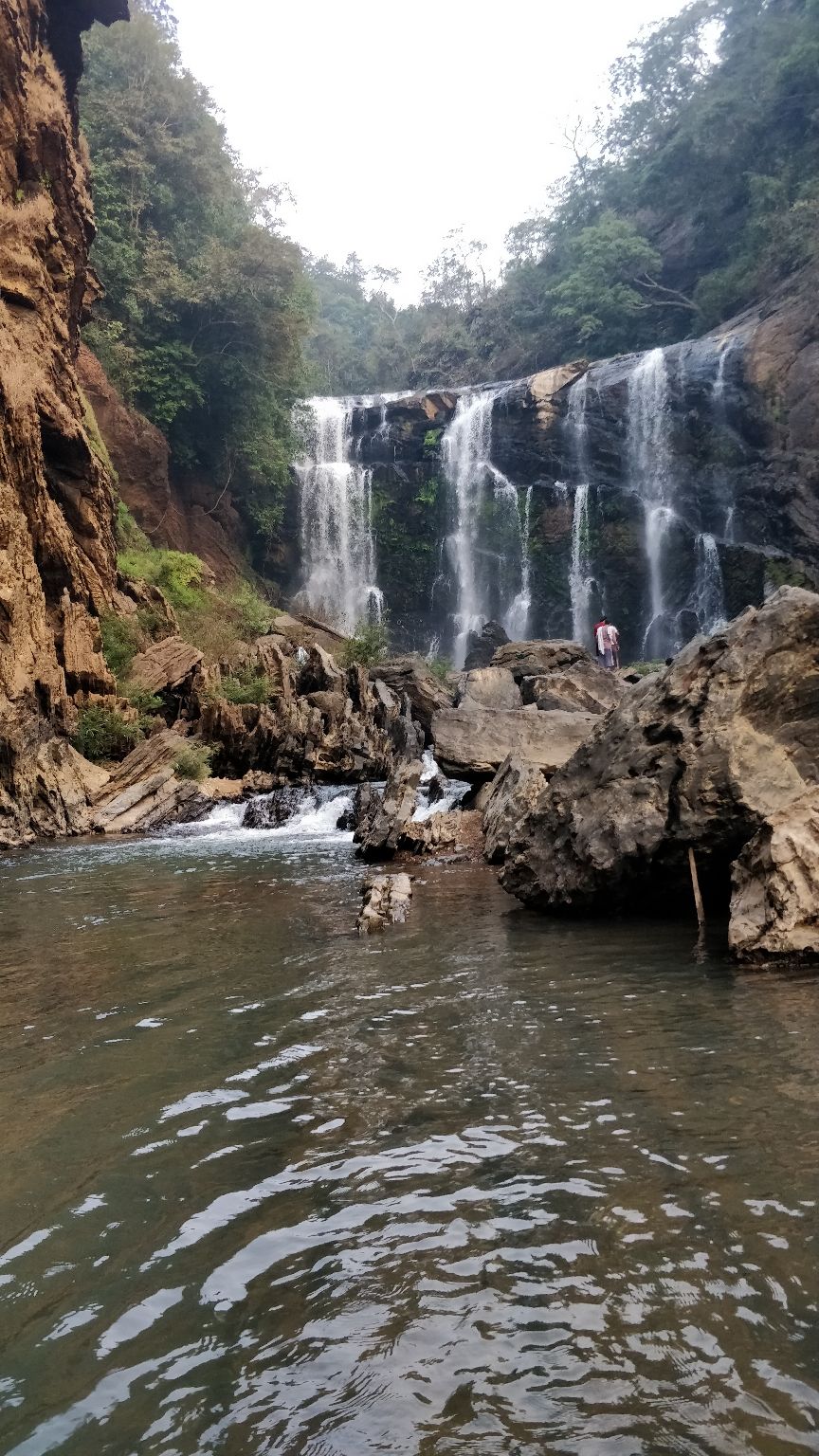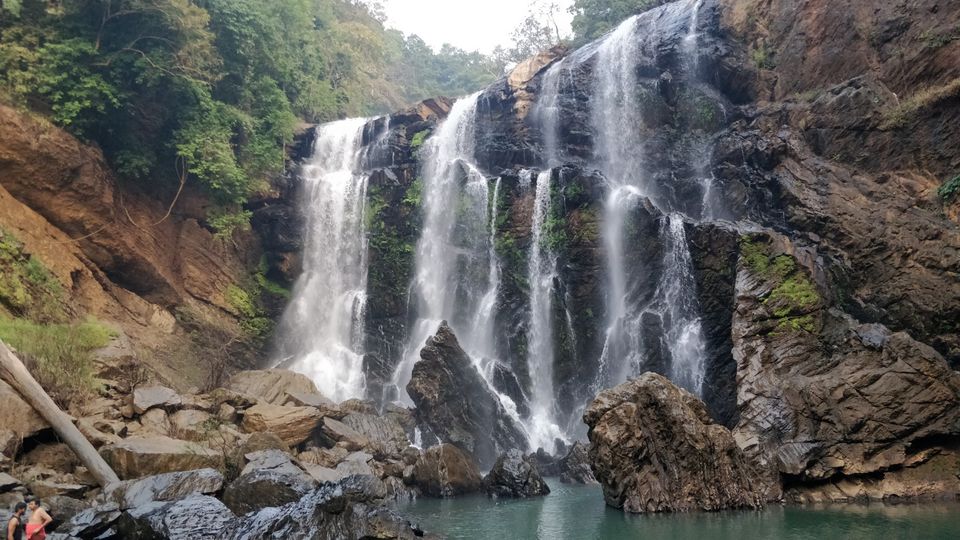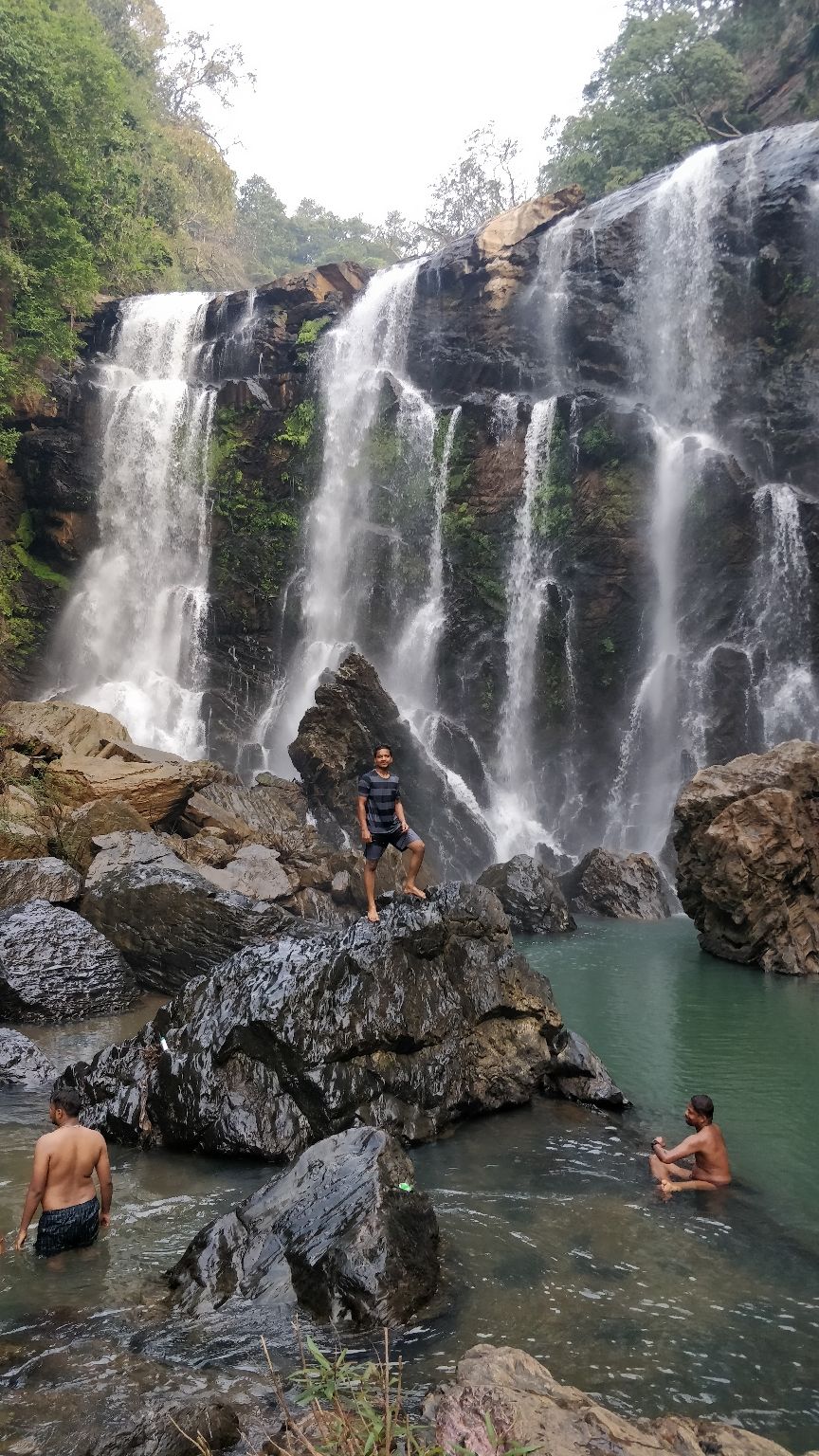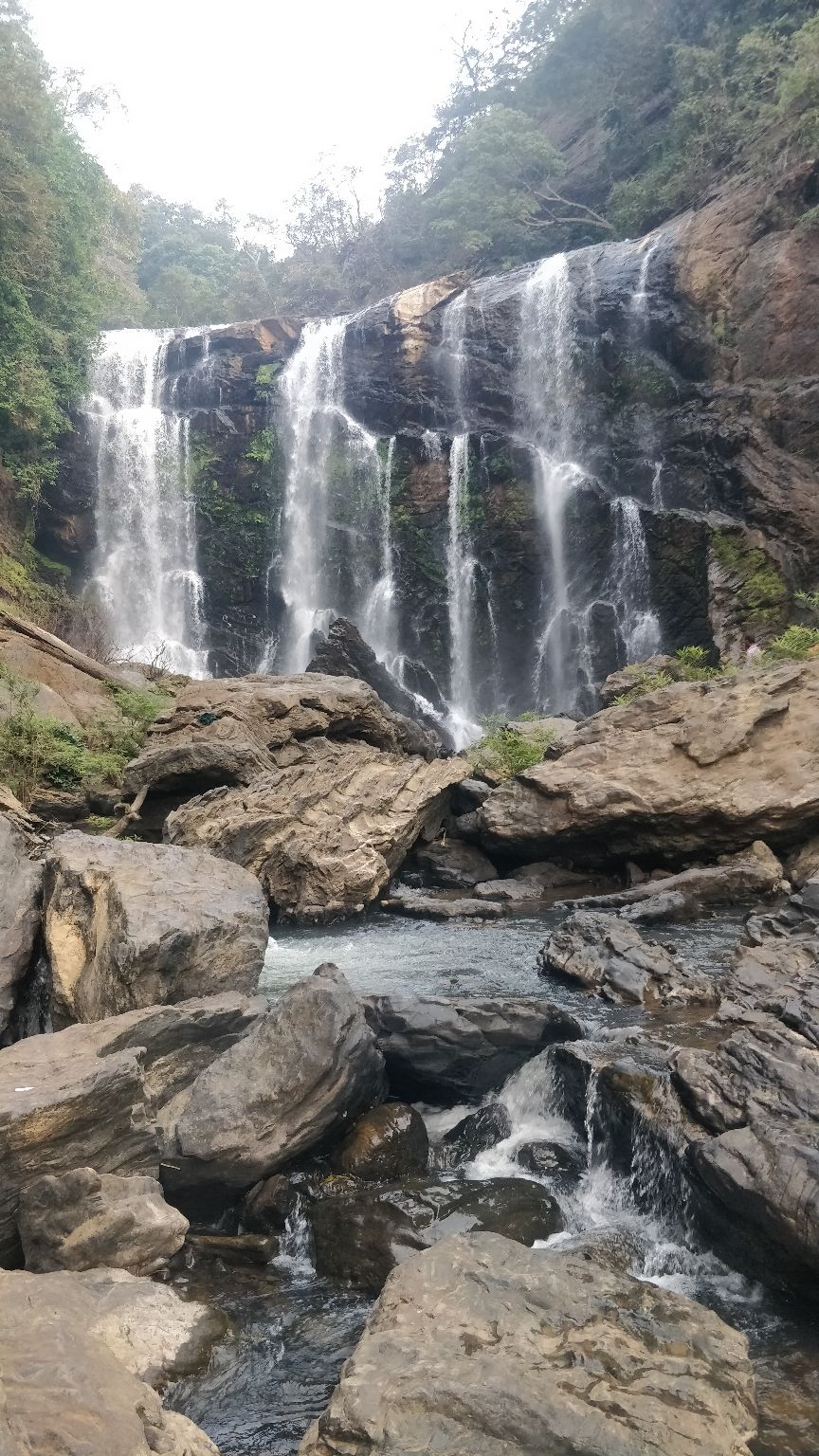 Its getting dark, we have to move to our next destination "Murudeshwar" .
We always prefer night journey's so that they day wont get wasted travelling.
Two of us are perfect at driving so we keep on having the shifts for sleep and drive, when one drives the other will sleep and viceversa.
We reached Murudeshwar by 1:00 am in the morning and got a room for around Rs. 800 for that night stay.
We did had a good night and slept pretty well.
Wokeup at 7 am had our bath, got freshed up and reached the Murudeshwar temple which is 2 km aways from our stay place.
The temple was awesome, it is on the seashore this is the 1st beach temple i ever visited.
A huge statue of lord shiva, which is present in the temple complex is visible from the long distance. It is the worlds second highest statue of lord shiva.
The Rajagopura at the entrance of the temple is the worlds tallest, standing at the height of 249 feet. The gopura has 22 floors and this is the only gopura to be fitted with elevators.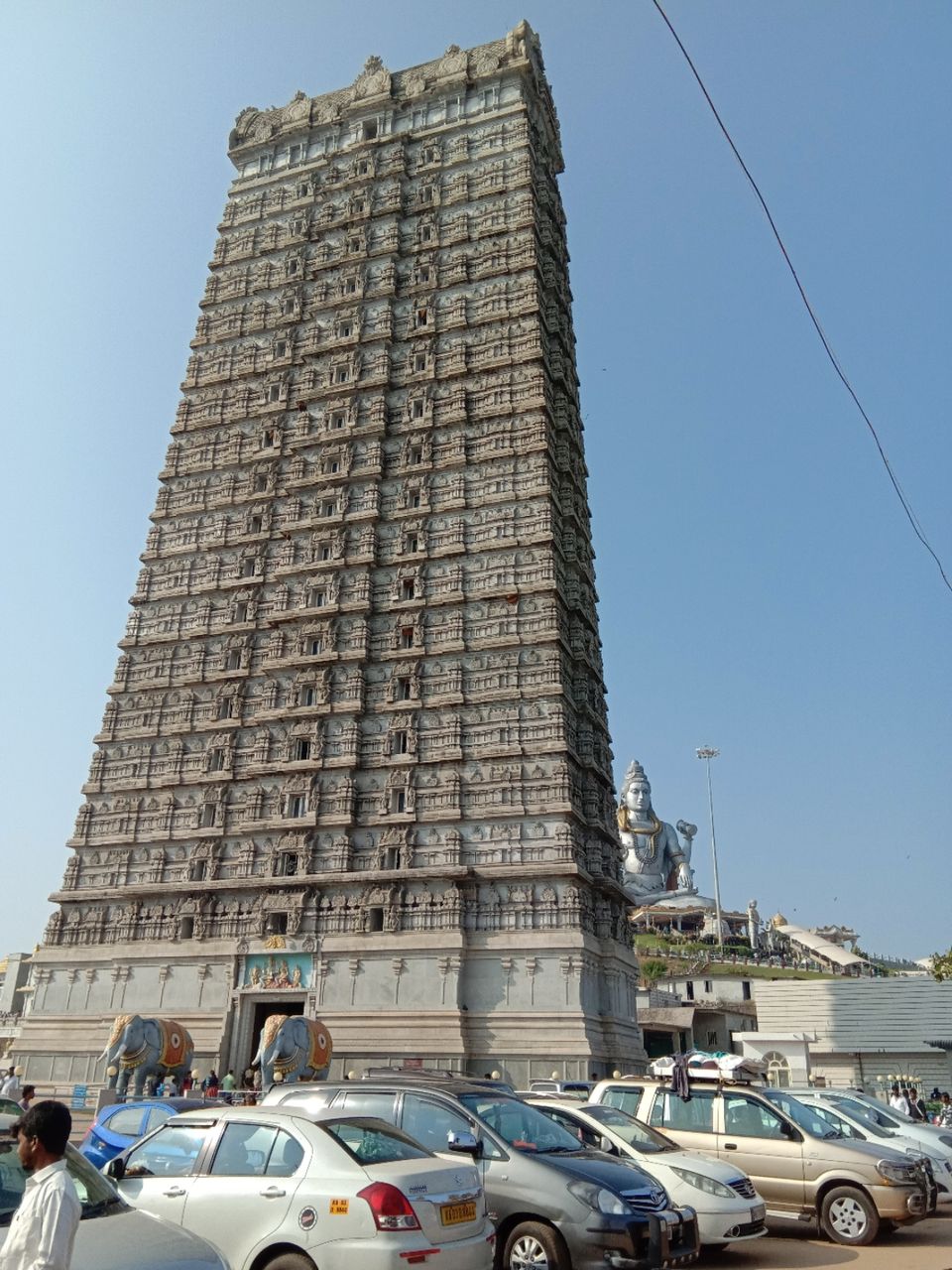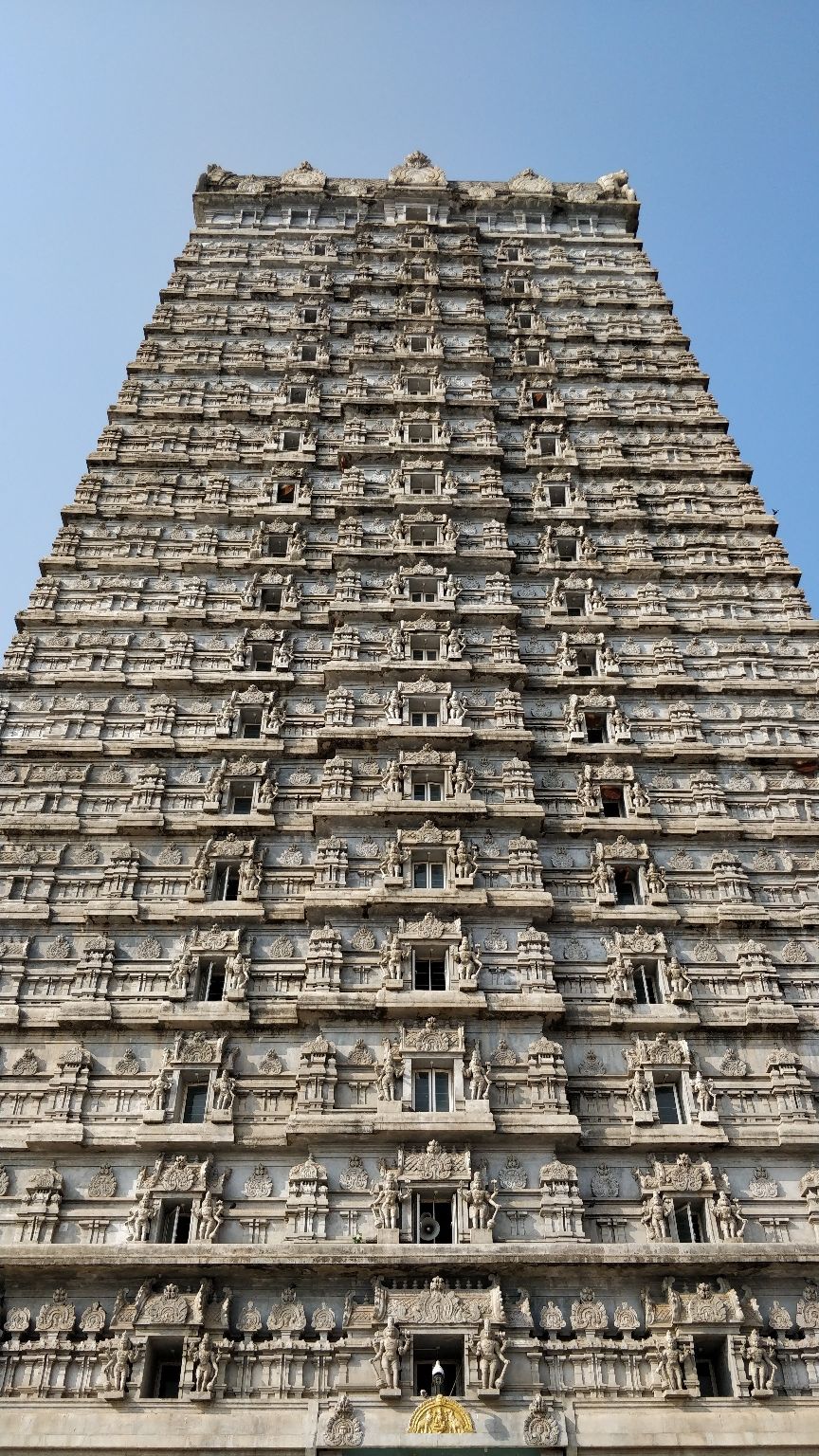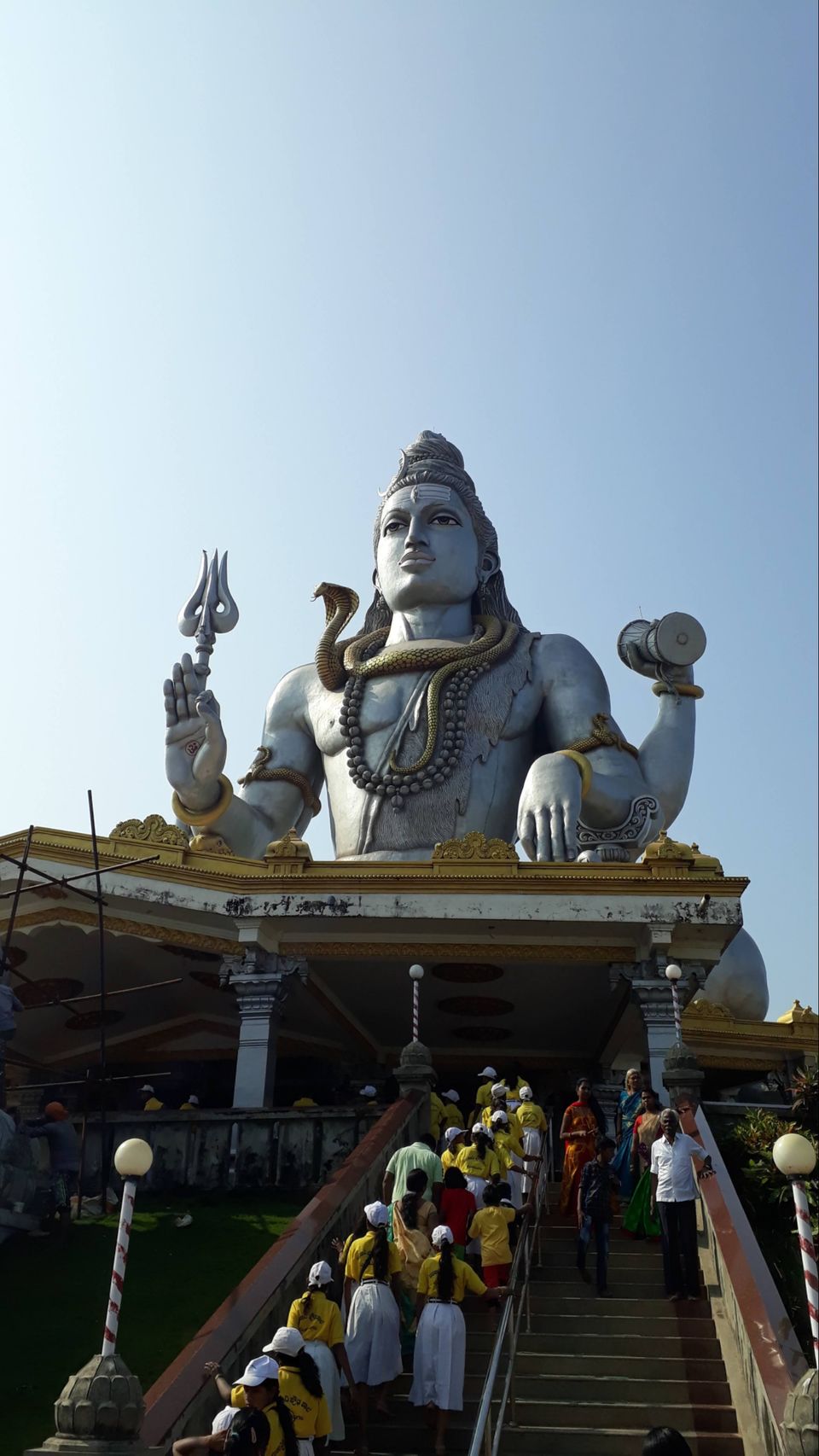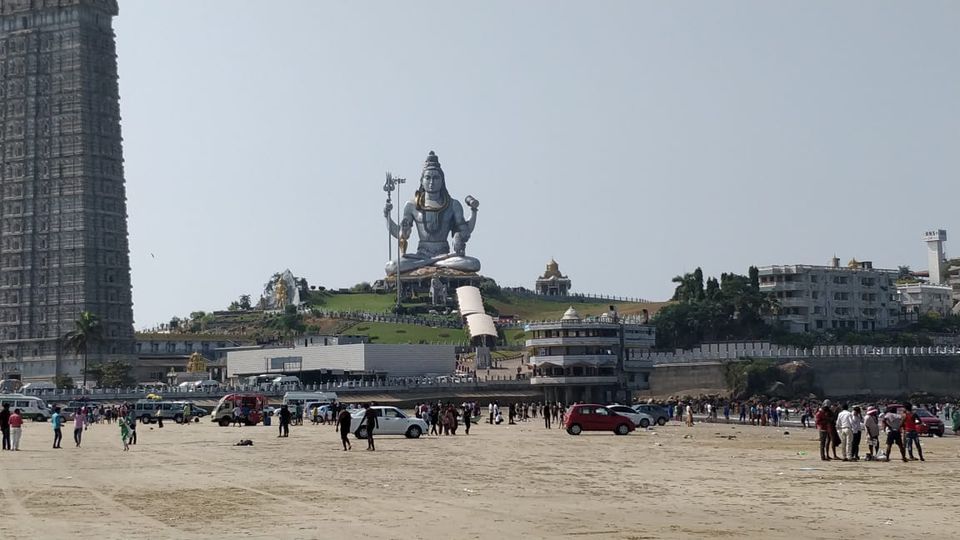 Here comes the craziest part of our trip. We always need something like this to happen in our journey. Our car tyre got stuck in the sand of the beach. You could imagine the struggle we had to get it out. More than twenty people came to help us, after being done alot of kusthi with the car we finally got it out of the sand.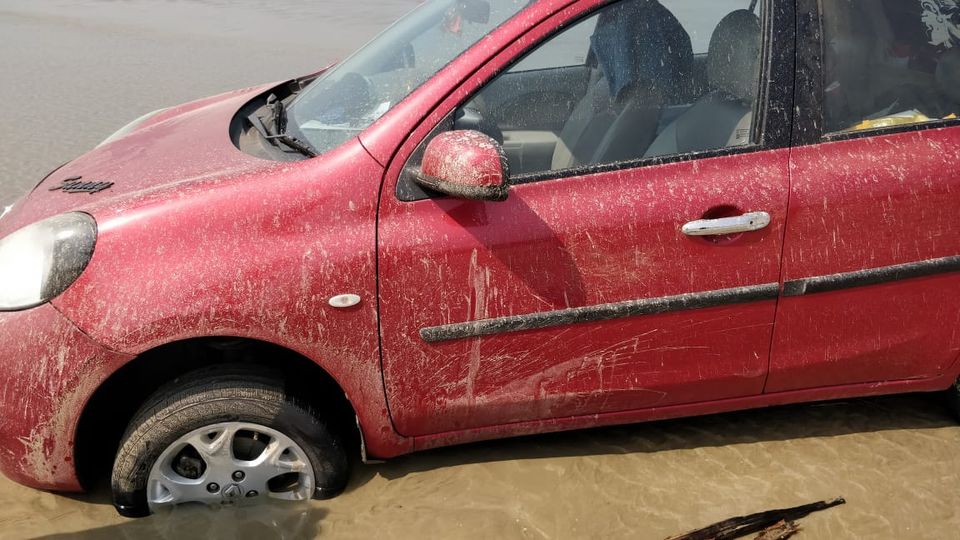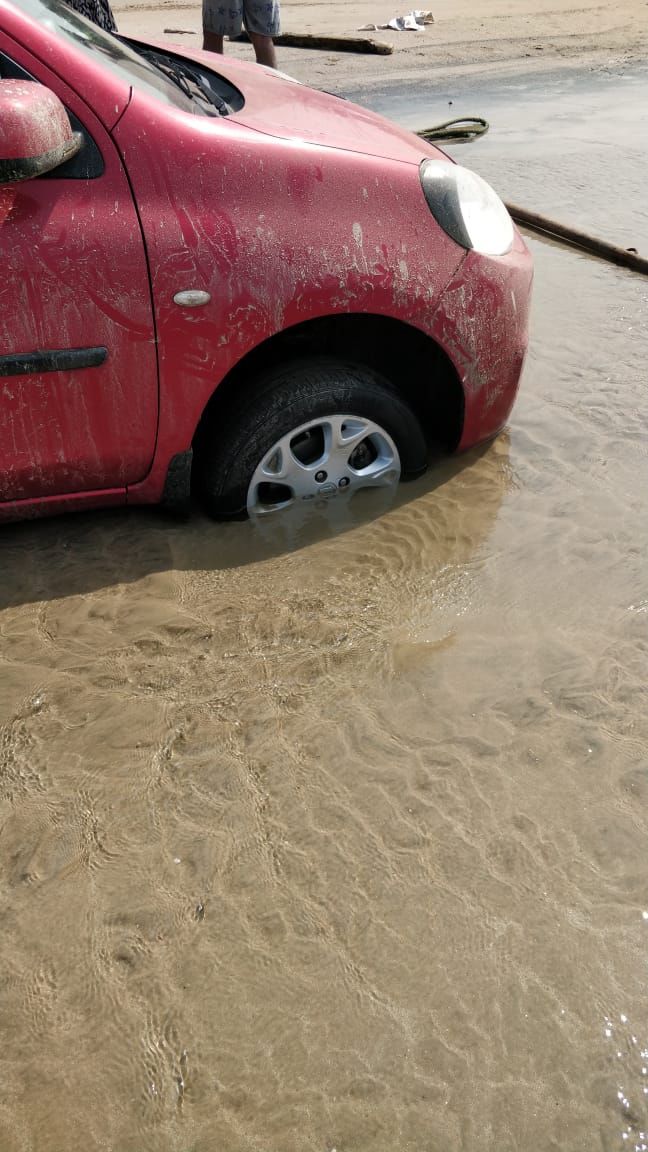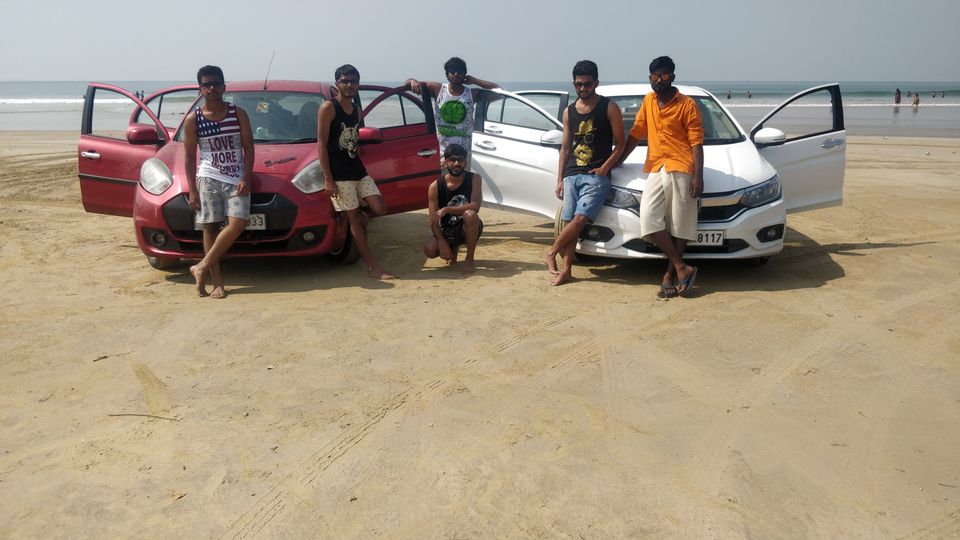 We have had a photo session and some stunt sessions with both the cars ( other car person is our new friend whom we meet in the previous scene 😄)
Then we resumed our journey to the main destination for this new year eve "Gokarna".
We reached Gokarna by 5pm in the evening. Firstly we headed towards the main gokarna beach and then we realised this beach is not the one we wanted to spend then we got to know about om, halfmoon and paradise beaches.
We then headed towards "Om beach" which is the only beach we can travel through our vehicle or any transport. Trekking and travelling through boat are the only two ways to reach out the other two beaches.
As the crowd is huge our car is not even allowed to go near the om beach we parked our at the parking lot of "Kudle beach" and went on to trek 20 mins for around 3kms to reach the om beach.
Once again it has proven that the hardest routes always lead to an heavenly place.
And we are on the right time at that place. It is the time for the sun to set.
We have got the damn awesome view of the sunset through the hills and rocks at the seashore.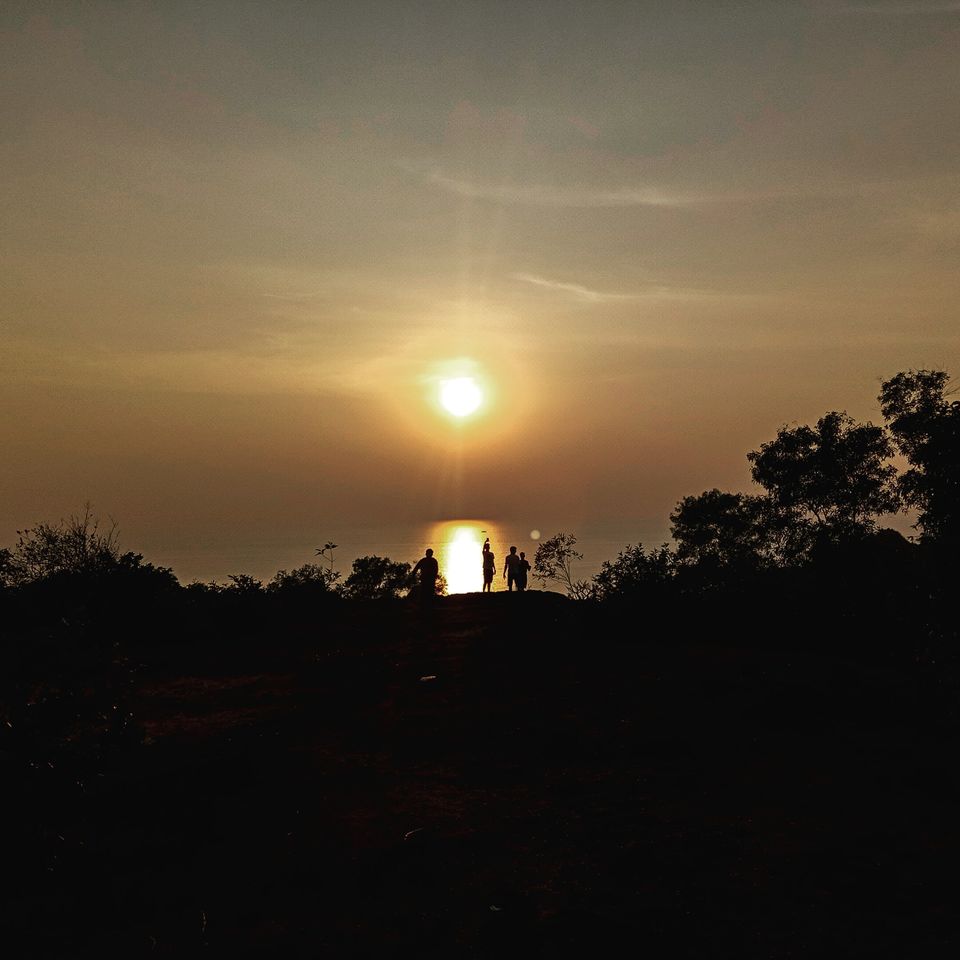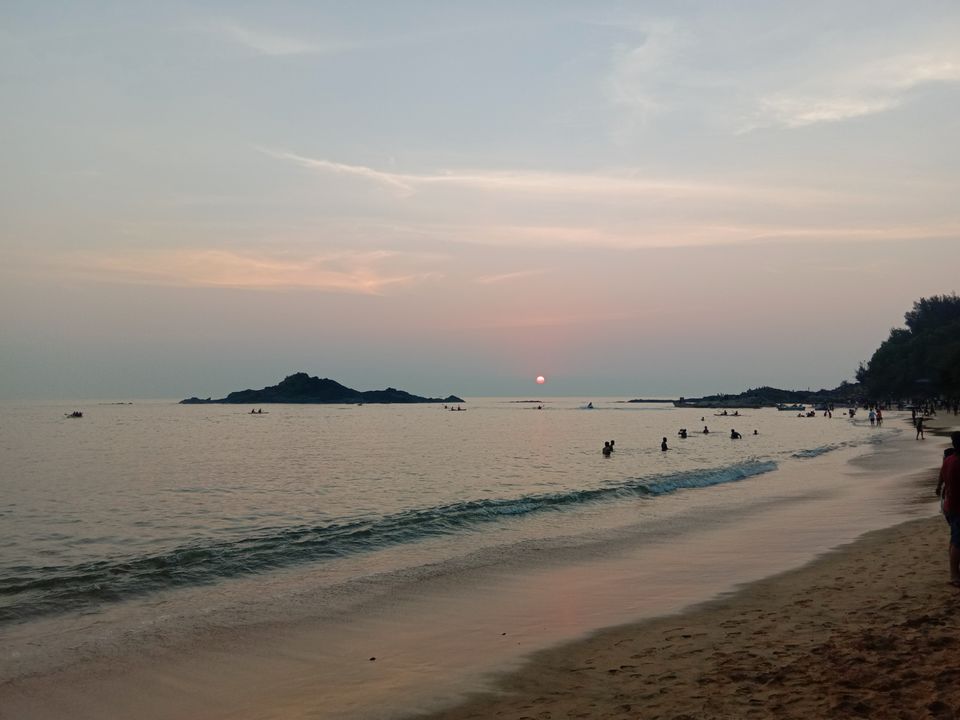 Beaches are always awesome and this one is even more . The shape of this beach is in the shape of om, thats the reason this beach is called "Om Beach". Walking through this beach gives you the pleasant. We enjoyed the sunset and then we planned to go to halfmoon beach. It was around 7 o clock in the evening we chose to go by boat to the halfmoon beach. The boat guy asked to pay Rs. 300 per person, we bargained and made that to Rs. 1000 for 5 members.
We are really excited to see the beach for spending the 31st night over there and by travelling through baot at that odd time.
By reaching the beach we just got shocked and our faces become blank . We expected alot to happen over there like party, dancing, camping and much more as it was new year night. But every expectation has kicked us back. There is nothing over there. May be that beach would look beautiful in the day time on normal days, but for now its not called as halfmoon , it is nomoon, no sun and no man beach. It should be called as halfhell beach.
Now we got struck over there as the boat had left and the only option to reach back to om beach is by trekking through the hill which we thought would be risky in that odd hours.
After a while a group of 8 people came to us asking the route to om beach and we got excited to see them . They are actually coming from Paradise beach which is another hill away from halfmoon. Even they are saying same shit about paradise beach too.
Then we both accompanied each other and with the great effort by trekking for 30 mins we reached om beach back again.
We felt like we have got out of the trap/maze/hell what ever the shit you call it ,to the heaven again.
The time is 9 30 when we reached back to om beach. We chilled in a restaurant in the beach had some drinks and ate food.
At 11 o clock we got to know there is new year party going in the Kudle beach where we parked our car.
Then we trekked back again to the Kudle beach by 11 30 we reached there.
And finally we reached the right place at the right time.
We danced and enjoyed alot in the new year party. Its been a tough year end for us and finally the new year had welcomed us with the great cheers.
Done with everything and then we resumed our journey to our final destination for the trip "Doodhsagar falls" in that late night at 1 30 am.
We reached Doodhsagar by 5 am and found a room over there had some tight sleep for 4 hours and got freshed up by 10 am in the morning.
We had maggie in the street foodcourt. That wad our breakfast for that day. He made the best tasty maggie.
Doodhsagar waterfalls are in the wildlife sanctuary which is around 15 kms far away from the town. Our vehicles are not allowed in. We have to travel their boleros.
The ticket cost is Rs. 600 per personwhich includes back and forth transportation , life jackets and entrance.
We then parked our car in a parking lot and grabbed tickets and gone for the ride through jungle.
And finally we rached our final destination
"Doodhsagar Falls"
Famously known after the Chennai Express movie.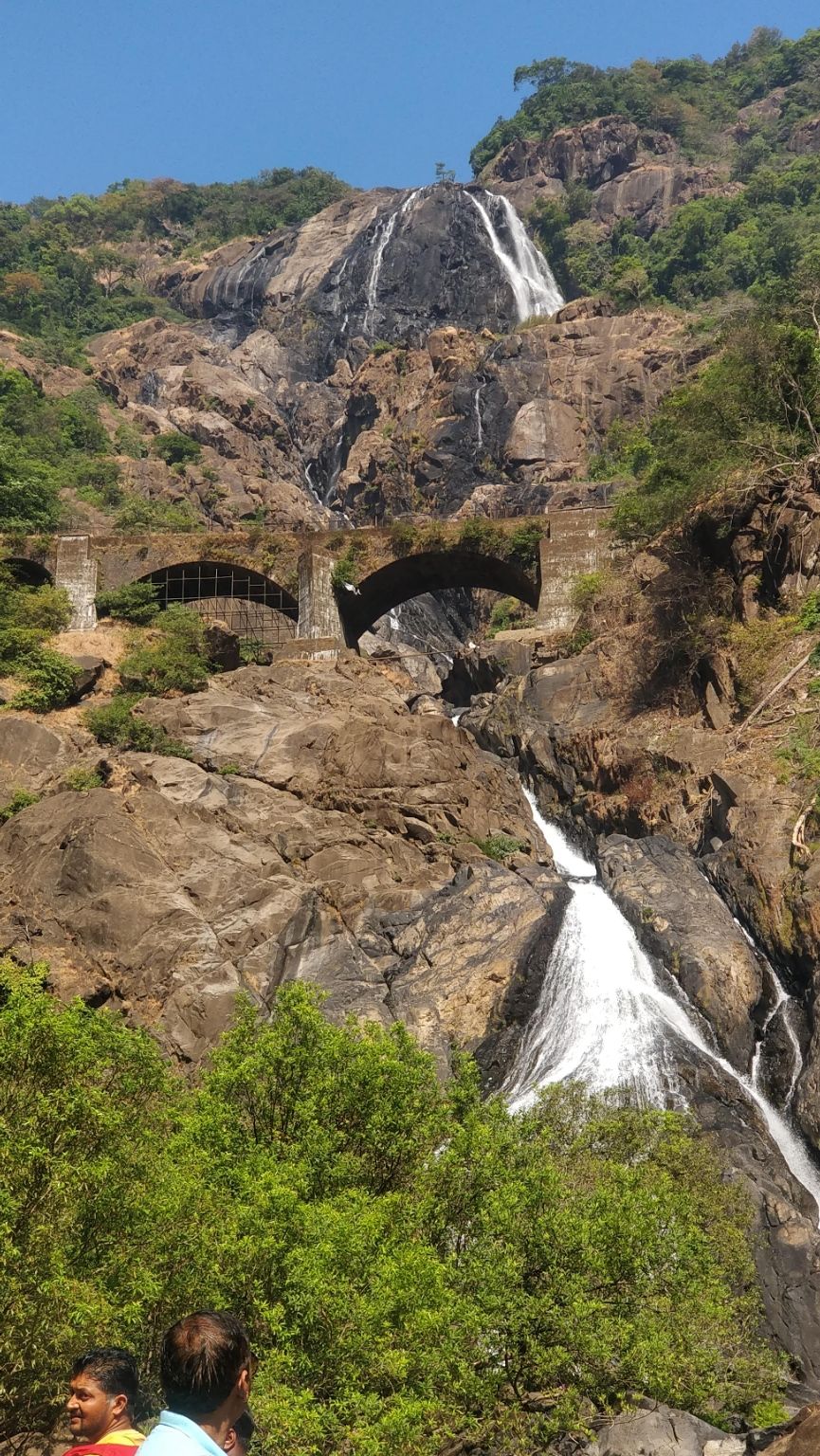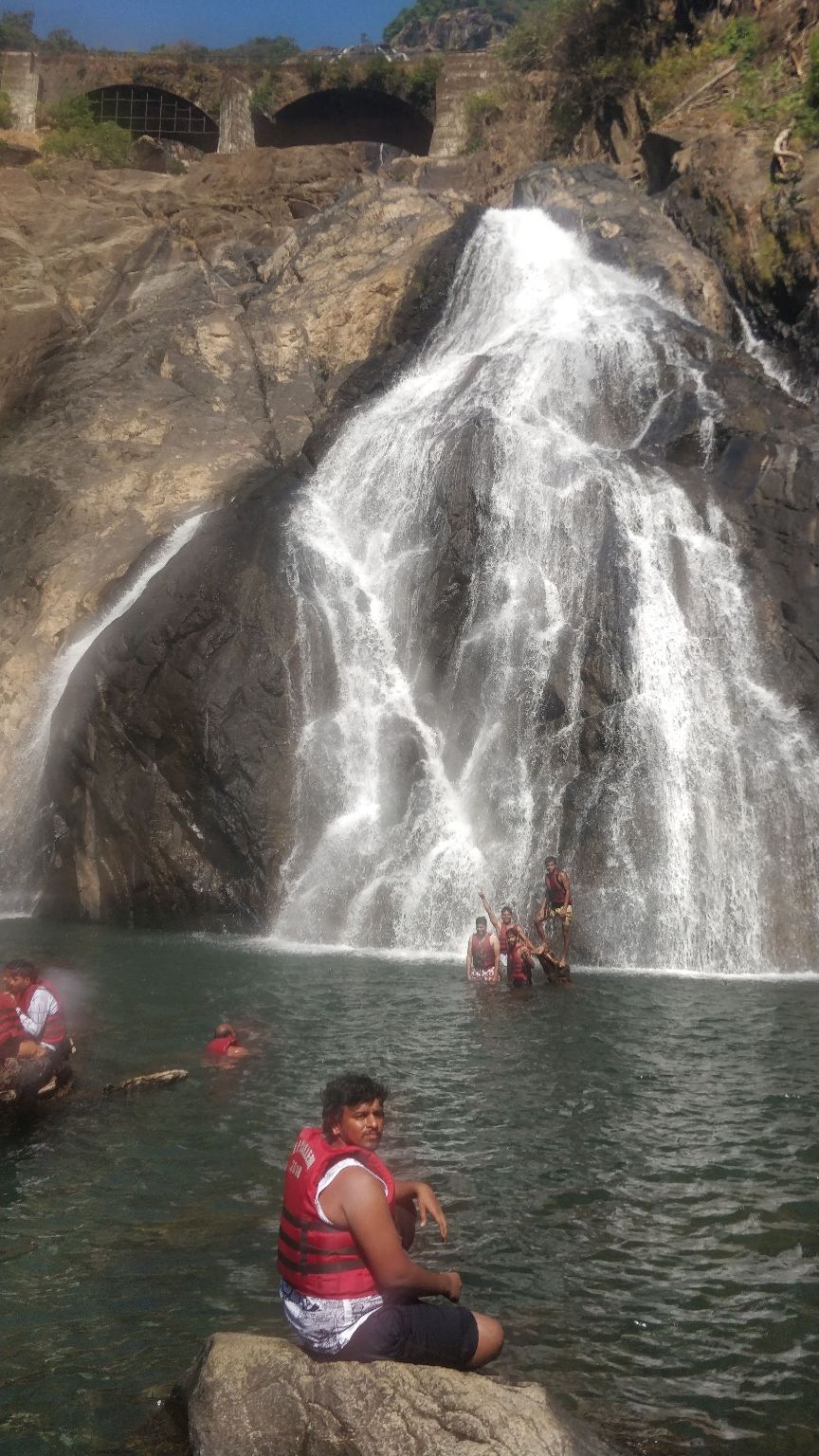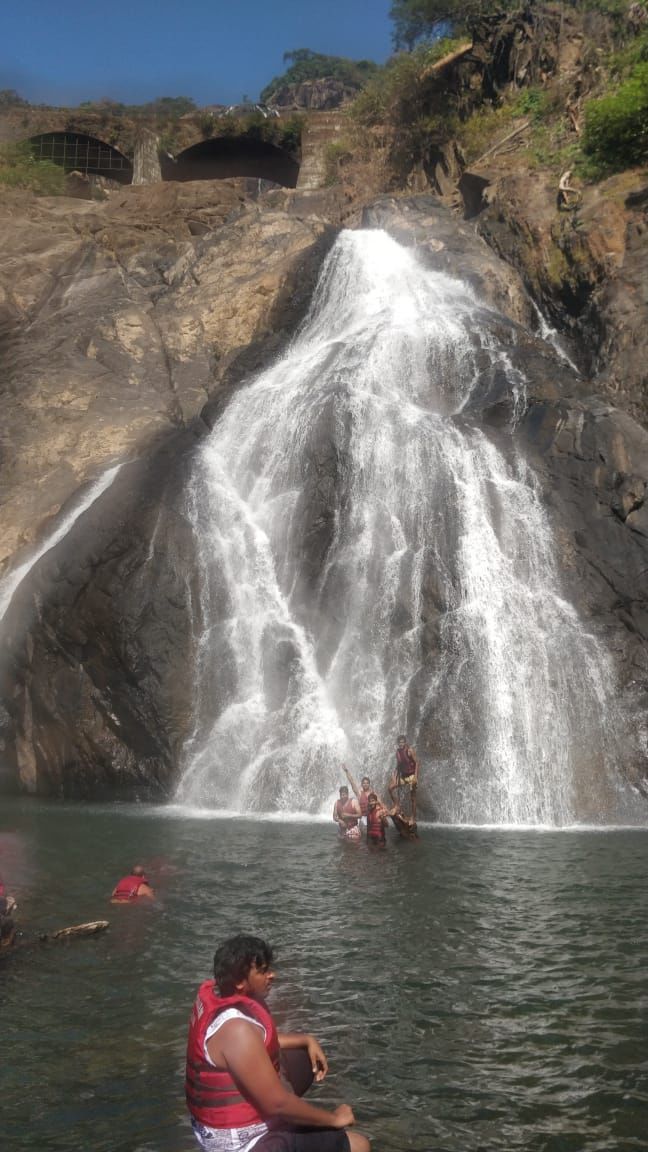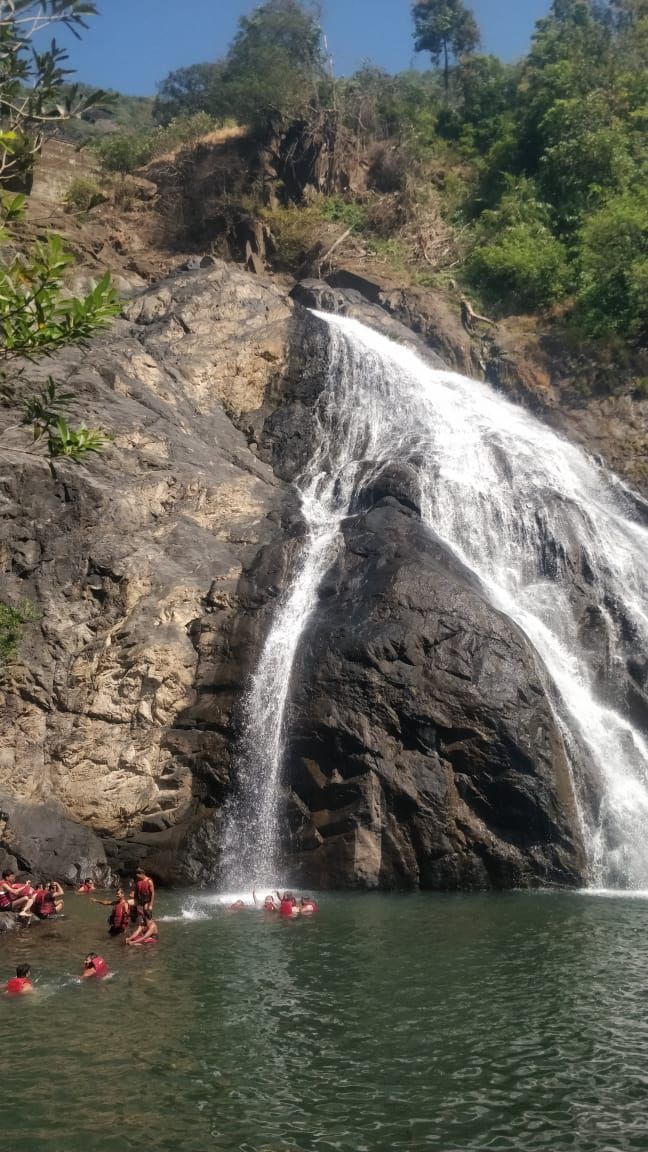 The water in there were ice cold. As we stepped in our body started getting freezed right away. Even in that ice cold water we played alot like everyone else over there. We enjoyed in for an hour and we then returned back to the parking lot. It was an awesome end for our trip.
Done with everything , we returned back to hyderabad right away and reached by next day early in the morning at 6 am.
But this time we came via banglore highway after crossing raichur.
Plan accordingly. Never backoff. Keep moving. Everything will go well at the end. 😉
Frequent searches leading to this page:-
hyderabad darshan one day tour, hyderabad to sri lanka trip, 5 days trip from hyderabad, north india tours from hyderabad, coorg trip plan from hyderabad