This year, I attempted my first snow trek ever and it was an entirely unique experience. While I wasn't able to complete the summit due to sudden weather changes, I was still able to experience snow and got a taste of my first snow trek in India.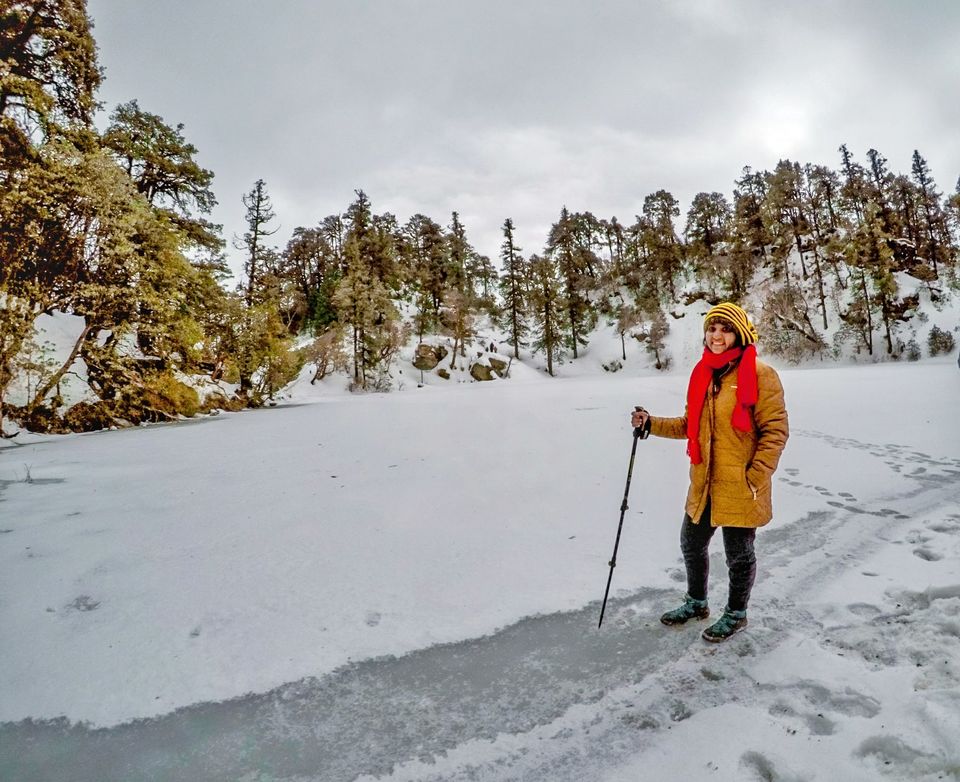 But the best part about this snow trek was that we were able to walk to the beautiful Bekaltal Lake which is the first stop on the famous Brahmatal Lake. And it was so surprising to know that people don't give enough importance to this beautiful lake on the way to the Brahmatal peak.
So, if you aren't sure if you can survive a multiple-day snow trek then a trek to Bekaltal lake is the best choice for you. You can either choose to go to Bekaltal lake and return the same day or you can choose to stay a night here. Whatever you end up choosing, be certain that you will have a blast while going on this 1-day snow trek from Lohajung.
Best time to visit
Although you can do this trek throughout the year, if it is a snow trek that you have to try then December - February is the best time to visit. In fact, if you are lucky then you might experience snowfall while trekking to this beautiful lake as well.
However, if you want to witness the brown water of this lake then make sure that you visit Bekaltal after March when the snow has melted from the ground.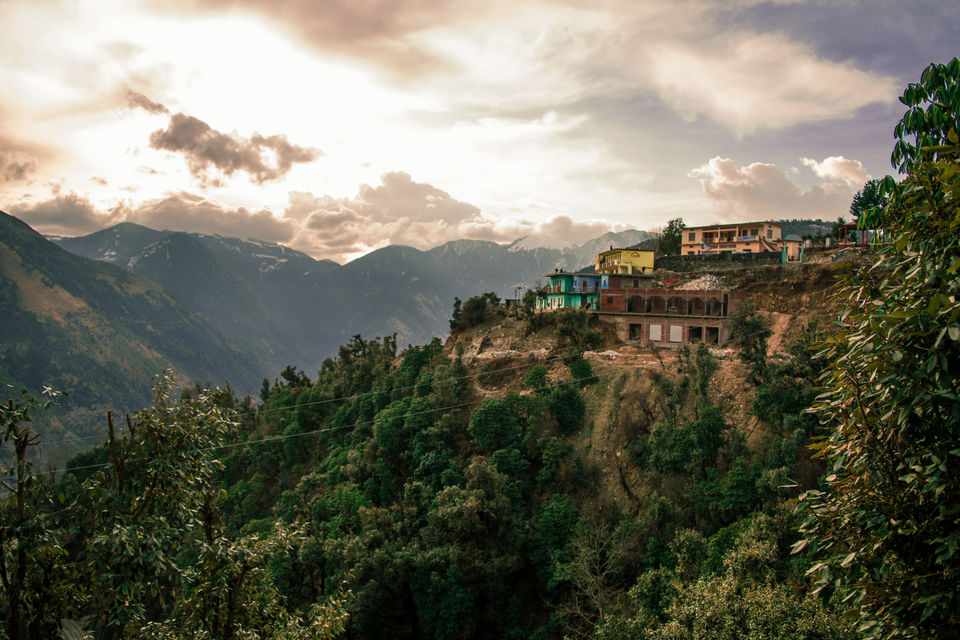 Lohajung lies in the Chamoli district of Uttarakhand and is the base camp for several amazing treks here. This is why it has become quite easy to reach Lohajung nowadays, with a plethora of transportation options to choose from.
By Air
The nearest airport to Lohajung is the Jolly Grant Airport in Dehradun which is approximately 293 km from Lohajung. So, you can take a flight to Dehradun and then hire a private cab, a shared taxi, or take a bus to reach Lohajung.
There is one bus every morning that leaves for Lohajung from Rishikesh and reaches around 5.30 p.m. However, this bus often stops at Deval which is one hour from Lohajung, so you might need to hire a shared cab/private taxi from here to reach.
Rail
Kathgodam Railway station is the nearest railway to Lohajung at a distance of 220 km. And there are many trains coming here from several major cities so you can reach here first.
From there, you can take a shared taxi or a private cab to reach Lohajung.
Road
If you know how to drive in hills then you can also take your own vehicle to reach Lohajung. There aren't many buses coming to Lohajung, except for one bus from Rishikesh but even that is not certain.
So, if you want to take the road, you will have to start from Rishikesh then reach Karnaprayag. From Karnaprayag, you will need to find a shared taxi to Deval and from Deval, another shared taxi to Lohajung.
Bekaltal lake trek route
Bekaltal is at an altitude of approximately 2935 m and it can take about four hours to reach from Lohajung. The trek route for Bekaltal is pretty simple and starts from the Lohajung Market.
From the roundabout, you need to take the stairs beside the Bisht General Stores and just follow the man-made trail till you reach the forest region. After walking for about 30 minutes, you will see Mandoli village on your left side.
On the way, you will come across water pipes which you need to follow. After another 45 minutes, you will come across a small stream and a 10 m bridge that you will need to cross. You will reach the first dhaba where you can rest for a while after a 15-minute walk from the bridge.
Once you leave the first Dhaba point, you will have to walk another 30-40 minutes before you cross another stream. From this point, you will be entering the oak forest region which is a gradual ascent. After another 20 minutes, you will come across a stream from where you can refill your bottles.
And another 10 minutes from this point, you will reach the second Dhaba where you can order maggi and omelettes. Once you leave the second dhaba, the difficult part of the trek begins—a steep ascent of 1 km to cover. This usually takes 30-40 minutes and after that it is a normal walk with valley on your left side.
After a while, you will come across an opening and 10 minutes from this point, you will reach Khopdalia which is 10 minutes away from Bekaltal.
Once you reach the campsite of Khopdalia, keep climbing up and then gradually climb down on the other side to reach the lake. Be careful when you are climbing down and follow the trail so that you don't fall inside the lake water.
You will find the entire lake frozen and will be able to walk over it without having to worry about falling in the lake.
Where to stay in Lohajung
Although Lohajung is a small village, there are many lodges and guesthouses here where you can spend the night before heading on your trek. Usually, a room here can cost you anywhere between Rs 300 - 1500 and will be quite basic so don't expect any luxuries here.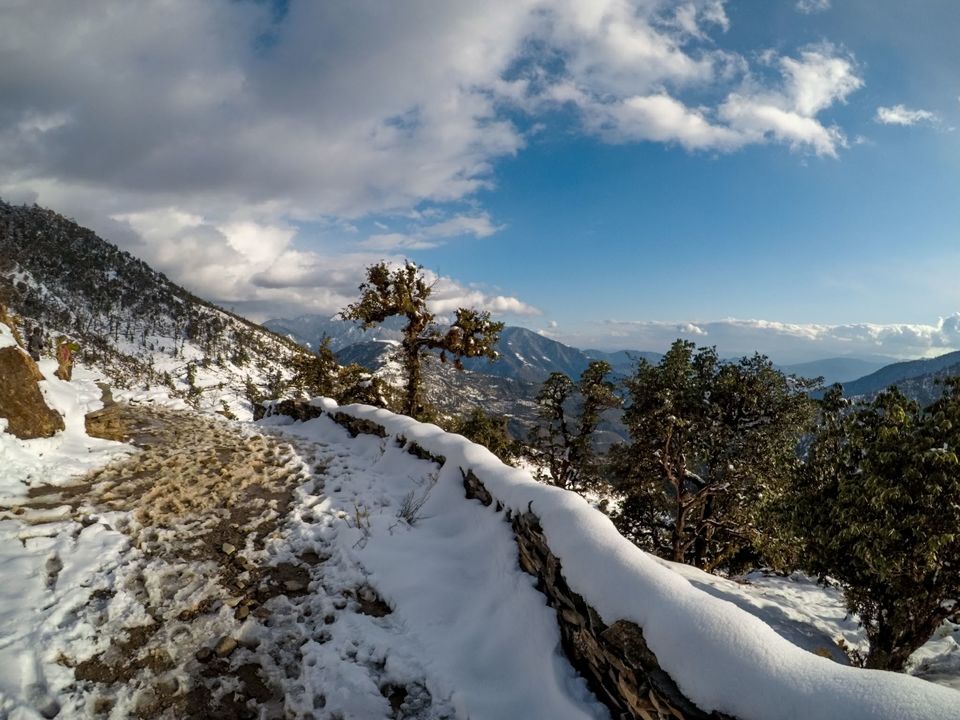 There is no system of online booking here so you will need to come and find a guesthouse or lodge which has availability.
Things to carry on the trek
Although this is a single day trek, you need to carry the following items with you if you want to enjoy your trek and be safe at the same time.
1. Sunglasses
One of the most important things to carry on a snow trek is the sunglasses. This is because the sun reflects brightly on the snow covered mountains which can cause temporary blindness if you don't protect your eyes with a pair of sunglasses.
2. Snow cleats
Another important thing to carry is a pair of snow cleats if you don't have snow boots. The cleats will help you walk on the hard ice and will make put less pressure on your knees and feet while walking.
3. Daypacks
If you are going for just a single day hike to Bekaltal lake then do carry a day pack with you. You will need to store some snacks, water bottle etc.
4. Trekking shoes
Of course, when you are on a trek, taking a good pair of trekking shoes with you is a must. Make sure that your shoes are comfortable and don't slip on snow too much.
5. Snacks
Also, take some snacks with you for the road in case you get hungry. There are two dhabas on the way but caring some chocolates and small snacks is a good way to keep yourself energised during the entire time.
6. First aid kit
Another important thing to carry with you while on the trek is a First aid kit. So, if you get hurt, you will have the right tools to treat the injury and take care of yourself or your trek mates.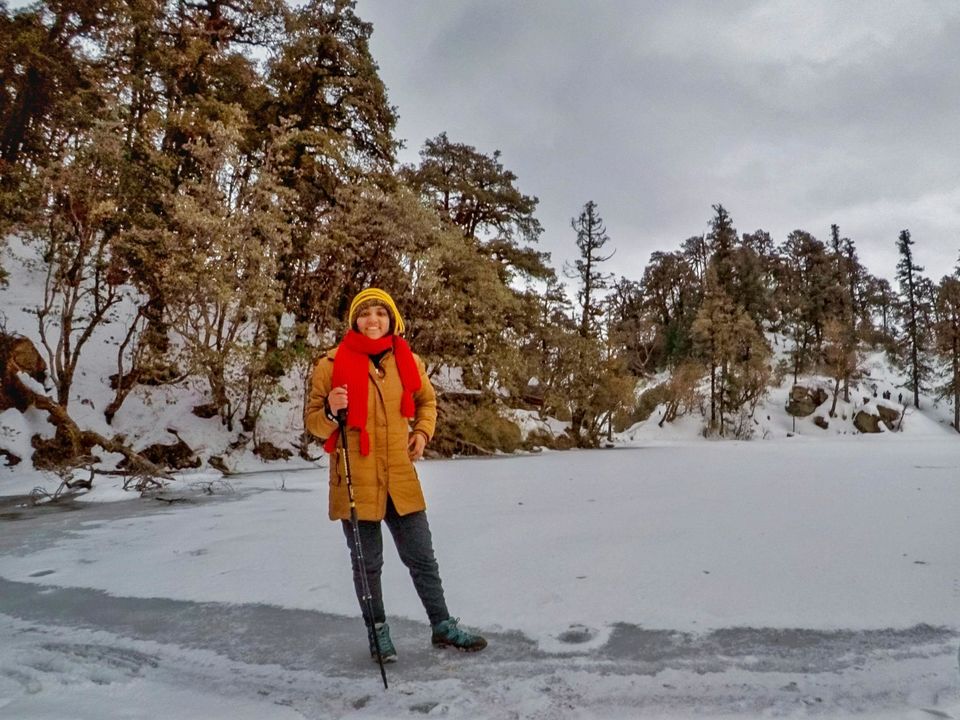 7. Warm clothes
Make sure that you have enough thermals, sweaters, jackets etc. when trekking to Bekaltal lake. If you don't have enough layers on then you would definitely feel cold and might even fall sick.
8. Water-proof jacket
Also, carry a water-proof jacket or a poncho to protect yourself from rainfall and snowfall. This will ensure that you are dry and don't feel cold during rainfall or snowfall.
9. Trekking pole
Another important things to carry on this trek is a trekking pole which will support you and help you trek in the snow.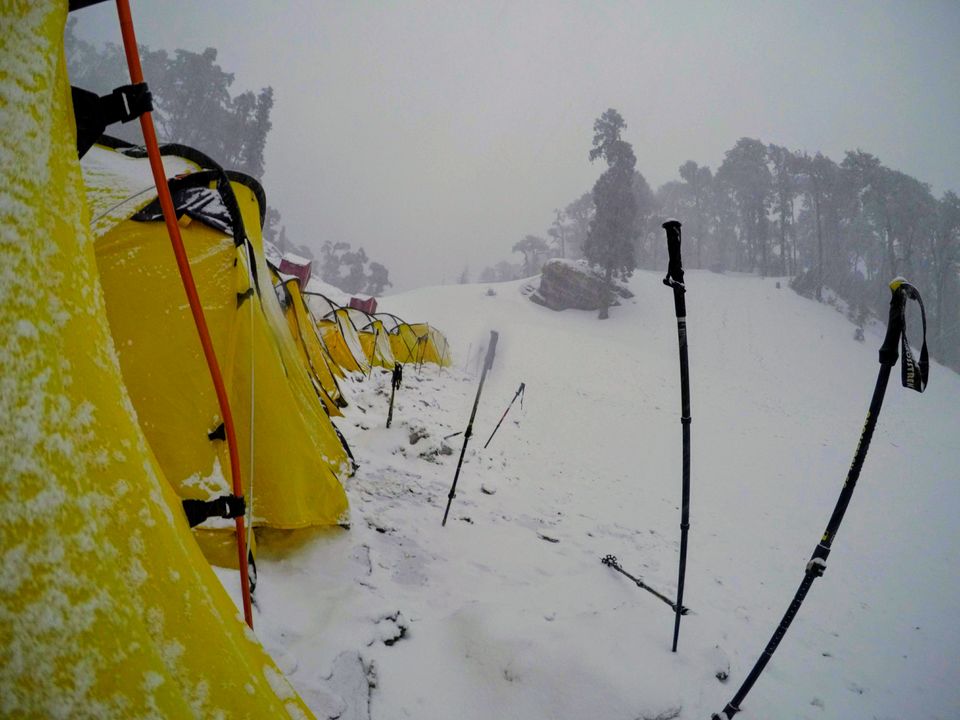 10. Camping gear (optional)
Finally, if you wish to stay a night near Bekaltal lake, then make sure you get your camping gear with you. You will need a tent, sleeping bags, liners, etc and would also need a stove to cook your own food.
Conclusion
While I would urge you to go on the Brahmatal trek, if you aren't comfortable with it then Bekaltal Lake Trek is the next best thing. You can easily complete it in a day with the help of a guide and will have some beautiful memories and pictures to accompany you for life.
So, next time you plan for a different kind of trek don't forget to consider the snow trek to Bekaltal lake near Lohajung.
Have you been on a snow trek? Was it as amazing as this one? Tell us all about it here.