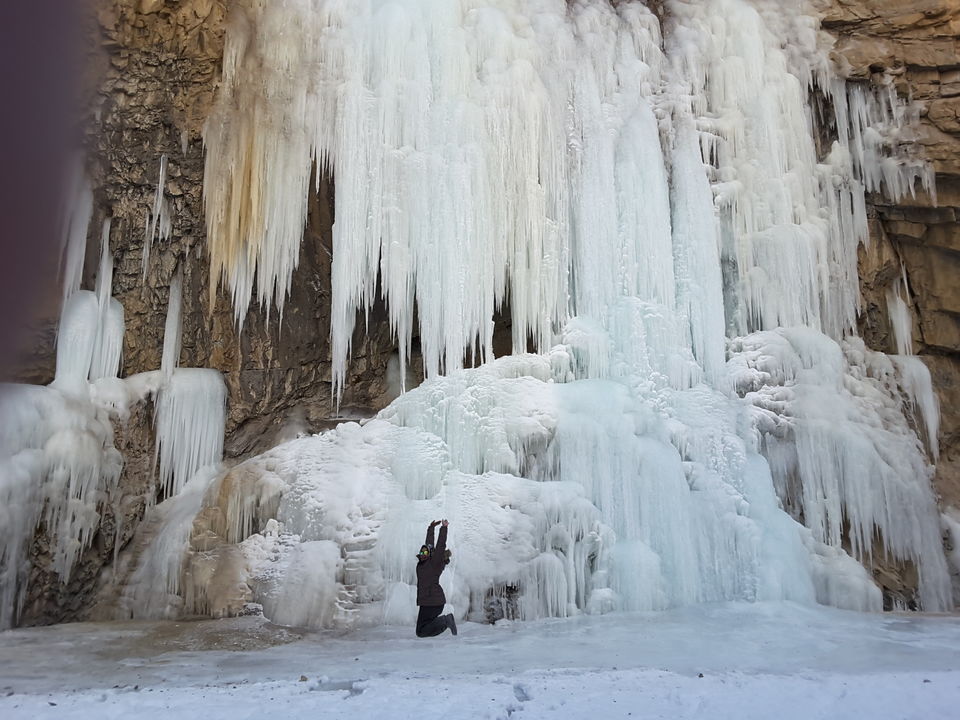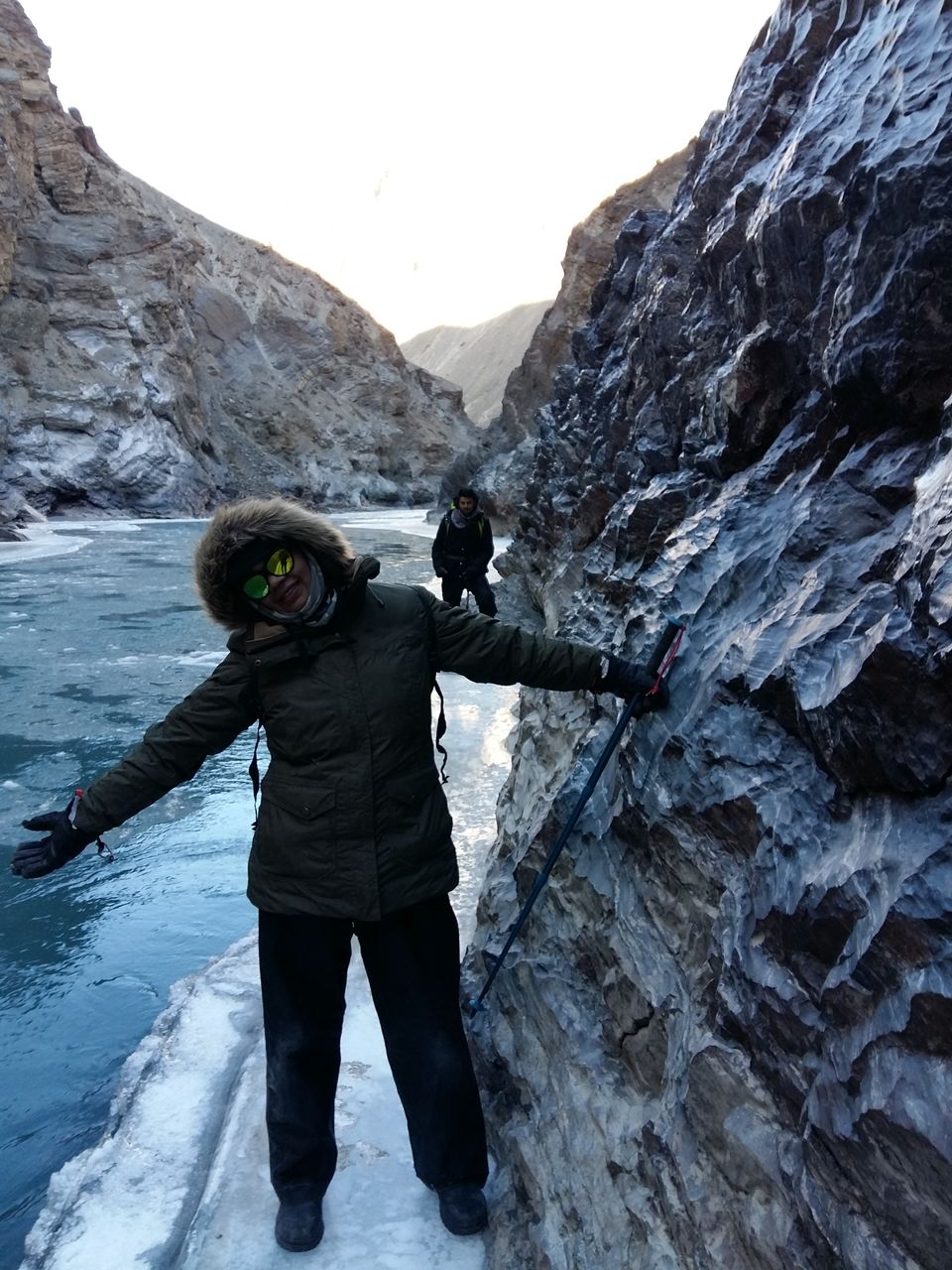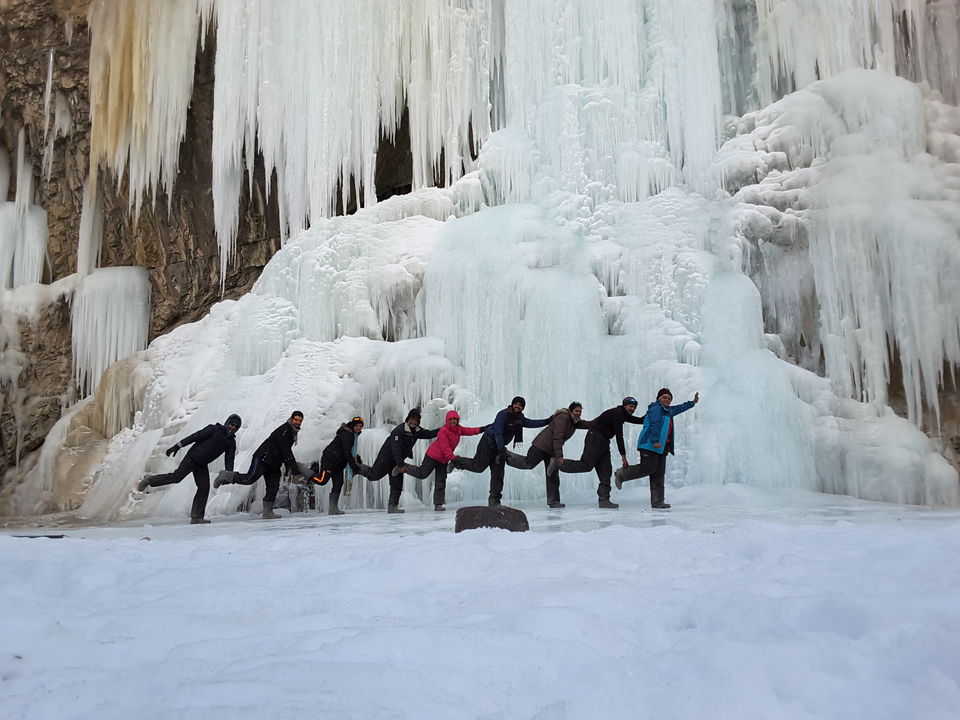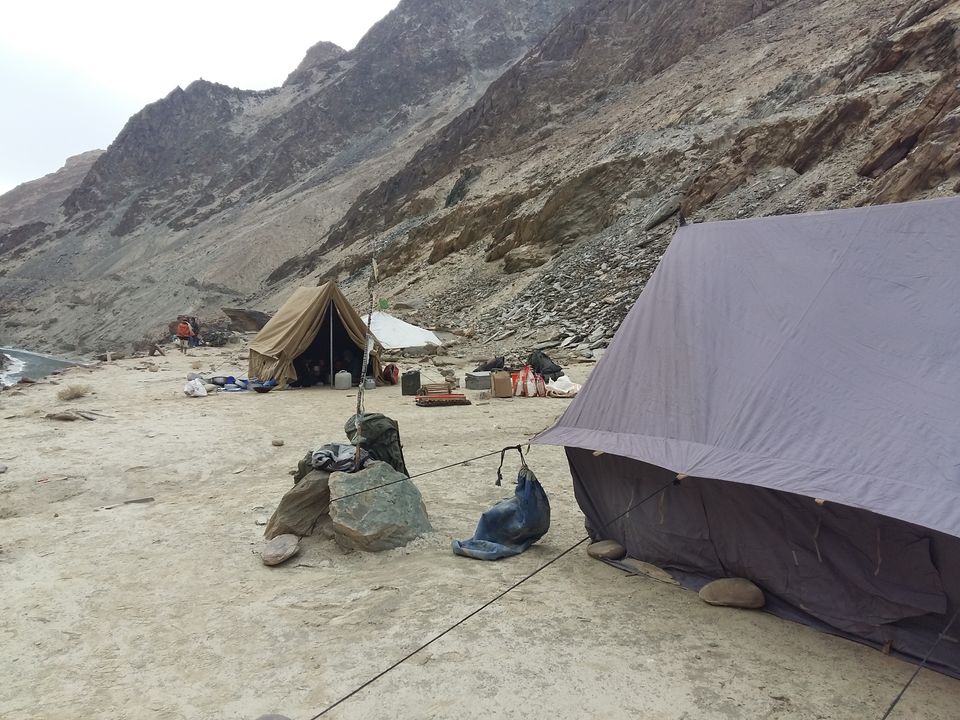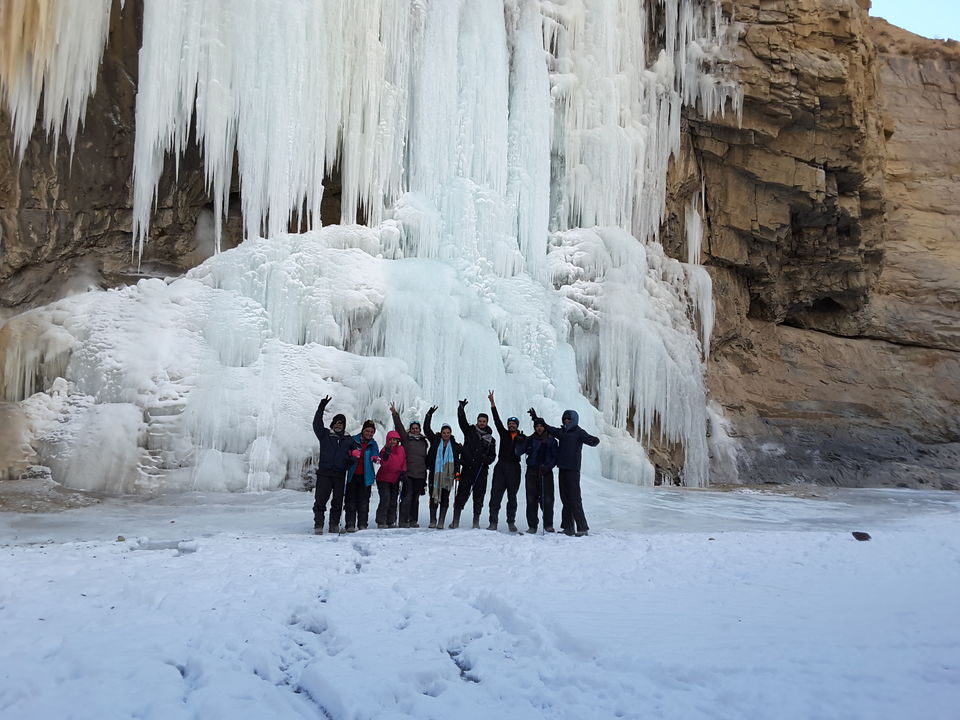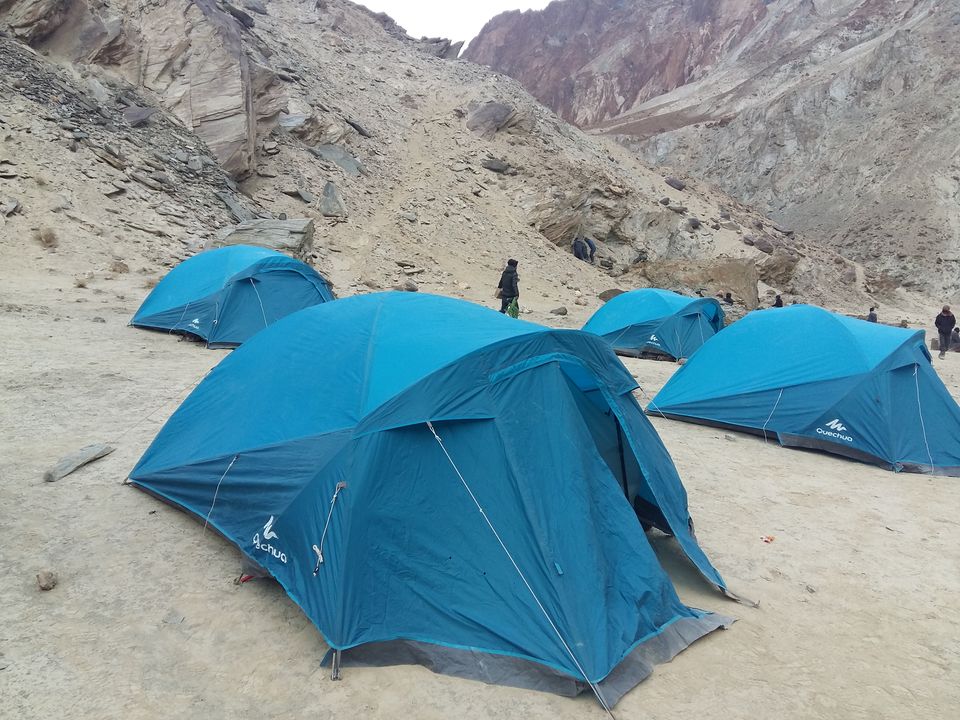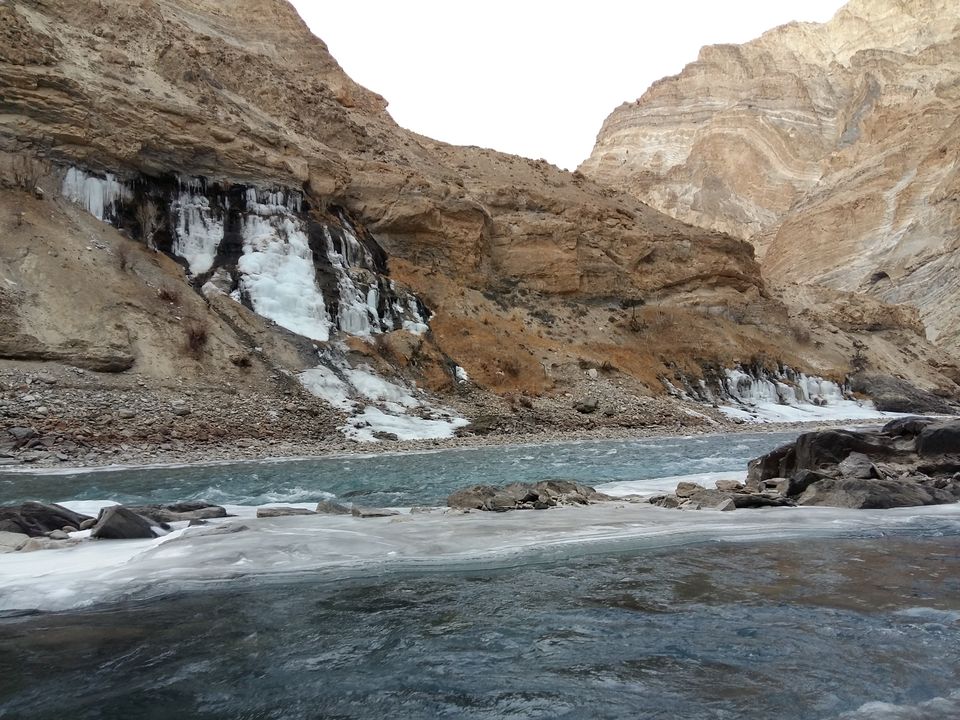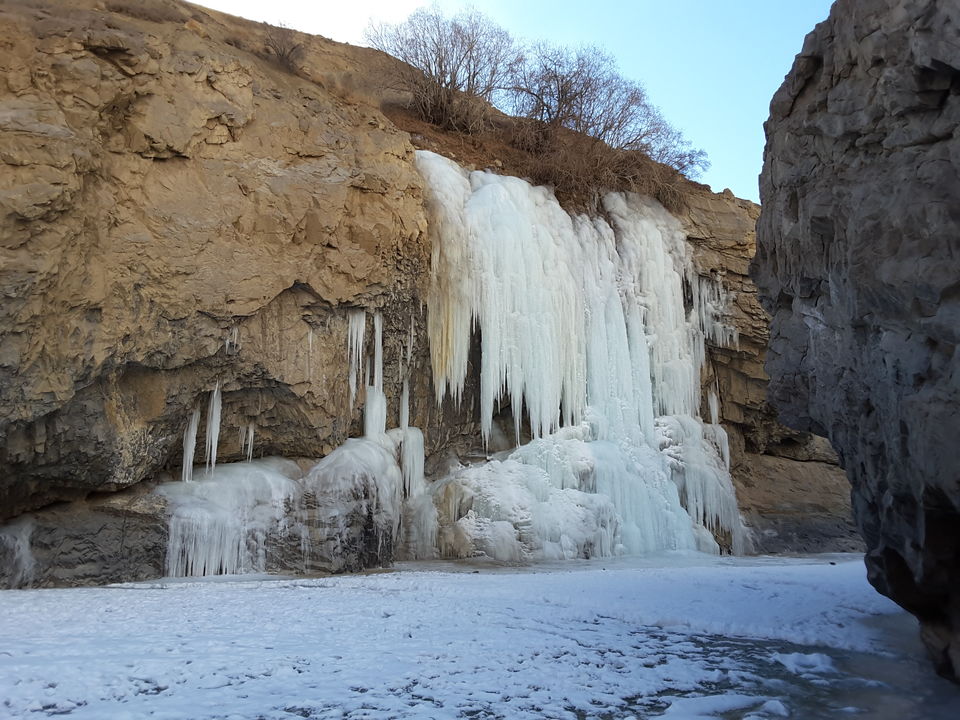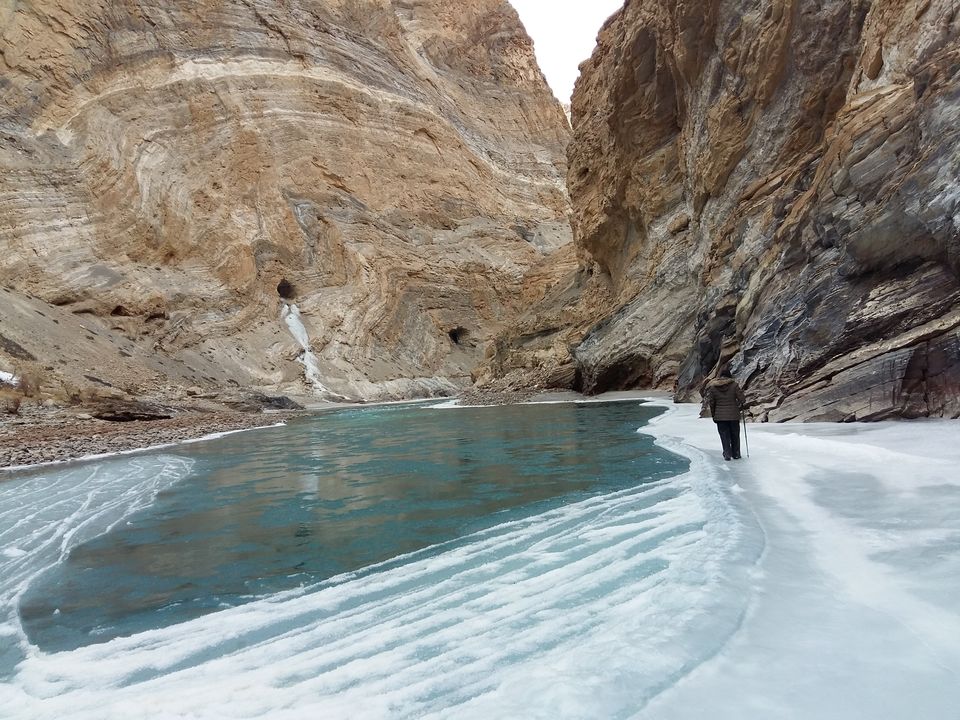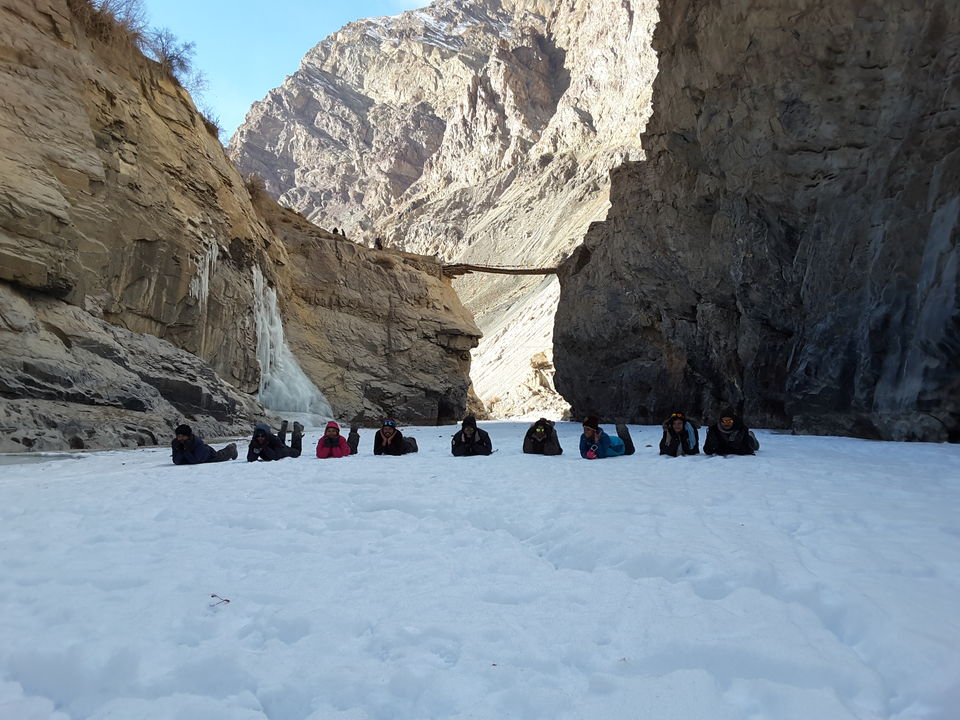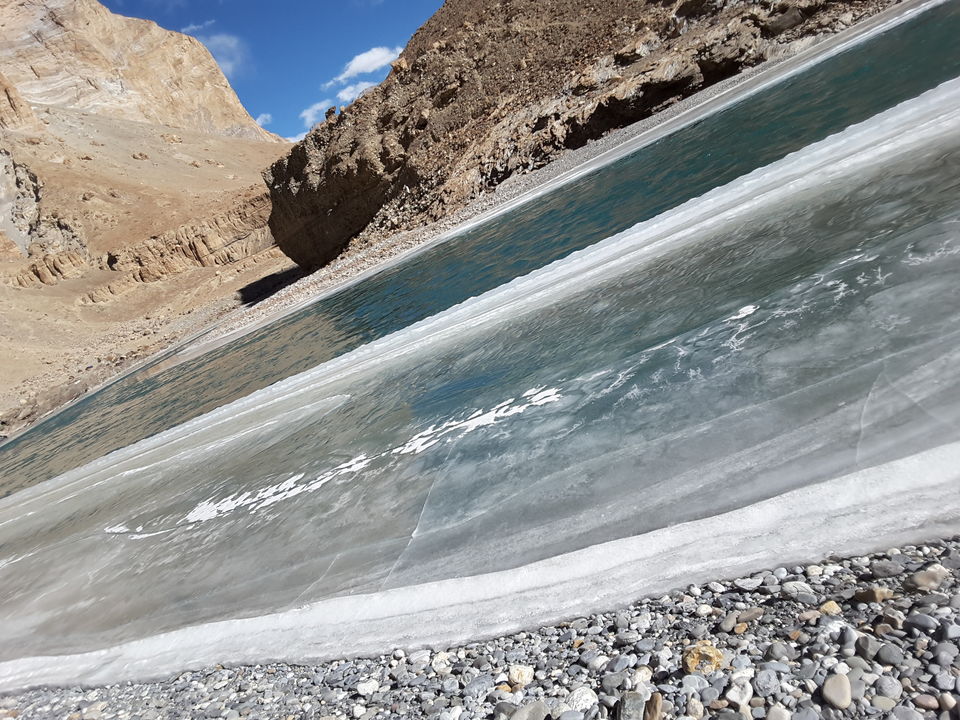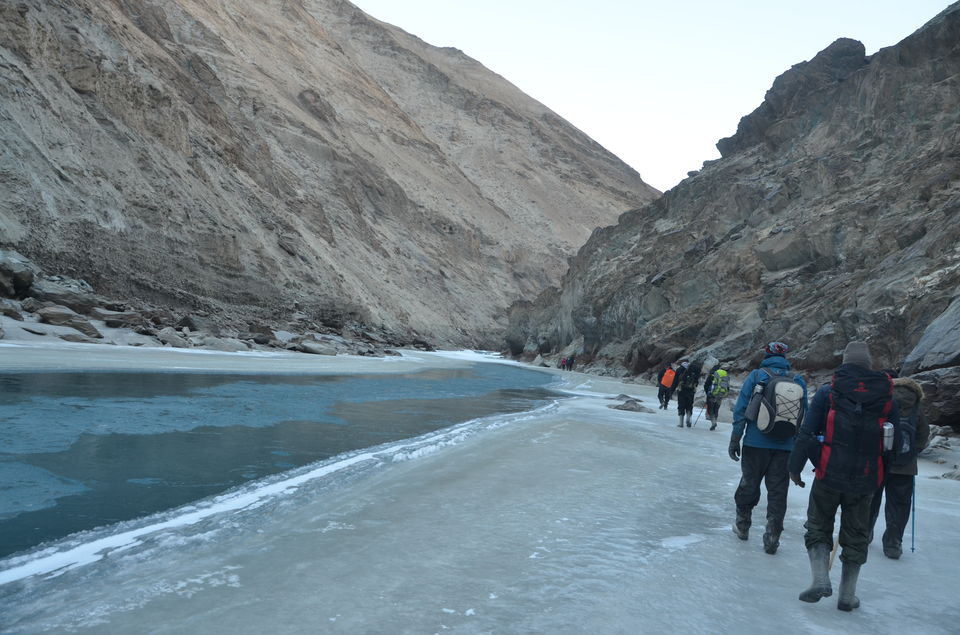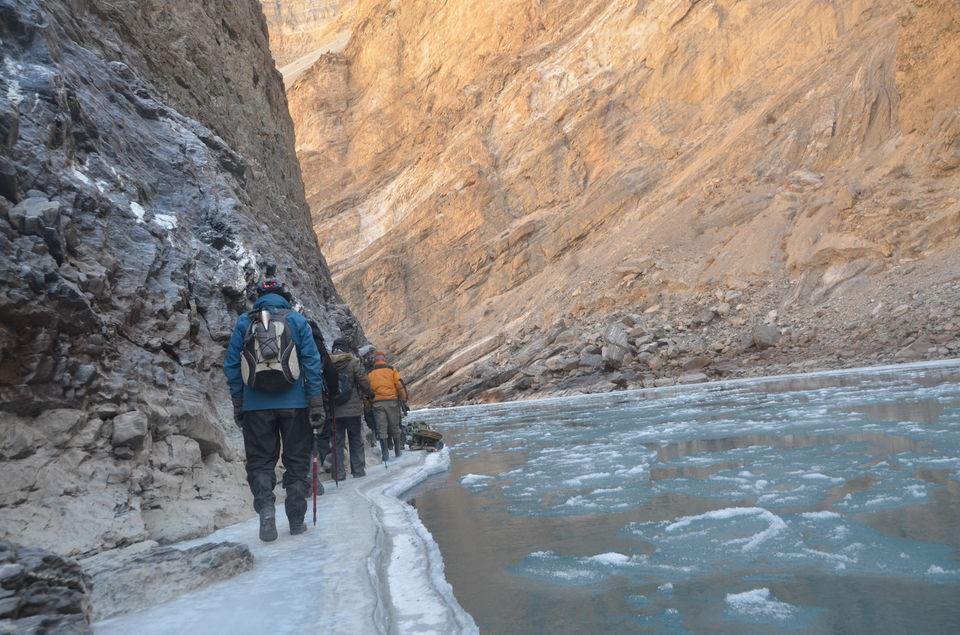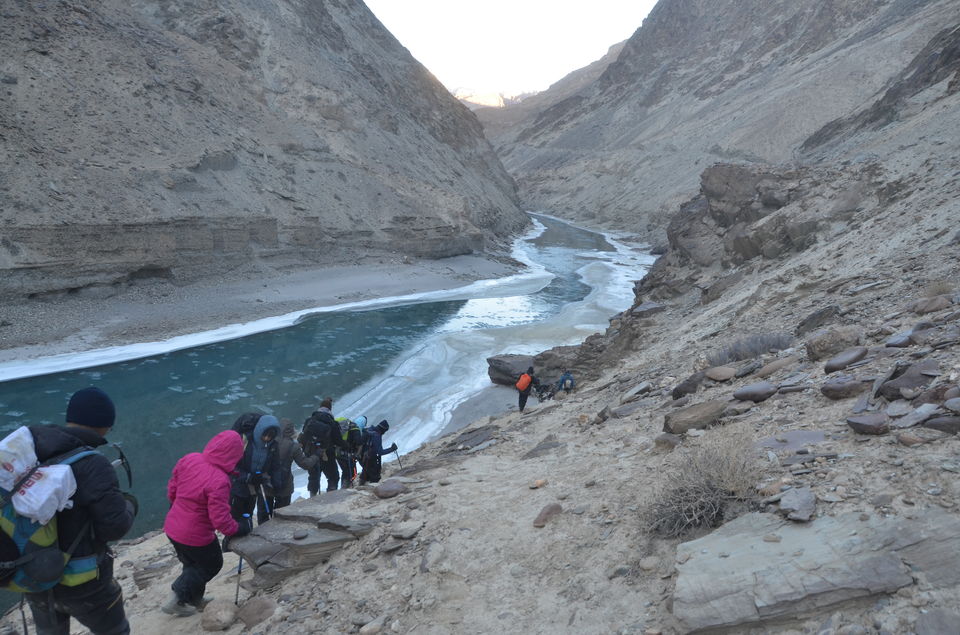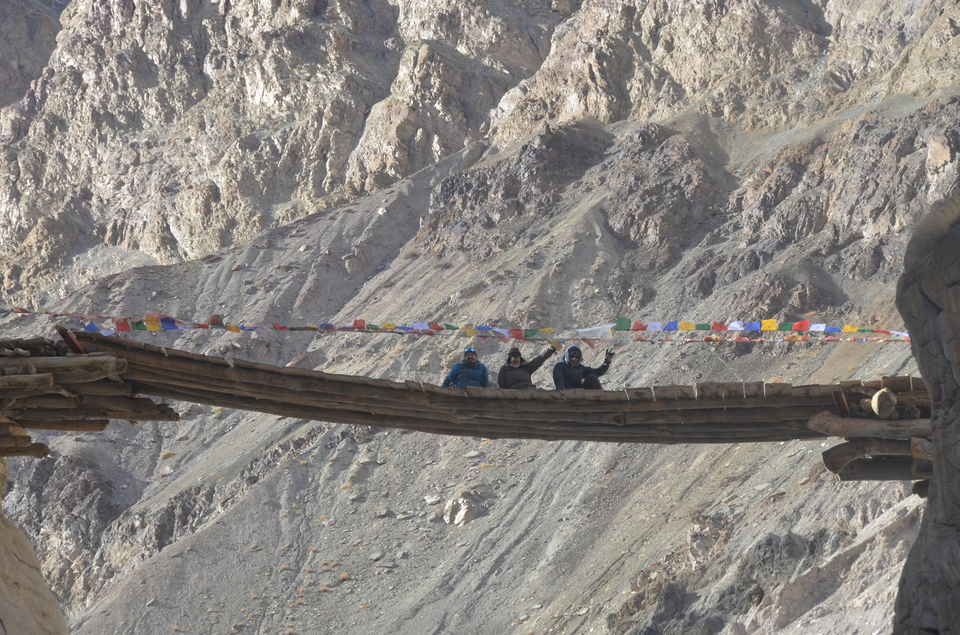 Day 1- 7th Jan 2016 - So it's finally on
After planning for 3 years to do the trek, finally life gave me the opportunity to make it happen in January 2017. The trek was booked way ahead in September 2016 as I didn't want a reason to miss the trek again if not planned ahead of time (which I am sure would have not happened if I had not planned it). After a marathon of night duties at the hospital, packing frantically the evening before I left Mumbai and a sleepless night due to excitement and fear I, was set to conquer the Chaddar.
I took an early morning flight from Mumbai to Delhi and Delhi to Leh. Leh, the place I am so much in love with that it keeps calling me and I keep answering the call. The excitement knew no bounds when the aircraft was approaching my destination. Those barren mountains, the snow clad peaks of the Himalayas have a mesmerizing charm which takes you to a wonderland. We were greeted by the pilot and warmly welcomed saying the outside temperature is -10 C. The teeth clenching cold, beautiful scenery, chilly but welcoming winds and friendly people, I had reached where my heart always dwells. Yes, I was in Leh.
I meet Vikas and Priyanka, a couple from Mumbai who were going to be a part of my group and Manjunath uncle who I was surprised was doing such a difficult trek, on the airport and headed to the hotel. In the hotel we were welcomed by our trek organizer Badari Deshpande. A person like him is rare in today`s materialistic world. May be I got to know him only for the 8 days that I spent with him but he taught me that life should be lived for yourself, with your clauses and happiness, and the satisfaction you will achieve, nothing in the materialistic world can give.
We were introduced to others in the group and I met Nisarga (my birdie), Manjunath Uncle, Swaroopa, Amar, Radhey and Suyush. All of us from varied age groups and professions but the next few days we had some crazy adventures and a lovely time spend together as a family. We did our last minute shopping in that day, relaxed and got acclimatized to the altitude and weather. We were briefed about the do's and don'ts on Chaddar by Badari, somewhere in the pile of excitement a small fraction was overtaken by fear. The weather was getting on us and we retired to sleep early as we had a long day tomorrow.
Day 2- 8th Jan It all begins
After a night of peaceful sleep with layers of clothing and the cold we were all awake well before time and all set to go. We were transported in a mini bus to the local market where some of us had to get their Gum boots. We left the city of Leh and were set to reach Tilat Sumdo, which was our first base camp. The view on the way was spectacular and Leh was all geared up for winter, who says it`s not the right season to go to Leh in winters, well I say go experience the winters of the Himalayas. Being a doctor, Badari put a pulse oxymeter round my neck saying, ´Doctor the group is your responsibility´, and I accepted the responsibility with a broad smile on my face.
We had a land slid on the way and huge stone was on the road. We were delayed here by more than an hour; the stone was moved with the help of locals and porters. In the mean time we posed for a few lovely pictures and sang songs. We reached the camp mid afternoon, helped the porters in arranging the camp site and had a hot afternoon lunch. After which we had a mini demonstration of walking on the Chaddar, to assess whether the Chaddar is well formed and so on and so forth. In the evening as the temperature sore down we all gathered in the dining tent, sat close to each other and played "Mafia". Mafia,a game which has to be played with intelligence, but the crooks that we all were, it was a hilarious affair. Suyush saying the "contraception failure", God killing a mafia and doctor killing himself, you really don't want to know what happened there.
We decided to sleep off early that night as it was a long day tomorrow. I had Nisarga and Badari as my tent mates. I had a gala time with the comic jokes we cracked till we were sorted in our sleeping bags. We laughed like maniacs and everyone wondered, "What the hell is wrong with these guys?"The guys from the other groups sang till midnight and we cursed them from the bottom of our hearts.
Day 3 – 9th Jan Tilat Sumdo to Shingra Koma
We had an early morning start as we were warned by Badari that we have to be first group, 'aur agar traffic jam ho gaya toh sham tak nahi pohach payenge'. Manju uncle saw to it that we were all up by 6 am. After all the daily chores and a mouth watering breakfast we started with the trek. The chaddar is an unpredictable thing. On the first day itself we saw various forms of the chaddar and understood that there are different ways to walk on the different forms. Some places it is normal walk, sometimes just slide, penguin walk and the suddenly it's a loud thud and you are on the ice, and believe me ice hurts! Our guide Dorji was an awesome person who lead the group with Swaroopa being his shadow. After a little distance and a few falls we had to cross a distance through the rocks as the chaddar was not formed. The porters who are the lifeline of the Chaddar trek helped us in places of difficult rock patches.
The porters cross you sometime during the day, look for a nice site and make a hot lunch of tea and maggi. Anything warm is welcoming on the Chaddar and for a hostelite like me, Maggi is always welcome. We had an incident where one porters luggage fell in water so we decided to stay in Shingra Koma that night and stopped walking at 2 pm post lunch. Our camp site that day was almost half on the river and I was sure night was going to be freezing. Evening that day was a fun filled evening with playing ice football on the firm Chaddar with some good falls and goals. After dusk it was time for Mafia again, some laughter filled movements till we were served hot soup followed by some amazing dinner and ladakhi halwa for dessert. The night came with a task of getting into the sleeping bag, Nisarga's jokes and spine chilling cold. Me and Nisarga were struggling to sleep and within minutes Badari would start snoring...What the hell??
Day 4- 10th Jan Shingra Koma to Tibb
The chill of the morning woke me up before 6 am. After our routine (Putting the sleeping bags in the cover) I managed to brush my teeth with some warm water but still I was frozen and my hands numb. Thankfully the porters had made some fire to get warmth and I took advantage of the same. We started our walk by 7.30am. On the way was the Sumo waterfall which is the only waterfall in the entire region which does not freezer even in extremes of temperature. It is believed that a Buddhist monk meditated in that place and thus it does not freeze. Today was a long journey with adventures like difficult rock patches, crossing the river with knee-deep water and crawling on the chaddar. Well everything was worth it. In an unfortunate incident Manju uncle fell in the water as the Chaddar cracked. He being such a fabulous and sporting person managed the whole incident so well that none of us could have. Suyash continued with his falls and I continued asking him questions all through the way. After lunch we again continued our walk and continued to walk to evening. The view of the valley is so spectacular that you just can't get enough of it, and you camera says enough save my battery for Nerak.
Day 5- 11th Jan Tibb to Nerak
So it was the day we were going to complete half the trek, we were going you see the waterfall so we were all excited. Badari had told us if we leave early we will reach the fall early and will be able to get pictures. All geared up we set off for the day. The day was filled up with a lot of adventure, the chaddar was ill formed and we had to stop at a site for nearly an hour till Dorji and Badari could actually find a firm chaddar to cross. We had to cross a lot of rock patches till lunch. At the lunch site the potters informed us that we were almost there. With the speed we all kept up and because of our amazing porters we reached the camp site by 3.30 pm.
After offloading our luggage at the campsite we started our walk to the waterfall. As the chaddar there was not formed well we had a climb uphill and then a steep ascend till we reached the fall. Me, Amar and Nisarga were first to reach the spot. I don't have words to describe the feeling I had after seeing the fall. Every word in the English dictionary will be an understatement of the actual feeling. We had super fun at the fall with pictures clicked in different poses and angles. We got almost an hour to ourselves till the other groups reached there. Tundup in all his photographic skills shot pictures in different angles. Finally Badari said if anyone was interested in climbing the village which was still 2100 ft uphill could accompany him. I denied at first as I was tired bit later thought it would be incomplete if I don't go to the village. I agreed, though it was a tough ascend and managed to do it only because of Badari's constant motivation, and it was totally worth the effort. The view of the village, the houses, the people and the beautiful snow clad mountains give you an inner glimpse of the Kashmir I always wanted to see. The descend was quick and the boys were amazed at the speed I ran down. We reached the camp site at nightfall. Almost death tired I managed to have my dinner and we slept off early.
Day 5-6 12th and 13th Jan - Return to Shingra Koma
We now thought that we had mastered the skill of walking on the Chaddar but boy it was a completely different experience on the way back. The chaddar had broken in many places on the way back. We has some scary experiences of the Chaddar cracking, the sound leaves you frozen and still, hoping you find your way to a safe place. We were helped by our lovely porters to cross those damaged patches. In places where the Chaddar was firm we danced and shot slow motion videos and dance videos. Oh it was crazy. After an adventurous day of waddling through the waters and ups and downs were managed to reach our first camp site in Shingra Koma. So we had trekked three days journey in a two days. The feeling of reaching the camp site was ultimate today. We hugged and celebrated upon completion of the Chaddar trek. Aaj finishing selfie toh banta tha yaar…After getting fresh we assembled in our dinning tent. Manju uncle had a bottle of Whiskey which we all feasted upon and a great session of singing and dancing. Today was our last day of sleeping in the tent, I was feeling sad somewhere deep down in my heart. Oh this place and people were so dear to my heart. The last night on the Chaddar was extremely cold, the drink had managed to get some warmth but not enough to sustain all night.
Day 7 14th Jan Last day…
There was frost all over the sleeping bag in the morning. Was wondering why is the face so cold only to realize the fur of my hood was covered in frost. We had slept till 7 am as we had covered up on the previous day for 2 days of the trek. After breakfast we went to the site chosen for people wanting to take a dip in the frozen river. Me, Vikas and Suyush were all set for the adventure. The toilet tent was set up near the site for me to change. I was dressed in my tee and tracks and the guys were bare-chested with shorts. I got in the water calmly stayed in the water the longest, the guys jumped in and out in a jiffy. It was the most adventurous thing I had done in my life; with the dip I received a true sense of accomplishing the Chaddar trek. After changing out of the wet clothes we walked uphill continuously to build up heat lost from the body and to prevent hypothermia.
A wrong message was conveyed to the transport person in Leh and so we had a small transport vehicle to reach Leh, but somehow we all managed to accommodate ourselves in that small vehicle and set out for the journey. Next hurdle was the road building by border roads organization and hence were had to wait there for almost 2 hours. We played dumb charades on the road , with Suyash entertaining us with his weird acting skills. We were laughing like crazy on the road and people surrounded us to see what we were actually up to. Due to all this we had our lunch in Nimmo, a small village before Leh. Oh those were the tastiest samosas I have ever had with that spicy red chutney. We reached Leh by early evening and my dream Chaddar trek had come to an end practically but in my memories it will be cherished for life.