#TripotoCyclesToGoa
I recently bicycled solo starting from Doda in Jammu and Kashmir to Leh via Pangi Valley, Lahaul, Spiti and the Leh-Manali highway. Here are some pictures from the ride.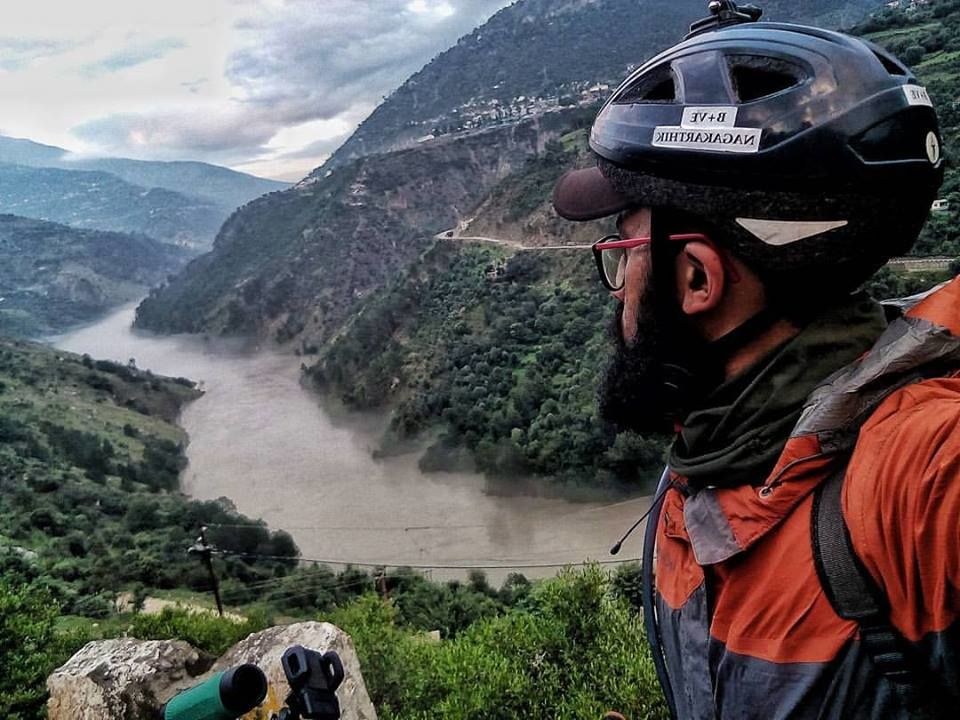 On day 1 the target was to reach Kishtwar. It was super sunny and it being the first day, I found it pretty hard to cycle. I kept going after taking a lot of breaks. Oh! I started off by making a wrong turn in the morning, which meant 8km extra of uphill cycling. All in a days work, I reached Kishtwar by the end of the day. The roads are pretty good, well tarred mostly.
Day 1 - Doda to Kishtwar.
Was supposed to be 68km but I did an extra 20km due to the wrong turn.
The route is a mix of uphill and downhills till Thatri, mostly uphill. Thatri to Drabshala is 6km of quite intense uphills and the last 8km is a very intense climb.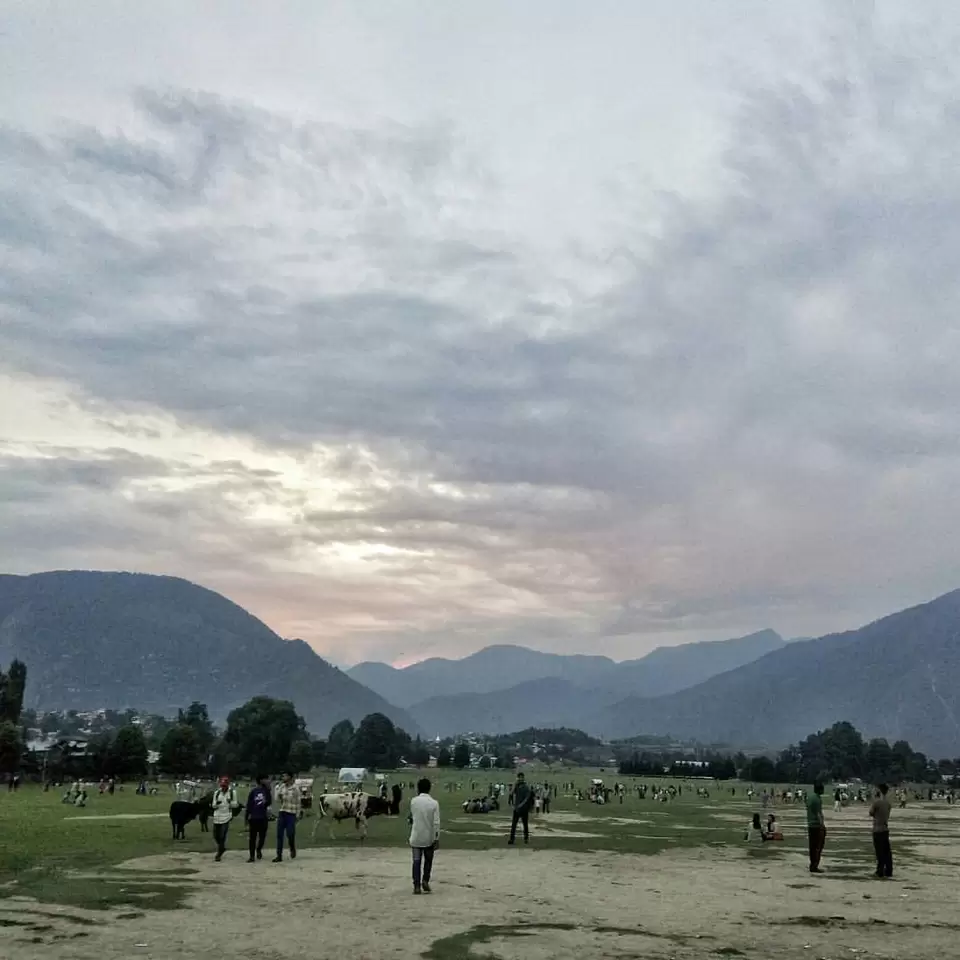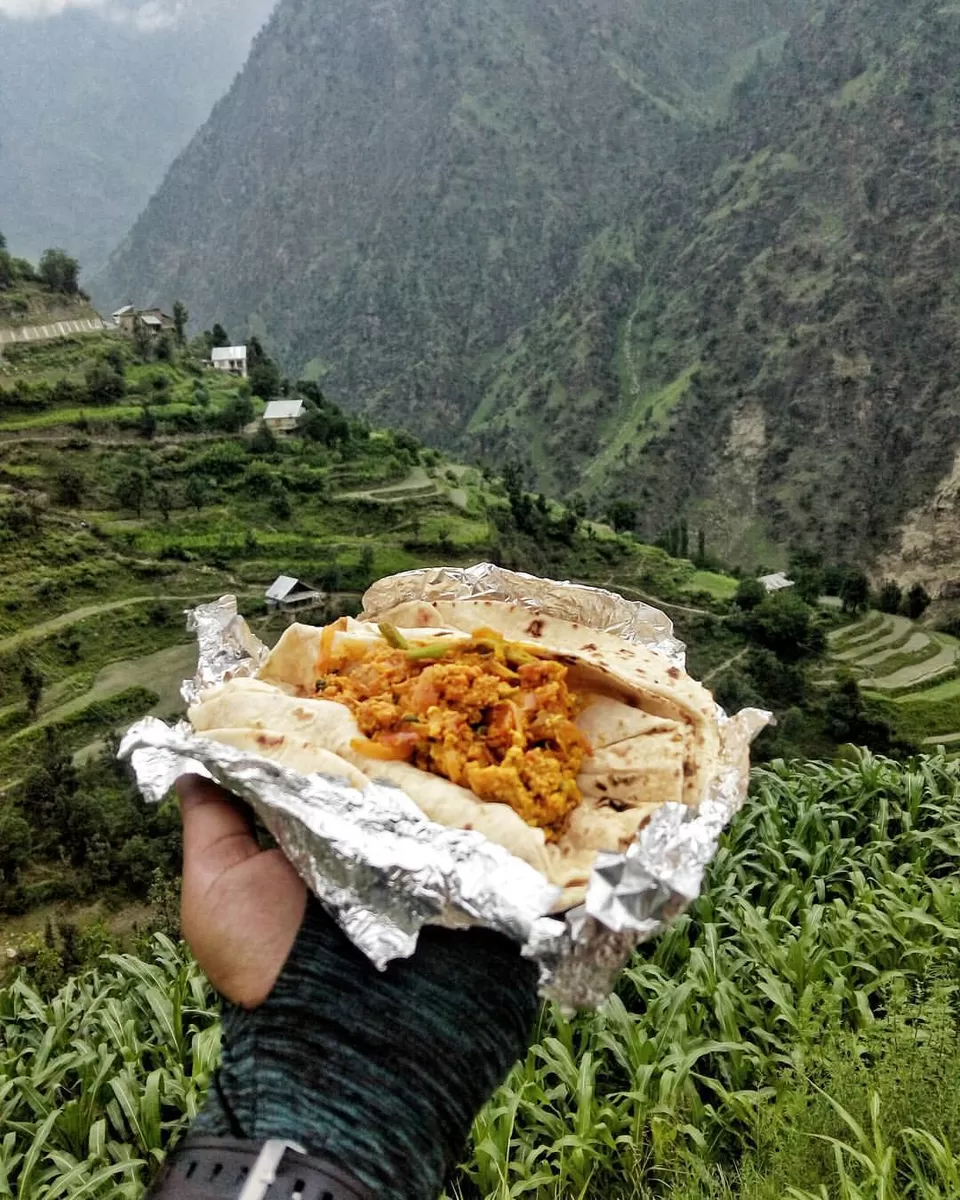 At Kishwar I stayed at with a family who took such great care of me.Yasmeena aunty also packed food for the next day. I rolled out from Kishtwar early morning at 5 and boy the sights along the way were amazing.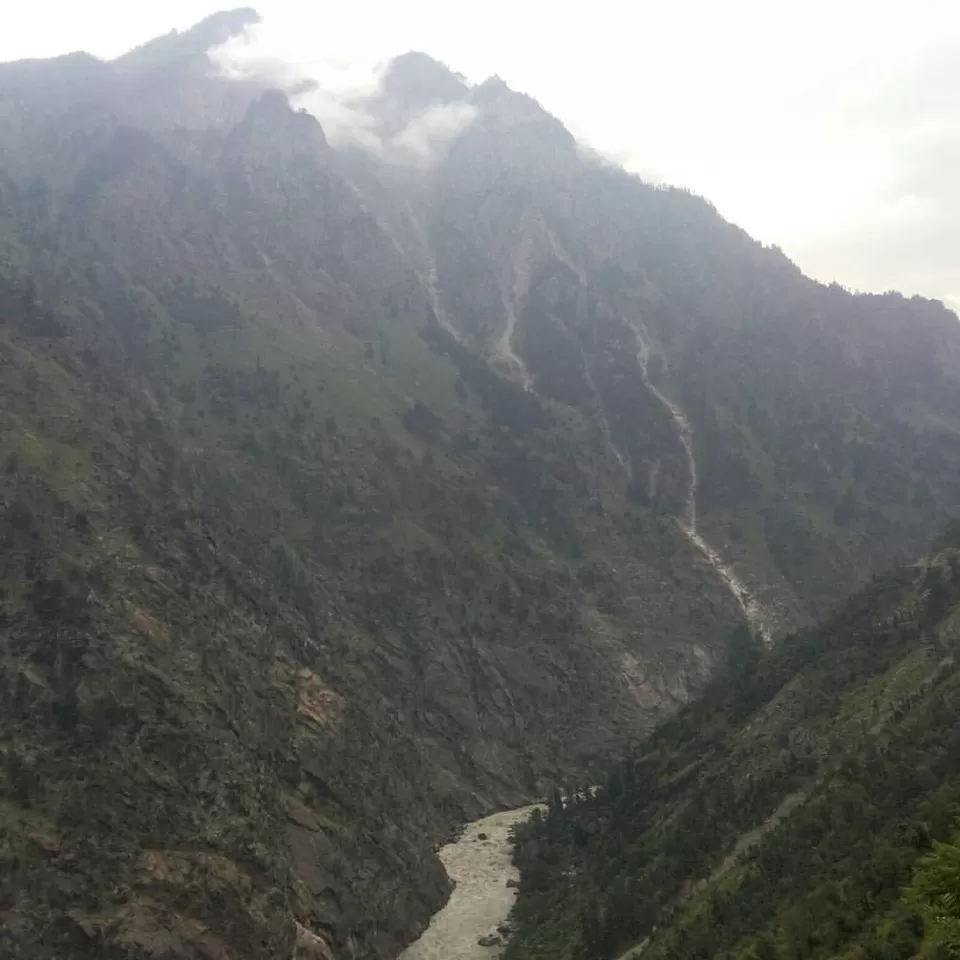 The Chenab still flowing along in the opposite direction. I was getting much closer to her, or she was flowing from a much higher level.
Water from fresh Himalayan springs flowing across the road is how I keep myself hydrated.
It is the start of the trecherous Kishtwar- killar road. Via Pangi valley, more famously called one of the worlds most dangerous road. Rock blasted, rock cut and rocks all around. Super difficult roads to cycle on.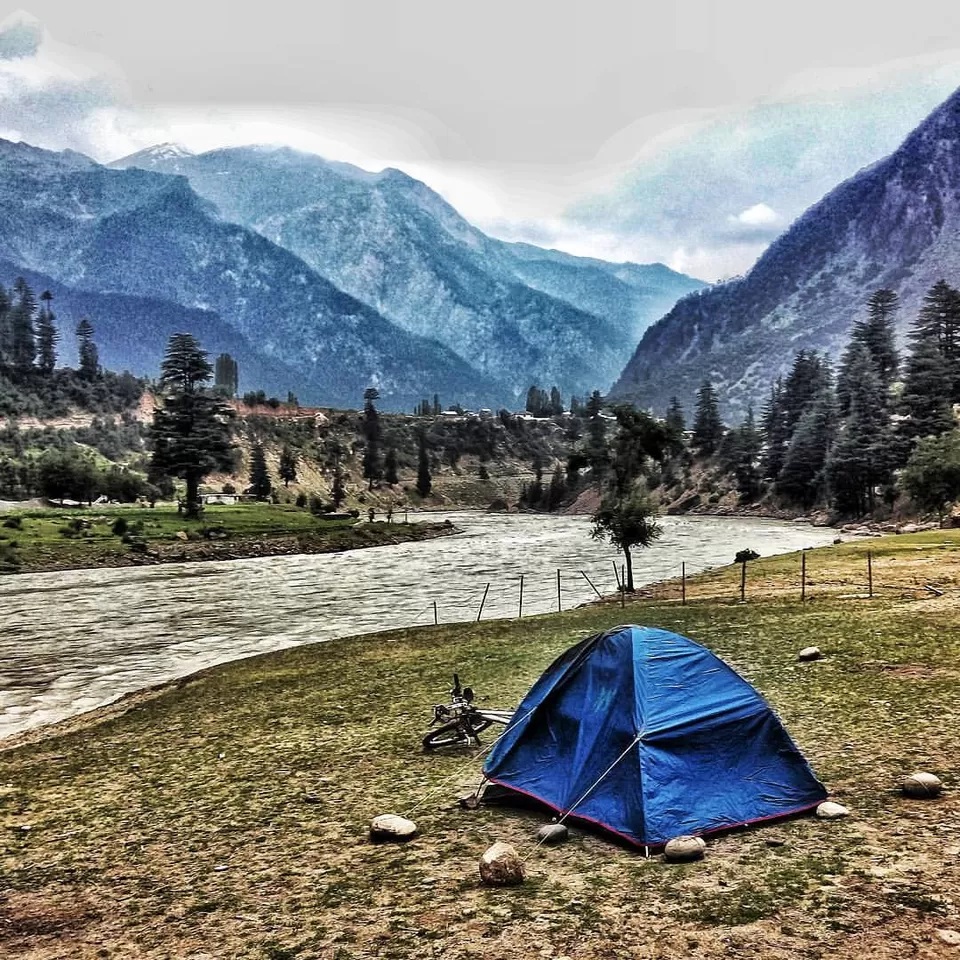 Ended day 2 at Ghulabgar. It is one of the last major towns near the border of Jammu and Kashmir and Himachal Pradesh. It has a mixed population of Muslim, Hindu and Tibetian Buddhist people.
This meant a good plate of hot Momos and a walk around a monastery in the evening. There is also a school which accepts volunteers. With this kind of view, it is hard to think of another reason to come here.
The route to here was quite flat after the rock cut Pangi valley entrance. I setup camp on the banks of the Chenab, quite calm around these areas. It drizzled all night.
Met a bunch of people who were driving to Sach pass. I finally finished all the Chapatis and egg that Yasmeena aunty had packed for me, disposed all the plastic responsibly and was on the saddle by 7am the next morning.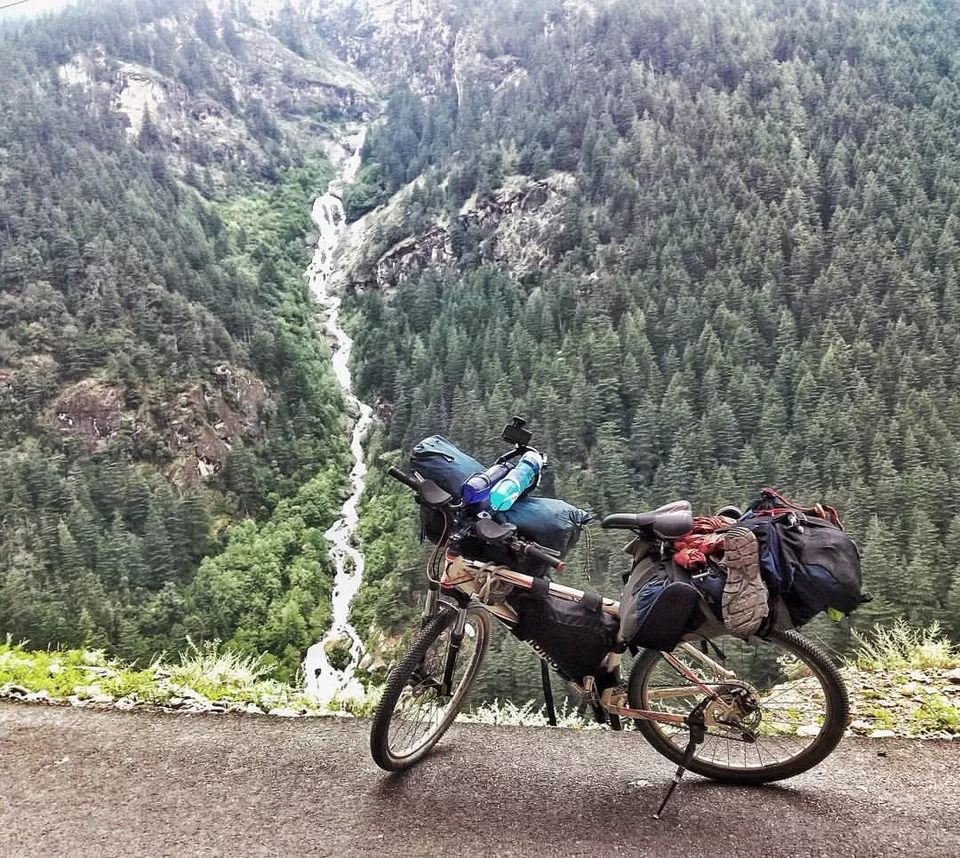 Started from Ghulabgar on day 3 at 7 in the morning. Everyone had told me (warned) that the road ahead is bad and that I should take the bus. They said that recently a foreigner had tried to do the route and returned within a few hours to take the bus.
This really ticked me off. Actually, it became the motivation for me to do it, even if it's the worst road in the world. I don't understand the general conception that certain kind of people would be able to do something better than the other. The people who do it better actually work hard for it.
Nothing comes easy to anyone.
Usain Bolt isn't that fast just because he's African. It is because he works hard for it. It's all about the amount of work you're willing to put in.
Now, I wasn't trying to prove those people wrong. After they said that, I had some sort of a rush to get on the saddle and get across the Jammu and Kashmir border into Pangi valley in Himachal.
Err, would I do it again? No.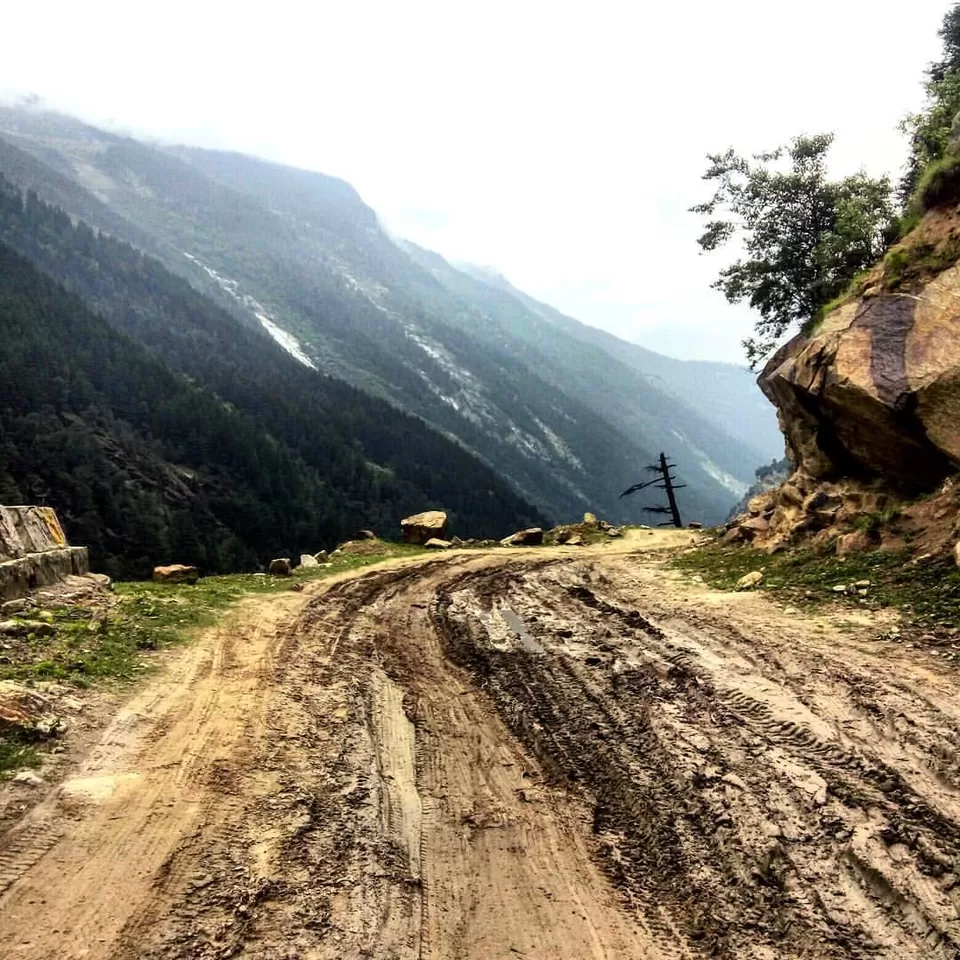 The road ahead was full of steep inclines and drops of very high gradient. The 'road' is just a part of the mountain that has been rock blasted, the surface is still solid rock with lots of gravel and loose stones and to add to this water crossings. This makes it very hard to cycle on, there's absolutely no traction on uphills and downhills are strenuous too as you constantly need to hold on to the brakes. The next place for food was about 16km away. About 8km of incline, 4km of drops and the rest flat with water crossings.
Four hours and a difficult 16km later I found myself at Tiyari.
Sharma dhaba is run by a group of 7 women. It is the only place for lunch after Ghulabgar, till you cross over to Himachal Pradesh and enter Luj in Pangi valley.
The family lives on the top floor. The men work in construction. The nearest school is about 20km away. The kids usually walk it up or try and hitch a ride. I would have loved to hitch a ride to the border. It wasn't to be.
After loading myself with rice and dal, I set off towards Killar. Wish someone had told me that I was being too hopeful. It was supposed to be 20km of flat roads to Ishtiyari and then 20 more downhill. Downhill must be easy, right?
Lol.
Boy! Was the downhill backbreaking fun. 18 km of trails, stones and jamming on the brakes at the hairpin bends. Rapid loss of elevation and it leads straight into the Pangi valley check post.
But, the fun ended here. The road ahead was 14 turns with an upward gradient! What? Really.
Here's a fun fact, downhill trails are fun but are very, very taxing on the body. It is super strenuous (much more than uphill) and can cause quite a bit of pain. It can also damage the cycle pretty easily. This downhill was there last time I was those water bottles. (I don't know where I dropped them, yes, I know, I'm sorry I littered )
I pushed the bike up five of the turns on the other side, then I met a local. He was there with his cattle. He said his brother would be happy to meet someone from Bangalore, I was quite surprised, to find a Bangalore connection deep in the valley in Himachal. None the less, what followed is a heartwarming story of hospitality. More on that in a bit.
He helped me push the bike for the rest of the way.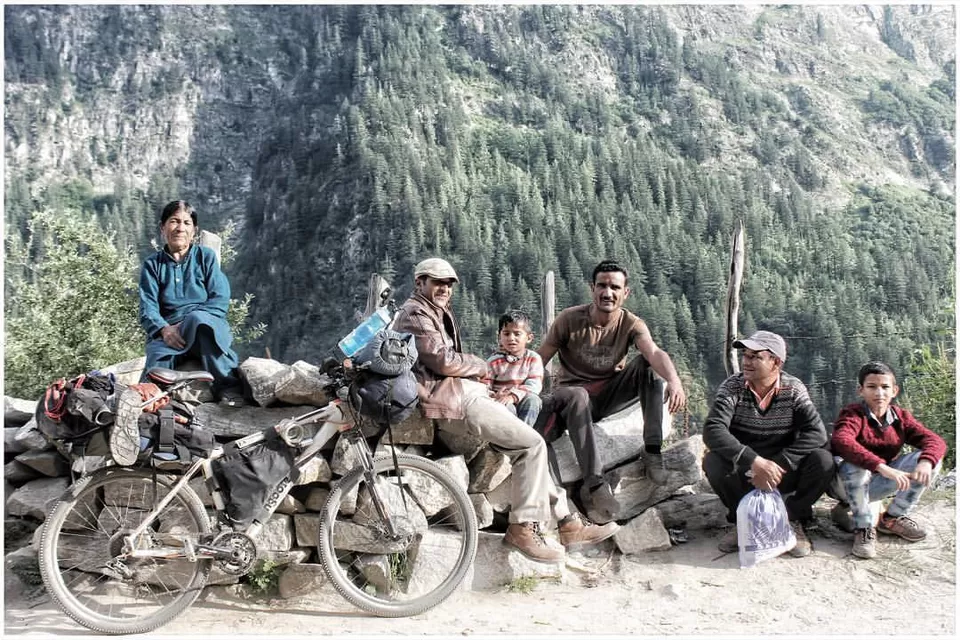 I walked with the local to his village, Luj. The village is strikingly similar in altitude and topography to Breswana. They even have their own version of Bhakarwals (Nomadic shepards) and Nun chai (Salt tea). So, in a lot of senses this felt like home.
As we walked up to a local shop (run by the lady in blue) there was quite a bit of excitement about this crazy guy who had turned up to the village on a overloaded bicycle. Then, there was this buzz going around about me being from Bangalore.
One by one the characters in the picture turned up, first was the gentleman in the leather jacket and Beret cap, I'm going to call him Dev Anand ( no particular reason why, heh ). He was one animated bugger, took my cycle out for a spin and in the process came back with the others in the picture.
Next to him is a shy kid who is the grandchild of the lady who runs the shop. She was bribing him to stay in the shop but Dev Anands charisma drew him near the bicycle with the rest of the people.
The next person is Rajkumar. He is the Bangalore connection. A couple of years ago, he moved to Bangalore to work in construction. His work was near Kalyan Nagar at an apartment. Over there he met a woman from Belandur and they fell in love. Soon he got married to her, against the wishes of his parents and the village (read as relatives) but they welcomed the bride to Luj. A year after they're marriage and a child later, the wife suddenly decided to move back to Bangalore because she wasn't used to the harsh winters here in the mountains. So, right now Mr. Rajkumar stays with his parents in this beautiful village, with his daughter and the wife in Bangalore. They are still deciding how to work things out. By the time we spoke about all this, I was invited to his house to stay the night and he wouldn't take no for an answer. So instead of moving towards Killar, I would be moving up the hill (in a bus thankfully) to his village.
The last two characters were from the same village, now, all of them would have climbed up to the village and not taken the bus, if not for this crazy guy on a cycle from Bangalore. We waited 4 hours for the bus (the road was blocked due to a landslide).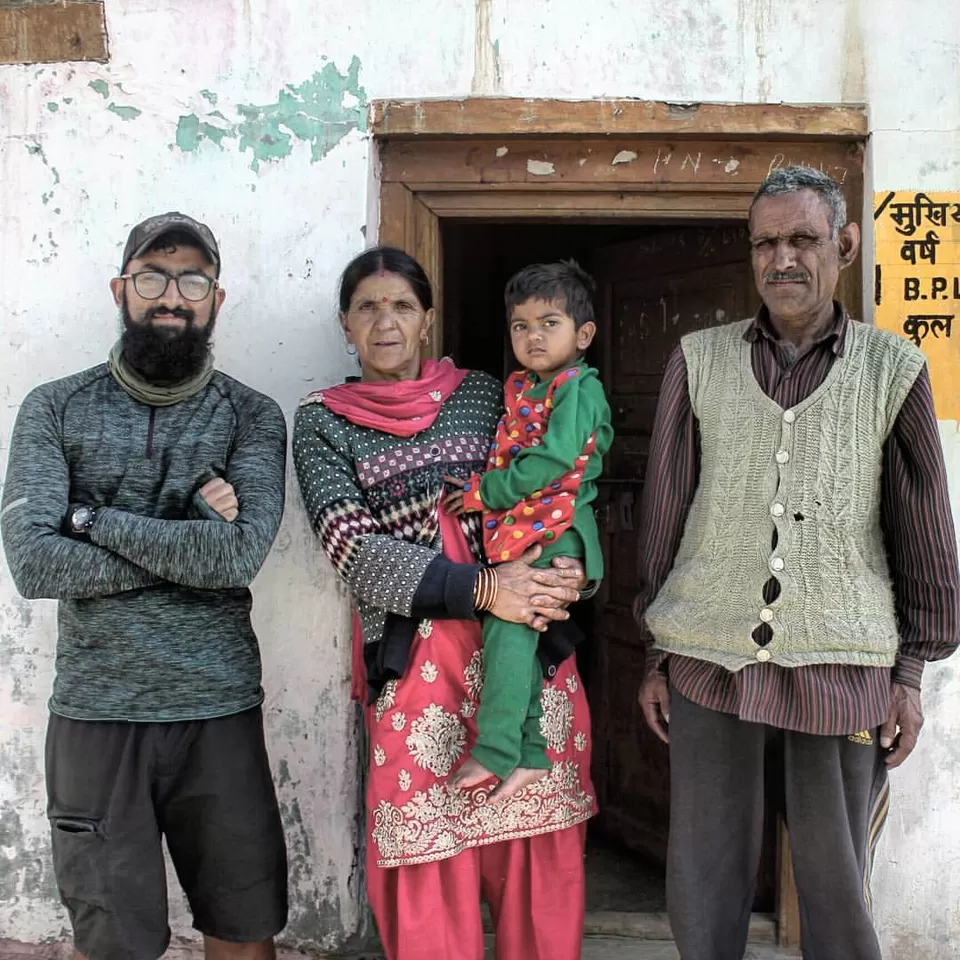 The next picture is the house in which I stayed.
Then there is a view of the dreaded Sach pass. It would be suicidal to go there on a cycle, they said. I listened to the locals this time.
They also had a neat parking space for the cycle.
Home cooked meals! A room to stay! They also packed lunch for me.
I hitched a bus ride to Killar early next morning. Bumped into a lot of bikers there. I was nearing the usual biking circuit, things were going to get touristy. Very touristy. The roads were fun for a bit, all off road, but then there were lots of places where they were constructing it. This meant that there was a lot of dust, it is just not fun to ride a cycle in all the dust.
I rode almost half the way from Killar to Udaipur, helped a bunch of bikers fix their puncture on the way. Then helped a Honda CBR who'd burnt his clutch plate in a water crossing. I then hitched a ride with him on a truck to Udaipur. We waited for a while for his friends to arrive (puncture gang) there was absolutely no sign of them.
So i went back in a cab, to look for them. Found them about 10km from Udaipur, gave them a lift back to town and then settled down to have dinner and beer with them.
Long day. Good karma. New friends.
With this, the part of the ride in Pangi Valley comes to an end. I will soon write about the rest of the ride. I can be found as horn ok peace on most social platforms.
#cycle #himalayas #pangi #kishtwar #killar #solo #bicycle #pedal #travel #kashmir #himachal #killar-kishtwar #trip #tripoto