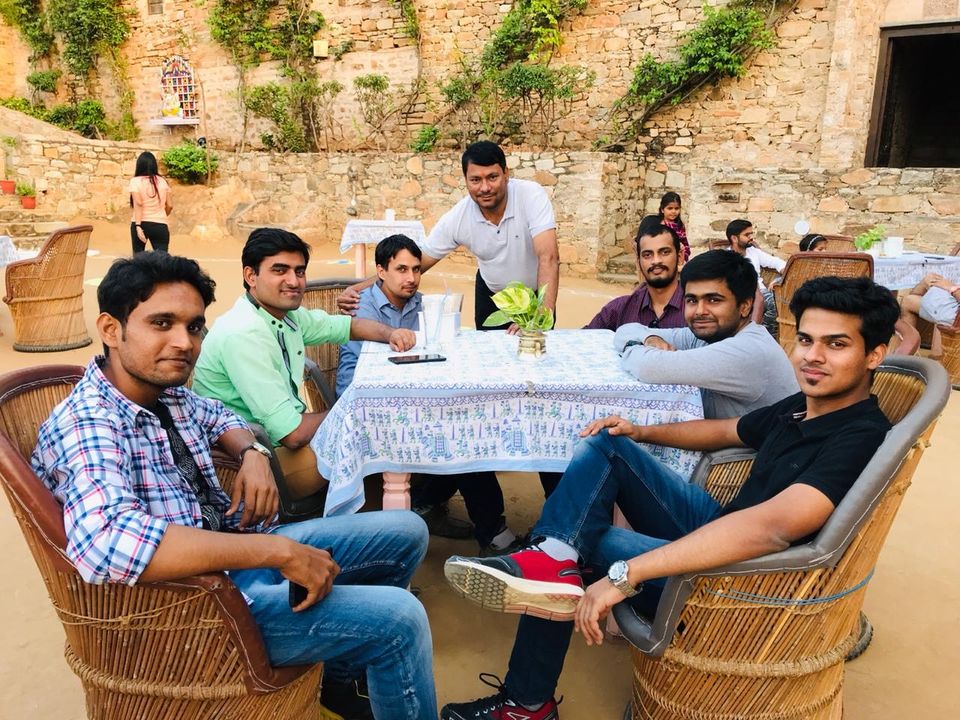 On a day trip to Alwar, we headed to Dadhikar fort after we were done with Siliserh lake. We were around 25 people including kids. The Dadhikar fort is in remote area, not  very far from the famous Balaquila fort. Generally, the first choice of travellers is Balaquila fort, but we were too tired to conquer high altitude of Balaquila fort.
Our gang reached Dadhikar fort at around 2 pm. I would suggest Google maps support as the way to fort is quite remote. Though, there are sign boards, but you can't be totally dependent on them.
We were charged around ₹150/adult for our visit. The fort is used by tourists as a hotel to have a peaceful stay in between hills. We were only there for a short visit. The mesmerizing view of arravali hills can be experienced from the top of the fort. The fort is sort of medium fort size, but the artistic paintings, amazing rock carvings and beautiful indoor decorations makes it worthy enough to visit. It has a beautiful restaurant and hotel stay available.
We couldn't prevent ourselves from having selfies and photoshoot at various eye catching locations inside the fort. After a short trip throughout the fort, we had coffee and pakoras at the fort restaurant. There are various food items which is good enough to satisfy your taste buds.
As the sun started to set, the artificial fort lightings made the fort look like a beautiful bride 👰. And the fort staff commenced preparation for a cultural night show for tourists. The calmness of hills in the vicinity and the beauty of amazingly lit fort was compelling us to have a night stay. But we were bound to leave for Rewari to get back to our normal mechanical life. We left the fort at around 7 pm and reached Rewari. While return journey, I kept digesting the beauty Alwar possesses in their forts and lake, and felt happy with the amazing places I ticked off my travel list today.