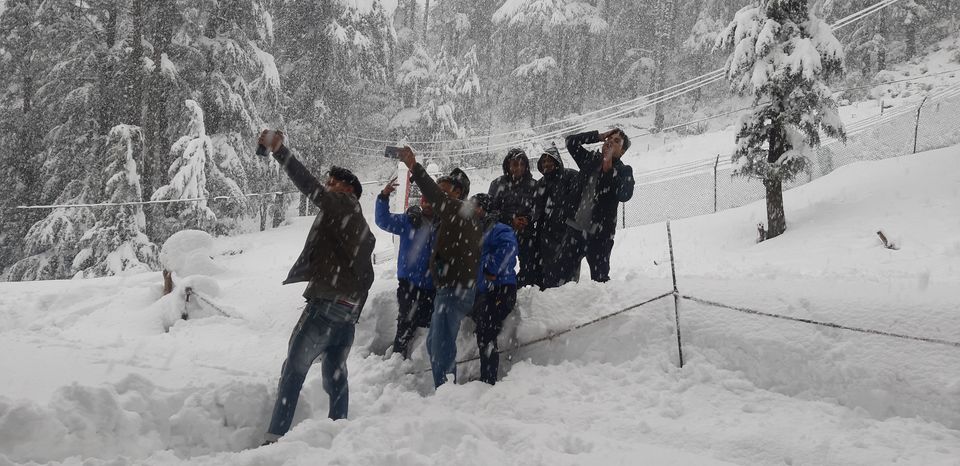 Every December my family goes on an annual pilgrimage to Mata VaishnoDevi, Katra. This has become a fixed itinerary on our yearly calendar and it was no different for 2019. Having visited the holy site and done with our pilgrimage, we still had a day left to return to Delhi. While we were still exploring our options, we were informed that it had snowed in Patnitop recently, a hill station located 1.5 hours away from Katra and we had the chance to spend the day playing in the snow. My young cousins were all excited about seeing the snow and it was decided that we would be now traveling to Patnitop. With in half an hour we hopped into our car and were on our way! On further inquiring with the locals of Katra, we were also informed about the ropeway or a gondola that had recently come up –Skyview Patnitop by Empyrean a.k.a. Patnitop Gondola! We were told that it was the best way to get a first-hand experience of the scenic beauty of Patnitop covered in snow.

We reached Skyview Patnitop's lower terminal at Sanget by noon and bought our tickets availing the winter offer that was available. Now, I and several of my family members had never experienced a gondola ride and were slightly nervous about the safety aspects of it. However, the hospitable Guest Relation Executive was able to put aside all our concerns when he informed us about the safety standards. Skyview Patnitop's gondola is CEN (European Standard) certified, making it one of the safest ropeways in India. Moving on, we hopped into the cabin and we were ready for this experience. For a second or two, I was a bit nervous but that was about it, once the gondola took flight I was too busy being mesmerized by the picturesque view beneath me. The representative had also informed us that this was the highest gondola in India in terms of ground clearance and I was absolutely convinced by it. By the time we reached one of the tallest towers, it appeared as if I was on the 100th floor of a skyscraper!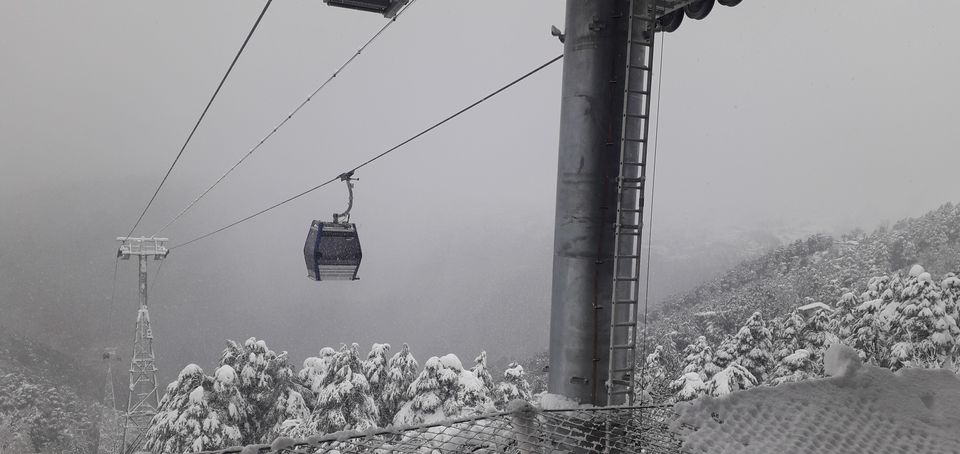 As the gondola took us higher, we could see bits of snow still present on the evergreen trees beneath us. With every inch towards Patnitop, the snow becomes even more visible changing the landscape into a beautiful fusion of white and green. It was as if someone had slipped white paint over a green canvas! Seated within the gondola, I was in awe of the natural beauty of J&K,much contrast to the concrete jungles where I have lived all through my life.
Once we reached the upper terminal at Patnitop, all of my cousins were filled with joy, as most of us had touched snow for the very first time! The young children were busy throwing snow at each other, while the elders were busy clicking pictures and videos! Having played in the snow till our hearts were content, we returned back to the lower terminal, amidst a scenic experience once again.
At the lower terminal, we sipped some hot coffee and munched on freshly prepared snacks, assuming that we had completed our wonderful experience at Skyview Patnitop! But then, there was more! Skyview Patnitop also offers several adventure activities and there was no way that I or my family would miss out on them! Some of us tried the zig-zag zipline while others were soon sliding down the dry tubing sledge or were on the magic carpet. I have been on a zipline before, but a zig-zag zipline? This was a first! No wonder it was awarded the Best Adventure Tourism Destination 2019, by FICCI and E&Y.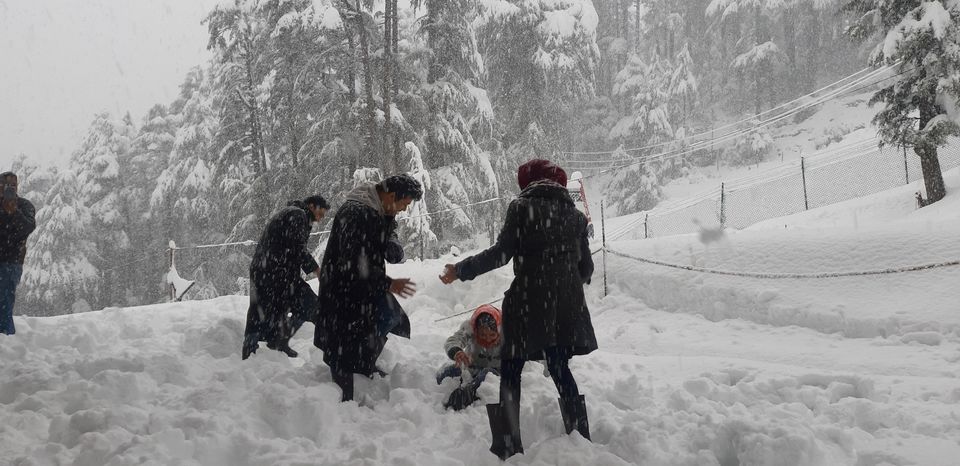 We had done the gondola, experienced the adventure activities, relished the culinary offerings and now it was time to head back! While leaving, I asked the guest relation executive who had earlier briefed us, the tagline of Skyview Patnitop, he replied that it was Sky Above, Earth Below. Experiences Within' and I could absolutely relate to it. Skyview Patnitop in all ways possible offers an experience that lasts forever. It is a unique blend of nature,technology, infrastructure, hospitality and so much more all under one roof.
So, if you are looking for a holiday destination that offers the best of nature,adventure activities, dining options and much more, all you have to do is head to Skyview Patnitop. It is 2 hours away from Jammu, 1.5 hours from Katra. You can book your tickets online also on their website.