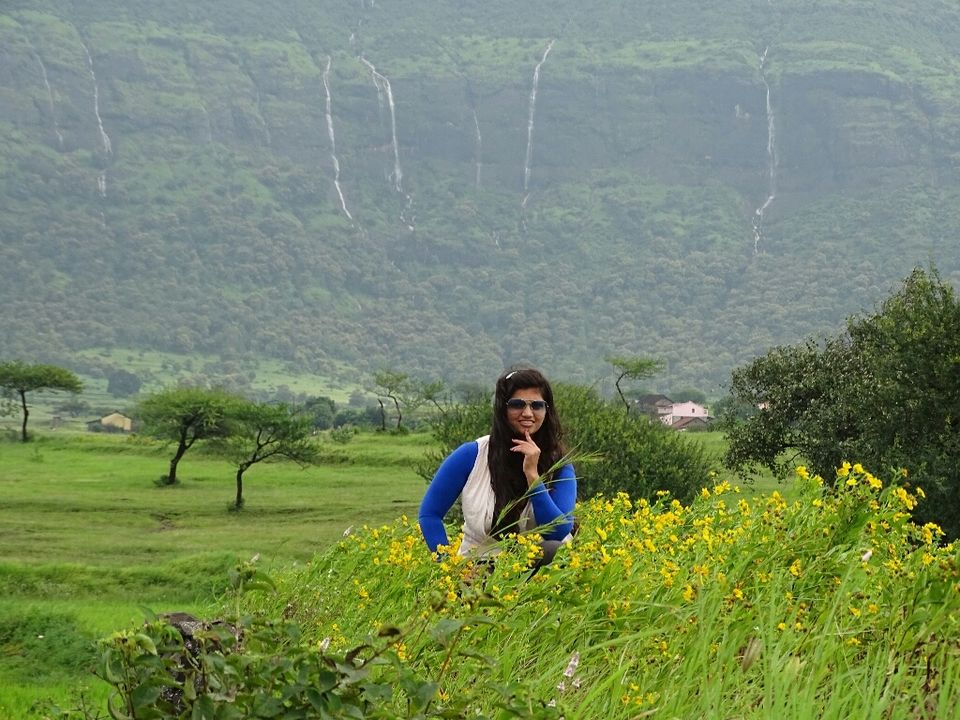 Hatkeshwar Trek.
It was month of Oct, all places around Pune had turned lush green and flowers started blooming.
As we had Trekking all around, we had converted ourselves to Professional Trekkers.
We were looking for some new and offbeat trek.
After reading some places on internet, I came across a place called Hatkeshwar, the name sounds different and it took my attention and I started collecting more information.
The info I got is given below
i ) Base Village - Godre, Taluka Junnar
ii ) Difficulty level - Moderate
iii ) Required time - 3 hrs ascending and 2 hrs descending, depending on Stamina and Endurance.
iv ) It's a lord Shiva Temple on top of Mountain, and its said that the temple is mentioned in Puran
The above information was sufficient to move on.
We moved on coming weekend as planned.
Reached base Village Godre at around 10 am and started collecting information.
The village is at the bottom of Beautiful mountain, it had rained heavily last night, all Waterfalls over the mountains.
The villagers were quite friendly and they just showed us the path and asked to follow.
As per the instructions we started ascending the mountain.
In first patch we got beautiful view of Flowers and Waterfalls, we took lot of Clicks and reached the Platue.
The platue was covered with Yellow flower's, as this place was less known so was not spoilt by the tourist and was appearing at its best.
We again clicked number of Pics and started towards our second Ascending.
In 2nd ascending you will see a huge Rock, you just need to move towards it, after second Ascending we again reached the 2nd platue, there we met a villager and asked him way to temple. He asked us to go straight and take 1st left from Khind and move ahead till we reach the temple.
It took just 20 mins to reach the temple.
The temple wasn't big, but had many Nandi.
There we met a Poojari, he was old man, he said that he stays there only and some times he goes to village.
We had lunch with him and felt very good.
As per the temples of lord Shiva, there is always an arrangement of water over Lord Shiva throughout the day.
In this temple, a natural water stream had made its way through the Lord Shiva, the water was natural and pure, we collected it in bottle and kept it with us while descending.
The view of dam from top of Mountain was just amazing, we clicked pics and as The trek was bit lengthy so we had some rest besides temple.
After spending some time, we decided to move on and started descending, while descending it rained a bit, due to which there was change in climate and no humidity and all cool breeze around which made the atmosphere more pleasent.
As there were no markings, we forgot the way to descend from the first platue.
We saw a villager who was with his cows, he understood we had lost the way and he started pointing towards the way, we understood his signs and moved as per his instructions which took us towards the point of descending and we felt relief.
We reached our car within 2 hrs.
Overall Trekking was best because of
Waterfalls
Flowers
Mountain
And Lord Shiva temple
Best time to do is End of Sept to Mid of Oct.
Things to carry
Bag
Water bottle
Shoes
Some junk food as Lunch
Energy drinks like Glucose
Spare dress
Mobile and camera - Personal risk
Ensure that no tight and short dresses, just respect the nature and nature will respect you.
It's a must do trek in every Trekkers list.