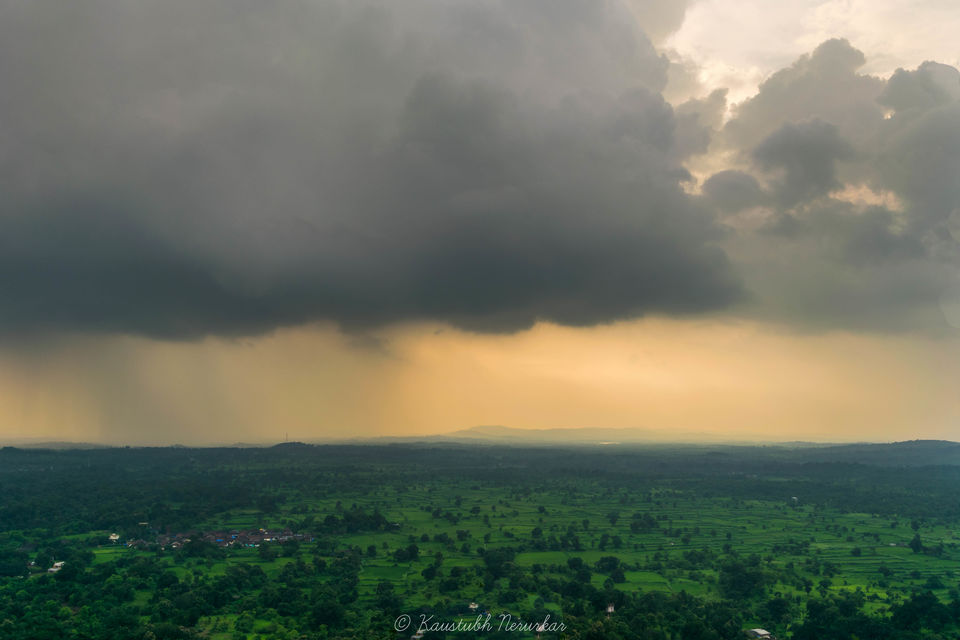 About The fort: The Gorakhgad Fort lies in the Murbad region of Thane District in Maharashtra. It was built in Satavahan period of India's history. It got its name from saint Gorakhnath. It was used in the era of Chattrapati Shivaji Maharaj as a stopover point from Junnar via Naneghat and also a place to keep an eye on surrounding region. Machhindranath fort is also very close to this fort but its inaccessible now.
About Trek: Trek is a moderately tough trek for any normal person. The base village for this trek is called as Dehari. However you actually start the trek from this point which is a walking distance from the village. The trail start from the Temple of the Gorakshnath.
My Itinerary:
5.16AM: Dahisar (Mumbai)-Dadar Fast Train
6.21AM: Dadar-Kalyan Fast Train
07:06AM: Got down at Kalyan and took bus to Murbad from the Kalyan ST Bus Depot which is just outside the Kalyan Railway Station in West side.
08.15AM: Reached Murbad. Took a shared TumTum to Mhasa Village. There is a bus also available at 9.15AM but do inquire about it at the bus stand if its scheduled for the day or not.
08:45AM: Reached Mhasa. Walked a bit towards the left on the road to Gorakhgad and again took a shared Jeep for the Gorakhgad Base Village called Dehari.
09: 15AM: Reached the Gorakshnath Temple. Got down some distance before the Dehari as the trail starts from the Temple.
11:00AM: Actually started the trek on proper path. An advice to fellow travelers is that you have to go to right side once you start the trek from the Temple. The first left from the concrete path at Temple is the first starting point and just after a minute you will encounter two trails. You have to go the right path and not the left one which will just take you to the valley. We actually did the same mistake thus wasting 2 hours.
02:00PM: Reached the first section from where steps start. Till then you first climb a mountain and then again get down and start with second mountain. The starting section of steps are not tough and are a bit exposed at a certain places. Once you cover those steps you enter a small cave which has few steps leading you to top. After that you come across first cave which is kind of ruined by humans and it was stinking when we reached there.
03:45pM: As another group was descending from the steps section ahead, we had lunch outside the cave. Lunch was the usual Theplas and dry fruits. From here the actual tough section of steps start. You can keep the bags in cave or at the base of these steps if you want. The very first few steps are broken so you have to do rock climbing for nearly 10ft. Although you are secured from both the sides as there is no direct valley exposure and you have enough space. From there onward, the steps become more exposed for the central part and also in monsoon, they also become slippery. So either take of your shoes before you start with this last section of steps or make sure you have firm grip while ascending and descending. Many steps have a small hole like structure where you can hold your hand to get a grip. You can also take support of adjoining rock wall at many places.
04:00PM: Reached top. There is ancient Shiva Temple at top. The sides of the top are not covered so do not go very close to the edges. It's a straight drop from there. The top can easily accomodate 20-25 People and you can also do camping at this place.
04:15PM: Started with the descend from top. Because of monsoon clouds the daylight was fading a bit faster so we packed up and descended from the steps section safely and in out own comfortable speed. From there onward, you don't take much time to reach back to the base Temple.
05:30PM: Reached the Temple at the base. The temple has water arrangement so you can re hydrate yourself.
05:45PM: Took a shared tumtum from the road just in front of temple. We were lucky to get the help of a group who had descended earlier and were waiting for us to reach the base. Local villager from temple told us the the buses become a rare sight in evening and so do the tumtums so were glad that we got this small help.
06:15PM: Reached Murbad. Had snacks over there.
07:10PM: Took ST back to the Kalyan.
08:15PM: Took train back to Thane.
09:00PM: Took bus from Thane back to Borivali as we wanted to avoid the crown on Western line towards Borivali.
Expenses:
Dahisar to Kalyan Train: Rs.15
Kalyan to Murbad ST Bus: Rs.30
Murbad to Mhasa cab: Rs. 15
Mhasa to Dehari cab: Rs.15
Dehari to Murbad cab: Rs. 30
Snacks: Rs.110
Murbad to Kalyan ST bus: Rs. 30
Kalyan to Thane train: Rs. 10
Thane to Borivali Bus: Rs.85
----------------------------------------------------------------
Total: Rs. 340
Notes:
Please carry at least 2 lts of water as there is no shop available once you start the trek from the base Temple. You can use the water from the water cisterns near caves but that should only be done in monsoon and that too in the ultimate condition. You then first have to gently fill the water bottle without disturbing the water and then you can use handkerchief to cover bottle opening and then drink the water.
Do inform your relatives and also someone from the Temple or the base village about where you are headed to. It will help you in worst situations.
Do carry portable charger
Try not to take any risks if you are afraid of heights or not sure about further trek.