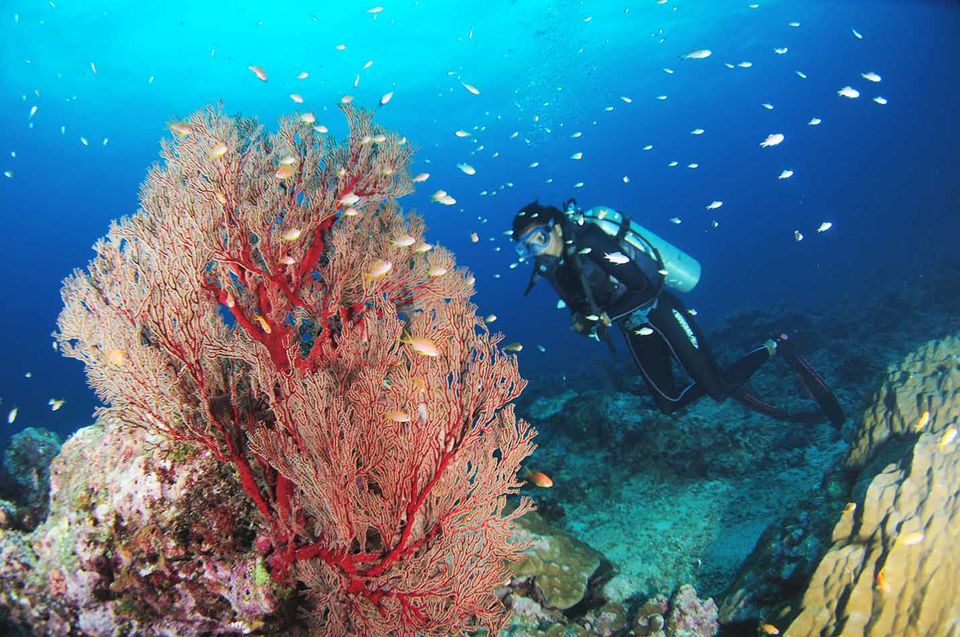 By now I have learned that I'm a complete ocean-o-philic.
BTW, Please have patience. This one is going to be LONG!
When I got my open water license (by PADI) for deep sea diving in the US, I immediately looked up diving sites near India.
And that's how I came across the Andamans. Considered one of the most beautiful coral reef islands, it is the perfect place for diving.
Last year in Pondicherry when I went diving, my instructor told me that I should go diving at the Havelock Islands. So I did. And hence, this post.
Like always, let me start from the beginning.
My 2nd professional MBBS exams were a nightmare. Mostly cause they lasted two months. And before that, we had two months preparatory leave (seriously!). I am not exaggerating. Obviously, I needed something to look forward. To get through the excruciating exams. So, my college roommate and I decided that we need to go backpacking after exams. And our heart was set on the Andaman and Nicobar islands. If you google them, you will know what I mean. And if you go, you will know what I mean.
We booked the tickets within the next few days, and all was set. We didn't tell anyone cause we didn't want to jinx it. We have a long history of failed trips you see. And we so wanted this one NOT to fail!
(Howrah Jn, Kolkata Airport, Port Blair, Lighthouse Cafe, Ferry to Havelock, Green Imperial Resort)
The trip had officially begun. I and my friends had booked our tickets such that we reached Howrah Jn at almost the same time. And we had a margin of about 3 and a half hours.
The monsoon had officially arrived and was welcoming us to the Bengal land. We thought we'd Uber to the airport (Tip: NEVER Uber/Ola to the airport from Howrah Jn if it's raining cats and dogs) and we found a lovely lady who wanted to ride to the airport with us and ALSO pay. Bless her! (We were on a budget trip. So it was a blessing. Quite literally)
"Why would you girls pay when Aunty is here."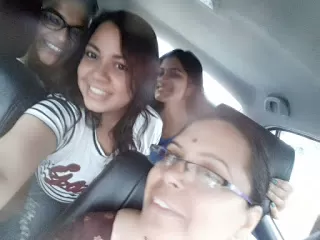 After 2 hrs 20 mins of flying, we finally landed at the Veer Savarkar International Airport, Port Blair.
Port Blair is the capital of Andaman and Nicobar islands. And it's maintained by the central government ( Union territory! ). So it's spectacularly clean and well maintained.
We'd lunch at this great, windy place called "The new lighthouse cafe". And then left for the Jetty and boarded the ferry to Havelock Islands. It takes about 2 and half hours to reach Havelock.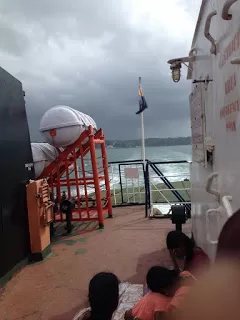 This was the first time in my life that on a single day I'd traveled on all the modes of transport. Land (Train, Bus, Auto [locally called tuk-tuk], Car), air (Airplane) and water (Ship). Quite an achievement :P
Our stay at Havelock for the next three days was in this cute little place called "The Green Imperial Resort". And since it was off-season (cause of The monsoon) it was just another guy and us in the cottage next to next to next doors.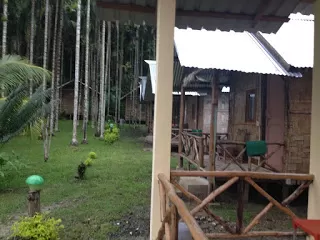 The people in Havelock are simply amazing. Very genial and mind their own business. No ogling or stalking or catcalling. Apparently, the crime rate is very low in Havelock. We saw a lot of houses which don't even have doors or locks. We learned that most people in Havelock know each other and are distant relatives. Thus, a minuscule world and all the cordiality.
We had home-cooked dinner at this small Dhaba sort of place nearby. A bliss after the tiring journey. And we had a peaceful, long sleep.
(Fat Martin's, Kalapathar Beach, The Squid, Radhanagar Beach, The Market, Fat Martin's)
We woke up late (or early?) around 8.30 am. Got ready at lazy pace (we were on a holiday! :P) and left for breakfast. Let me tell you something really vital about this island: DO NOT RELY ON GPS/GOOGLE FOR ANY HELP. You will barely get a 2G connection if you're REALLY lucky. Otherwise, you're on your own. I went around and talked with our almost neighbor and asked for recommendations for breakfast (like good old, pre-technology days). He suggested this place called "Fat Martin's."
It was a delightful little place. A little pricey but definitely a must go. We'd chicken sausage and toast for breakfast. Yum!
We'd hired a bike (Our resort had bikes for rent. They charged us 500 for three days. Cheap, I know right. :D) and we left for the "Kalapathar beach".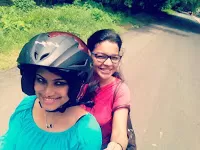 The route to the beach is arresting. There is a jungle on one side of the road and the divine looking ocean on the other. Added the monsoon mist, it was picturesque indeed.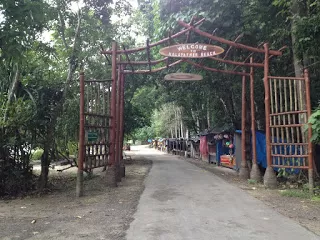 The tender coconuts are vivid and huge. Trust me when I say this, it is almost impossible to finish a single one all on your own. And they come for just 30 bucks each. I was absolutely in love with this place!
We enjoyed the beach until it was lunch time and we were starving. We left for this place called "Squid", and we'd Squid for lunch! :P
But the highlight was the crab lollipop! They served six pieces of these luscious crab meat ( imagine eating crab without any hard work.) for 350 INR. Ah! Heaven. This place is THE crab paradise. ( I could definitely go back to Havelock just to have these crab lollipops!)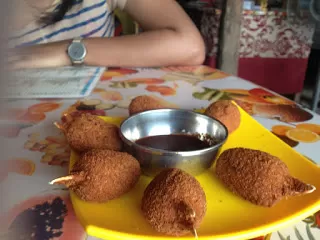 In the evening we went to Radhanagar Beach. It was named The Best Beach in Asia by Time in 2004. It was exquisite. We couldn't see the sunset as it was cloudy. But the beach was almost empty, and we felt like we owned it. We sat there for a couple of hours until it was completely dark (7.30-ish) and we had to drag ourselves back with a heavy heart (No, not cardiomyopathy. :P)
We went for dinner again to Fat Martin's. This time, we had a big company. Loads of new, fun people. Most of them were divers. And foreigners. We'd pizzas and drinks. Let's just say all that happened in Havelock that night stays Havelock-ed ;)
I remember, we went to the Jetty after dinner and sat there for hours. What a rapturous night! :)
(Diving, Something's Different, Jungle Trail)
Finally, the day was here when we were going diving! My one true love.
Pictures speak louder than words, and videos even louder. So here you go.
Diving is always tiring. But I love it to bits. Every time I go in, I feel like staying in. I'd two dives (each of about 40 mins). One at the Red pillar and the other at the wall. The more beautiful dive sites were off limits as it was off season. But it was still breathtaking. The wall had a better visibility and more organisms! The corals were magnificent. Such varying species - Brain, fan, plate, table, etc.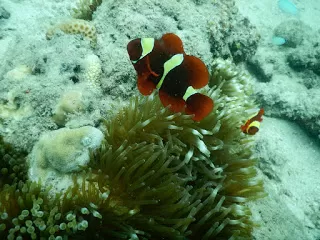 I saw schools of brightly colored fishes. Rainbow fish, clownfish (Nemo!), stone fish, lion fish, parrot fish, turtles, stingrays, etc.
I was fortunate enough to see a group of Barracuda as well. They were near the surface, and we saw them from below. I guess you're not supposed to go near them.
This was certainly one of my best dives yet! :)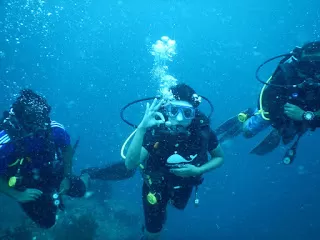 Once back, we were too tired for anything else. We rushed back to the resort. And requested the resort people to serve us Maggi (they generally don't. they don't have a running kitchen for guests. But bless those heavenly people that they took pity on us and served us two bowls of Maggi.)
After sleeping for a few hours, we got up super hungry and left to find something to eat. It was pouring in Havelock that day (the only day that it rained in the days we were there. So not too bad given that it was the monsoon). The rain there is weird. It rains as if there is a cyclone. And then it stops suddenly for some time only to pour down again. So, naturally, we got drenched. But we somehow managed to reach this cafe called Something Different. It's huge and faces the beach. And it is terribly cute. It has a section with super comfy chairs where you can sit and read (they have a fairly good collection of books as well) all day long! The only problem it the route we'd to take to reach there. It was a nightmare!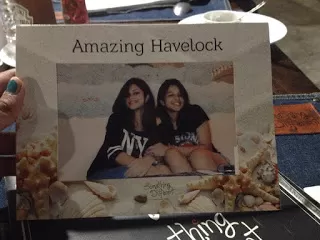 We'd dinner at the home-cooked food place (same as day 1) following which a group of us went for a night ride to the end of a super spooky trail. We could hear the concert of crickets and frogs. And it was pitch dark. But it was one of a kind of experience. Then we went to the beach, and I lied on one of the hammocks staring at the night sky. Totally empyrean!
(Radhanagar Beach, The Squid, Ferry to Port Blair, Coastal Breeze, AFC)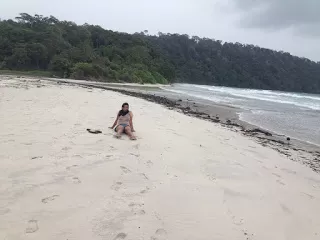 After the late night, it was obvious we'd be up late. We went to the Radhanagar beach again. To experience it during daylight. It was gorgeous as usually. However, personally, I found Kalapathar beach more exquisite. After a couple of hours of soaking the beach air, we left for "Squid" again. We HAD to have those crabs again! If you love seafood, it's your personal heaven. We even left a message in Oriya (owner's request!) on their wall.
It was time to check-out and bid farewell to the extraordinary place.
Our return ship was massive (Private one. We'd arrived at a government one.) It was a little expensive but way better.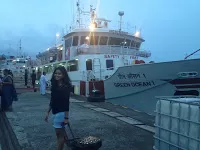 So back to Port Blair. We didn't have a hotel booked so we'd a little adventure travelling here and there to settle at this cute little B&B called "Coastal Breeze". It was in this quiet lane, nicely maintained rooms and reasonably priced.
We went to have dinner at AFC (Andaman fried chicken).
Poor service and overly priced not-so-good food. Not recommended.
(Corben Beach, Cellular Jail, Ross Island, Marina Park & Shopping!)
Our scheduled day to roam around Port Blair. We started it by having super expensive Dosa and coffee at this place called Annapurna. It was okay. Not worth the price but the time. Then we hired an auto and just asked him to take us around. Cause we had no idea where to go and GPS/Google were a far-off dream. He took us to Corben beach. It was wonderful.
On the auto driver's suggestion, we decided to go check out the Cellular Jail ( otherwise called Kalapani ). It has a historical and melancholic feeling to it. The isolated cells and the figures depicting the fated doom of the prisoners are worth a look. The gallows showed how judicial hanging takes place. Depressing.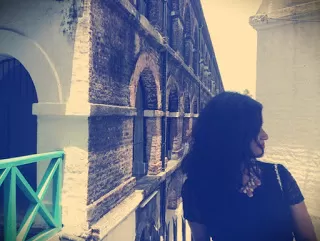 And then we left for the historic Ross Island on a boat.
The Indian Navy maintains Ross and the whole island survives because of it's trees. Apparently, if you cut even a single tree, the entire ecology of the Isle is disturbed. And the island was submerged during the 2004 tsunami but it raised back all thanks to the trees (See how important trees are!)
There's a beach in the Ross Island on the other side and it's was just exquisite. We didn't feel like coming back. Ross Island was the capital of the British settlement, and it speaks tales of their power. There are bakeries, churches, water distillation plants, a pond and even a cemetery! One can also see Japanese bunkers (installed because of the apprehension of the Japanese) round the island.
We missed our boat back from the island. But we managed to get on another one (thanks to this connection we'd made because of the auto driver. Such friendly people, I told you!).
We went to have these terrific tiger prawns at the New Lighthouse cafe and then visited the Aquarium nearby. It was okay, not all that great. It's maintained by the Government and has both live and dead specimen, and entry fare is just ten bucks. So you can go if you have time.
We spent the next few hours watching the Bay from Marina Park.
Then we went shopping. And had dinner at this tiny cafe called The Juice Box (I don't really remember the name, but it was something like this.) It was okay-ish,
It was our last dinner in this fantastic place. Yes, we were sad. (I know we don't look so. But we were!)
What to buy and where?
Handcrafted coconut bowls and serving spoons in Havelock Island. It's a tiny shack in the main market and the lady selling stuff is kind of stubborn. Price is around 100-200 per piece. You can bargain, always.
Handcrafted coconut monkeys. At the same place in Havelock. Price is around 450/piece. (There's a difference between the monkeys sold at Port blair and Havelock. The havelock one has a better finishing is much more cute. Hence, comparitively pricey too.)
The Jarawa tribal figurines @Port Blair. The prices vary depending on the size. I got small ones (about 1 ft each) at a price of 100 each. You have to distinguish. The sand dust ones have better finishing than the wooden ones. Buy those.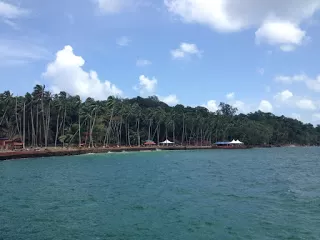 (Airport and back to mainland)
Last few hours on the island. We woke up early. Packed up and left the B&B. The check-in procedure was a nightmare. The officials were highly inefficient and drastically slow. But finally after ages we boarded the plane and left for Kolkata.
Kolkata is another tale. So let me bid adios to you all. And definitely, visit the Andamans to experience all this first hand! :)