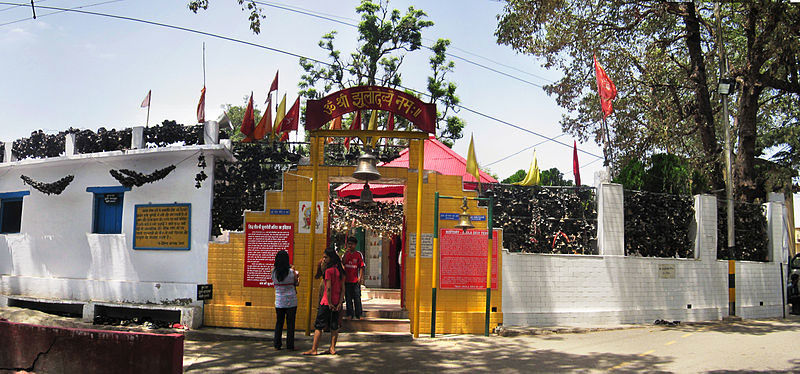 Ashiana Park, very popular picnic spot for Ranikhet children, but at that time and five or six o'clock in the evening there are no children there do not appear, just raise two children, she is the second city, the beauty of the park It was said, or two children, that they were making the park "park" and they were two children, cheerful and pie!
This place is in the lower part of the city and our hotel was in the upper part, it seems like something strange! As such, Ashes Park is on the government bus stand in Ranikhet and our hotel was on the private bus stand! It's fine now ! So now we have to make a slight uphill climb to reach our hotel, but due to fatigue, this light climb seemed heavy!
Drink tea, fine C! Black pepper and long put ginger! Make the brother two tea! Eat food at your own hotel! By seven o'clock we had entered the blanket of the hotel's own room; at 8 o'clock a call was made, the cold was not going to dare, to get out! Hunger is hungry, let's go!
There was a huge mess in this trip! I so that the cold would not much was thinking was taking its very slight half-jacket and creeper (my wife) were simply hot suit, or going on to say that I was the force that's it take to whereto Increasing weight? Children were also only for winter clothes, but when the cold felt, I had to take warm clothes for the children, myself and the Wife again and my budget reached a lot! Well the clothes are there, the work will come!
The next morning i.e. our program on November 3 was the first to go to the UPAT Golf Course! At 8 o'clock he got out of bed, he too, of Lata, my mouth always comes out of bed after the creeper and after both of my children! It's 9 o'clock! There is no point in bathing in this cold, the mouth is silent and the comb in the hair has become, Babu ji !!
Now you have to go down again, that's the government bus stand! There are jeeps to go downstairs and they throw the jeep on the golf course, or you book your car and take it, 250-300 rupees! Shared Jeep came back from 15 per ride in and around 10 rupees come in per ride, ie upat golf course then took a total of up to 50 rupees, why go to spent Rs 250? Is a crazy dog ​​bitten?
A great-headed road has been made and goes further by going through this path to Karnprayag, a single road gets out on the right hand for the work! There is no establishment of the Kumaun Regiment all the way! feels good ! We were hoping that somebody will be playing golf while playing golf course, but no one is playing here, yes the cow is definitely going on and one child is playing badminton with his parents! Children also began to beat, surrounded by long pine trees, this golf course really looks beautiful! Some of the Trishul Peak pots are also here to squeeze and walk back! The whole case of a two-hour-old children's fun is here! Keep roaming in the entire field, keep getting up! Which children are to wash clothes, their mother Zindabad !! Mother was alive, she is alive and will stay alive!
Although breakfast was only eaten by Ranikhet but now hungry too! Let's go back! Now the headquarter will run in the temple, and then there is a mess, now we will have to come down from the top! Because the Jeep Pravate bus stand meets for the Hemkhan temple! Walk on foot, what can you do? There will be neither auto rickshaw nor bicycle rickshaw! Feet have to be smoothed! Come on, my brother !!
The nearby Hemkhan temple, it is difficult to get 6 -7 km from Ranikhet! The name of the village in which the village of Hedakhhan is located is strange "bird nalla"! These birds may have been draining that the changing changing bird would have been navigated! And why should the bird be drained? Perhaps no sewer and which will be a tree near the river bird will Chchati, if someone would have told, that place will tell -cidia a broomstick and take the live bird brook or bird Naula !! By the way, names of places in India are also found similar to this, the filthy creek, wide drain, the asshole, the screech bawl, the slant hut! Jeep is available from the private bus stand for the Hedakkhana temple, where the Jeep will release you, there is the headquarter temple near it!
It is definitely out of the village but it is good, there is a guest house of Kumaun Vikas Nigam in front of this temple, probably by the name of "Himadri"! State Bank of India has an ATM outside the temple, which is in great condition! The temple is as it is, but the bungalows near the temple are very beautiful! This temple is dedicated to Baba Hadkhar Khan, who was living here and had a severe penance in his youth. I do not know much about them! If you get to know, then you will share, and yes, now you throw away the foam, then come out, there is a restaurant in front of you, you will eat! Drink will mean tea! Two-and-a-half English people are also seen, two men two women! Which means those people are also interested in Baba Headkhaan? Or are you walking around to enjoy the simple nature? Let's go live, tomorrow will meet you again !!